How to Record a Podcast (2023 Guide)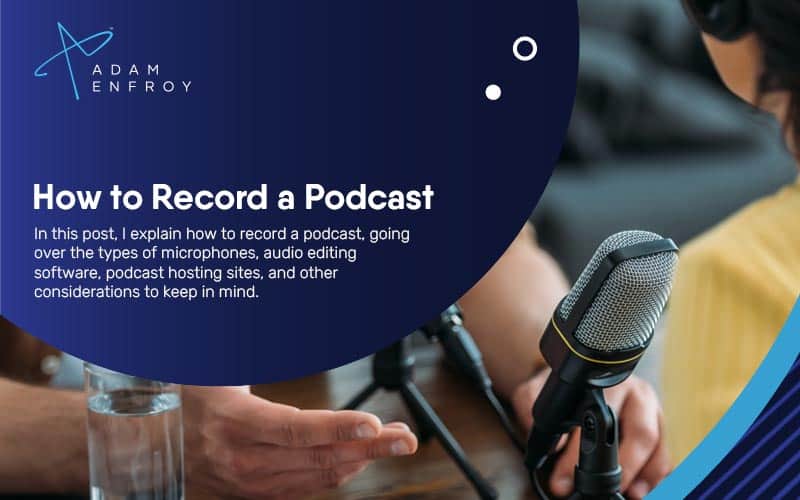 Knowing how to record a podcast correctly is critical if you want to start your podcasting journey.
Podcast recording can be broken down into a few simple steps, and knowing what goes into each stage will help make the process a lot smoother.
While each podcast episode will be different and will require its own preparation, there are some fundamental basics that you need to be aware of when setting up to record.
If you want to learn how to start a podcast, in this post, I'll go over the steps needed to use podcast software to get your podcast recorded, edited, and ready to publish on one of the many podcast hosting sites available right now.
Let's dive deep into this topic.
What Are The Different Types Of Podcasts?
When embarking on a new podcast journey, one of the first things you'll need to decide is what type of podcast you want to create.
Before hitting the record button, it's essential to understand the different types of podcasts that exist, as this will help shape the content and format of your show.
The most popular types of podcasts are interview shows, narrative shows, topical shows, and tutorials.
The interview shows: As the name suggests, these types of interviews involve asking questions to guests on the podcast. These can be conducted in person or over one of the many podcast recording software (more on this later). An interview show aims to get interesting stories and insights from guests that the listeners can learn from.
The narrative shows: A narrative show is like a radio drama in that it tells a story. The target audience for a narrative show is usually people looking for entertainment rather than education. These shows are generally highly produced, with sound effects and music used to create an immersive experience for the listener.
The topical shows: A topical show covers a specific topic or niche, and each episode will generally feature different guests with expertise in that area. These shows are often geared towards helping the listener learn more about a particular subject.
The tutorial shows: As the name suggests, a tutorial shows focus on teaching the listener how to do something. These shows can be helpful for those who are trying to learn new skills or for anyone who wants to brush up on their knowledge in a particular area.
The Importance Of A Podcast Outline
While podcast editing software will allow you to edit your show after you've recorded it, it's still essential to have a clear idea of what you want to say before recording.
Creating a podcast outline is a great way to ensure that your episodes flow smoothly and cover all the topics you want to talk about.
Your outline doesn't need to be anything fancy, but it should list out the main points that you want to cover in each section of your episode.
When creating an outline, thinking about your subscribers and what they want to hear is essential.
Being able to answer these two questions is crucial:
What questions do they want to be answered?
What problems do they need help with?
Answering these questions will also help you create an outline that resonates with your audience and allows you to deliver value in each episode.
Recording Your Podcast
Now that you know what goes into a podcast, it's time to start thinking about the actual recording.
Let's explore the most critical areas in this regard.
Microphone Recording Tips
A USB mic is an excellent option for podcasters just starting out.
Being one of the most commonly used mics in podcasting, they offer excellent quality at an affordable price.
A podcast microphone is also an excellent option for those looking to improve the sound quality of their episodes.
This can be a condenser or dynamic microphone, although most podcasters tend to use the former.
XLR microphones are another type of microphone to consider. These are typically used in studios.
The main advantage of an XLR microphone is that it can be easily connected to a mixer, which gives you more control over the sound of your recording.
If you're planning to record your podcast with multiple people, you'll need to use a mixing board.
This will allow each person to have their volume control, which can be adjusted as required during the recording.
General Tips When Using A Microphone
While the quality of your recording will depend on the type of microphone that you use, there are some general tips that you can follow to ensure that your recordings sound great:
Position your microphone close to your mouth, but not too close. You should be able to see the mic when you speak, but it shouldn't be right up against your lips.
Speak clearly and at a moderate volume. Avoid talking too quietly or too loudly, as this can impact the quality of your recording.
Avoid making sudden movements while speaking, as this can create unwanted noise in your recording.
If you're recording in a room with hard surfaces (like a concrete floor), try to position yourself closer to a wall or other piece of furniture. This will help to absorb some of the sounds and reduce echoes.
How To Record A Podcast Remotely
The sound quality of your recording will be better if you can record in person with your co-hosts or guests.
However, there will be times when it's impossible to meet in person.
In these cases, you can record your podcast remotely.
Using multiple USB mics is a great way to get high-quality audio recordings even when you cannot meet in person.
With a USB microphone, you'll get high-quality audio recordings that sound great even when you cannot meet in person.
It's good to know that a digital audio workstation might sometimes have issues with certain USB mics, so it's always good to test out your setup before you start recording.
Ultimately, make sure to test out your setup before you start recording.
​Pausing And Continuing
Ensuring high-quality audio is also about ensuring that pausing your recording doesn't affect the quality.
You want to make sure that you're using a digital voice recorder with built-in editing capabilities.
If you need to pause your recording, you can edit out any unwanted noise later.
What Other Equipment Do I Need To Record A Podcast?
While the microphone might be the first thing podcasters think about when it comes to podcasting equipment, it is just the beginning when it comes to the necessary podcast starter kit.
Having the right podcast equipment can make a big difference in the quality of your recordings, and it can also make the recording process a lot easier.
For example, a pop filter will help reduce the number of popping sounds when you're speaking into the microphone.
A shock mount is another type of equipment that one can use to reduce unwanted noise in your recordings.
It's important to note that you don't need to have the most expensive podcasting equipment to create high-quality episodes.
Some of the best podcasts are recorded using relatively simple setups.
The key is to find podcasting equipment that works well for you and your specific needs.
What Software Do I Need to Record a Podcast?
Using podcast recording software that fits your needs is essential for success in the podcast recording process.
The audio interface that you use will also play a role in the quality of your recordings.
Your podcast audio recording software should be able to handle various file formats and allow you to edit your recordings.
One can also use various call recording tools to record podcast episodes.
In addition, having lossless audio files is essential to maintain the highest possible quality for your recordings.
Record Using Software
Some of the most popular ways to record a podcast are software such as Audacity (one of the best free tools available for both Windows and Mac), Adobe Audition, Garageband, and Skype.
When you use software to record your podcast, you can control the sound quality of your recording by adjusting the bitrate and sample rate.
You can also use plugins to help reduce noise and improve the overall sound quality of your recordings.
Record Using Zoom
Recording your podcast using Zoom is an excellent option for conducting remote recording of your interviews.
Zoom (or one of its many alternatives) offers relatively high-quality audio recordings, and it also gives you the ability to record both the video and audio of your conversations.
Also, if you have a co-host or guest located in a different country, you can use Zoom to conduct your remote interviews without incurring any long-distance charges.
Record Using a Portable Recording Device
Using your iPhone or Android device is a great way to record your podcast on the go.
There are many different apps that you can use to record your podcast, and most of them offer high-quality audio recordings.
The great thing about this method of recording is that you can be ready to go at a moment's notice, and you can record your podcast from anywhere.
Choosing The Right Place To Record
Consider the recording space that you'll be using to record your podcast.
If you use the same room as your family or roommates, make sure that everyone in the house knows your recording schedule and knows not to make any noise during those times.
When you start recording your audio file, pay attention to any background noise that might be present.
Ensure that background noise levels are low enough that they won't be picked up by your microphone and distract listeners from your podcast content.
A recording studio would probably be the best place to record your podcast if you have a budget.
But if you don't have the budget for a studio, at the very least, make sure to choose a quiet room with good acoustics to record in.
Do You Need To Edit Your Podcast?
​Editing your podcast in post-production might be something that many new podcasters are afraid of.
However, one could also argue that using editing software means that the person is in control of the final product.
You can also control the final audio quality and ensure that the finalized track sounds exactly the way you want it to.
Editing your podcast can also help you remove any errors, dead space, or umms and ahhs.
Remember that the audio quality is directly related to how professional your podcast will sound.
​Exporting Your Podcast
While audio editing software will allow you to save your podcast in any format, the most popular file formats for podcasts are MP3 and AAC.
Recording podcasts can also involve having separate tracks to add intros, outros, and other audio clips.
Adding an intro and an outro to your podcast can help to give it a professional feel, and it can also help promote your brand.
When you are ready to export your podcast, choose the correct file format and bitrate.
It would help if you also considered where you would be hosting your podcast files, as some platforms have specific formats in which you'd need to export your file.
Uploading Your Podcast
Podcast hosting platforms will allow you to upload your podcast files and share them with your audience in the easiest way possible.
Software such as Riverside, Buzzsprout, RSS.com, Spreaker, Squadcast, and Zencastr are some of the most popular platforms you can use.
Uploading your podcast to these platforms is a great way to reach a larger audience, and it can also help you build your brand in both the short and long term.
You can also use some of the more well-known platforms such as Apple Podcasts, Spotify, iTunes, Stitcher, and iHeartRadio – however, it might be more difficult to get a foothold on these platforms.
Also, sharing your podcast on social media is a great way to promote your show and attract new listeners.
Wrap Up.
As a final note, remember that you can reuse content from your podcast on your blog or website.This is also a great way to attract new listeners and promote your brand in a different format.
In fact, some podcasters use video conferencing software to record a video and upload it to YouTube and then extract the audio and use that for their podcasts.
While recording a podcast might seem daunting at first, it's actually quite simple.
By following the steps outlined in this guide, you'll be able to record a high-quality podcast that sounds professional and polished.
Whether you are a beginner or a seasoned pro, keep in mind that the key to a successful podcast is to focus on delivering quality content that your audience will enjoy.
Further reading on AdamEnfroy.com: Here are some of the top podcast hosting sites you can use to upload your podcasts to right now:
Finally, here's a comparison article, comparing Podbean vs. Libsyn vs. Buzzsprout.
Disclosure: I may receive affiliate compensation for some of the links below at no cost to you if you decide to purchase a paid plan. You can read our affiliate disclosure in our privacy policy. This site is not intending to provide financial advice. This is for entertainment only.
---
Last Updated on April 25, 2023 by Adam Enfroy