Podbean Review 2023: Pricing, Features, and Comparisons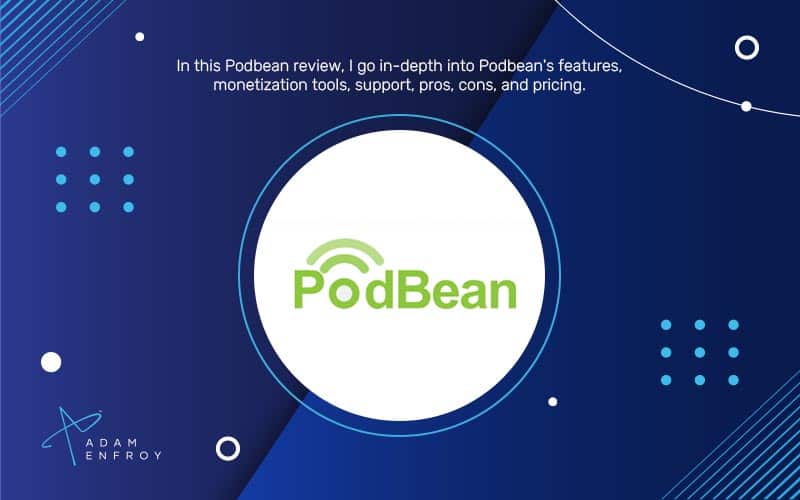 Let's take a detailed look into all of the key features of Podbean and what makes it one of the best podcast hosting platforms.
Podbean Overview.
Podbean is a user-friendly podcast hosting platform that offers all of the podcast tools and services that podcasters need, from starting a podcast to promoting and monetizing it. Based out of Wilmington, Delaware, it first started offering podcast hosting services in 2006.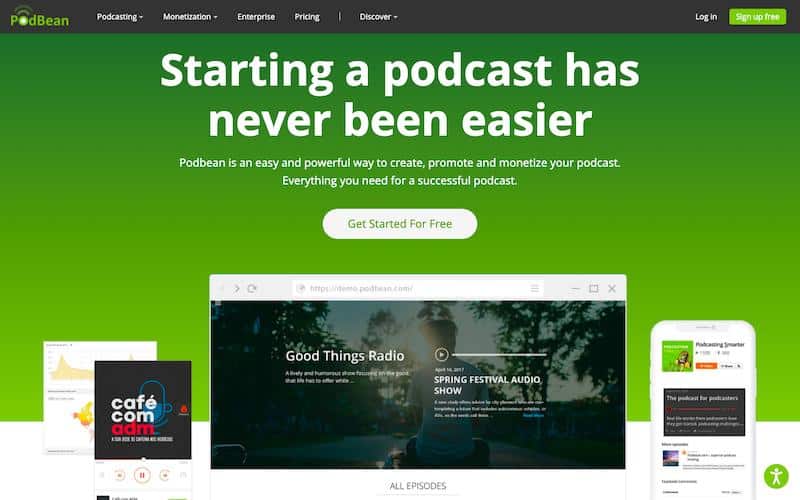 Podbean has a free plan and paid plans that come with advanced features and more storage space. It also comes with a podcast app that lets you live stream, record, and publish podcasts from anywhere you want.
Disclaimer: This article contains affiliate links where I may receive a small commission at no cost to you if you decide to purchase a paid plan. You can read my full affiliate disclosure in my privacy policy.
Here's a quick overview of the platform's key features:
Easy podcast publishing
Unlimited hosting
Free website
All destination podcast distribution
Comprehensive statistics
Advertising and monetization
Live Streaming
iPhone/Android App
And more.
The tool is suitable for podcasters of all sizes and genres. As of today, it boasts of helping 550,000+ podcasters and hosting 10,100,000+ episodes.

Podbean also lets you publish your podcasts on as many third-party platforms as you want, including Apple Podcasts, Spotify, Google Podcast, etc. These platforms link back and direct your audience to your original podcast host, i.e., Podbean.
If you want to check out how Podbean stacks up against other podcast hosting platforms, see my three-way review here.
Before we dive deep into its features, let's see how to get started with the podcasting tool.
How to Get Started?
If you are not ready to commit to Podbean just yet, it offers a free plan and lets you sign up without entering credit card details.
You get the option to "Create New Podcast" or "Import Existing Podcast" as soon as you sign up.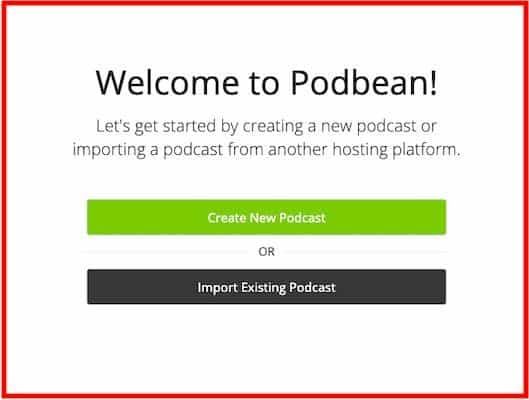 After clicking on the "Create New Podcast" option, you'll get prompted to enter basic information and briefly describe your podcast.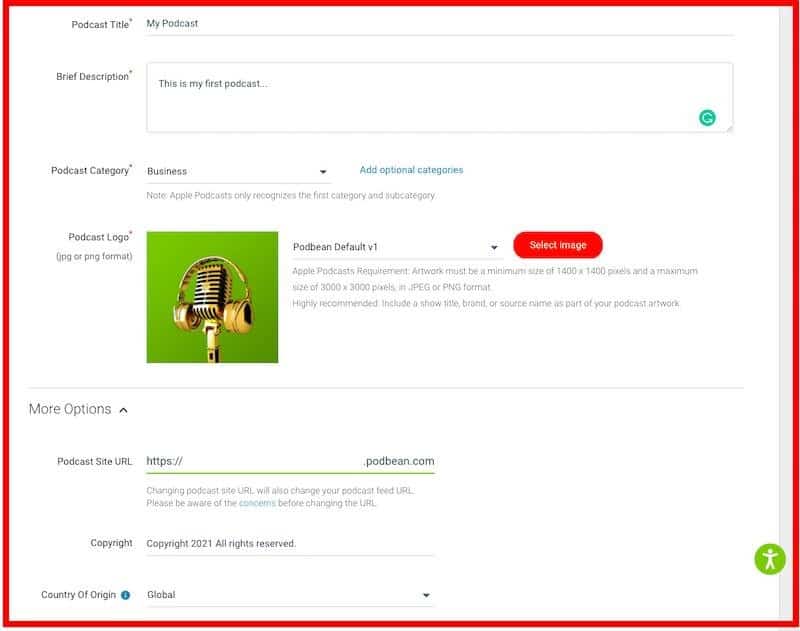 Click the "Update Options" button to save your changes.
The next step includes uploading an audio/video file, creating episode information, and publishing or scheduling the episode.
You can either click on the "New Episode" option from your dashboard or go to the "Episode >> Episode list" option from the leftmost navigation bar.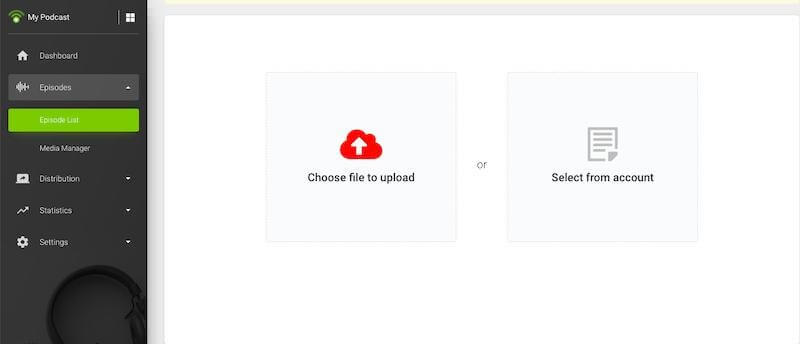 Edit the episode title, description and upload artwork if required. Next, select the "Publish" option to finally release the episode (or schedule/save draft).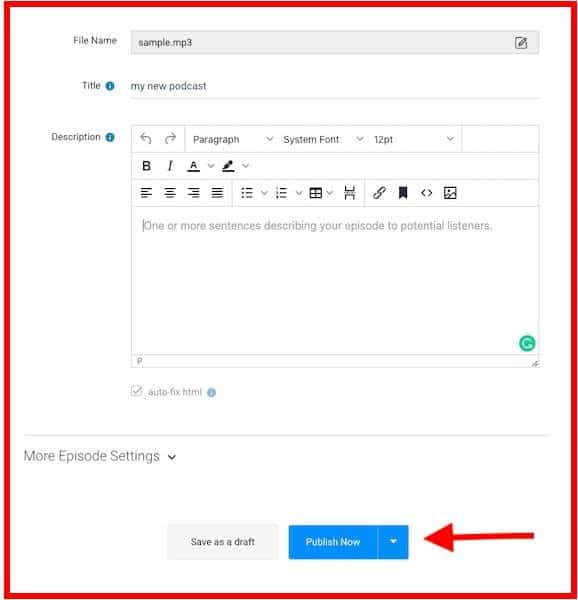 Now you'll have to distribute your show using a podcast site.
Head to the "Distribution >> Podcast Website" option to create your site right from the dashboard. You get to choose from plenty of paid and free themes to build a website quickly.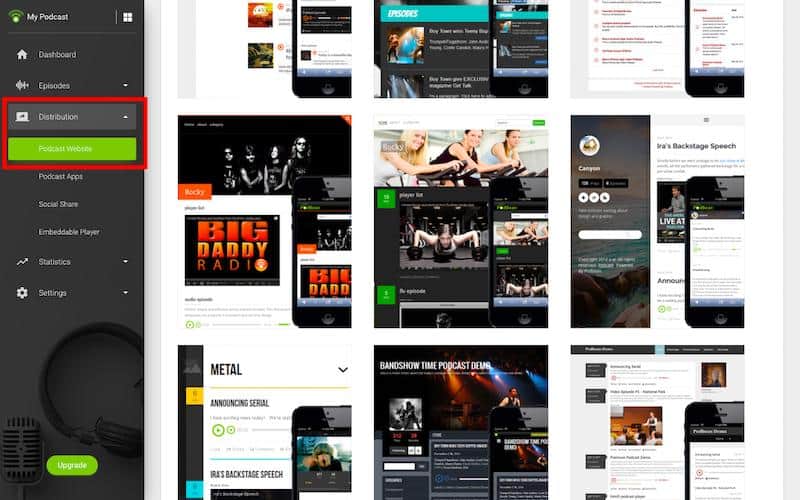 You can customize various elements, including the header image, theme color, and more.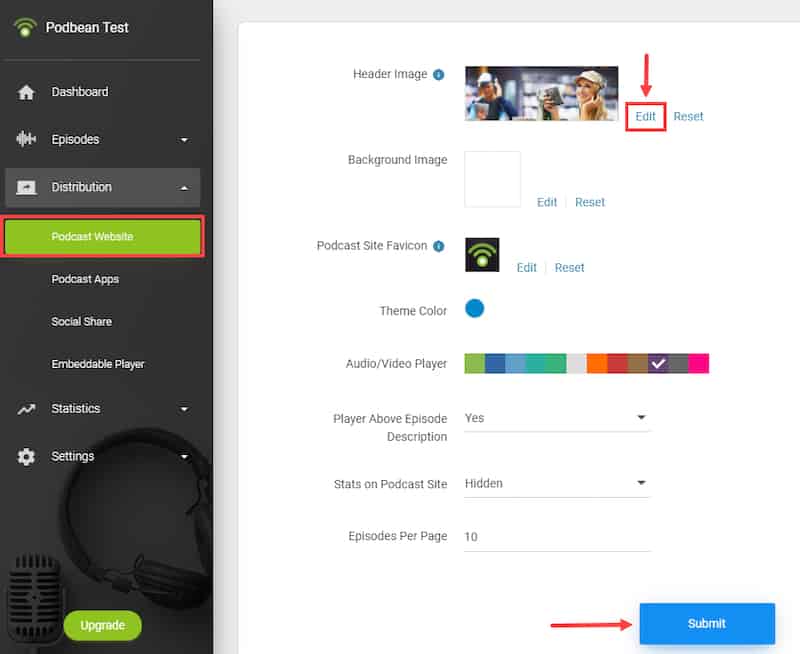 You can also embed your episodes on existing sites, share them on social media platforms, or distribute them to third-party platforms like iTunes.
You can check out these guides:
Podbean: Key Features.
Here are the Podbean features that we will be covering in detail:
Easy and Scheduled Publishing.
Mobile Publishing (Podbean App).
Professional Website.
Embeddable Player.
Podcast Distribution.
Unlimited Hosting.
Social Media Sharing Options.
Comprehensive Statistics.
Monetization.
SEO Features.
Email Integration
Live Streaming.
Amazon Alexa.
Video Podcast Support.
Money-back guarantee.
To start with, Podbean offers a step-by-step process that comes in handy for beginners, and the dashboard is also easy to use.
1. Easy and Scheduled Publishing.
There's no learning curve since Podbean's intuitive interface makes it easy to publish a podcast in a few clicks. It won't take you more than 20 minutes to set up your Podbean account, and you get to navigate from one step to another easily.
Simply enter the basic information for your account, upload your episodes, pick your custom subdomain, and create a site with pre-designed themes. You can also edit several details like the title, episode description, and monetization options before publishing your episodes.
You can then change the layout of the theme in your account backend. The designs are mobile-friendly, which is great as many of your users will most likely visit through mobile devices.
Distributing your podcast to different apps and social media sites is also easy, and you can do it right from your simple user interface dashboard.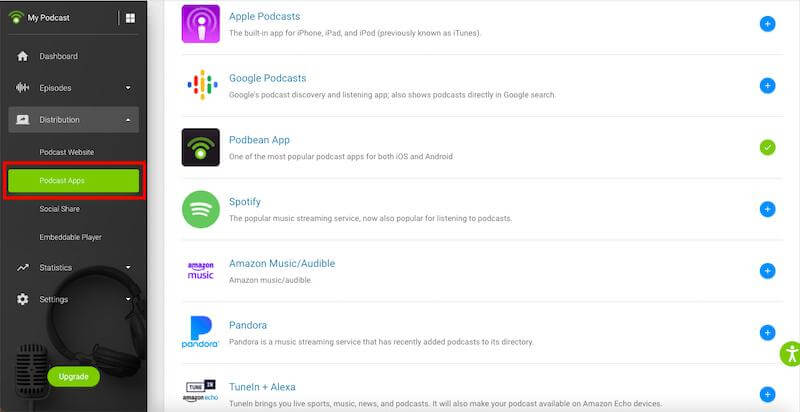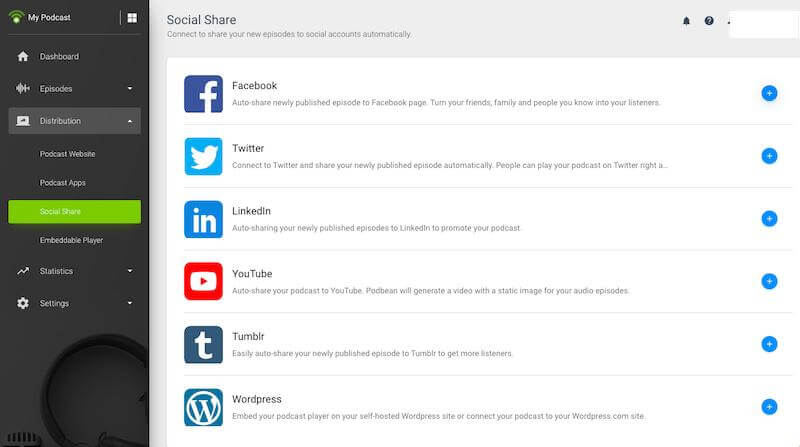 You can also publish conveniently based on your timetable by scheduling your podcast show at selected times.
2. Mobile Podcast Publishing (Podbean App).
Podbean comes with an app that allows you to record, edit, and publish podcast episodes right from your phone. There's an app for both iOS and Android devices.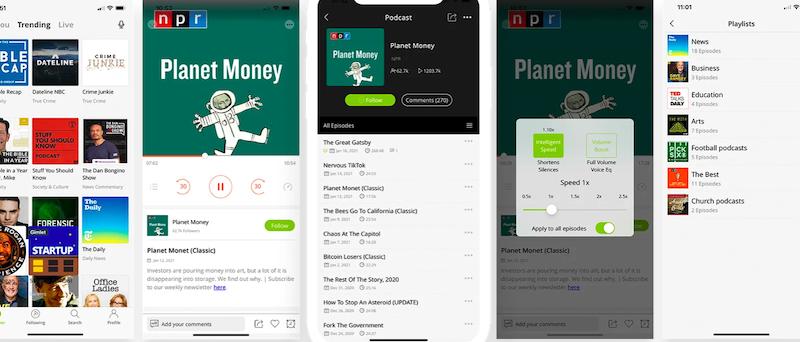 The apps have over a million active users and offer several functional tools and features to help you create and promote podcasts.
Some of its key features include:
Audio Recorder – Major recording features include post-production tools, background music, and sound effects.
Post Production – Perform actions like edit, split, merge and export after recording your episodes through the app.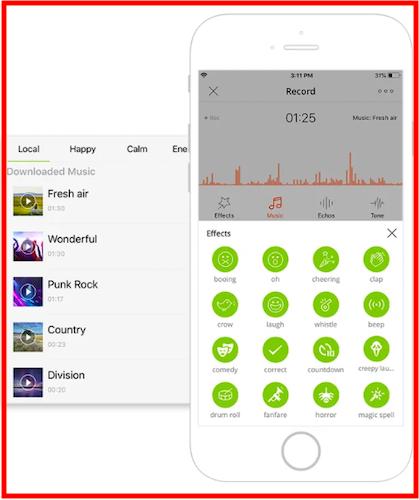 Audience Engagement – The app lets you engage your listeners by leaving comments, following other channels, viewing your followers, etc.
Remote Co-host – The Podbean app lets you invite co-hosts from anywhere in the world.
Performance Data – You can get critical insights right from your mobile device and identify which episodes are the highest performing.
The Podbean podcast app also ensures a secure delivery and is easily accessible to your paid listeners or donors. It also lets you deliver your patron-only content and bonus episodes to premium users.
3. Professional Website.
If you don't have a website already to embed your podcast episodes, you can create one with Podbean easily.
You can choose from different paid and free themes and tailor them to fit your needs.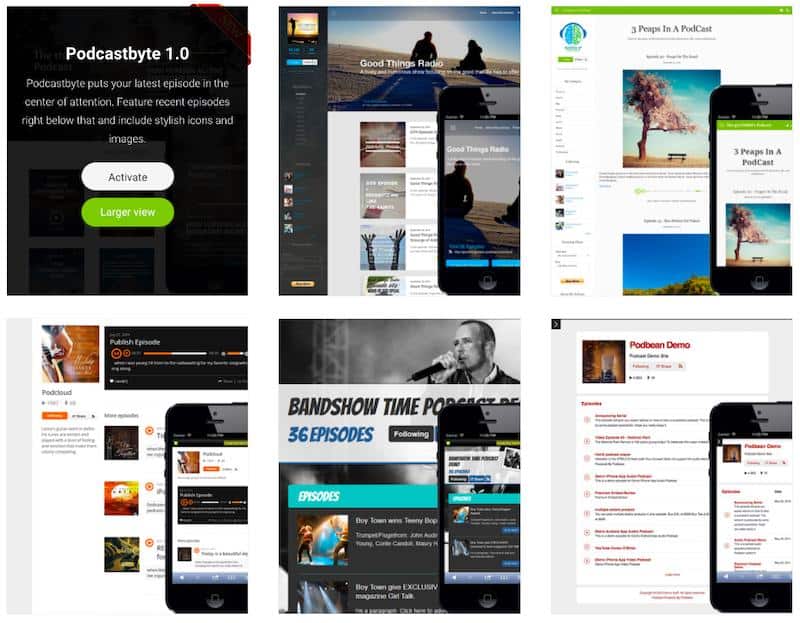 Podbean further lets you edit elements like the header image, background image, theme color, font color, link color, title color, font size, font style, etc.
You will also get a free subdomain of your choice that you can edit anytime from the "Settings >> General >> Podcast Site URL" tab.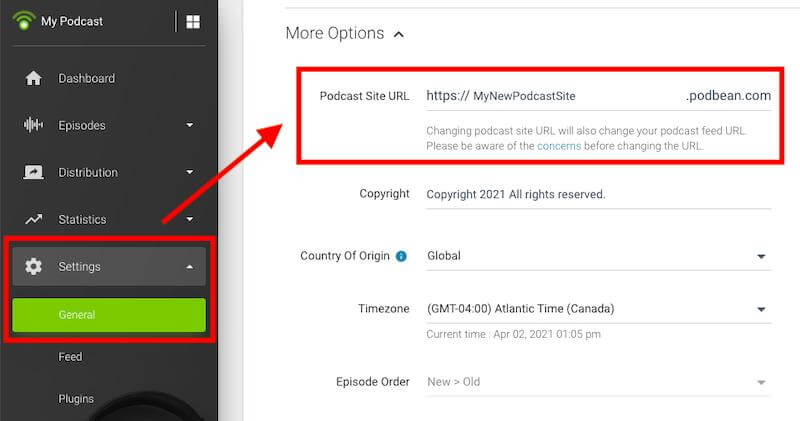 This website won't be enough to build a flourishing online business, although it's sufficient to host and publish your episodes. I'd also suggest buying a custom domain from one of the reputed domain registrars if you plan to monetize your podcasts.
There's an option to preview your site before publishing it to get an idea about its look and feel.
This is what a basic website would appear like: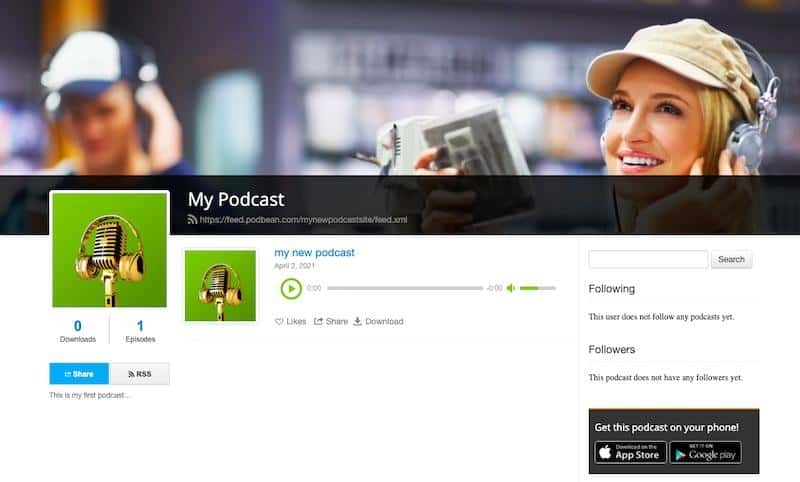 It's a better idea to create your own site for business purposes and use Podbean just to record and create podcasts.
4. Embeddable Player.
And if you already have a site, you can simply create the podcast and embed it on your existing site using the "Embeddable Player." The podcast player is professional-looking and customizable and lets you embed your episodes on your websites and blogs quickly.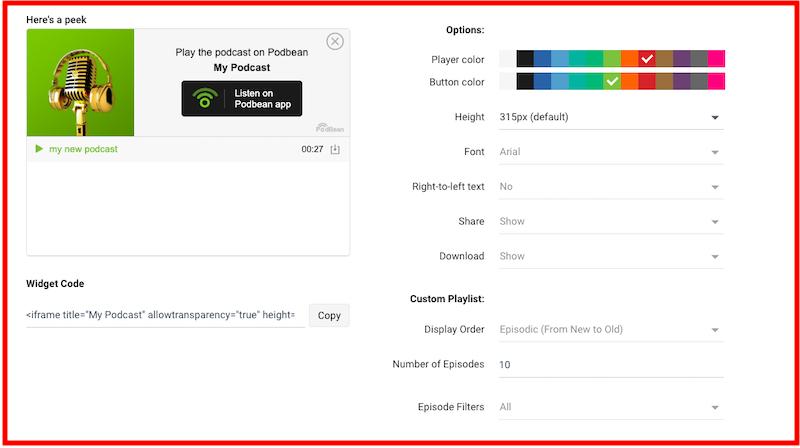 Simply copy the "Widget Code" to embed the episodes on your site. There are also several options to change the player's look and feel, like player color, height, font, share, etc.
Multiple customization options help you create multi-track players in varied sizes, shapes, and colors.
5. Podcast Distribution.
Podbean offers options to get your podcast in front of potential listeners and help you expand your audience.
It lets you distribute your episodes to almost every directory, including:
Apple Podcasts
Google Podcasts
Spotify
Podbean App
Amazon Music/Audible
Pandora
TuneIn + Alexa
iHeartRadio
PlayerFM
Listen Notes
Stitcher
Podcast Addict
Deezer
The process of distributing your podcasts to these apps is simple. You just have to follow the instructions mentioned after you click on the "+" icon for each app.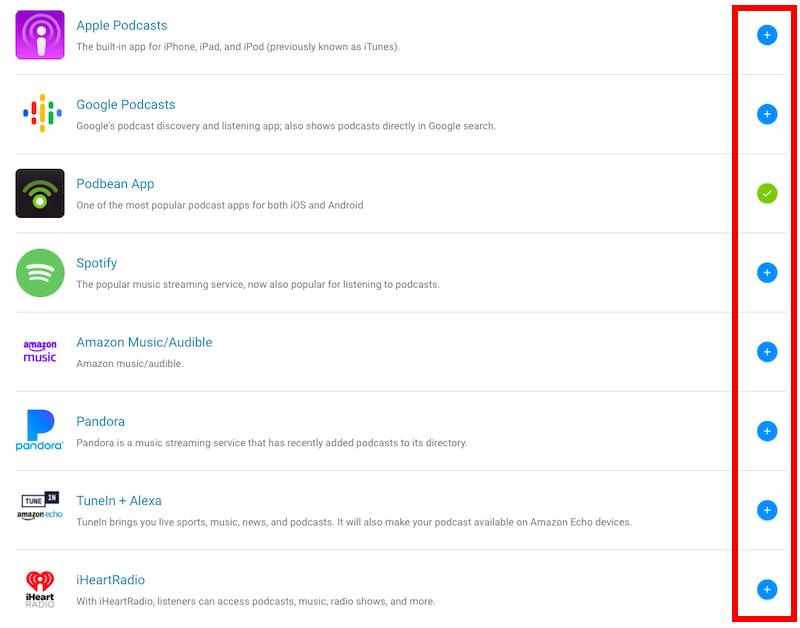 You'll have to copy + paste your RSS feed URL to submit your files to these apps.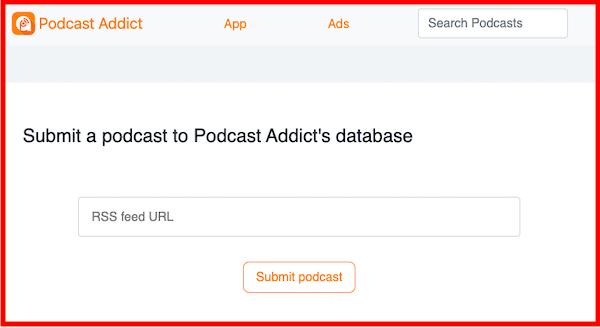 The approval may take some time. Luckily, it's a one-time process.
Once approved, all new episodes will continue to get published in the directories automatically.
Once you distribute your episodes to Apple Podcasts, they'll also be automatically available in the following podcast directories:
Overcast
Pocket Cast
Castro
Castbox
6. Unlimited Hosting.
The software's paid plans allow unlimited downloads, episodes, and recording time.
The paid plans also offer:
Unmetered bandwidth.
Unlimited storage.
Easy custom domain/brand integration
Fast and reliable network (owing to Amazon Web Service (AWS) and Podbean's own CDN network).
7. Social Media Sharing Options.
Podbeans provides a social media auto-sharing option that automatically posts your new episodes to social channels, provided you connect them with your Podbean account.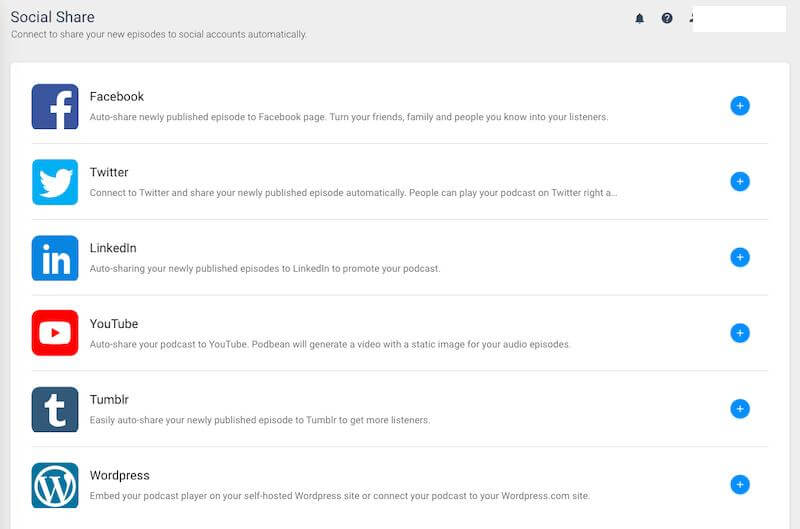 It lets you share your episodes to the following social platforms:
Facebook
Twitter
LinkedIn
YouTube
Tumblr
WordPress
The podcasting platform also allows you to create videos for social networks like Facebook and YouTube.
8. Comprehensive Statistics.
Podbean provides insights into key metrics to help you identify how your podcast is performing, download numbers for each episode, etc. You also get privy to statistics like geography, listeners' devices, popular episodes, and more.
You'll get a complete overview of your episodes right after you head to the "Statistics >> Overview" tab from your dashboard. There's data on user interaction divided into followers, comments, and likes.
You can also view the "number of downloads" and apply filters based on the time of the downloads.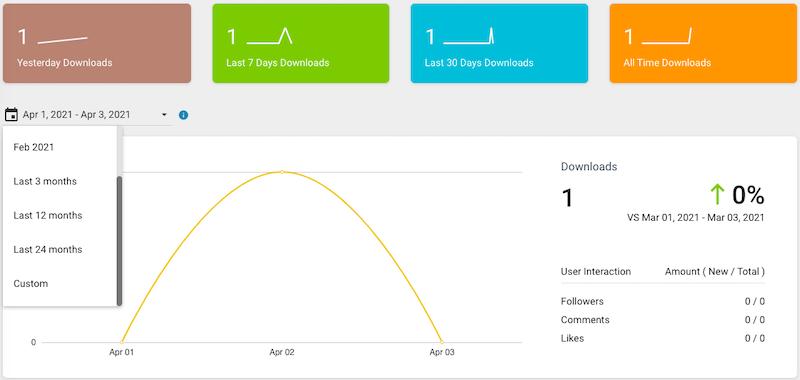 As you scroll further, you'll come across more detailed analysis to provide deeper insights.
Here's a quick overview of the statistics you can track from your dashboard:
Where Your Audience Comes From.
It helps you determine where your listeners come from and provides a detailed breakdown of the number of downloads from each country.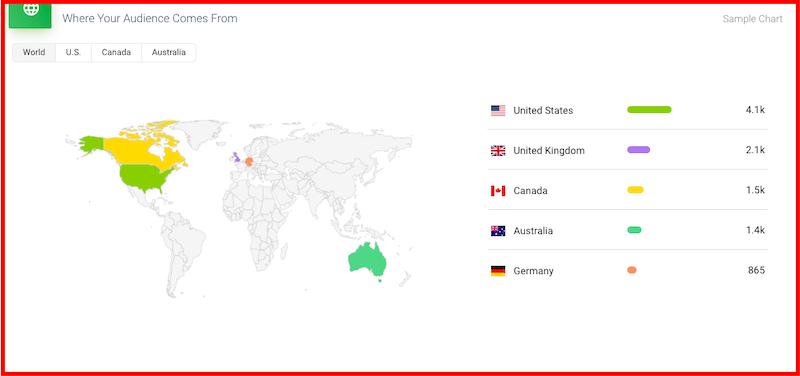 There's a world map, and each country gets marked by a specific color to help you track data easily. The chart shows where your podcast is popular and your listener distribution to target sponsors accordingly.
Download Sources.
The user agents chart will reveal which devices and apps your audiences use to listen to your podcast. When you know the top apps your listeners are using, you can distribute your podcast there and engage with listeners or further increase your audience.
Downloads by Time of Day.
The statistics chart also shows downloads by the time of day. This data allows you to track customer patterns and release new episodes on the best days and times.
You can also determine which days of the week and at what time you get maximum listeners and take advantage of peak listening hours.
Top 10 Episodes.
Podbean automatically summarizes all download data and shows you the top 10 episodes for several date ranges. It makes it easy to find which episodes get the most listeners and helps spot patterns to grow your audience.
User Retention Data.
Podbean also provides unique user retention data. It gives you a picture of how engaging your content is to your listeners and whether they're returning for new episodes.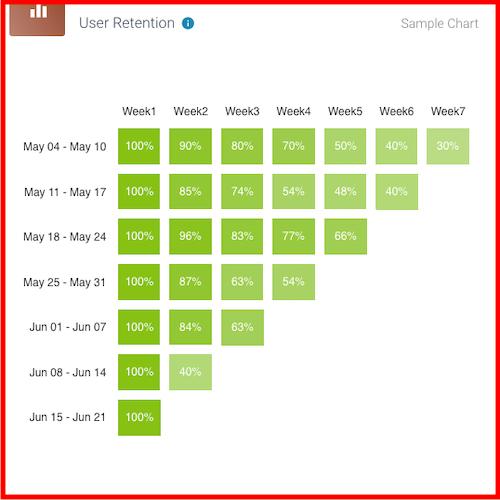 The user retention chart reveals the percentage of listeners retained over the most recent seven weeks.
Additionally, you can get access to the "Engagement Intel" functionality using an optional add-on. The Engagement Intel chart helps you identify whether listeners listen to the episodes till the end or leaving mid-way.
You can also identify whether the listeners are leaving because of the ads or some other factor. However, the Engagement Intel reporting feature doesn't come with a free plan.
9. Monetization.
Podbean's monetization options are its most significant selling points. There are three options, and you can choose whatever option you want based on your podcasts.
The three monetization methods include:
1. Premium.
The "Premium" monetization method helps you get paid every time a listener listens to your podcast with subscriptions or single-episode sales. It comes integrated directly into your dashboard.
You just have to focus on creating content and recording episodes while Podbean takes care of payment, technical, and support needs.
2. Patron.
The "Patron Monetization" method lets you create a patron page in minutes and set different levels of donations/rewards.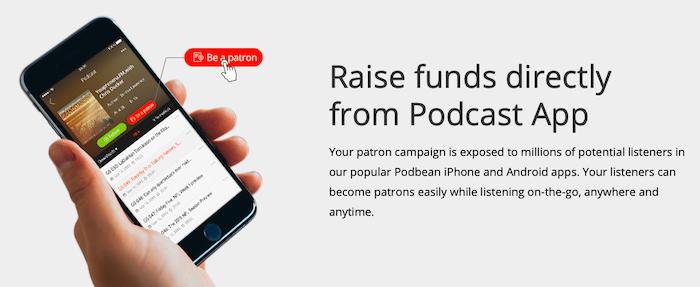 You can then publish "patrons-only" premium content just like any other episode. It's an excellent way for your listeners to support your content with recurring, monthly donations.
3. Ad Marketplace.
The ad marketplace helps you advertise your episodes and earn money through sponsorship of your content. You can list your podcast in the advertising marketplace for free to get matched with prospective advertisers.
The ads run to your chosen categories and target area (city/state/country).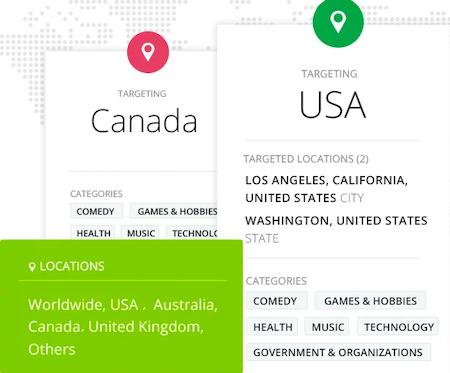 You can also implement the "PodAds SaaS" for sophisticated management with dynamic ad insertion capability. It will handle everything for you automatically, from starting and ending ad campaigns for you.
10. SEO Features.
Search engine optimization (SEO) is crucial when it comes to podcasts. But instead of focusing too much on optimizing for standard search engines like Google, you should be optimizing for podcast search engines.
One advantage is that Podbean has its own search engine. You can go to their site's search bar and enter a topic to test. Even other major podcast directories like iTunes and Google Play have their own search engines.
While there aren't any built-in SEO tools, the platform comes with several plugins to enhance your search engine rankings.
For example, you can use the "SEO Meta Tags" plugin to add basic tags for these search engines.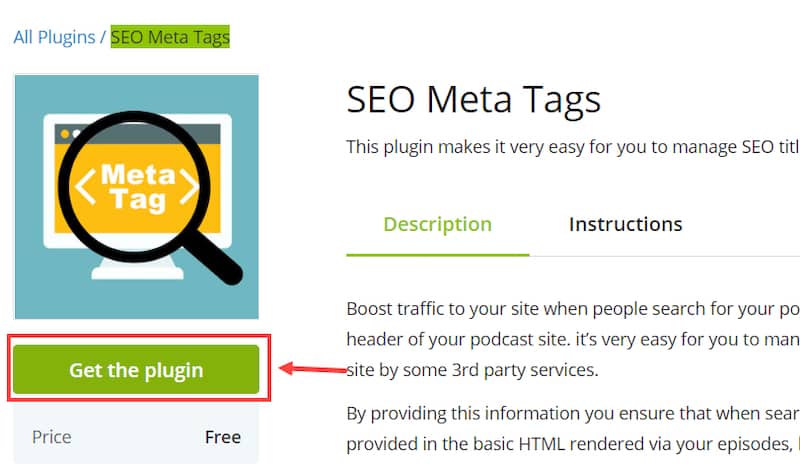 The plugin helps you create and manage SEO-friendly titles, keywords, and descriptions. It also enables you to verify your site with some third-party services.
11. Email Integration.
Podbean provides integration with Mailchimp, an email service provider, to help you automatically deliver your episodes to your email subscribers. The email plugin also allows you to gather email addresses.
12. Live Streaming.
Podbean lets you conduct live audio shows to interact and engage your audience in real-time.
You can even exchange comments and instant messages with your listeners while running a live stream. They also get options to call into your live shows, allowing you to interact with your listeners on a whole new level.
The iOS/Android app also lets you invite remote co-hosts or guests to call in from anywhere in the world via the live stream feature.
Plus, there are revenue opportunities involved with live streaming. You can always sell virtual tickets for your live stream and accept virtual gifts from your listeners. There are even options to cash out the virtual gifts you receive by converting them to US dollars.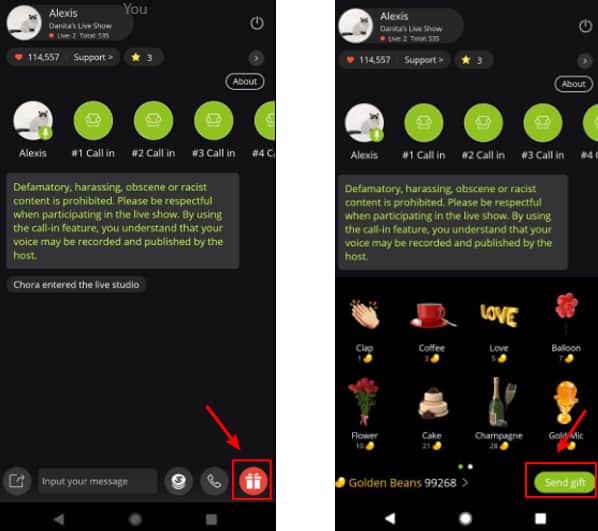 Other features include:
Schedule in advance
Built-in VoIP
Invitation-only mode
Background tracks and sound effects
Download, edit and repurpose your live stream event.
13. Amazon Alexa.
Podbean offers a unique feature called the "Alexa skill" that makes your new episodes automatically available on the Alexa devices. You don't have to embed or share them manually.
14. Video Podcast Support.
Video podcasts help you build a personal brand as it allows listeners to see the person behind the voice. This feature is also helpful for topics where body language and demonstrations are necessary.
The podcasting tool allows you to start video podcasts with unlimited storage and unmetered bandwidth. Although you get Video Support only with the higher tier plans, starting from $29 per month.
Here's everything you'll get with the video podcast support:
Unlimited video hosting
Analysis and reporting tools
Customizable branding
Audience engagement
Social sharing tools and embeddable players
Automatic iTunes publishing
Pre-designed templates
Custom domains
15. Money-back Guarantee.
Podbean's "Terms of Use" states that they give all new customers a 7-day "Refund Period."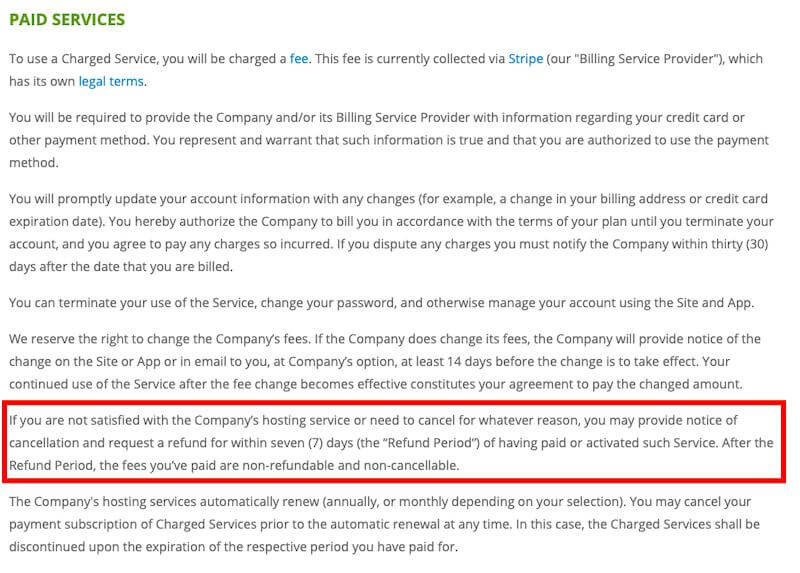 The refund period works exactly like the money-back guarantee, and you're liable to get a refund if not satisfied with the product.
Pricing Plans.
PodBean offers a free plan and three paid plans that provide more advanced podcasting features and monetization opportunities.
The four plans include:
Basic – Always free
Unlimited Audio – $9 per month (billed annually)
Unlimited Plus – $29 per month (billed annually)
Business – $99 per month (billed annually)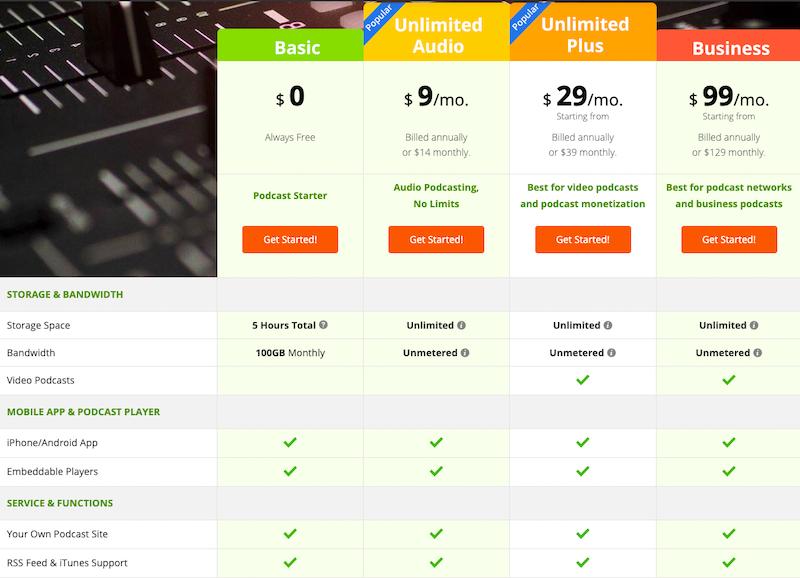 The Basic Free Plan only supports audio files (the MP3 file format). You will also get a limited 500MB of storage and 100GB of bandwidth. It approximately translates to 7k downloads and five hours of total episodes.
The Unlimited Audio Plan is affordable at just $9/month if you choose to pay them yearly. You will get unlimited storage and bandwidth. You also get to choose a branded or mapped domain name, custom site design, and the ability to monetize your podcasts.
If you want to upload videos, you will have to go for the Unlimited Plus Plan that costs $29/month. It also lets you monetize your content with the Patron program and includes PodAds, a dynamic ad insertion technology.
Then there's the Business Plan that costs $99 per month and is suitable for large enterprises. The plan provides dedicated customer service and support, the ability to remove Podbean's branding, several user logins, content segmentation, and advanced engagement stats.
All of these features make the Business Plan especially suitable for large companies that deal with SaaS.
Customer Support.
Podbean offers customer support via live chat and email ticketing. However, you won't find phone support.
You can also gain knowledge and get your queries answered by visiting their knowledge base. It contains several articles and video tutorials to help users solve problems on their own.
Podbean Pros and Cons.
Podbean is a podcasting platform that helps you record, host, promote, distribute your podcasts. All in all, it's a one-stop destination for your podcasting needs.
It also offers ease of use, detailed analytics, and monetization opportunities. You can even try their main features without making any investment with the freemium plan.
To help you make a quick purchase decision, here are the pros and cons of the platform:
Pros.
Easy account setup
Add your podcast show to iTunes or Google Play quickly.
Custom domain for your website
Pre-designed themes
Customizable themes
Every account holder gets a free subdomain of their choice.
Built-in monetization options
Comprehensive statistics and data analysis
Video Podcast support
7-day money refund
Cons.
Limited security features
No uptime guarantee
No backup feature
No phone-call support
Wrapping-Up.
Hopefully, this in-depth review of Podbean helps you make an informed choice on choosing the best podcasting hosting platform for your business.
Let's quickly summarize this Podbean review:
Podbean comes with an easy-to-use user interface, comprehensive analytics, customizable themes, iOS/Android mobile app, and built-in monetization tools. It also allows listeners to stream or download episodes.
The most significant advantages of using Podbean include unlimited podcast hosting and a free plan suitable for running podcasts without any additional bells and whistles.
There are also a few cons. For example, you can't do video podcasting unless you buy their high pricing plans. You also get only seven days to request a refund. There aren't any options to create backups either.
That said, Podbean is a solid option out of the growing market of podcast hosting platforms. It's affordable, starting just at $9 per month. The generous free plan makes the platform even more attractive, especially for new podcasters.
Disclosure: I may receive affiliate compensation for some of the links below at no cost to you if you decide to purchase a paid plan. You can read our affiliate disclosure in our privacy policy. This site is not intending to provide financial advice. This is for entertainment only.
---
Last Updated on December 8, 2022 by Adam Enfroy