How to Start a Podcast in 2023 (Free Guide To Your First Show)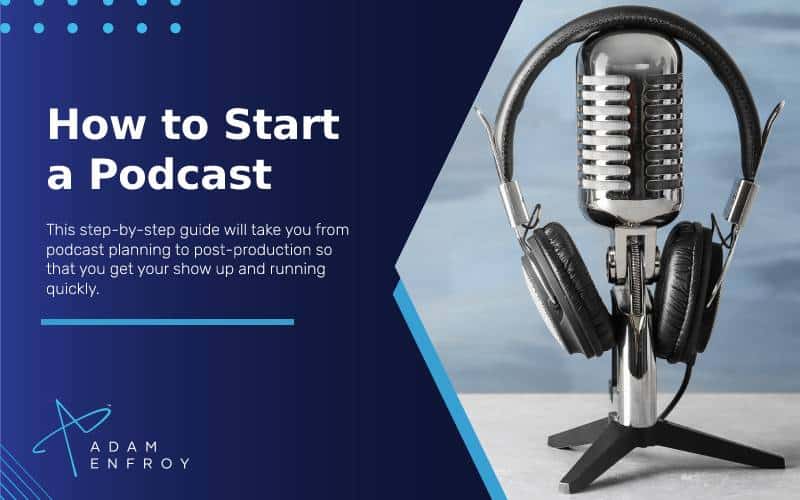 Did you know there are 464+ million podcast users and more than 500,000 podcasts for these users?
Despite these numbers, some businesses are still opening up to the power of podcast-hosting sites.
This step-by-step guide will take you from planning to post-production so that you have your podcast up and running quickly.
Let's get started.
How to Start a Podcast [Infographic]

Who Is Your Target Audience?
There can be various genres depending on the crowd you want to attract and the customers you want to serve.
No podcast or marketing avenue, for that matter, can cater to universal wants and needs.
Especially for beginners starting a podcast with no audience, it is vital to be clear about the content you want to provide from the very start.
The content and focus of the podcast should align with your business interests and perspectives.
Take this daily NBA podcast, the Starters, for instance: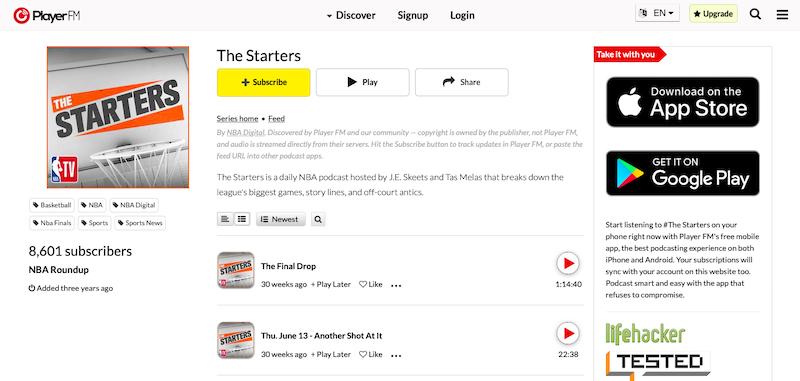 The Starters is one of the most successful NBA podcasts in the USA.
The key to targeting the right audience is providing the fodder they want.
For example, if you want to target basketball enthusiasts, you probably would talk about the latest stars, the scores, the matches, and who would be the most likely to win the crown this year.
On the other hand, if you are a detective story writer, your podcasts should probably contain information about the latest detective writers in the US or Europe, the most recent books in the market, your books' launches, and more.
The idea is to engage podcast listeners and provide the content they want.
For that, it's essential to know the kind of audience you're likely to have and plan accordingly.
You should know what questions the listeners are bound to ask, what they are likely to think, and how they can be satisfied.
Unless your target audience is crystal clear, you can't translate your efforts into success on the business horizon.
What Are You Offering To Your Listeners?
First and foremost, you have to provide value to your listeners and give them a reason to stay. Next, you must give your readers an entertaining show for which they'll stick around.
According to podcast statistics, 80% of listeners listen to an entire podcast episode or most of the episode: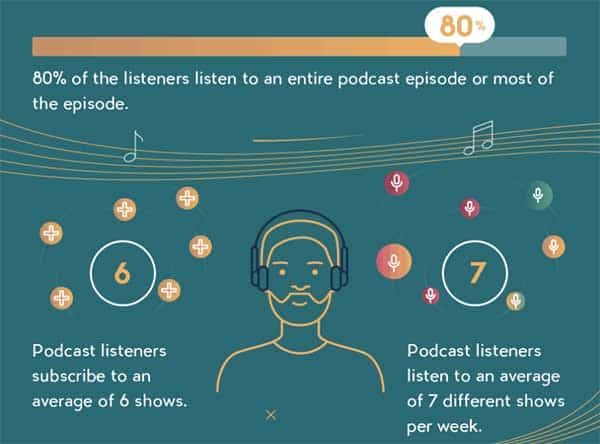 The statistics suggest that unless your content is enriching, valuable, and beneficial to your audience, they may not stick around for your first episode.
And with more than 500,000 podcasts in the US alone, you're going up against the rough competition.
Getting the listener hooked to your podcast from the first listen is essential.
But that's not all – you must ensure the listener becomes a long-time subscriber and returns for more.
Along with value, you've also got to sell the promise of value – that things will only get better and more enriching from then on.
65% of non-listeners say they aren't sure where to start listening. That's because, with so much variety in the market, people aren't sure what's the best channel for them.
Therefore, your value proposition and messaging should be clear from the very beginning.
A podcast is a platform for like-minded people to learn about and stay abreast of things they're interested in.
If you don't provide precisely the type of content you promise, your listener base will get confused and leave.
What's important to realize is that listeners are typically looking for something specific, so make sure you've nailed your value proposition before starting.
How to Name Your Podcast.
To quote Shakespeare, 'What's in a name?'
However, he wasn't in the age of podcasts like us. And right now, podcast names and titles do matter!
Did you know that 5 seconds is all you've got to make a mark? That's right. Five seconds is all the time a person takes to decide whether they will engage with your podcast or not — based merely on your title.
Imagine slogging for two days creating the perfect podcast, all for it to be rejected by most listeners because your title sucks.
You don't want that to happen.
Here are some essential tips for naming your podcast:
1. Make it Informative.
Regarding the title, it's better to come clean and not beat around the bush.
It would be best if you tried incorporating the target audience, subject matter, and background inside the title.
For the best results, you could also add essential keywords.
2. Make it Unique.
With so many podcasts, selecting a name that overlaps with another one is easy.
That could lead to confusion in the minds of the listeners. It might even divert your audience to the other podcast.
So to avoid creating problems in the future, be careful, and have a unique name.
3. It Must Be Easy to Comprehend.
While it's natural to want to stand out and carve a niche for yourself, the title must not be lost on the customers. It has to be relatable and understandable.
Ambiguity might end up harming your podcasts and viability.
4. It Should Be Succinct.
The extended length of your title has repercussions that are sometimes invisible.
According to a recent study, although titles can have up to 255 characters, 75% have only 29 characters. The median title has 20 characters.
Brevity is essential to ensure you have your customers' attention.
There are plenty of other tips you can follow, like excluding the word 'podcast' in the title, which can enhance and improve your visibility.
Back in 2015, Apple's Steve Wilson offered this excellent advice via Twitter: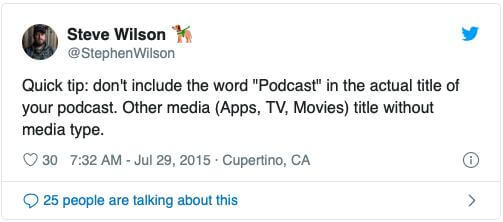 5. Make it Creative.
A podcast title should unleash your creativity.
One of the most famous examples of a podcast with a creative name is The Moth.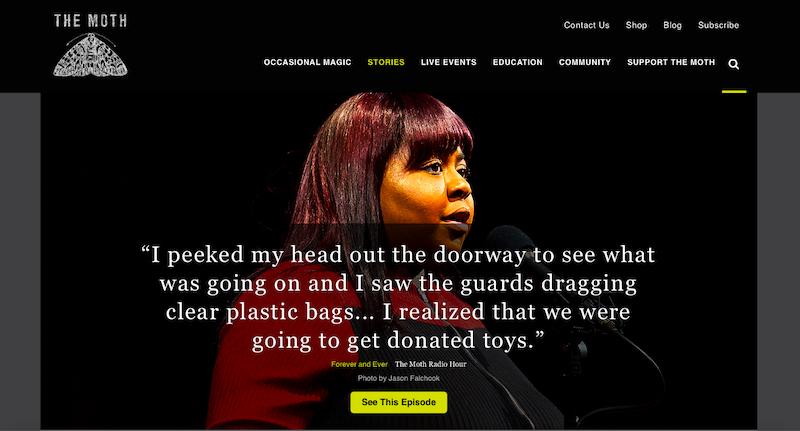 Some of the names can either hint at something more significant or may be regular introductions to pique the interest of the listener just long enough to get them hooked on to the station.
6. Descriptive.
Your podcast title should do a great job of describing what's on offer.
Avoid beating around the bush or creating an atmosphere of an enigma.
The more straightforward your podcast's name is, the better.
These have a distinct advantage.
The best part is that descriptive title names are easy to search and locate since the listeners are searching with a specific keyword.
For example, if you search for football-related podcasts, you are likely to hit the podcast called Football Weekly.
All the above applies to your podcast description as well.

7. Self-Titled Podcasts.
Like the famous toyshop Hamley's is named after its 18th-century founder William Hamley, one can name the podcast after the person conducting it.
One of the best examples of the same is The Tim Ferriss Show.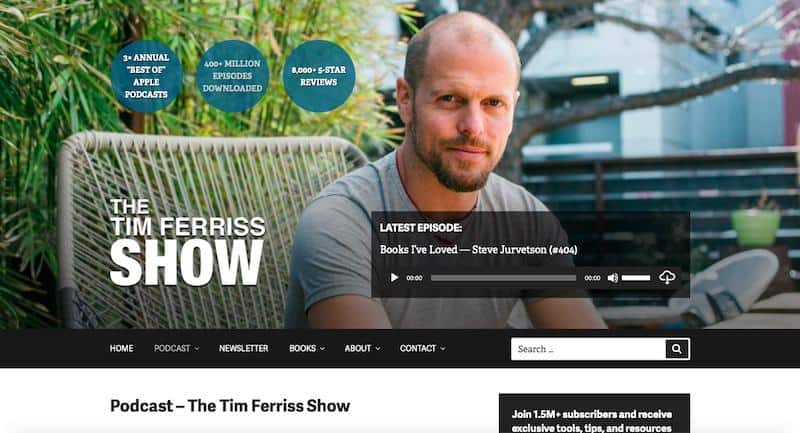 It helps the listeners since they probably already know what they're looking for and can type in the name to get what they want.
It also saves a lot of time and hassle.
This type of naming helps listeners find people who are already somewhat famous.
If you don't have a following, starting with a self-titled podcast is more complicated.
Think it through, and don't take a chance when it comes to the name of your podcast. It could make all the difference.
Determine the Length of Your Podcast Episodes.
'All good things must come to an end.'
This time-honored adage holds for podcasts as well. Just because it's a success doesn't mean that your podcast episodes must drone on and on.
To maximize impact, ensure you air every new episode and make them available quickly.
After all, too much of anything is bad.
Although there isn't a hard and fast rule for the podcast length, most people agree it's better to keep it short.
If statistics are anything to go by, our attention span is less than that of a goldfish.
Consider it a bonus even if you get your listeners to hang around for 20-25 minutes.
The average podcast session is 43 minutes. But that can only work when listeners get hooked on something and don't want to leave halfway through.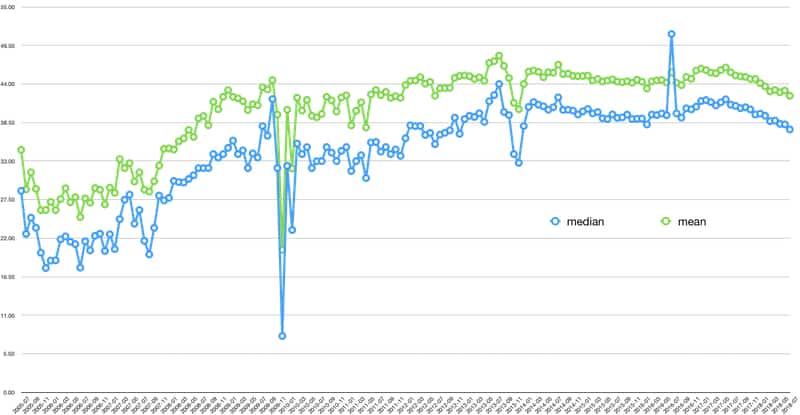 Every podcast can have different playing times.
You have to work out what's best for you. For example, at Pacific Content, the average length of episodes is only 25 to 30 minutes.
Whereas one of the most popular podcasts – the Joe Rogan Experience – has longer episodes in the 3-4 hour range.
It's all based on what your audience wants.
Remember, you've got to keep your listeners engaged for the podcast to be successful.
How Frequently Should You Stream Your Podcast?
The big question is: How frequently should you stream your own podcast?
The streaming sessions shouldn't be too far apart since people don't like to wait very long.
Sessions shouldn't be extremely close together, or you'll run out of content.
Therefore, it's essential to spread out your sessions in a manner that will have the optimum impact on your listeners.
You can release a podcast every week, while some of your competitors might go for monthly releases.
Many podcasters fail to get right the first time around.
You should take your time and chart the points you would like to hit for the next six months.
Once the content is ready, you can pick and choose the frequency you're aiming for.
Finally, you've got to choose between quality and quantity. While many daily podcasters believe they can make more money with more episodes, this often isn't the case.
Listeners tend to get fatigued, things can get repetitive, and it can do you a world of good to go for quality over quantity.
How to Choose Your Podcast Format.
Deciding on your podcast format can be just as important as your content.
It's your podcast — so you can choose any podcast format.
Although the most popular format remains the 1:1 interview, there are many other types you can explore.
But why do you need to choose a format at all? Why can't you keep changing and alternating between the available types? Wouldn't that be better and provide a lot more variety?
Well, that's not always the case.
What people look at while they are listening to a podcast is consistency.
They align themselves with the format and know precisely how things will go. They know what to expect and don't like surprises.
They might be confused if they listened to a 1:1 interview one day and a Q&A session the next.
Give your listeners what they want, and your podcast will spread.
A report says that 92% trust the word of friends and family over company advertisements. 74% of consumers rate word of mouth as a highly effective influencer for customers.
That's why consistency in content delivery makes a real difference.
Here are some of the Podcast format ideas you can explore:
Interviews
Conversational
Educational
Solo voiceover
Storytelling (fictional/ non-fictional)
Recently, there has been a spurt in fictional storytelling in podcasts in the USA.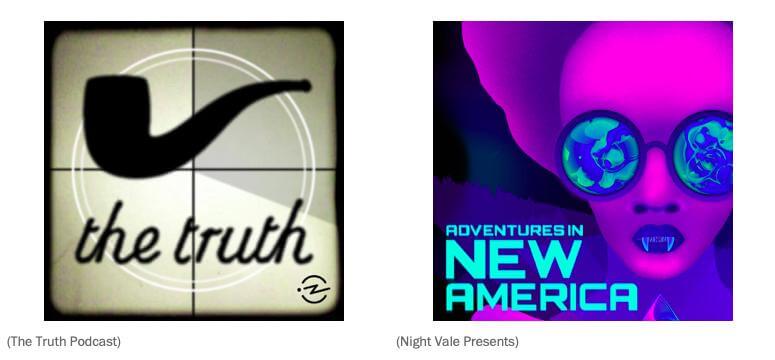 In addition to famous podcasts like 'Serial', 'The Truth' and 'Adventures in New America' are two of the most famous fictional storytelling format-based podcasts aired in the US right now.
Should You Use a Co-host or Remote Guests?
That's a million-dollar question. And the answer requires some planning on your part.
Here's a flowchart to help you decide: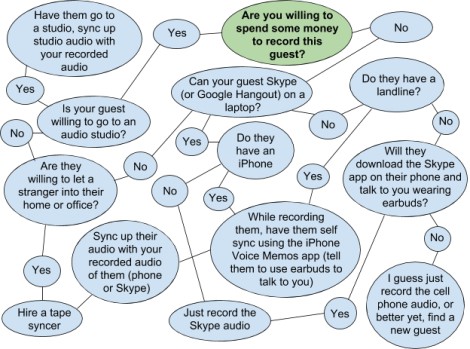 Most podcasters pre-record interviews and play them in the podcast sessions.
To avoid such instances, you have to choose wisely — co-host or remote guests.
Both options can be easily achieved in this era of fast Internet connections.
Recording chats has now become more comfortable than ever.
You can use Adobe Audition, Soundcloud, Audacity, Anchor.fm, or even Zoom or Skype, which is still the most common communication device for podcasting.
Additionally, with tools like Ecamm (for Mac), recording the voice of guests from any location has become very easy and has drastically reduced recording costs.
Whatever your format, plan and stay consistent in your approach.
Which Podcast Recording Software and Podcast Equipment Should You Use?
Podcasts can be elementary to stream, but only when you have a suitable podcast starting kit backing you up.
Why would you require specialized recording and audio editing software for podcasts?
The answer is simple: you want to ensure your listeners get the best sound quality since they are highly invested in your show.
You'll want to do away with specific sounds that will only serve to distract your audience.
When you record, sounds like murmuring, hissing, screeching, p-pops, and distortion creep in inadvertently.
The sound levels may fluctuate as well. It immediately sends out a vibe to listeners that you're not a professional, which may eventually make them lose interest.
The right editing and recording software can:
Eliminate background noise
Ensure sound doesn't fluctuate
Allow you to bring music into the mix
Ensure clarity
So, what should you ideally look for in your recording and editing software?
It all depends on what you're trying to achieve.
If you're going for storytelling, your choice would probably be Hindenburg.
If you are starting and looking at something free to use for iOS and Mac, you should probably go for GarageBand.
If you want recording and editing software that is highly automated and takes care of most of the things for you, Alitu would be perfect for you.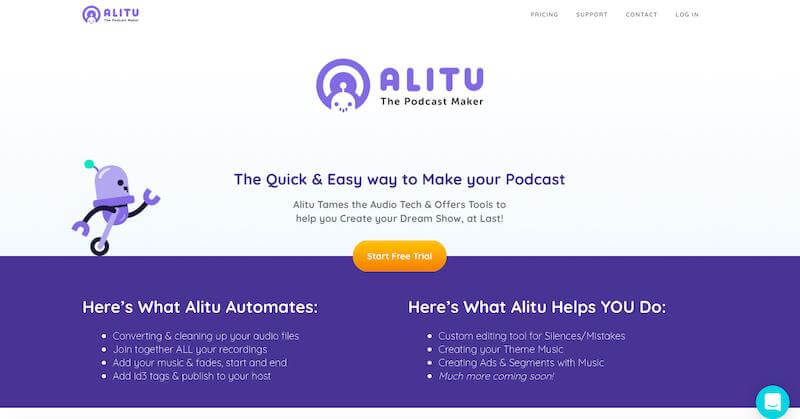 Two other top-rated and easy-to-use tools are Audacity, Pamela, and Anchor.fm.
The very best recording software also lets you do things like:
Mix tracks
Add audio effects
Cut and splice audio
Convert files into an appropriate format and publish
Connect to a blog with a WordPress plugin
You'll also need a good USB microphone, headphones, and a pop filter to improve your audio quality for podcast equipment.
If you're experienced, you'll probably know your way around podcast audio recording equipment. But if you're a novice, it's a great idea to start with a simple, easy-to-use, free podcast recording software so that you can learn the tricks of the trade fast.
I recommend you get started with Spreaker today and enjoy one month free on your podcast hosting.
Alternatively, you sign up for Buzzsprout for a free $20 Amazon gift card.
How to Create a Podcast Script.
To quote Virginia Woolf,' Every secret of a writer's soul, every experience of his life, every quality of his mind, is written largely in his works.'
Podcast scripts are not much different in this regard.
You want to reach out to your target audience with your content and words and engage them holistically.
And for that, you need to write a perfect script.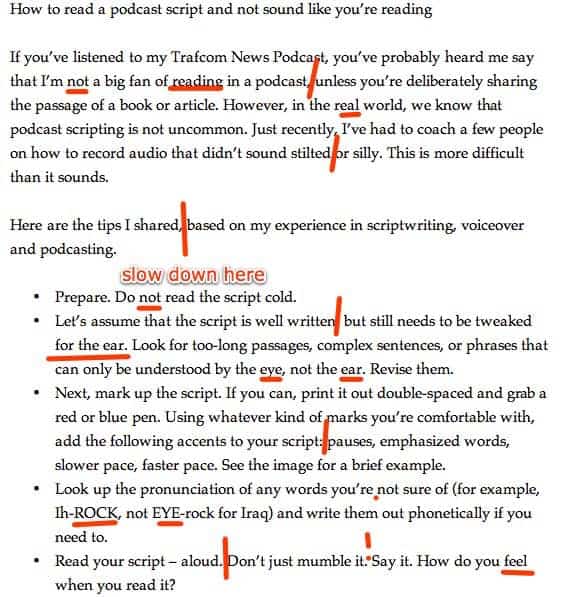 Some of the most excellent podcasts can seem very easy and lucid, but that's because they've spent hours and hours perfecting them for the best results.
Here are some tips for creating some of the best podcast scripts:
1. Speaking vs. Reading.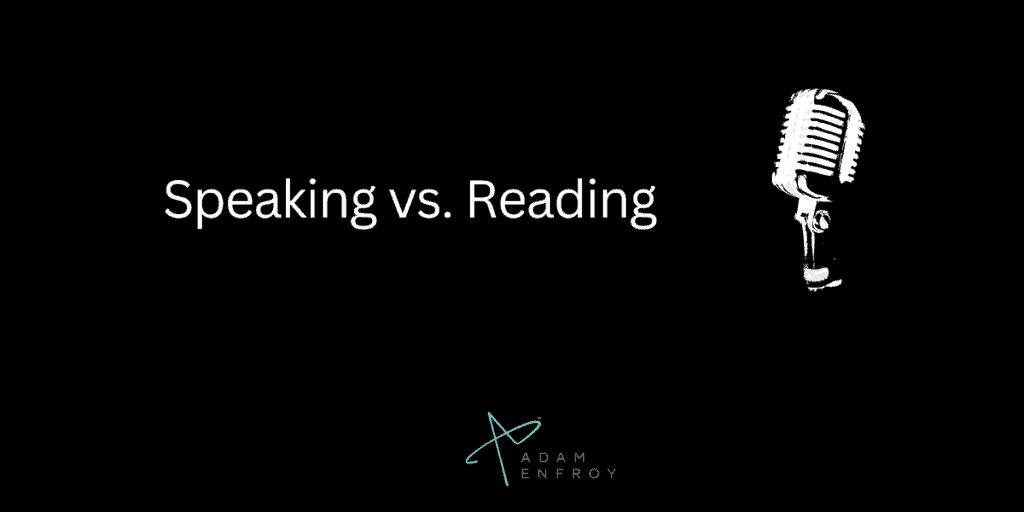 No one likes a speech that's dreary and drab.
It wouldn't be very engaging if you wanted to read something out to your listeners.
Conversations where both parties can make their points always elicit the best results.
Even if you are reading out and taking cues from a script, make sure it doesn't sound stiff and upright. Don't use words that sound unnatural, out of context, and don't align with your personality.
2. Brevity is The Key.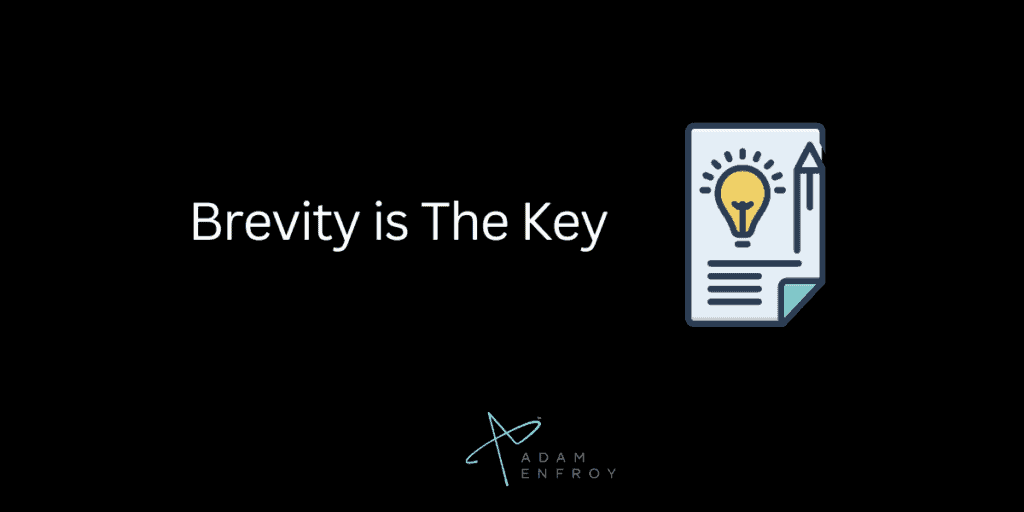 I bet you are talking about an exciting podcast topic.
But must you drone on? Not at all.
Brevity and conciseness are often rewarded with increased interest and engagement.
It's better to be short, concise, and to the point than long and tedious.
3. Flexibility.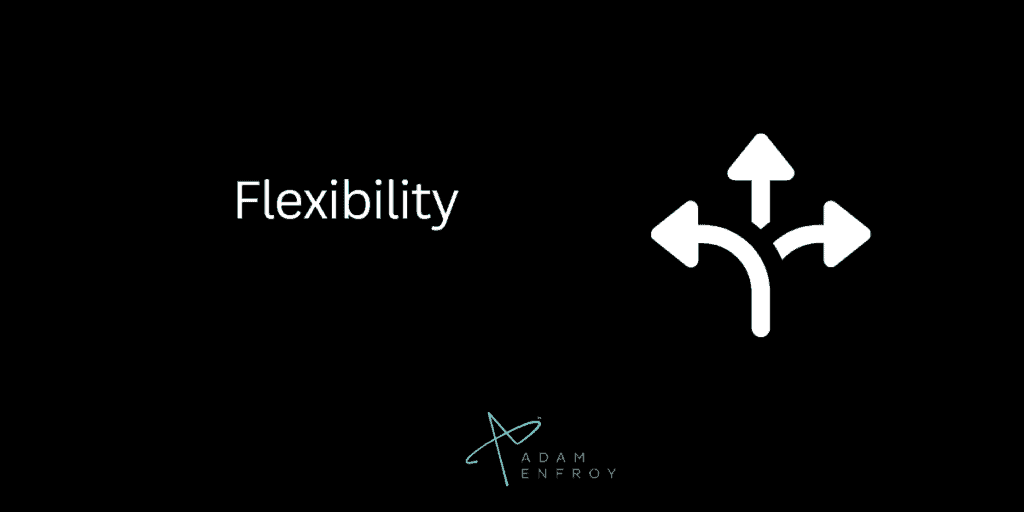 Most of us will agree that talking at length about a topic can be difficult.
To achieve maximum fluidity of speech, you must be flexible about what you say.
It's a great idea to read up about topics you want to discuss and add the headings in your script to act as cues.
That way, you don't miss out on any relevant topic and can provide enough flexibility to speak about it since it all comes from the top of your mind.
4. Improvise.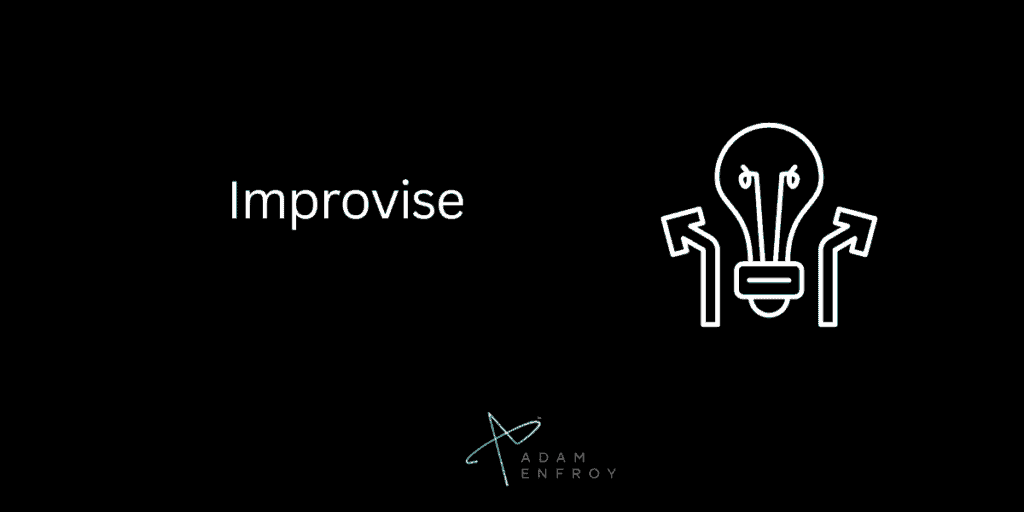 Every podcast speaker has a different voice, tone, and conversational ability.
Just because one of your competitors is a great orator and needs a minimal script to deliver content doesn't mean it'll hold the same for you.
You must alone decipher your comfort level with off-the-cuff content.
Whichever works for you and you're most comfortable with is what you should go with.
You may need a well-planned script based on your show's format, so pay attention to it.
How to Speak into a Microphone.
Speaking into a microphone can be tricky — even seasoned podcasters can vouch for that.
When you're just starting and are yet to learn the nuances of your "radio voice," things may not always go as planned. You can speak too fast, too slow, with the wrong sound levels, etc.
And this can be where most podcasters make the earliest mistakes.
But how do you do that? How do you weed out weaknesses in your speaking ability and microphone recordings?
Here are some of the ways to do just that:
1. Slow Down.
More often than not, new podcasters tend to speak too quickly.
Often, they can't modulate their speed and speak at a rate that's not even discernible.
They tend to freak out and speed up the pace of talking.
When you speak, you should exude composure and calmness, take deep breaths, pause at proper stages, and talk slowly and clearly so that all the parts of your speech are easy to understand.
2. Pause.
Knowing how and when to pause while delivering a speech is the hallmark of a great orator, and it separates novices from seasoned speakers.
By pausing at the correct times, you can gather your thoughts, emphasize what's important, and allow the listeners to reflect and gear up for the next part of your speech.
3. Speaking Volume.
Sure, you can adjust your volume levels.
However, trying to be correct the first time you hit the record button doesn't hurt.
Speak naturally – you don't need to shout and shouldn't stop talking in the middle of a sentence. Be confident when you speak with the right pace and tone.
4. Give Off Positive Vibes.
While recording your podcasts, exuding confidence and letting off the right vibes is critical. You should be upbeat and full of life – hesitation and drab speaking are rarely appreciated.
Act like you're speaking to one close friend with vitality and honesty.
5. Pay Attention to Your Voice.
Last but not least, pay attention to your voice.
A study from the University of Glasgow found that people could be rated with a high level of accuracy as to whether they are trustworthy or not based on how they say the word, 'Hello.'
Your voice becomes the reflection of who you are, even if you're thousands of miles away recording a podcast.
For example, if you're too apologetic during a sponsored advertisement, your listeners will feel you don't believe in the product.
If you're too aggressive in your sales pitch, people will feel you're simply trying to push the product down their throats. Both aren't good for business.
You need the proper voice modulation that can elicit the correct response in your listeners.
You must be able to excite and inspire them to follow you.
Always keep checking on your voice and consistently listen to how it sounds – you'll slowly begin to understand what modifications are necessary on your part. And you'll only get better over time.
When speaking into the microphone, ensure the mic is working and recording correctly.
Before finalizing your audio files, check the recordings multiple times.
Ensure your voice is recognizable and isn't fading or missing in places.
How to Select Music For Your Podcast Intro.
Having music in your podcast isn't always a necessity. There are plenty of great podcasts out there that don't use any music.
But should you use it?
It depends.
This American Life is a podcast that uses music pretty well.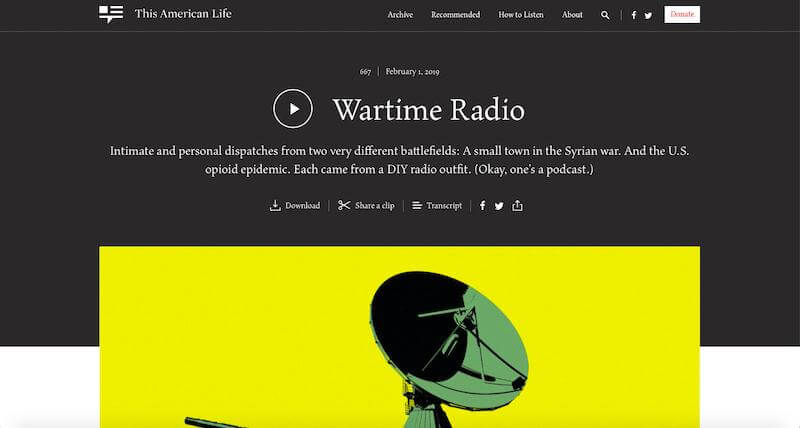 With a focus on storytelling, this podcast uses music that creates a mood for engaging stories.
However, music doesn't always end up working correctly. Some shows are conversational and focus more on serious aspects of life, like politics or war. Even intermittent music isn't a perfect fit for some of these shows.
One area where music tends to do exceedingly well is during intermissions.
People tend to lose interest and focus during quick breaks.
Hence, they need music to let their mind wander and understand what they just heard.
At such a juncture, a familiar tune, jingle, or music can work wonders to keep the listener's association alive with the podcast station.
Music can also work well for the intro and outro of your podcast. Music, a short jingle, or sound effects can also be trademarked and copyrighted as part of intellectual property.
Over time, this music might even become synonymous with your podcasts.
In such instances, using this music as a differentiating factor makes sense.
Ultimately, if you decide to use paid or free music, you must take responsibility for it.
You must have the proper license to use someone else's copyrighted material.
Royalty-free music is great for this purpose.
Or, if you're the creative type, you could create and copyright your music.
To get listeners excited for your show, use captivating music for the tone and mood you want to elicit.
How to Choose Cover Art For Your Podcast.
The right podcast cover art can give an air of mystery to your podcast that listeners would do anything to unravel.
Check out some of the most enticing cover art for podcasts streaming now: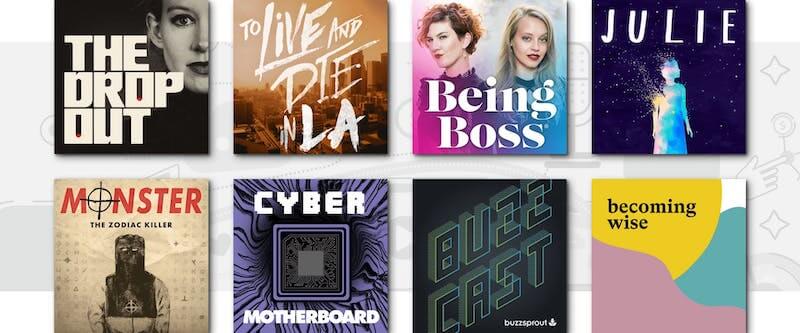 The right cover art either helps get you more clicks and listeners or puts you in the heap of forgotten podcasts.
This is one of the best ways to market your podcast and get it to stand out from the rest of the crowd on all the podcasting apps and platforms.
Here are some essential tips to help you create the right cover art for your podcast:
1. Make Sure Your Podcast Works in Apple Podcasts (iTunes).
Apple Podcasts (in the iTunes store) is the most popular podcast directory.
Your podcast feed must be in this directory if you want maximum visibility.
And for that, your cover art must meet certain specifications:

2. It Should be Communicative.
Your cover art is essentially a quick form of communication with your audience. Before you go into the details, you want to display and communicate your selling point visually.
You want to ensure that your cover art conveys this message at a glance.
Here are some excellent examples:

3. Make it Succinct.
Usually, your cover art is associated with your show's title. The shorter the title, the more memorable. Research says the title or the number of words you use here shouldn't exceed 6.
4. Choose Your Fonts Wisely.
Your fonts convey a lot about your show's tone. Therefore, you should choose yours wisely and limit the number that you use.
The right fonts can halt distraction and help listeners focus on what your cover art is trying to say.
5. Don't Use Podcast Images.
Remember, podcasting isn't what you're trying to sell to your listeners. Instead, you're selling the information inside.
Podcasting is just the medium you're using – like TV or radio.
Therefore, the medium doesn't matter, so you don't need to discuss it.
Instead, focus on your message.
For example, using images like the following is more often than not a redundant exercise.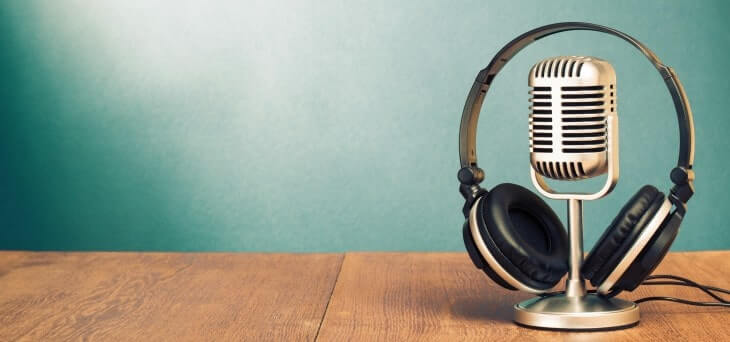 You can follow many other tips to create the perfect cover art.
And many websites can help you with the same, for example, 99designs.
The right cover art can captivate the listener instantly and turn them into long-term loyal fans and advocates of your podcast brand.
If you want to create visually appealing cover art for your podcast, check out my list of the best graphic design software.
You can also use an online tool like Canva or a marketplace like Fiverr to get designs completed.
How to Sign Up For Podcast Software.
Here's the process you have to follow to register an account on Riverside (and even get started with your first podcast recording).

Create a free account or sign up with Google/Apple.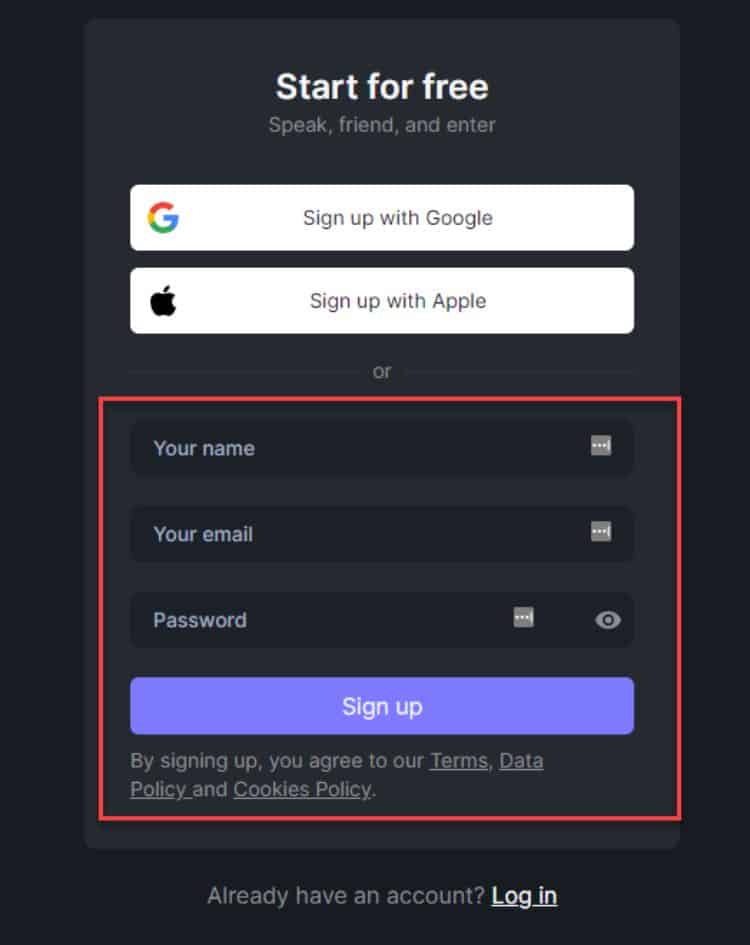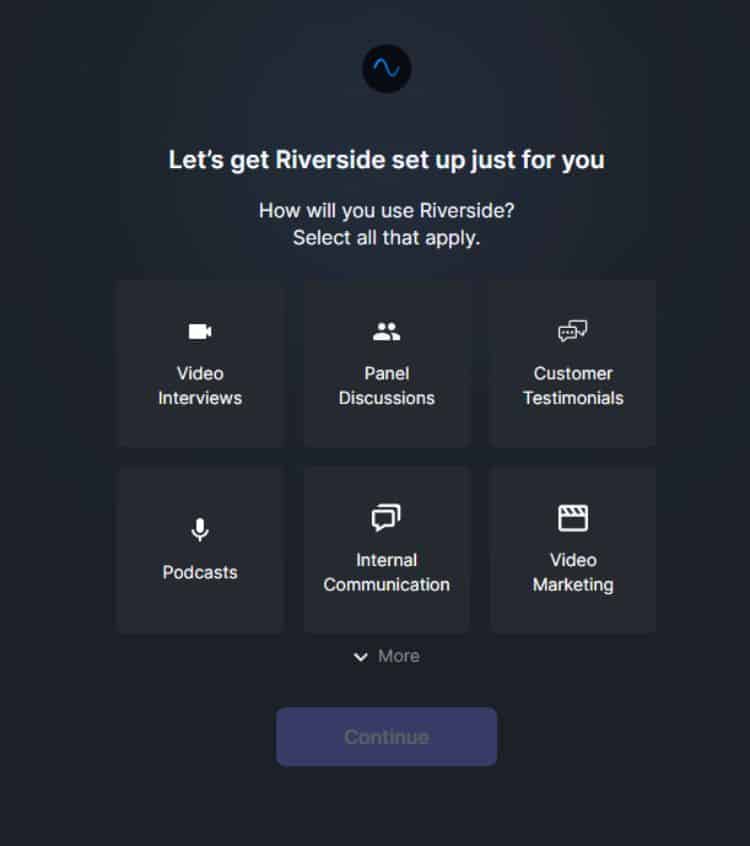 Watch the introductory tutorial video.

Create a new studio and enter it.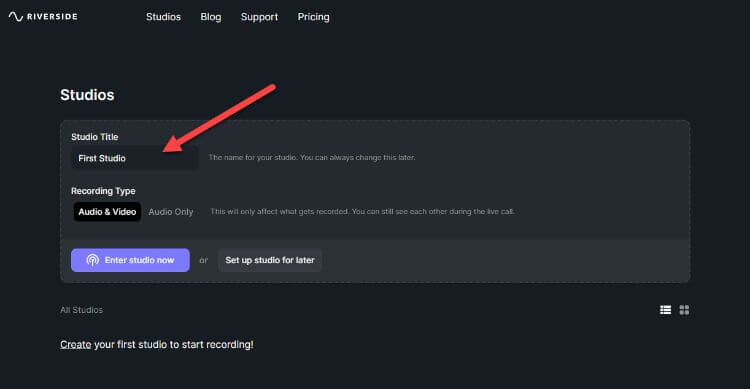 Grant camera permissions.

Hit Record to get started.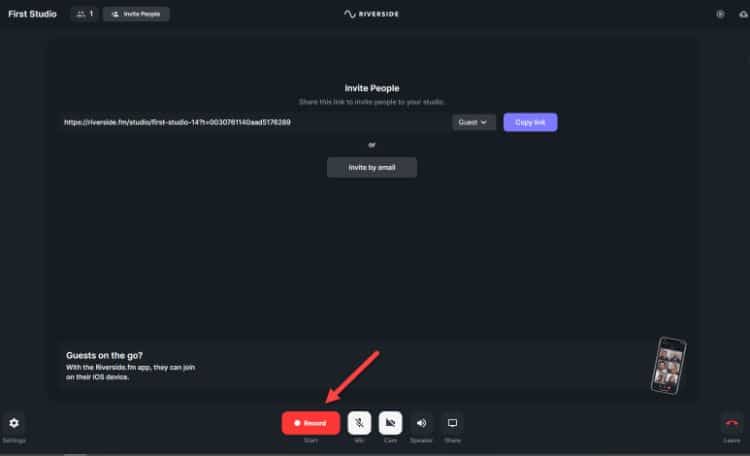 And that's it. You're now ready to start recording your first podcast episode.
You can also invite people to the podcast using the provided guest link. Happy recording!
Try Riverside.
How to Publish Your Podcast.
So you've recorded 3 or 4 of your first podcast episodes. Now you're eager to launch your podcast and connect with your target audience.
You might be grappling with the following questions:
Where do I upload and publish my podcast?
Do I upload my podcast to a well-known publisher?
Should I start my podcast website or start blogging on WordPress?
Which podcast hosting medium will have more impact?
There are a lot of things to consider with varying levels of impact.
Let's have a look at some of them:
1. Use a Podcast Hosting Site.
You can host your podcast through podcasting platforms like Spreaker, Buzzsprout, RSS.com, Libsyn, or Blubrry.
The best podcast hosting platform offers a free trial, numerous SEO and marketing options, plenty of storage, and other essential features.
Spreaker is a fantastic option because of its easy-to-use content management system (CMS) and podcast monetization options like dynamic ad insertion.
You can also read my full Buzzsprout review for more information.
2. Shared Hosting.
Although there's nothing wrong with shared hosting, using it for something like podcasting has its fair share of problems.
In the case of shared hosting, you can't control things like server downtime, server crashes, and more.
It's fine if nothing goes wrong, but it will spell trouble if something does.
Although you can publish your new podcast episodes to podcast directories like iTunes, podcast hosting service gives you the desired flexibility and control.
It offers you the following:
High bandwidth
Good customer Support
Automatic RSS feed
Mobile apps for iOS and Android
When you start recording and uploading podcasts, it makes sense to use a podcast host to store your files (including ID3 tags and mp3 files) and publish your podcasts.
How to Grow Your Podcast.
You must ensure your audience grows to sustain your podcast in the long run.
Here are some vital tips that can help you grow your podcast:
1. Ask For Reviews.
It's a great habit to ask for reviews during your show and nudge listeners to become regular subscribers.
As you increase your subscriber base, the number of listens also increases, which grows market share in your niche.
2. Use Various Podcast Platforms to Reach Your Target Audience.
You also need to figure out the channels that can help you reach out to your customers.
To make your podcasts grow, make sure to publish your podcasts on all the following platforms:
You can also market your podcasts via social media channels. According to stats, 73% of businesses feel that social media marketing via Twitter, Facebook, and Instagram has positively impacted their business.
So it would help if you invested significant time and effort to engage your target audience on such social media platforms.
3. Use Incentives.
Another strategy that marketers have used has been the use of rewards and incentives for listeners.
More and more companies are using this method. If your budget allows for it, contests and handing out gifts to your most regular listeners can be an exciting promotion.
4. Be Consistent.
Another critical factor is being consistent.
Your audience can lose interest if you're not pumping out episodes consistently.
Try to stick to your routine and never break it. If you've been releasing podcasts every week at a particular time, keep doing that.
Don't change it up, or it might confuse your listeners.
5. Run Email Marketing Campaigns.
Another great way to help your podcast channel grow is by maintaining an email list and contacting them via email marketing campaigns.
After all, email marketing software has an ROI of $44 for every $1 spent. For growth, that's a great channel to explore.
How to Monetize Your Podcast.
After you're through with everything else and have several episodes out in the market, you should look to monetize your podcast.
Here are some of the ways to monetize your podcasts:
1. Sponsorships.
You can take sponsors, and read out product details and advertisements on air to earn money.
2. Affiliate Income.
You can also direct the listeners to the specific affiliate link for the product for a more persuasive type of marketing.
With affiliate programs, when you refer a product or service to your listeners with an affiliate link in your show notes, you get a fixed commission for every sale.
3. Promote Your Own Product(s).
You can also promote your products and make money by sending your listeners to ecommerce product pages.
Briefly mention your merchandise during your podcast intro and intermissions to generate sales.
Mistakes To Avoid When Starting Your Podcast
Here are some mistakes to avoid when starting your podcast:
Not Doing Your Research – It is essential to do proper research before launching your podcast. Be sure to understand the ins and outs of the industry, listen to different podcasts in your genre, observe their production style, and study their content strategy.
Not Having a Plan – Before recording your first episode, you should develop a plan for the entire series and consider how each episode will build upon each other. This will help ensure that your podcast has substance and structure, keeping listeners engaged.
Failing To Promote Your Podcast – Once you launch, you must promote your podcast so people know it exists and can find it. Create a website for your podcast and develop a social media strategy to reach potential listeners.
Not Investing In Quality Equipment – If you want to produce high-quality audio, it's worth investing in good-quality podcast microphones, headphones, and other recording equipment. Poor sound quality will be off-putting for your listeners, so invest in the right gear from the start.
Not Reaching Out To Guests – Including guests on your show effectively draws in more listeners and builds connections with people with interesting stories or valuable advice to share. Reach out regularly on social media and use networking opportunities to find new guests for each episode.
Not Having A Consistent Release Schedule – Establishing a regular release schedule is essential for developing an audience. People will not keep coming back if your podcast episodes are sporadic and unreliable. Aim to post new episodes simultaneously each week to familiarize listeners with your release dates.
Not Staying Organized – Recording and editing audio can be time-consuming, but it's worth taking the time to stay organized throughout the entire process. Use tools like spreadsheets or project management software to help you keep track of guests, topics, ideas, and any other tasks related to producing your podcast.
By avoiding these common mistakes, you can create a successful podcast that resonates with your target audience.
Executive Summary.
Starting a podcast makes sense if you want to build a loyal online audience.
There are a ton of podcasts in the market right now, and you can look almost anywhere for inspiration.
Whatever your topic of interest, always remember there could be a market for it somewhere.
It's up to you to fill the void and cater to your audience's wishes.
However, with so many podcasts in the market, you must offer something unique to your listeners.
You have to pique their interest and slowly increase your market share in your niche.
Finally, use the right equipment to record your podcasts, name your podcast correctly, prepare the right promotional strategy, and stay consistent.
It will take time, but making money from podcasting is not impossible.
Get started with Spreaker today and enjoy one month free on podcast hosting.
You can also get started with Buzzsprout and get a free $20 Amazon gift card.
Are there any strategies missing from this guide? What is holding you back from starting a podcast? Answer in the comments below.
Further Reading on AdamEnfroy.com: If you're ready to start your podcast, check out my guide on how to pitch a podcast successfully.
Finally, here's a post comparing blogging versus podcasting to help you decide which is right.
Editorial Process:
Our reviews are made by a team of experts before being written and come from real-world experience. Read our editorial process here.
Some of the links in this article may be affiliate links, which can provide compensation to us at no cost to you if you decide to purchase a paid plan. These are products we've personally used and stand behind. This site is not intended to provide financial advice. You can read our affiliate disclosure in our privacy policy.
---
Last Updated on May 14, 2023 by Adam Enfroy