How to Write a Podcast Script (Templates Included)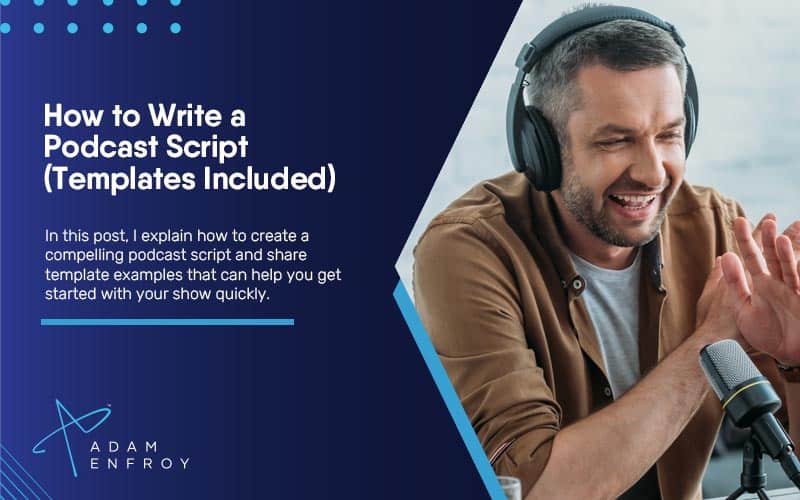 Starting a podcast is like piecing together a jigsaw puzzle.
Placing each piece in the right place takes time, effort, and detailed planning.
Each step brings you closer to having a great podcast and building an audience that knows, likes, and trusts what you have to say.
The right podcast outline can help you:
Keep track of crucial discussion topics
Transition into a sponsor message or musical interludes as needed
Ensure that interviews have questions tailored to exciting guests
Make sure each show introduces a unique topic
Provide structure to the recording and post-production process
Ensure that your podcast content is consistent.
And much more.
In this post, I'll walk you through creating a compelling podcast script so you can up your podcasting show as quickly as possible.
The Basics of Writing a Podcast Script
Here is a three-step process for writing a basic podcast script.
Brainstorming Ideas
When writing a successful podcast script, one of the most critical aspects is adopting a conversational tone.
With this in mind, it's important to brainstorm ideas.
Brainstorming provides a roadmap for the best podcast possible.
During this session, ideas could relate to topics that interest you, stories from your life, or things you hear daily.
Additionally, this step is an excellent opportunity to create an outline by clustering ideas.
You should also note bullet points of what you would like to cover in various episodes.
Writing Your Script
Once you have chosen your topic and created an outline, you can start writing a script for an interview podcast.
When crafting your script, make sure that each sentence flows naturally from one point to another.
If it feels choppy or disjointed, it will sound choppy when spoken aloud.
Additionally, it's essential to ensure that your script is succinct – not too wordy or too short.
Aim for the middle ground so your listeners can stay energized as they consume your knowledge.
Revising & Editing
No matter how perfect we think our writing is at first glance, there are always ways we can improve our work.
The same goes for podcast scripts.
You should revise and edit them until they are right, removing unnecessary words, phrases, or sentences.
Then add any new information you may have left out during the initial draft phase.
This step is also an excellent opportunity to use grammar tools and check for any errors that may have gone unnoticed during the first two steps of scriptwriting.
Thought Process Behind An Engaging Podcast Script
Now, let's dive deeper into the primary thoughts you need to consider as you write an engaging podcast script.
Preparing For The Episode
Before you write the script, you should know what topics you want to cover in the episode.
Have your questions sent to your guest in advance to ensure they arrive with their answers ready.
It's also essential to have your guest's intro prepared (including their bio and accomplishments) before jumping into the interview.
You can help set the tone and context for what happens during the interview.
Once you have all your materials ready, it's time to start writing your script.
When crafting a podcast episode, one should include three main components:
introduction
body content
conclusion.
Each section should be structured so as not to confuse or bore listeners while remaining engaging and informative.
Introductions should be short yet engaging enough to encourage listeners to keep listening.
At the same time, body content should include facts/ideas/stories that support and expand on topics discussed in the introduction section.
Preparing a podcast script thus becomes essential in producing professional-sounding podcast episodes that can engage and teach your audience.
Ask Thought Provoking Questions
When starting to write your podcast script, one of the first things to consider is interview questions.
You can create a compelling and engaging episode with a proper podcast outline combined with questions that bring out intriguing stories and insights from your guests.
You also don't need to ask overly complicated questions or go off-topic to get the most out of your guests.
After all, you don't want to come across as adversarial.
Instead, ask questions that get people thinking about the topic and encourage more profound conversations.
Asking open-ended questions is also helpful, allowing guests to dive into more detail on specific talking points instead of just providing short sound bites.
Promote Your Brand Through The Right Giveaways
Once you finish the interview portion, it's time to wrap up with the closing remarks.
If you have something exciting to share with your fans, you might want to elicit curiosity at the beginning of the episode.
Then, the closing might be the best time to fully divulge what the giveaway is about.
Considering the brands and giveaways that help you show support for your podcast is also a great way to engage your listeners toward the end of your show.
As such, you can take this opportunity to promote any sponsorships or other brands associated with your show.
While most people fear this step so as not to come across as too 'salesy,' it doesn't have to be this way.
Choosing sponsors that your audience can benefit from can significantly increase listener engagement.
Why Should You Script Your Podcast?
Creating a script for each podcast is essential because it will ensure that each episode has consistent intros and outros, showing off your show in the best possible light.
Having a structure in place also allows you to dive deeper into fascinating topics and helps ensure that everything flows naturally from one section to the next.
Plus, scripting allows the right calls to action, encouraging listeners to take action after listening.
Writing a script for every podcast episode will help you create a more professional-sounding show that can engage, educate and entertain your audience.
It gives new podcasters a better chance of success and can also help experienced podcasters take their show to the next level.
Don't Sound Like You're Reading From A Script
The main point of a script is to follow a sequence.
However, it's crucial to consider that you don't want to sound like you are reading from one.
If you do, it will make the podcast lifeless and uninteresting.
Adding pauses and more conversational elements, such as interjections or facial expressions, will help keep your guests engaged and give the show a more natural feel that listeners will appreciate.
Your intonation also has a massive role in making the show more impactful, so remember to inject some energy into your delivery.
Ultimately, it's about finding the right balance between having enough structure and speaking naturally on air.
Different Types Of Podcasts & Templates
When it comes to podcasts, you can explore different types and genres.
While the main ideas behind your scripts will be the same, each type of podcast requires minor tweaks to get the best out of it.
Here are some of the most popular podcast types to consider.
Solo Podcasts
Writing a podcast script for a solo show is essential for any podcast host.
While speaking into a microphone, writing your script as if you were talking to a friend or colleague is essential.
The best solo podcasts embrace show delivery notes, call-to-actions, and other elements that make the episode more engaging.
When beginning the process, it's also good to work backward by starting with your supporting points and then transitioning into the introduction.
Here's a sample script for a solo podcast:
Podcast Intro:
Introduce yourself and your podcast, sharing the benefits of listening and what people can expect from the episode.
Body:
Introduction of episode topic
Supporting point 1
Supporting point 2
Supporting Point 3
Conclusion & Call To Action:
Mention any sponsors or products and close with a call to action, such as subscribing, leaving a review, or sharing the podcast episode on social media.
Outro:
Thank listeners for joining you today and wrap up the episode.
Interview Shows
When you think of podcasting, your mind may immediately jump to interview-style podcasts.
These make up a good bulk of the podcasting landscape, as they offer a wide array of topics and can be entertaining for both the hosts and their audience.
When creating a script for such a podcast, breaking the show into smaller pieces from beginning to end is critical.
First, create a list of questions you'll need to ask your guest during the podcast interview.
Then it's time to create a script that outlines the main sections of the show.
Before writing your own podcast script, it's essential to think through the types of questions that you'll need to ask your guest during the podcast interview.
In any situation, especially in this type of podcast, a podcast script template can make the writing process much more manageable.
A sample script for an interview podcast could look like this:
Intro:
Introduce yourself, your podcast, and the guest. For each guest, you should also provide a brief overview of their experience and why they are an expert on the topic.
Interview:
Ask your questions and engage with the guest naturally. Stay organized, use call-to-action when appropriate, and keep it entertaining.
You can divide the questions into different categories or topics to keep the conversation flowing, for example:
Questions 1-3 (asked of the guest)
Questions 4-6 (follow-up questions if needed)
Questions 7-9 (questions to provide insight & context)
Conclusion & Call To Action:
Thank your guest for joining you, and instruct your listeners to subscribe and leave a review. You can mention any future guests or topics for the next episode.
Outro:
Thank listeners for joining you today and wrap up the episode.
Co-Hosted Shows
Both hosts must adopt an organized hybrid approach when scripting their show in this scenario.
You should note down each central point while leaving room for natural conversations that might arise.
Every episode intro in a co-hosted podcast should include some combination of the following:
an introduction to the hosts
a discussion of the topic for that episode
a short description of any guests
a call to action for listeners.
Also, it is essential to consider the intro music, who will be introducing it, and when to play it.
While having a word-for-word script is often overkill in the case of a co-hosted podcast, having a detailed outline of what you'll discuss is essential to ensure a smooth flow for the episode.
Since the goal of any podcast should be to provide value to the listener, having a co-host to bounce ideas with can help create a fun and engaging podcast.
A sample co-hosted show could look like this:
Intro:
Introduce yourself, your podcast, and the topic of discussion.
Provide a brief overview of any guests and their experience.
The podcast hosts will introduce themselves and tell the listeners what they will discuss. They might also talk about any special guests on the show and why they are experts on the topic.
Discussion:
Each host should take turns sharing thoughts and opinions on the topics and ask questions to each other as needed.
The hosts' job is to be conversational and natural while also providing entertaining banter that can keep the audience engaged.
Listing the segue co hosts will use to transition to the next topic is essential.
Conclusion & Call To Action:
The podcast should end with a call to action, asking listeners to post comments, leave reviews, or share the podcast on social media.
The host will explain how the conversation connected to the original introduction topic and why it's essential.
Thanking all guests for their contributions and giving them a chance to plug their work is also essential before wrapping up.
Finally, encourage viewers/listeners to follow your social media accounts or interact with you in other ways so that they can stay updated about any new episodes or announcements.
This will help drive engagement with your podcast and create an engaged fanbase for future episodes.
Roundtable Podcast Episode
Roundtable podcasts (also known as panel shows) are a great way to bring multiple guests together and share their insights.
Whether it's an in-depth discussion about a particular topic or just some casual banter between friends, roundtable podcasts are a great way to engage with your audience.
Before beginning the script, it is essential to have a clear idea of the topic and the specific subtopics you want to cover.
The guest introduction is the first thing listeners will hear, so make sure it's eye-catching and memorable.
Start by saying each guest's name along with a brief overview of their background and expertise.
Listeners will get an idea of who they're listening to and why they should care about what they have to say.
Plus, it'll help keep things organized as the conversation progresses.
Next, you can move on to choosing topics for discussion.
You must pick entertaining and educational topics to keep listeners engaged throughout the episode.
Ensure that each topic has main points and data backing up those points.
Doing so will help add depth and substance to your discussion.
Finally, wrap things up with a memorable outro.
Summarize any key takeaways from your discussion, and thank listeners for tuning in.
At the show's end lies an excellent opportunity to plug in any upcoming episode or other relevant content, such as blog posts or social media accounts you want people to visit.
A sample script to follow in a roundtable podcast could look something like this:
Introduction:
Welcome listeners to the podcast and introduce each guest by name, background and expertise.
Topics & Discussion Points:
Make sure all of your discussion points are backed up with data that listeners can find interesting or intriguing.
Take turns asking questions and offering opinions whenever applicable.
Remember to provide enough time for each guest to share their thoughts without any interruptions from others.
Timing each discussion point ahead of time can help keep you and your guests on track.
Outro:
Thank everyone for joining and wrap up the episode.
Take a moment to thank each guest for their time and remind listeners where they can connect with each of them.
Share any takeaways from the episode and tell them when they can expect your next installment.
Finish by thanking everyone for tuning in and letting them know where to find more episodes of your podcast.
Before signing off, leave listeners with a few words of encouragement or an uplifting message. Remind them to subscribe, rate, review, and share the podcast.
Engaging Q&A Podcasts
The Q&A podcast format provides an exciting structure to build upon and allows you to cover various topics in each episode.
Start with a custom intro where you and your guest introduce themselves, the topic of discussion, and any other relevant information.
Once you have piqued your audience's curiosity, you can move on to the thought-provoking questions you have prepared.
Choose your questions carefully based on the relevant topics within your field of expertise.
This way, you can ensure that all questions address real problems or curiosities about the given topic.
Additionally, back up each question with supporting data, making it more meaningful and engaging for listeners.
Regarding answers, each should provide comprehensive details on its central point and follow-up examples that dive deeper into related topics.
Providing multiple perspectives on each issue discussed helps expand upon critical ideas and gives a better understanding of the overall subject matter at hand.
To wrap up the Q&A episode script, include a summary of all points discussed to give listeners something tangible they can keep in mind.
Finally, sign off in style with a memorable outro that rounds off the conversation.
A sample script for a Q&A podcast could look something like this:
Host: Welcome to our show! Today, we will be talking about an important topic. Our guest for today is ____, a renowned expert in the field. Let's jump right into the questions and answers.
Host: What made you decide to pursue this particular field?
Guest: Well, I have been interested in this ___,
Host: That's interesting – what has been your biggest challenge so far in this field?
Guest: The biggest challenge I've faced is ___,
Host: What tips do you have for beginners starting in the industry?
Guest: My main tip would be to ___,
Host: What do you think the future of this industry looks like?
Guest: In the near future, I believe that ___ and so on.
Host: Before moving on to the next topic, is there anything else you would like to share with us?
Guest: Yes, I think it's essential to remember ___. Thanks for having me!
Host: That makes perfect sense. Is there anything else you would like our listeners to know about this field?
Guest: Yes! I think it's important for people to understand just how valuable this field is and why pursuing it can benefit their career prospects. It offers a unique set of skills essential for success in many industries today, so taking the time to learn more about it is always worthwhile.
Host: That was great advice!
While the above podcast script examples might sound generic, they can form the basis of an interesting and informative Q&A podcast.
With some creative touches and additional questions, it can become a valuable source of information for the audience.
Freestyle Podcasting
Let's now consider the other side of the podcasting equation.
Do you like to keep your podcast as vibrant, authentic, and unscripted as possible?
If so, then freestyling your podcast might be just what you need.
It's a great way to get your podcast recorded and edited without the hassle of script writing.
While this might only be for some, here's how you can use this approach for your podcast.
The best way to handle freestyle podcasting is to plan and structure your topics in advance.
Making a list of the main points you want to cover and any topics that naturally arise during the recording process.
Once the show begins, jump right into it.
Start with the main points on your list and then move on to any topics that come up organically.
When it comes time to edit your audio, try to preserve as much of the natural conversation as possible.
You don't have to stick strictly to the outline, but you can still make sure everything flows together nicely.
The Benefits of Freestyle Podcasting
Freestyling your podcast differs from scripting because it allows for more spontaneity during recording.
You don't have to worry about sticking to an exact script or sounding rehearsed.
Instead, you can just let the conversation flow naturally.
Plus, there are no long pauses while you wait for everyone to find their place in the script again.
Another benefit of freestyle podcasting is that it allows for more creativity during recording.
You don't have to stick to a predetermined structure or content.
Instead, you can throw in new ideas as they come up during recording.
And if something doesn't work out during the editing, it's much easier to use the right editing software and cut it out.
If you had invested time into writing it in detail and didn't make the cut, it would have been wasted time.
Using Segues And Storytelling In Your Podcast
One of the most critical components of podcasting is using segues for your podcast show.
A segue is a creative transition between your teaser, introduction, and conclusion.
Segues help tell a story throughout each session by seamlessly transitioning from one topic or idea.
When creating your script, try to use segues that sound natural and keep the conversation moving forward.
Consider using phrases such as "speaking of…" or "let's move on…" when shifting topics.
Doing so helps keep conversations flowing naturally for your listeners.
If you want extra flair, try including jingles or sound effects between topics for added impact.
Storytelling is another critical element of successful podcasts.
It provides an excellent opportunity to engage listeners through an emotional connection.
When crafting stories, include the necessary detail but do just what is required.
Too much information in your show notes can make your audience lose interest, so do your best to keep things interesting.
Writing a good podcast script is crucial when combining the art of storytelling with the craft of writing.
Recapping At The End Of An Episode
Ending with a recap is always a good practice, no matter your chosen podcast style.
It provides closure to both listeners and guests alike by tying up any loose ends before signing off.
It also gives listeners insight into what topics may come up in future episodes.
Doing so is especially helpful when using the freestyle approach since topics can change rapidly between recordings.
Ensure that your recap includes any critical points discussed throughout the episode so everyone feels they got the best value for their time.
Getting Started – Gather Your Materials
Before getting started on your podcast, having a suitable podcast starter kit is critical.
Here's a quick list of items that will come in handy throughout the process:
A great microphone – If you want your audience to hear your words loud and clear, having a great microphone is a must-have.
Headphones – Investing in good headphones ensures that background noise from other sources doesn't interfere with the recording quality.
Music/Sound effects – Music or sound effects can help set the tone for your episode and give it an extra layer of polish.
Script template – A script template helps ensure that important information isn't missed or forgotten during recording sessions. It also helps keep things organized, so nothing gets lost in translation between recordings.
Your Podcast's Ending Segment
Most people focus on the introduction and main content of their podcast episodes, but it's equally important to pay attention to how you end your episode.
Here are some tips for ensuring that your podcast's ending segment is as effective and impactful as possible.
Sponsors Ads & Calls-to-Action
If you have sponsored ads in your podcast, you must craft calls to action delicately yet clearly.
Doing so ensures you maintain your audience's attention and brand messaging goals.
CTAs, such as requesting reviews and subscribing, should be subtly interwoven into conversations, so they don't disrupt the organic flow of content throughout a podcast.
CTAs also provide an easy way for listeners to take actionable steps toward becoming loyal fans of your show.
When attracting potential sponsor ads, think of creative ways to include them in your show.
For example, you can introduce sponsor segments as "brief breaks" or "listener breaks" and give them a few seconds of airtime where you share how they can benefit your listeners.
Outros and Invitations For Next Episode
To conclude your podcast script, creating a music jingle or an outro segment is a great way to tie together the episode and give your audience a sense of closure.
Outro music also helps to create a lasting impression on your audience.
In your outro, mention upcoming episodes/events/promotions, etc.
Also, thank your guest for giving you their time and knowledge and invite them back the week after (or whatever your posting cadence might be) for more valuable content.
Marketing Your Show
Your podcast name should become recognizable and easily searchable on the various platforms where you make it available.
Being on the top platforms for audio streaming can make your show highly discoverable, exposing you to many potential listeners.
For example, whether you are a budding radio and podcast creator or an experienced guru, having your podcast on Apple Podcasts is a great way to get more exposure.
Moreover, with Spotify taking over the streaming industry, you must make sure your podcast is available there too.
The right podcast hosting site can also make a big difference in the success of your podcast.
When selecting a hosting site, consider features such as upload capacity, analytics tools, and plugins.
Social media marketing can also ensure that your show reaches its intended audience.
A great way to do this is to use platforms like LinkedIn to create a professional profile for your show.
When posting, ensure your podcast title, descriptions, and summaries are eye-catching and well-written to draw in potential listeners.
Wrap Up.
Creating a podcast script can be daunting, but following the tips above can help make the process simpler and more efficient.
Researching your audience's interests and basing your script around them is essential in creating an engaging podcast episode.
While podcasting success is likely to take time, you can find success in this ever-growing medium with hard work and dedication.
Further reading on AdamEnfroy.com: Starting a YouTube channel can be a great way to take your podcasting ideas and reach a wider audience.
Here's how to make money on YouTube or one of its alternatives.
Editorial Process:
Our reviews are made by a team of experts before being written and come from real-world experience. Read our editorial process here.
Some of the links in this article may be affiliate links, which can provide compensation to us at no cost to you if you decide to purchase a paid plan. These are products we've personally used and stand behind. This site is not intended to provide financial advice. You can read our affiliate disclosure in our privacy policy.