Buzzsprout Review: Is It The Best For Podcasting In 2023?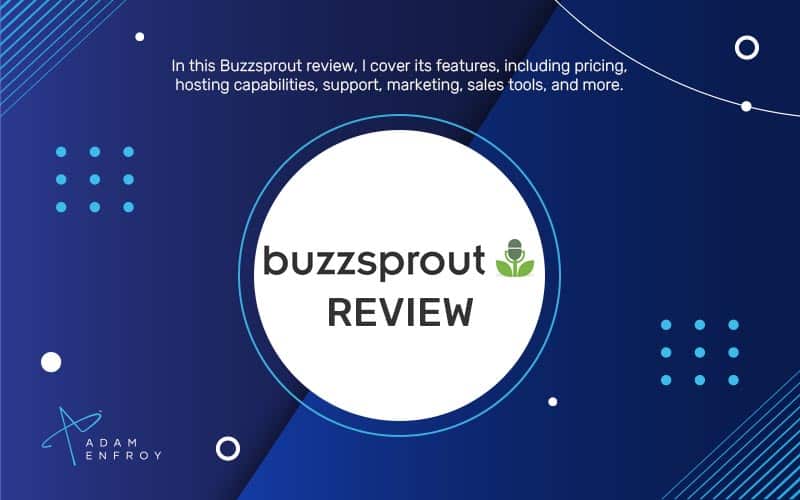 Podcasting is one of the biggest audience-attractors of today. And with over 62% of Americans tuning in, it's going stronger than ever, with multiple podcast hosting platforms to consider.
However, to get started with podcasting, you need a suitable podcast hosting platform, one that takes care of the technical and marketing parts.
So that you're free to do what you do best: create amazing content!
That's precisely where Buzzsprout comes in.
Buzzsprout Review
Considered one of the leading podcast hosting platforms out there, Buzzsprout has cemented its place in the podcasting ecosystem.
But is it really the best platform for podcasting this year?
That's what I'm going to explore in today's Buzzsprout review.
So, if you're planning to shift to a new hosting platform or are just beginning to think about jumping on the podcasting bandwagon, this is the piece you need to read.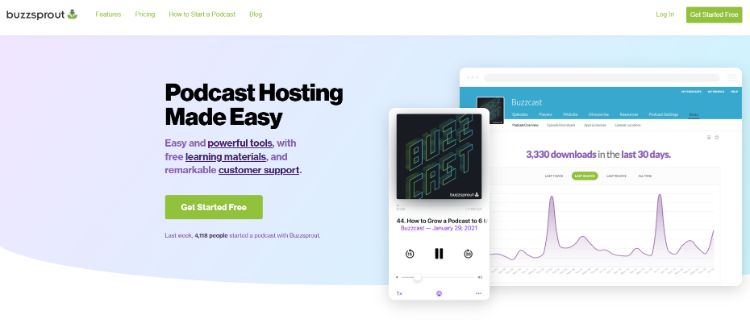 What Is Buzzsprout?
As I've already mentioned above, the podcast audience is enormous. And to tap into it, you need to sign up with a suitable podcast hosting service, like Buzzsprout.
Put simply, it's a web-based service that you can use to host and store your podcast episodes.
Apart from hosting the episodes, podcasters can also use Buzzsprout's advanced audience analytics features to enhance their marketing and monetization efforts.
And you get all this, and more, at an affordable monthly or annual payment model.
Buzzsprout started operations around 2009, and since then, has been growing steadily.
Over time, I've found the platform to become more intuitive, with increased ease-of-use and fully loaded features for all podcasting needs.
Today, Buzzsprout is not merely just another podcast hosting platform.
It has rather become one of the leaders in the space, with secure hosting, proper maintenance of RSS feeds, and smooth integration with social media.
Currently, Buzzsprout has over 100,000 users and is still growing strong!
I won't be exaggerating when I say that Buzzsprout is undoubtedly a one-stop solution for all podcasting needs. Here is a three-way comparison review showing how Buzzsprout stacks up against the competition.
Who is Buzzsprout For?
Buzzsprout is intended to serve all levels of podcasters, but if you ask me, I think it's going to be even more attractive for newbies.
The platform has a user interface that's simple enough and doesn't have unnecessary bells-and-whistles to distract you.
Many newbies to the podcasting scene might find jargon such as RSS feed management, ID3 tags, and multiple file-formats confusing.
However, with Buzzsprout, any new podcaster can manage all these aspects without any hassle.
Even if you're an experienced podcaster, marketing is one aspect that you might have to worry about.
Thankfully, Buzzsprout helps take care of marketing and ensures that you don't have to focus on the nitty-gritty of podcast settings.
That way, you can pay full attention to creating content that people will keep coming back to!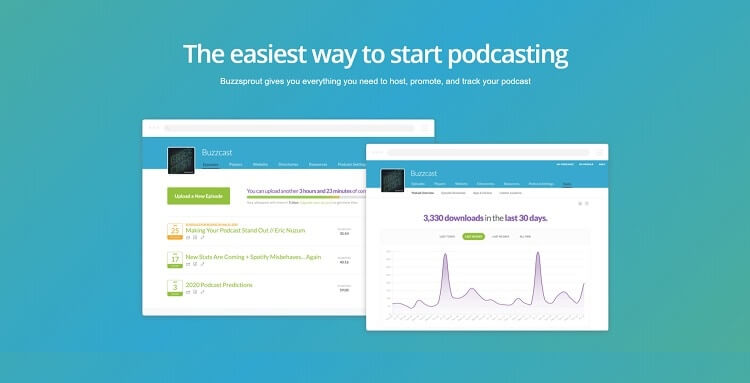 How To Start Using Buzzsprout
The one area where new podcasters need the most help is setting up for their first episode.
And for experienced users, the major headache lies in migrating from one podcast hosting platform to another.
Buzzsprout takes care of both aspects wonderfully and makes the process seamless.
1. Setting Up A New Show
If you're new to this industry and want to start a podcast, I suggest you start with the Buzzsprout free plan.
Remember that this plan is not suitable for live shows as episodes are auto-deleted after three months.
However, it's ideal for getting things started.
Just click on the signup button, and complete the steps by providing the necessary details.
In case you feel overwhelmed, Buzzsprout even provides a step-wise guide that helps get the job done.
You'll start with baby-steps as you fill in usual Apple podcast details, such as the title and episode type (episodic or serial).
Once you've recorded your first podcast episode successfully, upload the file in the section named "Upload a new episode."
After successful uploading and setting up your episode details, you'll have to fill in additional metadata such as description, time of release, and even episode number if you're uploading an episodic recording.
The descriptions play a major role in getting your audience interested, so be sure to make these exciting.
After the uploading is done, you'll need to get listed on multiple directories where you can opt for syndication.
For this, head over to the "Directories" tab, from which you can access all available options.
You get to take your pick from options such as Stitcher, Apple Podcasts, Google Podcasts, and Spotify in the directories tab.
Next, check your podcast details (which are pre-filled by the system), click submit, and you're done!
In case you don't want to publish the episode immediately, you can leave it as a draft or schedule it for going live anytime in the future.
Buzzsprout also offers auto-modification of files, but I'll deal with that in a separate section.
So, it's clear that using Buzzsprout to launch a new podcast is fairly simple.
Now, I'm going to take you through the steps you need to follow to migrate an existing podcast to Buzzsprout.
First, log in to your Buzzsprout account; after this, you'll be asked whether you're a new podcaster or already have a podcast.
Select the second option, and you'll be asked to type in and search for your podcast (by default, the platform searches on iTunes).
In case your podcast is not on iTunes, you can even type in your RSS feed, and the platform automatically imports all your existing episodes.
I must mention that you'll get to upload only two episodes before needing to upgrade to a paid plan when using the free account.
Apart from uploading your episodes, Buzzsprout even takes care to upload all artwork and metadata related to your podcast, ensuring you don't have to take the hassle and fill in the details again.
The last step you'll need to take care of is redirecting the RSS feed, which is perhaps the most important step when moving a podcast.
But here also, Buzzsprout makes the process a simple one.
You only need to copy the new Buzzsprout RSS feed and paste it in place of your existing hosting service information. Buzzsprout allows you to switch from other popular services such as PodBean, Libsyn, and Blubrry.
And that's all there is to it!
However, one word of caution: RSS feeds can take anywhere from two weeks to a month to get updated.
So, you should continue with your old hosting service and keep it active for about a month after migration.
Buzzsprout File Auto-Modification
Automatic file modification is another aspect of Buzzsprout which has received both accolades as well as criticism.
In this section, I'll explain how this process works, and why it can be helpful.
Whenever you're uploading an audio file to the Buzzsprout platform, it will immediately convert the file to the mono MP3 file format.
Also, you'll be assigned a lower bitrate at 96kbps.
Now, there's both a good side to this and a possible negative one; I'll explain both.
For advanced podcasters experienced in sound editing, any change to the file they have mastered is nothing short of blasphemy.
Given that pro podcasters usually master their audio on the exact settings that would suit their shows, this is understandable.
Thankfully, once you upgrade, the platform allows you to upload up to 192kbps stereo files.
Since that's sufficient for complex podcast episodes with a lot of musical accompaniment, professionals have nothing to worry about.
The trouble is that many podcasters out there aren't professionals and have no idea whatsoever about sound design and editing.
For them, the auto-modification process is ideal, as it takes all the trouble of mastering the audio off your hands.
What's more, the platform even takes the trouble of adding your ID3 tags, which allows you to upload the source recording without any editions or enhancements.
So, seen in this respect, auto-modification actually comes as a boon for newbies to podcasting.
Essential Buzzsprout Features
While it's true that Buzzsprout makes podcast hosting a breeze, several other features make it one of the best podcast hosting platforms on the market. This section will break down some essential Buzzsprout features that you should know about before buying their paid plan.
1. Free Website Included
Just a podcast hosting service is not enough to gain traction in the world of podcasting.
You also need to have a website where visitors can sample your content. And true to their thoughtfulness, the creators of Buzzsprout have taken care of this as well.
From 2019 onwards, Buzzsprout offers you an entirely free website for showcasing all your podcast episodes.
By sending your listeners over to this dedicated website, you increase your podcasting creds.
What's more, you can also use the website to redirect users to directories that they most frequently use, such as Spotify and Apple Podcast.
However, keep in mind that this free website is just a basic landing page for getting things started.
In case you want your podcast website to have high-quality customization and functionality, you'll have to opt for dedicated website builders such as WordPress, Wix, or Weebly.
If you started a blog on WordPress, Buzzsprout also offers a dedicated plugin that you can use to embed podcast episodes on it.
The plugin also lets you create specific posts for promoting your podcast episodes.
2. Auto-transcription
Just uploading podcast episodes and waiting for the audience to stream in is not enough; you need to make sure that your podcasts are found on search engines.
One of the best ways to do this is to transcribe all your episodes, which boosts the chances of getting discovered by search engines.
Buzzsprout takes care of this aspect as well by providing automatic transcription services.
In case you want to transcribe your episodes, the platform sends your files to Temi, an automated transcription system.
After the process is complete, you simply receive an email with the entire transcription text.
The transcription is editable, and Buzzsprout takes care to display it below your episode description on the website.
Keep in mind that Temi is billed at $0.25/minute, so you can also choose to manually transcript your episodes if you wish to save a few bucks.
You can also read my full guide to transcription software for more text to speech options.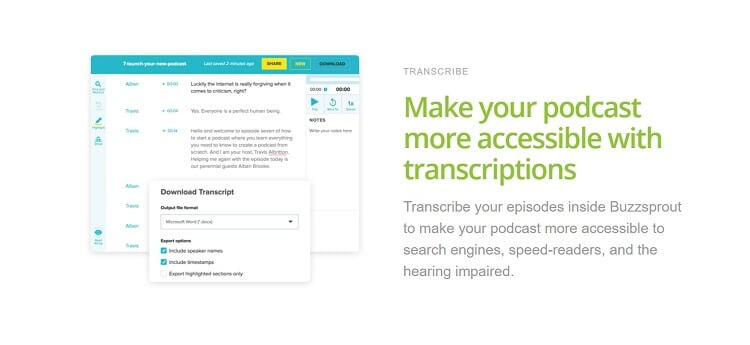 3. Monetization Facilities
Whether you started podcasting professionally or just as a hobby, it doesn't hurt to make a few bucks while doing it.
To help you do that, Buzzsprout offers an affiliate marketplace that lets you connect to suitable affiliate programs.
To sign up for the affiliate program, head over to the "Resources" section of the dashboard, and find the affiliate marketplace option.
Once you sign up, you'll be able to collaborate with brands such as Instacart, Allswell, and many more.
After you've got the required approvals, Buzzsprout will add the affiliate link right into the episode's notes.
This means no matter which platform listeners use to access your podcast, the link will always be active, ready to cash in for you.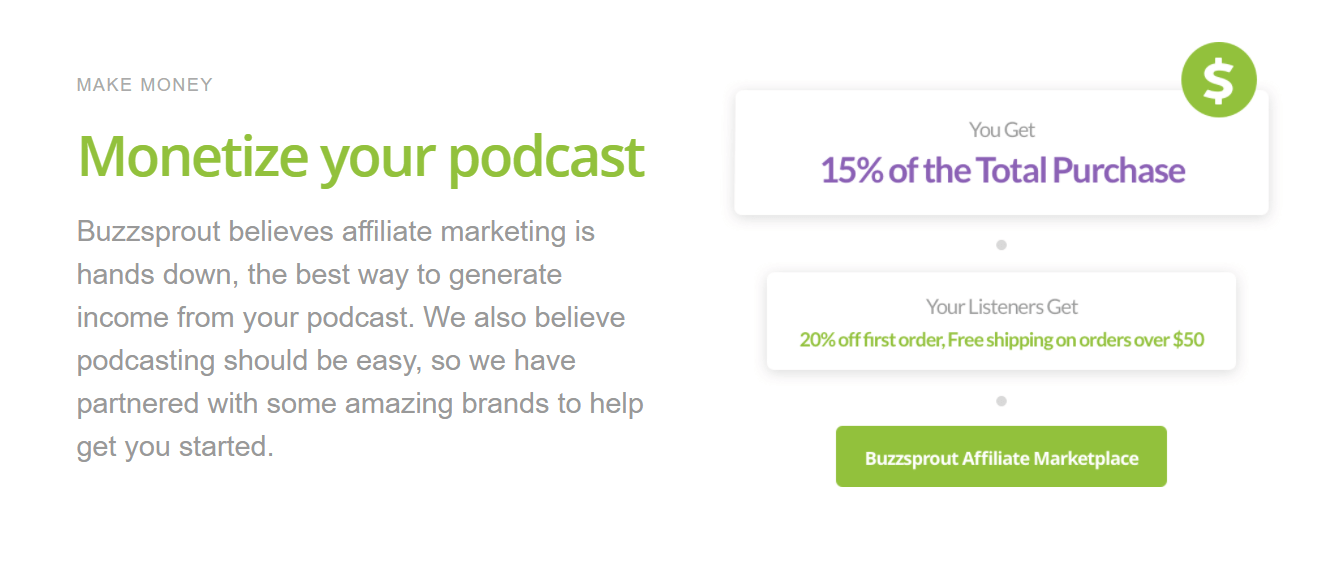 4. Dashboard-Based Statistics
Now, let's talk a bit about the Buzzsprout Dashboard, which is well-known among users for its clean, functional, and easy interface.
The dashboard is the platform's central location from where you can access information on essential metrics such as download volume, listener statistics, and even geographical audience segmentations.
At this point, I'd also like to mention the layout of the board, which is easy to understand and is extremely user-friendly.
Statistics are arranged according to the latest episodes first, and then the most popular episodes.
With Buzzsprout's statistics, you'll get a complete overview of how your recent episodes have been performing.
Simultaneously, the platform algorithm also works to calculate the number of listeners for each episode during the initial 90-days.
Using the geographic listener segmentation option, you can gain a complete understanding of where the majority of your listeners come from.
Statistics are also available at the highly granular level of individual episodes so that you can gain deeper insights regarding your performance.
5. Customer Support
When using any podcast hosting platform, customer support is one of the first things on anyone's mind.
With Buzzsprout, you can be confident that you'll get the right support when you need it.
Their customer service is incredibly responsive, and you can also access the dedicated Facebook group for advice on promotion and related aspects.
Apart from the above features, Buzzsprout also offers many marketing and promotion tools that allow you to spread the word about your episodes.
These features are beneficial if you're uploading an episode for the first time and need help with promotion.
1. Visual Soundbites
Visual Soundbites is one of the neat features of Buzzsprout that's really useful.
Using this, you can select a short length of audio from your podcast episode and create a short video based on it.
The video acts as a trailer, attracting audiences to your podcast and enticing them to listen to the many hours of audio that's on offer.
Such trailer videos work well on social media and are ideal for fast and easy promotions.
And it's straightforward to set up- all you have to do is select the start and end-points of the soundbite, customize the artwork, and you're good to go!
Videos are known to get higher click-through rates, and this feature lets you take advantage of that.
2. Chapter Markers
Chapter markers are one of the standard features of podcasts these days.
These markers essentially allow you to divide longer episodes into "Chapters" or segments dedicated to specific topics.
Chapter markers are a great way to attract audiences as they allow the listeners greater control over when they want to listen to a particular segment of an episode.
Chapter markers can be added during editing, but Buzzsprout lets you do that from within the hosting platform itself.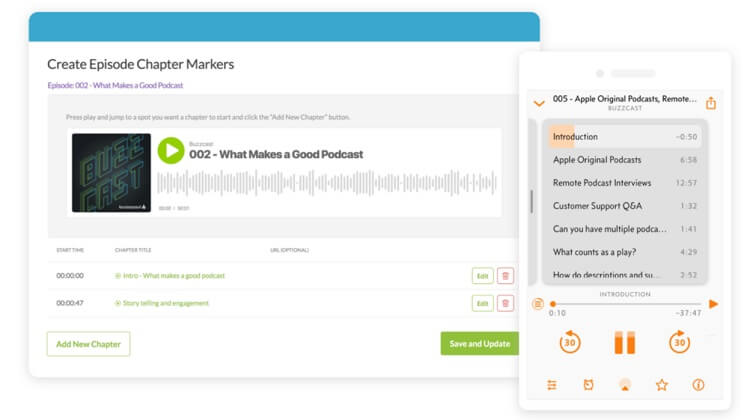 3. Distribution Features
Social sharing is made tremendously easy with Buzzsprout, as the platform offers tools for sharing to all the popular social media sites.
You also get the option to generate and copy email links for use in promotional campaigns.
Using Buzzsprout, you can create user accounts for multiple team members.
Multiple user accounts are invaluable if you have several people working on the episodes, such as a co-host or a sound editor.
Next, let's head over to the distribution section of Buzzsprout, which is listed as the Directories option.
This section shows all the popular podcast directories that you can tap into, along with complete instructions on getting listed on each directory.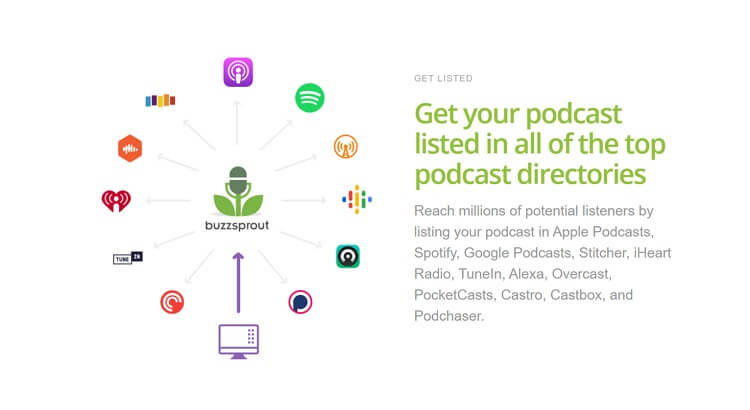 Remember that even though the instructions are pretty detailed, you'll still have to complete the submissions manually.
And even though some platforms can perform automatic submissions, you might want to control the process yourself for better distribution.
Buzzsprout Pricing Plans
Finally, I've arrived at the part of the review which is, perhaps, the most important for most people: the pricing plans.
Here also, Buzzsprout makes things simple: instead of working with the size of the files you upload, you're billed based on the hours of content that is uploaded.
The following are the different pricing tiers that Buzzsprout offers.
1. Free Plan
This tier is entirely free, but you'll be limited to only 2-hours of audio uploads every month.
Also, episodes are hosted only for a period of 90-days, after which they are deleted automatically.
However, you do get access to advanced user statistics and have the ability to add an unlimited number of team members.
And while the free website that comes with this plan will have ads, you can always upgrade and get them removed.
Overall, this is one of the best plans to get started with a free podcast.
2. $12/Month Plan
In this plan, you get 3 hours of audio uploads each month. So, if you're posting episodes weekly, you'll get to host 45-minute episodes every week.
That should be more than enough for most people who are looking to get started, in my opinion.
When you opt for this package, you get all the benefits of the free one, along with the advantage of indefinite hosting.
What's more, if you exceed the content limit, you can choose to upload more content at the rate of $4/hour.
3. $18/Month Plan
Upgrading to this option gives you 6 hours of upload capability each month, along with all the benefits of the previous tier.
At the same time, you can upload extra content at a discounted rate of just $3/hour.
4. $24/Month Plan
The final tier of Buzzsprout's subscription model, here you get a massive 12 hours of audio uploads each month.
This plan is ideal for daily posts and professional audio programs.
And in case you need more bandwidth, you can get that at merely $2/hour.
Here's a quick look at the prices and features: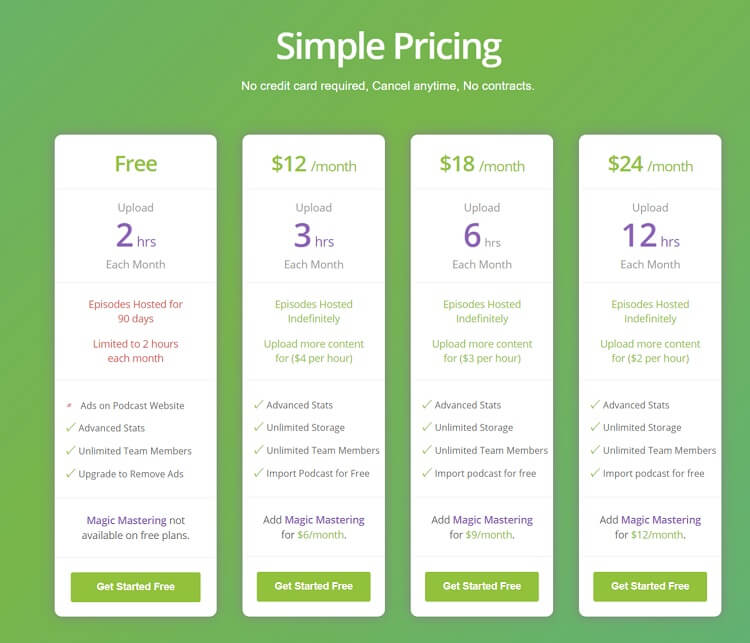 Get started with Buzzsprout.
Buzzsprout Pros And Cons
I'm sure you've read everything above, but to make matters even more straightforward, here's a quick overview of all the pros and cons of Buzzsprout.
Pros:
Suitable for beginners and professionals alike.
Simple, easily navigable dashboard.
Advanced promotional features.
Free plan to get started.
Cons:
No plan which offers unlimited audio.
Limited website customization options.
Wrap Up
I can say with confidence that Buzzsprout is one of the best podcast hosting platforms out there.
It makes the process of getting started easy for beginners, and also has a host of advanced tools for pro users.
Apart from that, the platform gives you the privilege of monetizing your show.
It even offers an affiliate program, using which you can earn through Amazon gift cards for referring others to the platform.
The only downside is that Buzzsprout doesn't have any unlimited storage options, and website customization facilities are limited.
However, this shouldn't be too much of a bother if you already have a website on another platform such as WordPress.
Before leaving, just an interesting bit of information: currently, smartphone users on platforms such as Android account for almost 65% of podcast listeners in the US.
With that kind of audience reach, any podcast host shouldn't think twice before jumping onto the Buzzsprout bandwagon.
Disclosure: I may receive affiliate compensation for some of the links below at no cost to you if you decide to purchase a paid plan. You can read our affiliate disclosure in our privacy policy. This site is not intending to provide financial advice. This is for entertainment only.
---
Last Updated on December 8, 2022 by Adam Enfroy