13 Best Zoom Alternatives of 2023 (and How to Use Them)
While Zoom can fulfill your basic business communication needs, the right Zoom alternatives can give you exactly what you need and can be vitally important to your business. From crystal clear video conferencing to powerful online meeting tools, the best Zoom alternatives can help you meet your goals. In this guide, I ranked and reviewed the 13 best Zoom alternatives, along with my top 5 choices, so that you can pick the best one for you.
---
We're reader-supported. When you buy through links on our site, we may earn an affiliate commission.
With the rise of remote work, "Zoom Meeting" became a catch phrase.
Zoom is a video conferencing service that helps you place audio & video calls and conduct meetings worldwide.
You can also conduct one-on-one meetings, conference calls, group video conferences with up to 100 attendees, share your screen for virtual events and even blur your background.
The process to schedule a Zoom meeting is quite straightforward and the software also offers advanced features like transcriptions, call recording, screen annotations, and two-factor authentication.
In fact, understanding how to use Zoom (even as a beginner) is quite straightforward.
It lets you conduct webinars with over 1,000 participants and up to 49 on-screen videos simultaneously.
You can also use Zoom for free. However, there is a meeting time limit of just 40 minutes for the free service.
Even though it's popular, you may be better off with a Zoom alternative.
The more you look into key factors when choosing video conferencing software, the more you realize how many options are out there.
If you're looking for the best Zoom alternatives to try or want to explore more video conferencing options based on your budget, this list is for you.
With as much as 60% of webinars having the goal of nurturing customer relationships, choosing the right webinar software pays off both in the short and long-term.
What Are the Best Zoom Alternatives?
Here are my top picks for the best Zoom alternatives.
Let's get started.
Best for small and mid-sized businesses ($2.5 per month).

Adam's Take
If you're looking for the best Zoom alternative, then look no further than Zoho Meeting. When running an SMB, Zoho Meeting can provide you with reliable and secure audio and video conferencing services. You can use Zoho Meeting to host webinars, and online meetings, and even provide customer support. For these reasons, I cannot recommend Zoho Meeting enough.
Zoho Meeting is another popular Zoom alternative on this list that helps you host webinars and online meetings and broadcast demos. It lets you join or launch the meeting without actually installing the software.
Although you can host the meeting only via the iOS app, it lets you join meetings using both Android and iOS apps. You also get an app extension for Firefox and Chrome browsers.
Plus, it lets you record your session on the cloud, download them, or share the recording using a short link. You can also dial-in through a phone by over 100 local numbers and 55 toll-free numbers from multiple countries.
Besides, it offers plenty of features to host video conferences like:
In-session chat.
No time limit for meetings.
Conduct online meetings with audio, video, and screen sharing.
Send email reminders, get RSVPs, and embed meeting links.
Automatically schedule and sync meetings with Google or Zoho calendar.
Use polls and Q&A to boost the engagement and track the response through webinar analytics.
Moderator controls like the ability to switch presenter, mute or remove attendees, etc.
You can also moderate messages and allow attendees to talk in between the session.
There's also a 'Lock Meeting' feature that helps you host private meetings and control attendees' entry. This way, you can even prevent any person's access even if they have the attendee link.
Besides, Zoho Meeting allows you to make your attendee a presenter or add a co-organizer any time during the meeting. You can also co-brand your meetings and webinars by adding your brand's name or logo to email invitations and reminders.
The ability to create custom registration forms, adding custom fields and embedding the registration form on blogs and web pages also help you boost leads.
When it comes to security, the communication gets conducted under the layer of secure SSL/128-bit AES encryption protocols.
Pricing: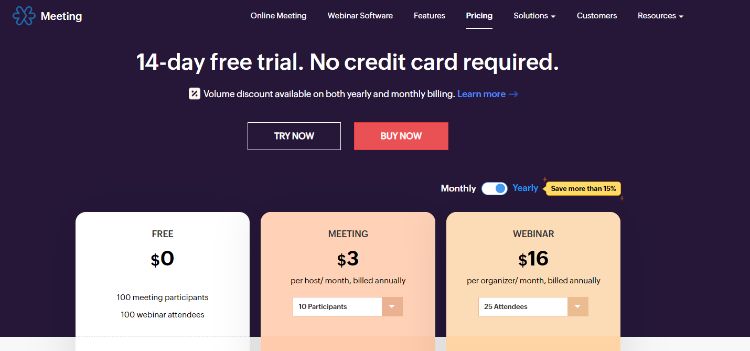 Zoho Meetings comes with four payment plans:
Free: $0 per month
Meeting: $3 per host per month (for up to 10 attendees)
Webinar: $16 per organizer per month (for up to 10 attendees)
You also get a 14-days free trial and a free version to host webinars and online meetings with limited features.
Get started with Zoho Meeting.
Best overall Zoom alternative ($12 per month).

Adam's Take
If you want a great web conferencing platform that's easy to use, gives you a lot of features and is very reliable, then GoToMeeting is the way to go. It offers a great video and audio experience and is very user-friendly. Overall, I highly recommend GoToMeeting for small businesses or anyone who needs a great web conferencing solution.
GoToMeeting is a web-based video conferencing platform that offers a one-click meeting option to join, host or manage web meetings. It is hands down the best out of all of the Zoom alternatives in this list.
The entry-level payment plan lets you host up to 150 attendees, while the Enterprise allows up to 3000 attendees.
It works on all devices like PC, Mac, and mobile phones and offers built-in support for Cisco, Lifesize, and Polycom devices. Plus, it works with an H.323-enabled video conference room system and lets you add up to 25 webcam feeds.
Some of its most prominent features include:
Screen sharing.
Conference calling.
Video conferencing.
Mobile conferencing.
Cloud-based recording.
Meeting recording & transcriptions.
Virtual whiteboard and drawing tools.
Voice commands to join meetings instantly just by asking Siri.
Security features like SAML SSO login.
Split-screen feature to see both participants and what's present on the screen.
The video conferencing platform also integrates with Office 365 plugin to help you schedule, manage, and join online meetings.
There's also a 'commute mode' that lets you attend or host meetings on the move on low bandwidths. You also get an option to pick between VoIP and toll-based voice options.
GoToMeeting comes with an Admin Center that helps you manage users and their access to multiple features. You can also hand over the entire keyboard and mouse control to another speaker or even an attendee.
The tool also provides a "call me" feature, where you get notified automatically by a call when a scheduled meeting is about to start. It also lets you join the meeting via phone call – without any code or PIN.
Additionally, it offers up to 25 HD video feeds per session and access to diagnostic reports for insights on the conference and participants.
GoToMeeting provides three paid plans:
Professional: $12 per month
Business: $16 per month
Enterprise: Quote-based
Some standard features include HD video, screen sharing, web audio, dial-in conference line, business messaging, voice commands, and more. You also get a 14-days free trial to try the product before purchasing it.
Get started with GoToMeeting.
Best for large enterprises ($19.99 per user, per month).

Adam's Take
Do you manage a large enterprise and want to find a solution that allows you to communicate with your employees more effectively? Do you need to be able to host online meetings with dozens or even hundreds of attendees? If so, then RingCentral could be the perfect solution for you.
RingCentral is a communications and collaboration solution that lets you host online meetings with up to 500 attendees simultaneously. You can join the meetings directly from your browser without downloading the app.
It also lets you switch from audio to video call and swap devices in between the meeting without any disruption.
See how RingCentral is a much better Zoom alternative in my RingCentral vs Zoom comparison post.
RingCentral also lets you:
Share your screen.
Edit files in real-time.
Create up to 50 breakout rooms.
Collaborate using whiteboards and annotations.
Share content and send text messages.
Share files in your team message threads.
Manage the conversation through in-meeting chat.
Join a video call directly from the messaging thread.
Record your meetings as many times as you want and share the highlights over the cloud.
RingCentral also integrates with Microsoft Outlook to help you schedule one-click meetings and update them instantly. You can also sync it with iCal Google Calendar and send invites by email or text from your devices.
Besides the calendar apps, it also integrates with popular CRMs, including Zendesk, Salesforce, and more.
You also get real-time analytics to gauge system performance, monitor service quality, and track usage for all departments.
Additionally, you can use its built-in webinar tool to host up to 10,000 attendees with up to 500 moderators globally.
RingCentral offers four paid plans:
Essentials: $19.99/user per month
Standard: $24.99/user per month
Premium: $34.99/user per month
Ultimate: $49.99/user per month
These pricing plans are for up to 20 users; the pricing changes with the number of users. Also, the entry plan is only for messaging and audio calls, while the other three plans allow video conferencing as well.
Get started with RingCentral as your video conferencing service.
Best free Zoom alternative (Free – $8 per month).
Adam's Take
I love Google Meet because it's so user-friendly and has an intuitive interface. The video quality is great, and I especially appreciate the sound quality, which makes it easy to hear people on the other end. If you're looking for a great free alternative to Zoom, then Google Meet is definitely worth checking out!
Google Meet is the advanced business version of Google Hangouts and is suitable for video conferencing and webinars.
It allows you to start a call in HD with up to 250 participants (with its Enterprise plan), with 16 attendees visible at a time.
You can access Google Meet on both Android and iOS. Plus, the mobile app helps you view and control participants in the meeting, conference details, chat rooms, and more.
It also allows you to invite attendees directly from the Google calendar through email after creating the event.
Besides, you get all standard features screen-sharing, call or video recording, dial into a video conference, live captioning during meetings, multiple device compatibility, etc. You can also record your meetings and save them in Google Drive or Google Calendar as an event.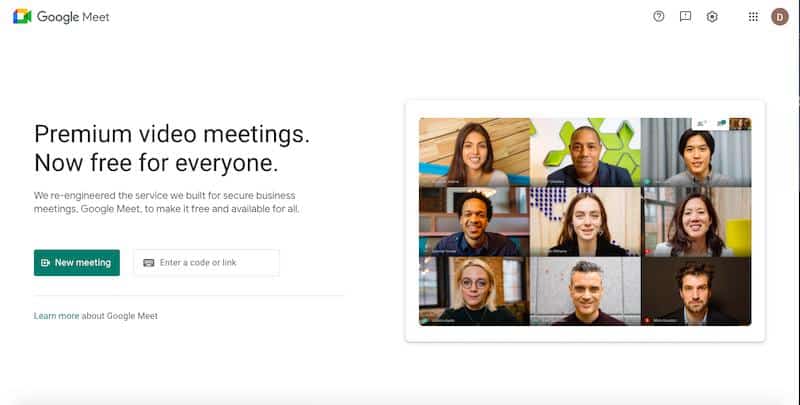 Other advanced features include:
Pin, mute, or remove participants.
Video and audio preview screen.
Adjustable layouts and screen settings
Share files, links, and text messages with participants.
Integration with Google and Microsoft Office apps.
The Enterprise plan also enables you to live-stream your meeting to 100,000 attendees at the same time. Its Premium plan also provides full access to intelligent noise-canceling feature, G-Suite, and the security layer of Google.
All in all, it doesn't offer many advanced features, though you get enough features to host a simple video conference.
Google Meet provides three plans:
Free: Always free
Google Workspace Essentials: $8 per active user/month
Google Workspace Enterprise: Quote-based
The free plan allows 100 meeting participants and the meeting length of up to an hour, while the Enterprise plan allows 250 participants and 300 hours of meeting.
Best for mid-sized and large enterprises ($5.00 user per month).
Adam's Take
If you're part of an enterprise, then your company might already have a Teams account that you can join. This is a great way to keep in touch with colleagues and work on projects together, even if you're not in the same location. I like the ability to share documents in real-time and the fact that you can have video meetings with up to 20 people.
Microsoft Teams is a cloud-based video conferencing tool that allows up to 10,000 participants (with its most advanced plan).
It lets you host video meetings, audio calls, share documents and send text messages remotely. Plus, you get high-quality video, audio, and screen sharing capabilities along with AI assistance.

It offers multiple collaboration features, including screen sharing, email invitation, digital whiteboard, meeting chats, file sharing, and more.
You can also control settings like assigning presenters and participants, removing uninvited attendees, muting them, co-authoring files, etc.
Microsoft Teams also enables you to change the background from its list of backgrounds or upload your own custom background.
The "Raise your Hand" feature helps you notify participants when you have something to say. You can also download the participant list for future reference and access recordings and notes from previous meetings.
Besides, it allows you to record all the meetings in the cloud and share them with other users. You can also do one-on-one chat with users and use live captions to follow every word uttered in the meeting.
Additionally, Microsoft Teams partners with Logitech, Poly, Crestron, HP, Lenovo, and Yealink for one-touch access to Team Room devices. Integration with Outlook or the mobile app also helps you schedule your meetings and control them from anywhere, anytime.
Microsoft Teams provides four plans:

Microsoft Teams Free: Free plan
Microsoft Teams Essentials: $4.00 user/month (annual commitment)
365 Business Basic: $6.00 user/month (annual commitment)
Microsoft 365 Business Standard: $12.50 user/month (annual commitment)
The first three plan allows 300 attendees, while the Office 365 E3 plan lets you host up to 10,000 attendees. Besides, all the plans provide standard features like screen sharing, customized backgrounds, scheduled meetings, chat messages, data encryption, among others.
Best for personal use and small businesses (Free).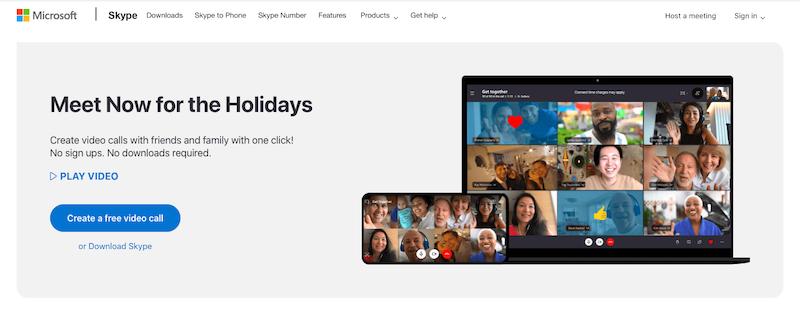 Skype has been around for a long time in the video conferencing services world. It is a popular Zoom alternative that lets you make video calls and host participants all over the world for free.
With Skype's Meet Now, you can create a conference meeting for up to 100 users at a time in HD quality from the computer, tablet, or smartphone. And you can do it directly from your browser without installing the application – simply create a meeting link and share it with your audience.
Skype also allows you to record video or audio calls and share your screen with other participants in the call. You can share PowerPoint presentations, video, audio, images, and more with the entire team – and that too on a full screen.
It also allows you to share your current location with every attendee in the video conference. Besides, it comes with a drag-and-drop file sharing feature that lets you share images, videos, presentations, and more for up to 300 MB.
To hide your current background, you can blur or change the background before starting the call.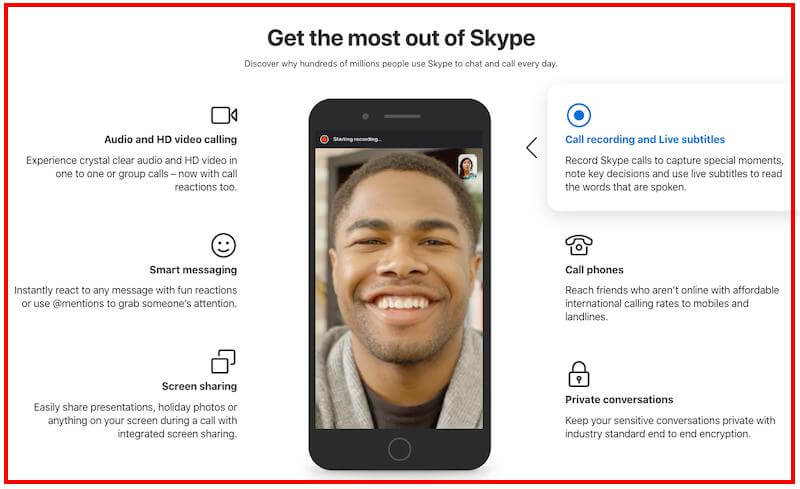 Other key features include:
Live subtitles.
End-to-end encryption.
Integration with Outlook.
Raise your hand feature to indicate who wants to speak next.
Search within the conversation whenever required.
Capable of translating instant messages, voice calls, and video calls in real-time
Ability to react to messages with funny emojis or use @ to mention people in the conversation.
Besides, Skype forwards your calls to a different number or route them to a voicemail when you're not available.
Skype also allows you to call landlines and mobile phones, albeit at additional charges. You can also get a Skype number from another region or country to receive calls like a regular phone. It also allows you to send SMS (text messages) anytime and anywhere.
Pricing:
It's usually free, although landline and calling services start at $2.99 a month.
Best for collaboration during online meetings ($13.50 per host, per month).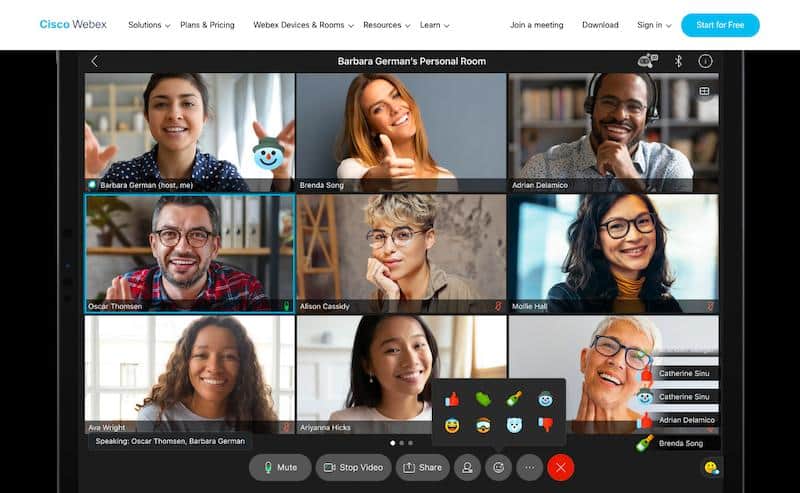 Cisco Webex is a video conferencing solution that helps you host online HD video meetings and keeps you connected through messaging.
It also offers other collaborative features like screen sharing, calling, file sharing, whiteboarding, AI transcriptions, recording, and more making it one of the top Zoom alternatives for companies.
Plus, Cisco Webex now comes with many AI-based features as well. For instance, you can now give in-meeting reactions through hand gestures or send emojis and gifs during the meeting. It also uses Artificial Intelligence to put more important messages at the top and saves shared files alongside those messages.
Cisco Webex provides plenty of other features for team collaboration, including:
The Webex assistant translates in 10 languages in real-time.
Personalize your space with custom images, colors, and co-branding.
Include a one-on-one telephone call into a video meeting.
Two-way whiteboarding for better interaction.
You can record meetings and take notes.
Organizers can take post-call surveys through email, SMS, or IVR.
Pre-built integrations with business apps like Zendesk, Salesforce, Microsoft Dynamics, etc.
One of its unique features is its AI-powered Webex assistant that takes notes of meeting highlights for future reference.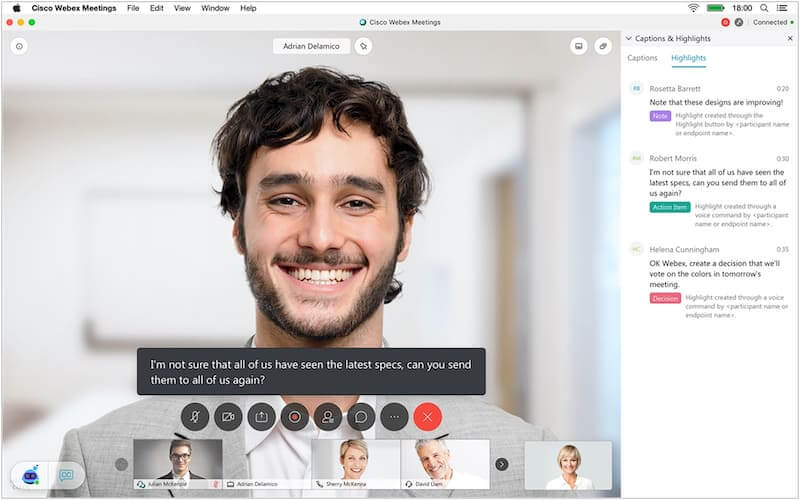 This video conferencing software also offers pre-designed meeting invite templates, including brainstorm sessions, quick catch-ups, and more. It also allows you to use your screen or presentation as your virtual background and remove distracting background noises.
You can also study insights and analytics provided by the Control Hub, including real-time data usage, utilization, environmental conditions, etc.
Additionally, Webex comes with two major devices, namely Webex Desk Camera and Cisco Webex Board. The Desk works with monitors, laptops, or Webex Desk Hub – while the Webex Board helps with hosting video conferences, whiteboarding, and annotating content wirelessly.
It also comes equipped with a 4k wide-angle camera and stereo speakers.
Pricing:
Cisco Webex offers four plans:
Free: $0 per host, per month
Starter: $13.50 per host, per month
Business: $26.95 per host, per month
Enterprise Plan: Quote-based
The free plan allows 100 meeting participants, the Starter plan allows 150 attendees, while Business and Enterprise plans allow up to 200 and 100,000 attendees, respectively.
To dive deeper, check out my full comparison of Zoom, GoToMeeting, Webex, and WebinarJam.
Best for personal use and startups (Free).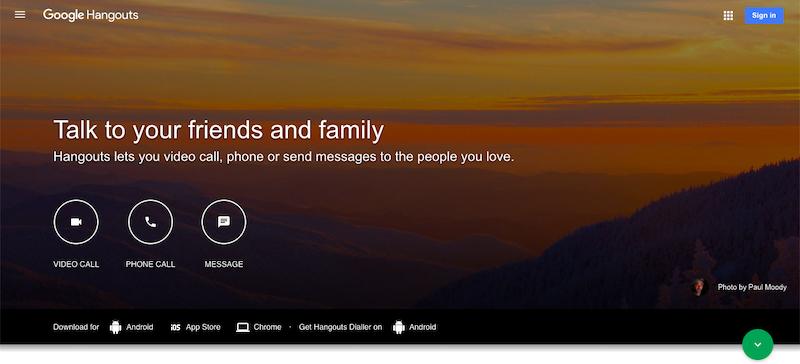 Google Hangouts is a simple communication tool by Google that is available on both mobile and desktop. You can use it to message contacts, start free video or voice calls, conduct small meetings, etc. It helps you do both one-on-one and group video calls with up to 10 users at a time.
Plus, everyone with a Gmail account can use Google Hangouts without any paid subscription. Google's communication platform helps you host up to 150 participants on an audio call, with video call limited to only 10 participants.
Google Hangouts provides all basic features like:
Instant messaging.
Audio & video calls.
HD video conferencing.
Auto Screen focus.
Intelligent muting.
Built-in screen sharing.
Mobile app both on iOS and Android
Share documents, images, and other files with other attendees in the meeting.
The hangout app can also detect and display the person speaking through smaller live shots at the bottom of the screen. It also helps you easily switch between the rear and front camera of the device or turn off your microphone and camera.
Depending upon the bandwidth of your internet connection, Google Hangouts can stream live meetings in HD quality. It also offers funny stickers, GIFs, emojis, and images to promote more interaction among users.
You can also do one-on-one or group chats with Google Hangouts. And it saves all the messages even after the conversation is over, which comes in handy for future references.
All in all, Google Hangouts is a simple meeting tool that offers standard features, but you won't get features like recording, auto caption, additional integrations, etc.
Pricing:
It's entirely free or comes as a part of G Suite.
Best for remote teams and mid-sized businesses ($9 per host, per month).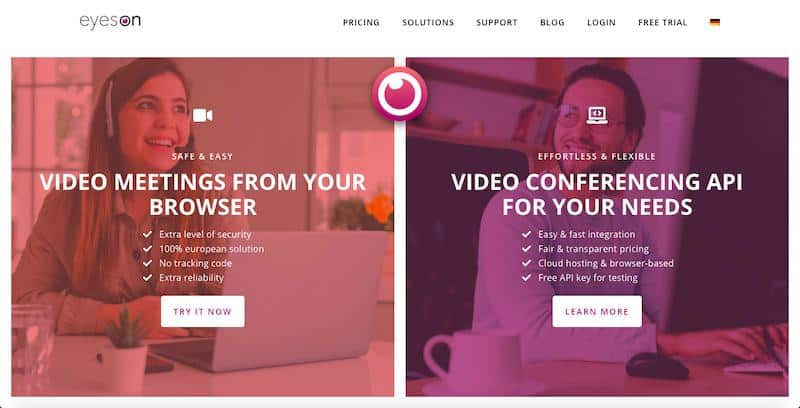 Eyeson is a video collaboration tool that helps you conduct video meetings directly from your browser. It's GDPR-compliant and lets you invite attendees through a link – which they can use to join the meeting without downloading the software.
You can share the link easily via WhatsApp, email, or any other medium. You can also start the meeting anytime you want from its iOS and Android mobile app.
Eyeson's bandwidth always stays at 1.5 Mbit/sec to ensure it works with the same quality on any internet speed. To save more bandwidth, you can host the meeting in Eco Mode, where the tool shuts down the video and helps you listen to the audio clearly.
Plus, it allows you to create unlimited meeting rooms for different meetings and host up to 25 participants per call. The multi-speaker layout also helps you see up to 9 attendees within one video stream.
Additionally, it provides prominent key features like:
Screen and file-sharing options.
Live streaming on Facebook and YouTube.
Record your sessions and download them.
Get a complete overview of your video call history.
Take snapshots during the video call for future reference.
Receive reminders and push notifications before the meeting.
Insert GIFs from Giphy library during group or one-on-one chats.
Eyeson also allows you to share the screen, PDF files, images, and other media files. Integration with major third-party apps like Slack, Trello, Jira, Freshdesk, Talkdesk, Zendesk, YouTube, etc., also helps you streamline your tasks.
Pricing:
Eyeson offers two pricing plans, including:
Basic: starting from $9 per host, per month
Corporate: Quote-based
Both plans provide basic features like ten meeting rooms, screen-sharing/webcasting, PDF presentation with click-thru, iOS and Android mobile app access, and more.
Best for remote collaboration ($9.99/host, per month).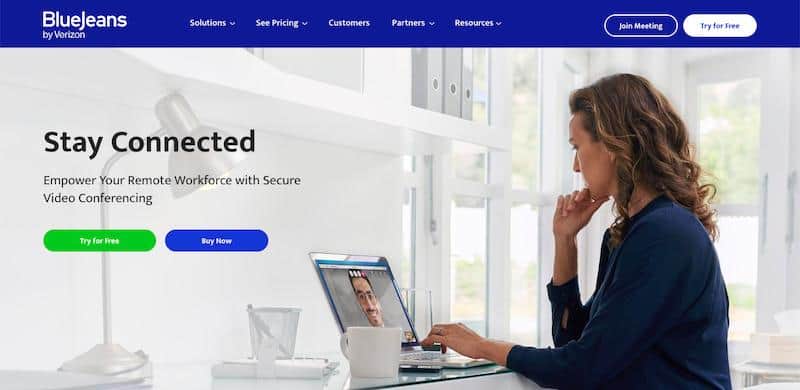 BlueJeans is a video conferencing tool that helps you conduct virtual events and meetings in HD video quality meetings. You can also host town halls, live interactive events, and webcasts for a large number of audiences.
The platform allows up to 50,000 view-only attendees with 150 presenters and lets attendees join browser-based meetings without any installation.
Its Smart Meetings feature helps you tag business-critical moments, mark event highlights, and assign actions for teams. Collaboration features like file-sharing during the meeting, whiteboarding, and annotating help you interact with attendees.
Other interactive features include polling, moderator controls, Q&A, event chat, hand-raising, and more.
The Command Center lets you take total control with real-time actionable insights into network conditions, meeting performance, and user-focused ROI. It helps you monitor and resolve issues before they become a severe problem.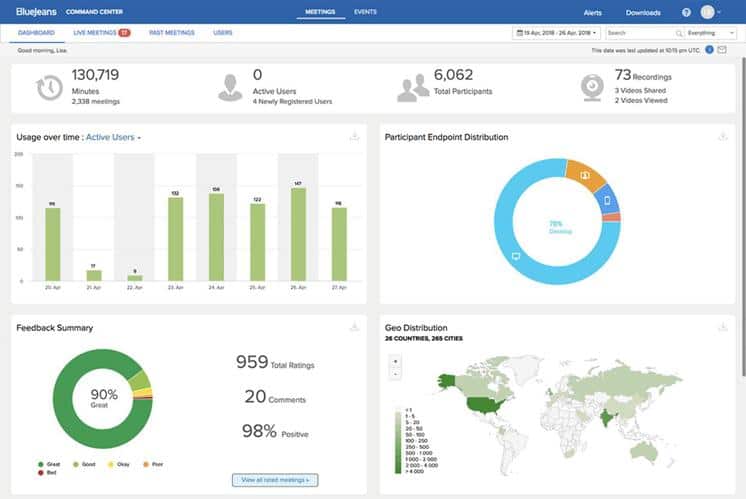 You can live-stream your events on Facebook or Workplace by Facebook and record all types of events on the cloud. The virtual meeting platform also offers security features that help you prevent fraud, manage identity, and keep your meetings confidential.
You can also launch meetings directly from other business apps like Microsoft Teams, Office 365, Google Calendar, Slack, Trello, etc.
Additionally, Bluejeans supports leading meeting hardware devices from Cisco, Poly, Lifesize, and other popular brands.
Pricing:
BlueJeans offers three pricing plans:
BlueJeans Standard: $9.99 per host, per month
BlueJeans Pro: $13.99 per host, per month
BlueJeans Enterprise: Quote-based
The Standard plan lets you host up to 50 participants, the Pro plan allows 75 participants, and the Enterprise allows 100 participants. All the plans provide features like unlimited 1:1 meetings, private & group chat, screen sharing, etc.
Best for small remote teams and startups (Free).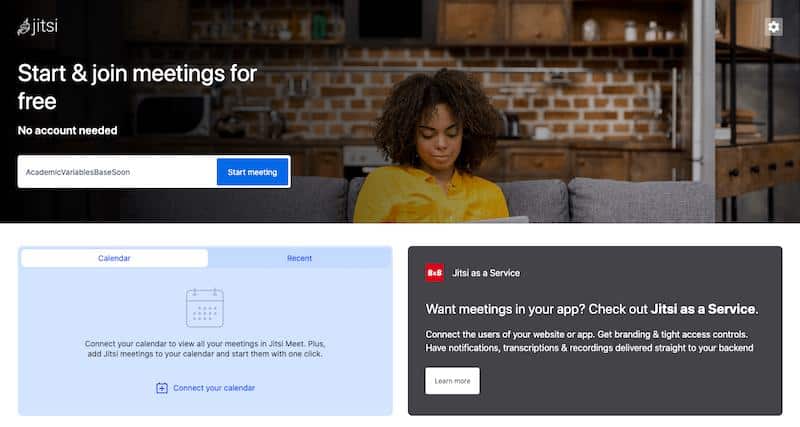 Jitsi Meet is an open-source video conferencing platform that offers HD video streaming with end-to-end encryption. Its free meeting access helps you interact with up to 50 people in a single meeting. You can share a link or invite attendees by calling them on the phone. The participants can join the meeting without signing up for the platform.
Some of the major features of this platform include:
Ability to control the desktop of all the video conference participants remotely.
Record and transcribe meetings.
Screen-sharing.
Send text messages during the meeting.
Control access to your meeting room.
Live-stream your meetings to YouTube.
Real-time closed caption support.
Integration with Microsoft, Google, and Slack.
You can also connect your Jitsi Meet with the calendar and start your meeting from there with a single click. The platform allows integration with Apple, Google, and Microsoft calendars. What's more, its advanced meeting moderation and analytics help you track the performance of your virtual meeting.
With Jitsi as a Service, you can create a customized video experience in your mobile and web apps. Plus, you can integrate it on multiple channels and platforms, including Windows, Web, macOS, Android, iOS, and Linux.
Pricing:
It's entirely free.
Best for personal video chat (Free).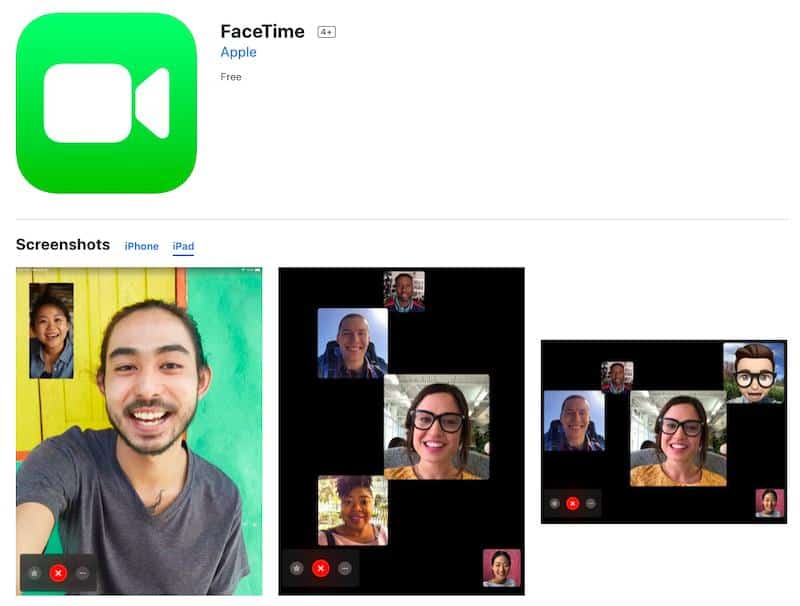 FaceTime is a video calling application by Apple that lets you make audio and video calls from your iPhone, iPad, and iPod touch to other Apple devices. However, there are Chrome extensions available that can help you use the chat app on Windows 7, 8, 10, and more.
FaceTime allows up to 32 attendees during a group video call. If you want to save your bandwidth, you can also make audio-only calls.
The app offers a simple user interface with minimal controls, including a call end, mute, and video turn off button.
Here are some of its major features:
Place audio or video calls using contact numbers or Apple IDs.
Mark 'Favorites' to access and place calls to key people in the Phone app quickly.
FaceTime calls get integrated into your recent calls list in your iPhone.
Send stickers and Memojis for better interaction.
It also allows you to add stickers, Animoji, and filters to your video call. But you have to make your memoji before starting the video call.
While the app is entirely free, secure, and offers HD quality, it still has limited features. You can use it as a casual free video conferencing option where you don't need to share screens and files with other attendees.
Pricing:
It's a free, built-in video calling app by Apple.
Best for communicating with remote team members ($10 per month).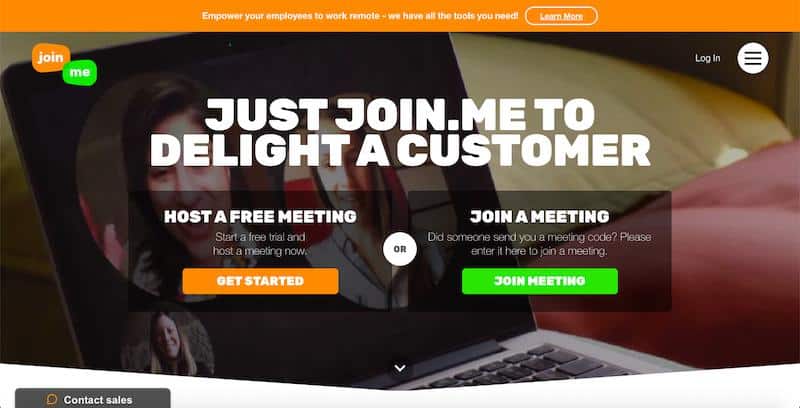 Join.me is a web-based video conferencing software that helps you conduct online meetings and invite attendees using a personalized URL. You can create a custom meeting link based on your branding requirements and mail it to the participants. The participants can simply click on the link and join your meeting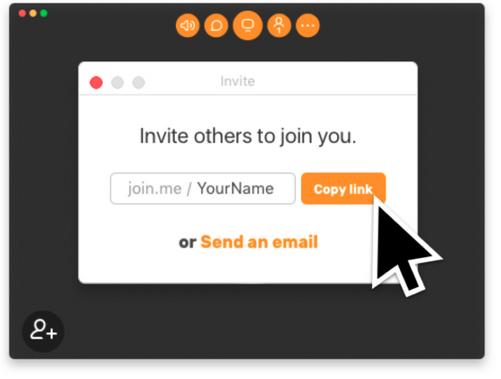 On top of that, you can customize the meeting background by adding your brand's logo or add your own picture.
Join.me allows you to record, schedule, and control virtual meetings remotely. You can start sharing the screen with a single click on the "Broadcast" button. Plus, it allows Google Chrome users to attend the call without downloading the software.
Other major features include:
One-click scheduling.
Mobile apps for iOS and Android.
Whiteboard function for iOS and desktop-based app.
Control your team members' mouse and keyboard (making it a suitable TeamViewer alternative as well).
You can also swap the presenters in between the meeting and allow them to share their own screens. With its PRO subscription, you can share the screen with up to 250 people.
Additionally, use Join.me scheduler or sync with Google and Microsoft calendars to schedule meetings. It also allows you to start the meeting from calendars.
The tool also offers plenty of audio call features like toll-free numbers to join the meeting and conference numbers for the USA and 50+ other countries. Plus, it lets you control audio calls with actions like Active Speaker, Roll Call, and Individual Mute. You can even start an audio conference call through VoIP at no extra cost.
Pricing:
Join.me offers three payment plans:
Lite: $10 per month (5 participants per meeting)
Pro: $20 per month (250 participants per meeting)
Business: $30 per month (250 participants per meeting)
All plans include features like screen & window sharing, meeting lock, reporting, premium customer care, chat and file sharing, etc.
FAQ
Is Google Meet a Good Alternative to Zoom?
Google Meet is a great Zoom alternative because it is a web app-based meeting tool, unlike Zoom that you must download as a separate video conferencing app. Also, with a Google Business account, you get all of the premium features included in your account.
What is the Best Zoom Alternative?
GoToMeeting appears as the best overall Zoom alternative since it's suitable for pretty much all types of businesses. Plus, it offers all features like screen sharing, whiteboarding, conference calling, video conferencing, mobile conferencing, cloud-based recording, transcription, etc.
Summary.
These were my top picks for the best Zoom alternatives. Picking the right video conference or team collaboration platform is essential, especially in the aftermath of COVID-19.
It's possible to choose one of the many video conferencing platforms that completely aligns with your requirements.
If you need a tool to collaborate with your small remote team, then I'd suggest using Join.me, BlueJeans, or Eyeson. For a large enterprise that wants to host large audiences, Microsoft Teams is a suitable option. On the other hand, FaceTime and Google Hangouts are more suitable for personal video chat.
Which of these Zoom alternatives are you planning to use, and why? Let me know in the comments below.
Disclosure: I may receive affiliate compensation for some of the links below at no cost to you if you decide to purchase a paid plan. You can read our affiliate disclosure in our privacy policy. This site is not intending to provide financial advice. This is for entertainment only.