How to Host a Webinar: Tips and Tricks for 2023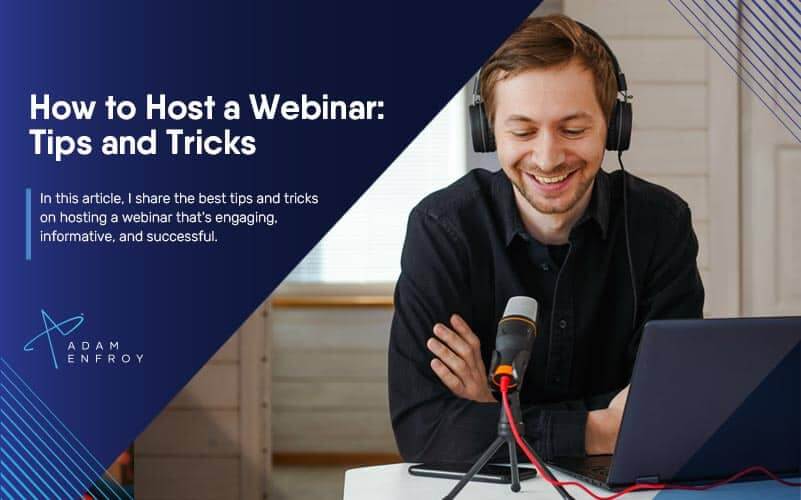 With tons of excellent webinar software that make it easy to get started, there's no excuse not to try them in your business.
However, to make the most out of webinars, you must understand how to host them properly.
Hosting a webinar is not as simple as firing up a webinar software and hitting "start."
However, it's not as bad as some make it out to be.
If you've never hosted a webinar before, don't worry – I'm here to help.
In this article, I'll share some tips and tricks on hosting a webinar that's engaging, informative, and successful.
Let's dive deep into this topic.
Steps To Hosting Your Webinar
The following are the steps to consider when hosting webinars.
Whether you're doing a live webinar or having a recorded webinar that keeps generating revenue for your business over time, it's key to go through this process.
Select Your Software
The process of choosing your webinar software will dictate whether you have a successful webinar and the degree to which it is so.
There are many choices in the market, and it can be unclear for first-time users how to identify the best software.
The most important things to consider when choosing webinar software are:
Ease of use: Can you easily set up and start the webinar without any technical hitch?
Recording options: Does the software allow you to record your webinars so you can share them later on?
Compatibility: Is the webinar software compatible with the devices and browsers your attendees are using?
Audio and video quality: How good is the audio and video quality of the webinar platform?
Engagement features: Does the software have features that will help keep your audience engaged during the webinar (e.g., polling, Q&A, chat)?
Once you've considered these factors, you can narrow your choices and select the right webinar software.
Decide On The Presenter(s)
The presenters should be chosen based on the webinar topic you're planning to host.
The presenter should be an expert on the topic and should be able to engage with the audience throughout the webinar.
If you're unsure who would be a great fit, reach out to your network or do a quick search online to find someone knowledgeable about the topic.
Alternatively, if you're going to present the webinar yourself, ensure you're prepared by knowing your material inside and out.
Understanding how to motivate the webinar attendees best to engage with you during the webinar is also essential.
Schedule A Webinar
Inside the webinar tool of your choice, you should have the option to schedule a webinar.
This is where you'll input all the details of your webinar, including the date, time, and duration.
The webinar software will typically allow you to save this event as a draft so you can come back and edit it later on, at any point before the webinar starts.
You can also share the webinar with other people (e.g., the presenter, co-hosts, or team members) so they can make changes.
Customize Your Branding
The right webinar service will allow you to customize the branding of your event.
This includes everything from the webinar lobby (where attendees wait before the webinar starts) to the email invitations that are sent out.
You should take advantage of this and brand your webinars with your company's colors, logo, and any other images that you feel would be appropriate.
Creating interactive webinars starts with having the right webinar features, and one of these features is branding.
Inviting Participants
Sending webinar invitations to your list is a great way to increase attendance.
The process is simple – all you need is the email addresses of the people you want to invite.
You can manually input these email addresses or (even better) upload them from a file (e.g., CSV, Excel).
The webinar software will then send out the invitations on your behalf.
The invitations will contain all the information attendees need about the webinar, such as the date, time, topic, etc.
Enabling The Webinar Registration Form
When you have an upcoming webinar, you'll want to use a registration page to collect attendee information.
You will create a registration form that will be live on the internet.
Having a landing page with a registration form that tells potential attendees what your live event will be able to do for them is essential to getting sign-ups.
As you build your landing page, consider the different time zones your attendees might be in and include this information on your webinar registration page.
You can also have a prompt on your registration page where attendees can leave you their questions before the webinar.
This can help you create even better content that resonates with them.
Create Your Webinar Content
The content of your webinar should be engaging, informative, and relevant to your audience.
When creating this content, consider what you want your attendees to take away from the event.
Do you want them to learn something new?
Be entertained?
Or maybe even both?
You should structure your content in a way that will help you help them achieve their goals for the webinar.
As such, creating an engaging webinar presentation is essential to the success of your live event.
With online events, you have the unique opportunity to include multimedia content in your presentation.
This can be anything from videos and images to infographics and audio clips.
A high-quality webinar presentation uses the above to create just the right balance.
Consider A Poll Or Survey (Or Multiple Ones)
The right webinar solution will have the functionality to create polls and surveys that you can use during your live event.
This is a great way to engage with your audience and get feedback in real-time.
Depending on the type of webinar, various templates can help you with the content and questions for your polls and surveys.
Consider Your CTAs
A CTA (or call-to-action) is a statement or question that encourages your audience to take a specific action.
This action could be anything from visiting your website to signing up for your newsletter.
When used correctly, CTAs can effectively get your audience to take the next step in their buyer's journey.
Setting Up Your Recording Settings
When you record webinars, they are typically (and automatically) saved as an MP4 file.
This means that anyone with the link to the recording can access it at any time.
You also have the option to password protect your recordings so that only people with the password can view them.
Recording your webinars is a great way to repurpose content and continue engaging with your audience after the live event.
Practice Run
If you have a panel discussion that will take place during your webinar, it is essential to do a practice run before the actual event.
Everyone involved should be on board with the structure and flow of the live event.
This will help ensure that everything goes smoothly on the day of the webinar.
Also, if it's your first webinar, you might consider doing a test run with a smaller group of people acting as attendees.
This will help you work out any kinks and give you the confidence you need for a successful live event.
Consider Your Webinar Location
If you don't have a set office, think about your webinar location on the actual date and time of the event.
This is where all the action will take place, and you will be broadcasting your live event.
As such, there are a few things to consider when choosing a location for your webinar.
First, you need to ensure that the space is well-lit and that there is minimal background noise.
Second, you need to have a good internet connection.
And third, you need to ensure that the location is a comfortable spot for you.
Ready To Go Live
If you have a moderator that will run through the webinar with you, it is a good idea to do a soundcheck before going live.
This way, you can ensure that everyone can hear each other clearly and that there are no technical difficulties.
Also, double-check that screen sharing is working correctly and that your video and audio are coming through clearly.
Have your slide deck ready so you can share it with your audience as soon as the webinar starts.
When ready to go live, hit the "start broadcast" button in your webinar solution.
Engage Your Audience
Authentic webinar hosting is all about engagement.
The more engaged your audience is, the more likely they will take action on your CTAs, including buying your product or service.
You can do a few things to increase engagement during your webinar.
First, make sure to interact with your audience throughout the event.
You can ask questions, take polls, and start discussions in the chat box.
Second, encourage your audience to participate by offering incentives.
You can do this by giving away prizes or discounts for people who take action during the webinar.
Finally, end your webinar with a strong CTA that encourages your audience to take the next step – whatever that might be.
Having step-by-step instructions for your audience will help increase the chances of them taking action.
Along the same lines, ensure that any chat boxes within the webinar are being monitored by someone who can answer any questions.
Whether that's you or a moderator, your audience will feel like they are being heard, and their questions are answered in real-time.
Analyze Results
After your webinar is over, take some time to analyze the results.
Your webinar solution should provide valuable insights into attendance rate, engagement level, and overall satisfaction.
You can use this data to improve future webinars and create more engaging content for your audience.
Follow Up With Those That Attended
Finally, don't forget to follow up with your audience after the webinar.
You can do this by sending out a survey or simply reaching out to people via email.
This is a great way to get feedback on your event and find out what people liked and didn't like about it.
Make Your Webinar Recording Available
Speaking of follow-up, one final tip is to make your webinar recording available after the event.
This will allow people who couldn't attend the live event to still get value from it.
It will also help you generate leads, as people can sign up to view the recording even if they don't attend the live event.
Using the right webinar software makes it easy to send your webinar recording to those that registered but didn't attend.
This is a great way to increase the ROI of your webinar and get more people engaged with your content.
How To Promote Your Webinars
Considering which marketing tools you will use to promote your webinars is just as crucial as the webinar itself.
The question of free webinar software and its usefulness in a marketing context looms large in the minds of many.
The answer is that free software can be helpful, but they also have limitations.
Typically, the way these types of software allow you to market your webinar is one of those limitations.
That said, the best way to market your webinar is to use a variety of marketing channels.
Let's take a look at some of these channels.
Social Media
Social media is a great way to promote your webinars.
You can use platforms like Twitter, Facebook, and LinkedIn to reach a large audience with minimal effort.
When promoting your webinar on social media, it's important to use attractive visuals and compelling copy to get through to your target audience.
Various social media management tools can also help with promotions on this channel.
Email Marketing
While sending reminder emails to those that have registered for your webinar is important, don't stop there.
You can also use email marketing software to reach people who haven't registered yet.
Your email marketing campaigns should be designed to generate interest in your webinar and get people to register.
As such, your target audience should be top of mind when crafting your email copy.
What will resonate with them?
What will get them to take action and register for your event?
Keep these questions in mind as you write your email copy and create your email marketing campaigns.
Paid ads
Facebook ads can cater to a large audience, allowing you to laser-target your ideal customer.
For example, you can target people who live in a particular area, who work in a specific industry, or who have expressed interest in similar events in the past.
Lead generation is one of the most common use cases for Facebook ads, and promoting your webinar is a great way to generate leads.
You can also use Google Ads to promote your webinar.
Google Ads allows you to reach people actively searching for topics related to your event on the world's biggest search engine.
How to Host a Webinar – FAQ
What Are Some Of The Best Webinar Software To Consider?
WebinarJam, WebinarNinja, Gotowebinar, Clickmeeting and Zoom are all great platforms to consider.
Do You Need A Powerpoint To Host A Webinar?
No, you don't need PowerPoint to host a webinar.
Depending on the subject matter, a simple slide deck might be enough to get your point across.
Some industries lend themselves to having a webcam feed and real-time interaction, such as in the coaching or beauty industries.
In other cases, you might consider using a whiteboard to help explain concepts during your webinar.
The important thing is to use whatever webinar format will allow you to best communicate your message to your audience.
Are Webinars Good For Brand Awareness?
As part of the digital marketing mix, webinars are a great way to increase brand awareness and build thought leadership.
They can also be a great lead generation tool, as you can use them to collect leads and then follow up with those leads after the event.
If you have an email list filled with quality leads interested in what you have to say, brand awareness is the least leverageable aspect you'll get from hosting a webinar.
Wrap Up.
If you are (or want to become) a thought leader in your industry, webinars are a great way to build your brand and grow your business.
They can be an effective lead generation tool, helping you build your email list and increase sales.
Traditional video conferencing software got the industry to an advanced point a few years back, but new platforms are emerging that are purposely built for webinars.
Knowing what these platforms are and how to use them to host webinars that engage your audience is critical to your success.
Further reading on AdamEnfroy.com: Want to know what various webinar software bring to the table and how to use this functionality in your business?
Check out my roundup of the best webinar software platforms reviews below:
Disclosure: I may receive affiliate compensation for some of the links below at no cost to you if you decide to purchase a paid plan. You can read our affiliate disclosure in our privacy policy. This site is not intending to provide financial advice. This is for entertainment only.
---
Last Updated on December 8, 2022 by Adam Enfroy