How to Promote A Webinar In 15 Super Effective Ways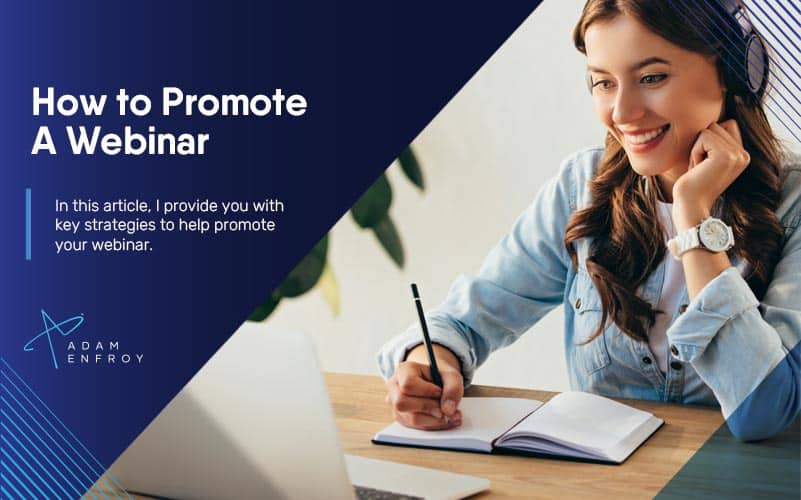 It doesn't matter how great your webinar is if no one knows about it.
While using the right webinar software will make your life easier, effective webinar promotions are critical to the success of any webinar.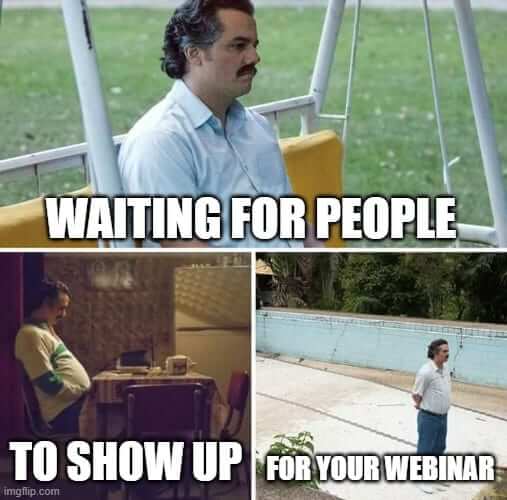 In this article, I'll provide you with key strategies to promote your webinar, allowing you to attract as many participants as possible and make your webinar a success.
Best Ways To Promote A Webinar
Here are the best ways to promote any upcoming webinars you have lined up.
1. Social Media Posts.
Creating social media posts is an excellent way to get people interested.
You can leverage the power of social proof and give potential participants a glimpse of what they can expect from your webinar.
When you do social media marketing, include all the information potential attendees need, like the time, date, topics discussed, and how to register.
Consider developing a hashtag for your webinar that users can use when engaging with you on social media.
2. Email Marketing.
Using content and email marketing tactics to promote your webinar is another method to consider.
Creating an email campaign directed at current contacts, potential participants, and industry influencers can help you reach more people.
Email promotion is one of the most effective promotion strategies and should be used to provide more information about the webinar and how they can register.
You can also use this opportunity to ensure everyone knows who will speak and what topics they'll cover during their presentation.
Don't forget the P.S. section of your email.
Most people scroll down to the end of the email and then scroll back up if they like what they see.
You can also add a subtle email signature or a short video previewing your webinar to ensure your email stands out.
3. Paid Advertising.
Using paid ads can help you reach a wider audience and generate more interest in your webinar.
By carefully targeting audiences and creating compelling advertisements, you can significantly increase the number of registrations.
Split-testing ads, engaging and relevant copy, and optimizing for mobile devices are all excellent examples of tests you can run with paid ads.
These methods allow you to target specific audiences based on their interests or demographics so that you know who will see your ads and therefore be more likely to register for your event.
4. Generating Leads with Exit-Intent Popups.
To get the most out of your webinar marketing, you need to ensure that visitors who visit your page take action.
An effective webinar promotion strategy is to use exit-intent popups to capture leads that have shown interest.
Exit-intent popups are displayed when a visitor is about to leave your page, making them a great way to capture leads at precisely the right time.
When promoting webinars, it's essential that you strategically place these pop ups on relevant pages.
For example, suppose you have a web page featuring information about a webinar topic related to the webinar.
In that case, you can place an exit-intent popup asking visitors to register for your event.
Hence, visitors receive more registration information by staying on that page.
As a result, visitors don't need to click through multiple pages to learn more about registering for the webinar.
5. Make The Most Of Your Thank You Pages.
Your webinar thank you page provides an excellent opportunity to engage further with your webinar registrants.
Thank you pages can increase engagement and encourage attendees to take action.
You can maximize the reach of your webinar by including multiple calls to action on all of your thank you pages.
Such calls to action help people share the webinar link on social media platforms.
They can also entice site visitors to sign up for notifications about upcoming events and download any additional content related to the webinar.
6. Use a Lead Magnet.
One strategy to successfully promote a webinar is in exchange for a lead generation incentive.
A lead magnet is something of value, like a free ebook, template, or document, that people can access in exchange for their contact information.
It should be tantalizing and pique curiosity while providing value within a few minutes.
You can promote your lead magnet on forums, emails, social media sites, and any other channels you use to announce your webinar.
Doing so ensures your webinar promotion efforts are more successful and you can reach a larger audience.
Suppose you are hosting a webinar about SEO tactics.
In that case, you could create a lead magnet consisting of an SEO checklist or an SEO guidebook outlining the basics of SEO and providing actionable tips attendees can use immediately.
Another important factor when creating your lead magnet is including high-quality images and visuals that reinforce the message.
Doing so makes it easier for viewers to engage with the material.
As well as this, make sure there is plenty of white space and text formatting such as headings, subheadings, bullet points, etc.,
Whitespace will help break up the information and make it easier on the eyes when reading through the material.
7. Connect With Influencers.
To increase visibility further, influencer marketing can be a great way to spread the word about your webinar.
Influencers typically have an engaged following that could be interested in your message.
Researching and finding influencers whose interests align with yours can be vital.
Once you've identified potential influencers, contact them directly via email or their preferred social platform (e.g., Twitter, LinkedIn).
Then, work out a mutually beneficial agreement to help promote your webinar.
8. Promote Your Webinar with Non-Competitive Groups.
Promoting a great webinar through a great support system is a great way to go.
The key here is to remember that working with organizations with similar interests and audiences is essential.
In other words, don't go for competitors.
Jointly collaborating with a non-competitive group or organization to promote your webinar allows you to leverage their network and gain valuable exposure.
Doing so also opens up the possibility of organizing webinars with potential webinar attendees that may have never heard of your organization.
9. Create Follow-up Lists.
Promoting a webinar can be overwhelming, but automation tools can help streamline the process.
Using automation to create a follow-up list is an excellent way to promote your next webinar.
You can contact people who have already expressed interest in your webinar and update them on the progress.
You should also leverage the webinar platform's features and create automated email campaigns that can be sent to registered people, reminding them of the event.
Once your webinar has concluded, you want the momentum of interest in it to stay strong.
To keep up interest in future events, you can mail the email lists of those who attended the webinar and reach out to them with follow-up offers or discounts related to the content of your webinar.
Segmenting your lists allows you to ensure everyone knows about upcoming webinars.
10. Use The Right Landing Pages.
A well-designed webinar landing page is a powerful tool that one can use to attract viewers and increase engagement.
It should communicate the value of your webinar and what attendees can learn from it, introduce the speaker, and feature calls-to-action (CTA) buttons.
The best landing page builders also use analytics and A/B testing to gain insight into user interests, which will help prompt them to take action.
You can use this data to gain insight into user interests and behavior by measuring the performance of elements such as headlines, CTAs, images, or videos within your page design.
Don't underestimate the power of analytics and A/B testing.
This testing type can significantly improve your webinar and landing page effectiveness.
11. Adding An Add-To-Calendar Feature.
Once you have designed and scheduled a live webinar, it is essential to ensure that your viewers remember when it's happening.
An add-to-calendar feature helps ensure that people know when to log in.
It also provides information about the duration, speakers, and other critical elements involved in the event.
People can easily add this information directly from your promotional message into their calendars, so they remember to attend or miss any essential details related to the event.
This feature also allows viewers to choose their timezone and automatically convert the scheduled time into their local time.
12. Select The Right Guest Speakers.
One of the best ways to engage your audience and increase webinar attendance is by partnering with influential guest speakers.
Having them as part of your webinar will help build strong relationships with their audiences.
As you introduce your guests before the webinar, embed stories of trust, relevance, and expertise.
Doing so helps your audience connect with the guest speaker and increases their interest in your webinar.
Choose speakers that are well-known in their field, have vast knowledge, reliable experience, and a good reputation.
Moreover, consider creating teaser videos with guest speakers to feature on your promotional pages.
This tactic can generate more engagement with your audience and build excitement for the event.
Increasing attendance rates is one of the main goals when organizing a webinar, so the right guest speaker (or multiple ones) can be a great asset.
13. Craft The Right Blog Post.
A long-term way of promoting webinars is through search engine optimization (SEO).
The right blog post will help capture your reader's attention and provide them with all the information they need, including why and how they can benefit from attending.
A great blog post will depend on the type of webinar you are organizing.
For example, if you are hosting a webinar on marketing strategies for small businesses, include relevant statistics, case studies, and expert advice.
Another essential element to consider is including a call-to-action (CTA) at the end of your post, such as the webinar registration link.
Hosting virtual events is an excellent way to reach your target audience, and SEO can work hand in hand with other promotion techniques.
14. Retarget Your Audience With Relevant Ads.
With evergreen content and retargeting campaigns, you can reach potential attendees long after the webinar.
Retargeting ads are specifically tailored for your target demographic and can be incredibly beneficial in helping you reach the right people.
Sales team members can run ads to those already exposed to the webinar content, providing more information and encouraging them to take the next step in your sales funnel.
Retargeting ads work by tracking the actions of your website visitors.
When someone visits your website, a cookie is placed on their browser that helps identify them as part of your target demographic.
Then, when they visit other websites or use social media platforms such as Facebook or Instagram, they will see retargeted ads from you.
As a result, you'll be reminding them of what drew them to your site in the first place.
15. Promote Your Webinar On-Demand.
Hosting a replay in a central library for later access can give more people access to your video content.
You can easily create a library page or section on your website by adding tabs such as "Resources" or "Webinars" where you share the replay.
Having a single page or tab dedicated solely to webinars also gives visitors easy access to all your available content without having to search multiple pages.
Consider The Webinar Registration Process
Streamlining the registration process and adding engaging visuals can help boost attendance and convert more viewers.
Moreover, by simplifying the registration process, potential attendees have a much more frictionless experience, making them more likely to join your webinar.
As such, the first step in promoting a successful webinar is ensuring your registration form is user-friendly.
Keep it clean and concise by only requiring essential information from potential attendees.
Generally, this involves their name and email address.
Also, allow them to register via social networks if applicable.
How to Promote A Webinar – FAQ
What Are Some Of The Best Webinar Software?
Gotowebinar, Zoom, WebEx, Adobe Connect, and Livestorm are all popular webinar software options.
What Are Some Top Webinar Promotion Strategies To Promote A Webinar?
Social media, email blasts, and podcast interviews are some of the most effective webinar promotion strategies.
Utilizing influencers and partnering with other brands can also be a great way to attract an audience.
As content marketing grows in popularity, creating webinar-related content and sharing it via the right marketing channels can help draw more attention to your event.
Do Exit-Intent Popups Work For Webinar Registration?
Exit-intent popups can be effective for webinar registrations by providing an extra incentive to register and reminding people about the event.
When you have an upcoming webinar you'd like to promote and are looking for ways to get more people registered, exit-intent popups can be a great way to let people know about your webinar.
What's The Difference Between On-Demand And Live Webinars?
A live webinar occurs at a specific date and time, while people can access an on-demand webinar anytime.
Your webinar registration page should be honest and state whether the webinar is on-demand or live.
Wrap Up.
Promoting a webinar requires a well-thought-out strategy to reach your target audience and get them excited about the event.
Utilizing the above webinar promotion tips and leveraging the proper channels for your audience is critical for successful webinar registrations.
Creating engaging content that entices people to join is essential for a successful webinar.
With the right combination of tactics, you can drive more registrations and make your webinar successful.
Editorial Process:
Our reviews are made by a team of experts before being written and come from real-world experience. Read our editorial process here.
Some of the links in this article may be affiliate links, which can provide compensation to us at no cost to you if you decide to purchase a paid plan. These are products we've personally used and stand behind. This site is not intended to provide financial advice. You can read our affiliate disclosure in our privacy policy.
---
Last Updated on September 13, 2023 by Adam Enfroy