Zoom vs GoToMeeting vs Webex vs WebinarJam: Which is Best in 2023?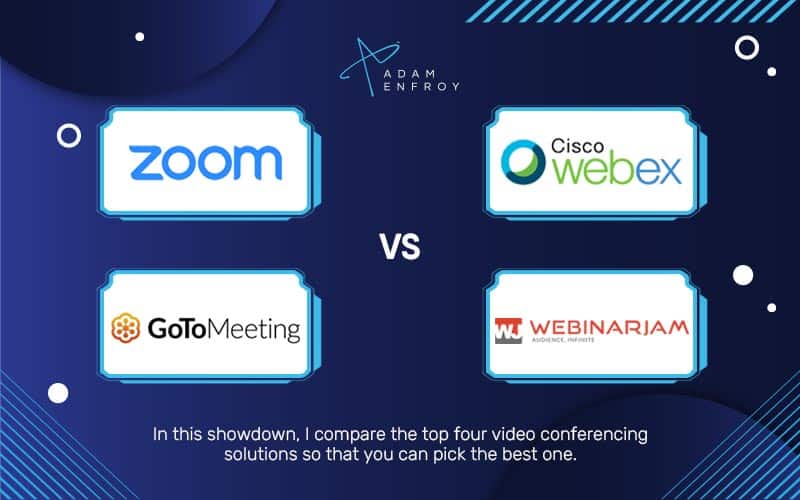 When it comes to webinar software and video conferencing, there are a few top players:
Namely, Zoom, GoToMeeting, Webex, and WebinarJam.
Some are more popular than others (come on, even grandmas use Zoom). However, Zoom's popularity doesn't mean it's the best.
The truth is, all of these tools are good in their own right, but we need to dive into the details to check things like:
The number of attendees allowed
The number of active presenters allowed
The video quality
The waiting room experience
The price
That's why I'm covering these four main tools, including the pros and cons of each, their top features, and which one you should choose based on exactly what you need.
Let's get started.
Disclosure: I receive affiliate compensation for some of the links below at no cost to you if you decide to purchase a paid plan. However, these are the best tools that I have used when conducting video conferences. You can read our full affiliate disclosure in our privacy policy.
Zoom vs GoToMeeting vs Webex vs WebinarJam: Overview.
Zoom.
Zoom is the most popular video conferencing app on the market. It's a cloud-based video communications platform that lets you conduct web conferences, webinars, live chat, screen-sharing, etc.
It allows you to host unlimited one-on-one meetings and up to 100 participants by default in each meeting (and up to 1,000 with an add-on called Large Meeting).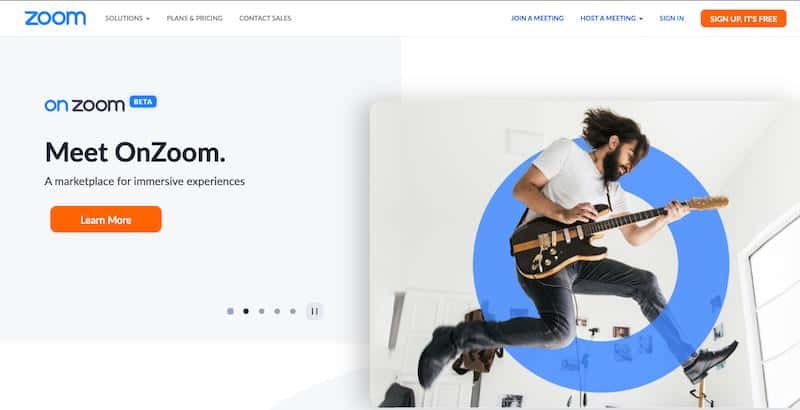 It also comes with a phone system that allows call routing, queuing, voicemail, switching to video, and more. There's also a free VoIP and toll-based dial-in option for over 55 countries.
Overall, Zoom provides four solutions, including conference rooms, a phone system, a webinar platform, a live chat, and a one-to-one meeting option.
Here's a brief overview of some of the most prominent solutions by Zoom:
1. Meetings and Chat.
Zoom Meetings makes it easy to start, join, and conduct quick meetings. You can have streamlined enterprise chat and video conferencing from your desktop, mobile, and Zoom for Home Devices.
It also syncs with your calendar system and allows you to collaborate across any device. Plus, the platform supports HD video and audio for up to 1,000 video participants and 49 videos on the screen.
Want to see how Zoom stacks up against RingCentral? Check out my comparison post, RingCentral vs Zoom here.
Some of its key features include:
Screen-sharing and co-annotating options.
Start meetings from Outlook, Gmail, or iCal.
Recording and transcripts.
Filters, reactions, polls, hand raising, etc.
Integrated file sharing and music/video sharing.
Searchable history and 10-year archive.
2. Video Webinar.
Zoom's video webinar allows you to connect more personally with your audience and host large-scale training videos using interactive webinars. It also lets you live-stream your event on YouTube Live, Facebook Live, and other streaming services.
You can use virtual backgrounds, studio effects, and background noise suppression features and host up to 50,000 attendees in your live webinars.
Key features include:
Social share buttons.
In-session chat options.
Allow attendees to raise hands.
Respond to polls and conduct a Q&A session.
Automatic post-webinar survey.
Push webinar leads into your CRM.
The ability to track and measure success.
The ability to create a webinar registration page, post-webinar landing page, and email reminders.
3. Conference Rooms.
Zoom's conference rooms make it easy to start a meeting, book a meeting, and share content. You can also share multiple desktops simultaneously in the room and use the wireless sharing options. It also offers interactive whiteboarding, annotating options, and optimization for every room size.
4. Phone System.
Zoom Phone allows you to place secure HD voice calls and even upgrade phone calls to video meetings. Key features include voicemail, call recording, call routing, auto attendants, and interoperability. It also integrates with Salesforce, Microsoft Office 365, and G-Suite.
Zoom has a unified app for phone, video, meetings, and chat. It allows you to make and receive phone calls, share content, conduct video meetings, and elevate phone calls to a Zoom Meeting. You can also send chat messages from Zoom desktop and mobile apps.
GoToMeeting.
GoToMeeting is an online meeting, desktop sharing, video conferencing, and webinar platform that lets you host and join meetings anywhere. You can host meetings at any time and on any device.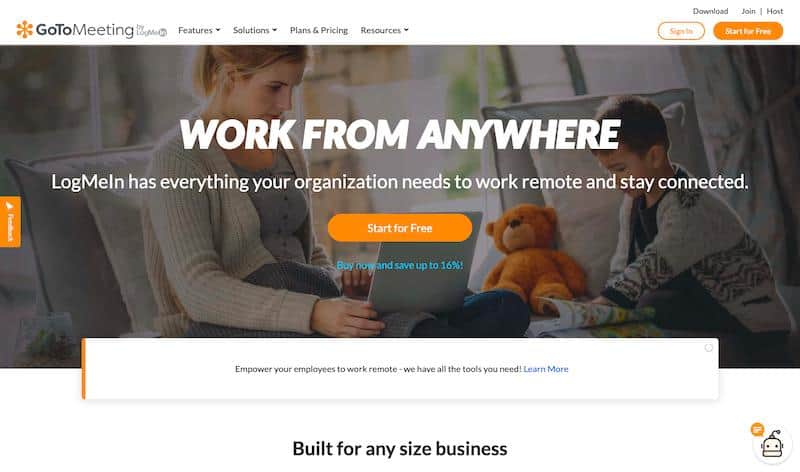 Here's a quick overview of GoToMeeting's key features:
Screen Sharing – You can share your desktop, smartphone, or tablet screen securely from anywhere.
Conference Calling – Save both time and money with integrated Voice over IP conference calls.
One-click Meetings – Launch meetings quickly from different locations and platforms, including Microsoft Office, email, and instant-messaging tools.
Personal Meeting Room – It allows you to host meetings in real-time in your personal meeting room using a custom meeting link.
Video Conferencing – It allows face-to-face HD video conferencing. You can host meetings with up to 250 participants at once.
HD Webcams – You can use up to 25 webcams simultaneously to host high-definition video conferences.
Mobile Conferencing – You can start an online meeting from your mobile device at any time.
Meeting Recording and Transcription – The platform allows you to record your meetings in real-time, take notes, mark action items, and share them after the meeting.
Meeting Reminders – Send alerts to your attendees when the meeting is about to start.
Conference Room Equipment – This kit includes professional, user-friendly video conferencing software.
Commuter Mode – It will allow you to host or attend meetings on the go without distractions while saving data.
Room Launcher – You can book a nearby GoToRoom and start the meeting right away from your GoToMeeting mobile app.
Voice Commands – Ask Siri and start or join your online meeting or audio conferencing session instantly.
Cloud Recording – You don't have to take notes while hosting a meeting with the cloud recording functionality of the GoToMeeting mobile app.
Office 365 Plugin – Integration with Office 365 helps you schedule, manage and join upcoming online meetings directly from your calendar.
It also comes with numerous built-in tools like GoToWebinar, GoToTraining, GoToRoom, etc., to host events, train your organization, and more.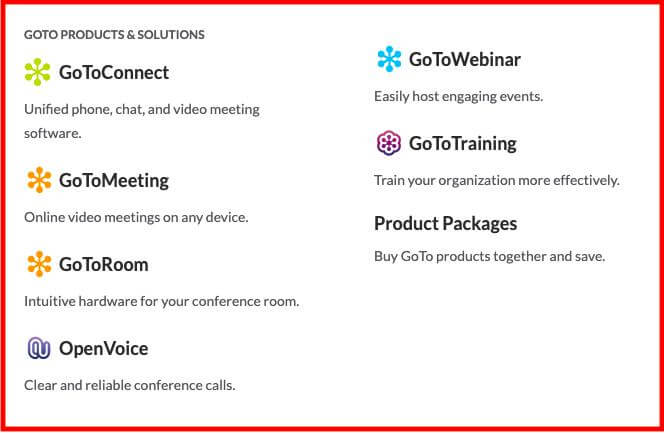 Webex.
Webex is the first Zoom alternative that might come to mind. It's a US-based company that provides web conferencing and video conferencing platforms for its users. Cisco Webex provides solutions for online meetings, video conferences, webinars, screen share, cloud calling, team messaging, file sharing, and more.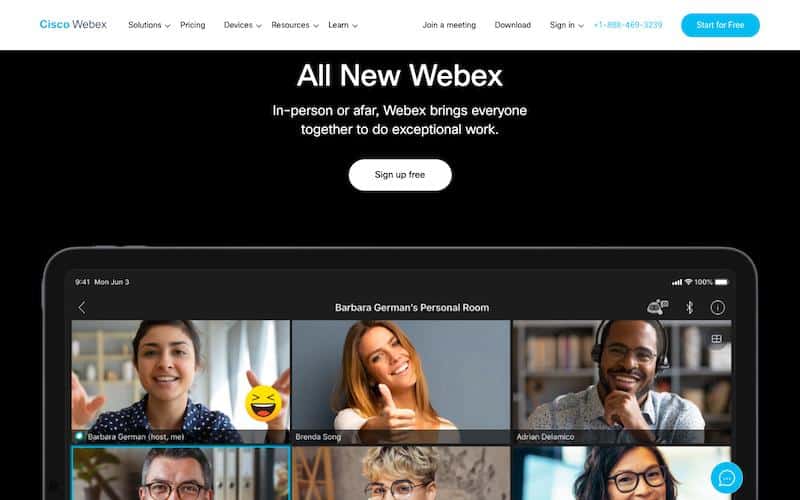 Here's a quick overview of Webex's key features:
Seamless Collaboration – You can collaborate with anyone, from anywhere – while you work in-sync with your current business apps.
Phone System – It supports integration with a phone system for everyday collaboration workflows.
Share Options – It allows you to share your presentation or screen with your attendees as a virtual background. You can also turn shared content into your meeting background with the video overlayed on top.
Webex Assistant – Webex has an in-meeting digital assistant that provides live translations into 100+ languages. It also provides features like automatic note-taking, live transcription, and follow-ups.
Webex Calling – It provides a cloud phone service that integrates with your collaboration tools.
Digital-first Engagement – You can offer priority-based customer experiences through text, social, chat, email, or call.
Reporting – It provides private meetings and live-chat options, along with built-in insights.
Noise Removal and Speech Enhancement – This feature allows you to eliminate distracting background noise so that meeting participants can hear you clearly.
Gestures and Reactions – Select an animated reaction or simply gesture with your hands.
Real-time Translation – You can translate your meetings into more than 100 languages in real-time.
Smart Status – Automatically set your status when you're in a meeting or out of the office to inform everyone when you're available. You can also set the "Do Not Disturb" status.
Meeting Templates – Use pre-designed meeting invite templates to attract more attendees.
Video Layouts – It allows you to use a slider to display your meeting participants. You can also drag and drop participants on stage.
Important Messages – You can place the most relevant conversations at the top automatically or pin important messages for quick reference later.
Transition Call to Meeting – You can turn a 1:1 audio call into a video meeting and leverage features like transcriptions, recordings, notes, etc.
WebinarJam.
WebinarJam is a cloud-based platform that allows you to create and host webinar sessions and event broadcasting via private rooms. It lets you host up to 5,000 people in one presentation and even live-stream events on YouTube and Facebook.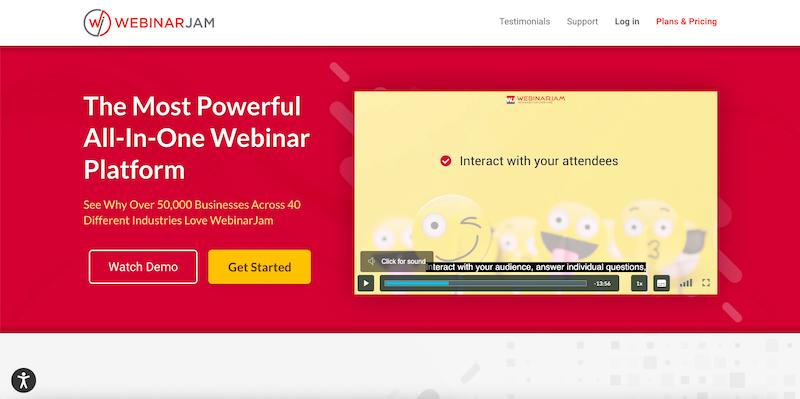 It's primarily used by marketers to create webinars as part of their overall sales funnel.
Here's a quick overview of WebinarJam's key features:
Cloud-based Broadcasting – WebinarJam's cloud-based broadcasting technology lets you reach up to 5,000 people in one presentation.
HD, 30 FPS, Video and Audio Broadcasting – You can broadcast your webcam, share your screen, and conduct a PowerPoint presentation in high definition.
Device-agnostic – The platform supports desktop, laptop, tablet, or phone.
Chat and Run Q&As in Real-Time – You can chat and run Q&As in real-time with attendees to keep your events engaging.
Flexible Options – You get options for live chat, private comments, moderation capabilities, highlighted comments, sticky announcements, and more.
Automated Recordings – WebinarJam can automatically record your live broadcast in a video file.
Flexible Scheduling – You can open a live room, schedule an event, and conduct a recurrent series of webinars in a few clicks. You can also use the "Always-On" room feature.
Attendee Spotlight – Invite any of your webinars attendees to join you during the presentation at any time and share their opinion.
Stream From Anywhere – WebinarJam live room is mobile friendly. It lets you conduct and join scheduled live events from your phone and broadcast your signal from anywhere.
Page Builder – You can pick a template from the library and then customize the content. WebinarJam's system also helps you determine which design will bring more registrations to your event.
Email and SMS System – You can schedule a series of reminder notifications and follow-ups via email and phone text.
Panic Button – You can press the panic button if something goes wrong in the middle of your meeting. The system will immediately boot up a brand new live room and automatically shift all presenters and attendees to it.
Polls and Surveys – You can conduct surveys to understand your attendees' needs or quiz them to test their skills.
Easy Presentations – It allows you to import your presentation file and run it in HD.
Handouts – Upload the files directly from your hard drive, click "Share," and the system will automatically display the downloadable file on your attendees' screens.
Drawing Board – You can add hand-written notes on top of the slides, highlight important details, draw mind maps, or write descriptive annotations.
One-click Registration – Potential attendees can quickly register without having to fill a lengthy form.
Payment Options – You can choose the free option or plugin any payment gateway of your choice, i.e., credit card or PayPal.
Always-On Room – Reserve a 24/7 dedicated, branded room for your business.
Password Protected Rooms – Secure your content by restricting access to your live room with a password.
Analytics – It provides in-depth reports and performance-based stats in real-time.
Customize Your Experience – You can match your webinar room to your brand or current mood.
You can read my in-depth WebinarJam review for more details.
Now let's start with a side-by-side comparison of all of these web conferences and webinar platforms.
Point By Point Comparison
Let's get started with the detailed, point-by-point breakdown.
1. Ease-of-Use.
Ease-of-use and navigation are two of the essential features you should consider while choosing a conferencing platform.
Zoom:
Zoom makes it easy to conduct quick meetings and collaborate across any device. The control panel is integrated into the main screen and easily allows you to toggle between all of the meeting options. You can hide the control panel and see it only when you place the cursor over it.
It also allows a one-click transition from a voice call or chats to a video meeting. Mobile apps for Windows, macOS, Linux, iOS, and Android OS, also provide the flexibility to start or join the meeting from anywhere, any time.
Zoom also provides various options to join the meeting instantly, via:
Email invite
Messaging invite
Directly from the browser
Zoom desktop or mobile application
A landline or mobile phone
With an H.323 or SIP device.
Besides, Zoom allows you to view your screen on either gallery view or speaker view once you join the meeting. The platform also provides the option to customize the meeting within the dashboard and use a password to restrict specific meetings.
There's also the "Breakout Rooms" feature that helps you split single meetings into multiple breakout groups.
Here are other key features that make Zoom easy-to-use:
Built-in collaboration tools like co-annotating, screen-sharing, whiteboard.
Streamlined calendaring with Outlook, Gmail, or iCal.
The ability to record your meetings.
Auto-generated, searchable transcripts.
Invite internal and external participants.
Share and play videos without downloading any files.
GoToMeeting:
GoToMeeting provides ease-of-use by delivering synced audio and video. It allows you to invite and manage attendees, share your camera and screen, record and lock your meeting, and chat with participants.
It also provides mobile apps for several operating systems and lets you host meetings from anywhere you want.
On the other hand, potential attendees can join the meeting whichever way they want. They can download the desktop app or a mobile app. Or they can even use a Google Chrome browser to join online using the meeting link (no download or sign-in required).
You'll also see a preview screen before joining the meeting with options to switch on your Mic or your Camera. You'll see numerous buttons at the bottom of your screen to control the Camera, Mic, and screen-sharing settings.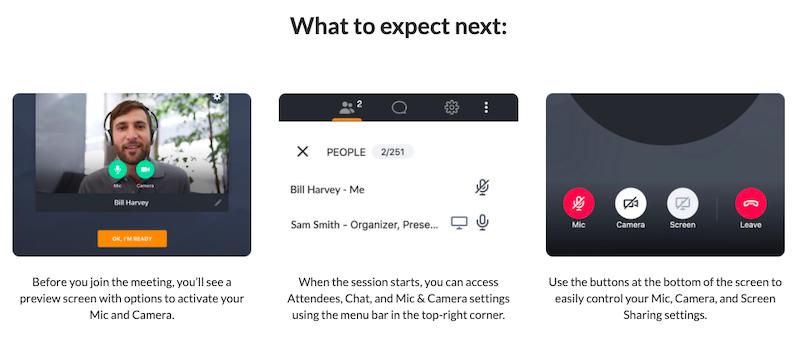 The platform also comes with numerous technical settings to optimize your webcam's visuals and lets you automate your workflows with Zapier integration. For instance, you can automatically create new video conferencing meetings by adding an event to a calendar app.
Webex:
Webex has a simple user interface and provides access to meeting options right after you enter its dashboard.
Just select the "Schedule a Meeting" option and then select any meeting templates to organize a meeting.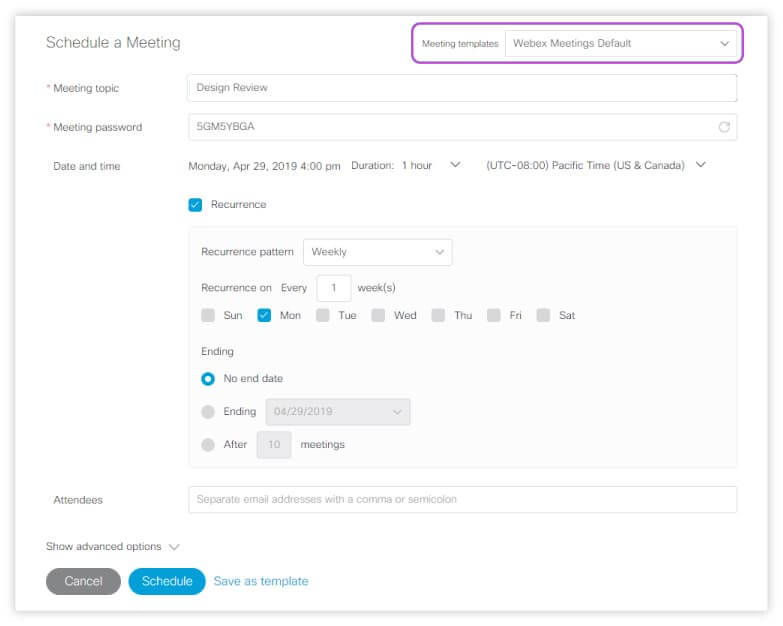 Enter all of the details and either start the meeting right away or schedule it for later. You can view the participants and other panelists on the right during the meeting.
Joining and collaborating on the meeting is also hassle-free. You can send invites with instructions to the attendees on how to join in an email invitation, along with the meeting password.
The platform allows you to join the meeting from your computer system, mobile device, or video system. You can also join directly from the browser without installing the app or making an account with Webex.
WebinarJam:
WebinarJam comes with tons of features like HD video and audio broadcasting, automated recordings, attendee spotlight, page builder, polls, surveys, etc.
Its ability to create different landing pages and automatic conference recording are big bonuses. WebinarJam also lets you create automated responses to registrants and send them based on your settings and their actions.
Besides, it provides a unique "Express Configuration" option that helps you set up your event within 30 seconds. Even the standard configuration doesn't take over five minutes.
It also supports operating systems like Windows, Mac, and Linux and browsers like Internet Explorer, Chrome, Firefox, Opera, etc.
Winner: It's a Draw.
All of the platforms provide ease-of-use when it comes to hosting and joining events. They also let you set up your events within a few clicks, and the joining process is also simple.
Plus, they provide apps for numerous operating systems, making it easier to host and join events from remote locations.
2. Starting a Webinar.
All of these platforms let you host webinars for hundreds and thousands of participants. The ideal tool should make it easy to set up, schedule, conduct, and join the webinar.
Zoom:
Zoom Video Webinar allows you to host up to 10,000 view-only attendees, depending on your license. Licenses start at a capacity of 100 attendees and let you scale up to 10,000 attendees.
You can also share your screen and video in a webinar, while the participants can interact using the chat or Q&A options.
Setting up a webinar with Zoom requires you to fill a one-page form, where you have to enter details like the topic, description, date, time, etc.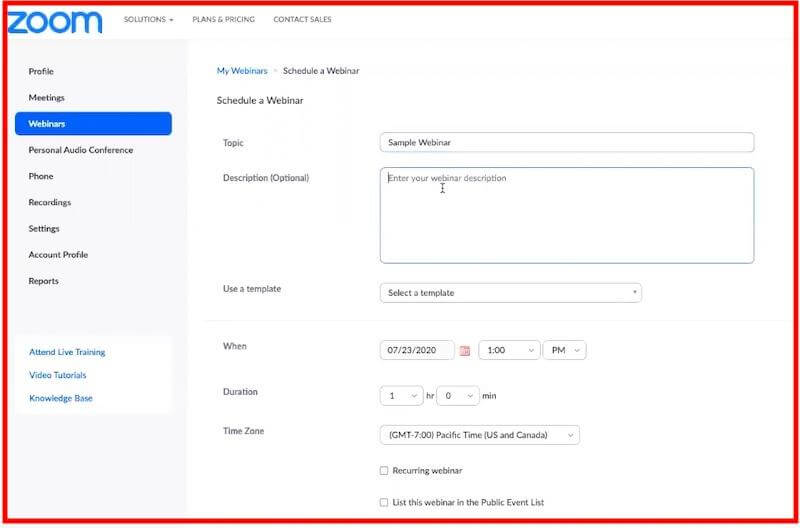 You can also leverage a previously scheduled webinar template or build a new one from scratch. The logo on the page is the only customization you get. The attendees can join the meeting in the listen and view-only mode using the link you share.
Zoom also allows you to set up a webinar with two options – with registration and without registration. Setting up a webinar that requires registration means your attendees will have to fill a form before receiving the joining link.
GoToMeeting:
GoToMeeting comes with a specific tool to create webinars called GoToWebinar. It lets you create a webinar directly from your dashboard by clicking on the "Schedule" option on the right of your screen. The tool allows up to 3,000 attendees.
GoToWebinar also lets you create hashtags to promote your webinar on your social media accounts and customize the landing page. You can even start an impromptu webinar without any prior preparations using the "Webinar Now" option.
The platform also allows you to do a practice run to make the speakers comfortable.
GoToWebinar's unique features include:
Use past webinar templates for quick setup.
Personalized email invites, confirmations, and reminders.
Automatic recording to share with absent registrars.
Analytics to determine which channels led to most registrations.
Webex:
Webex lets you host up to 3,000 participants, allows multiple speakers, and provides numerous monitoring and audio controls. Key features include screen sharing, Q&A, polling, and chat.
Setting up the webinar is easy, and you can do it directly from the dashboard by clicking on the "Host an event" option. There are options to customize and brand your invitations or registration site. You can ask questions to track and follow up on leads.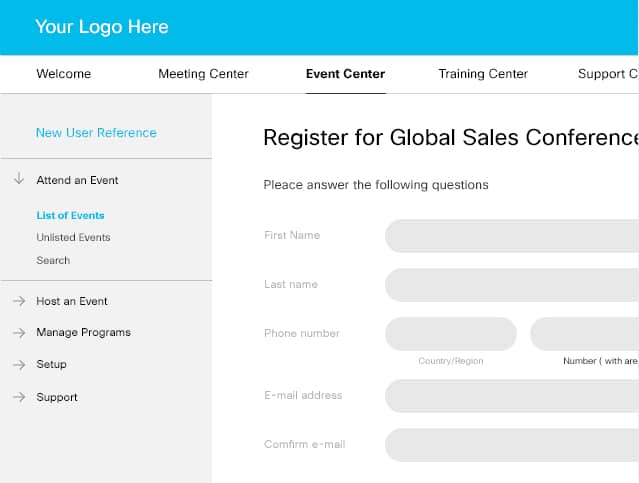 Webex also lets you record the webinar to view later and provides real-time technical support during the webinar.
WebinarJam:
WebinarJam allows up to six presenters and up to 5,000 attendees with its most premium plan. It provides a one-click registration option to help you gather maximum participants for your event.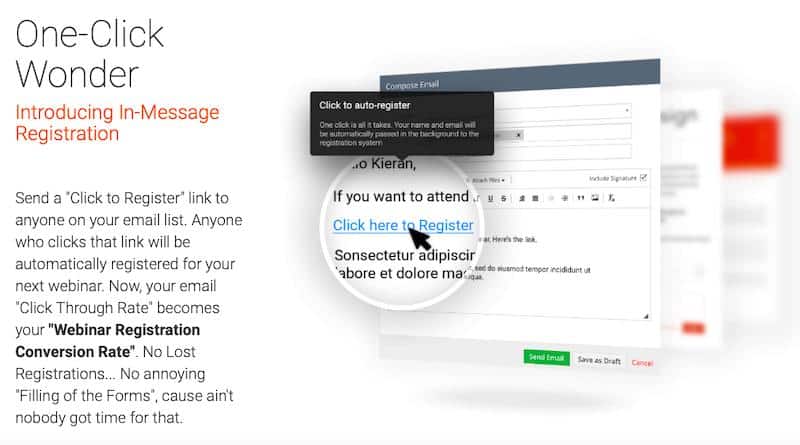 Just share a "Click to Register" link with your entire subscribers' list, and the registrants clicking the link will get registered right away.
WebinarJam recommends setting up your event on operating systems like Google Chrome, Firefox, and Safari.
Click on the "My Webinars" option to get started, and you'll get redirected to the next steps based on your choices. You'll also get prompted to install the software to create an event.
Winner: GoToMeeting or WebinarJam.
Both GoToMeeting and WebinarJam are specifically designed to help you set up and host events. They also provide advanced options to help you gain maximum registrations and leads.
3. Number of Panelists/Presenters.
The number of presenters allowed by these tools includes:
Zoom – Zoom Webinar allows up to 100 panelists, including a host.
GoToMeeting – There is no limit to the number of organizers who can be account admins for any given GoToMeeting account.
Webex – Webex allows up to 100 hosts to share their videos during an event.
WebinarJam – WebinarJam allows up to six presenters only.
Winner: GoToMeeting.
GoToMeeting is the clear winner here as it allows you to have an unlimited number of organizers.
4. Number of Attendees.
All of these web conferencing tools let you host the following number of attendees:
Zoom – Zoom can scale up to 1,000 attendees with the Large Meeting add-on. It also lets you host webinars for up to 50,000 attendees.
GoToMeeting – GoToMeeting only supports 3,000 attendees (including yourself). However, its GoToWebinar tool allows you to host up to 5,000 attendees with its Enterprise level plan.
Webex – With Webex, you can have up to 200 participants with its most expensive plan.
WebinarJam – WebinarJam allows up to 5,000 attendees.
Winner: WebinarJam.
Zoom allows up to 50,000 attendees for your webinars.
5. Video and Audio Quality.
Zoom:
Zoom allows you to share live HD videos and offers several options to enhance audio so that meeting attendees can hear you properly.
There are virtual backgrounds, studio effects, and background noise suppression features. You can also adjust the volume of your speakers and microphone before a meeting to ensure high-quality sound.
Plus, its advanced lighting adjusting and touch-up options help you appear well lit in any situation. You can also leverage filters and various reactions to engage your audience.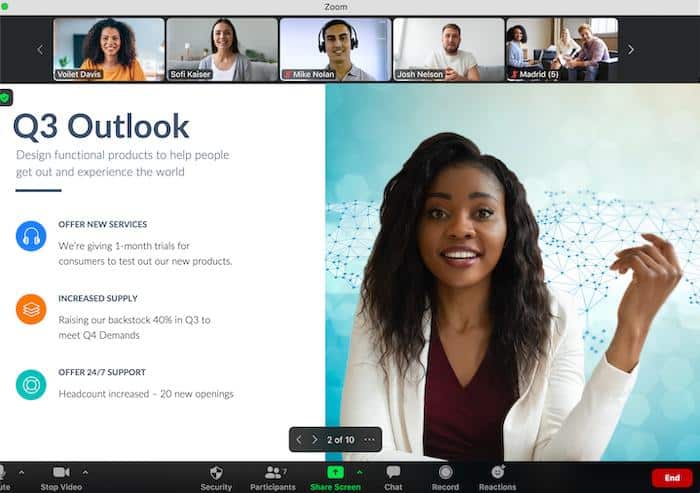 Additionally, Zoom provides hardware tools for a home-based conference setup, including a high-quality microphone, camera, and speakers.
GoToMeeting:
GoToMeeting allows you to host high-definition video conferences with automatic bandwidth adjustment.
Plus, you get multiple GoToMeeting audio options to choose from, including computer audio (VoIP) and phone calls (PSTN). However, you can only access the PSTN option with the paid subscription plans.
Even its screen sharing is HD quality, and you get to adjust bandwidth in real-time for a smooth meeting experience.
Webex:
Webex provides features like HD video, screen-sharing, a whiteboard, and a virtual background for added privacy or to limit possible distractions. It also helps you optimize your content for motion and video.
There are also options to add virtual, customized, or blurred backgrounds to keep your audience focused solely on you.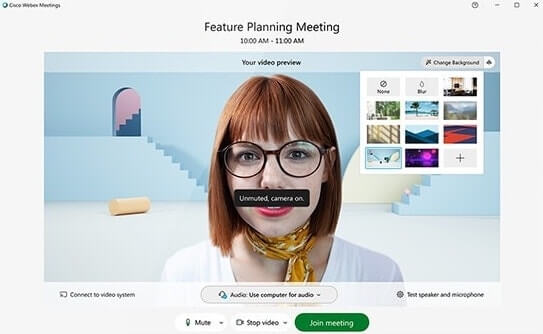 You can also choose how you want to connect to the audio, mute or unmute your microphone, and turn on or off your video before joining a meeting. Plus, you can select from audio options like "computer audio," "call me," and "call-in audio" while using the Webex Meetings app.
It also provides noise removal, and speech enhancement features to eliminate background noise like keyboard typing.
Additionally, you can use high-quality, HD video-supported cameras since most PC-compatible cameras work with Webex.
WebinarJam:
WebinarJam lets you conduct meetings, webinars, display presentations, and share your screen in 30 FPS, HD quality.
There's a "Video Injections" feature that plugs into your live presentation to avoid feelings of disconnect.
The only drawback is that WebinarJam's video streaming feature is built on YouTube Live. So, it doesn't give the highest audio-visual quality signal and gets compressed while recording.
Winner: Webex.
All of these tools let you conduct meetings and webinars in HD-quality. That said, Webex has an edge due to their additional features that let you further adjust video and audio quality.
6. Video Recording And Storage.
Zoom:
Zoom provides automatic cloud recording for all paid subscribers. Just select the "Record to the Cloud" option, and the entire video, audio, and chat texts get recorded in the Zoom cloud.
Zoom also offers local recording, which saves the recording files to your computer. The cloud storage capacity is up to 1 GB/Licensed User. You can scale it up to unlimited cloud storage with its Enterprise plan.
GoToMeeting:
GoToMeeting allows you to automatically record and save your conferences and webinars in the cloud. You can view it later in your Meeting History, where you can copy the link and play, download, and delete the recording.
There's no storage limit for either local or cloud recordings, although the GoToMeeting ensures that it's done within reason. There shouldn't be any misuse of the service. Cloud recording is also available on the web app and webcams.
Webex:
New recordings in Webex Meetings get stored in MP4 format, either in the cloud or locally. Webex offers 5GB storage with the Starter plan and 10GB storage with the Business plan.
You can access more storage space by using the customizable Enterprise plan. You will have to contact the Sales team for that.
WebinarJam:
WebinarJam will automatically record your live broadcast in a video file. It mimics every action happening in your Live Room and replicates them in the Replay Room.
Winner: GoToMeeting.
With GoToMeeting, you can get unlimited cloud storage space with all of the plans.
7. Reporting And Analytics.
Reporting is one of the essential parts to analyze your audience and track their behavior, where they're coming from, etc.
Zoom:
There's a "Dashboard" tab that displays essential analytics in real-time. It provides quick stats on users, meetings, and Zoom Rooms. Most of the graphs let you adjust the data you want to see.
You can also view the values (minutes, meetings, participants, etc.) and the range covered upon moving your mouse over the bars and graphs.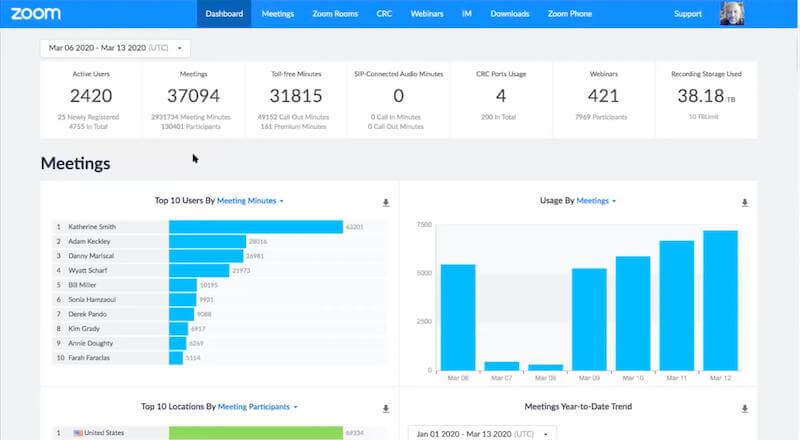 Like the Dashboard tab, there's a "Meetings" tab that lets you see the total live meetings and the past meetings. You will be able to see your past recordings, quality, user information, etc.
Then there's the "Webinars section, which is similar to meetings. You can see the progress report of all your current and past webinars, along with panelists' details.
For attendees, it displays information like their name, device, IP address, location, network type, the time they joined/left, and the reason for leaving.
Zoom also provides detailed registration reports and poll reports for webinars, events, and meetings. You can even store all of the data in a CSV file by clicking on the "Export details to CSV" option.
GoToMeeting:
GoToMeeting automatically collects all of the analytics and attendee information after every meeting you host. It provides charts right in your dashboard to help you measure metrics like webinar attendance, interest, talk time, participation, etc.
Overall, it provides three types of reports:
Activity – Session data like talk time, webcam usage, and attentiveness.
Analytics – Details based on the session data.
Insights – Private reports with insights into how the event went.
Webex:
The standard plan gives you access to three months of data, while the pro pack provides 13 months' worth of data.
You can view attendee data by clicking on the "Analytics" option from your dashboard.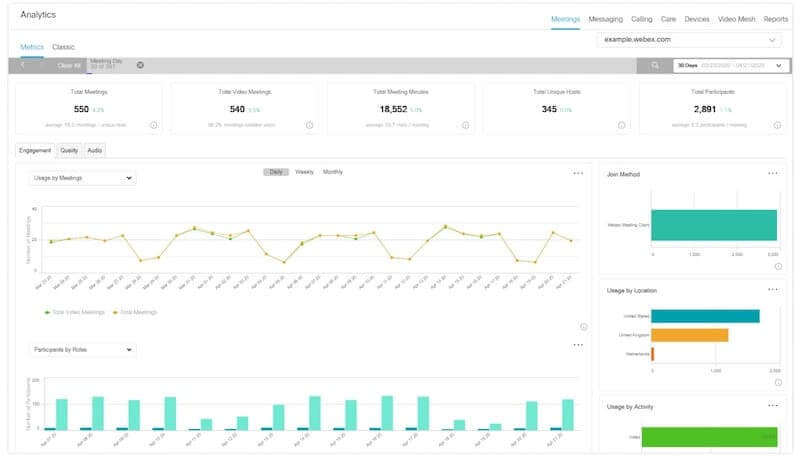 It will provide access to interactive graphs and data visualizations that depict details like usage and adoption trends. There's even an option to install all of the reports in a CSV file.
WebinarJam:
WebinarJam displays metrics like click-through ratios, dollar-per-signup, and more on its dashboard. You can also gauge both engagement analytics and traffic analytics.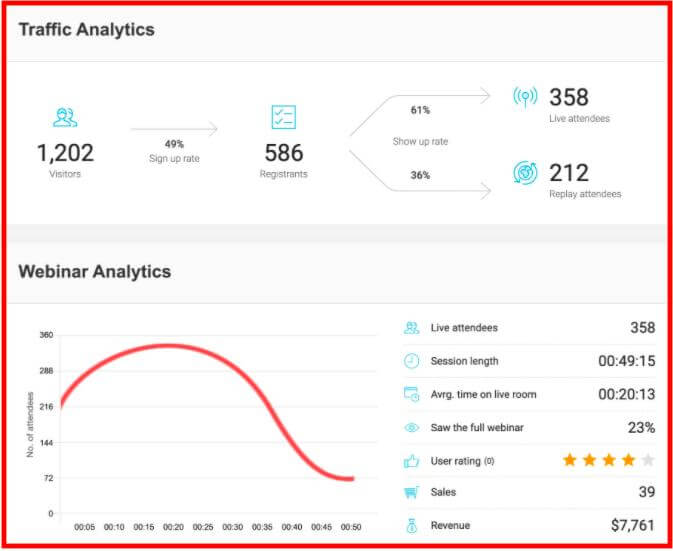 It also tracks registration ratio, show-up ratio, when your attendees are dropping out, your attendees' logging in time, and more.
Winner: It's a Draw.
8. Interaction And Engagement Features.
Built-in collaboration and engagement tools come in handy to help you keep your event alive and engage your audience.
Zoom:
Zoom provides numerous built-in collaboration tools and functions, including screen-sharing, whiteboarding, co-annotating, etc.
Other interaction and engagement features include:
In-session chat.
Music or video sharing options.
Share multiple desktops simultaneously.
Open up to 12 whiteboards simultaneously.
Share files, docs, emojis, screenshots, etc.
Attendees can raise hands and respond to your polls.
GoToMeeting:
GoToMeeting's webinar tool allows you to create up to 20 polls to interact with your attendees and gain insights. You can also conduct a post-webinar survey with up to 20 questions and engage your participants with a Q&A session.
Other interactive features include:
Desktop and application sharing.
Meeting reminder alerts.
Virtual whiteboard and drawing tools.
Pass mouse and keyboard control to anyone you want.
Webex:
Webex helps you interact with your audiences with on-screen emojis for clapping, thumbs up/down, smiling, laughing, and more. You can also send animated reactions or make gestures with your hands.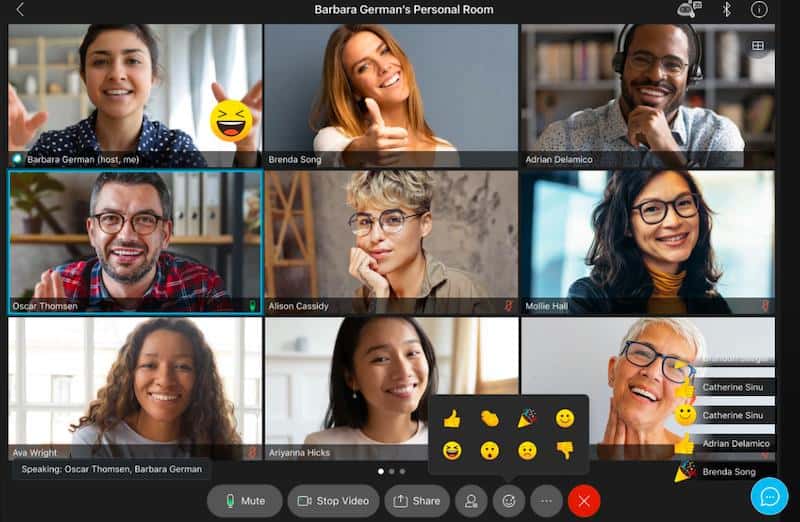 Other features include real-time translation into 100+ languages, screen-sharing, displaying your screen status, notes, etc.
WebinarJam:
WebinarJam allows you to chat and run Q&As in real-time to keep your webinars engaging. Other features include polls, surveys, private comments, drawing boards, moderation capabilities, highlighted comments, sticky announcements, etc.
Additionally, you can invite your attendees to speak in the webinar and even broadcast their webcam. You can even send them back to the "attendee-only" mode whenever you want.
Winner: WebinarJam.
WebinarJam wins this due to its unique feature that allows your attendees to speak at your event.
9. Customer Support.
Zoom:
Zoom provides you with 24×7 global support, Quickstart Guides, and Video Tutorials. The tutorials provide live training and include videos about joining a meeting, recording a meeting, and more.
It also has an FAQ section and offers support topics and additional resources. Zoom has a customer service number that lets you reach them directly. You can even get priority response, technical resources, and technical account management with its Premier plan.
GoToMeeting:
GoToMeeting lets you seek answers to your questions using their search bar or browsing their FAQs.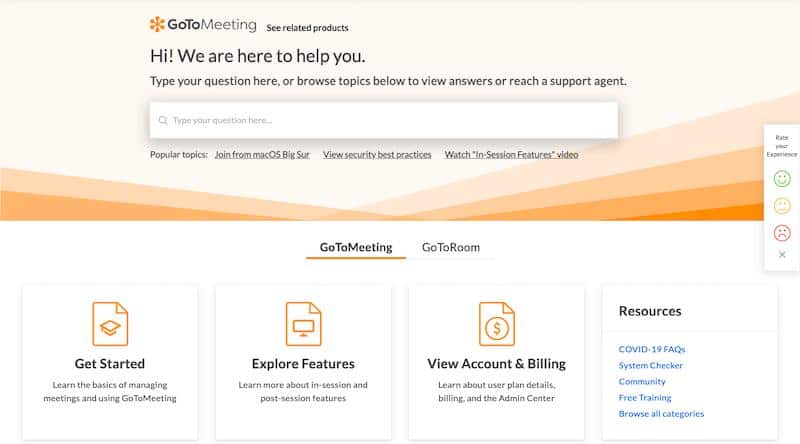 You can also get in touch with their sales rep by calling 1800 419 6989.
Webex:
Webex has a blog full of helpful articles, an FAQ section and offers expert help. The chat and call support are only for paid subscribers.
You can also use the Webex status check to check if there's something negatively affecting your Webex service. You'll see an "Ask the Community" section that consists of Webex's community of influencers willing to share their knowledge.
Other support channels include Join a test meeting, online classes, webinars and daily demos, integrations, etc.
WebinarJam:
Webinar Jam offers 24/7 support and lets you submit a ticket or use live chat (Monday – Friday 8:00 AM – 1:00 PM PST).
You can also visit their "Documentation Wiki" for tutorial videos on how WebinarJam and its advanced features work, browse the FAQs, or join their Facebook Community.
There's also a Control Center, which is basically a separate room for staff from where they control event logistics, allowing you to focus on the important tasks.
Winner: WebinarJam.
Though all four platforms offer stellar support, Zoom and Webex charge you for advanced support features. Webinar Jam wins here with its extensive support feature, including Live Chat.
10. Pricing Plans.
Zoom:
Zoom offers five plans, including:
Free – $0
Pro – $14.99 /month/license
Business – $19.99 /month/license
Zoom United Business – $30 /month/license
Enterprise – quote-based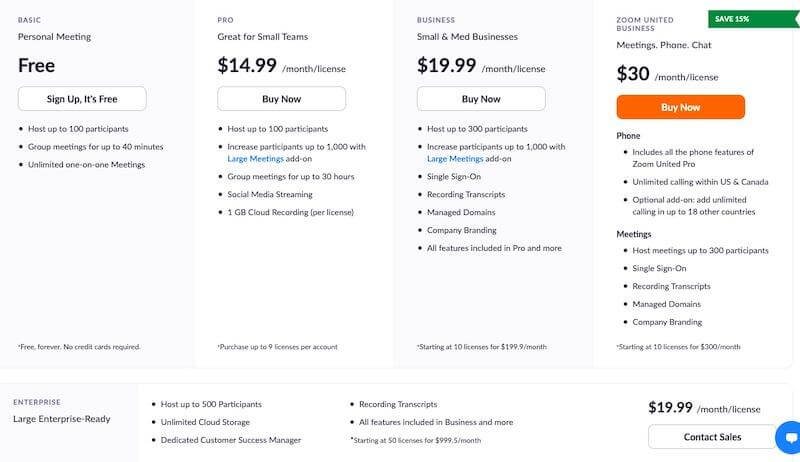 With Zoom's free plan, you can host up to 100 participants, conduct group meetings for up to 40 minutes, and conduct unlimited one-on-one meetings. You can increase participants up to 1,000 with its customizable, large-enterprise-ready Enterprise plan.
You can purchase other plans for different tools like Zoom Rooms, Zoom Video Webinars, etc.
GoToMeeting:
GoToMeeting offers three plans, including:
Professional – USD10.20 /organizer /month, billed annually.
Business – USD13.60 /organizer /month, billed annually.
Enterprise – Quote-based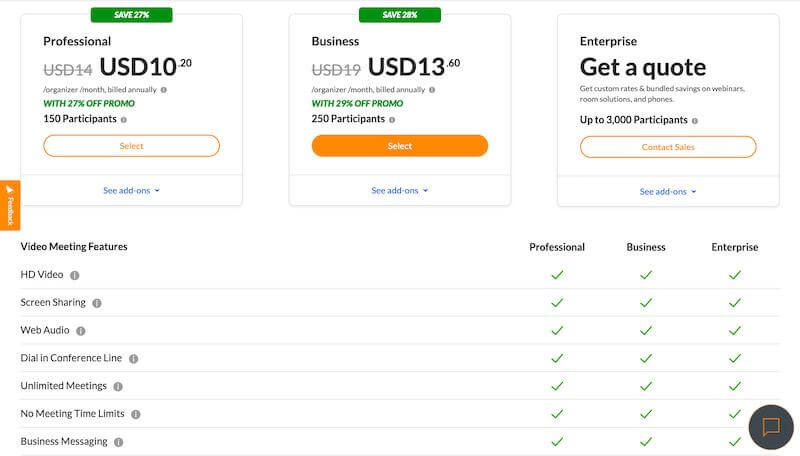 GoToMeeting does not offer a free plan, although you do get a 14-day free trial. The Professional plan accommodates 150 participants; the Business plan can host 250 participants, while the Enterprise plan can scale up to 3,000 participants.
Webex:
Webex offers four pricing plans, including:
Free – $0
Starter – $14.95 per host, per month
Business – $29.95 per host, per month
Enterprise Plan – Quote-based
Webex's free plan allows you to host only one user and enables uninterrupted meeting and video conferencing for up to 50 minutes. Up to 100 people can join the meeting. You can further scale these numbers with their paid plans.
It also offers a 30-day free trial and lets you save 10% with an annual billing cycle.
WebinarJam:
WebinarJam provides three pricing plans:
Basic – $499 per year
Professional – $699 per year
Enterprise – $999 per year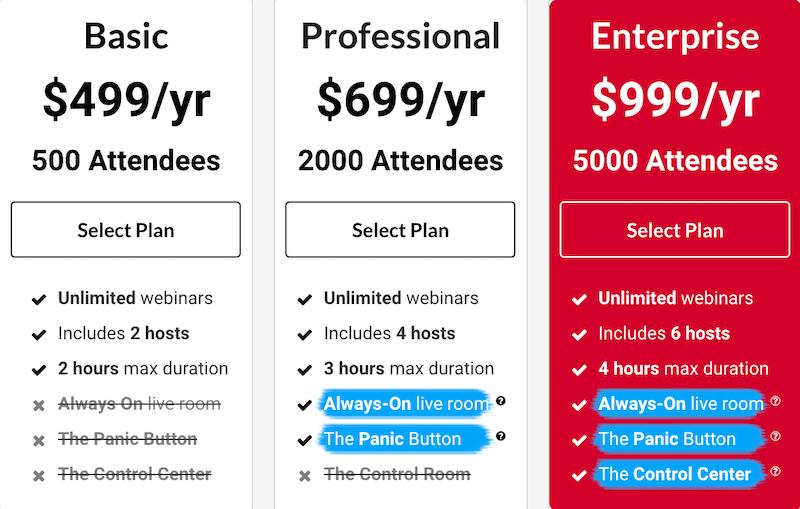 Webinar Jam doesn't have a free plan. Their Basic plan accommodates 500 attendees, while the Enterprise plan allows 5,000 attendees and includes six hosts. You can also get a 14-day free trial for $1, along with a 30-day money-back guarantee.
Winner: Zoom.
Zoom offers a free plan and a reasonably priced starter plan that lets you host up to 100 attendees.
WebinarJam is also a great option. While it doesn't offer a free plan, their basic plan starts at $499/yr and allows you to conduct unlimited webinars. And if you're not satisfied with WebinarJam, you can receive a full refund within 30 days after your purchase.
Pros and Cons.
All of these video conferencing and webinar tools have their fair share of pros and cons. To give you an idea, here's a brief overview of all of their benefits and downsides.
Zoom Pros and Cons.
An app marketplace to integrate with third-party business apps.
It allows you to host unlimited meetings.
Google calendar support.
Automatic customer follow-up.
Suitable for hosting large online events.
Monetize your webinars through paid registration.
Integration with Facebook Live and YouTube to conduct Live broadcasting.
Get reports about your audience's experience, questions, poll answers, etc.
Create and customize registration page, reminder emails, and post-webinar landing page.
The free version ends the calls after 40-minutes. While you can restart your meeting after it shuts down, everyone has to reopen the Zoom meeting.
Lack of comment control or moderation.
GoToMeeting Pros and Cons.
Reliable client support and record uptime.
Seamlessly initiate an online conference using the user-friendly interface.
Offer attendees a customized URL.
Access GoToMeeting using different devices, including Android, iOS, Mac, and PC.
Gather international participants and interact using multinational toll-free numbers.
Offer security with a PIN-based entry.
Numerous channels for self-service and learning materials.
Well-integrated polling feature to engage the audience in the video conference.
GoToMeeting mobile app with the cloud recording feature.
Integration with business apps like Zoho, Salesforce, AWeber, Hubspot, Slack, etc.
You need to install GoToWebinar software to start using it.
Minimal marketing features.
Users don't get an option to change the background color or graphic in the mobile apps.
Doesn't allow you to host more than one meeting simultaneously.
Webex Pros and Cons.
Essential features, including HD video, screen sharing, in-app voice listening, joining a meeting from any video system, chat, etc.
Interactive participation with annotation tools and whiteboards.
Advanced follow-up analytics of a meeting to give insight into what went on with your attendees.
Suitable for small groups and one-on-one meetings.
Allows you to host unlimited meetings.
Not suitable to scale webinars.
You need to go for additional plans to host multiple meetings simultaneously.
WebinarJam Pros and Cons.
Automated integrations with your autoresponder or CRM of choice.
Automatic post-webinar follow-ups via email.
Pop pre-configured, visually-captivating offers.
The ability to pop up an offer in the middle of a webinar with a call-to-action.
It offers numerous layouts. You can choose to show your face, share your screen, show your face and your screen simultaneously.
It lets you upload your presentation while hosting a slideshow-heavy webinar.
Great buffer rate and reduced delays.
Communicate pre and post-webinar using built-in autoresponders.
Automatically records your webinars and sends them to everyone as a replay. You can even use it in EverWebinar.
Allows you to have only up to six co-presenters.
Summary and My Top Picks.
The video conferencing solution you pick depends on what you need it for.
For example, WebinarJam lets you host and promote webinars and increase conversion rate using mid-webinar pop-up offers and post-webinar follow-ups.
Ultimately, here are my top picks:
That said, the final decision depends on your requirements, budget, and the audience you plan to host.
Disclosure: I may receive affiliate compensation for some of the links below at no cost to you if you decide to purchase a paid plan. You can read our affiliate disclosure in our privacy policy. This site is not intending to provide financial advice. This is for entertainment only.
---
Last Updated on December 8, 2022 by Adam Enfroy