WebinarJam Review (Ultimate Platform Guide for 2023)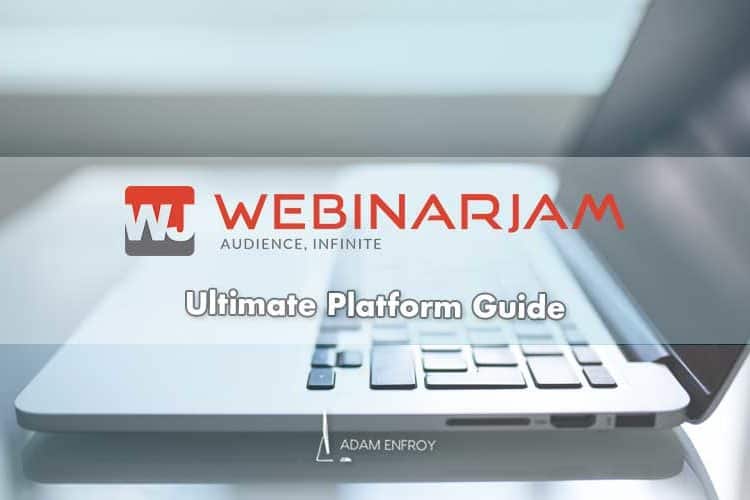 Webinars have now become an integral part of the digital marketing strategy for many businesses.
However, if you want to make the most of your webinars, you need a webinar hosting platform to assist you with marketing and promotion.
One of the biggest names that come to mind is WebinarJam.
Used by more than 30,000 people globally, WebinarJam is one of the best webinar software on the market right now.
While a webinar is a very effective marketing channel, on average it costs between $100 and $3000 to run one.
This means that choosing the right software for your needs is key.
To help you make an informed decision, here's a detailed review of WebinarJam, along with its most prominent pros and cons.
Disclaimer: I receive affiliate compensation for some of the links below at no cost to you. However, this is my unbiased review of WebinarJam, which I believe is the most effective webinar software on the market. You can read our full affiliate disclosure in our privacy policy.
Let's get started.
What is WebinarJam?
WebinarJam is one of the best webinar hosting platforms on the market right now. More than 30,000 users are using it currently, and the numbers are on the rise.
It is essentially a tool for online marketing and has a lot of exciting features, including:
Direct streaming on YouTube Live
Secure, password-protected webinar rooms
Virtual whiteboard, poll, and chat options available
Highly customizable templates
Pre-recorded video injection possible (for presentation)
Advanced data tracking and analytics
Automatic webinar recording
Allows you to invite up to six co-presenters
Fully compatible with Windows, Mac, and Linux OS
Compatible with web browsers like Chrome, Firefox, Edge, and Internet Explorer
Has an in-built auto-responder
HD quality video and audio with the minimal lag time
WebinarJam provides you a webinar platform where you can get the most out of customer engagement in the form of Q&A sessions, one-on-one doubt clearing sessions, and live chats. One of the best parts about WebinarJam is probably its ability to customize the webinar templates.
What's more, you can also use WebinarJam to do the following for you:
Create webinar registration pages
Send invites and offers to attendees
Easy scheduling of events and sessions
Actionable insights (data analytics)
It guarantees unmatched flexibility coupled with high-tech precision at some of the most affordable prices, which separates it from most of its competitors in the market.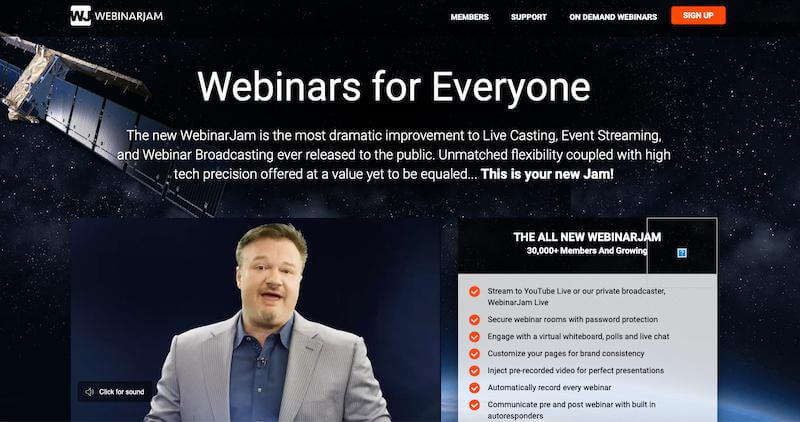 WebinarJam Review.
WebinarJam is right up there with the best of the webinar platforms available today.
Here's a breakdown of all its features:
1. High Level of Automation.
WebinarJam helps you automate the entire webinar hosting process, including crucial steps like registration, confirmation, sending follow-up emails to your registrars/target audience, and more.
The best part is that it automatically records the webinar. It even handles replay pages on its own, which means that replays can be sent to attendees automatically.
You can now focus on the content of your webinar and how engagingly you can deliver it — rest is likely to be taken care of by WebinarJam.
2. Campaign Control at Your Fingertips.
You're fully in charge of your campaign when you use WebinarJam's in-built extended scheduling management tool. Set your schedules at the exact intervals you need, be it daily, weekly, monthly, or annually.
Furthermore, WebinarJam automatically adjusts the local time of your event according to the attendee to offer a superior experience to your leads.
3. Post-Event Communications.
Post-event communication is where the majority of businesses falter. You've impressed your audience with your presentation, and now the next step is to follow-up with them, engage them, and encourage them to take the final action.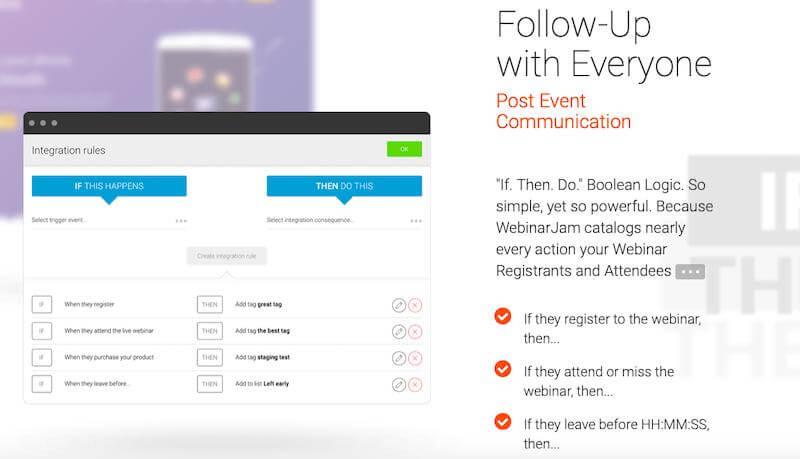 WebinarJam is, without a doubt, one of the best webinar software apps when it comes to post-event communications.
It uses boolean logic to reach out to all the prospective leads after a webinar.
The use of boolean logic is probably one of the coolest features that WebinarJam has.
It works on the principle that if A is the cause, then B is the effect.
Here are some examples of the Boolean feature (as mentioned by WebinarJam):
Not only that, WebinarJam comes with an auto-responder that responds to emails automatically, helps you follow up with all the registrars right after they fill-up the registration form, among several other functions.
With WebinarJam, you can also segment your interested leads from the disinterested ones, and concertedly target them using specific communications. This helps you make tremendous improvements in your sales conversion numbers.
4. Multi-language Capability.
Multi-lingual WebinarJam makes sure that you don't miss out on business just because your target audience is on the wrong side of the border.
With WebinarJam's multi-language capability, you can break barriers very efficiently. It allows you to select your preferred language and translate all the customer-facing pages into it — all with one single click. Yes, It's that easy!
Here are the language options you can select from:
5. Robust Data Analytics.
A marketing tool is incomplete without a robust data analytics tool. And WebinarJam doesn't cut any corners in this department either.
It offers a comprehensive, state-of-the-art, in-built, and most advanced data analytics toolkit you'll get in a webinar platform.
With WebinarJam's data analytics toolkits, you can analyze a wide range of metrics, including total visitors, registrations, people in the room, replay watched, number of clicks, and much more.
Moreover, it allows you to leverage actionable insights from data-driven results, and spend more time and energy targeting the leads who are most likely to make a purchase and weed out the ones that won't.
6. One-Click Registration.
Your goal is to encourage a maximum of your prospective customers to register for your webinar. For that, you need to make sure that your registration process is as simple as possible.
To help you bring in more registrants, WebinarJam offers one-click registration.
You simply have to send a "Click to Register" to your entire email list, and anyone who clicks the link will be registered for your webinar right away.
This way, you can effectively convert your 'Click Through Rate' to your webinar registration conversion rate at no effort at all. It's an attractive option to generate attendance for your webinars, as compared to filling-up forms, which is way more time-consuming).
7. Straightforward Admin Setup.
WebinarJam offers one of the fastest and smoothest admin setups, making it easier for the users to get started. With the quick and easy 'Express Configuration,' you can be up and running within 30 seconds.
Even the 'Standard Configuration' won't take more than 5 minutes.
8. Universally Compatible…With Everything.
With WebinarJam, you never have to worry about compatibility issues again.
You get compatibility with platforms like Windows, Mac, and Linux, along with numerous browsers like Edge, Internet Explorer, Chrome, Firefox, and more. It is even compatible with Opera, which is widely used in Scandinavian countries.
9. Extensive Third-Party Integrations.
WebinarJam offers pretty impressive features to deliver automation and ease-of-use. However, both these things are also possible because of WebinarJam's ability to integrate with numerous tools, including email marketing tools, third-party CRMs, shopping carts, and much more.
10. Flexible Sharing Options.
With WebinarJam, there's no bar on what you can display and share.
Choose from options like:
Inclusion of annotations
Screen share
Picture-in-picture
Face-to-face
Video injections
Slide shows
Polls and surveys
One of the stand-out points is the enhanced control that it provides. It's an excellent tool for any individual or business who wants to use it for scaling up sales and revenue, where real-time data is of utmost importance.
WebinarJam Pricing.
WebinarJam offers amazingly flexible pricing plans that come with a wide range of features.
You get three pricing plans:
1. The Basic Plan (For Beginners).
The first plan is the 'Basic' plan. It costs $479 per year, when billed annually and is best suited for beginners in the webinar space.
The Basic plan includes:
3 presenters per webinar
500 attendees per webinar
24/7 customer support
2. The Pro Plan (For Professionals).
The second plan is the 'Pro' plan. This plan costs $783 per year when billed annually. It is especially perfect for professionals who regularly host webinars.
The Pro plan includes:
4 presenters per webinar
1000 attendees per webinar
24/7 customer support
3. The Premium Plan (For Experts).
The third plan is the 'Premium' plan. WebinarJam claims that this plan can offer its users 10 times the facilities, power, and benefits when compared to the other two plans.
This plan is $997 per year, when billed annually, and is one of the priciest plans in the market. This plan is most suitable for experts who have an excellent working knowledge of webinars and their uses. It can also be leveraged effectively by businesses that heavily rely on webinars for marketing, and can be used as front-line tools.
The Premium plan includes:
6 presenters per webinar
5000 attendees per webinar
24/7 customer support
WebinarJam offers a 100% risk-free 30-day money-back guarantee with all the three plans.
WebinarJam Pros.
Some of the most prominent pros of WebinarJam are:
Very easy to use, with an intuitive user interface.
The "Basic" plan is offered at some of the lowest prices in the market.
Fully in-built with multiple training videos for in-depth assistance to users.
Live 24/7 customer support 24/7, which also includes chat support at no extra cost.
Automatically records every webinar session.
It offers a flexible and dynamic layout control that optimizes the display.
Fully compatible with a wide range of OS (Windows, Linux, Mac) as well as web browsers (Chrome, Firefox, Edge).
Provides highly customizable landing page templates for specific webinars.
Provides an option to send public and private messages to webinar attendees.
Incorporates previously loaded videos in your webinar seamlessly.
HD display (crystal clear readability).
Highly flexible (allows presenters to use free drawing, eraser, geometrical shapes, text, color, font type, and much more).
It offers an amazing visual editor named PageJam engine that can easily customize a library of professionally designed registration pages.
Makes registering for the webinars a breeze.
Integrates with the best CRM, email, and shopping cart applications, like Zapier, MailChimp, Drip, iContact, Kartra, and so forth.
In-built scheduling management & auto-responder tool.
30-day money-back guarantee.
Has multi-language communication capability.
Effective social media integration (Facebook, Twitter and more).
Seamless integration with a range of email providers like Gmail, Hotmail, and Yahoo!
Has a unique capability of sending SMS and voice messages as alerts to registered attendees right before the beginning of the webinar.
It allows you to easily blend web cameras, screen sharing, and pre-recorded videos in a single webinar.
WebinarJam's attention to details, customer-centric approach and ease of use has helped it stand out amid so many other webinar hosting platforms.
And the testimonials and reviews can vouch for all of its impressive features and attributes.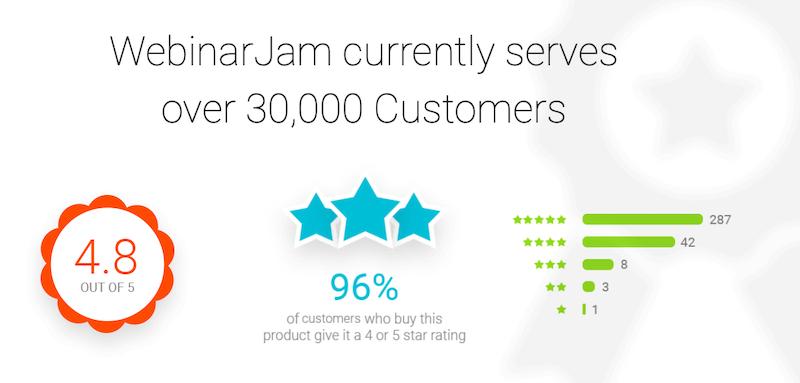 WebinarJam Cons.
WebinarJam is one of the most trusted webinars in the market right now. However, it is not without its cons.
Here are some of them:
The 'Premium' plan is highly-priced and made for experts & professionals
Rare instances of delay when streaming live video
Poll data cannot track which attendee clicked on which option
Displays the 'Reconnect–Connectivity Issues' button, sometimes even when connectivity is excellent
The complaints about WebinarJam have been few and far in between, which further undergirds its reputation as one of the best webinar hosting platforms.
Disclaimer: I receive affiliate compensation for some of the links below at no cost to you. However, this is my unbiased review of WebinarJam, which I believe is the most effective webinar software on the market. You can read our full affiliate disclosure in our privacy policy.
What WebinarJam Alternatives Are There?
If you're still having doubts and are not entirely sold out on the prospect of using WebinarJam to host your next webinar, here're some alternatives for you. As such, there are plenty of alternatives to WebinarJam.
Here's a look at some of the platforms that can rival WebinarJam: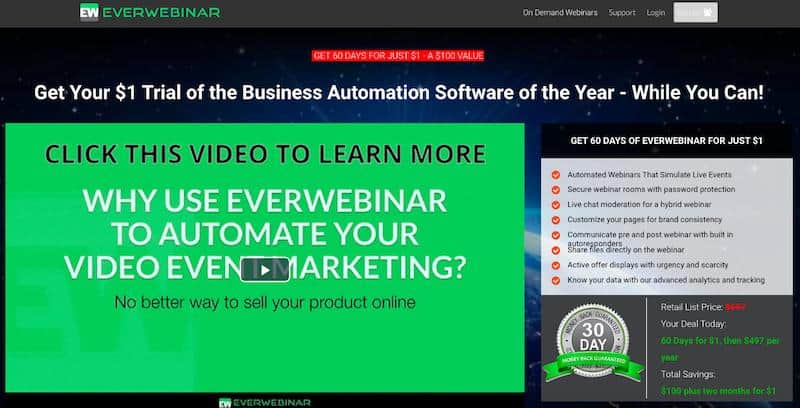 Started in 2015, EverWebinar is a powerful business automation focused software tool and webinar platform. It is ideal for making evergreen webinars and comes with a 30-day money-back guarantee.
Pros:
Pre-designed landing pages for maximum registration.
Smooth and easy setup.
It comes with an in-built advanced scheduling system.
In-built advanced simulation tools for increased conversions.
It provides seamless integration with MailChimp, GetResponse, Kartra, and many other marketing tools.
Discount of $100 upon sign-up.
Offers an affiliate program.
In-built live-chat simulator.
In-built auto-responder capacity.
Offers advanced data analytics for improved customer insights.
Cons:
Lacks Facebook Live & YouTube Live integrations
There have been some complaints regarding the live webinar feature.
You may find it challenging to create automated campaigns with EverWebinar.
Pricing:
EverWebinar comes with a flat rate of $597 per annum.
ClickMeeting is a browser-based webinar software platform that offers both audio and video-based webinars. Moreover, it provides a wide range of features, including waiting room with agenda, automated webinars, interface customization, and more.
Pros:
It allows users to monetize their webinars.
User-friendly and intuitive user interface.
Integration with Facebook and YouTube Live.
Allows integration of polls and surveys.
Access to whiteboards for facilitation of ideas.
Cons:
May pose connectivity issues sometimes.
Screen-sharing could do with some improvements.
Customer support is not as impressive as WebinarJam or other webinar platforms on this list.
Pricing:
You can use the platform 30 days for free for up to 25 attendees.
After that, the second plan costs $25 per month when billed annually. And the third plan costs $40 per month when billed annually.
For requirements that need high customization, scalability, you can get in touch with to get a personalized quote for a more tailor-made plan.
One of the best webinar platforms in the market right now, Demio provides a simple, no-download webinar experience for your audience. It offers users a plethora of marketing tools for best results and is best suited for live events and marketing campaigns.
Pros:
User-friendly with an intuitive user interface.
No downloads necessary (on-the-go online platform).
Wide range of third-party platform integrations like Zapier.
24/7 customer service (live chats available).
In-built data analytics tool.
Unlimited webinars and recordings for 100 recordings.
14-day free trial for up to 25 attendee room size.
Cons:
Pricing plans lack diversity.
You might run into connectivity issues.
Pricing:
The 'starter' plan costs $34 per month if paid annually. The 'growth' plan is $69 per month paid annually, and the 'business' plan is $163 per month. You get to save 30% on the annual subscription.
EasyWebinar boasts of over 6 million attendees and is essentially a full-webinar suite that can perform HD quality, no latency streaming, and screen sharing with up to 4 people.
Pros:
All-in-one live and evergreen, automated webinar platform.
Provides a wide range of API integrations.
14-day free trial.
Provides customer support in over 15 languages.
Highly efficient, 24/7 customer support (live chat option).
Offers webinar scheduling.
Advanced data analytics.
Multiple presenters allowed (HD screen sharing).
Cons:
Set-up can be difficult for a novice.
Connectivity issues may occur.
Pricing:
The 'Standard' plan is $78 per month, the 'Pro' plan is $129 per month, and the 'Enterprise' plan costs $499 per month. With EasyWebinar, you also get a 3-month free period, but only on annual billing.
GoToWebinar is a popular webinar platform that is capable of providing on-demand, recorded webinars. It is known as one of the most stable and reliable webinar platforms currently available.
Pros:
Provides flexible scheduling.
High customizability for branding (you can add your own logos, customize templates, etc.)
User-friendly webinar platform.
HD quality audio and video.
Excellent poll feature.
7-day free trial (with up to 100 attendees).
Excellent third-party integrations.
In-built data analytics tool for all plans.
Cons:
One of the most expensive software tools.
Pricing:
The 'Starter' plan costs $89 per month, the 'Pro' plan is $199 per month, and the 'Plus' plan costs $429 per month. The best part is that you can save 20% on an annual subscription.
They also offer a highly customized, personalized 'Enterprise' plan that allows up to 5000 webinar attendees.
Disclaimer: I receive affiliate compensation for some of the links below at no cost to you. However, this is my unbiased review of WebinarJam, which I believe is the most effective webinar software on the market. You can read our full affiliate disclosure in our privacy policy.
How Do You Get Started With WebinarJam?
Getting started with WebinarJam is pretty straightforward.
The good news is that WebinarJam is currently running an offer that allows you to get started with WebinarJam for the 14 day trial for just $1.
Here are the steps to get set up.
First, click on the "Sign-up" option from the top-right part of the website.
You will be redirected to the pricing plans.
Now, you need to select your plan, enter your account details, and finally, your card details.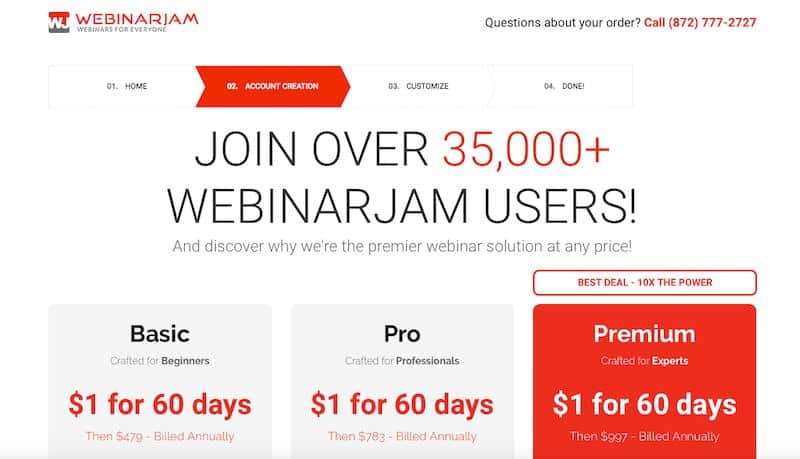 Since you're getting a 60-day free trial, nothing would be deducted from your account for now.
Now, when you log in for the first time as a new user, you're redirected to a page for downloading the software. Download the WebinarJam plugin, and follow all the instructions (stated below).
Google Chrome is the most compatible web browser when you're looking to host a webinar with WebinarJam. You can also use Firefox, but Chrome is the best option.
Also, while presenting, always use your personal computer or a desktop for best results, because:
Although Mobile phones have colossal memory storage capacity, you may suffer lag time during live video streaming
Video quality can suffer as well, and it's best to avoid it for a webinar session
A desktop or PC streaming can help you use the controls better and indulge in polls, surveys, and one-on-one engagements
Next, adhere to the following steps for easy set up:
Start:
Log in to the WebinarJam account, go to 'My Webinars.'
Under 'Ready to get started,' section, click 'Your links.'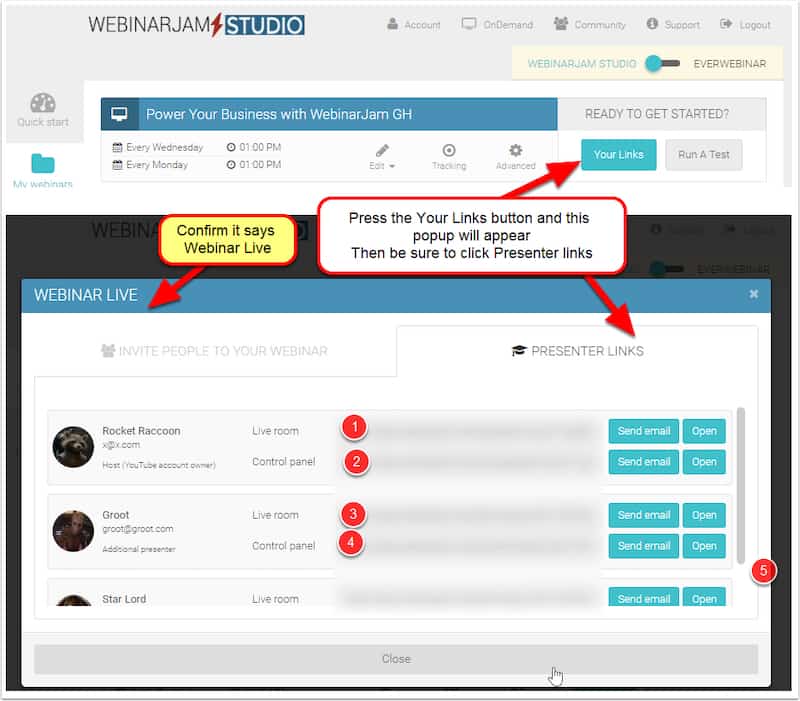 Things To Do And Avoid:
Avoid running the program on a PC or desktop that has low memory storage space.
It's a good practice to free up memory before running a webinar on WebinarJam for maximum speed.
Avoid running high-bandwidth programs like Netflix concurrently with the webinar.
Maintain a high-speed internet connection. It's better to ensure no other device is connected to it since you'll need all the bandwidth you can get if you want excellent quality streaming in real-time.
Make sure to close all other tabs and browsers.
Testing:
You don't want to start a webinar and then find out you've forgotten to connect sound and video. It pays to be careful the first time.
Make sure to test your microphones and change the settings as per your preference.
Here's a confirmation that you have endorsed the settings for use.

Enter The Room:
Next, click on the 'Enter room' option at the top right-hand corner, and you're all set to start.
To start, simply click on 'Yes' when prompted with the query, 'Start Event?'
Expect a lag time of 40 seconds to 1-minute for the software to fully load for all the attendees.
After that, you're live and ready to go.
Summary.
Numerous impressive features and a considerable number of positive reviews and ecstatic users online are a testament to the excellence of WebinarJam.
Furthermore, WebinarJam offers enough step-by-step video tutorials in-built to guide you along the way and help you host a webinar, even if you are a beginner.
It comes laden with attributes that can be very effectively used for small, medium, and large-sized businesses. Moreover, WebinarJam offers modern, advanced customer engagement and interaction features, which makes it an excellent supplement for your efforts if you aim to boost sales and generate revenue through your webinars.
The best part is that you get a 60-day free trial to help you determine whether it's right up your alley or not.
So go on and try it out for yourself!
Get started with 14 days of WebinarJam for $1.
For further reading, check out how WebinarJam compares to the top video conferencing tools like Zoom, GoToMeeting, and Webex.
Disclosure: I may receive affiliate compensation for some of the links below at no cost to you if you decide to purchase a paid plan. You can read our affiliate disclosure in our privacy policy. This site is not intending to provide financial advice. This is for entertainment only.
---
Last Updated on December 8, 2022 by Adam Enfroy