How to Choose Webinar Software (2023 Guide)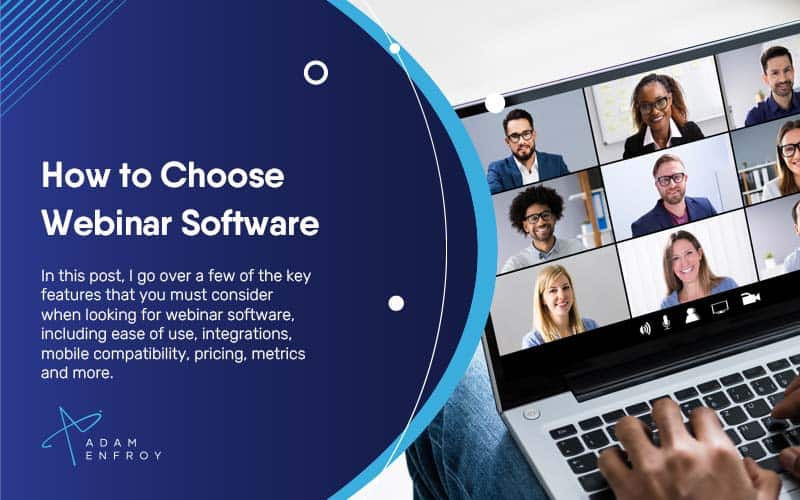 Teaching others should be a fun experience.
Sharing your skills and knowledge with people is a great way to impact the world positively.
The demand for effective webinar software is also at an all-time high, with businesses leveraging this powerful tool to connect, engage, and educate their audiences remotely.
The best webinar software platform should be easy to use, have great features and support, and offer pricing options that work for your business.
In this article, I'll give you an overview of the different types of webinar software available and things to consider when choosing a webinar platform for your business.
Let's get right into it.
What Exactly Is Webinar Software?
Knowing what a webinar is and how a webinar platform can help you is a great place to start.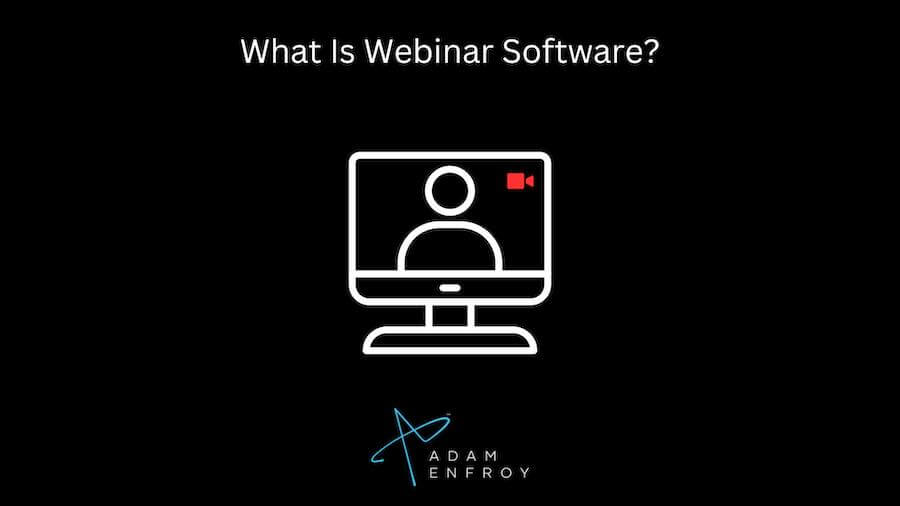 Webinars are online meetings that allow participants to see and hear each other in real-time, share important information, and sell products and services in a one-to-many environment.
These online events can be public or private, depending on the webinar platform.
Your Webinar Goals And Objectives
With as many as 95% of companies believing webinars can help their business achieve its goals, figuring out these goals is essential.
Some common goals for webinars include:
Increasing brand awareness
Nurturing leads and prospects
Generating sales or revenue
Engaging customers
Onboarding new employees or clients
Providing product or service training
Conducting market research
Building relationships with VIP customers or partners
Hosting a virtual event or conference
You'll want to decide your goals for hosting a webinar before looking at different webinar software platforms that will help you narrow your choices and find the best tool for your needs.
The Various Types Of Webinars You Can Run
There are various types of webinars you can run- live and evergreen.
Automated webinars: These are webinars you create once and run multiple times. The webinar platform you choose must have automation capabilities to support this type of webinar.
Live webinars: Many webinar attendees prefer live webinars since they connect more personally with the presenter. Live webinars also allow attendees to ask questions in real time.
Evergreen webinars: Having a webinar presentation that's always available is helpful if you want to generate leads or sales on autopilot. Once you create an evergreen webinar, it can run continuously without you being there.
Hybrid webinars: The best webinar platforms offer hybrid capabilities, meaning you can run both live and automated webinars simultaneously. It is ideal for engaging with attendees in real time while generating leads or sales on autopilot.
On-demand webinars: A webinar event recorded and made available for anyone to view. These recorded webinars can be a great lead-generation tool since one can watch them at a time that works best for the person.
What Features Do You Need In Webinar Software?
The right webinar software for your business will depend on the type of webinars you want to run and the features you need to support your goals.
The key features to look for in webinar platforms include the following.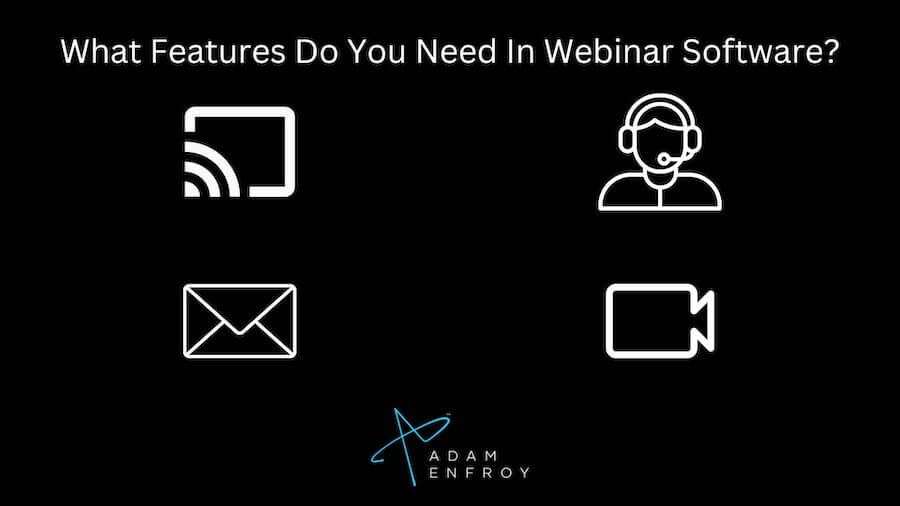 Hosting Webinars
The webinar platform you choose should allow you to host the various types of webinars previously mentioned.
The best webinar tools offer additional features like polling, surveys, quizzes, and video conferencing capabilities.
Screen Sharing
One of the critical webinar features hosts look for is the ability to share their screens.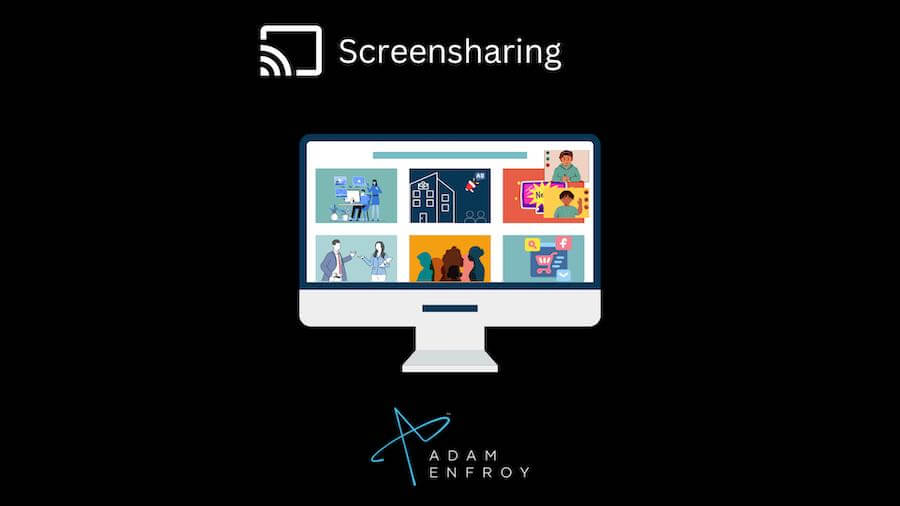 Screen sharing allows everyone to see what is being discussed in real-time, which can be helpful for things like product demonstrations or training sessions.
Sharing documents and other resources can also be helpful during live events.
Webinar Registration Pages And Lead Generation
As part of the webinar tool you choose, you'll want to be able to create beautiful registration pages that match your brand image.
The best webinar platforms will offer customizable registration forms and pages so you can collect the information you need from your attendees.
Having registration forms easily integrated with your website and email marketing software can help you quickly build a list of potential leads.
When considered as part of your marketing strategy, webinars can be a great way to attract new customers and generate more leads for your business.
Landing Page Builder
In addition to just creating a landing page, the ability to create beautiful and professional pages to promote your webinars can make all the difference in getting people to sign up.
Look for a platform that offers templates that are easy to customize and match your brand.
The ability to A/B test different landing pages can also help determine which pages lead to the most registrations, allowing you to get a higher ROI.
Email Marketing Platform
The webinar software platform should also come with email marketing tools that allow you to cultivate your list of webinar attendees and drive more registrations.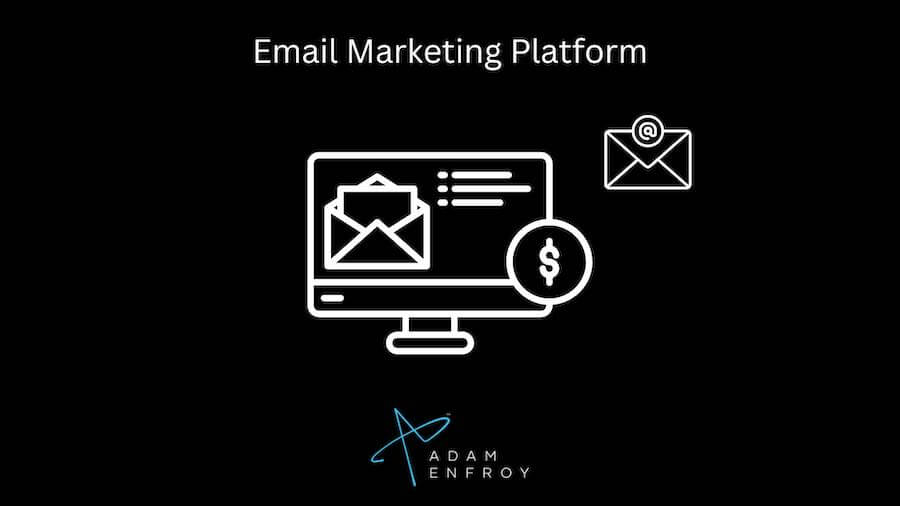 A platform that can send email reminders to your email list when a webinar is about to start can also help get people to show up to your event.
The ability to deliver timely pop-ups and notifications to attendees who have missed the live event can also be valuable.
Also, integration with an email marketing platform (such as Aweber, GetResponse, etc.) will allow you to track your webinar funnel and the effectiveness of your campaigns.
Customer Support
Sometimes, even during live events, you may need help with technical issues or have questions about setting up your webinars.
Choosing a webinar platform offering 24/7 customer support is essential if you need assistance outside regular business hours.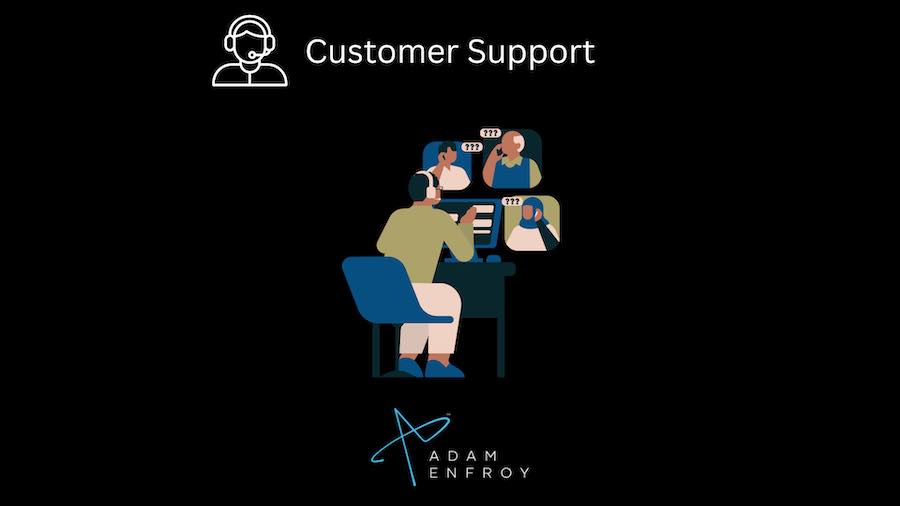 The Proper Attendees Limit
While having an attendee limit set by the webinar solution is normal, it is essential to consider the number of attendees involved when setting out your goals.
Are you looking for a large webinar host with many spaces for live attendees, or do you need a higher limit for the number of registrants accessing the on-demand recording?
If you are unsure, it is always best to start with a package that allows for more attendees than you think you will need rather than one that limits the number of attendees.
Integration With Online Courses
Some platforms help online marketers with a growth plan for their business.
These platforms can include integration with your online courses, so you can host a webinar and automatically send attendees to an online course sales funnel once it's done.
The whole experience will be seamless for anyone that goes through it.
The Ability To Embed Your Virtual Events On Any Site
Delivering a webinar live on your site (just by adding a few lines of code) can be beneficial in some situations.
It simplifies the whole process for anyone wanting to attend – all without opening multiple browser windows.
High-Quality Video Streams
Having the proper audience engagement depends on the quality of your video stream.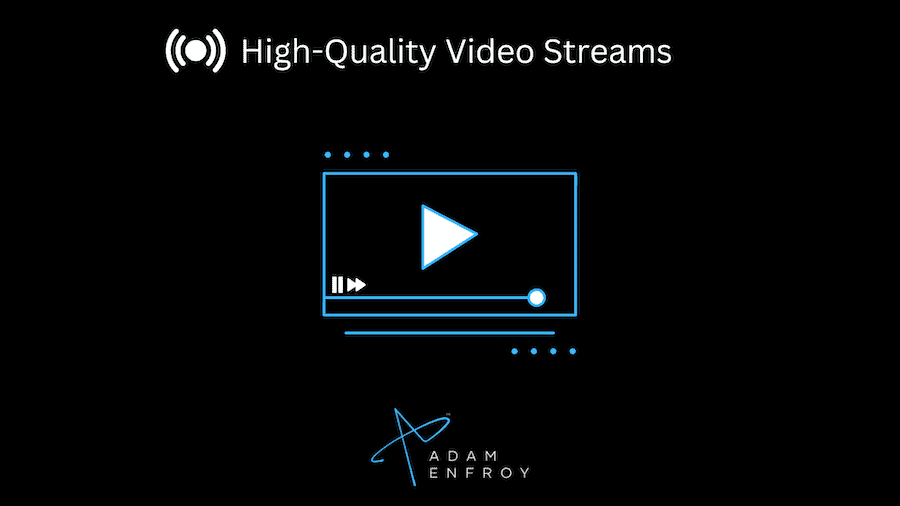 You'll want a platform that offers high-quality video streams so you can engage with your attendees and ensure that they have a good experience.
The best webinar software platforms ensure that no matter what kind of internet connection a person has, they can see and hear you as you deliver your webinar.
Marketing Automation
Real-time marketing automation has become a significant trend in digital marketing.
It includes triggering personalized emails and other sequences of events after somebody signs up for your webinar.
Another example of marketing automation is the ability to keep track of all webinar attendees and their interactions with your brand.
You can use this data to create targeted marketing campaigns to increase conversions.
Moderators
Some platforms will also have people who can help moderate your live events to ensure that things run smoothly and everyone has a good experience.
Moderators can be especially helpful:
If your webinars are long in duration
If you Involve many people
If you're new to hosting online events
If you want someone to take care of this aspect of your webinar.
Mobile Device Compatibility
A vital part of any marketing strategy will be to ensure that your target audience can view your content on their mobile devices.
With most people now using smartphones and other mobile devices, ensuring that you have a webinar platform that supports mobile viewing is essential.
Webinar marketing on a mobile phone is also a great way to increase engagement and participation, as people can attend your event from anywhere.
Whiteboard Features
The webinar room should also have an easy-to-use whiteboard feature so that you can share critical information or ideas with your attendees in real time.
The best webinar software platforms offer various tools and features to help you engage with your audience and maximize your results.
In addition, sharing handouts, slideshows, and other important information can help you increase your sales and grow your online following.
Webinar Metrics
Having a live video streaming platform that offers comprehensive webinar metrics is a great way to track the performance of your events and make any necessary adjustments for future webinars.
In addition, having a well-organized user interface that shows you precisely what is happening during your event is also essential since it allows you to make any changes on the fly if needed.
Easy Integration With Social Media
You'll want a webinar platform that easily integrates your events with social media.
The integration will help with promotion and make it easy for people to share your content with their followers.
Customization Features
Having a customizable webinar room can also be helpful, as you'll be able to create an environment that matches your brand and helps you stand out from the competition.
A Great User Experience
A user-friendly webinar provider that is easy to use and navigate is essential, especially if you are new to hosting webinars.
The best webinar platforms will have various features that are easy to use and that will help you engage with your audience.
In addition, it will also provide your audience with easy access to various controls they need to engage with whatever's happening during the webinar.
CRM Integration
While not as common as it could be, some webinar platforms will also offer CRM integration and include onboarding software that can take your attendees through a series of questions to help you segment them into the correct category for your business.
The ability to follow up with your attendees can also tie in with a CRM.
When it comes to sales automation, this can help you nurture your leads in the right way.
Testing Out Platforms
The pricing for webinar software can vary widely depending on your desired features and functionality.
Going through a free trial and product demos is a great way to test out a platform and see if it fits your needs.
With a typical 15 or 30-day free trial, you can access the platform's features and see if it is easy to use and navigate.
Remember that a free plan might typically come with fewer features and fewer customization options, so you'll want to ensure the platform includes all the features you need.
Also, with many webinar providers, there are typically various pricing plans that can accommodate different budgets and levels of usage.
A premium plan typically offers more advanced features.
Costs And Budgeting For Webinar Software
When choosing webinar software, costs and budgeting are crucial factors that should not be overlooked.
While many options are available on the market, finding a solution that meets your needs and fits your budget constraints is essential.
The pricing model is one of the first things to consider when budgeting webinar software.
Some providers charge a flat fee for access to the software, while others may charge on a per-user or per-attendee basis.
Understanding the pricing structure and assessing how it aligns with your needs and budget are critical factors in making an informed decision.
Additionally, it's essential to consider the features and capabilities that are most important to your organization.
Some webinar software may include advanced features, such as interactive polls, virtual whiteboards, and breakout rooms, but these may come at a higher price point.
On the other hand, basic software options may be more affordable but lack the comprehensive features you need to deliver a successful webinar.
Furthermore, it's essential to factor in any additional costs associated with the software, such as support services or training fees.
While some providers may offer these services at no additional charge, others may charge for these extras.
Another critical factor to consider when budgeting for webinar software is scalability.
As your organization grows or your webinar needs expand, you may need to upgrade your software or purchase additional licenses.
Ensuring that your software provider can accommodate these changes is important when budgeting for long-term success.
How To Choose Webinar Software – FAQ
What Are Some Of The Best Webinar Platforms?
These include Demio, Clickmeeting, GotoWebinar, Livestorm, BigMarker, WebinarNinja, EasyWebinar, EverWebinar, Adobe Connect, etc.
What Are Webinar Plugins?
Webinar plugins are tools or software that one can add to a website or web platform to help facilitate online events and live streaming.
They typically include video conferencing, screen sharing, polling, chat functions, Q&A sessions, etc.
Many platforms also offer comprehensive webinar metrics and other reporting tools to help you track the performance of your events and make data-driven decisions for future webinars.
Are YouTube Live and Facebook Live good webinar platforms?
Yes, one can use both YouTube Live and Facebook Live for webinars.
They are both free to use and offer good features to help you engage with your audience.
However, remember that they do not provide the same customization, features, or reporting tools as other platforms on this list that include pro features.
Wrap Up.
From small businesses to enterprises, a great webinar experience can effectively engage your audience and promote various products or services.
After that, having a webinar recording (in high video quality) that your target audience can consume at their convenience is a valuable asset.
You don't have to complicate choosing the best webinar platform for your needs.
Consider the factors discussed in this article, and you'll be well on your way to finding the perfect solution for your business.
Further reading on AdamEnfroy.com: Want a more in-depth look at some platforms you can use for your webinar?
Check out this in-depth Webinar Jam Review.
Alternatively, here are some Zoom alternatives to host your next webinar.
Disclosure: I may receive affiliate compensation for some of the links below at no cost to you if you decide to purchase a paid plan. You can read our affiliate disclosure in our privacy policy. This site is not intending to provide financial advice. This is for entertainment only.
---
Last Updated on April 16, 2023 by Adam Enfroy