How To Make Money On Audible ACX: The Latest Methods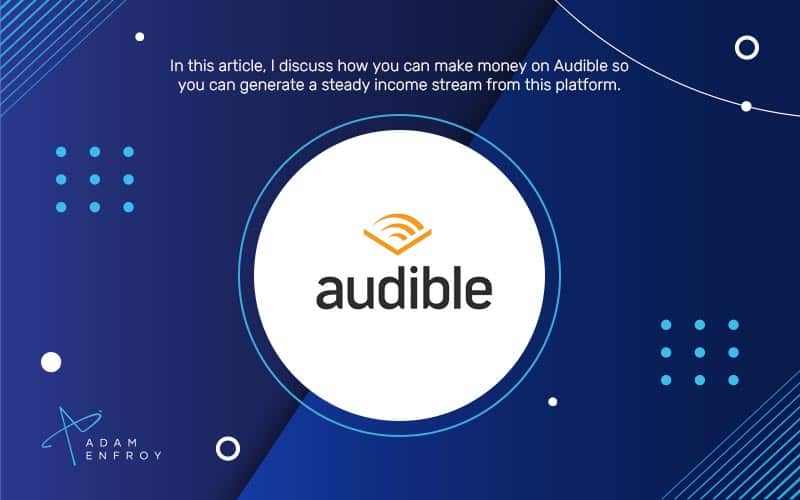 Audible, known as THE online audiobook and podcast service, is an excellent platform for aspiring authors and entrepreneurs.
While many think Audible is just for those illustrious authors or those silky-voiced narrators who could read a phone book and still sound enchanting, it's not.
The Audible money-making magic isn't confined to only the Hemingways and Attenboroughs of the world.
Oh no, this party is open to everyone, even those who can't differentiate between an allegory and an alligator or believe "vocal range" refers to how loudly they can yell at a football game.
In this article, I'll discuss how you can make money on Audible and provide guidance on generating a steady income stream from the platform.
The Audible Affiliate Program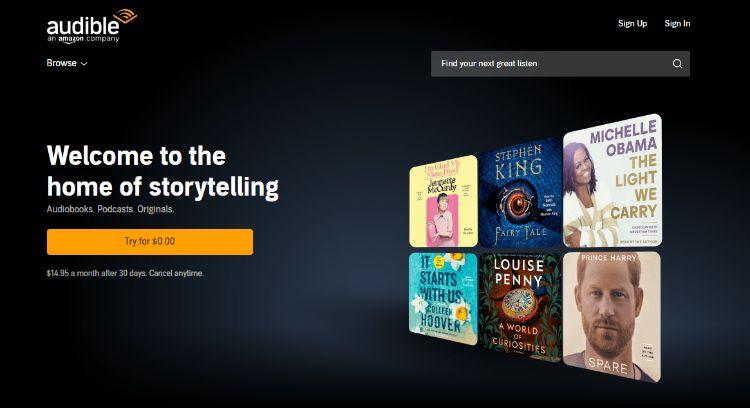 Audible offers an affiliate program that allows podcasters to earn from sales of audiobooks or memberships they refer customers to.
It's an incredible opportunity for podcasters who want to monetize their content without relying on ads or sponsorships.
Audible's affiliate program allows those looking to record a podcast (or already have an established one) to promote Audible's free trial membership with a custom URL.
Such URL can direct listeners to a 30-day free trial membership that lets them choose from thousands of audiobooks.
The best part- no selling is necessary!
All you have to do is mention the free trial and direct your listeners to the URL.
For each trial membership generated through your referral link, you earn $15.
Turning Your Audiobook Into Dollars
With Audible as the leading audiobook retailer in the world, authors and publishers can easily monetize their content.
Here's a step-by-step guide on how to do just that!
Sign Up For An ACX Account.
Before you sell your audiobook on Audible, you must sign up for an ACX account.
ACX (Audiobook Creation Exchange) is the platform Audible operates, enabling authors and publishers to create and distribute audiobooks.
Setting up an account is easy and free.
Create A High-Quality Audiobook That Meets Audible's Submission Requirements.
You must adhere to their strict guidelines to ensure Audible will accept your audiobook.
Some essential requirements include a high-quality format (minimum 192kbps), a consistent tone throughout the narration, and minimal background noise.
If you're unfamiliar with sound recording techniques, invest in a sound engineer to ensure your audiobook meets the required standards.
Decide Whether To Claim An Existing Book Or Create A New Title.
If you have already published your own book as an e-book or paper copy, you can claim this title on Audible.
However, if you're creating a new audiobook, there's no reason why you can't publish both the e-book and audiobook simultaneously.
Choose Between An Exclusive Or Non-Exclusive Distribution Option.
You can choose between an exclusive or non-exclusive distribution agreement on Audible.
Exclusive agreements mean you'll grant Audible's parent company (Amazon) the exclusive right to distribute and sell your audiobook for a set period, usually seven years.
In exchange for exclusivity, you'll be eligible for additional benefits such as higher royalties, better promotional opportunities, and narrators standing by to voice your book.
Upload Each Audio File For Each Chapter.
When you've completed your audiobook following the specifications of Audible, you can upload it onto ACX.
Make sure to name each file eventually, as the platform will collect them as chapters.
You must also input the metadata at this stage, such as the author's name, title, and release date.
Note that Audible has a rigorous quality control process, so if your audiobook doesn't meet its standards on the first try, you can re-submit it for review.
Review Your Audiobook Before Submitting To Avoid Delays.
Before submitting your audiobook, it's essential to proof-listen to every chapter, ideally multiple times.
This way, you can ensure your audiobook has no errors or inaccuracies and ensure the audio matches the manuscript.
A quality assurance reviewer will check your audiobook before it's sent for retail.
Still, you can reduce delays in this process by submitting audio that you've already put through quality assurance.
Monitor YourBook's Performance Using ACX's Sales Dashboard.
Once your audiobook is live, you can track its sales performance using the Sales Dashboard on ACX.
The dashboard will provide detailed data on how often people streamed, reviewed, and downloaded your audiobook.
Why Affiliates Promote Products On Audible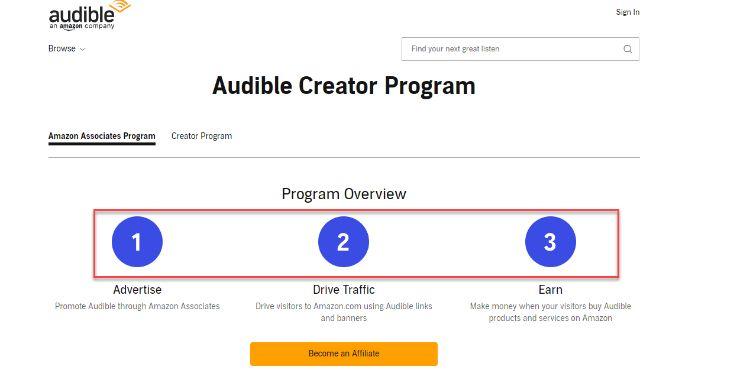 Let's now look at the rewards of making money on Audible and how you can use the platform's self-publishing tool, Audiobook Creation Exchange (ACX), to launch your audiobook and earn a sustainable income.
To make money on Audible, you'll want to use ACX, a self-publishing tool created by Audible.
ACX allows you to find narrators, producers, and distributors for your audiobook.
Additionally, ACX provides several ways to make money, including royalties, flat fees, and creating exclusive content for Audible.
It's also essential to create high-quality content.
That is, your audiobook should not only be well-written but also well-produced.
Finding a professional Audible narrator, producer, and editor can help your audiobook stand out and attract more listeners.
Additionally, it's crucial to select a popular genre or niche, promote your audiobook, and work with Audible's marketing staff to help increase visibility.
On ACX, the amount you earn depends on several factors, such as the price of your audiobook, the number of sales, and the type of deal you negotiate with your producer.
Audible offers royalty options ranging from 25-40% of net sales or a flat fee paid to the producer.
Additionally, Audible offers substantial bonuses for exclusive content, helping you earn even more for your hard work.
Getting Started With ACX
The first step to making money on the Audible website is to sign up for the ACX platform.
You can upload your audiobook once you've registered and created an account.
ACX supports various audio files, including MP3 and WAV formats.
The platform will prompt you to fill out basic information about your audiobook, such as the title, description, and author details.
Author-Narrator Matching
One of the standout features of the ACX platform is its author-narrator matching service.
If you don't have the right podcast equipment or cannot narrate your audiobook, ACX can help you find a professional narrator who suits your needs and budget.
The author-narrator relationship is crucial to the success of any audiobook, so it's essential to take some time to browse the available narrators and select the one who is the best fit for your project.
Quality Control And Production
Once you've selected a narrator, the next step is to produce your audiobook.
ACX offers tools and services to ensure your audiobook meets the highest quality standards.
ACX provides detailed guidelines for technical specifications, audio quality, and editing, and it also has a review process in place to check for errors or inconsistencies in your narration.
Distribution And Royalties
After your audiobook has been produced and reviewed, it's time to distribute it to the masses.
ACX delivers your audiobook to Audible, Amazon, and the Apple Store, ensuring your work is accessible to millions of potential listeners.
When your audiobook sells, ACX pays you a royalty rate based on the sale price: you earn 40% of the sale price for exclusive distribution with Audible and 25% for non-exclusive distribution.
ACX also offers timely reporting to track your sales and earnings in real-time.
How To Create Profitable Audiobooks On Audible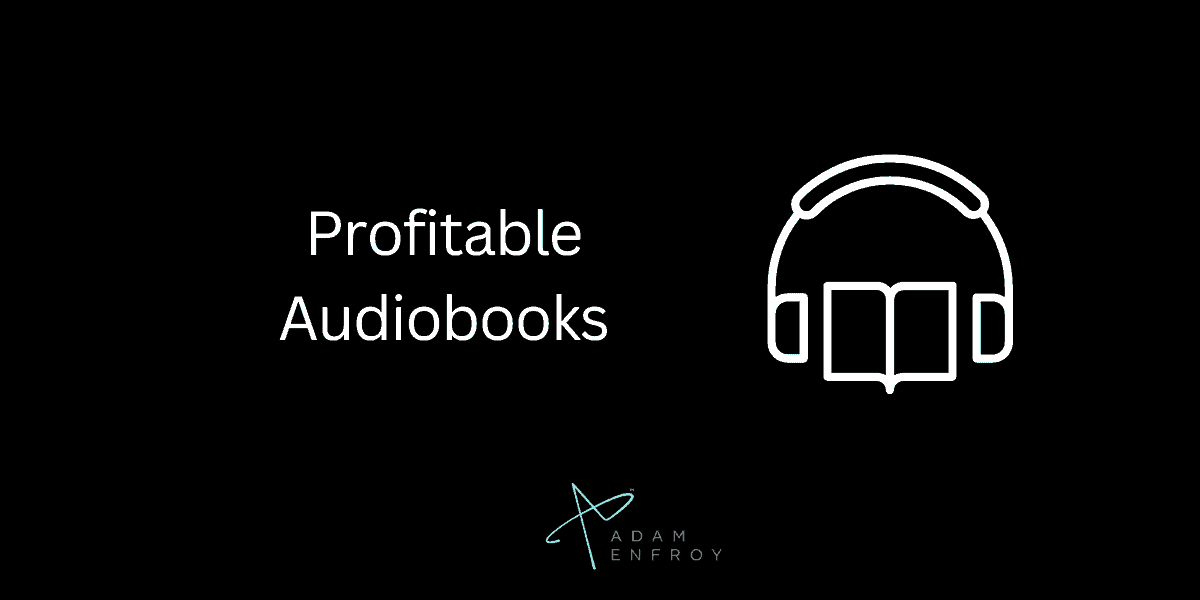 The first thing you need to do before even starting to create your audiobook is to research a profitable keyword.
These are words and phrases people type into the Audible platform to search for audiobooks.
You can use Google AdWords or other keyword tools to find highly searched keywords with low competition.
Proper keywords give your audiobook visibility when people search for it on Audible.
If you're not good at writing, don't worry.
You can always hire a ghostwriter.
A ghostwriter is a freelance writer, who writes for you, but you get all the credit for the written piece.
You can have a fantastic book with a ghostwriter without writing a single word.
This way, you can focus on marketing or promoting your audiobook.
The cover of your audiobook is essential to grab the attention of potential listeners.
A good cover is crucial when selling anything, whether a physical product or an audiobook.
If you're not good at design, you can use various websites that provide affordable cover design services.
The cover should be relevant to the audiobook's content and stand out in your genre.
A narrator is the voice behind the audiobook.
You can record the audiobook with a good voice and audio recording setup.
However, if you don't have the setup or experience with narration, it's better to hire a narrator.
ACX is the Audible platform where you can find narrators.
You can offer your narrator an upfront payment, or you can pay them a royalty on each sale.
Once you have completed all the steps above, you can publish your audiobook on Audible.
ACX provides a straightforward process for publishing your audiobook.
Once your audiobook is published, promote it on platforms like Goodreads, social media, and email marketing campaigns.
ACX also provides 50 promotional codes for you to give away to your potential listeners.
You can offer the codes to followers on social media and run contests to increase engagement and build your audience.
Tips For Choosing A Profitable Niche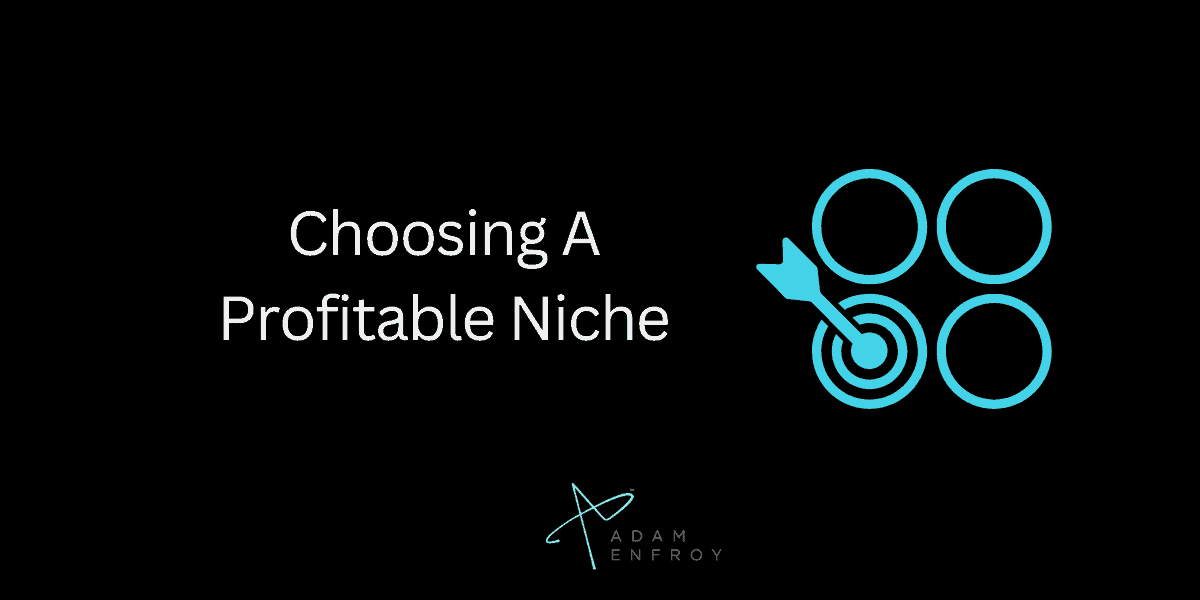 One of the best ways to increase your chances of success on Audible is to choose a profitable niche.
Rather than competing with all audiobooks in a large genre like fiction or nonfiction, consider carving out a more specific niche that will appeal to a targeted audience.
The niche can be anything from cooking to meditation as long as there is a demand for it.
If you're keen on affiliate marketing, you could get ideas from affiliate marketing books and apply them to Audible.
Try to find a subject you are passionate about and create high-quality content that will resonate with your listeners will be much easier.
Another way to boost audiobook sales is to collaborate with other businesses in your niche.
Collaborating with other authors or narrators can help you reach new audiences and provide valuable cross-promotion opportunities.
Consider reaching out to influencers in your niche, bloggers, podcasters, and other content creators who cater to your target audience.
Consider hosting a joint promotion, offering free sample chapters, or other bonuses to listeners who purchase your combined works.
Selling your audiobook non-exclusively has its downsides.
For one, you'll only earn 25% royalties on sales.
Such an amount is significantly less than the 40% you get with exclusive sales.
Second, you're not allowed to share the revenue with the producer.
If you are contracting an editor or audiobook producer, they can only receive their payment upfront, not a percentage of the royalties.
Therefore, it's better to stick to exclusive sales on ACX.
Finally, use social media to promote your audiobook and reach a wider audience.
You can reach out to potential listeners on Facebook, Twitter, Instagram, and other platforms that align with your niche.
You can also use platforms like YouTube to build your author or narrator brand and provide sneak peeks of your audiobook.
Promoting Your Audiobook Effectively
Promoting your audiobook is crucial to making money on Audible effortlessly.
Building a solid social media presence is trending these days, and it can significantly benefit you by reaching out to potential customers through various platforms.
Collaborating with influencers and podcasts is another effective way to promote your audiobook.
You can leverage the audience of these influencers and podcasts and introduce them to your audiobook.
Additionally, organizing giveaways and contests can create a buzz around your audiobook, attracting more audiobook lovers to try out your product.
Furthermore, email marketing is a powerful tool to reach your target audience.
You can send email newsletters and promotions to those interested in your audiobook through the Audible free trial landing page.
Also, you can join the Amazon Associates Program and promote Audible products through affiliate marketing.
It can create a side hustle and provide a passive income stream.
Lastly, offering a free audiobook during the Audible free trial membership can entice users to try your product, leading to more sales.
By applying these strategies, you can make money online with Audible effortlessly.
Understanding Audible's Listener Base
Understanding Audible's Listener Base is crucial in determining how to make money on Audible.
Demographics of Audible listeners show that the majority are adults over the age of 35 who have a higher income and education level.
Popular genres and niches among Audible Listeners include bestsellers, self-help, and memoirs.
Listener behavior and preferences reveal that they value spoken word entertainment, prefer audio content over written content, and enjoy audiobook versions of their favorite books.
To tailor your content to Audible's listener base, consider creating your own audio content, such as audiobooks, and hiring a skilled audiobook narrator to ensure high-quality narration for your audience.
Additionally, consider marketing your audiobooks as Audible originals to increase visibility and attract premium-plus subscribers with access to Audible's exclusive content.
Understanding the preferences of Audible's listener base is critical to making money on Audible as an audiobook narrator or creator of audio versions of popular books.
Investing In Professional Audiobook Production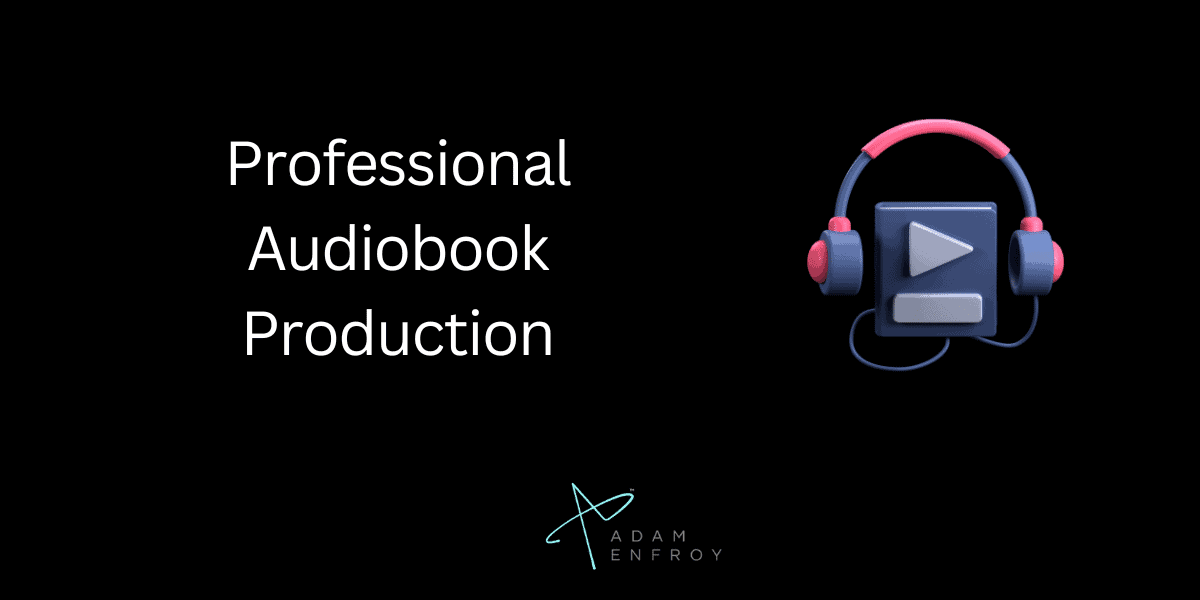 Investing in professional audiobook production is crucial for those looking to create quality content and make money on the Audible platform.
To create audiobooks, writers and publishers can utilize the Audible Creator Program, which offers resources and support for audiobook production.
Investing in professional narrators and sound quality is essential as they play a vital role in ensuring a successful audiobook production.
Audio editing software can help edit and enhance sound quality for a polished final product.
Budgeting for professional production should consider the PFH (per finished hour) rate, which is the industry standard for professional narrators and production teams.
Look for the right audiobook production team through websites such as Fiverr, where freelance professionals offer their services for a reasonable price.
It is important to note that becoming a full-time audiobook producer takes time and effort.
Still, it can provide extra cash and royalties through the Audible self-publishing platform and other audiobook distributors.
Rights holders can also sell audio versions of their books through Audible, leading to an additional source of revenue.
The bottom line is that investing in professional audiobook production can lead to a successful and profitable venture.
The Role Of Reviews And Ratings In Sales
One of the best ways for beginners to start selling audiobooks and create an additional income stream is through Audible, an Amazon company that sells audible books.
Audible offers different payment options for authors, including a flat rate and royalty share plus, where authors can split royalties with the narrator.
But uploading your book to Audible won't guarantee success.
We cannot understate the role of reviews and ratings in sales.
Positive reviews and high ratings can influence potential listeners to purchase your audiobook.
Encouraging listeners to leave a review can be as simple as asking them at the end of the book or in the book's description.
However, not all reviews will be positive.
Responding to negative reviews with a level-headed and positive attitude can show potential listeners that you value their opinions and care about their experience.
Authors can gain valuable feedback and improve future audiobooks by monitoring and analyzing review trends.
Audible's partnership with iTunes allows authors to reach an even broader audience.
By taking advantage of the power of reviews and ratings, authors can increase their chances of success on Audible and create a lucrative income stream from audiobooks.
Wrap Up.
Audiobooks can be a great way to reach new markets and expand your audience.
To maximize your sales and ensure the best listening experience, research the right production crew, collaborate with other authors or narrators in your niche, and use social media to promote your book.
As a platform that's tailored for audiobook production, Audible's ACX is the best option to get your audiobook on the market.
Following the advice and tips above, you'll have no problem creating a successful audiobook that will reach new listeners and generate increased revenue.
Further reading on AdamEnfroy.com: Did you know you can record a podcast on YouTube?
The benefit of having this additional medium gives authors yet another avenue to reach a wider audience and increase their fan base.
Moreover, with YouTube Studio providing all the necessary data to analyze your audience, you can easily track the success of your podcast and make more informed decisions about future audiobook content.
Editorial Process:
Our reviews are made by a team of experts before being written and come from real-world experience. Read our editorial process here.
Some of the links in this article may be affiliate links, which can provide compensation to us at no cost to you if you decide to purchase a paid plan. These are products we've personally used and stand behind. This site is not intended to provide financial advice. You can read our affiliate disclosure in our privacy policy.