The Ultimate List of Podcast Statistics for 2023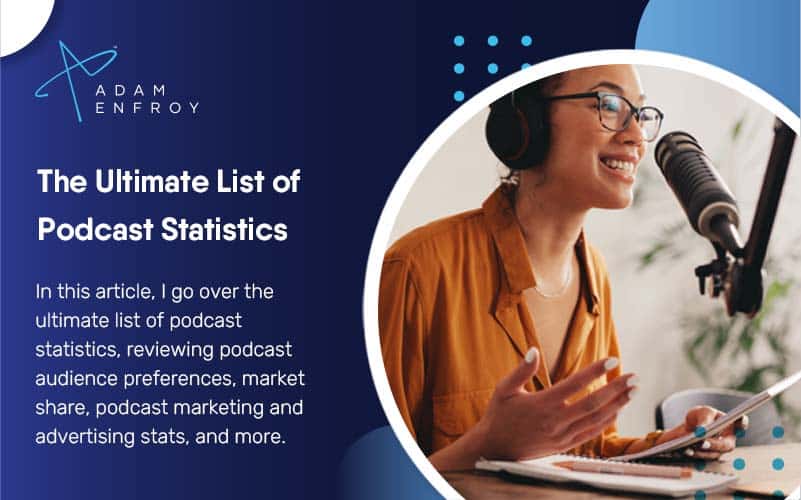 Podcasting is an industry growing in leaps and bounds as the trends defining this market keep changing and adapting.
With podcasting hosting sites on the rise and everyone from individual podcasters to big companies wanting to be heard, there's no shortage of statistics to consider.
Understanding what a podcast involves and the various survey statistics in this industry is fascinating. However, knowing how to make the most of these survey conclusions is even more critical.
In this article, I've created a list of the ultimate podcast statistics for understanding and analyzing the current landscape.
Let's get right into it.
Podcast Statistics
Here are the latest podcast statistics to consider.
Listening To Podcasts
1. There are close to 850,000 podcasts in the world right now.
(Oberlo)
Eight hundred fifty thousand is the number of active podcasts, not the number of all podcasts that have ever existed.
With that said, don't let this massive number intimidate you if you want to start your own podcast.
The window of opportunity is still open, and there's room for everyone to make a mark on the podcast world.
2. More than 70% of the US population is familiar with at least one podcast.
(Edison Research)
Based on a survey by Edison Research, as much as 70% of the American population listens to podcasts.
This fact still leaves a significant 30% of Americans who aren't actively listening to any podcasts.
People Preferences
3. As much as 40% of people interviewed said podcasts are too long per episode.
(Edison Research)
The length of podcasts is one of the biggest concerns among producers and listeners.
Producers fear listeners won't commit to their show because it's too long. Meanwhile, many listeners want podcasts that don't take too long to consume.
The 40% result in this survey question shows that many prefer shorter podcasts while getting more value for the time spent listening.
4. About 7% of survey respondents said they listen to a podcast daily.
(eMarketer)
While some might say that producing a podcast every day is overkill, market data shows that people are willing to tune in this frequently.
The key is ensuring that your show can provide enough value for listeners to be worth their time.
Undoubtedly, an engaged listener base is critical to success in podcasting.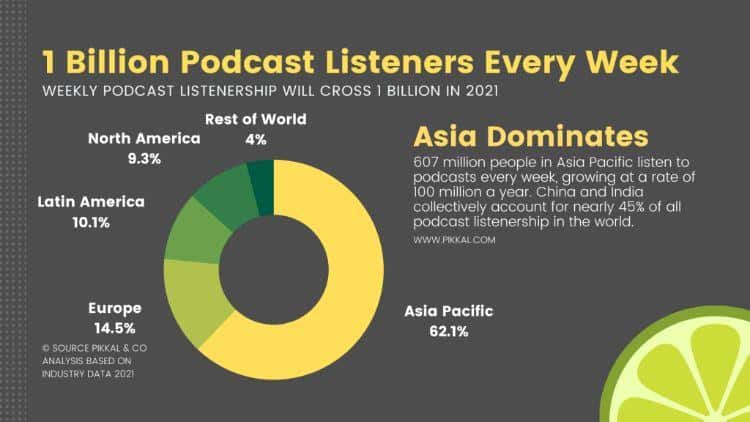 Image credit: Podcastpage.io
5. In general, more men listen to podcasts when compared to women.
(Edison Research)
In general, when it comes to demographics, males listen more to podcasting, and it doesn't seem like this will change anytime soon.
With that said, it's essential to understand your target podcast audience and adapt your topics and presentation methods accordingly.
6. Almost 80% of those that listen to podcasts do it while commuting on their favorite podcast app on their smartphones or laptops.
(Discover Pods)
Commuting is a great time to consume one's favorite podcast.
This time seems to work for eight out of every ten people that answered this survey question.
The answer leaves clues about the right time to release new podcasts for producers.
7. As much as 33% of those that don't listen to podcasts don't know how to start doing so.
(Edison Research)
A third of those who haven't listened to podcasts yet wouldn't know how to start – even if they wanted to.
The technical aspect is sometimes taken for granted by podcasters, but there are still those who aren't as familiar with this technology as others.
Market share
8. iTunes hosts more than 700,000 podcasts
(99 Firms)
iTunes has been in the podcasting market from the beginning, and it's still one of the leading podcast hosts.
While other players have come and gone, iTunes has managed to adapt and evolve, ensuring it stays relevant in today's world of podcasting.
9. 38.2% – Apple's market share in podcasting.
(Discover Pods)
The market share that Apple has in the world of podcasts is significant.
Apple's podcasting app is usually the first thing that podcast users hear about when it comes to podcasting, making Apple the go-to platform for almost 40% of all monthly podcast listeners.
You should ensure that your show is listed on Apple Podcasts for the best chance of being found by new listeners.
Some people listen on Spotify or Amazon, so it's also good to be found in various places.
Marketing And Advertising
10. Ads for podcasts cost as much as $50 per slot.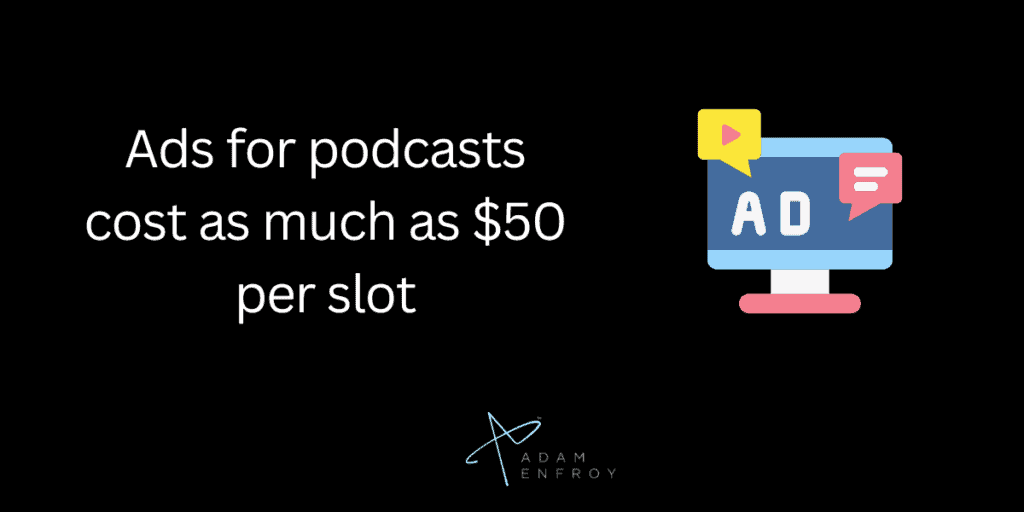 (Hubspot)
Advertising is a key element of any podcast.
While it might be expensive, the good news is that podcasting offers a very targeted way of reaching your listenership.
It's essential to remember that the price per ad slot varies based on how many people listen to a show and the advertiser's ad revenue value.
11. As much as 32% of all marketers find podcast advertising works and delivers the expected results.
(eMarketer)
Podcasting is no longer just for tech companies targeting geeky audiences.
Today, firms in all industries (including entertainment and finance) get good returns through podcast advertising.
As much as 32% of marketers see the value in podcast advertising.
It's not enough to get your podcast advertised.
You must ensure that your show gets repeatedly consumed by the right target audience.
Marketing your podcast is vital for success.
12. Social media accounts for 64% of podcasts' marketing.
(HubSpot)
Social media is by far the most important platform for marketing your podcast.
Social media allows you to reach the right audience, get feedback and build relationships with fans, resulting in more people listening to your show.
One of the best ways to get started is by building a following on Twitter, Facebook, or Instagram.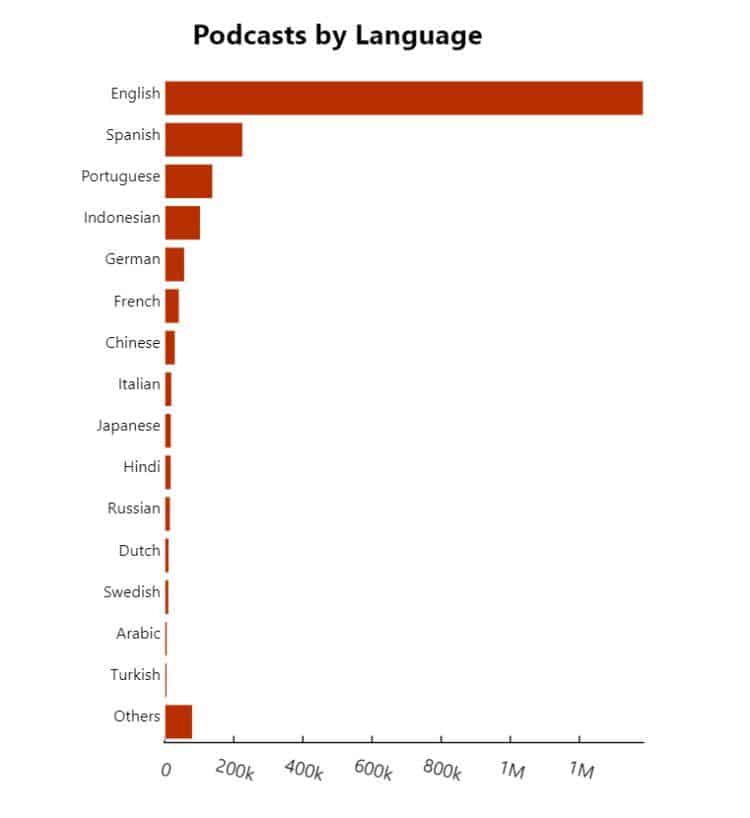 Image credit: Podcastpage.io
Podcast Topics
Having suitable podcast topics selected for your audience is critical to long-term engagement.
13. Podcasts that center around the business are better for sales.
(Music Oomph)
Business podcasts usually deliver tangible value for professionals and offer tips to help their listeners improve whatever issues they are facing.
They might not be as entertaining as other industries, but they tend to attract people needing this information.
As a result, those who advertise on these types of podcasts tend to find a higher success rate.
14. 36% – the percentage of people that say they can't find podcasts on subjects they want.
(Edison Research)
It's strange to imagine that there isn't a podcast on every topic you can think of – but it's true.
Alternatively, the issue might be that there are podcasts about topics one might be interested in, but they aren't easy to find.
Time Spent On Podcasts
15. Seven or more hours per week are spent listening to podcasts by the average person.
(Discover Pods)
Seven hours is the figure that most people spend listening to podcasts weekly.
Understanding your podcast analytics can help you know where to focus your efforts, ensuring that one-time listeners quickly turn into raving fans.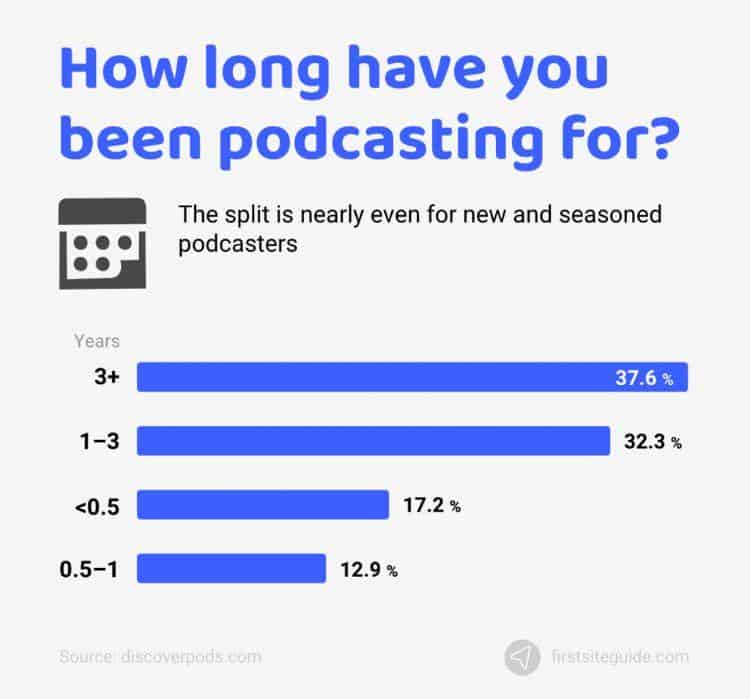 Image Credit: Firstsiteguide.com
The Critical Elements Of A Successful Podcast
To create a successful podcast, there are some key elements that you need to consider.
Target Market
Before you begin working on anything, you need to know who your market is and how to reach them.
It would help if you took some time and researched your market, creating a proper marketing plan that defined the right channels to promote your show based on where your audience usually hangs out.
An Idea For The Podcast
You must have an excellent idea for the podcast you're creating.
You should ensure that it is somewhat of an original idea and not something that has been done many times before.
Also, you must ensure your idea is attractive enough to get people's attention – and keep it.
A Recording Device
You should buy or hire the best microphone possible since the success of your podcast depends significantly on the sound quality.
Your microphone will discern critical elements such as tone and volume, so pick a professional-grade one from the beginning.
Although this may come as an added cost, you should know that the investment will yield dividends in the long run.
Podcast listeners are likelier to listen to your podcast with good sound quality.
In addition to the microphone you use, it is also advisable not to underestimate the importance of audio editing skills.
With audio editing, you can change your podcast's tone and mood and fix any mistakes the podcast host may have made during recording.
Also, with audio editing skills, you can create a more personalized soundtrack for your podcast and connect better with your audience from the first second.
Podcast Hosting Platform
To have your podcast available on the Internet, you must invest in the services offered by a podcast hosting platform.
Your audience will find out about your show and subscribe to it to receive all future episodes whenever they are published.
For this reason, you will need to spend some time researching the various options available for podcast hosting platforms.
You will find people who host their podcasts on their websites and those who choose to be hosted by a web-based hosting platform.
Understanding the pros and cons of each platform will help you determine which one is best for you.
Social Media Skills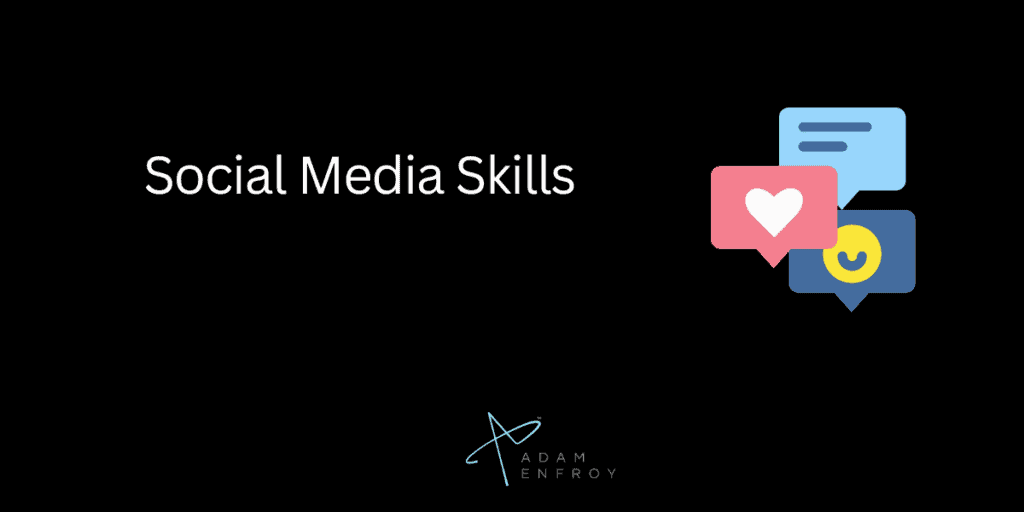 You will also need a social media presence to promote your podcast successfully.
Alternatively, you can reach out to influencers who would probably benefit from listening to your show and get them interested in subscribing for future updates through social media.
If they like what they hear, they will recommend you to their audience, resulting in the continuous building of your community.
It would be best to focus not only on building your social media presence.
You need to be aware that although it is essential, there are other channels to consider, including your website.
Some people will search for your name in search engines and expect a website that gives them all the information they need.
A Passion For The Topic
Podcast listeners tune in to a podcast because they are interested in the topic.
If your content is not attractive to listeners, they will not necessarily listen to future episodes.
You need to speak about a passionate interest in your podcast.
The podcast industry is filled with unpassionate podcasts about subjects hosts don't care about, so there's no point in adding another person to that list.
People who are just doing it without any passion are there to make money, and usually, a target audience can quickly recognize when this is the case.
Such an audience ends up abandoning such podcasts before gaining any momentum.
The Number Of Podcast Episodes
While some weekly podcast listeners are happy with just newly published episodes every week, others are more interested in the overall number of podcasts that you have available for them to listen to.
For this reason, you will have to decide whether or not your show is long enough to warrant being divided into seasons.
There are also monthly listeners interested in having new episodes every so often.
How many podcasts you create will depend on your niche and the general opinion of your podcast listeners.
Will The Podcast Be Profitable?
Various podcast consumers listen to a podcast simply because they enjoy it.
You must know the differences between making money from your content and earning brand awareness.
While both are important in sure regards, it's essential to be clear on what you're after the most before even thinking about investing time or effort into creating a podcast.
If you create a successful podcast, brands will likely sponsor your show to promote their products or services to your audience.
As such, if you are considering making money from your podcasts while also speaking about a topic you are passionate about, you need to understand that several websites online will be willing to pay you for your content over time.
Format Of The Podcast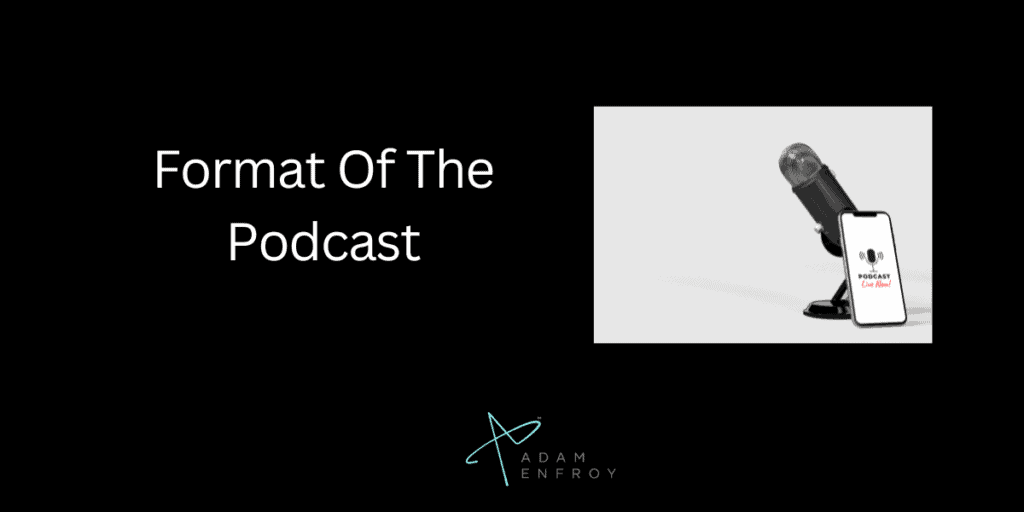 Different listeners have different preferences when it comes to audio quality and formats.
Some will only listen to audio podcasts, while others will watch video podcasts.
You need to understand your target audience and its preferred medium – ideally by observing what your competitors are doing in your niche.
With that in mind, be aware that several different podcast formats are available, and knowing these formats will help you choose the type of equipment you will need to create one.
Podcast Marketing
Running podcast ads is not easy and will also depend on the type of target audience that listens to your show.
For this reason, you should be sure of your podcast objectives before even thinking about investing advertising dollars into it.
The main goal of podcast advertising is to attract traffic from your podcast and generate income from these viewers.
Podcast listening is about quality content, not quantity; therefore, you must ensure that your podcasts are of the best quality to attract listeners.
Podcast Insights
Having the correct podcast stats for your market will help you understand your audience and what they want in a podcast.
Understanding various insights will create avid podcast fans who listen to one podcast episode after another without skipping parts simply because they get much value from your content.
If you have ever listened to a podcast and stopped half way because you lost interest, you probably know what I'm talking about.
Very few businesses can say they have mastered the art of understanding their listener's insights better than any other business in their industry.
If you can do this, you'll be head and shoulders above any competitors you might have.
Different Podcast Genres To Consider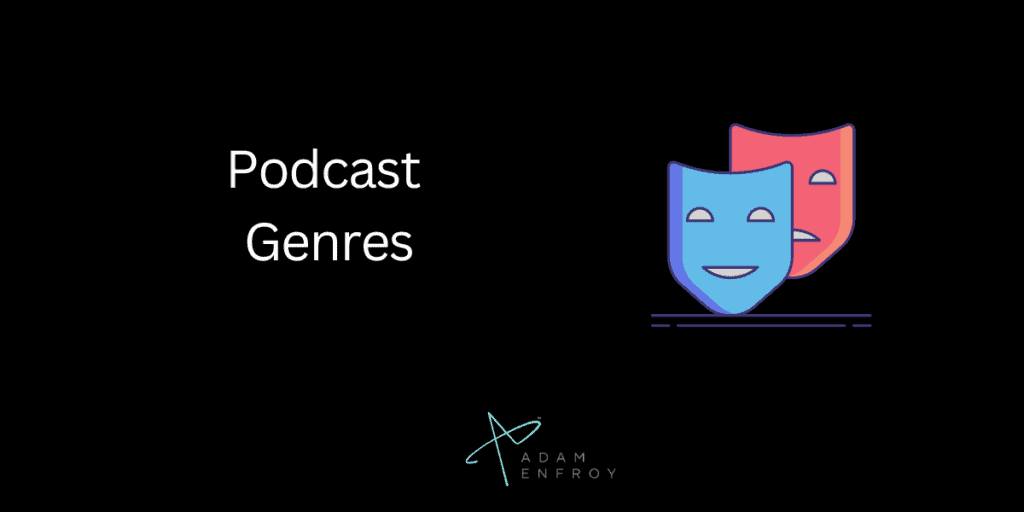 While music and entertainment podcasts are two of the most popular podcast types, several other podcast genres exist in the marketplace.
These include:
Cooking podcasts: If you are passionate about cooking, why not start a podcast with recipes for your listeners?
Technology podcasts: Technology is one of the most popular topics, so it is no surprise that there are several technology nerds out there who are always on the lookout for new tips, tricks, and hacks to improve their skills with state-of-the-art technologies.
Sports podcasts: Sports fans love sharing their passion for their favorite sports. And what better way to share your thoughts than through a podcast that only talks about your favorite sport?
Comedy podcasts: Podcast fans are very open-minded about topics they are willing to listen to as long as it is interesting enough. Given the number of comedy podcasts available today, this is one of the most popular podcast genre options.
Political podcasts: Politics has always been a topic that interested people. Whether you are for or against a particular political ideology, why not start a podcast and build a loyal fan base around what you have to say?
Education and technology: There is so much to learn and teach, but not everyone has the time to return to college and graduate. Many people wish to help others learn about a specific topic but lack the experience or willingness to sit for a college degree (or higher) required to teach formally. A podcast might be the ideal solution for both types of people.
True Crime: This genre features podcasts that discuss criminal activities and police investigations. Unlike other crime fashion shows on TV, this is a more profound perspective of actual crimes committed.
Money: Recent household income during the pandemic wasn't ideal for many families, making money one that people are interested in. This topic increased in popularity last year, with many influencers turning to podcasts to create their money show.
Relationships: Being in the right relationship is a crucial aspect of life, and many people feel like they can relate with others on this topic. Americans listen to various relationship podcasts to help them find the perfect partner or help strengthen their current relationships.
Consider that some podcasts are age group dependent, meaning that delivering podcasts monthly, weekly, or even more frequently means that these podcast listeners listen and tune in when new content is out.
This happens simply because the host aims different shows to a specific age group.
Monthly podcast consumers are increasing due to the busy life that many people lead.
If this is your audience, catering to their needs is essential without overwhelming them.
Technology's Help In Podcasting
Google Home and smart speakers are two technologies that have revolutionized our lifestyle.
The number of podcast listeners has increased in recent years due to smart speaker ownership, with users appreciating the ability to listen to podcasts from anywhere in their homes.
Technology also helps when it comes to finding a topic you're interested in.
For example, more than two million shows are found on Google Podcasts, with forecasts stating that this number isn't slowing down anytime soon.
In addition, big research companies such as Statista and The Infinite Dial spend a lot of time understanding various podcasting trends, meaning you can trust the numbers they put out.
The Future Of Podcasting
Here are a few ideas that might become a reality shortly.
Blurred Podcast Formatting Standards
The future of podcasting promises to bring a more enhanced listener experience as boundaries between formats blur.
Voice technology and interactive platforms are driving the trend toward a more engaged audience, and new technology is making it easier for listeners to personalize their content.
Mobile devices are introducing innovative ways for users to interact with podcasts, such as touch-screen controls or voice commands that allow users to control playback speed, move around inside an episode or search for specific topics.
Furthermore, the proliferation of connected devices creates opportunities for podcasts to be accessed in the home through smart speakers.
With these advances, podcast creators have more opportunities to capture their audience's attention and creatuniquele content.
More Use of Podcast Videos
Podcast videos are starting to become increasingly popular.
This format offers a more interactive experience for the listener, allowing them to engage with the content visually while taking advantage of the audio's engaging qualities.
Videos may also create interactive elements within an episode or even embed dynamic ads that can be personalized and targeted to specific listeners.
To get ahead in the podcasting game, creators must be prepared to adopt and explore these new technologies.
As demand for more interactive content increases, so will the need for innovative ways to engage with listeners on a deeper level.
The future of podcasting is exciting, and only time will tell how far we can go!
More Use of Social Platforms
As podcasts become increasingly popular, more users turn to social media platforms like Instagram and YouTube to share their favorite episodes or series.
This trend has created a larger platform for podcast creators to reach potential listeners — which can be invaluable in marketing any new show.
Some podcasts use exclusively social media content to drive fans' engagement and build awareness around their show.
Wrap Up.
The above podcast listener statistics indicate a vast market out there.
If you have been thinking of starting a podcast, now is the time.
By following the above podcast stats, you can start your podcast and build a following of loyal listeners.
Most importantly, ensure you have a plan of action to market your podcast to ensure you get the results you're after.
After all, having a podcast with zero listeners isn't beneficial for anyone involved.
What's your favorite podcast right now? Have you ever started your podcast? Let me know in the comments below.
Further reading on AdamEnfroy.com: Here are some reviews of the top podcast hosting platform to consider:
Editorial Process:
Our reviews are made by a team of experts before being written and come from real-world experience. Read our editorial process here.
Some of the links in this article may be affiliate links, which can provide compensation to us at no cost to you if you decide to purchase a paid plan. These are products we've personally used and stand behind. This site is not intended to provide financial advice. You can read our affiliate disclosure in our privacy policy.
---
Last Updated on September 11, 2023 by Adam Enfroy