Digital Marketing: What It Is, Its History, and How to Get Started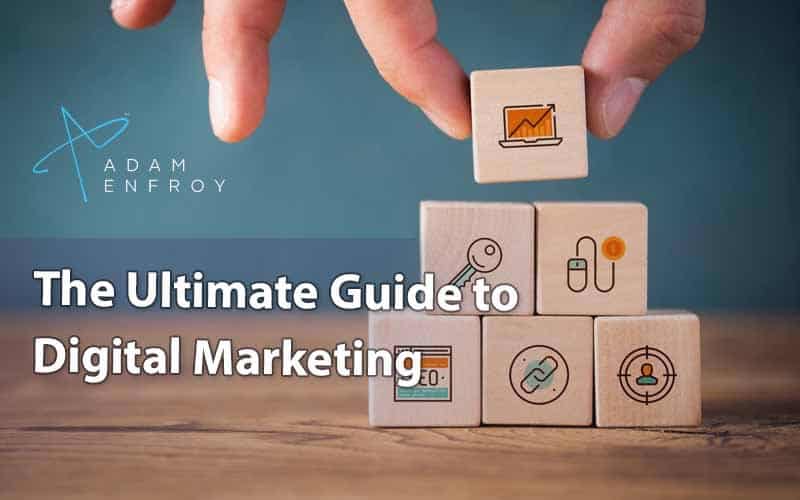 You hear the term digital marketing all the time.
And not just that, you experience digital marketing every day.
Every time you go online, someone is trying to directly or indirectly sell you a product or service.
Today, businesses simply can't thrive without online marketing. Brands need to leverage digital marketing strategies to generate sales, which are increasingly moving online and direct-to-consumer.
The global digital advertising market is projected to hit $355 billion in 2020 and most of this spend takes place on the major advertising platforms.
And looking into the future, the trend is showing more upward mobility.
Global digital ad spend will make up 60.5% of total media spend by 2023: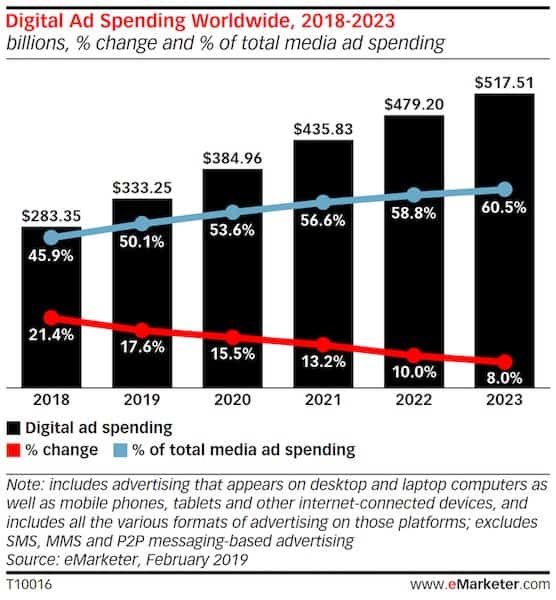 With the explosion of internet-enabled devices, businesses are increasingly adopting digital marketing strategies, including SEO, social media marketing, PPC, email marketing, and more.
According to another study, 36% of marketers are trying to integrate traditional and digital marketing strategies.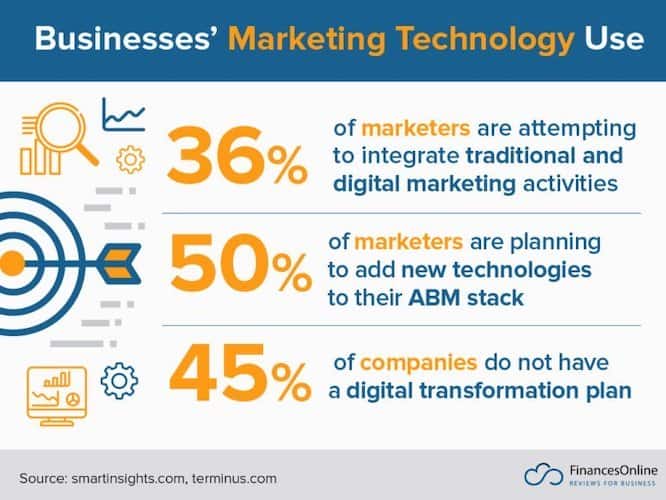 Luckily, this rise in digital marketing is beneficial for businesses small and large. After all, digital marketing allows companies to:
Reach their target audience wherever they are.
Use data to observe their online behavior.
Use analytics to understand which marketing messages to send them.
Whether you're new to digital marketing or just getting your feet wet in the digital marketing world, this comprehensive guide is for you.
We'll cover everything you need to know about digital marketing, including what it is, its history, and how you can start using it to your advantage.
First, what is digital marketing exactly?
What is Digital Marketing?
Digital marketing is an umbrella term for promoting and selling products or services using online marketing strategies.
Here are some of the essential areas of any digital marketing strategy:
Content Marketing
Email Marketing
Search Engine Optimization (SEO)
Social Media Marketing
Pay-Per-Click (Paid Ads)
Affiliate Marketing
These digital marketing elements help you reach your customers wherever they are, engage with them, and encourage them to purchase something from you. You create brand awareness, generate leads, convert new buyers, build trust, and increase sales.
Types of Digital Marketing.
Essentially, digital marketing encompasses six different modes, including:
Search Engine Optimization (SEO)
Social Media Marketing
Content Marketing
Pay-Per-Click
Email Marketing
Affiliate Marketing
Let's look into all these types of marketing in a bit more detail:
1. Search Engine Optimization (SEO).
SEO is the process of increasing the quantity and quality of traffic to your site via organic search engine results.
Your main purpose is to attract as many visitors as possible to your site. At the same time, you want them to be genuinely interested in your products or services.
SEO helps you gain organic traffic from search engine results pages (SERP) – the traffic you don't have to pay for.
Search engine rankings include numerous factors like content quality, page speed, mobile-friendliness, and backlink profile (Domain Authority).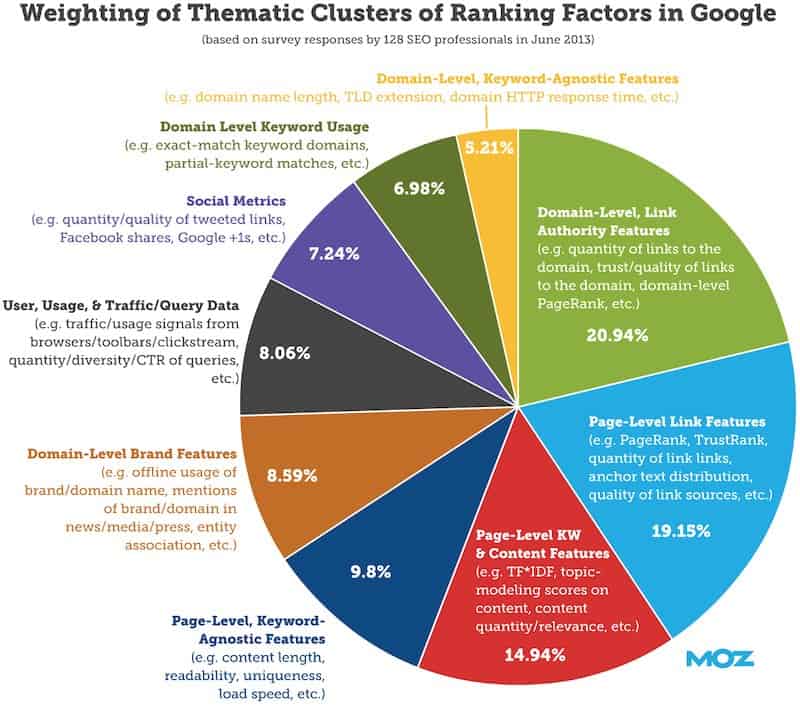 If you want to read about SEO in more detail, you can read my guides here:
2. Social Media Marketing.
Social media marketing requires the use of social media platforms to engage with your audience and promote your products and services. It helps you reach new customers, build brand awareness, increase website traffic, and sales.
Some of the leading social media platforms include Facebook, YouTube, Instagram, LinkedIn, Twitter, etc.
Facebook is at the top – with 2.498 billion active users as of April 2020.
Your social media marketing strategy can include publishing content on your social media profiles, engaging with your followers, examining your results, and running ads and campaigns.
But to get it right, you have to execute your social media strategy in four stages:
Listening
Influencing
Networking
Selling
3. Content Marketing.
Content marketing involves the process of planning, crafting, distributing, sharing, and publishing relevant content to reach your audience.
It's also the most effective online tactic used in a digital marketing strategy.
In a recent survey, 58% of participants put content marketing at the top of their list in terms of effectiveness.
Businesses use content marketing to achieve various goals, including:
To increase brand awareness
Educate their audience
Build credibility/trust
Generate leads & sales
Engage with potential customers to nurture leads
And more
Some of the most popular content marketing channels that you can incorporate in your strategy are:
Blogs
Infographics
Social media
Podcasts
Whitepapers
Videos Paid ads
My favorite form of content marketing is building traffic to a blog, like this one. Check out my guide to learn how to start a blog like a business for more details.
4. Pay-Per-Click (PPC).
Pay-per-click (PPC) is an online advertising model wherein advertisers pay a fee every time someone clicks one of their ads. Essentially, it's a way of purchasing visits to your site instead of earning organic traffic.
Businesses use PPC to obtain instant traffic and target and retarget audiences. Moreover, paid traffic lets you control the direction of your traffic and measure your efforts. Your audience also benefits from PPC as it gets easier for them to find the information they are searching for.
In fact, statistics indicate that customers are 70% more likely to convert on your site after seeing your retargeted ad.
Google Ads, Facebook, Pinterest, LinkedIn, YouTube, Quora, and Twitter ads are some of the most popular platforms for paid traffic.
Google Ads is the most popular and lets you pay for the highest slots on Google's SERPs at a set price per click based on an auction setting.
You can also use PPC on other channels like:
Facebook Ads: With Facebook paid ads, you will pay to customize an image post, video content, or slideshow. Facebook will then publish it to the newsfeeds of the audience who match your business's target audience. The main draw of Facebook Ads is their powerful demographic targeting, including showing ads to users based on geographic area, purchase history, age, gender, interests, and more.
Twitter Ads: To use Twitter ads, you pay to place a series of posts or profile badges on targeted audiences' news feed. Depending on your goals, you can gain more website traffic, Twitter followers, app downloads, etc.
LinkedIn Sponsored Messages: While using LinkedIn sponsored messages, you will be paying to send direct messages to LinkedIn prospects to spark immediate action. These are best for B2B companies with high-end offerings and ads that include case studies, white papers, and product demos are a great option.
Ideally, you might want to start with Google and Facebook ads first since these sites together drive about 80% of total referral traffic.
PPC and any type of paid advertising really, are commonly done by and managed by digital marketing agencies that specialize in doing only that type of service.
5. Email Marketing.
Email marketing is a form of direct digital marketing that involves sending emails to potential customers to promote your products or services. It can also play a pivotal role in improving relations with current customers, keeping customers informed, or reaching out to potential customers.
You can send many different types of emails, including:
Newsletters emails
New product announcement emails
Customer welcome emails
Purchase confirmation emails
Abandoned cart emails
Emails loaded with information for customer nurturing
Follow-up emails
Promotional emails
Review request emails, and more.
With a massive return of interest (ROI), Email marketing is also one of the most cost-effective digital marketing strategies.
When using email marketing software, you can expect an average ROI of $44 for every $1 you spend.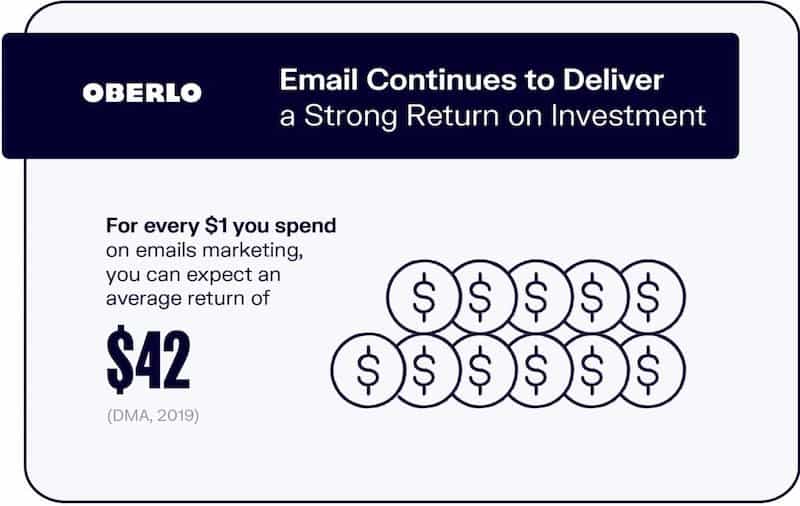 As a result, many businesses still rely on email marketing for both customer acquisition and retention.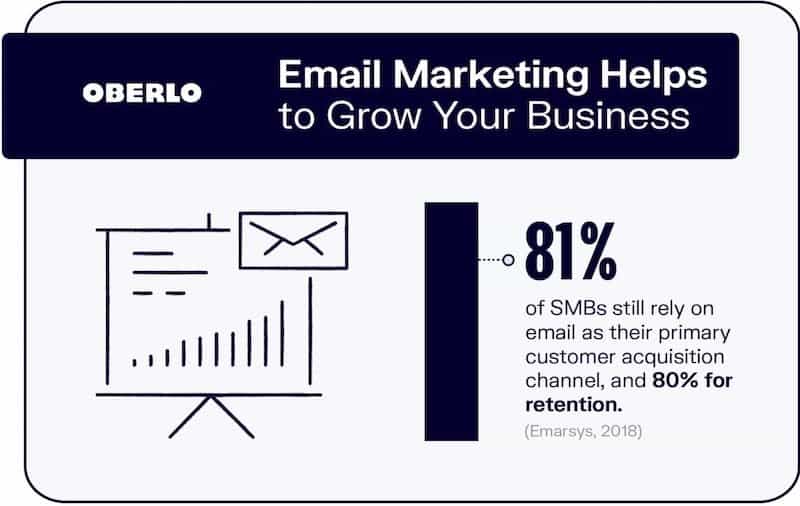 And if you add videos to your emails, you will see even better results. Statistics indicate that interactive emails increases click rates by 300%.
Here's a list of some standard email marketing practices:
Use welcome emails to build strong customer relationships
Send emails at the right time (9-11 am and 3-5 pm tend to have the best email open rates)
Use a memorable sender name
Create engaging content for better click-through rates
A/B test your email campaign before sending
Avoid spam folder
And more
6. Affiliate Marketing.
Affiliate marketing involves the process of promoting other companies' products and getting paid for it when someone purchases through your affiliate link.
As an affiliate, you can search for an affiliate program or a product you like, promote it, and earn a commission for each sale.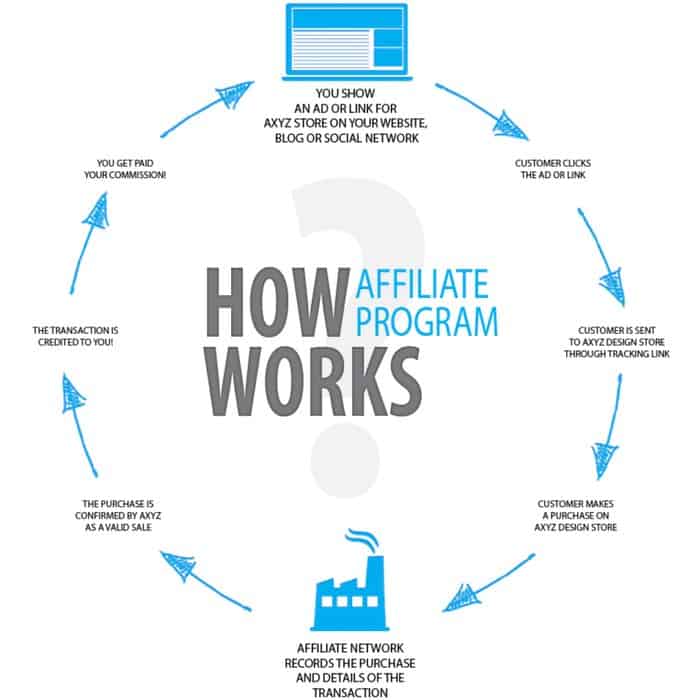 Affiliate marketing is cost-effective for your business as it's performance-based since you only pay your affiliates based on the sales. It also helps you broaden your audience, improves your reputation, scales your traffic, and eventually drives sales.
Some common affiliate marketing channels include:
Influencers
Bloggers
Email lists
Large media websites
YouTubers
Paid search focused microsites
Statistics indicate that 81% of marketers and 84% of publishers use affiliate marketing.
And this digital marketing strategy is showing fast growth with no signs of slowing down.
The History of Digital Marketing.
The history of digital marketing dates back to the 1990s when the term was first coined. That said, you can't separate it from technological advancement.
A notable point in the start of was in 1971. This year, Ray Tomlinson sent the first email. And this technology established the platform that allowed businesses and individuals to send and receive files via different machines.
But Digital Marketing got officially recognized in 1990 – the same year in which the search engine, Archie, was created as an index for FTP sites.
1990 – Coinage of the term Digital Marketing.
The term digital marketing got coined in 1990. In the same year, Tim Berners-Lee developed the Web 1.0 platform.
The Web 1.0 platform refers to the first stage in the World Wide Web that limited users only to find the information they were searching for. They weren't allowed to share this information over the web.
1993 – The first clickable banner went live.
The first clickable banner went live. After that, HotWired became the first company to buy some banner ads for their brand's advertising.
About 44 percent of people who saw the ad actually clicked on it. This began a steady foray into the digital marketing and advertising era.
1994 – Yahoo launches.
New technologies began to enter the market.
In the same year, Jerry Yang launched Yahoo, also known as Jerry's Guide to the World Wide Web, after its founder. Yahoo was successful from the start receiving nearly 1 million hits within the initial year.
Consequently, companies started to optimize their websites to rank higher in search engine results.
1995 – LookSmart got introduced.
In 1995, Martin Hosking, Evan Thornley, and Tracy Ellery launched a new search engine called LookSmart. LookSmart is a search advertising, content management, online media, and technology company.
1996 – Launch of Alexa.
Initially, Alexa was founded by Brewster Kahle and Bruce Gilliat as an independent web analytics company in April 1996.
The tool became a huge success and started providing context for each site visited. Alexa also began to archive web pages after crawling them using automated "web crawlers" or "bots."
In 1999, Amazon acquired Alexa for approximately $250 million in Amazon stock.
1998 – Public launch of Google.
Larry Page and Sergey Brin publicly launched Google to market Google Search.
In the same year, Microsoft launched the MSN search engine, and Yahoo introduced Yahoo web search.
2002 – LinkedIn launches.
Reid Hoffman founded LinkedIn in December 2002 – making it the first-ever business-oriented social networking platform. It's primarily used for professional networking, job posting by company, and by job seekers.
LinkedIn became wildly popular in the B2B marketing space. Statistics indicate that as of 2017, 94% of B2B marketers use LinkedIn to distribute content.
2003 – Myspace and WordPress launch.
Myspace launched in 2003, an American social networking platform. It eventually surpassed Yahoo and Google to become the most visited website in the US. However, in April 2008, Facebook overtook Myspace in terms of unique worldwide visits.
In the same year, American developer Matt Mullenweg and English developer Mike Little introduced WordPress. WordPress is one of the most widely used CMS globally, used by over 75 million websites globally.
2004 – Use of the term Web 2.0 at a public conference.
O'Reilly Media uses the term Web 2.0 at a public conference. Web 2.0 enabled users to actively participate by performing actions such as commenting on published articles, creating website user accounts or profiles, etc.
In the same year, Mark Zuckerberg launched Facebook. Facebook eventually became one of the most popular social media platforms, with 2.50 billion monthly active users in April 2019.
Google also released Gmail on April 1, 2004. Gmail is a free email service that lets you receive and send emails of up to 50 megabytes in size.
2005 – YouTube launches.
YouTube got launched by three PayPal employees (Chad Hurley, Steve Chen, and Jawed Karim) as a video-sharing website.
By March 2006, YouTube had over 25 million videos uploaded and was generating around 20,000 uploads within a day.
Seeing this tremendous success, Google acquired YouTube on October 9, 2006, for $1.65 billion in stock.
Today, YouTube accounts for 2 billion users worldwide.
2006 – Search engine traffic exceeds 6.4 billion a month.
2006 saw notable advancements in the digital marketing world. The search engine traffic saw a growth of about 6.4 billion in one month.
Microsoft also introduced Live Search to compete with Yahoo and Google.
In the same year, Jack Dorsey launched Twitter – one of the popular social media platforms today.
As of 2020, Twitter has 330 million monthly active users and 145 million daily active users. Moreover, statistics indicate that Twitter users spend 26% more time with ads than other social media users.
2007 – Marketers started using automation tools.
Marketing automation got promoted to keep up with the fast pace of the world wide web.
By this time, companies started to use more sophisticated digital marketing products like marketing automation software.
These tools started to automate conventional processes like lead segmentation, launching multichannel marketing campaigns, and providing personalized information to customers.
2009 – Google made changes to AdWords.
Google made substantial changes to its AdWords program. Now you could measure your conversion rate that occurred within 30 days of your ad placement, but without obtaining any clicks.
In the same year, Google introduced a new feature to its AdSense program – providing you with the ability to "enable multiple networks to display ads."
2010 – Instagram launches.
Kevin Systrom and Mike Krieger launched Instagram, a photo and video-sharing social networking platform, on iOS in October 2010.
Instagram gained around one million registered users within two months of its launch and 10 million within a year. And as of May 2019, Instagram accounts for 1 billion registered users.
Since then, Instagram has become pivotal in the digital marketing space. Studies suggest that 200 million IG users visit at least one business profile daily.
The same year, digital media growth was estimated at 4.5 trillion online ads served annually. And at the same time, digital marketing expenditure stood at a 48% growth in 2010.
2011 – Google Panda launches.
First released in February 2011, Google Panda brought a significant change in Google's search engine ranking algorithm.
It aimed to lower the ranking of "low-quality sites" and rank "higher-quality sites" near the top of the search results. Reportedly, this influenced the Google search ranking of about 12 percent of search results.
2014 – Surge in the number of mobile users.
This year saw a surge in the number of mobile users, which was expected to be 1.75B by 2014.
2014 also saw the launch of the Facebook messenger app and iWatch.
2015 – Snapchat introduces its Discover feature.
Snapchat introduced its Discover feature, a daily feed comprising content from brands like ESPN, National Geographic, Yahoo News, etc.
In the same year, several other new technologies like predictive analytics, content marketing, and the wearable tech got invented.
Another significant breakthrough in the field of digital marketing is the cookie. The first cookie was designed to record user habits. However, its use changed drastically over the years. Today, companies and marketers use coded cookies to collect accurate user data in several ways.
The digital marketing industry is ever-evolving. Currently, some of the trending technologies include chatbots, voice search, augmented reality (AR) and virtual reality (VR) ads, AI, and machine learning.
The Impact of Digital Marketing.
Digital Marketing has a remarkable impact on customer interactions, purchases, work, and habits.
In this digitally driven world, where the number of internet users worldwide is about 4.13 billion, businesses can't afford to neglect online marketing campaigns.
Digital marketing works to connect business to its target audience via digital mediums like online content, social media, email marketing, etc.
Here are some of the most significant impacts of digital marketing on businesses and brands:
1. Connecting to the target audience directly.
Many digital marketing channels help you connect with your customers and potential clients via private messaging and one-to-one conversations. This is in contrast to offline marketing, where you have to spend a lot of money to place banners and ads.
With digital marketing, potential customers can directly see your content since you can promote your brand in their inbox or social profiles.
Naturally, small and mid-sized businesses are the biggest beneficiaries of digital marketing.
For instance, social media marketing allows SMBs to promote products and services by interacting with the audience publicly or via private messages.
Therefore, 96% of small businesses use social media in their marketing strategy.
Plus, about 90 million small businesses use Facebook services like Pages, Groups, and Facebook Messenger.
2. Evolution of brand transparency.
Today, more than ever, consumers demand transparency from a business. Luckily, digital marketing makes it easier to be transparent and put forth the company's ethos.
Here are some statistics that reinforce the importance of transparency in this age of digital marketing:
A study found out that 94% of consumers are more likely to stick with a business that offers transparency.
66% of consumers consider transparency to be one of the most attractive qualities in a brand.
73% of customers would be keen to pay more for a product that offers transparency.
Customers are willing to recommend a brand to acquaintances if a brand is transparent. In fact, 31% of online buyers share something positive about the brands that exude transparency.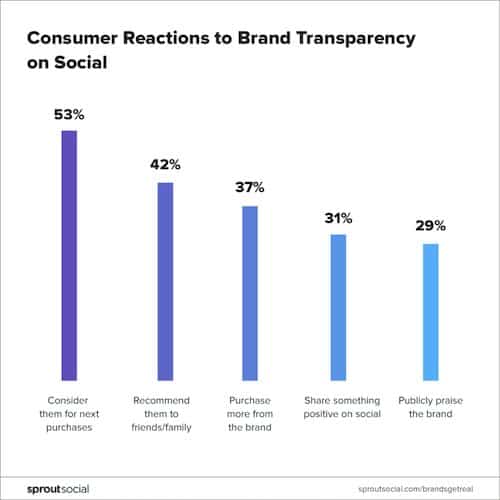 Digital marketers understand this and keep their audiences informed with relevant and truthful information.
3. Creating a new class of influencers.
Social media and video channels like YouTube made it possible for ordinary people to become influencers.
These online influencers have a niche follower-base of their own and hold power to sway your target audience to purchase your product.
As a result, businesses no longer have to pay millions to celebrities to endorse their products. They are now hiring micro-influencers to spread the word around and get people interested in their products.
Influencers also add a dash of intimacy to a brand since they don't endorse one product outright. They're like friends who interact with their followers and recommend products in a personal way.
That's why 70% of teenagers relate to niche influencers more than big celebrities.
Even big brands are now leveraging these new influencers to persuade and engage customers.
Daniel Wellington is probably the most prominent example of influencer marketing. Instead of hiring big celebrities, DW hired micro-influencers to promote their watches.
As a result, Daniel Wellington is one of the most recognized brands with revenue of around $220 million as of 2015.
4. Businesses started to take a more personalized approach.
Digital marketing fostered the need for authenticity and a humane approach to marketing.
Here are some quick statistics to show the importance of a personalized approach:
79% of clients only engage with customized offers that reflect past interactions they might have had with the brand.
63% of millennials, 58% of Gen Xers, and 46% of Baby Boomers are likely to share their personal details with a brand if they receive a personalized offer or discount.
Today, both small and large businesses are trying to build customer trust first before pitching their product.
For instance, Apple conducts live-streamed events on social media channels – resulting in millions of people supporting their products even before the launch.
5. Customers now expect instant results.
Online buyers are impatient, and they want fast information and results. And with so many options available, they might abandon your landing page if it doesn't appear right away.
Studies indicate that a 100-millisecond delay in site load time can reduce your conversion rates by 7%.
Moreover, millions of mobile users look for products on various ecommerce sites and make instant decisions. Studies indicate that 70% of smartphone users take action within an hour.
Thus, it's equally essential to deliver fast results as relevant or valuable content.
6. Understanding customers better.
Digital marketing allows businesses to gain an incredible amount of knowledge about their customers.
Understanding customers better can help businesses optimize customer experience, gain new customers, and foster customer loyalty.
According to statistics, 56% of customers stay loyal to brands who understand them better or "get them."
Luckily, there are plenty of data visualization tools like Google Analytics, Facebook audience insights, and Zoho Analytics to get in-depth insights about your targeted audience.
As opposed to traditional marketing, digital marketing provides comprehensive reports with exact numbers.
Thus, businesses can determine how their strategies are performing and what they need to adapt for better results. Since they get measurable results, business owners can streamline their processes and put more effort into the areas that are providing desirable results.
Advantages of Digital Marketing.
Digital marketing is crucial today regardless of the type of business you own.
It has many different benefits, including:
It's cost-effective
Allows one-to-one communication
Improves customer service
Enables businesses to target specific customers
Achieves higher conversion rates
Allows companies to use new marketing channels
Create and automate multichannel marketing
Let's dig into some of the significant advantages of digital marketing one by one:
1. Low cost with higher returns.
Cost-efficiency is one of the most significant factors where digital marketing has an edge over traditional marketing.
You can start with content marketing, even on a shoestring budget. A business can't think about doing digital marketing without implementing a great content marketing strategy.
First, start your blog and post content once a week. Writing your blog posts on your own would even save you a lot of money.
As per statistics, 90% of organizations utilize content in their marketing efforts.
Content marketing also costs 62% less than traditional marketing – while generating about three times more leads.
Like content marketing, businesses that employ email marketing also enjoy plenty of benefits at a low cost. Email marketing helps generate leads, sales, deliver targeted messages, boost revenue, create brand awareness, etc.
Statistics show that email marketing has a 4200% ROI ($42 for every $1 spent).
Therefore, many companies actively leverage email campaigns. According to a survey report by Adobe, 52% of companies say that email marketing is their primary communication tool.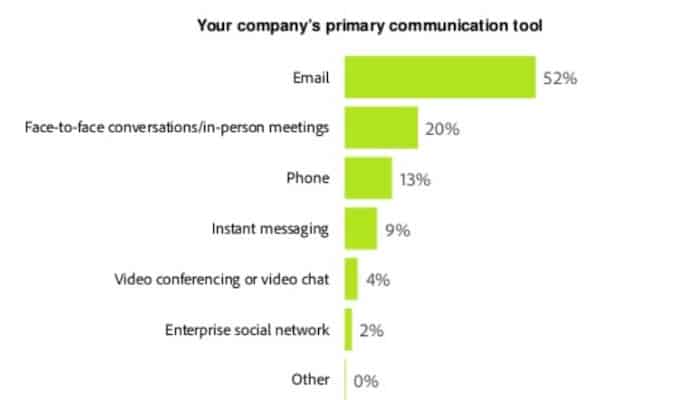 2. Personalized communication.
With the help of data analysis, digital marketing makes it easier to post personalized content and send out messages tailored based on customer traits.
Personalized communication is key to making customers happy, engaging them personally, and driving sales.
A Gartner survey shows the positive impact of personalization on customers:
62% of customers say that personalization helps them get a better deal
49% believe that personalization is time-saving
46% of respondents were able to extract the information they didn't have before
45% say that their purchase process got easier
When Infinity Nation and Meteor Electrical implemented a personalized email campaign, they could re-engage previous customers and persuade them to buy again and boost sales.

The company leveraged three critical elements to create personalized email campaigns:
System integration
Conditional content
Customer data
The email campaign resulted in an incredible 177% higher open-rate and generated £106 on an average per re-engaged customer.
3. Earn customer's trust and build a brand reputation quickly.
Offering high-quality products or services is not enough to gain your customers' trust, especially if you are a new business. However, digital marketing can help you build customer trust quickly if you take advantage of the right channels.
For instance, you can use social proof to convince the customers to purchase a product or service. Your social proof can be social media followers, blog posts, endorsement by an influencer or celebrity, and customer reviews.
BuzzSumo relies on customer testimonials to show how their existing customers are benefiting from its products.
Such type of social proof not only popularizes your brand but also generates more quality leads and increases sales.
Today, customers read at least ten customer reviews before purchasing a product. Moreover, customer testimonials are likely to increase your conversion rate by 34%.
4. Better customer service.
Customers will be more willing to buy from you if you provide superior customer service. A study found that buyers are willing to spend 17% more on brands that offer outstanding customer service.
Another report suggests that 78% of consumers are likely to back out of purchase due to poor customer experience.
Digital marketing can boost customer service to a large extent. You can utilize social media platforms and chatbots to communicate with your audience in real-time and solve issues quickly.
Plus, you can implement self-service and automation to support increasing customer demands. Self-service makes it easier for customers to solve their service issues on their own.
Here are some eye-opening stats that show the importance of automated self-service:
According to a report, 73% of customers wish to solve issues on their own while shopping.
70% of customers expect businesses to include a self-service application on their site.
More than 60% of US consumers prefer an automated self-service for simple customer service tasks.
5. Rank higher in search engines.
Your business' blogs or pages can get high search engine ranking and readership by implementing the right content marketing and SEO strategy.
For example, you can target long-tail keywords and topics likely to be searched by your customers. It's equally important to post good quality and relevant content.
Businesses are also turning to voice search optimization. In fact, it's slated to be one of the next big things in the digital marketing industry.
Studies estimated that in 2020, 50% of all searches will be conducted via voice searche.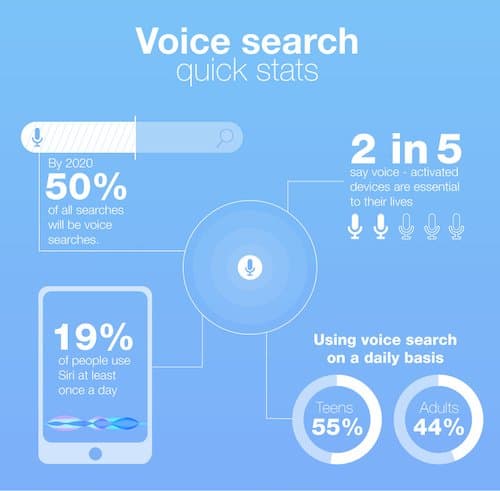 And why not? Voice search is more convenient for certain searches at home or on the go, and you can use it to research products and local businesses.
6. Measure marketing campaign results.
A significant benefit of a digital marketing strategy is the ability to measure your marketing results.
When you conduct marketing campaigns, each campaign offers a tracking system. You can track results and check whether your efforts are paying off or not – whether you are running a social media campaign, email campaign, or search engine optimization (SEO) campaign.
For instance, tools like Google Analytics enable you to monitor your SEO performance by tracking key metrics like impressions, clicks, shares, comments, conversions, etc.
You can thus improve your campaigns and know what works for your business and what doesn't. Also, knowing how your campaign is performing while it's still running allows you to optimize it in between.
7. Target a specific audience.
The ability to target specific audiences online is another significant benefit of digital marketing.
You can reach out to buyers who are specifically interested in your company, services, or products, without wasting time persuading looky-loos.
Buyer personas can help you in this area. You can gather buyer personas (made-up representations of your ideal customers) from your contacts database, using form fields, interviewing prospects & customers, advertising, etc. Once you collect these personas, you can use them to target potential customers.
Finally, you can implement digital ads to target a specific audience to see better results.
For instance, if you use Facebook, you can get extremely specific and define your audience by traits such as age, gender, interests, hobbies, occupation, etc.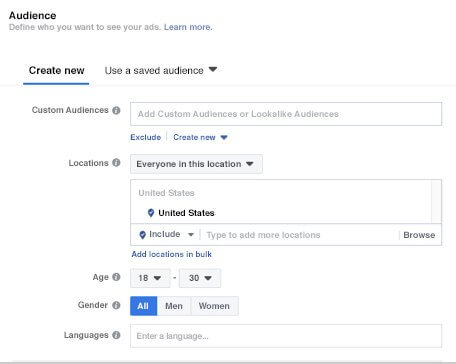 This narrows your focus, and you spend your budget more effectively to acquire quality leads.
8. Improve as you go.
With digital marketing, businesses can make changes as they go. You can also make changes whenever something is not working out as planned.
For instance, you can tweak PPC campaigns, optimize SEO campaigns, or modify your content whenever required to drive the best results.
Disadvantages of Digital Marketing.
Digital marketing, too, has its disadvantages. It's essential to know them so you can implement digital marketing fully armed with knowledge.
Here are some of the downsides to digital marketing:
1. Global competition.
You can indeed reach a global audience with digital marketing. At the same time, you'll also have to compete against global marketers.
It's challenging to stand out against competitors and to get attention among the many brand messages globally.
2. Negative feedback can damage brand reputation.
When you take your business online, audiences are bound to leave feedback, both positive and negative. Naturally, your brand's reputation can go downhill if you get a lot of negative feedback.
A study points out that one negative review chases away 22% of prospects, which amounts to about 30 customers. To combat this, there are plenty of reputation management tools you can use.
3. Security and privacy issues.
You have to follow different legal rules and regulations while collecting and using customer data for digital marketing purposes. Plus, there is always the fear of your website and your customers' data getting compromised.
4. It often requires patience.
Optimizing your online advertising campaigns or creating lots of content can't happen overnight. It might take a lot of time, so you will have to remain patient to see results. On top of that, you will need to measure your results to secure an excellent ROI.
The Future of Digital Marketing.
Digital marketing is continually evolving. And your business might lag if you don't stay abreast of the latest trends.
So, what is going to be the future of digital marketing? Things like voice search, AI and automation, personalization, and influencer marketing are likely to take the lead.
Let's look at them one by one.
1. Artificial Intelligence (AI) and automation.
Many surveys and research predict the importance of AI in digital marketing.
In a survey where participants were asked why businesses require AI, 84% said that it allowed them to gain a competitive edge – while 75% said that AI would open up new business opportunities.
Businesses will also use AI increasingly to reduce costs and to match supply and demand.
Marketing automation is already in use on a large scale.
In the year 2016, 71% of companies were already implementing marketing automation.
And according to EmailMonday, spending on marketing automation tools might reach $25.1 billion annually by 2023.
Marketing automation is useful for lead generation and conversion, increasing sales, improving customer experience, etc. Businesses just have to know when to use it and when not to.
2. Voice search.
Voice search is growing in popularity owing to smart speakers and assistants like Siri and Alexa. As a result, many companies are optimizing for voice-based search.
Voice-based shopping expenditure is expected to hit $40 billion in 2022.
And by 2024, the worldwide voice-based smart speaker market might also reach $30 billion.
Businesses should now focus on providing the most accurate answers. At present, Google Home offers the most accurate answers – answering 81% of the questions correctly.
Other factors to focus upon are personalization, compatibility and integration, touch interaction (merging of voice and visual displays), and security.
3. Social media.
Experts believe that marketers will become more dependent on social media tools to automate, scale, and engage more effectively. But simultaneously, they will be working on becoming more human, trustworthy, and transparent.
Businesses who want to reach out to a vast global audience and engage with them can't ignore social media. It is where the customers are present.
If you look at the stats, there are 3.5 billion social media users globally (as of 2019) – a 9% increase from the previous year.
And Facebook is the most widely used social media platform.
Many marketers like to advertise on platforms like Facebook since the chances of videos becoming viral are high.
Experts also predict that videos are going to be more popular than ever before.
According to statistics, the average person will spend 100 minutes every day watching online videos in 2021 – a 19% increase from 2019.
4. Chatbots.
The popularity of live chat software and chatbots continues to grow, along with the demand for more enhanced customer experience.
Here are some use cases for chatbots: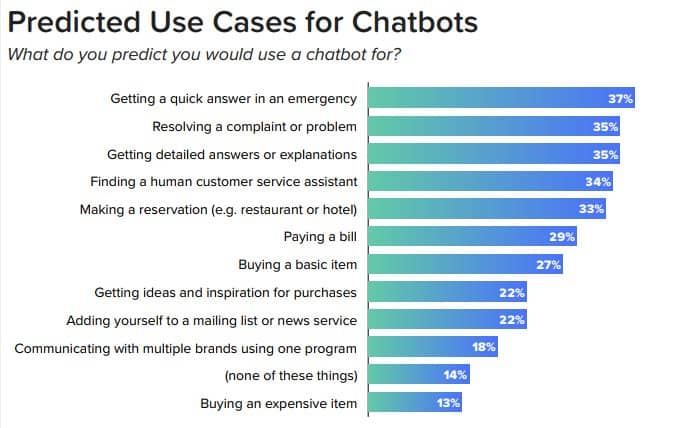 Currently, there are more than 300,000 chatbots on Facebook alone.
Apart from offering efficient service, businesses can save a lot of money in customer support expenses by using chatbots.
Also, voice bots are becoming more mainstream with the increasing demand for messaging platforms with voice and text-based interfaces.
5. The rise of influencer marketing.
Earlier, brands had to pay in millions to A-list celebrities to endorse their products, which was technically impossible for small businesses to implement.
And this is where influencer marketing came into play.
Today, many businesses are shifting their focus on micro-influencers. Micro-influencers are influencers with 10,000+ followers in their niche areas. They have enough followers to make them "influential" but are easy to reach and come without loads of sponsorships.
Businesses prefer micro-influencers as they are not expensive but drive results.
A survey report showed that 61.9% of marketers today work with influencers to generate content.
In addition, businesses are automating influencer marketing systems to find the right influencer to promote their image and message.
With the help of AI, businesses can perform an influencer-brand affinity analysis. It enables them to sift through millions of images quickly and pick influencers based on specified characteristics.
Digital Marketing FAQs.
Executive Summary.
That's it for my guide on digital marketing. Many of the digital marketing strategies discussed will help you grow your digital business.
There's no ceiling when it comes to digital marketing – there's always more room for innovation and improvements.
Make sure to take your time to learn digital marketing. It's a fast-paced and always-changing industry. For true success, you need to stay on top of the latest trends and understand the fundamentals so that you can capture more online visibility this year.
Disclosure: I may receive affiliate compensation for some of the links below at no cost to you if you decide to purchase a paid plan. You can read our affiliate disclosure in our privacy policy. This site is not intending to provide financial advice. This is for entertainment only.