The Ultimate List of CRM Statistics for 2023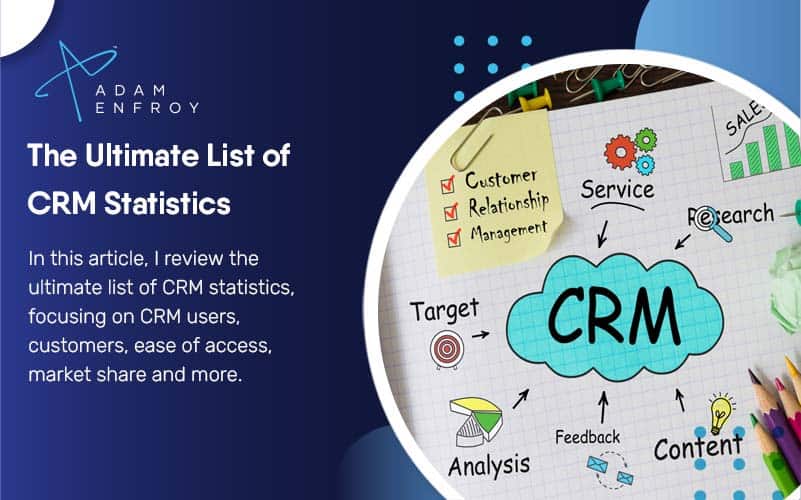 Understanding what a CRM is and how it can help your business is one thing, but having deep knowledge of the CRM market and knowing where it's heading is another.
There are several excellent customer relationship management software on the market right now, with some even specializing in enterprise CRM solutions.
As a beginner at using CRMs, choosing the right one is vital.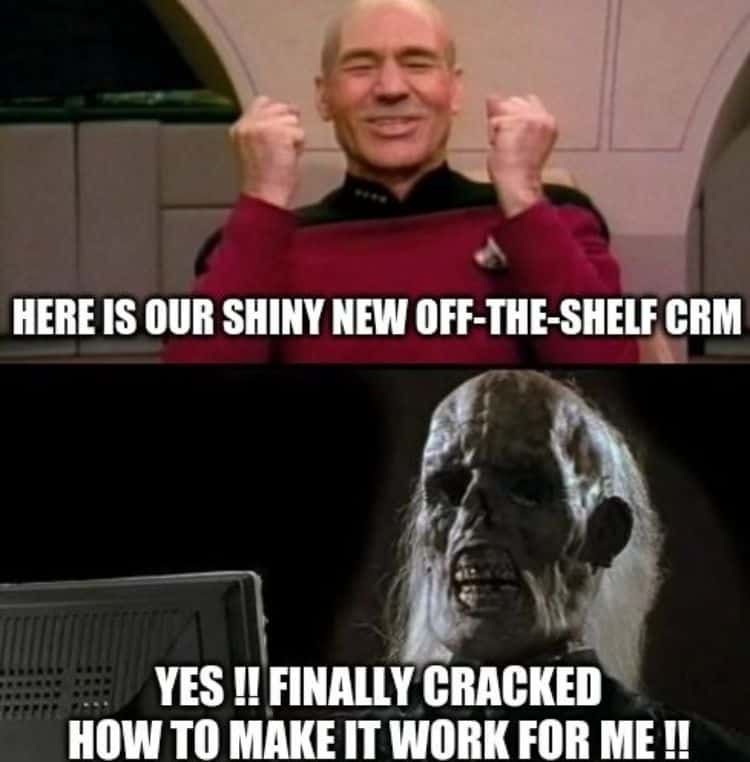 This article will look at the top CRM stats in the market and highlight some of the most recent insights from research in this industry.
Let's dive deep into this topic.
What Do The Latest CRM Statistics Indicate?
Here's all you need to know in the CRM world.
CRM And Its Users
1. If a company has ten or more employees, it uses a CRM in 91% of the cases.
(Grand View Research)
While a small business might not need a CRM, larger ones do.
As the operation expands, the need for a centralized repository of information and the proper automation workflow increases – which is where the right CRM comes in.
2. One of the biggest reasons a CRM is used is to bridge the gaps between sales professionals in an organization (52% of cases). Other causes include managing data and improving a culture that isn't super focused on customer needs.
(Super Office)
Every organization uses a CRM for different reasons, but the most common are bridging gaps in sales teams, managing data, and improving the company culture.
While it might seem like organizations are not actively using their CRM platform for the most commonly expected reasons, the beauty of a CRM is that it brings together data from various sources.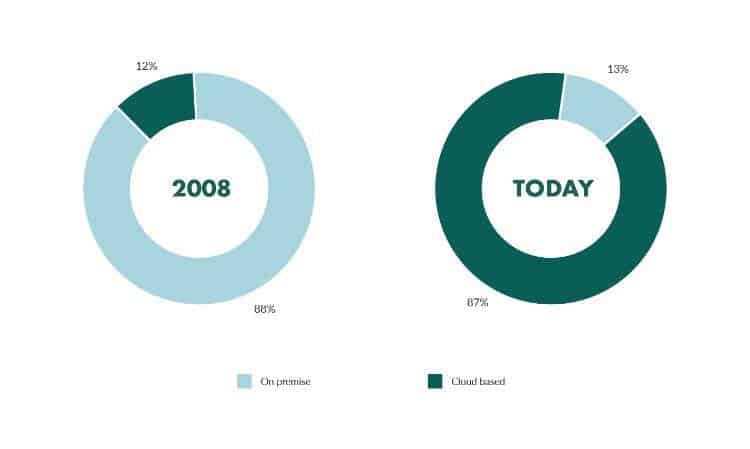 Pictured above: CRM use when comparing 2008 with today.
Image credit: Superoffice.com
3. Only 25% of organizations feel they are closing enough deals. The rest want to complete more with the help of a CRM and an efficient sales funnel.
(HubSpot)
More sales equal more revenue, which most companies are looking for.
While the current situation might not be as good as it could be for some, this is always an excellent opportunity to use a CRM and increase sales and revenue by closing more deals.
As such, 75% of organizations plan to use their CRM software better to close more deals.
Using CRM with customers
4. Customer satisfaction and retention have improved in 47% of CRM use.
(Capterra)
Improving customer satisfaction and retention is a top priority for many companies.
And while not all of them might have been able to improve these factors to the extent they wanted to, the ones that did have seen some great results.
A 47% improvement rate is significant, showing that CRM platforms can help retain customers and improve customer experience.
5. 92% of companies believe being customer-centric is critical to success.
(Super Office)
One can define a customer-centric company as one that puts the customer first.
Doing so is a priority and will make a company stand out.
At the same time, these companies will attract more customers than those who don't embrace this approach.
This is why the CRM market size is snowballing as companies realize how much they need to focus on providing excellent services with real value for the money customers spend.
6. Decision-makers are 14.6% more productive when using social and mobile CRM.
(Nucleus Research)
An almost 15% increase in productivity is significant and will play a big part in any decision taken by those who matter.
No doubt, any company can benefit from a simple way of managing their contacts and making better decisions, especially those who want to achieve and exceed their business objectives.
7. Better customer relationships and tracking interactions are among the top reasons why 72% of companies use a CRM system.
(Resco.net)
Sometimes, tracking interactions is more accessible said than done – mainly if the wrong CRM exists.
72% of companies used a CRM to improve customer relationships and track interactions.
Using a CRM to achieve efficient business management allows businesses to keep track of everything and everyone in the company.
8. The most-CRM-used industries include the real estate (25% of users) and consulting industries (11% of users). The insurance and distribution industries follow these at 8% each.
(Software Advice)
Understanding which industries play a significant role in the CRM market is essential for those trying to position themselves correctly.
The numbers show that real estate and consulting play a big part in the CRM sector, meaning they can be in higher demand for CRM systems.
With that in mind, insurance and distribution rank highly in this area.
Image Source: HubSpot.com
CRM Ease Of Access
9. About 87% of all CRMs work in the cloud.
(Super Office)
With the focus shifting to cloud computing and its benefits, more and more business solutions are offered in the cloud.
CRM trends are rising because of how efficient cloud-based systems are compared to on-premise functionality.
87% of all CRMs operate in the cloud, meaning businesses can better manage their contacts and accounts, even on the go or on different devices.
10. Over 80% of CRM users access their data from multiple devices.
(OnePage Express)
Speaking of devices, accessing information from several ones is very useful.
An example would be accessing client data or files from any device, anywhere, while visiting clients, or when an opportunity arises.
With the convenience of cloud computing and its services, it's no wonder that 80% of CRM users access their data from multiple devices.
11. The market has as many as 400 different CRM platforms. That said, 4 out of 5 platforms do not have a good rating.
(G2)
The competition for CRM platforms is at an all-time high, with many companies trying to offer their services to stand out.
There are countless options for businesses looking to buy into a CRM system and benefit from it, but with so many platforms, there is also the risk of choosing the wrong one.
However, the competition isn't as intense for those platforms providing stellar service.
Since many platforms are rated low, it's essential to look at the options available and make comparisons, ensuring you look at all your options before deciding on the best CRM.
12. Social media is used by as much as 1 in 4 people when dealing with companies, making social CRMst much more critical.
(GWI)
Meeting customers where they are is an important thing when it comes to business, and that includes social media.
Many customers use social media platforms when trying to contact companies.
They expect quick responses and professional communication.
Since customer service is so crucial in this day and age, there must be a way for businesses to manage their interactions with consumers without overloading their resources.
A CRM focusing on social media interactions is the way to go, allowing brands to provide quick responses and stay on top of things.
CRM Market Share
13. The CRM market worldwide is valued at about $66.5 billion.
(Statista)
It's no surprise that CRMs are doing well when you consider the figure of $66.5 billion.
The CRM market has been known to generate a lot of revenue, and that is because of how essential this platform is for businesses.
Being a tool that helps companies manage their contacts more efficiently and effectively, CRM is a software market solution that businesses cannot live without.
14. An expected 11.6% is anticipated in the continuous annual growth (CAGR) rate from CRMs between 2022 and 2027.
(Globe Newswire)
A close to 12% CAGR is no easy feat, but the CRM industry is making it happen.
This value is predicted over the next five years, which shows that there will always be new ways to better your CRM processes and reap the benefits.
With so many companies working hard on their CRMs to ensure efficient options, CAGR forecasts expect no signs of slowing down soon.
15. On average, CRM software returns an ROI of $8.71 for every dollar spent.
(Nucleus Research)
The return on investment that comes with CRM is staggering, and it's not hard to see why.
A CRM helps businesses save more money than they spend, so there is no reason why they shouldn't invest in such a platform.
Efficiency is always a goal for businesses, making the ROI appealing as it shows how efficient investing in CRM is.
Continuous growth is expected in this industry thanks to features such as lead management, contact management, field service management, and voice commands.
(Gartner)
The CRM industry's value is expected to increase in the coming years.
There are tons of new features that businesses can take advantage of.
Since CRM is an ever-evolving industry, companies need to invest in this platform to stay ahead of the curve regarding new features.
Image Credit: Softwareadvice.com
Artificial intelligence and CRMs
16. Revenue from artificial intelligence CRMs could increase by $1.1 trillion.
(Salesforce)
Artificial intelligence is the next big thing in business, with many companies working hard to incorporate it into their CRMs.
Salesforce predicts that revenue from AI-enabled CRM could go up as high as $ 1.1 trillion by 2022.
AI in CRMs is making customer interactions more efficient.
It's easier for businesses to provide quick responses and better customer service.
17. Using Voice technology is one of the most anticipated features of CRMs.
(Salesforce)
Numerous CRM features are expected to emerge over the next few years, with voice commands among the most anticipated.
As more businesses try to provide faster responses, implementing voice commands as a sales technology in CRMs is the way to go.
This feature will allow businesses to serve their consumers more efficiently and make it even easier for brands to provide better customer service.
What is a CRM?
Customer relationship management software serves as a tool to manage a business' interaction with existing and potential customers by storing contact information, history of purchases, and details about how these interactions took place.
In addition, CRM solutions have evolved to include more advanced features, which we'll discuss in the next section.
Understanding customer data helps salespeople with customer retention by finding and establishing communication with customers who express interest in a brand but don't make a purchase at that time.
They can also identify gaps in communication by studying what has been happening on social media.
This type of software helps increase the ROI for companies because it improves customer retention, manages contacts more efficiently, and optimizes marketing campaigns to reach target audiences better.
The core objective of a CRM solution is to keep track of every possible interaction with customers, including feedback and complaints. This way, there's no room for lost information or missed opportunities.
CRM vs. Customer Service Software
Customer service software does not typically store customer information, though it might have email or help-desk ticketing systems that allow organizations to keep track of customer issues.
It also includes knowledge bases, FAQ sections, and even chatbots.
Customer service software is effective for companies trying to manage customer interactions via email marketing or live chats.
CRM solutions are more efficient because they store all the information you need about every interaction your organization has had with customers.
The Features Of A Great CRM
Let's now look at some of the features you should look for when choosing a CRM solution.
Lead management
Lead management should be one of the top sales priorities in any team.
Sales reps can prioritize better and track their CRM software leads, including contact history, interactions, and more.
Suitable CRM applications lead to better sales performance because one can easily track leads, and reps know which leads to focus on first.
Workflows
You can trigger rules by specific events, such as when a lead achieves a special status.
These alerts can help sales reps follow up on leads more efficiently and close more sales in the long run.
Also, this feature allows reps to customize the process of following up on leads, making it easier for them to focus on opportunities with a higher chance of converting successfully.
Cloud-Based CRM
Employees use a CRM to access their work data from any device, allowing them to perform tasks more efficiently through the cloud without downloading additional software.
It also allows users to access and share information with other employees on their team, further boosting collaboration and productivity.
Mobile CRM Access
The right CRM solution provides users access to all their data on the go.
They can manage their leads and customer interactions while traveling for work or on vacation – for those salespeople who never stop working!
The right stakeholders also get notified of important events and new leads when they access their accounts on their phones, which means access to CRM on mobile devices is crucial if a business is to stay up to date.
Image credit: Superoffice.com
Help With Sales Productivity
High CRM adoption rates by employees will lead to increased sales productivity.
With the right features, you can also see that users complete more tasks in a shorter period.
Maximizing your team's effectiveness becomes easier, even when working remotely or from different locations.
CRM sales tools can also help sales managers with tasks, guiding them on the next steps.
They can decide what steps to take next to improve sales performance and maximize revenue with the proper checklists.
CRM research indicates that businesses with an efficient sales process and a CRM to manage their sales activities can drastically increase their sales performance and general productivity.
Automatic Reminders
Customer service agents should get reminders through a CRM if a customer hasn't been contacted.
This prevents a company from losing potential customers and helps with conversion rates because the agents contact these leads at the most convenient time for them.
For example, you could get alerts whenever a significant event happens to one of your contacts, such as when their accounts are about to expire.
The right CRM will automate reminders to keep your team on track with their activities in the sales cycle.
Knowledge Management
Having the right knowledge management software integrated within a CRM can help you save time and improve efficiency by allowing employees to find answers quickly, even if they're not experts in specific fields.
Reps can instantly access product information or other relevant details while closing sales.
Some solutions even integrate with other software and share this information across different departments.
User-Friendly Design
The system should be easy to use by your entire team, regardless of their experience with CRM tools in the past.
A user-friendly interface will make it easier for new users, primarily if your team works from varying locations.
Customizable Dashboards
Customizable dashboards are the go-to place for employees to see all their account data at a glance in a way that makes the most sense to them.
With the right software, you can customize alerts and notifications that are easy to read, making it much easier to monitor your sales performance.
Most CRM systems also allow users to download additional widgets and create separate dashboards as needed.
Accurate Analytics
Businesses should see a return on investment for every dollar spent on a CRM solution.
A sound system should help you target customers and improve your sales performance.
It should also provide details on which activities are most effective in generating new leads or converting contacts into loyal customers.
Having access to customer data can also help businesses make informed marketing decisions.
When predicting forecast accuracy, businesses can see which channels deliver the most results and whether these channels are worth investing in for future campaigns.
With the appropriate analytics and the proper CRM usage statistics showing an increase, customers will get a better all-around experience.
Different Types of CRMs Available
Various types of CRMs available on the market, from simple contact management systems to robust enterprise-level solutions.
Here are the most common CRMs:
Mobile CRM – This type of CRM is optimized for mobile use and offers a variety of features that help businesses manage customer relationships from anywhere. It can track customer data, create automated campaigns, and provide real-time analytics to make decisions easier. Mobile CRMs are typically cloud-based so they can be accessed on any device with an internet connection.
Social CRM – Also known as Customer Relationship Management (CRM) software, this type focuses on managing customer interactions in the social space. It integrates social media platforms like Twitter, Facebook, and LinkedIn into customer relationship management and helps businesses better understand customers' feedback about their products or services.
On-Premise CRM – This CRM involves buying a license to install a system on your server or computer. It gives businesses complete control over their designs but also requires more maintenance because they have to worry about backing up data and ensuring security patches are kept up to date. On-premise solutions can also be expensive initially but offer cost savings over time if the business has more significant needs that require customization options.
Web-Based (SaaS) CRM – Software as a Service (SaaS) enables businesses to use the software without installing it on their servers or computers. SaaS solutions are typically cheaper than on-premise options because they require no installation or hardware costs and can be used by multiple users at once from different locations via a web browser or app. Additionally, updates to the software are done automatically by the vendor, which further reduces maintenance costs associated with traditional on-premises solutions.
Open Source CRM – Open source CRMs are typically free and allow businesses to customize the software to fit their needs better. Open-sourceThis type of CRM offers greater flexibility than other options but also requires more technical knowledge and maintenance on the user's part to keep it running smoothly. Open-source solutions are often community-driven, with users creating new features or fixes for bugs that others may find helpful.
Vertical-Specific CRM – Vertical-specific CRMs have been explicitly designed for companies within a particular industry or sector, such as health care, finance, retail, or automotive. These systems include features tailored for those industries and can be highly effective when managing customer relationships in a specific field.
Wrap Up.
The global CRM market is expected to evolve, resulting in more accurate and practical business solutions.
These tools can streamline processes and boost sales performance by keeping track of customer interactions across different channels.
They also give managers the information needed to decide what steps to take next to boost revenues.
CRM growth in a particular industry signifies a young and thriving industry.
The various CRM ROI statistics above indicate that this is a good time to invest in these solutions and take advantage of their many benefits.
Along with the right marketing strategies, CRM tools can help businesses keep up with their competition and even compete globally.
Have you ever used a CRM solution? If so, how did it influence your business? What is your favorite tool?
Let me know in the comments below.
Further reading on AdamEnfroy.com: Want to pick the best CRM software for your business? Here's a comparison of HubSpot vs. Salesforce, two of the biggest CRM platforms.
You can also look at the best client management software on the market to compare options.
Disclosure: I may receive affiliate compensation for some of the links below at no cost to you if you decide to purchase a paid plan. You can read our affiliate disclosure in our privacy policy. This site is not intending to provide financial advice. This is for entertainment only.