HubSpot vs Salesforce: Which CRM is Best in 2023?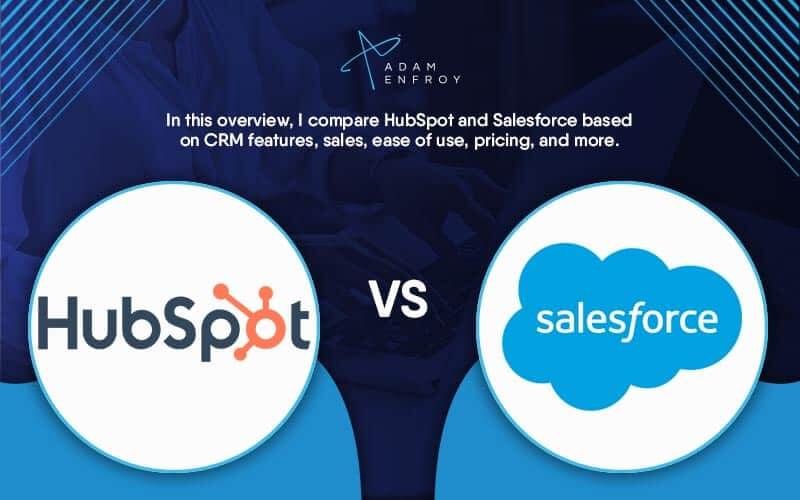 Customer Relationship Management (CRM) systems are must-have tools in any business's repertoire, whether established or growing.
However, using a CRM is not just about increasing your bottom line; it's more about improving and ensuring your business's steady growth.
In this respect, two names repeatedly stand out: HubSpot and Salesforce.
In this post, I'll compare both HubSpot and Salesforce CRM, going over the features, benefits, ease of use, and more, ultimately helping you decide which is the better CRM.
What is a CRM?
To compare advanced software solutions such as Salesforce and HubSpot, we should look at what a CRM is.
It will help readers better understand what to look for when comparing HubSpot and Salesforce.
Simply put, a CRM suite represents software tools that help a business's sales teams organize, manage, and utilize customer information.
CRM tools also help manage client information and allow for better relationship development with current and prospective customers.
Using CRMs, you can create and maintain a strong relationship with all business contacts.
These tools help your business find and group contacts, track important messages, and keep track of customer contact points.
The above capabilities allow businesses to know exactly when and how to contact prospects and business partners.
No wonder the CRM market is currently the fastest-growing software sector, and we expect a CAGR (Compound Annual Growth Rate) of 14.2% from 2020 to 2027, according to Grand View Research.
Any well-structured CRM solution should:
Help in the development of handoff procedures between sales and service.
Automate the sales lifecycle.
Help provide a bird's-eye-view of your customer database.
Enhance functionality and intelligence sharing across teams.
With the above in mind, it's time to dive headfirst into the HubSpot vs Salesforce comparison.
HubSpot vs Salesforce: Overview
The HubSpot CRM is a product developed and distributed by a company of the same name.
HubSpot provides several products besides a CRM, such as Content Management and Marketing Automation systems.
In 2014, Brian Halligan and Dharmesh Shah launched HubSpot CRM, and within six years, it has earned its place among the top CRM solutions on the market.
From contact management, email, and lead management to sales pipeline data viewing, HubSpot lets you do it all.
The software comes with a free version that's more than capable of tackling the CRM needs of small and medium businesses.
As your business scales, you can upgrade to the complete HubSpot marketing suite, which offers an enterprise CRM to glean actionable insights and grow your business.
Salesforce, on the other hand, is a much older software; it started operations way back in 1999 and since then has cemented its place in the CRM industry.
Historically, people consider Salesforce one of the first companies to adopt the Software-as-a-Service (SaaS) model.
Moreover, it's also the first company to popularize the concept of Customer Relationship Management.
With time, the software has steadily updated itself and has been able to keep pace with the current world order.
Salesforce offers several tools for marketing and sales automation powered by artificial intelligence-based insights and detailed customization.
All the above qualities have made Salesforce one of HubSpot's notable competitors.
The primary difference between the two is that while HubSpot is more intuitive and geared toward businesses of all sizes, Salesforce is more suited for enterprise-level companies.
However, that's not the only point where we can compare the two, and in the next section, I'll break things down further.
HubSpot vs Salesforce: Which One Is Best?
Now that you've got a brief introduction to both HubSpot and Salesforce, it's time to break down the features of each and compare them.
To do that, I will compare the capabilities of the two based on several key factors.
1. Ease Of Use
When comparing Salesforce and HubSpot, the one factor that takes center stage is the ease of use.
After all, there's no point in getting a fully powered CRM solution with all the bells and whistles only to have your employees avoid using it due to the steep learning curve.
There's no denying that Salesforce has been the industry standard for CRM software.
However, notwithstanding its robust sophistication, it is too technical for the average sales rep.
You'd need someone technically well-versed to leverage the platform's full features.
On the other hand, HubSpot deserves the crown for intuitive CRM software.
Built to cater to sales reps, HubSpot offers easy workflow optimization and fluid navigation facilities.
Even if you're using HubSpot CRM for the first time, you'll easily be able to pick up on how to automate tasks, interact with prospects and customers, and visualize the entire pipeline.
Winner: HubSpot
With its simple and intuitive interface, HubSpot scores higher than Salesforce on the ease-of-use index.
At the same time, if you have a full-fledged IT team that you need to involve in complex sales processes, then Salesforce has an edge.
2. Third-Party Integrations
Every modern business today is using third-party integrations as a means to increase productivity and effectiveness.
These integrations help a CRM directly connect to and exchange data with third-party software, making the workflow smoother.
Since it has been around longer, it's easy to integrate Salesforce with many third-party add-ons.
Salesforce data exchange features come as a standard with multiple HR, ERP, and SCM software such as SAP.
Moreover, Salesforce even has its dedicated AppExchange that provides access to thousands of integrations.
People consider AppExchang one of the largest (if not the largest) business app marketplaces online.
However, regarding sales-focused integrations, HubSpot CRM fares much better than Salesforce.
Sales teams usually need to focus on marketing data, and HubSpot acts as the central database for all sales and marketing processes.
Since its roll-out in 2014, HubSpot has been increasing its number of integrations.
Currently, the CRM provides over 200 integrations and is still expanding.
Along with that, businesses can also use OpenAPI to create customized integrations.
Winner: Salesforce
With AppExchange in its repertoire, Salesforce comes out on top regarding the number of integrations on offer.
But HubSpot is still strong and offers integrations with many popular apps such as Jira, MailChimp, and Slack.
3. User Interface
When it comes to feature sets, HubSpot and Salesforce both have their strengths.
As I've already mentioned before, Salesforce is technically more feature-rich.
It can, however, turn out to be its weakness when it comes to user-interface navigation.
When you open the Salesforce interface, you'll immediately face more than 15 tabs.
Among these, you'll find options for managing leads, exploring opportunities, and handling files, contacts, and campaigns.
Then, each tab branches into several submenus, with more options to consider, which can be overwhelming for beginners.
Compare that to HubSpot's intuitive UI, which displays only the most essential features and options.
These allow you to focus on what's necessary and provide a comprehensive view of your CRM system.
Another aspect where HubSpot excels over Salesforce is the ability to allow users to focus.
Salesforce dashboards usually show a broad-based view of data, which is unsuitable for the average sales rep.
On the other hand, HubSpot allows reps to stay focused on their pipeline, thus allowing them to do their job smoothly.
That, of course, doesn't imply that HubSpot can't offer a bird's-eye-view of your business.
It can; the only difference is that it's more inclined toward streamlining sales workflows.
And no one can deny that this is precisely what reps need to succeed.
Winner: HubSpot
With its focused approach and streamlined features, HubSpot comes out on top of Salesforce regarding user-interface usability.
That said, in case you need a more feature-rich application, whether you'll use it or not, Salesforce is the way to go.
4. Overall Toolset
Now, let's compare HubSpot and Salesforce from the point of view of the toolsets each offer.
Salesforce is often the winner in different surveys because of its feature richness.
With a comprehensive feature set and varied pricing, Salesforce has many tools, such as Marketing and Sales Cloud, Social Studio, and Mobile Studio.
All these tools allow the marketing team to support the sales team with qualified leads when used together.
But that shouldn't be your only reason for using it.
It's true that Salesforce has a better toolset and offers greater customization, but it's mostly suited for enterprise-level businesses with the staff to make it work.
As we've already seen, HubSpot focuses more on user-friendliness and businesses of all sizes can use it.
Using HubSpot, your business can personalize messages for every level of your audience.
The software offers several tools for marketing automation, such as lead flows and collection forms, which help keep the sales pipeline active.
At the same time, HubSpot marketing automation tools help streamline audiences and enable contact segmentation.
The HubSpot Marketing Hub also includes tools for content strategy, Split testing and even integrates with Google Search Console.
Winner: HubSpot
While Salesforce has a more extensive toolset, HubSpot's select marketing and sales tools are more usable and practical.
With the ease of use of HubSpot, every business, from an enterprise to SMBs, can get their CRM strategy on track.
5. Sales Analytics & Reporting Features
In today's age of data-driven marketing strategy, you can't afford to ignore Analytics and Reporting features.
In this respect, Salesforce is immensely powerful and has robust analytics features that offer high customization.
All Salesforce tools incorporate analytics; for example, the Einstein Analytics Dashboard helps to monitor essential business metrics.
It even provides charts and diagrams with great interactivity, all of which help with data visualization.
HubSpot also incorporates analytics and reporting features, but these are lesser in number and capability than that offered by Salesforce.
The reason for this is the limited data storage capabilities of HubSpot.
However, with recent improvements, HubSpot's designers have succeeded in taking its analytics capabilities up several notches.
At the same time, HubSpot's reporting system is more intuitive and offers fast functionalities and drag-and-drop features.
The Winner: Salesforce
Judging by the current state of things, Salesforce takes the cake regarding analytics and reporting capabilities.
However, HubSpot is catching up fast and might soon overtake the leader in this aspect of CRMs.
6. Onboarding
Getting stellar CRM software won't improve your business unless you can get it up and running.
In this respect, the learnability and onboarding processes are significant and depend on many factors.
Take Salesforce, for instance.
Setting up the software can be pretty costly, which is compounded if your business is shifting from another CRM.
Any such shift entails additional tasks involving data scrubbing or customizing integrations.
In short, out-of-the-box usability is hardly available when it comes to Salesforce.
For larger enterprises, the onboarding process itself could span months.
Compared to that, HubSpot is much easier to set up and implement.
That doesn't mean, of course, that there's no work to do.
You need a significant amount of data scrubbing, along with the need to build custom integrations.
Also, you'll have to train your team members in the intricacies of the new system.
However, you won't have to spend extra hiring someone for onboarding with HubSpot.
The HubSpot setup process is more or less self-explanatory, and you can get things up and running with some effort.
Winner: HubSpot
Due to its ease of use, all-in-one marketing capabilities, and stellar user experience, HubSpot takes the first place on the ease-of-onboarding front.
Setting up HubSpot shouldn't be complicated unless you're a massive enterprise with multiple moving parts.
7. Level Of Customization
It's easy to understand that of the two CRMs we're comparing; Salesforce is more customizable.
It offers greater control when customizing deal pipelines and process workflows and provides more customization options.
Salesforce users can customize workflows and processes without hiring dedicated developers.
While it might take more time due to the massive number of features it offers, the task is not undoable.
Now, let's look at HubSpot, which offers a fair degree of customization but not to Salesforce's level.
The number of customization options you get with HubSpot increases when you opt for the paid plans, but even then, it leaves much for users to desire.
That said, HubSpot has recently added the option for custom objects, further increasing its customizability.
Even if the user has limited technical knowledge, they can modify pipelines, deal stages, and views according to their needs.
Winner: Salesforce And HubSpot
Here, it's more a matter of requirement than feature availability.
If you're looking for a fast, simple, and easy solution that you can customize to fit your business processes, HubSpot is the best option.
On the other hand, if you're looking for intense customizations that offer greater business flexibility, Salesforce is the one.
8. Market Share
Ask any sales professional which customer relationship management software is the market leader, and they'll answer Salesforce without any doubt.
And considering that Salesforce has around 20% of the market in its bag, they'd be right in answering so.
But that doesn't mean HubSpot is out of the game, far from it.
Since its release in 2014, HubSpot's market share has steadily increased.
And though it currently has around a 3.4% share of the CRM ecosystem, it's undoubtedly a CRM platform to reckon with.
Another factor favoring HubSpot is its freemium pricing model, which helps many businesses initially transition to the platform.
The freemium model gives it a distinct advantage over Salesforce, which is everything but free.
So, it's challenging to decide on the HubSpot vs Salesforce battle.
Winner: Salesforce (As of now)
There's no denying the fact that Salesforce is the present market leader.
But HubSpot, being the new kid on the block, is fast rising in popularity.
A time may come when we find it as one of the marketing tools with the largest market share.
9. Customer Support
On the customer support front, HubSpot is way ahead of Salesforce.
You can access HubSpot's rich online content library without a paid plan.
The company also offers many courses on HubSpot Academy, its e-learning hub where you can brush up on HubSpot tools.
If you become a paid customer, HubSpot gives you access to around-the-clock on-phone support.
You can even contact customer service via email and take advantage of the live chat feature.
However, with Salesforce, you'll have to shell out for a paid plan to access any form of customer service.
With low-level licensing, the platform limits the support you get; once you get to the enterprise level, the platform gives you access to Salesforce's host of resources on the Trailhead hub.
Winner: HubSpot
There's no dispute that HubSpot is the clear winner regarding customer support.
Its inbound marketing expertise, rich content library, and 24/7 customer support lead the way.
10. Pricing
Finally, let's compare the pricing of each. HubSpot CRM is free and offers valuable sales, marketing, and customer service tools.
Using this customer relationship management system, your business can have unlimited users and store about a million contacts for free.
In case you're an SMB, the free CRM features are sufficient.
However, you can upgrade to the paid version of HubSpot's CRM for more extensive, enterprise-level organizations.
The HubSpot Sales Hub offers multiple paid plans that you can opt for; these are as below:
Free Tools
Starter: $45/month
Professional: $450/month
Enterprise:$1200/month
Now, let's explore Salesforce, an entirely paid CRM solution.
For beginning your Salesforce journey, you can opt for any one of the following paid licensing plans:
Starter: $25/month
Professional: $75/month
Enterprise: $150/month
Unlimited: $300/month
Winner: HubSpot And Salesforce
As far as cost is concerned, Salesforce-paid plans are more affordable than HubSpot's.
However, since people can use HubSpot for free, it is ultimately not a question of money but of which plan best suits your business's needs.
HubSpot vs Salesforce: Highlights
So, that's all about the two top CRM contenders in the market.
While making the final decision, however, you must keep several things in mind.
That's why I've decided to collate all the pros and cons of HubSpot vs Salesforce so that you can make a better-informed decision.
HubSpot Pros:
Freemium payment model
Simple and easy-to-use interface
Suitable customer support
Easy-to-use toolset
Ideal for marketers as well as salespeople
HubSpot Cons:
A lower number of integrations
Lower (current) market share
Salesforce Pros:
Advanced sales and pipeline management
Easy marketing automation using Pardot
A large number of integrations with Microsoft, Oracle, and Adobe
Greater number of features
Salesforce Cons:
Complicated onboarding process
Tough-to-navigate user interface
How A CRM Can Take Your Business To The Next Level
Here are the top ways a CRM like Hubspot or Salesforce can take your business to the next level.
1. Enhance Customer Experiences
Regardless of your business type, the customer is always the priority.
A CRM can help provide the customer with a sea experience from the first interaction.
By integrating all customer data into one platform, a CRM can automate cer service and marketing processes to ensure customers get the attention they deserve.
Providing the customer with personalized service and relevance can lead to increased customer lifetime value and loyalty.
2. Increased Efficiency
One of the main benefits of implementing a CRM system is the increased efficiency that comes with it.
The tedious task of data entry and management is eliminated, allowing your employees to focus on higher-level tasks that require their attention.
Automating mundane tasks such as sending follow-up emails, scheduling appointments, and creating reports reduce the manual workload while increasing the speed and accuracy of data entry.
3. Improved Data Analytics
One of the critical features of a CRM system is data analytics.
CRM platforms can provide insights into sales, marketing, and customer service performance.
By analyzing customer data, businesses can improve their understanding of customer behavior, needs, and preferences, which can help tailor marketing and customer service strategies.
This data can also be used to identify areas for growth and opportunities for cross-selling or upselling.
4. Better Collaboration Amongst Teams
Collaboration amongst teams can significantly enhance business performance, and a CRM can facilitate this in several ways.
With all customer data in one place, sales teams can collaborate with marketing teams to create personalized campaigns. Customer service teams can access previous communication to provide exceptional service.
Additionally, by having visibility into the entire sales pipeline, managers can provide targeted coaching to sales reps to improve sales effectiveness.
In today's fast-paced business environment, a CRM system has become a necessity rather than a luxury.
By enhancing customer experiences, improving efficiencies, providing better data analytics, and enabling collaboration amongst teams, businesses can take their performance to the next level.
So, whether you're a small business or a large corporation, implementing a CRM can put you ahead of the competition.
Wrap Up
So, that's about it from my end on the HubSpot vs Salesforce debate.
While both are stellar choices, I believe the ultimate decision depends on your business needs and the level of functionality that you require.
CRMs should work to decrease your organization's workload, not increase it.
Therefore, if you're a small to medium business that needs faster CRM solutions, HubSpot is the one to go with.
However, for larger enterprises with more significant customization needs, Salesforce is the right choice.
Also, you need to factor in the cost, usability, and onboarding time.
Some organizations might even integrate the two and reap the best of both worlds.
Disclosure: I may receive affiliate compensation for some of the links below at no cost to you if you decide to purchase a paid plan. You can read our affiliate disclosure in our privacy policy. This site is not intending to provide financial advice. This is for entertainment only.
---
Last Updated on April 21, 2023 by Adam Enfroy