How to Use a CRM for Marketing (Complete Guide for 2023)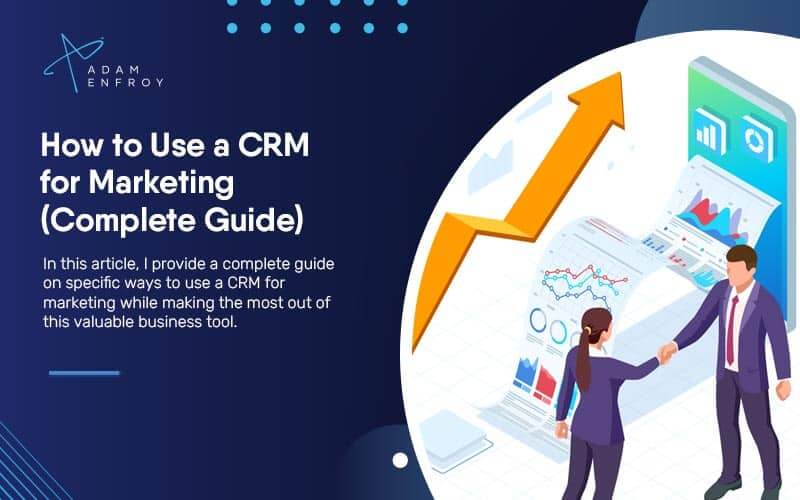 Are you looking to level up your marketing game this year?
Or do you want to find new customers and learn better ways to keep them?
55% of US businesses currently use a CRM.
Customer relationship management tools help you track customer interactions, find new leads, and automate marketing tasks when you couple them with marketing project management software – all while ensuring your projects stay on track.
With more functionality built into CRMs, they can be a valuable tool for marketing.
The right CRM software can perform various functions in your business.
For example, Nutshell CRM can manage your pipeline to give into your sales progress, help you record customer interactions, and perform any needed tasks.
In this article, I'll give you a complete guide on how to use a CRM for marketing while making the most out of this valuable tool.
Let's get right into it.
Why Is CRM Marketing Important?
It is essential to know what a CRM system is and how it can benefit one's marketing team.
A CRM system helps you automate and streamline your marketing processes, making them more efficient and effective.
A CRM system also gives you a centralized database to store your customer data.
When choosing a CRM for marketing purposes, look for one that includes the essential features you need in your marketing (more on this later).
These features make it easy to create targeted marketing campaigns and track their results.
With the right CRM system, you can work smarter, not harder, and see better results from your marketing campaigns.
Specific Ways A CRM Can Help Marketers
A marketer needs more than just customer data to manage business relationships effectively.
They need CRM tools to help them turn that data into actionable insights and automated processes to free up their time, allowing them to focus on more strategic tasks.
The following are some of the best ways to use CRM software in marketing.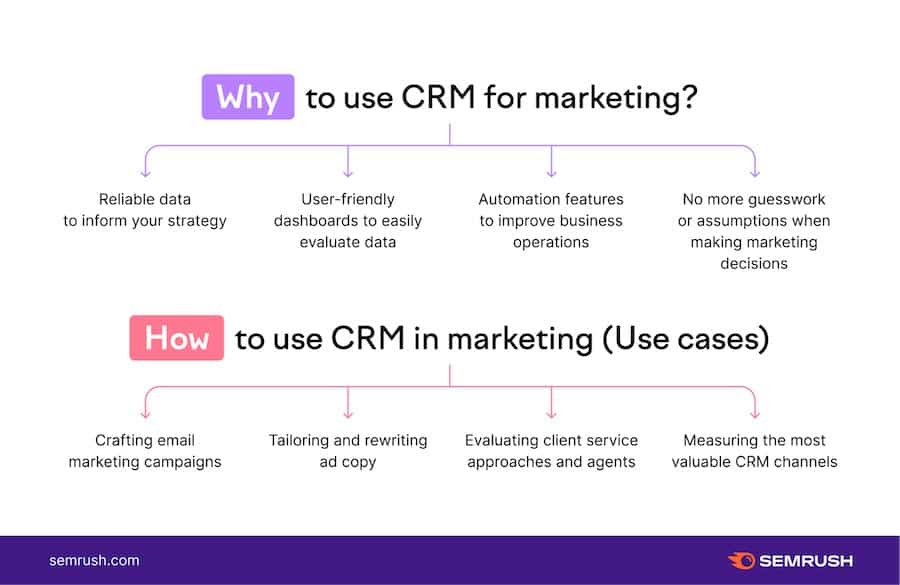 Identify New Content Opportunities
Both marketing and sales teams can maximize the latest marketing tools to help identify new content opportunities.
Your CRM system can track your team's online and offline customer interactions.
These interactions can provide valuable insights into what content will resonate with your audience.
Let's say you run a software company that sells accounting software to small businesses.
You could use your CRM system to track customers' questions during sales calls and use those as topics for new blog posts related to current accounting trends.
Plan Customer Journeys
A customer journey is a path from becoming aware of your product or service to purchasing.
Your CRM system can help you plan and optimize customer journeys by tracking customer interactions and providing insights into what's working and what's not.
Managing customer relationships is a complex process, but your CRM system can help you keep track of all the moving parts and ensure your marketing efforts align with your sales goals.
Data-Driven Marketing
Marketers base most successful marketing campaigns on data rather than gut instinct.
A CRM system can help you collect and track customer data to make informed decisions about your marketing efforts.
Data-driven marketing is more effective and efficient than traditional marketing, and it's the key to success in the modern age.
Manage Inbound Leads
CRM marketing involves a ton of work with leads and potential customers.
A marketing team's job is to generate leads, and a sales team's job is to convert those leads into customers.
But for the sales team to do their job, they need access to leads.
A CRM system can help you manage inbound leads, so you can nurture them and pass them on to the sales team when they're ready to buy.
Lead management is a crucial part of the marketing-sales process, and a CRM system can help you do it more effectively.
Furthermore, contact management is a big part of using a CRM for marketing.
Your CRM system can help you keep track of your contacts and follow up with them to build relationships.
Inbuilt contact management software is one of the most valuable features of CRM systems for marketing teams.
Execute Specific Automation
Marketing automation tools can help you free up time for more strategic tasks.
Your CRM system can help you automate repetitive tasks to focus on more important things that are more significant levers in your business.
For example, you can use your CRM system to send automatic follow-up emails to customers who haven't responded to your initial contact.
You can also use it to send automatic birthday and holiday greetings or automatically update your customers' records when they make a new purchase.
Marketers are now using AI in marketing to automate many tasks.
However, automation is only effective if you use it correctly.
Knowing which CRM system is right for your business depends on the offered functions.
Having Correct Marketing Data In A CRM
Interacting with customers using incorrect data is a recipe for disaster.
Ensure that your CRM system has the correct data for each customer so that you can communicate with them correctly at just the right time.
Marketing data includes names, contact information, purchase history, etc.
You need the correct data to avoid confusing and frustrating your customers and damaging your relationship.
Also, update your data to ensure you're using the most recent information when making decisions about your marketing efforts.
Small Businesses And CRMs
While a small business might not need all the features of a CRM system, there are still some benefits to using one.
First, a CRM system can help you keep track of your customers and their interactions with your business.
Such information can be valuable for marketing purposes and customer service and support.
Second, a CRM system can help you automate marketing tasks to focus on more important things.
Such things include planning and strategizing for the business, product development, or innovation.
Lastly, a CRM system can help you keep your data organized and up to date to ensure you're using the most recent information when making decisions about your marketing efforts.
Having the proper conversation at the right time and with the right people is something that a CRM system can help you achieve.
Key Features In CRM Marketing Software
Let's now look at the key features you should consider when choosing a CRM for marketing purposes.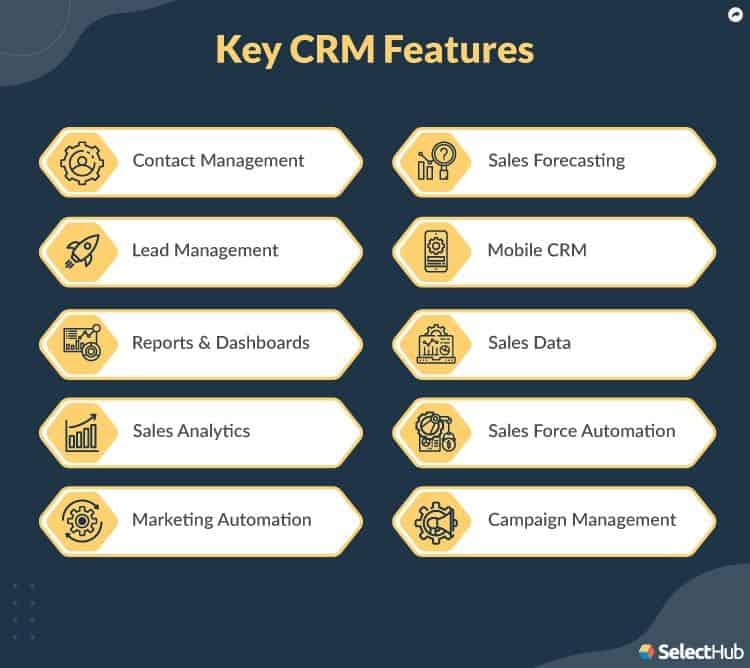 Email Marketing
One can't underplay the connection between a CRM platform and its email capabilities when providing a great customer experience.
CRM solutions that include email platforms make it easier for sales and marketing teams to work together and provide a seamless customer experience.
These systems can automatically generate and personalize email campaigns based on customer interactions, data, and historical behaviors.
The best CRM platforms will also provide insights into how successful each email campaign is, so you can make the necessary changes on the fly and optimize for future campaigns.
Custom Workflows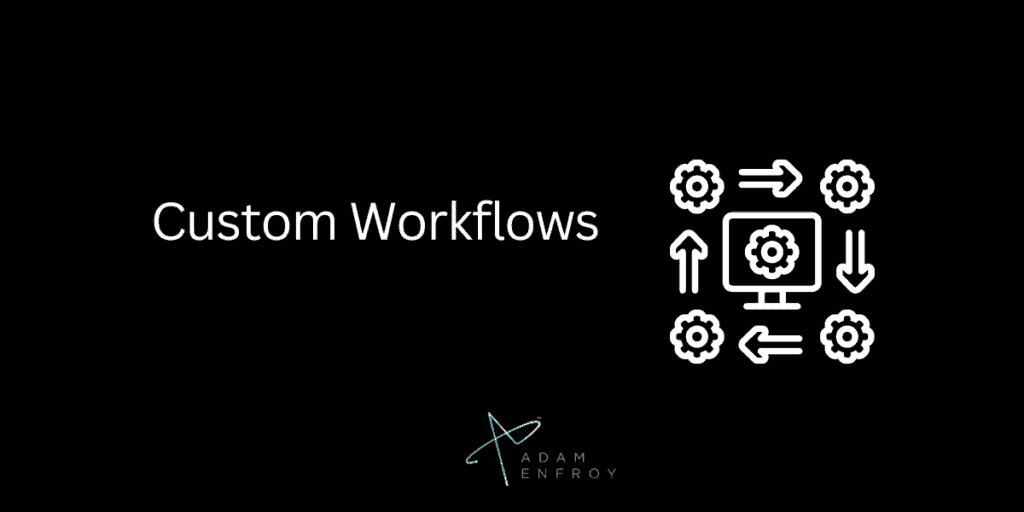 Workflows in a CRM system help you automate repetitive tasks so you can focus on more important things in your business.
For example, you can use your CRM system to send automatic follow-up emails to customers who haven't responded to your initial contact.
You can also use it to send specific information to customers based on their interactions with your business.
Workflows help you maximize your CRM system by automating repetitive tasks and providing personalized information to your customers.
Customer Segmentation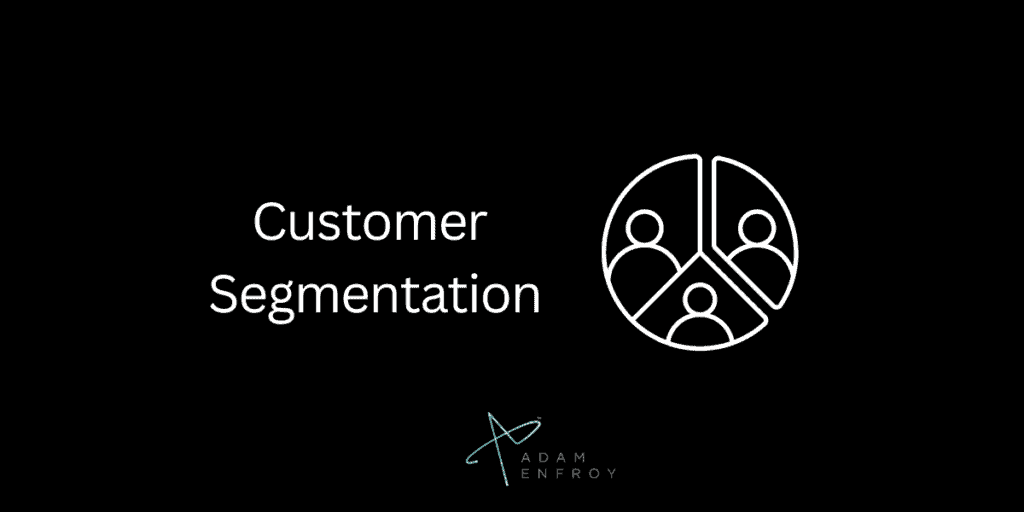 One of the key benefits of CRM systems in marketing is their ability to help you segment your customers.
It allows you to target your marketing messages and strategies specific to the needs of each customer group.
For example, if you have a group of high-value customers and another low-value group based on their purchase history, you can segment them accordingly.
You can then create marketing messages and strategies designed to increase your high-value customers' value and encourage your low-value customers to purchase more frequently.
By grouping them based on shared characteristics, you can target customers more effectively with your marketing efforts.
CRM Data Filtering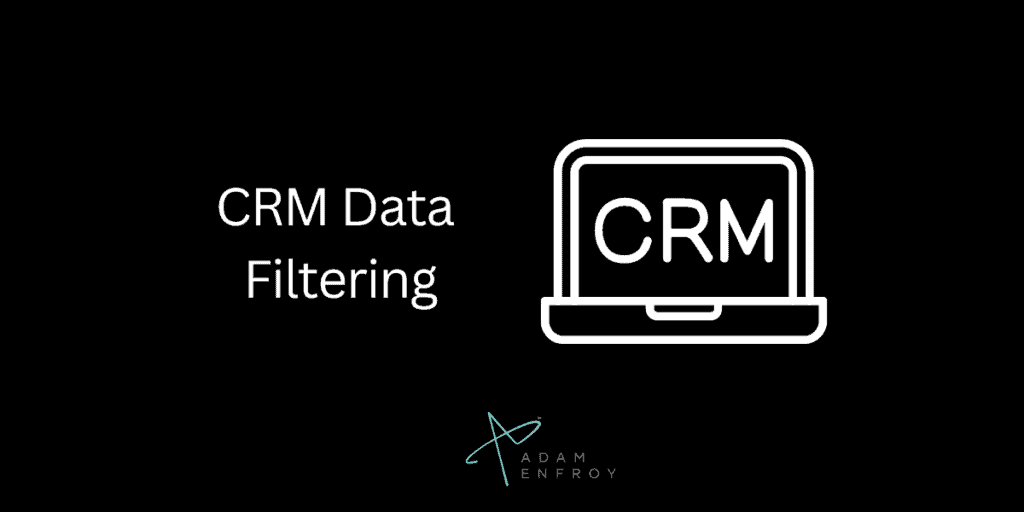 The best CRM systems provide a variety of ways to filter your data.
Data filtering is beneficial when targeting a specific group of people with your marketing campaigns.
One of the most common ways to filter data is by location.
Location filters can be handy for targeting people in a particular city or state.
Another way to filter your data is by customer type.
Customer types can be helpful if you want to target a specific type of customer with your marketing.
Lastly, you can filter your data using the date you added it to the CRM.
Using such a filter can be helpful if you want to target customers who have been in the CRM for some time.
Unified View For Various Departments
When marketing teams use CRMs, they boost their sales and productivity and improve customer support.
CRM systems provide a single view of the customer so that support teams can see the customer's interactions with your business.
Doing so helps them resolve issues more quickly and efficiently, so the CRM system you use must have a unified view of the customer so that all departments can work from the same page.
Forecasting Tools
Using the correct data (that might include demographics, web activity, customer service interactions, and more), a CRM system can help you predict future customer behavior.
Forecasting is an important marketing tool because it helps you do more of what works (and less of what doesn't) while allocating your resources more effectively.
The right metrics can help marketing teams understand what's working and need to change.
Real-time data that everyone on the team can easily access is essential for making data-driven decisions.
Customer Retention Features
If a marketing team wants to increase the lifetime value of its customers, they need to focus on retention and acquisition.
Optimizing customer retention differs for every business, but a CRM system can help.
For example, a business might want to keep first-time buyers happy, so they return or increase customer loyalty by giving existing customers rewards.
A CRM system can automate customer retention tasks, including sending out birthday coupons or automated loyalty points.
It can also help identify at-risk customers so the team can reach out before they churn.
Phone Calls
Some CRM systems have built-in call center features, which can be a valuable marketing tool.
Recording and reviewing phone calls can help you improve your customer service and sales processes.
These are all crucial factors in a company's marketing strategy, and using a CRM correctly can help you stay on top of them.
Templates
The best CRM systems come with various templates to help you save time and be more productive.
For example, you might find templates for email campaigns, social media posts, and landing pages.
Using templates can help you create high-quality content more quickly, so you can focus on other aspects of your marketing efforts.
Additional Apps
Some CRM systems also come with various apps to help you extend the functionality of your system.
For example, you might find apps for accounting, project management, or even ecommerce.
Integrating these apps into your CRM can help you automate more of your marketing processes and save even more time.
Sales And Marketing Using CRM
When using a CRM system, the collaboration between sales reps and marketing teams is essential for success.
Whether closing new leads into customers or upselling existing customers, sales and marketing must work together to accomplish the company's overall goals.
A CRM helps address customer needs and increase customer satisfaction when handling customer requests or identifying potential areas of improvement to the product/service on offer.
It also allows the company leaders to see the big picture regarding the marketing strategy that is in motion.
Understanding how salespeople and marketers can work together to improve the sales process is the first step to a more effective customer relationship – and using a CRM correctly can bring everything together.
How Much Does A Marketing CRM Cost?
The pricing of marketing CRMs can vary depending on the features and functionality you need.
Some providers offer a free version of their CRM with limited features, while others charge a monthly fee.
The price also varies depending on the size of your business.
For example, a small business might pay $10 monthly for a CRM, while an enterprise business might pay $1000+ monthly.
To understand how much you'll need to budget for a marketing CRM, consider your needs and compare the cost of different providers.
Strategies to Use with A CRM to Optimize Customer Relationships
Strategies to use with the CRM to optimize customer relationships are crucial to the success of your marketing campaigns. Here are some of the most effective methods:
Personalization: Use the data in your CRM to tailor your marketing efforts to each customer's preferences. This can include customized email campaigns, product recommendations based on previous purchases, and targeted ads.
Automation: Automate routine customer interactions, such as welcome emails, order confirmations, and follow-up surveys. This will free your staff to focus on more complex tasks while ensuring consistent and timely customer communication.
Segmentation: Use the data in your CRM to segment your customer base into different groups based on demographics, behavior, or other factors. This will allow you to create targeted campaigns that are more likely to resonate with each group.
Lead nurturing: Use your CRM to track prospects and leads through the sales funnel, providing them with relevant information and incentives at each process stage. This will help build trust and keep your brand top-of-mind as they move towards making a purchasing decision.
Cross-selling and upselling: Use the data in your CRM to identify opportunities to offer complementary products or services to existing customers. This can help maximize their lifetime value to your business and increase revenue.
By following these strategies, you'll be able to build stronger relationships with your customers, create more effective marketing campaigns, and ultimately achieve better results from your CRM investment.
CRM For Marketing – FAQ
What Are Some Of The Most Famous CRM Systems For Marketers?
Pipedrive, monday.com, Salesmate, Freshworks CRM, and Salesforce are some of the most famous CRM systems for marketers.
Should Startups Use A CRM From Day One?
The age-old debate of whether startups should use a CRM is always prevalent.
Some say a CRM is essential from day one, while others argue it's unnecessary until the company grows to a specific size.
So, which camp is right?
Overall, a CRM can be a valuable tool for startups.
It can help you save time, money, and effort and give you valuable insights into your customers.
If these benefits appeal to you, a CRM may be worth considering for your startup.
What Is A SaaS CRM?
Software as a service CRM (SaaS CRM) is a cloud-based solution that enables businesses to manage customer relationships via the Internet.
Similarly, SaaS CRM is scalable, allowing businesses to adapt and grow their CRM system as their needs evolve without investing in additional infrastructure or hardware.
Using a SaaS CRM includes lower upfront costs, easier deployment and scalability, and increased flexibility.
Wrap Up.
Understanding how the marketing department can use a CRM tool is critical for any business.
One can use a CRM system to manage customer data, use marketing automation software to nurture leads, create targeted marketing campaigns, and even close more sales.
To get the most out of a CRM for marketing, choose the right system for your business and train your team adequately on how to use CRM systems.
With the right CRM in place, your marketing team will be able to work more efficiently and effectively, resulting in a higher ROI for your marketing campaigns.
Further reading on AdamEnfroy.com: Have you heard of an ERP?
Do you know the difference between a CRM and an ERP and the benefits these both provide in business?
Check out my ERP vs. CRM post to learn more.
Disclosure: I may receive affiliate compensation for some of the links below at no cost to you if you decide to purchase a paid plan. You can read our affiliate disclosure in our privacy policy. This site is not intending to provide financial advice. This is for entertainment only.
---
Last Updated on April 12, 2023 by Adam Enfroy