How To Market An Online Course: Proven Strategies In 2023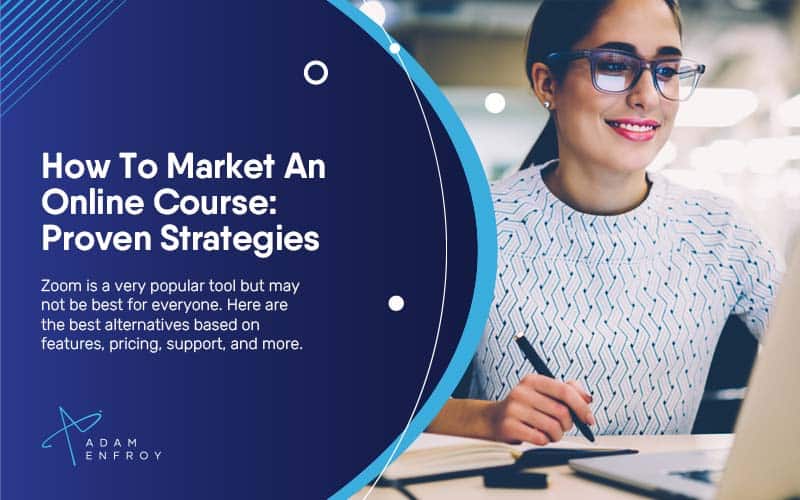 People love learning.
While many see the traditional educational system as failing, alternative courses have exploded with industry growth of 900% since 2000.
This fact is excellent for students who want to learn the skills that matter most to them.
The problem is that the digital marketplace is now crowded with online courses.
As an online business, you must not only understand how to craft a great product and use the right online course platform to host it but also how to promote it effectively.
In this article, I'll explore the best ways to market an online course in the digital marketplace, ensuring that your course doesn't get lost in a sea of competitors.
How To Market Your Online Course
Let's explore the best strategies to ensure your online course stands out in the digital landscape.
Affiliate Marketing
Affiliate marketing effectively spreads the word about your online course and incentivizes affiliates to promote it.
By involving affiliates, course creators can use their networks and contacts to attract people to the course content.
Through affiliate marketing, you can reward affiliates with commissions for helping to drive sales.
Content marketing to help your affiliates drive more sales is also a great way to add value.
Here are some ideas of content you can provide your affiliates with to help them promote your online course:
Testimonial videos from successful students who took the course
Articles or blog posts about how the content helped them to learn and succeed
A tutorial on using the product
An ebook or whitepaper with tips and advice from an industry expert
To get started with affiliate marketing, create an affiliate program and sign up potential affiliates interested in promoting your course.
You can also use an affiliate network or platform to streamline the process and ensure that all payments are tracked and monitored correctly.
If it's the first marketing campaign, getting affiliates onboard to help promote your course can be a great way to reach more people and generate more sales.
Showing affiliates the various ways to promote your links and monetizing them also helps.
Guest Blogging
Guest blogging is another great way to promote an online course.
It has the added benefit of generating SEO backlinks from high-authority sites.
These links can help increase visibility in search engine results pages (SERPs).
Writing guest posts comes down to doing keyword research (here's how to use ChatGPT to help with this) and ensuring you provide value to the readers.
Guest blogging can help you sell courses online by reaching out to sites that future students might visit.
When guest blogging, be sure to create content that is relevant and helpful to your target audience.
Doing so will help optimize engagement, increase website traffic, and increase conversions.
Podcasts
Podcasts are another great way for online course creators to reach out to new audiences and showcase their expertise.
Additionally, podcasts allow you to establish relationships with other influencers who may have similar interests as yours.
These people can provide valuable insight into potential customers' needs and may be willing to promote your product on their platforms.
Social media channels
Entrepreneurs must use social media channels to promote their online courses.
For example, with Instagram, you can share inspiring images and stories about your course and valuable content, such as infographics and FAQs.
Make sure to include a link in the post to a signup page where interested people can join your email list and learn more about the course.
Combining email marketing and social media marketing is a great way to get the word out about your online course.
Quora Answers
A platform that makes it increasingly easier to sell online courses is Quora.
Quora is an online Q&A platform where people can ask questions and get answers from knowledgeable individuals.
Since Quora attracts users interested in learning, it's the perfect place to market your online course.
Start by searching for relevant topics related to your course and providing helpful answers.
People can learn more about your course, which hopefully leads to increased sales.
As you become aware of the type of questions people ask, you can update your course sales page with better answers to questions your audience frequently asks before purchasing.
YouTube Channel
Creating a YouTube channel is one of the best strategies for marketing online courses.
A sales funnel that includes YouTube as part of the customer journey can be a great way to connect with your audience and build trust.
Start by creating video content explaining what you're offering, how it works, and why it's valuable.
Creating YouTube videos also means being able to repurpose content from other sources, such as blog posts and podcasts.
Then, taking your videos and using them on networks like TikTok, Instagram, and other platforms for social media promotion can be an effective way to reach a bigger audience.
Email Campaigns
Digital marketing channels involving email campaigns are one of the most powerful tools for marketing online courses.
Sending targeted emails to those with pain points addressed by your course is a great way to boost sales.
Through email campaigns, you can share stories and testimonials from existing customers to illustrate the value of your course.
If you already have an established mailing list of people interested in purchasing your product, email campaigns are a great way to stay on your mind while giving helpful tips and updates on your course offerings.
If you're building an email list from scratch, create content your target audience would find value in.
Sending emails keeps the conversation going and helps build long-term relationships with those on your list.
Email campaigns also make it easy to track engagement rates and see which content resonates with readers the most, helping you refine future emails accordingly!
Live Events
Creating an exciting and informative course is excellent, but even better is scaling your business and increasing sales.
Attending live events is a great option to help spread the word about your course.
You get to meet and talk to potential customers and build relationships with influencers who could help increase your reach.
You could even take it a step further and create your own live events, helping you get more attention for your course and other products or services you might offer.
Preparing a live event is no easy feat – but it's a great way to show off your expertise and build relationships with potential customers.
Make sure you have a well-structured presentation prepared, include promotional materials such as coupons or flyers, and do your best to ensure everyone has an enjoyable experience.
This channel also offers an excellent opportunity to offer exclusive discounts or promotions only available to attendees.
Webinars
Hosting live webinars to boost trust among those considering taking your class allows potential customers to get a feel for what it would be like to take your course.
At their core, webinars place you as an authority in the field.
Webinars also provide an opportunity for customers to ask questions and get a better understanding of the content you'll be delivering.
You can provide a call to action at the end of the webinar, offering discounts or special features to those who sign up immediately.
The right webinar software platforms offer the right technology to make your experience as frictionless as possible.
Google Ads
As eLearning continues to grow, so do Google Ads as a tool for marketing online courses.
Google Ads allows you to reach individuals who have searched for keywords related to a product or service.
With Google Ads, you can create ads for various search engine queries.
It also allows you to track how many people clicked on your ad and how many signed up for the course.
Most of all, you can tailor your ads to target users using specific keywords related to the course topic.
This data helps you create more effective future campaigns and scale your business.
Also, creating Facebook ads is an alternative to Google Ads that can help you reach potential customers on a different platform.
Online Platforms & Influencers
Short courses hosted on online platforms such as Skillshare and Udemy can act as ads within themselves.
They allow potential customers to get an insight into what lies ahead once they sign up for the more in-depth program you offer.
Another great way to reach potential customers is through influential personalities with a large following among your target audience.
Engage them through payment or gifting them with free access, and their followers could soon become potential customers for your products.
Speaking of other platforms, the sky's the limit.
Whether you use Facebook groups (or one of its alternatives), LinkedIn, or even other forums or WordPress sites, take advantage of all the available channels.
The key here is to be consistent in creating content that adds value and provides solutions to problems faced by potential customers.
SEO
Search engine optimization (SEO) helps ensure that websites appear at the top of the page when users search for relevant topics via search engines like Google & Bing.
As a result, it's easier for people looking for specific information related to your product or service to find what they need quickly and easily.
While the game of SEO isn't short-term, ensuring your website is optimized for searches related to your course can help capture the attention of those actively seeking out information.
Creating content related to your course topic is another way of getting ahead in the SEO game.
Setting up a blog and posting regularly about topics related to your course can help build an audience and drive more customers toward your product.
Reviews from Previous Students
When you market online courses, reviews matter.
Reviews serve as social proof that others had a good experience with your course and would recommend it to others.
Ask previous students if they'd be willing to provide a review on sites like Yelp or Trustpilot.
These reviews will give potential customers an insight into what they should expect from taking your class.
Prerequisites for Launching an Effective Online Course
Before diving into online marketing, there are a few key areas to consider if you want your course to be successful.
Here are the top prerequisites for launching a successful online course.
Research Your Target Audience
Knowing your target audience inside and out will provide the insight you need to decide which online course marketing strategies will be most effective for your product.
Researching who would be most interested and likely to purchase your course allows you to create content tailored to that audience's needs and interests.
Knowing your target audience will also help you determine the best channels to market through and create content specifically designed for those channels.
Whether it's social media platforms, blog posts, or email campaigns, the right approach to selling online courses starts with understanding your target audience.
Develop Quality Content
Creating an online course with quality content is critical to effectively marketing an online course.
Developing quality content helps create a noticeable uptick in course sales and interest.
If you plan on having multiple courses, then it is crucial to start with one and build up quality content over time.
Crafting quality content—videos, blogs, or podcasts—will not only engage potential customers but also establish credibility and trust in your brand and product.
Leverage Technology & Automation
Once you've created quality content tailored towards your target audience, leveraging technology can help automate your marketing efforts so that nothing falls through the cracks.
Automation tools also allow you to measure key metrics such as website visits, clicks, leads generated, etc.,
These tools give you valuable insights into how well your marketing efforts are performing so you can make the necessary changes.
A practical course marketing strategy that uses the right marketing strategies for digital growth can help you reach a wider audience and increase conversions in the long run.
With plenty of online course platforms having integrations with popular automation tools, leveraging technology can be incredibly helpful in getting the most out of your marketing efforts.
Crafting an Engaging Sales Page for Your Online Course
Creating a compelling sales page should demonstrate the value of your course to potential participants.
It should explain why they need this particular course and how it can benefit them.
The benefit of marketing your course is that you constantly have new eyeballs on your sales page, allowing you to test and tweak to improve your conversion rates.
Using student feedback to improve your sales page is another great way to increase sales.
When crafting your sales page message, address potential students' hesitations or objections.
Provide concrete details about how they can solve their problems and enhance their lives with what they learn in the course.
An eye-catching design and landing page layout are also essential to draw in customers.
An engaging design helps draw attention to the essential parts of your message while also making the user experience more enjoyable overall.
With all these tools at your disposal, you'll be able to create a unique website that stands out from the competition without breaking the bank.
Once your sales page is up and running, measuring its success is critical to make improvements where necessary.
Monitor activity on the page, including views, click rates, and signups, so you can track how successful it is in bringing in new customers and generating leads.
Speaking of leads, having a lead magnet (a mini-course, eBook, or another valuable asset) can help you capture leads and convert them into customers.
Wrap Up.
A successful online course starts with building content that resonates with your audience and helps them reach their goals.
All the marketing strategies will count for nothing if you don't back them up with high-quality and valuable content.
That said, the right marketing strategies can help you have a successful online course business by promoting your curriculum, building a robust email list, and having a compelling sales page.
As you create multiple courses and digital products that meet your customers' wants and needs, your online marketing can become an autonomous engine for your business.
Helping your website visitors to find solutions through your course is the key to selling online courses and ultimately growing your business.
Further reading on AdamEnfroy.com: A learning management system takes your course to the next level by providing an organized, efficient way to deliver your content.
On the other hand, you can opt for a microlearning platform if you want to start small and develop your course over time.
Disclosure: I may receive affiliate compensation for some of the links below at no cost to you if you decide to purchase a paid plan. You can read our affiliate disclosure in our privacy policy. This site is not intending to provide financial advice. This is for entertainment only.