7 Best Microlearning Platforms of 2023 (Ultimate Guide)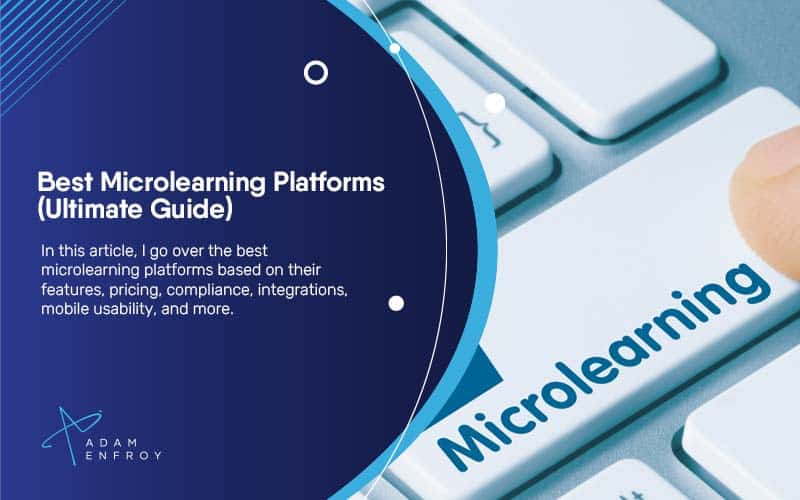 Creating the right training is one of the best ways to duplicate success in your organization – without starting from scratch each time.
Training can also be a process of continual optimization that is made more efficient with technology.
With various online course platforms offering more features as time passes, knowing the advantages and disadvantages that online education provides your learners is essential for making an informed decision about which platform to go for.
However, it also helps to consider that a subcategory of learning management systems – known as microlearning platforms – exists, and is specifically designed for shorter, more focused training content.
These are suitable for employees who might already have some experience and need a refresher, or for those just starting and who need to build fundamental knowledge in a particular area.
In other words, there isn't the need to go as in-depth into a subject matter compared to other situations.
In this article, I will go over the best microlearning platforms and their key features, allowing you to choose the right one for your organization.
Let's dive deep into this topic.
What Are The Best Microlearning Platforms?
The following are the microlearning platforms to consider.
1. Tovuti.
Best Overall Microlearning Platform.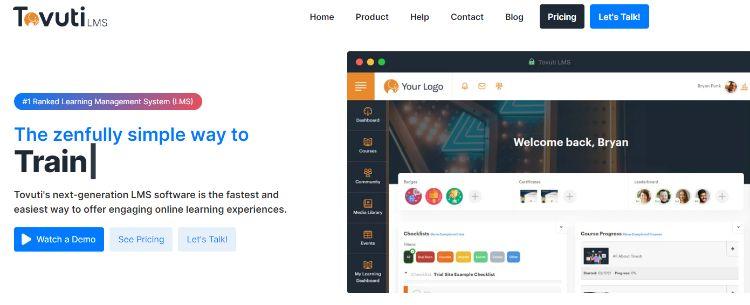 Tovuti is a great way to offer an online learning experience for your employees.
It has a clean and straightforward interface that makes it easy to use, even for those who are not tech-savvy.
The platform also offers a variety of features, including the ability to create custom courses, track learner progress, and offer certification upon completion.
If you want to launch training in days, not months, Tovuti is a great platform to consider.
You can use your assets to build cloud-based courses or quickly import and launch existing eLearning content.
Whether it's PDFs, videos, slide decks, or SCORM files, Tovuti can handle it.
Tovuti also has 7,000 pre-built courses available in its content marketplace, courses you can offer your learners from the get-go.
With various tracking and reporting features, you can measure the effectiveness of your training and make necessary changes on the fly.
Key Features: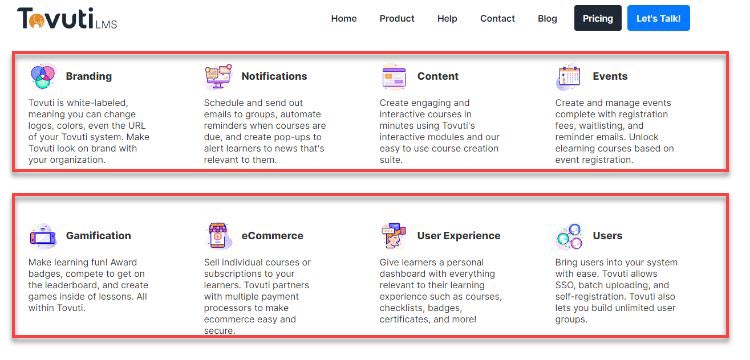 SCORM Compliance ensures that your content is up to the highest standards.
The PowerPoint Importer allows you to create courses from your existing presentations quickly
The Media Library gives you quick and easy access to all of your course's media files
The integrated Course Content Library provides a one-stop-shop for all of your course content needs
Lessons and classes can be easily created and edited within the Tovuti interface
User Experience:
You can easily create your micro-courses inside Tovuti with the help of their built-in media library and course content marketplace.
You also have a forum to stay in touch with other Tovuti users and build a community.
Pricing:
Tovuti offers the following plans:
50 users: $775/month + Setup Fee: $2.5K
250 users: $945/month + Setup Fee: $3K
500 users: $1,325/month + Setup Fee: $3.5K
1,500 users: $1,925/month + Setup Fee: $4K
You can also chat with their team if you require more users for your account.
What I Like/Dislike About Tovuti
Like:
Collaboration tools are beneficial for everyone involved
Easy to get used to reporting and analytics, so you understand what's working
Dislike:
Virtual classrooms may end up buffering when too many people are in the same lesson
Product Updates:
The ability to set learning paths means you can now guide your learners through a series of courses to ensure they gain the desired level of knowledge.
2. EdApp.
Best For Quick Learning.
EdApp helps break down complex topics into manageable microlearning modules that can be completed in just a few minutes.
This makes it perfect for employees who need to learn new information quickly and don't have the time for long training sessions, increasing the likelihood of knowledge retention and application in the workplace.
EdApp also offers an integrated authoring tool, social learning features, and various analytics to track learner progress and employee engagement.
With a mobile learning platform available on iOS and Android, employees can learn on the go at their own pace.
The platform also offers integrations with tools such as Canva so that you can easily create visuals for your courses.
Key Features: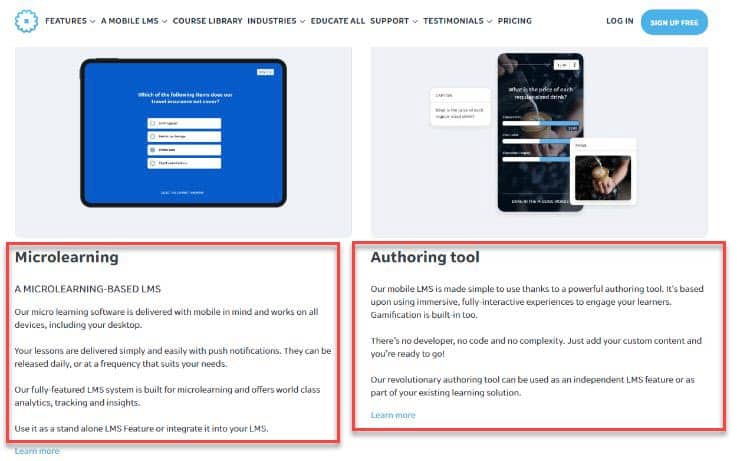 Mobile learning platform ensures learners can gain more knowledge from anywhere
Canva integration makes it easy to create visuals for your courses
The free course library provides a one-stop-shop for all of your course content needs
PowerPoint conversion allows you to create courses from your existing presentations quickly
User Experience: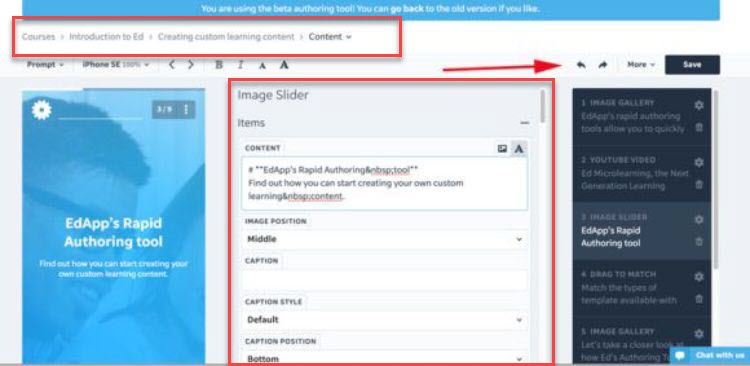 You can quickly deliver your courses to users on desktop and mobile devices with EdApp.
You can also create content using a WYSIWYG editor – so you don't need to be a tech expert to create courses.
Pricing:

EdApp offers these plans:
EdApp Free: $0
EdApp Growth: $1.95 per active user/ month
EdApp Plus: $2.95 per active user/ month
What I Like/Dislike About EdApp
Like:
The cost is reasonable, especially considering the short time it takes to develop a course from scratch.
The authoring tool is easy to use and doesn't require any coding knowledge.
Dislike:
A total provision of coding measures would be helpful
Product Updates:
You can now invite your learners to EdApp with a QR code or a simple link, allowing them to start their learning immediately.
3. Gnowbe.
Best For Engaging Experiences.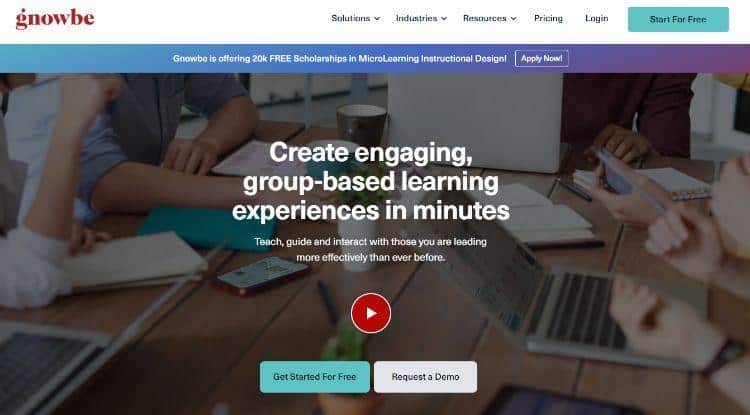 Gnowbe is ideal when creating engaging experiences is critical, allowing you to teach, guide, and interact with your audience all in one place.
This microlearning platform allows you to create content for in-person teaching, virtual events, or even a mix.
Plus, with the ability to track data and engage with learners in real-time, you can ensure that your courses have the desired effect, i.e., that your lessons stick.
Creating content is a super-simple process, so you won't have to go through a huge learning curve just to get started.
You can also send push notifications to your learners when you release new content or if you want to remind them of an upcoming event.
You can also look at the critical engagement metrics to see how learners are progressing and make changes on the fly.
Key Features: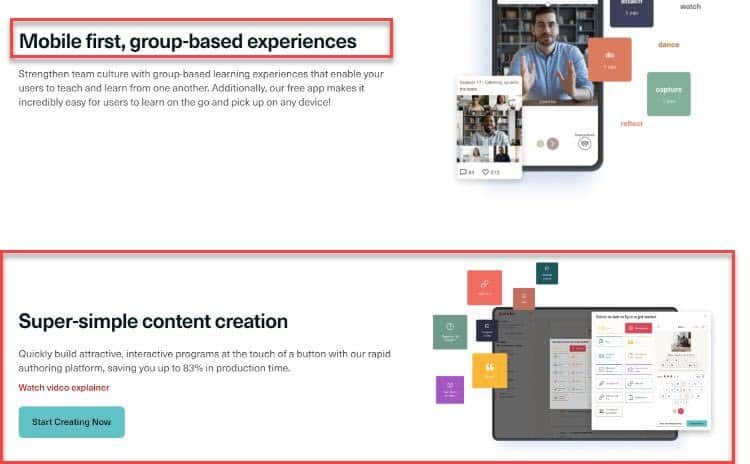 The easy content creation process makes it simple to get started
System integrations allow you to connect with other tools that you use
Multi-platform experiences let you create content for various platforms
Flexible pricing gives you the ability to pay for only what you need
Key metrics help you track learner progress and engagement
User Experience: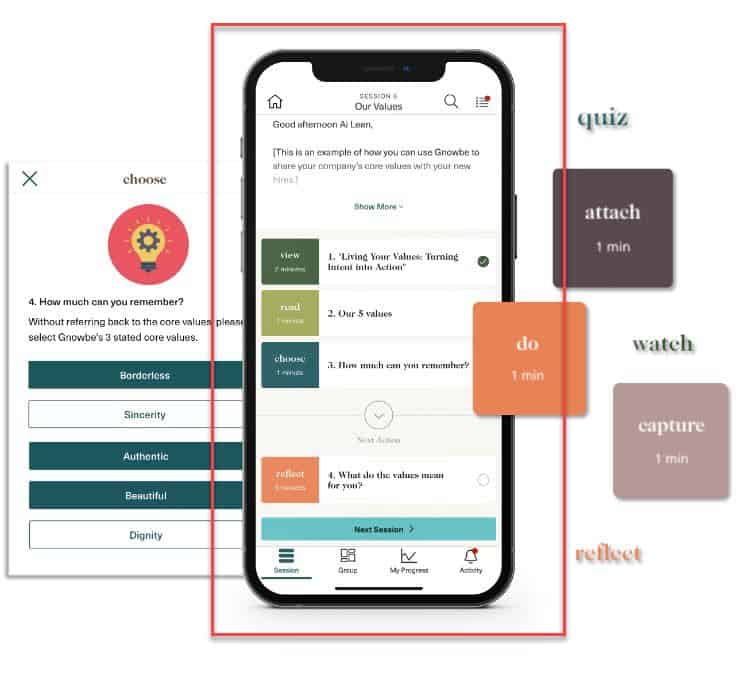 Various quizzes and games make learning fun and engaging on this platform.
Integrating with other tools also makes it easy to use Gnowbe with your existing systems.
Pricing: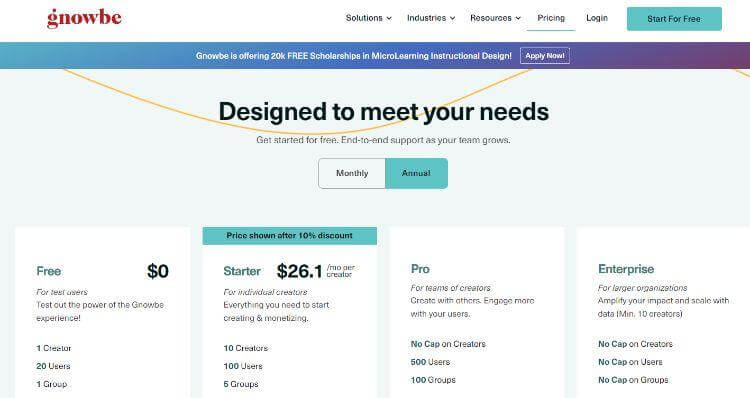 These are the pricing plans available on Gnowbe:
Free (up to 20 users): $0
Starter (up to 100 users): $26.1 /mo per creator
Pro (up to 500 users): Contact their sales team
Enterprise (unlimited users): Again, you'll have to get in touch with sales
What I Like/Dislike About Gnowbe
Like:
Gnowbe looks great and is easy for employees to navigate.
Very easy to learn how to use the platform when setting up and creating microlearning experiences.
Dislike:
Some reporting functions are a bit difficult to find and use.
Product Updates:
Guided tours now help new users get started with Gnowbe quickly and easily.
4. Spekit.
Best For Direct Integration.

Spekit integrates directly with the flow of work rather than being an additional tool that distracts more than it helps.
This microlearning platform provides in-app guidance, so employees can get the help they need when and where they need it.
If you're looking for a platform that can cut sales training in half while ensuring that employees can virtually train themselves to be experts in your subject matter, then Spekit is the platform for you.
Plus, with its visual interface and automated coaching, Spekit makes it easy for employees to get up to speed quickly without feeling overwhelmed.
With digital adoption at the heart of Spekit, you can also be sure that employees will use the platform and not just passively view the content.
You also get various critical app training that can help you to get started with the platform quickly.
Key Features: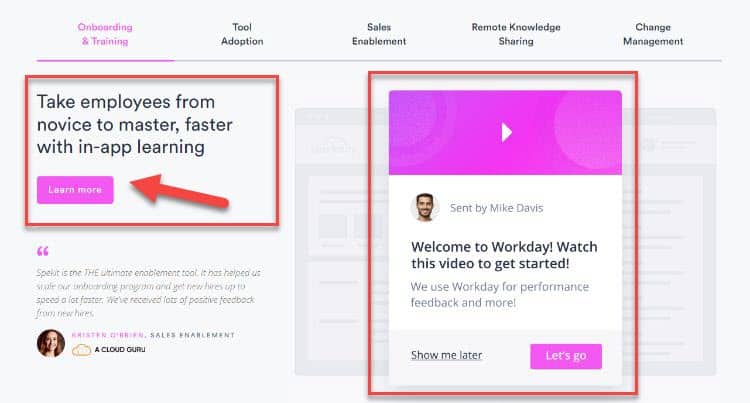 Link content across tools to get started quickly and easily
Embed training in any app to make it easily accessible for employees
Guide employees with step-by-step flows so they can get the help they need when they need it.
Search from Outlook, Slack, or anywhere else with the Lightning Component to find the information you need quickly and easily
Print PDF manuals for offline viewing or reference later.
User Experience: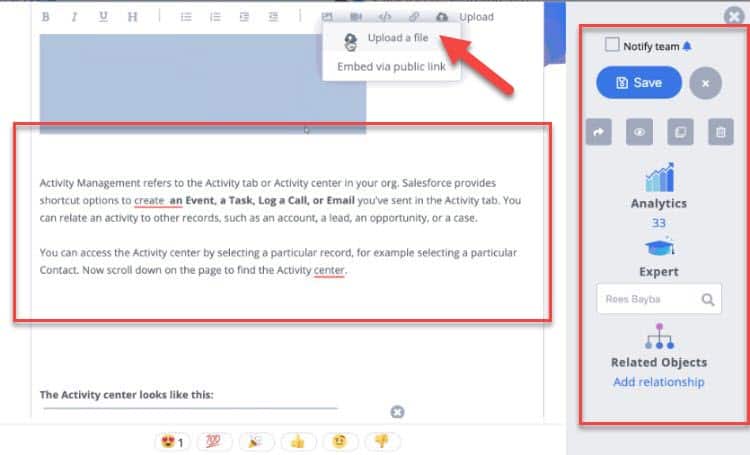 You can quickly build a microlearning course as if you were building a document that you can share with your team.
Pricing: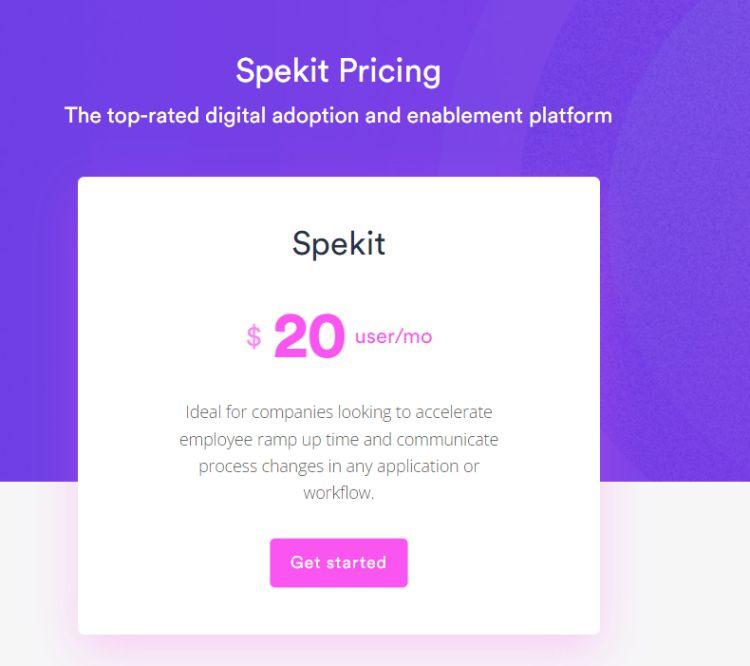 Spekit offers a straightforward package that streamlines teaching and ensures no complications when it comes to billing.
This makes it easy to budget and eliminates the need for a lengthy contract.
The price is $20 per user per month.
What I Like/Dislike About Spekit
Like:
Spekit lives right on top of Salesforce, so it's always accessible and easy to find the needed information.
Being a simple tool makes getting information across to one's team effortless and effective.
Dislike:
Syncing to various systems can sometimes be tricky when accessing your Spekit content in different apps.
Product Updates:
Step-by-step walkthroughs with Spekit Flows help employees get up to speed quickly and easily.
5. LearnUpon.
Best For Scaling Training Programs.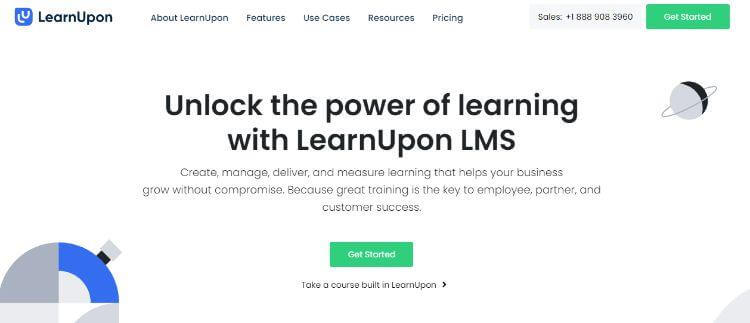 LearnUpon allows businesses to grow and scale their learning programs quickly and easily.
This microlearning platform makes it easy to deploy and manage training programs for employees, partners, and customers.
Providing a consistent, customized learning experience is easy with LearnUpon's powerful tools and features.
With a systematic training strategy, this platform provides a clear picture of employees' training progress and needs.
LearnUpon also offers various integrations with everyday tools so that learning can be easily incorporated into an employee's workflow.
With user management being a key focus, this microlearning platform makes it easy to assign and track employees' progress.
Key Features: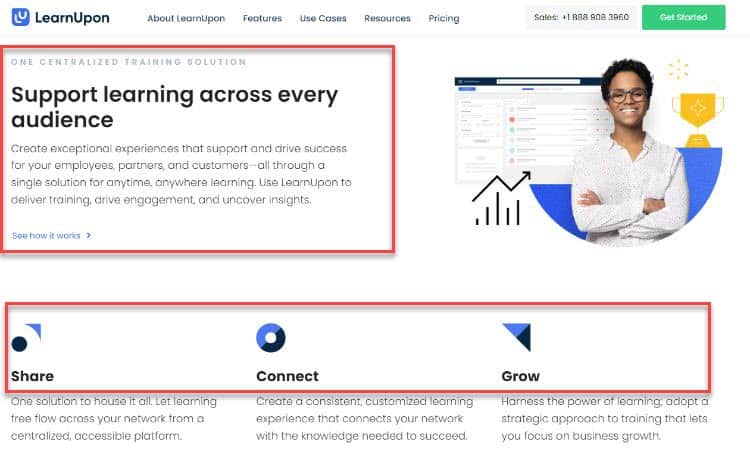 Course creation tools allow you to quickly and easily create courses using the built-in content library or your content.
Training delivery features include automatic enrolment, scheduled courses, and email notifications to keep learners on track.
Learner engagement tools such as social learning and gamification make learning fun and engaging.
Portals give learners a one-stop-shop for all their learning needs.
Reporting features provide valuable insights into the progress and performance of learners.
Integrations with popular tools make it easy to connect LearnUpon to your existing systems.
User Experience: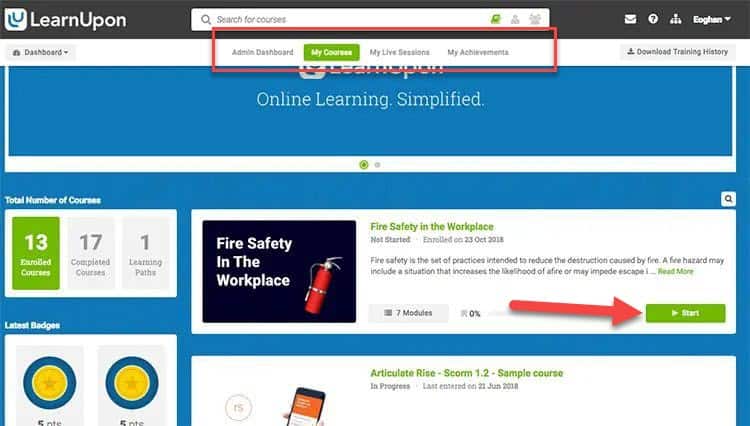 LearnUpon is a very user-friendly platform that allows users to see exactly all the needed information.
This includes what courses they are enrolled in, upcoming live sessions and will also enable them to start and stop classes at their convenience.
Pricing: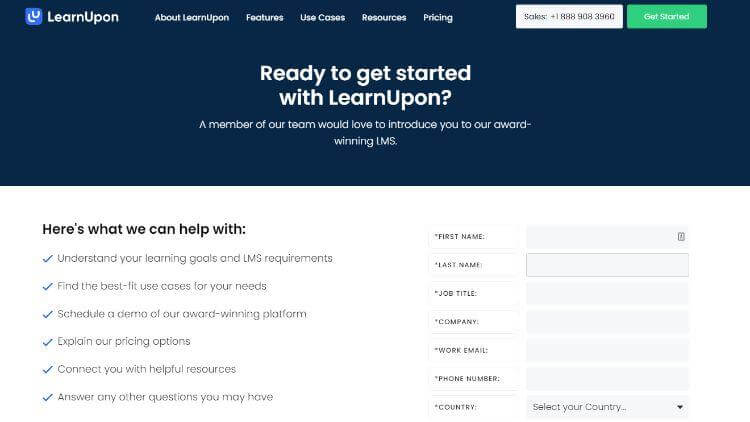 Schedule a live demo to see what LearnUpon can do for you.
What I Like/Dislike About LearnUpon
Like:
Being a highly customizable microlearning platform, LearnUpon makes it easy to deploy training programs specific to your company's needs.
Offering some of the most extensive platform control over the learner's experience, LearnUpon provides detailed reporting on learner engagement and progress.
Dislike:
In one-off situations, the platform works slower than usual.
Product Updates:
LearnUpon is available in over 20 global languages so that you can train your employees in their native language.
6. 7taps Microlearning.
Best For Various Training Sharing Methods.

7taps Microlearning provides a quick way to create and deploy microlearning content.
This microlearning platform allows you to quickly and easily create courses using the built-in content library or your own content.
Using a mobile-first approach for both the course creator and the learner, 7taps makes it easy to create and consume content on the go.
With tools that improve both the content creation workflow and how this training is delivered, you can create a microlearning program that is both effective and engaging.
Training can be shared in various ways, including HTML embedding, email, direct links, SMS, and more, so learners can access it anytime.
Key Features:
Reinforce a learning event to ensure participants get the most out of it.
Support performance by providing just-in-time information and help when learners need it.
Prototype eLearning content quickly and efficiently to get feedback early in the process.
Introduce a simple skill or concept using microlearning so learners can build on it later.
Pricing: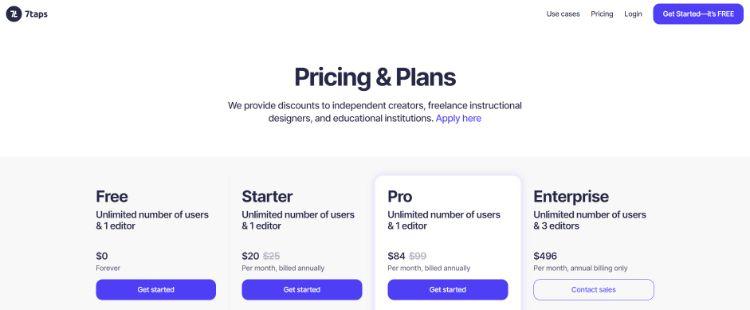 These are the pricing plans available on 7taps Microlearning:
Free: $0
Starter: $20
Pro: $84
All of the above are per month, billed annually. There is a choice to get billed manually at a higher rate.
There is also the Enterprise learning plan at $496 per month.
However, only annual billing is possible with this plan.
7. Axonify.
Best For Pushing Live Updates.

Axonify takes the concept of BYOD (Bring Your Own Device) to a new level with its microlearning platform.
This platform is designed to be used on any smartphone, tablet, or laptop device, making it easy to deploy and manage training material with Axonify's powerful tools and features.
Employees can learn new skills and knowledge without disrupting their day-to-day tasks with training that fits right into the workflow.
Giving you all the stats that can help you improve your training program, this software is also great for those who want to keep a close eye on their employees' progress.
You can also push real-time updates from a central location so that all employees are up-to-date with the latest information.
Key Features:
Reinforce the essential lessons to ensure participants get the most out of them.
Train new employees quickly and easily with a platform designed to fit into their workflow.
Communicate with employees in real-time by pushing updates and changes from a central location.
Compliance tools help you keep track of your employees' progress and ensure they meet all the required standards.
Content can be customized and tailored to fit the needs of your organization.
Onboarding tools make it easy to get new employees up to speed with your company's procedures and processes.
Pricing: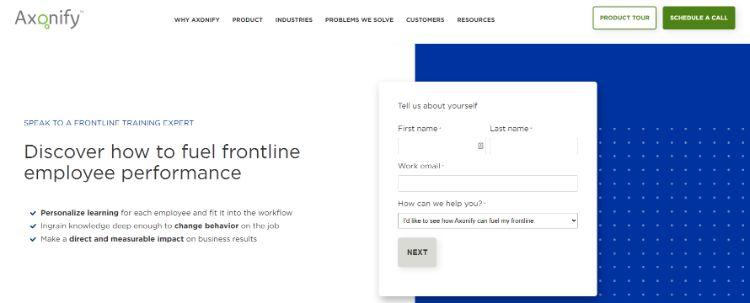 Schedule a call with their team to discuss your specific training needs and get a quote.
Other microlearning platforms not mentioned in this article include TalentCards, eduMe, and iSpring.
What Are Microlearning Platforms?
With various training tools that can help increase employee performance, a micro-learning tool is a powerful solution that can be used in different industries and businesses.
Whether you want to create courses about app development, engage learners with remote training or provide interactive modules that can be completed in minutes, a microlearning platform can help you get the job done.
Microlearning platforms make it easy to create and manage training programs with their built-in content libraries and tools.
Authoring tools within the right microlearning platform can help ensure that your courses are interactive and engaging.
You can also find platforms with features like social learning, assessment tools, and mobile compatibility, all aiming to create a training program that meets the needs of your employees.
The Benefits Of Online Training
Creating microlearning content is different from traditional corporate training in a physical classroom.
The critical difference is that microlearning can be delivered online, which has several advantages.
With employee training nowadays being more focused and results-driven than ever before, having a microlearning course can help all departments in a company to hit their goals.
Whether it's a sales team that needs to be trained on the latest product features or a customer service team that needs to brush up on their knowledge of the company's procedures, microlearning can be used to deliver this content engagingly and interactively.
Here are some benefits that microlearning software can bring to a company.
1. Increased Learner Engagement
With the ability to create focused courses, you can keep your employees engaged in their learning process.
When you create microlearning content, you can include different media types such as videos, infographics, and audio to make the learning process more engaging.
2. More Accessible For Employees To Focus
Microlearning strategies revolve around providing employees with small pieces of information that they can easily digest.
This makes it easier for employees to focus on the task and retain the information they are learning.
3. More Affordable And Time-Effective Than Traditional Training Methods
Cost and time are always important factors to consider when it comes to employee training.
Microlearning platforms are more affordable than traditional methods, such as classroom-based training.
They are also more time-effective since employees can complete the bite sized courses at their own pace and on their own time.
4. Suitable For All Types Of Learners, Including Visual And Auditory Learners
Microlearning tools help ensure that your courses are accessible to all types of learners.
This is because they can be delivered in various formats, such as audio, video, and text.
This also means that employees can usually choose their preferred learning style and run with it.
5. It Can Be Used To Train Employees On A Variety Of Topics
Training programs that add to the functionality and knowledge of your employees can be created with microlearning tools.
Various topics such as customer service, product knowledge, and company procedures can be covered in your eLearning courses.
Features Of Microlearning Platforms
Let's now look at some of the features you should look for in a microlearning platform.
Gamification
One of the most popular features of microlearning platforms is gamification.
This feature makes learning fun and interactive by adding game-like elements to your courses.
Having leaderboards that show the progress of learners and awarding points for completing tasks can help motivate employees to complete their courses (and compete with others taking the same lessons).
Quizzes And Assessments
Whether through flashcards or fill-in-the-blank questions, most microlearning platforms have in-built quizzes and assessments that can help test your employees' knowledge.
This is a great way to check for understanding and ensure that employees retain the course information through bite-sized learning and testing.
Templates
Having to start from scratch is never fun and results in a lot of wasted time.
When it comes to having various formats, it's best to have a microlearning platform that comes with templates.
This way, you can quickly create courses without worrying about the design.
API Integration
Integrating your microlearning platform with other software is always a bonus.
While the right know-how is needed to set up the initial integration, it's worth it in the end.
This opens up aspects such as social learning possibilities when creating training content.
Such training can be shared across different platforms, adding an extra dimension to your course.
Mobile Apps
Whether users are on Android or iOS, the proper learning and development tool can be accessed on mobile devices.
This is important since employees are always on the go and might not have access to a computer all the time.
Ability To Build Case Studies
When it comes to learning, nothing is better than being able to relate the information to a real-life situation.
This is where case studies come in handy.
Building case studies into your courses can help employees better understand their learning concepts.
If this is important for your use case, the microlearning platform of choice should have this feature built-in.
On-Demand Training
Running on-demand training courses is always a good idea.
Employees can complete the courses at their own pace.
They can also come up with areas they need more help with, and see if there's a course that answers that need.
User-Friendly
The last thing you want is a microlearning platform that's hard to use.
Having learning management systems that require a huge learning curve is a big no-no.
As such, look for a platform that's user-friendly and easy to navigate.
This way, employees will be able to find (and consume) the courses that they need without any hassle.
Wrap Up.
As a result of choosing the right microlearning platform, you will easily be able to hit your training goals and ensure that your employees are on the same page.
With the right micro learning platforms, you can also save yourself from the headache of having to design and develop courses from scratch.
Additionally, having a microlearning platform will also ensure that your courses are accessible to all types of learners.
By going through the above list of microlearning solutions and choosing the one that best meets your needs, you'll be well on your way to achieving training success for your employees through courses that give them the best information to do their job well.
Have you ever used micro training?
Which microlearning platforms did you find the most helpful?
Please share your thoughts and experiences in the comments below.
Further reading on AdamEnfroy.com: Choosing a learning management system (LMS) is not always a straightforward process.
Whether you want to create an online course or use employee training software to manage your in-house training program, you must ensure that the LMS you choose has the features and functionality you need.
Editorial Process:
Our reviews are made by a team of experts before being written and come from real-world experience. Read our editorial process here.
Some of the links in this article may be affiliate links, which can provide compensation to us at no cost to you if you decide to purchase a paid plan. These are products we've personally used and stand behind. This site is not intended to provide financial advice. You can read our affiliate disclosure in our privacy policy.