How to Choose an LMS: A Comprehensive Guide for 2023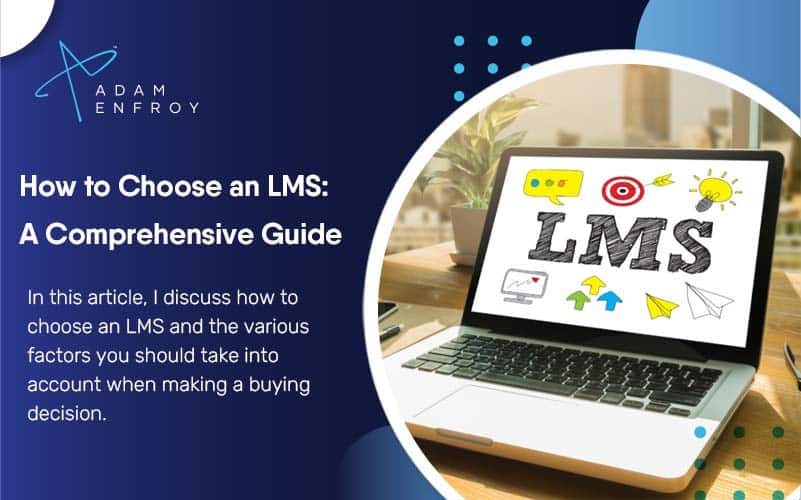 A learning management system is a platform that helps you manage your online courses and track your student's progress.
Learning management systems come in all shapes and sizes, catering to a wide range of needs.
This means that choosing an LMS platform is a big decision, mainly due to the vast number of options available.
With various LMS platforms dealing with social learning, blended learning, training courses, and more, it can be challenging to determine which LMS is the best fit for your organization.
To help you choose, in this article, I will outline some key factors to consider in an LMS platform, allowing you to make a more informed decision.
Let's get right into it.
Main LMS Types
Most learning management systems will fall into one of these categories.
1. Social Learning LMS
These LMS platforms focus on social learning, where students can collaborate and interact with each other in various ways.
This type of LMS is excellent for fostering collaborative and interactive environments and is often used in educational settings or companies that emphasize team-based work.
2. Blended Learning LMS
A blended learning LMS integrates both online and offline coursework into a single platform, allowing you to easily track your students' progress no matter how they are learning.
This type of LMS is ideal for organizations looking to offer a mix of e-learning and traditional classroom instruction.
3. Training Course LMS
Training course LMS platforms are designed to help organizations create, deliver, and track online training courses.
A platform like LearnDash allows you to manage, sell, and deliver training content from a single cloud-based system.
With LearnDash, you can create unlimited courses, test & quiz assessments, assign user roles, track progress, and more in one place.
Additionally, with its advanced reporting features, LearnDash provides detailed insights into each student's progress and performance so
4. E-Learning LMS
An e-learning LMS platform helps you deliver, manage, and track online courses.
This type of LMS is ideal for organizations that want to offer entirely online courses or for those looking to supplement their existing classroom learning with an online component.
5. Multi-Tenant SaaS LMS
A multi-tenant SaaS LMS is a cloud-based learning management system that allows multiple organizations to use the same platform.
Companies often use this type of LMS by companies that offer training courses or e-learning content to their customers or partners.
6. Corporate Or Enterprise LMS
A corporate or enterprise LMS is an online learning management system that is designed for use by a single organization.
Large companies use this type of LMS software as part of their HRIS system, especially when they need a robust platform to manage their employees' training and development.
The typical LMS vendor will offer a combination of one or more of these platforms, so it is essential to carefully consider your organization's needs and select the platform that best meets them.
Understanding Who Your Target Market Is
As with any platform, knowing who you're serving is key.
If you are dealing with employee training and want to use mobile devices like smartphones or tablets, you will want to look for an LMS platform optimized for use on different devices.
Alternatively, suppose you're using an LMS as an online course platform to share online courses and training materials with external audiences.
In that case, you'll want to make sure the system has e-commerce capabilities so that you can charge for access to your classes.
Knowing your target market, their needs, and how they want to learn is critical in choosing an LMS that will work for you.
Define The Company Goals And Requirements
After knowing who your target market is, it is essential to define your company's goals when choosing an LMS.
For example, if you created an online course and wanted to build a membership site around it, you could look for an LMS that offers customer nurturing and membership site capabilities.
Suppose you want to have mass user registration features and plan on using the LMS for several hundred employee training.
In that case, you would probably opt for an LMS with robust user management tools and reporting capabilities.
Knowing who your target audience is and what you hope to accomplish will make knowing what LMS features to look for easier.
What Features Do You Need In A Learning Management System?
LMS features range from the very basic, such as the ability to upload and host documents, to more advanced features such as gamification, social learning, and content creation tools.
The functionality of an LMS can vary significantly depending on its price and level of complexity, so it is essential to consider what features are required for your organization carefully.
These are some of the main features available in the market right now.
Social Learning Features
A learning platform with social learning features will allow your learners to interact with each other and share their knowledge.
This platform is often used in corporate training, where learners can collaborate and learn from each other in real-time.
The training process can be enhanced when people connect with others with similar learning needs and interests.
Gamification
The best LMS software will offer gamification features, which allow learners to earn badges, points, and other rewards as they progress through their course.
Gamification helps with learning and development and is something that new LMS are starting to focus on.
It can make the learning process more fun and engaging, encouraging learners to stick with their training until the end.
Retention Features
Aspects such as quizzes will help with both achieving the training needs and ensuring the right progress tracking of your learners.
It can also help to identify areas where learners are struggling so that you can provide them with additional resources.
Workflow
A cost-effective LMS should also have workflow features, which will allow you to automate the training process and streamline your day-to-day operations.
This means that repetitive processes will only need to be set up once.
Then, the learning system will automatically kick in when these processes need to be repeated.
Multi-Device Support
With more and more people using mobile devices to access the internet, choosing an LMS that one can access on any device is essential.
In addition, the system should remember where one has left off in a previous session and continue the respective training from there.
Moreover, the LMS should be responsive and offer a seamless experience regardless of the device used.
Customer Support
The support team behind an LMS can make a big difference in the overall experience with the platform.
Ideally, it would help if you looked for an LMS that offers 24/7 customer support that helps its end users to get their questions answered quickly.
eCommerce
Some e-commerce companies require LMS systems to be integrated with their existing shopping carts.
In these use cases, it is essential to choose an LMS that offers seamless integration with popular shopping carts such as Shopify, Magento, and WooCommerce.
This also means that the right LMS providers will be those that can offer you a high degree of customization when setting up your courses and selling them.
Onboarding Features
Choosing an LMS with robust onboarding features will help anyone new to an organization (or any entity for that matter) get started.
These might include tutorials, walkthroughs, or other resources for learning about all aspects of the platform and how to use it effectively.
This type of LMS solution will save you a lot of time and headaches both in the short and long run.
Metrics And Analytics
It is essential to have a user interface that gives information about team members and their progression in the learning process.
This helps you identify areas where they might need more help or support.
It's also great to get feedback on what's working well and what could be improved.
This is all made possible using the right metrics and analytics – features that should be integral to the LMS you choose.
Running Webinars
When choosing an LMS, some companies are interested in platforms that can help with their training strategy by allowing them to run webinars for their employees or customers.
While this isn't a necessity (and might be considered a more advanced feature), it's a nice-to-have option that can improve the overall learning experience with an LMS.
Pricing
The cost of an LMS can vary depending on the features and functionality it offers.
Consider that the pricing will also vary depending on the formats and the support you need.
In addition, some platforms will charge a license fee for each user you introduce to the system, while others charge a monthly subscription fee.
It's also good to consider that an open-source LMS is usually free to download and use, but you will need to pay for hosting, support, and customization.
Comparing the prices of different platforms before making a final decision is an important aspect of choosing an LMS.
Video Hosting
Many LMS platforms offer the ability to host videos within the platform itself.
While traditional video hosting sites such as YouTube or Vimeo are great, hosting videos on the LMS can make it easier for learners to keep track of their progress and ensure they are watching all the required videos.
In addition, the playback speed will typically be faster since the system will take care of all the right settings.
Mobile Learning
With an LMS that supports mobile devices, employees can complete training or other tasks on their phones or tablets whenever they have free time, even when they are not at work if they choose to do so.
Mobile learning is as popular as online training (if not more), and allowing your target audience to improve their skill sets on the go will give them the ability to complete the required training at a faster rate.
The Importance Of Testing Out Various LMSs
With a range of different LMSs available, it is essential to take the time to try out other platforms before making a final decision.
In addition, you can also talk to other users or the support team behind the platform to get a better sense of how it works and what features it offers.
Wrap Up.
If you have a shortlist of LMS providers that you're considering, the next step is to dig deep into the features and functionality that are most important to your organization.
Once you have a clear sense of what you need, it should be easier to decide which LMS is the best fit for your business.
Also, understanding what's on a company's roadmap will allow you to make an informed decision that meets both your current and future needs.
Finally, always test out the LMS before making a final purchase decision to ensure it is the right fit for your business.
Further reading on AdamEnfroy.com: Want to get a more in-depth look at some of the best LMS platforms currently available?
Here are some articles to consider:
Disclosure: I may receive affiliate compensation for some of the links below at no cost to you if you decide to purchase a paid plan. You can read our affiliate disclosure in our privacy policy. This site is not intending to provide financial advice. This is for entertainment only.