Thinkific vs Teachable: Which is Best in 2023? (Comparison)
Online learning has become hugely popular among students and professionals from all walks of life. And if you're looking to make money online by selling online courses, two of the most popular platforms to use are Thinkific vs Teachable.
eLearning statistics indicate that this industry is likely to gain a market size of $240 billion by 2022.
Ease of access, instant reach to world-class educational content, and the ability to learn at your own pace make online learning an attractive option for students.
Learners from all over the world – be it students or professionals – can connect with world-class teachers and learn pretty much anything online.
For instance, students from France can gain easy access to online study material at Oxford University in the UK. They can also attend digital classes of reputable teachers from Oxford and interact with them in real-time through online learning services.
If you are planning to launch your own online course website, then you need the best platform to do it.
And two names that come to mind are Thinkific and Teachable. But the question is, which one is the best?
To figure that out, you need to gauge all the features of each platform to understand what you need before making your final decision.
However, it can be time-consuming to research these platforms.
To make your job easier, this guide breaks down Thinkific vs Teachable based on features, price, revenue potential, and more.
Let us get started.
Disclaimer: This article contains affiliate links that I receive a small commission for at no cost to you. However, these are merely the tools I fully recommend when it comes to launching online courses. You can read my full affiliate disclosure in my privacy policy in the footer.
Thinkific vs Teachable: Overview.
Thinkific powers over 40,000 course creators and over 30 million online classes. It allows anyone to sell courses and membership sites all in one place.
Thinkific has around 100 dedicated employees and provides its services in over 15 countries. Through its video and assignment-based learning tools, the platform has revolutionized the way people are learning and earning through online channels.
Some of the most prominent features of Thinkific are:
Thinkific offers an easy setup and give you absolute control over their content and customer data.
They have excellent web design options without the need for HTML and CSS. You can customize every inch of the website and course.
Their marketing and analytics tools help you maximize engagement and boost revenue.
Teachable was founded in 2014 and currently has 83,000 instructors and 23 million students.
It is currently the second biggest eLearning platform in the world.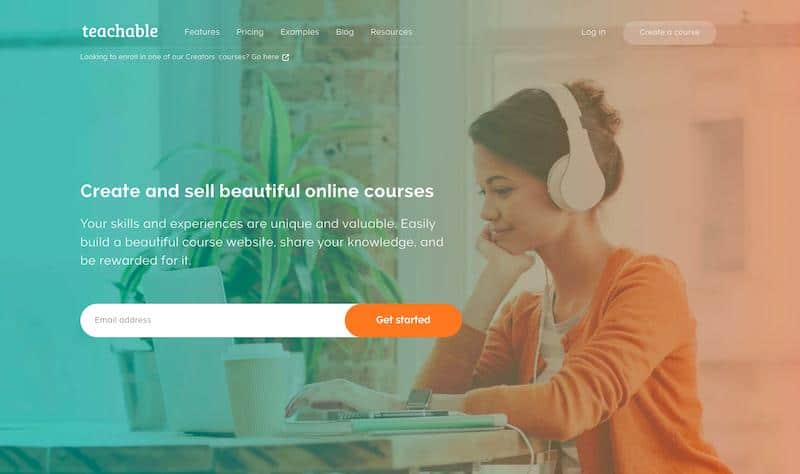 Some of the most prominent features of Teachable are:
Allows you to quickly build a website through a drag and drop editor
Offers analytics tools to gauge your courses and calculate your ROI
You can design landing pages optimized to boost conversions and sales
They have advanced marketing and sales pages to help you after launch
Can insert Thinkific buy buttons and go checkout if you have a WordPress site and shortcode plugin
The main difference between the two is that Teachable provides better marketing features, while Thinkific offers better site design.
However, with so many other features, we need to dig deeper before deciding.
Let's get started.
Thinkific vs Teachable: Which One is Best?
Performance and Uptime Review
Ease of Use
Security Measures
Marketing
Data Analytics
Customer Support
Payment Integration
Customization
Pricing Plans
1. Performance and Uptime Review.
You would never want your course builder to be down while prospective learners are either about to buy or taking lessons.
Apart from the loss in revenue, it will seriously damage your brand image. Therefore, it is crucial you have minimal downtime.
Thinkific offers 24/7 monitoring of the website to make sure it is up all the time. On top of that, the platform claims to have an excellent 99.9% uptime.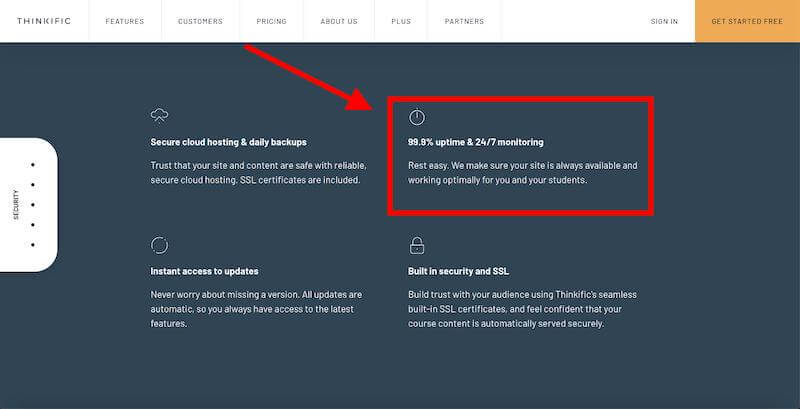 The support team at Teachable also continually monitors the platform to make sure that the site is always up and running efficiently.
However, to free yourself from any doubt, you can check their uptimes here:
When you go through both the links, you will find out that Teachable has more incidents of downtime than Thinkific.
Some of the common issues reported were:
Issues with the updating of billing information
Intermittent connectivity issues
Latency and 504 errors
However, Thinkific has also faced downtime and problems with responsiveness in the past. But all of the issues were fixed on priority, and the platform is delivering efficient performance.
Aside from this, Thinkific has categorically mentioned an uptime of 99.9% and 24/7 monitoring on its corporate website, which is a very transparent move. You can't see any such claim on the official website of Teachable.
Winner: Thinkific.
With round the clock monitoring of the website and over 99 percent of uptime, Thinkifc emerges as the clear winner when it comes to delivering a maximum amount of uptime.
Get started with Thinkific.
2. Ease of Use for Course Creation.
It is essential to have an online course platform that is intuitive and user-friendly. There is no point in having a capable platform with a complex user interface that you are unable to operate.
Here are some of the key features that make Thinkific an easy-to-use platform:
Drag and drop content for easy upload and positioning to launch a course at a faster pace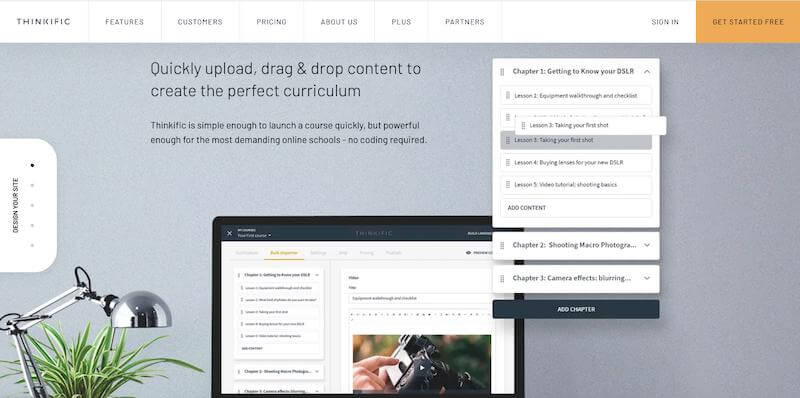 No coding required for customization
Supports all kind of multimedia content, including videos, surveys, discussions, downloads, Typeform, among others
Allows free hosting of video content on the platform
Enables you to leverage pre-built themes to launch an online learning platform easily
Easily integrates with email marketing software like Mailchimp, Constant Contact, or ActiveCampaign kickstart marketing emails and drip content
Teachable also offers a list of features that makes the platform highly functional and easy to use.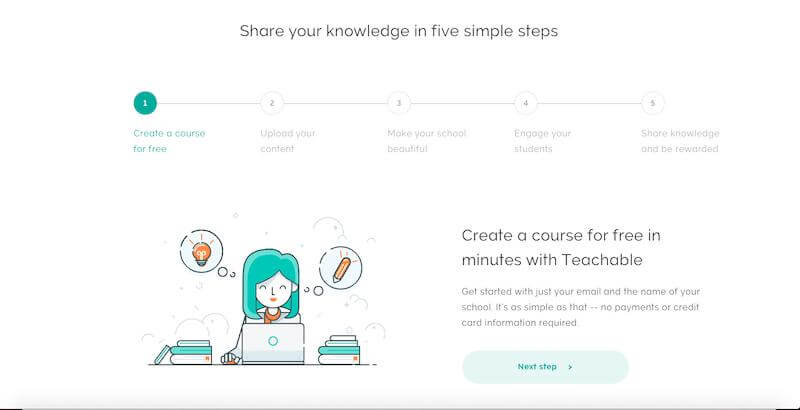 Here are some of the most prominent features of Teachable that makes it an easy-to-use platform:
Enables you to add video, text, image, audio, and PDF files from cloud storage services, including Google Drive, OneDrive, and Dropbox
Leverage drag and drop builder to create a highly engaging and functional website easily
The built website is highly responsive to give an omnichannel user experience on desktop, tablet, and smartphone
Any team member can leverage power editor to implement highly customized features
Use page editor to launch new pages with the latest course offerings instantly
Easily modify the language to make your website more suitable for foreign students
Leverage conversion-optimized sales templates to quickly boost your sales
Winner: Teachable.
Teachable offers more options to customize your website easily. Additionally, all design features are pretty easy to use and even a beginner with minimal technical expertise can use the platform.
Get started with Teachable.
3. Security Measures.
Cybersecurity threats continue to loom over websites globally. This threat increases when your website collects payments online.
According to a report, cybersecurity attacks will cost the world $6 trillion annually by 2021. That's a lot of money lost due to the absence of proper due diligence.
To address cybersecurity concerns, both Thinkific and Teachable offer strong security measures to keep your data and financial transactions safe.
Here's a quick rundown of some of the security measures taken by both the platforms.
Thinkific: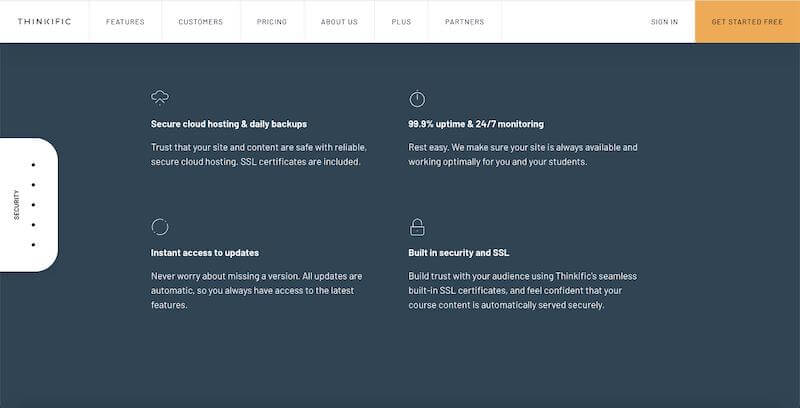 It offers secure cloud hosting to keep the data safe 24/7.
Get regular automatic backups of the data to eliminate the chances of data loss.
The platform comes equipped with seamless built-in SSL certificates to ensure every bit of content is stored in secured servers.
It periodically rolls out security updates that are automatic so that you don't miss any update.
Thinkific's team monitors the platform round the clock to ensure swift action in case of any security breach.
Get total control of your data with absolute ownership.
Teachable:
Integration with only PCI level-1 compliant payment providers to maintain absolute data security.
Leverage 2048-bit SSL certificate to keep all the student's data safe and secure.
Receive automatic updates to incorporate new security features instantly.
Allows you to have complete ownership and control of your data.
Winner: Thinkific.
Here both platforms offer a strong set of security features. However, Thinkific has a slight edge over Teachable as it's more capable of keeping the maximum amount of uptime and provides some extra security features.
Get started with Thinkific.
4. Marketing Features.
Marketing is one of the most crucial aspects of a successful course launch. An intuitive marketing strategy can ramp up the number of students going through your course.
While course marketplaces like Udemy and Skillshare offer a platform already full of students, they pay you less money per course sale. The only downside is that Thinkific and Teachable both require you to market yourself.
Hence, look for an online course platform that offers all the capabilities and tools that you need to run a successful marketing campaign.
Both platforms come equipped with a strong set of marketing tools.
Thinkific Marketing:
Thinkific allows you to use affiliate marketing and reward affiliates with instant payouts for sharing your online courses. You can track them directly and incentivize them through different commission rates you create.
You can also connect with email providers efficiently to execute highly-personalized campaigns to reach the right people at the right time
You can easily integrate your website with over 1,000 external marketing tools to run campaigns efficiently
You're able to leverage advanced data tracking to calibrate and optimize marketing campaign in real-time
There is support for ad tracking and analytics through Facebook, Google AdWords and remarketing campaigns
Teachable Marketing:
Easily track affiliate programs through built-in features and provide affiliate payouts if they sell your courses and digital products
Create promotional offers by creating coupon codes to incentivize joining of new users or to encourage existing users to promote your online learning platform
Offer customized pricing plans including one time fees, subscription payment plans, or offerings of bundled courses
Use their landing page builder features to boost your sales
Quickly accept payments through 130+ international currencies. It allows accepting payments in multiple currencies for a single course
Leverage integration with leading marketing tools including MailChimp, Mixpanel, Infusionsoft, and more
Easily add conversion pixels to your website to gauge the effectiveness of your marketing campaigns
Winner: Teachable.
Teachable offers a longer list of marketing tools that you can leverage to run highly optimized and personalized marketing campaigns. Its marketing suite is capable of managing more complex marketing with more ease and clarity.
Get started with Teachable.
5. Data Analytics.
It's essential for businesses to make sense of all the user data generated through visitors and marketing campaigns. Having the right set of analytics tools can help companies to churn out actionable insights and make business decisions more data-driven.
According to statistics, the global business intelligence market is likely to reach $29.48 billion by 2022. With more organizations completing their digital transformation, it has become crucial for businesses to leverage data efficiently to stay ahead of the market and competition.
Hence, make sure to go with an online course platform that offers excellent data analytics solutions and actionable business insights.
Here's how both Thinkific and Teachable fare when it comes to providing data analytics features.
Thinkific:
Offers easy integration with data analytics including Google AdWords, Facebook, and other remarketing tools
Allows you to check the status of individual students through specific filters
You can send email broadcasts to selected groups within the user base
Runs highly personalized campaigns targeted for particular groups
Teachable:
Leverage its comprehensive dashboard to track students signups and revenue within a specific period
Allows you to define the average completion rate of lectures and quickly sort them through student account types
Easily exports course revenue data and student information to churn out actionable insights
Enables you to leverage robust integration with Zapier to send customized course-related events to any marketing tool
Take advantage of first and last touch attribution to find out which campaign converted the student into the online learning platform's user
Here, it is a tough fight between Thinkific and Teachable. Both the online course platforms offer reliable integration and a robust set of analytics tools to track the customer journey or leverage data analytics to optimize marketing campaigns.
However, the winner is Teachable.
Winner: Teachable.
Teachable offers a better suite of data analytics tools to make greater sense of the data and run more efficient marketing campaigns. It also provides more features through which marketing agents can quickly gauge the journey of students.
Get started with Teachable.
Disclaimer: This article contains affiliate links that I receive a small commission for at no cost to you. However, these are merely the tools I fully recommend when it comes to launching online courses. You can read my full affiliate disclosure in my privacy policy in the footer.
6. Customer Support.
From the time you start setting up your online course service website to the time you need to fix operational issues, you need robust customer support. And when you face any problem, you need proactive help for instant and easy resolution.
Without efficient customer support, it would become challenging to deliver flawless service and achieve customer support.
Here both the online learning platforms offer a robust repository of online tutorials and provide customer service through support tickets. The response time for support tickets is 24 hours or more. Moreover, both platforms also have a robust community on social media, including Facebook. Users can go there as well to have a quick resolution of queries.
Both Thinkific and Teachable offer robust customer support via:
Support tickets
Online tutorials
Onboarding emails
Active Facebook groups for queries
Knowledge base
Thinkific has live calls available from Monday to Friday, 9 A.M. – 5 P.M. PST.
Teachable provides real-time live chat customer support on its Professional plan (and up). This happens between Monday and Friday, 10 A.M. – 5 P.M. U.S. Eastern time.
In addition, Teachable has email support available 7 days a week, between 8:00 A.M. and 8:00 P.M. (U.S. Eastern Time). This is available for all plans.
Winner: It's a Draw!
Thinkific's customer support is more proactive, and the staff is more trained to resolve issues efficiently. Also, its turnaround time of paid tickets is much lesser than Teachable. However, Teachable has a considerable edge since it offers live chat support. So, if you come to think of it, both the platforms have their positives and negatives when it comes to customer support. Hence, it's a draw!
7. Payment Integrations.
Amid prevailing data security concerns, you simply can't do without robust and secure payment integration. The good news is that both Thinkific and Teachable offer reliable integration with PayPal and Stripe.
However, Thinkific also comes equipped with Stunning to prevent failed transactions on Stripe.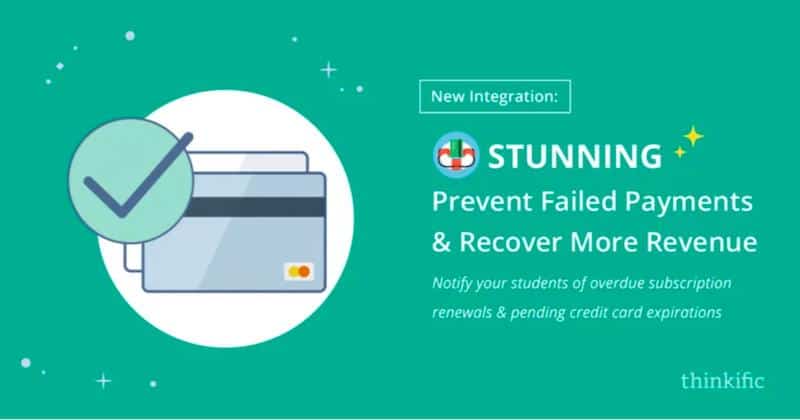 That means, with Thinkific, there are fewer chances of downtime or failed transactions. Stunning will help the platform save from failed transactions and achieve higher customer satisfaction.
Thinkific also offers reliable integration with third-party tools to handle taxes efficiently.
Teachable is also capable of handling VAT taxes. However, its automatic EU VAT collection feature can be a nuisance at times.
Winner: Thinkific.
With its ability to integrate third-party tools, Thinkific is a clear winner as it allows users to leverage the tools for efficient taxation.
Get started with Thinkific.
8. Customization.
With efficient and intuitive customer experience coming at the forefront of every business, businesses are deploying highly customized features to make their services unique, intuitive, and immersive.
Therefore, to make your online learning service different from others in the market, look for a platform that offers excellent customization options.
Here's a closer look at the customization features of both the platforms to help you find out which one is better for your business.
Thinkific:
Roll out prerequisite lesson feature to allow the learner to request for a course or lesson in advance
Leverage the services of multiple course instructors in real-time to cater to different categories of students. It also helps in revenue boost as you can deliver services to numerous students at the same time
Offers drip schedule content feature to disseminate your content quickly
Offers easy integration with membership sites to attract more learners and convert them into loyal users of the platform
Categorize your learning content into private and hidden courses based on free and paid options
Leverage multiple themes to showcase your case in precisely the way you wanted
Provides course completion certificates for students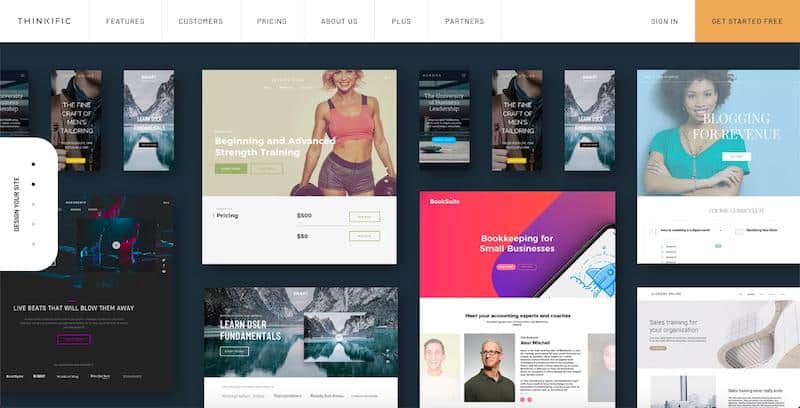 Teachable:
Easily create intuitive web pages with minimal requirement of configuration
Easily set up with just an email and name of the school
Create intuitive quizzes and start animated discussions easily
Customize the look and feel of your website as per your specific branding guidelines
Make high levels of customization without any coding
Leverage ready to go comment and email features to build a vibrant community around your online learning school to offer extra support for users
Leverage thousands of online instructors already available on the platform to provide high-quality courses
With customization features like drip scheduling and extensive third-party integrations, Thinkific wins in the customization department.
Winner: Thinkific.
With multiple themes, Thinkfic allows you to create highly customizable course pages instantly. Its other features make it more capable of handling multitasking, cater to more diverse users, and deliver more excellent functionalities. Hence, here, Thinkific is a clear winner.
Get started with Thinkific.
9. Pricing Plans.
Businesses tend to settle for an average product just because it comes under their budget. That's why pricing plays an essential role in determining which product aligns the best with your business.
Hence, it is essential to compare the prices of both options before making a final decision.
Here, we will talk about monthly subscription costs that are billed annually because long term plans offer a greater bang for your buck.
Thinkific Pricing:
Thinkific offers a 20 percent discount on its annual subscriptions.
Its pricing plans start from $39 per month and go up to $399 per month, billed annually.
Thinkific also provides a free plan with a core feature set, including three courses, unlimited students, quizzes & surveys, content hosting, and instant access to funds.
Users can also leverage the free plan to start an online learning business without any upfront costs. And business owners can expand through a paid plan easily.
Teachable Pricing:
Teachables also provides a wide array of pricing plans, as follows:
Free: $0
Basic: $29 per month
Pro: $99 per month
Business: $249 per month
The above are billed annually. There is also a monthly billing option at a slightly higher fee.
Some of the key features included in all plans are unlimited courses, unlimited coaching services, product bundles, course design templates, and product support.
Winner: Teachable.
With its free plan and a lower monthly fee for its Basic and Business plans, Teachable wins this round.
Teachable vs Thinkific: Highlights.
That was all about both the platforms. While making the final decision, you need to consider a lot of things critically. With so many features and services bundled in a single platform, you need to step back and analyze each point carefully.
To make the process of decision making even more straightforward, I have collated all the relevant points that you might want to consider before making the final decision.
Thinkific Review:
You can check out my full review of Thinkific for more information. Overall, here are the top pros and cons of using their course platform.
Teachable Review:
Here are some pros and cons of Teachable when compared to Thinkific.
Wrap Up.
This in-depth comparison between both Thinkific and Teachable is going to help you make an informed decision. Both the online course platforms offer a robust online platform solution. However, the final decision to pick the one is subjective and depends on your requirements.
In my opinion, Thinkific offers a higher number of features that can help you launch an online learning service quickly while driving growth. It should be the preferred choice of businesses that are looking for a no-nonsense platform offering precise features with high reliability and security.
Thinkific's free version is a great USP of the online course platform that users can leverage to gauge its various features and tools.
Teachable also offers a robust online course platform solution. Its drag and drop builder is a useful USP. However, it lags in certain vital areas, such as asking for transaction fees charge and providing a tax calculation tool with limited capabilities.
Evaluate all the features judiciously against your specific requirements to make sure you pick the most suitable option.
Get started with Thinkific today with a 14-day free trial.
Recommended Reading on AdamEnfroy.com: If you're interested in launching an online course this year, check out my guide to the best online course platforms, my comparison of Kajabi vs Teachable, and my full Kajabi review.
And to build your online presence further and make money online, read my beginner's guide to learn how to start a blog.
Disclosure: I may receive affiliate compensation for some of the links below at no cost to you if you decide to purchase a paid plan. You can read our affiliate disclosure in our privacy policy. This site is not intending to provide financial advice. This is for entertainment only.
---
Last Updated on February 27, 2023 by Adam Enfroy