LearnWorlds Review: Pricing & Features in 2023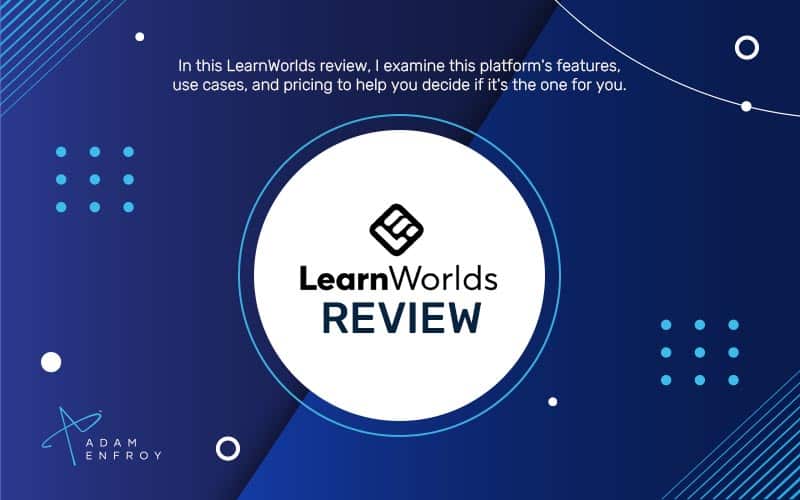 The traditional classroom is one that most people are familiar with.
It's a physical space where a teacher lectures to a group of students.
But in recent years, there's been a shift to online learning, which delivers education via the internet.
No more having to face unwilling students that show up just to get their parents off their back, in an online classroom, every student is there by choice and wants to be there.
But which platform should you use for your online courses?
There are a lot of different online course tools and coaching platforms out there, and knowing which is right for you can be tricky.
If you're looking for a comprehensive solution allowing you to build and sell your courses online, you should definitely check out Learnworlds.
This platform is designed specifically for creating and selling online courses, and it comes with all the features and tools you need to get started.
In this Learnworlds review, I'll take a close look at the features and pricing of this platform to help you decide if it's the right fit for your needs.
Let's get right into it.
What Is LearnWorlds?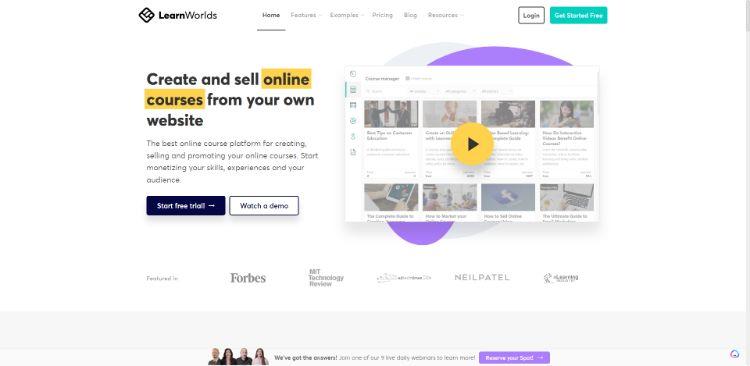 LearnWorlds is a powerful yet easy-to-use platform that allows anyone to create and sell online courses.
Whether you're a teacher, coach, or expert in any field, LearnWorlds makes it easy to share your knowledge with the world.
With various ways to engage your audience and interact with your students, LearnWorlds gives you everything you need to create a successful online course.
Compared to its various competitions, its engagement tools are pretty unique.
This is one of the key reasons this system is a great way to market, sell and engage students through online courses.
The LearnWorlds interface
While the interface is not minimalist, it is pretty straightforward to use once you get the hang of it.
Every step is accompanied by visual and textual clues for easy access to the customer support team.
For example, under the "Active Learners" tab, you can see which students are logged into the platform in real time and engage with them then and there.
This ensures that you're always aware of what's going on with your courses and students.
The same dashboard you use to track your students lets you filter sales and revenue data by time.
This helps you track your business progression and ensure that you're on track to reach your goals.
Creating A School
The School wizard helps you set up your interactive online school in minutes without any technical knowledge required.
This allows course creators to follow this step-by-step process and add their school's information along with a logo, color scheme, and social media links.
They can also choose from a selection of pre-designed themes.
Once the school is created, they can start adding unlimited courses and building out the curriculum.
As far as the online course creation process goes, some various items you can set as you're going through the wizard include:
your course name
your course URL
your course type – free / paid / upcoming
your course price
your course image
the description that best suits your course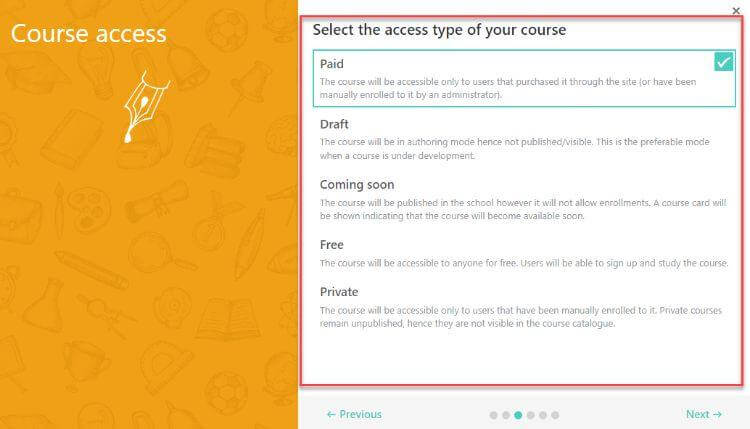 When you're done with the above steps, you'll be well on your way to having a professional school set up.
You can also use the text editor and the various editing tools it provides to format your text, add images, or embed video.
This makes it easy to add rich media content to your courses and keep your students engaged.
In terms of hosting, LearnWorlds offers unlimited video hosting, so no matter how big your course is (or even if you want to scale it up in the future), you won't have to worry about storage space.
Get started with LearnWorlds.
The Learning User Experience
LearnWorlds' learning management system helps create an experience that feels natural for the learner.
For example, the video player is intuitive and interactive, allowing you to add questions, notes, and links to further resources.
While traditional video course players would only include a scroll bar and a play/pause button, LearnWorlds' player goes above and beyond to provide an engaging experience for the learner.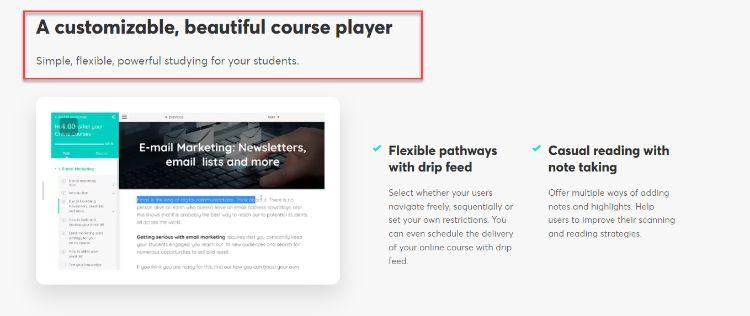 From popups that appear at specific times to ensure that the learner is paying attention, to the ability to add navigation buttons to jump to specific parts of the videos, this player is designed with engagement in mind.
The same can be said for how LearnWorlds handles assessments, quizzes, and questionnaires.
You can add these items directly into the video player so the learner can answer them while watching the video.
You can also provide feedback directly to the student through the video player, so the learner can see if they got the question right or not.
This helps to ensure that the learner is engaged with the content at all times and retains the information better.
Finally, the video player allows direct linking to third-party links, such as external websites or resources.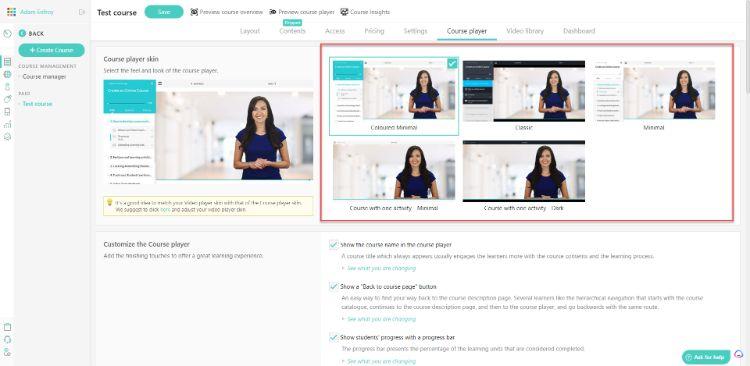 This allows you to provide your learners with more information and resources to help them learn.
Whether someone is more of an auditory learner, a visual one, or even a verbal learner, the interactive video player ensures that they can engage with the material in a way that suits them and their learning style best.
In addition, you can combine your video lessons to include interactive ebooks available in various formats, helping to consolidate classes that students have gone through.
When it comes to such books, learners can highlight and annotate just as if they were reading a physical book, making for a more effective learning experience.
You can also include questionnaires with such books, which, again, helps ensure the learner properly engages with the material.
Then, with the LearnWorlds online testing engine, you can test students on their knowledge to ensure they retain what they've learned.
Whether you include these assessments as standalone tests (allowing students to take them at any time) or integrate them into the video player – so that they must answer them before moving on – both methods provide an effective way to help students achieve their goals.
These tests can also be preset or randomized based on question banks you create.
This means that learners can get a different test each time, ensuring they pay attention to the various course elements.
You can also include other media files in your courses to create a better experience, such as Google forms, maps, image sliders, etc.
Selling Your Courses
Your course sales page is where it all starts when getting students to enroll in your courses.
With LearnWorlds, you have complete control over the design of your sales page, so you can make it look however you want.
With their pre-designed templates, you don't need any design skills.
Within minutes, you can use the site builder to create a beautiful sales page ready to start selling your courses on autopilot.
Such templates are also responsive, so your sales page will look great no matter what device someone is using.
There are over 400 templates to choose from, so you're sure to find one that's a perfect fit for your course.
And that's not all.
Want to create various types of pages to provide more information about your courses and your business?
You can create as many pages as you want with LearnWorlds, with many different types.
For example, you could create a page about your business, a contact us page, a pricing page, an FAQ page, and much more.
Once you've designed your pages, you can link them to your sales page so potential students can learn more about what you offer and sign up for any courses they like.
Ultimately, you could build a whole website for your business – rather than just a sales page for a single course.
The pages builder module within LearnWorlds makes this process simple and easy to complete.
The available customization makes it easy to make your courses look professional and stand out from the competition.
Member Networking
Do you want to ensure that members not only have access to your courses but also other students?
Well, with LearnWorlds, you can create a members-only social network for your students so that they can connect, share resources, and collaborate.
This is a great way to create a community around your courses and help students learn from each other.
With prebuilt tools that make it easy to connect with other members, you'll be able to create a thriving community in no time.
Again, no technical knowledge is needed as this is taken care of within the course platform.
Student can customize their profile and include information such as their name, profile picture, and a short bio.
They can also show off their achievements, which is a significant factor in social learning tools.
Using A Custom Domain
You can connect your custom domain if you want to avoid having a learnworlds.com subdomain as part of your URL.
This makes it easy to build up your brand while creating a more professional look for your courses.
Like every other aspect of using this platform, setting up a custom domain doesn't require any technical knowledge.
If you can follow simple instructions, you'll be able to have your custom domain up and running in no time.
Speaking of looking professional, you can white-label the LearnWorlds platform to remove all its branding and make it look your own.
This is an excellent option for businesses that want to use this widely diverse platform to sell their courses.
Moreover, for businesses that want to provide that extra touch, having their courses hosted on a SCORM-compliant platform is a great way to go – and LearnWorlds falls within this category.
Businesses can upload their existing courses onto the LearnWorlds platform and offer them to their employees or customers – without worrying about any compliance issues.
Developing Your Own Mobile App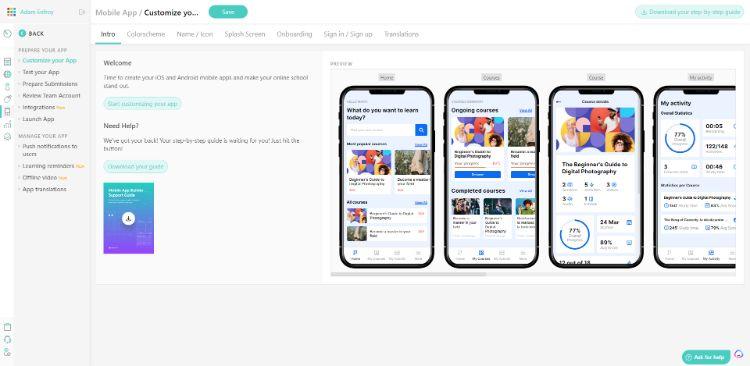 To take your student experience to the next level, you can have the platform create a mobile app for your business.
This is a great way to offer your students an even better immersive and unique experience.
With the ability to have this app listed on the Google Play and Apple App Store, you'll be able to reach a wider audience and make it easier for them to access your courses.
The LearnWorlds platform will take care of all the technical aspects for you, so you don't need to worry about any development requirements.
Advanced Analytics

Knowing how your courses are performing is essential to ensure they're successful.
With the LearnWorlds platform, you'll have access to detailed analytics and reporting features.
You can enhance your course creation process by tracking course completion rates, average time spent on a course, and much more.
You can also learn more about your student demographic, understanding their location, age, and gender.
This information is essential if you want to market your courses effectively.
All this data is presented in an easy-to-understand way so that you can make the necessary changes and improvements.
This data will be invaluable, from developing better marketing strategies that reach your target audience better, to improving the overall quality of your courses.
You can also integrate with Google Analytics to get even more insights into your courses' performance and what areas need improvement.
Making The LearnWorlds Platform Your Own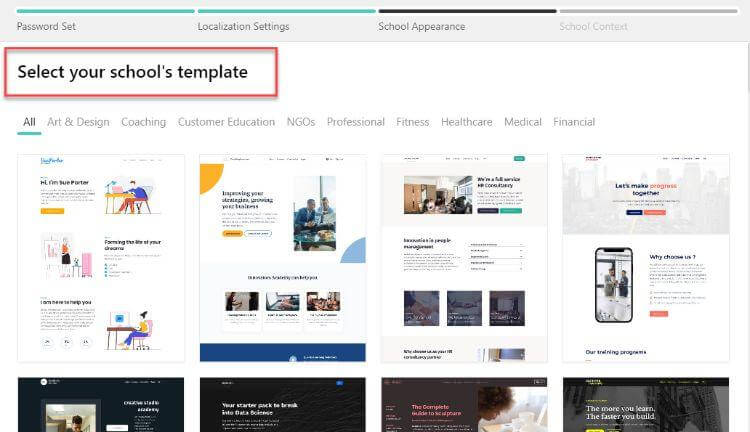 Let's now get a bit more into how branding works on the platform.
Apart from white labeling the platform and having a custom domain, you can use the theme editor to make the platform reflect your brand.
This is a great way to ensure that your courses look professional and stand out from the rest.
With the theme editor, you'll be able to change things like the colors, fonts, and overall layout of your courses.
You can also add your logo and brand elements for even more customization.
The editor is straightforward to use, and you don't need any technical knowledge to be able to make changes.
If you can use a word processor, you'll be able to use the theme editor without any problems.
You could go as detailed as you want, changing the colors based on your company's branding, or creating a completely custom look.
It's really up to you and what you want your course interface to look like.
With a preview option that lets you see how your courses will look before you make any permanent changes, you can experiment as much as you want without worrying about breaking anything.
Finally, you can also make changes to the code for that extra customization.
The LearnWorlds platform offers advanced CSS and Javascript editing options that will enable you to directly make changes to the code.
Of course, you'll need some technical knowledge to do this, but it's great to have the option.
You could even hire a developer to help you make these changes.
Marketing Your LearnWorlds Course
For entrepreneurs whose business revolves around SEO (Search Engine Optimization), LearnWorlds enables you to edit the SEO settings for every course you create.
This helps ensure that your courses appear in search engines for relevant keywords, helping you reach a wider audience.
From providing structured and clean HTML code that follows all the latest SEO guidelines, to creating XML sitemaps that help search engines index your courses, you can be sure that your courses are as visible as possible.
The correct metadata, URL structures, keyword tools, and more, are all at your disposal to help you get the most out of your SEO efforts.
If getting organic traffic from search engines is essential to you, LearnWorlds will help you to achieve that.
In terms of marketing your courses, various other features help enable this.
For example, you can offer limited-time discounts and sales promotions to encourage students to sign up for your courses.
With subscription management, you could then choose to offer these discounts automatically to students who are already enrolled in your courses.
Moreover, with the ability to offer free courses (or even free chapters as part of a more extensive, paid course), you can also use this to market your courses and attract new students.
Many options are available to help you market your courses effectively.
Another exciting feature is the drip feed content feature.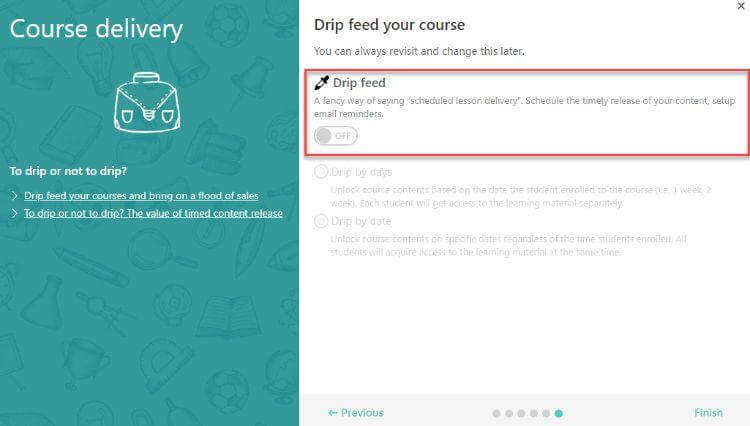 With this, you can release your course content gradually over time rather than all at once.
This is a great way to keep students engaged and coming back for more, as they'll always have something new to look forward to.
The system can also send emails triggered by specific actions.
For example, when someone signs up for a course, completes a lesson, or finishes a course, an email can be sent out as a means of following up.
You could use this feature to send thank you messages, ask for feedback, or even promote other courses students might be interested in.
Using different filters to segment your students, you can send out targeted messages that are relevant to them, further increasing engagement.
Affiliate Management
You don't have to be the only one that's promoting your courses.
With LearnWorlds, you can also set up an affiliate program to get other people to promote your courses for you.
All affiliates will earn a commission for every student they manage to sign up.
This is a great way to get more exposure for your courses without putting in any extra work yourself.
You first need to create an affiliate landing page to set up an affiliate program.
This page allows potential affiliates to sign up and learn more about the program.
You'll need to provide basic information about the program and your terms and conditions on this page.
The great news is that you can offer a customized commission to those that sign up to be an affiliate.
So, for example, if you know someone has a large audience and could generate a lot of sales, you can offer them a higher commission than others.
Then, you can see how well each affiliate performs with affiliate tracking.
This is valuable information, as you can assess which affiliates are worth working with and which aren't.
LearnWorlds Integrations
The platform uses plugins to provide integrations with other software and services.
Some top integrations include Mailchimp, Zoom, Hubspot, Google Ads, Zendesk, and more.
You can even connect to Zapier, which opens up a whole world of possibilities.
For example, you could set up a Zap that automatically sends a message to your Slack channel whenever someone signs up for one of your courses.
Or, you could have a Zap that creates a new contact in your CRM whenever someone purchases a course from you.
The options are endless, and it's up to you to decide how you want to use these integrations.
The integration options are excellent and should be more than enough for most people and businesses.
Other LearnWorlds Features
While I've gone into various details about the main features of LearnWorlds, there are plenty of other features worth mentioning.
Here's a quick overview of some of the other features:
Multilingual: Being able to offer your courses in multiple languages is a great way to reach a wider audience. With LearnWorlds, you can easily add new languages and translate all your content into nine different languages.
Educational Benefits: LearnWorlds is an excellent platform for education professionals. With features like certificates, private courses, and multiple instructors, it has everything you need to offer courses online.
Private Courses: If you want to offer courses that are only available to certain people, then you can create private courses with LearnWorlds. This is a great way to offer exclusive content or create courses for corporate clients.
Multiple Instructors: If you have more than one instructor for your courses, then LearnWorlds' ease of use makes it a piece of cake to add them as co-instructors. This is a great way to manage team teaching or have guest instructors on your courses.
Magic Authoring: Magic Authoring is a feature that allows you to quickly and easily create courses with LearnWorlds. This tool can import content from other sources, such as Word documents or PowerPoint presentations.
Student Progress: With this feature, you can see how your students progress through your courses. This is a great way to track their progress and ensure that they're on track to complete the course.
Resume Learning Button: This feature helps keep your students engaged with your courses. It allows them to pick up where they left off and easily continue their online learning.
Landing Pages: Landing pages are a great way to promote your courses and attract new students.
Marketing Tools: LearnWorlds has all the tools to promote and market your courses. With features like email marketing, social media integration, and affiliate tracking, you'll be able to reach a broad audience and generate more sales.
Custom User Roles: If you want to offer different access levels to your courses, you can create custom user roles with LearnWorlds.
Capture Leads: With this feature, you can easily capture leads from your website and turn them into students. This is a great way to increase your conversion rate and get more people to sign up for your courses.
Conversion Pixels Support: With LearnWorlds, you can easily add conversion pixels to your courses. This allows you to track conversions and ensure that your courses are optimized based on your traffic source.
Export Data: If you need to export your data from LearnWorlds, then you can do so with the Export Data feature. This is an excellent way to back up your data or move it to another platform.
LearnWorlds Customer Support And Training
With various training, webinars, tutorials, email support, and a detailed knowledge base,
LearnWorlds offers an all-in-one platform that combines all the required resources to get started and make the most of the platform.
Whether beginners are trying to use the proper functionality to build their courses, or more experienced users need help with more complex features, the customer support team is always happy to help.
Email support is available 24/7, while phone support (US and UK numbers available) are available from Monday to Friday.
LearnWorlds Pricing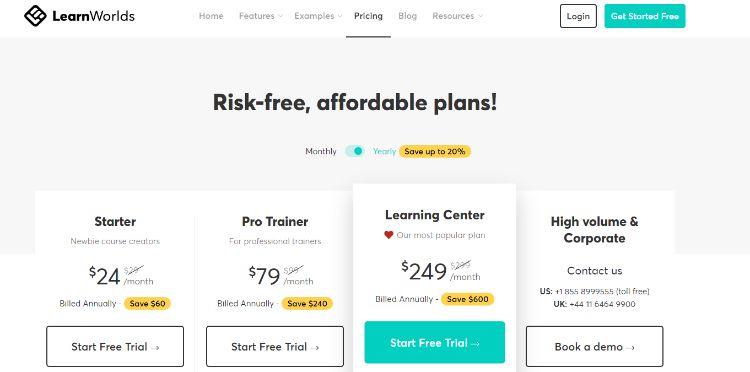 LearnWorlds offers these pricing plans:
Starter Plan: $24 per month
Pro Trainer Plan: $79 per month
Learning Center Plan: $249 per month
High volume & corporate Plan: Contact their team for a quote
The higher plans come with more features that can be helpful for bigger businesses, such as:
Premium cloud servers to make sure your courses load quickly for students all over the world.
Optional SLA for guaranteed uptime and support response times.
Flexible invoicing to make it easy to pay for your LearnWorlds subscription.
Custom reports and services to help you get the most out of your data.
Premium support options to get priority support from the LearnWorlds team.
Tailored pricing options ensure you're getting the best value for your money.
That said, even those on the lower pricing plans can benefit from the various features on offer.
However, items such as having to pay a transaction fee on each sale, only having one admin, not having an Android and iOS app, being able to only build up to three pages with the site builder, etc., might limit those that want to scale.
That said, with four payment gateways, free SSL certificates, and more, those just starting out can do just that.
Wrap Up.
As far as online course platforms go, LearnWorlds is an excellent option.
It has everything you need to create and sell online courses, and it's straightforward to use.
To sum up, if you're looking for an affordable, feature-rich eLearning platform, then LearnWorlds is worth considering.
Get started with LearnWorlds.
Further reading on AdamEnfroy.com: Online course platforms make creating and selling online courses easy.
While not having the same features as an LMS, they're still a great way to deliver content and track student progress.
If you're only looking for a system to train your employees, consider a training management system as an alternative to an LMS.
Finally, here are a few other LMS reviews to consider:
Disclosure: I may receive affiliate compensation for some of the links below at no cost to you if you decide to purchase a paid plan. You can read our affiliate disclosure in our privacy policy. This site is not intending to provide financial advice. This is for entertainment only.
---
Last Updated on December 8, 2022 by Adam Enfroy