Kajabi Review: Is The Course Builder Worth The Price in 2023?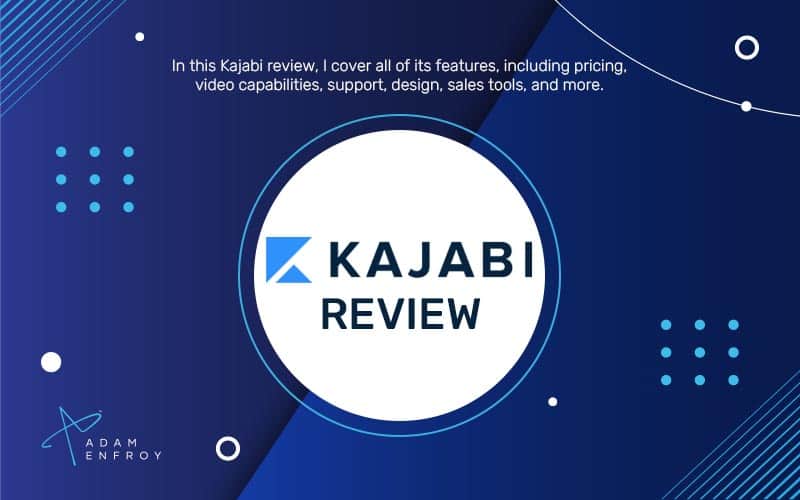 The e-learning industry is booming, and the global market is likely to reach $325 billion by the year 2025, prompting astute entrepreneurs to take advantage.
Since people are hungrier than ever to learn new things, and information is readily available at their fingertips, online courses have been making a lot of money. Kajabi is a recent addition to this field of knowledge commerce.
However, it holds immense promise of offering everything an infopreneur might need to design, market, and then sell off their products.
Already hailed as one of the best online course platforms, Kajabi (launched in 2010) has empowered more than 50,000 users in 120 different countries.
It has ended up serving around 60 million students and has made around $1.5 billion in sales.
But, the question arises: Does Kajabi lives up to the hype?
That's what I'll explore here today, in this detailed review of its pricing, comparison to other competitors, and features.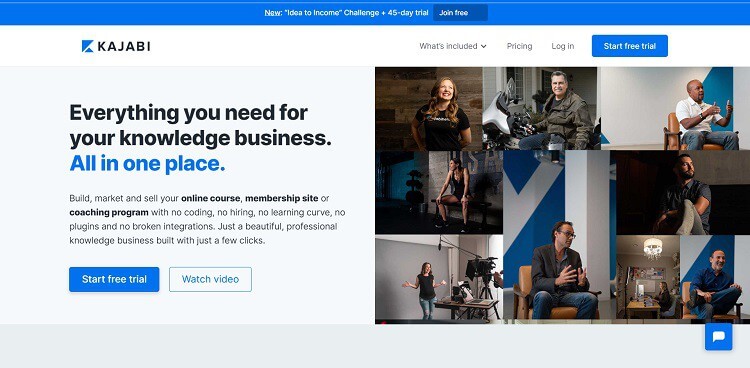 What is Kajabi?
Kajabi is a one-stop solution that sells online courses. Thanks to the all-in-one nature of this software, users don't need to rely on any other program for course design and completion.
Payment integrations are offered through PayPal and Stripe, while subscribers can market the courses via standard email marketing tools. Furthermore, there are funnels and marketing campaigns that are fully automated to allow scaling or optimizing an online course.
The presence of built-in analytics tools allows users to track progress and stimulate growth.
Using this platform, course creators can make their landing pages where all critical information will be stored.
Readymade templates are present in a library, and it streamlines the website designing process as well. Even custom domains are created by online businesses, so their subject matter can be found easily.
Despite the emphasis on marketing features, Kajabi also comes through if subscribers want to build courses from scratch. Tools are at your disposal to make appropriate educational content digitally.
With a host of stellar product launching tools and marketing funnels, it makes selling these courses even easier. Efficient automation removes any need for guesswork in marketing campaigns.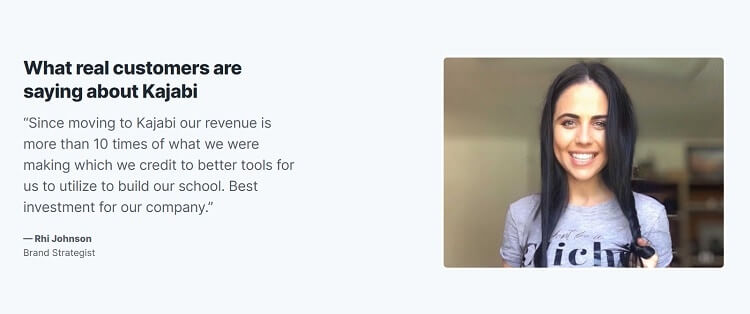 Key Features of Kajabi
1. Complete Online Presence
Course creators will find their account comes with a wholly hosted site. It includes dynamic templates that can be installed with a single click. Even further customization is possible on the existing template by using the drag-and-drop editor.
You don't need coding knowledge to operate this SaaS platform, which can handle significant traffic and site visitors. A blogging feature is built into the site, and subscribers can upload any SEO-optimized media very easily.

2. Personalized Email Marketing
Kajabi recognizes how efficient marketing can turn leads to first-time customers and later into loyal followers. With the help of marketing tools smartly built-in, course creators can broadcast information and news about new courses to their complete mailing list or even audience segments through personalized emails.
There are options to track emails and see when they've been opened. You'll soon see how the analytics tools give reports of shortcomings and successes of email campaigns.

3. Convertible Landing Pages
Course creation requires spectacular landing pages that can capture as well as convert traffic. With optimized templates, users can customize to get the best results or to suit their style of branding.
4. Quizzes, Memberships, and Assignments
Since Kajabi realizes the value of user experience, there are membership sites, allowing educators to grow their audience base while providing good service. Even the teaching process becomes easier since students can be assigned homework and tested simply.
For example, in assignment-oriented lesson formats, students would have to turn in their tasks to progress to the next lesson. Feedback from these assignments also goes a long way in overall course development.
5. Upselling, Customized Checkout Pages, Adjustable Pricing
To maximize revenue, there are tools for upsells, many of which can be integrated post-purchase. Even the checkout page is designed to handle conversions. As a platform, Kajabi offers different payment options.
There are subscriptions, one-time payments, free trials, and fees for initial setups. Depending on your plans for products, you can choose the right scheme.
6. Automated Marketing Pipelines
I've spoken about personalized emails, but marketing pipelines can be used for a better user experience thanks to automation. Subscribers get timed emails, reminders, confirmations about registrations.
Of course, these pipelines can be customized as per your email list, and Kajabi uniquely includes live webinars as part of their pipeline. Thus, users can check out these video hosting events at their leisure or on repeat.

Kajabi Updates
Kajabi is a dynamic platform that makes necessary changes or modifications to improve the user experience. Some of the latest updates include the following.
1. Kajabi improved its coupon feature in January 2022.
2. In November 2021, Kajabi announced Coaching on Kajabi, a tool to help coaches build an online business with a whole new experience platform.
3. In October 2021, Kajabi launched Podcasts, a podcast hosting tool.
4. In May 2021, Kajabi released a new feature that allows a visual editor for sequence emails.
5. Kajabi Access was added in October 2020 and is a new support system. It offers completely new services, resources, and singular guidance. In turn, this helps maximize the benefits one can get out of Kajabi.
6. Again, in October 2020, Kajabi introduced a host of improvements to its already robust website builder. Now, it is easier than ever to upsell or cross-sell to different customers. There are more library pages and templates as well. A member directory and better blogging features are also appreciated additions.
Analytics is an integral part of any platform to chart progress, and Kajabi takes it very seriously. As a result, the platform has launched a brand new set of reports, allowing easy tracking of product progresses, forecasting, offers sold, and tracking affiliates.
7. This came quite some time back in October 2019, but Kajabi realized the value of customer feedback. Hence, a feedback portal was introduced, allowing users to upvote, submit, and even track requests for features. With the option of seeing what's in the pipelines and what might arrive soon, customers have a good idea of what to expect.
8. In August 2019, Kajabi decided to improve a host of existing features, including its analytics once again. It also set up custom-made domains, cloning assessments and events, better email tracking and customization, and introduced the Momentum theme.
Overall, by constantly trying to anticipate customer needs, Kajabi has remained ahead of the competition curve.
Kajabi Pricing
Considering its many features, one understands why this premier platform has slightly higher pricing than the competition.
However, there is a wide range of plans, depending on how extensively a subscriber wishes to use digital products.
While the Basic Plan starts from $119 a month, the Pro Plan goes up to $319. Notably, choosing annual billing gives you a 20% discount. I'll walk you through what each plan entails, so you can pick a suitable one with ease.
However, at first, it should be noted that all plans have content for drip, website builders, live webinars, and events. There's also a 14-day trial period, which is essentially a freebie during which potential subscribers can try out its features.
1. Basic
It can either be $119 or $149 a month, depending on whether course designers opt for the annual package. You can expect support for three products as well as three pipelines. At the same time, you gain access to unlimited landing pages, email marketing tools, 1000 active members, a single admin user, and a website.
2. Growth
Once again, based on your monthly or annual payment option, business owners have to pay $159 or $199 per month. In this package, you get support for 15 products and pipelines. Moreover, there are 10,000 active members, apart from having one website and ten admin users.
Apart from that, subscribers can also make use of unlimited emails for marketing, landing pages, automation, affiliate program, the capacity to remove Kajabi branding, as well as 24/7 live customer chat support.
3. Pro
The fees for this plan are either $319 or $399 a month, depending on whether business owners opt for monthly or annual payment plans. Besides getting support for 100 products and pipelines, you also get three websites, 25 admin users, 25,000 members, and 2 million emails for eCommerce.
This plan has unlimited access to landing pages, affiliate programs, theme editors, and automation.
Overall, Kajabi wouldn't be suited for newcomers, as it's a bit more expensive than other course builders. However, entrepreneurs with a growth plan and the possibility of bringing on an existing customer base might opt for this.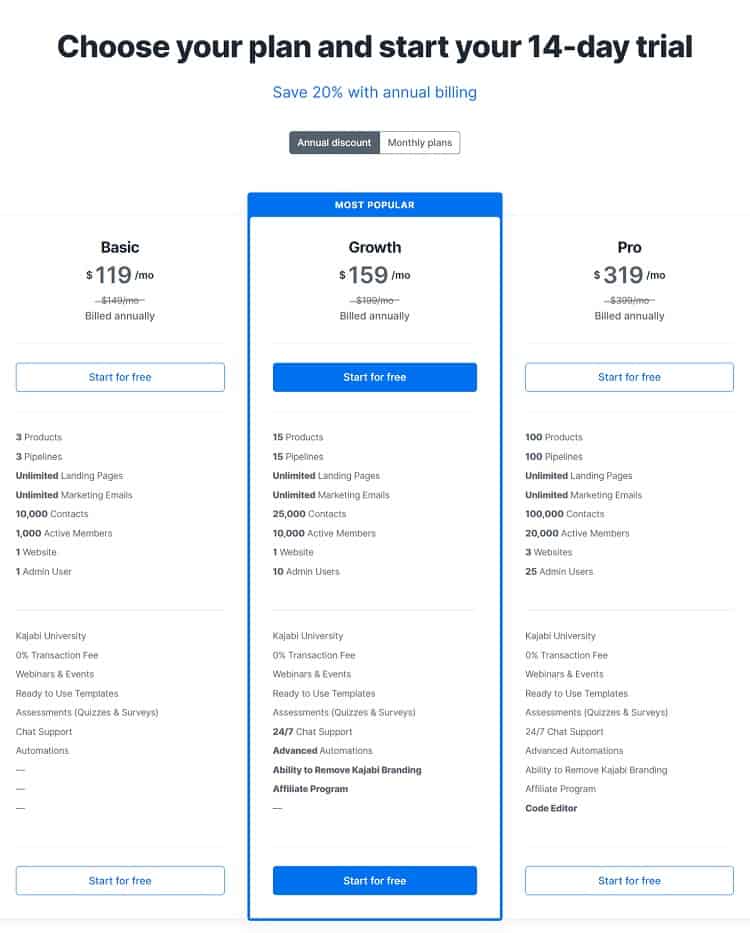 Using Kajabi
It is an ideal high-end platform to launch your e-learning business.
If you're not too well-adjusted to using online course platforms, you might not be able to fully appreciate all of its features. That's why I'm going to walk you through a few of the steps of setting up and running your Kajabi account.
1. Creating a Website
Creating a website isn't easy, but it is one of the first steps. With Kajabi, all you have to do is tinker around with existing templates until you get something satisfactory. Both sleek and fashionable, business owners can be sure of drawing customers using a Kajabi website.
If you have SSL certification from Cloudflare, you can also customize and host it under your domain name.
2. Addition of Courses
After the website is up and running, you have to start adding different teachable products. The course material, including videos, audio, and text files, should be ready to go.
Go to the products page of your dashboard, and select the type of product to be added – like mini-course or webinar. Then, you can customize the outline of your courses, including disabling comments and allowing files to be downloaded.
3. Promotion and Sale
Once the course is created, all that's left is to market your product. No matter which part of the sales cycle you're at, Kajabi helps turn potential clients into loyal customers. To get the most response on your sales page, try deciding on what action drives you.
Kajabi usually has three pipelines – promotional offers, free reports, and product launches. To grow your audience, you can offer freebies in exchange for email addresses. Promotional offers start pitching sales at low prices to garner attention.
Product launch is the biggest moneymaker, with which you can get students excited about your course and what it offers. In turn, you can get new customers and them in even further with personalized emails, keeping them apprised of updates.
What Do I Like About Kajabi?
1. Built to Sell
Since it has excellent sales funnels and landing pages, Kajabi can convert site visitors and make them regular customers. All email marketing can also be handled through Kajabi. Since automated follow-up systems are present, you don't need third-party resources, despite its high ability for integration.
Ever since the introduction of Kajabi Email in early 2020, business owners have had access to resources that can build great-looking and high-powered email campaigns quickly. All these sets it apart as an excellent platform for its selling and marketing activities.

2. Fantastic Out-Of-The-Box Designs
Several variations are provided on the core theme for the website. Not only does it look professional and modern, but you'll see there are functional and attractive templates to help create a sales pipeline and landing pages. If you don't want what Kajabi has to offer, then try the many premium and custom themes available on the market.
3. Great Blogging Capabilities
Starting a blog is one of the best ways of attracting traffic and marketing products, as I've found in my experience. Kajabi has improved in this field significantly, and while it isn't at par with WordPress yet, you can be sure that it stands above other similar platforms.
4. Proper Capacity for Video Streaming
Kajabi uses Wistia for video hosting, which ranks among the best all-rounder video hosting platforms. Since this is integrated to upload and easily stream videos, you can be sure about the medium delivering wonderfully, no matter what screen or bandwidth is being used by consumers.
Even the videos remain secure, and those who're careful about budgeting will appreciate that no separate Wistia license is needed. Considering the resource costs around $99 a month separately, paying for the basic package at $119 a month and accessing Wistia is a decent bargain.
5. Jumpstarts Product Creation
Since there are great templates for various reasons, business owners find themselves well-equipped to launch mini-courses, evergreen training, online courses, and memberships. In fact, you can add whatever you want and remove unnecessary aspects to completely design a course as you see fit.
6. Live Events are Easy to Promote and Create
Although this is part of product creation, Kajabi is significantly strong in this area, and it deserves a separate mention. It is exceedingly simple to set up a Zoom webinar using this platform.
Enterprising entrepreneurs can run an active campaign by including registration pages, after-event offer pages, emails, and even a checkout page. Though Kajabi provides templates for all such activities, you need to have a Zoom account beforehand. Then, all that's needed is for the text to be modified and the Zoom link to be dropped.
In fact, this same approach can be taken for events based in places, virtual conferences, and summits.
7. Customer Support is Incredibly Strong
Since Kajabi has been around for some time now, they've built a reputation for customer support and are invested in continually improving their global support team.
The creation of Hero University is another step in this direction that provides platform users with additional support while teaching them how to use resources extensively.
Apart from the support system from Kajabi, there are many other resources on the web you can trust. They're created by reputable companies that want to provide walkthroughs for newcomers.
Users can always rely on such information to familiarize themselves with the product.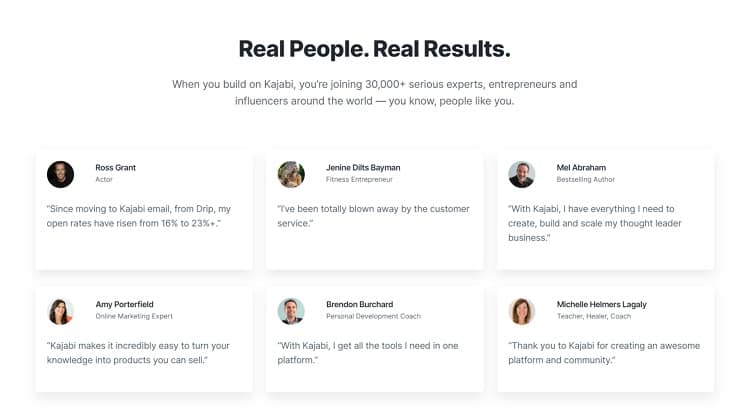 8. Enthusiastic Community
This is more of a bonus and doesn't actively affect your Kajabi experience. But, at any meeting organized by the company for registered users, you'll see the vibrant members who are determined to do good using this platform.
They're accommodating as well, which might help newcomers learn the ropes to utilize resources.
Improvement Areas for Kajabi
1. Editing is Confusing
While many users have claimed that editing is easier on Kajabi than WordPress, I haven't found it to be the case. Some options are not as easy to find, and even then, their functionality doesn't become evident immediately.
For example, if you choose 'Page Builder,' you might think that this choice under website editing can be used to build pages that might be included in the site.
But, in reality, users can create pipeline pages or standalone pages here. While including them in your navigation is an option, the process for this isn't entirely straightforward either.
There are several such examples, but for the sake of being brief, we can forgo specifics. Basically, all-in-one platforms are always a little complicated, but with Kajabi, at least you don't need to know how to code.
There are tutorials and other resources available to help you figure out the platform if you spend some time with it, so don't get frustrated at the start.
2. Comments Without Discussion Forums
Although the community for Kajabi is relatively strong, those with full-fledged memberships to other platforms might find the lack of discussion forums to be a drawback.
I've noticed that comments on various posts tend to be helpful, but a complete discussion forum brings users together and forms the base for a better feedback system.
3. No Entry Level Affiliate Program
If users have access to high-quality affiliates, it helps them reach more learners. Unfortunately, for Kajabi, one cannot access these affiliates at the primary level. They're only available from the Growth level.
Potential Setbacks
While most of the issues I've covered here are run-of-the-mill downsides that you can work around, Kajabi has a couple of drawbacks that might make it entirely unsuitable for you.
Before choosing it as your course designing platform, be sure to check out whether you need any of these characteristics. If you answer yes, then you should look elsewhere to suit your requirements.
1. No Option For Multi-Tenancy
Multi-tenancy entails creating and managing various instances regarding a platform under one single umbrella. It is usually handy in situations where you might be a training company that handles several corporate clients.
These clients might want their specific brand to service users. Though Kajabi has the option to create multiple sites in its Growth and Pro plans, it is not quite the same as multi-tenancy.
2. Capabilities Of Education Credit Aren't Continued
Course designers have the option to issue a certificate upon completion. But, there's no way to indicate how much time is associated with this course or how much continuing credit for education may be available. Though workarounds to this do exist, if you really want continuing credits, then this isn't the best option available.
3. No SCORM Or TinCan Support
Since Kajabi has no capacity to import or configure courses designed through tools like Captivate and Articulate, it also doesn't support e-learning standards found in packaging courses. Examples like SCORM, TinCan, or xApi fall under this purview. Therefore, if you need these standards, then you have to look elsewhere for course designing.
Kajabi vs. Competitors
Now that I've spoken at length about the various features, benefits, and even drawbacks of Kajabi, it is time to put it up against the competition to see how it fares. Three of the main competitors are Kartra, Thinkific, and ClickFunnels.
1. Kajabi vs. Thinkific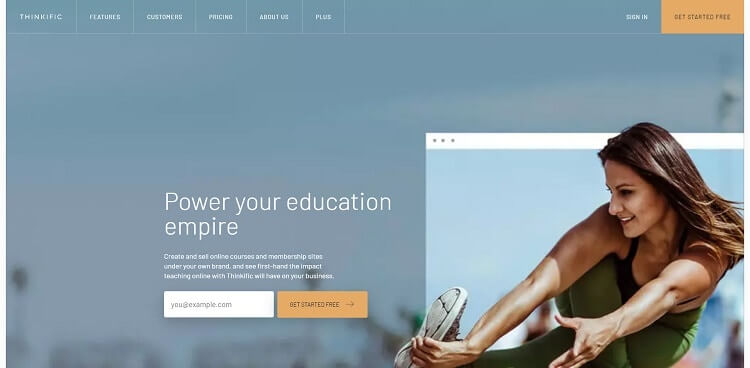 Right off the bat, both platforms appeal to very different kinds of users. While Kajabi caters to those who want to design and sell off online courses at some speed, Thinkfic is more suited for creators who want to design detailed and structured courses.
While Kajabi accordingly has a host of marketing tools, you'll find Thinkfic falls a little short in this regard. However, there are some fundamental aspects packed in, like email marketing that you can use.
With Thinkific, you can be sure of some quality instruction in the courses, while Kajabi goes with quick monetization options.
Read my full breakdowns:
2. Kajabi vs. ClickFunnels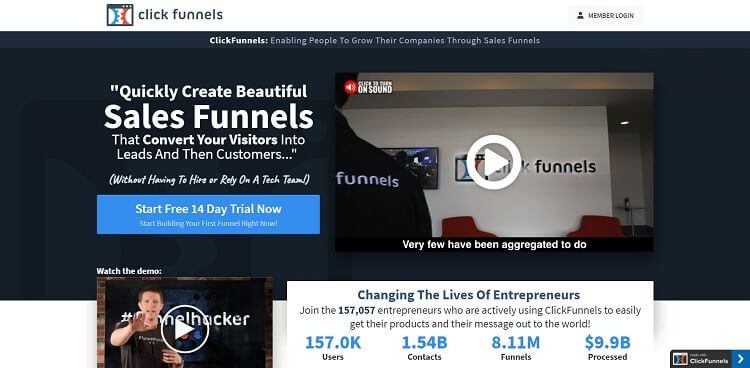 While Kajabi helps course creators make money by quickly selling their designs, ClickFunnels is meant to create excellent sales funnels. It is intended for digital products as well as service businesses. However, it should be noted that Kajabi has its own sales funnels tool called Pipelines.
In a reversal of the comparison between Kajabi and Thinkfic, here, Kajabi is more oriented towards course design, while ClickFunnels is more inclined towards maximizing sales. Therefore, ClickFunnels can be used to sell a variety of products, including third-party applications.
But, when it comes to Kajabi, the focus is on designing a course and then marketing it.
Read my full Clickfunnels review.
3. Kajabi vs. Kartra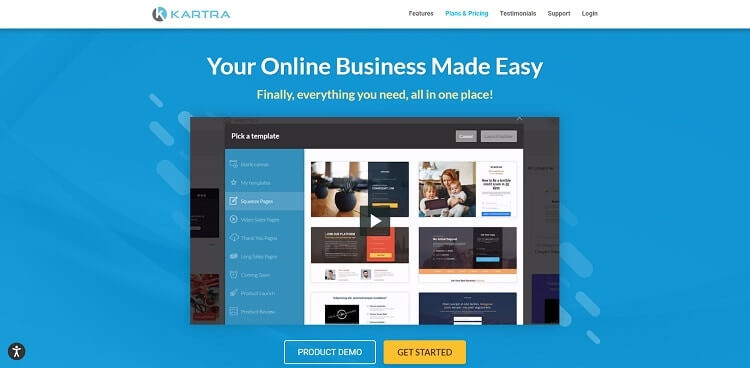 There are numerous surface similarities between the two. For starters, they are online solutions for businesses and allow subscribers to create websites, have email automation and marketing funnels.
However, the critical focus is different in these two cases. For Kajabi, the platform is primarily for online course creation. Thus designers and coaches can sell memberships for the knowledge they wish to impart.
On the other hand, Kartra, too, allows all this, but more attention is paid to robust tools for marketing that might boost sales.
Here's a Kartra vs. Kajabi direct review for more information.
Also, check out my complete Kartra review for a more in-depth look at this platform.
Check out my full guides to compare more platforms:
Cost Analysis For Kajabi
Let's do a cost analysis for Kajabi.
I've already acquainted you with the prices of the various Kajabi plans. Now, knowing how it compares with other platforms, you might be wondering whether Kajabi is worth the money. The best way to answer this is by using detailed cost analysis.
But, before I delve into it, I should clarify that some contenders offer packages as low as $49 or $99 a month. But, in these cases, you don't get the full package that is available with Kajabi and might have to resort to third-party applications.
Overall, this is likely to end up costing more. On top of that, you have to integrate these applications with your platform for the best results. For the purposes of this analysis, I'll try and go by the different functionalities and provide high-end and low-end alternative prices.
Starting off with the Sales Funnel Builder, it helps Kajabi users maximize sales. If you go to ClickFunnels as a third party instead, you could end up paying anything between $97 a month to $297 a month.
Next, we come to Marketing Automations, which improves sales and keeps customers in the loop. Zapier is an excellent third-party alternative in such cases, but subscribers have to pay either $20 or $120 a month, depending on whether they're choosing low-end or high-end alternatives.
An email service provider is vital to inform customers about updates, product launches, and offers. MailChimp makes for a great third-party app, but it can cost between $10 to $299 a month.
Similarly, website themes and blogs are already part of Kajabi packages. But, if you head to go with other web hosting services, you'll have to rely on apps like Bluehost, which might charge $3 per month to $119 per month.
Finally, Kajabi has opt-ins for affiliate programs, which you can't get with other platforms. Naturally, you'd have to bank on something like ShareASale, where there's a $550 startup fee and a 20% transaction fee from affiliate earnings.
Overall, even if you use a couple of these features, getting them in one place is definitely much more cost-effective, and you can avoid the burden of looking for third-party alternatives that are trustworthy and efficient.
Integrating ClickFunnels in Kajabi Pipelines
When it comes to marketing software that makes sales cycles easier, ClickFunnels is the way to go. It simplifies the entire process, and this affiliate program can be easily integrated with Kajabi.
Now, this can be done in numerous ways, including choosing funnel marketing through ClickFunnels and delivering products on Kajabi.
Kajabi FAQ
How Much Does Kajabi Cost?
The Kajabi Basic Plan is $119/month; the Growth Plan is $159/month, and the Pro Plan is $319/month when billed annually.
Who Uses Kajabi?
Kajabi is used by various businesses, but the platform is primarily intended to create, market, and sell online courses. Thus, you'll find entrepreneurs, musicians, educators, and craftsmen, apart from others, among the user base. Anyone with any knowledge to sell can use Kajabi.

Chalene Johnson, the fitness expert and bestselling author, is one of the more renowned Kajabi users, as is the musician James Taylor.
Is Kajabi Easy to Use?
Kajabi mixes potential difficulty with ease of use quite well. Thus, newcomers will find that the basic features are easy to navigate, but there are complex customizations that would require time and patience.

On the upside, all features are packed into a single platform, so there's no need to worry about plugins and extensions.
Does Kajabi Offer Refunds?
When you make the first payment, Kajabi offers a thirty-day money-back guarantee. But, if you feel later on that this platform doesn't suit your needs, you can always contact the support team since they're quite helpful with issuing refunds.
Wrap Up
With so many features, it is no wonder that Kajabi has become the go-to platform for those who want to design AND market their course.
The intuitive interface paired with straightforward functionality makes this tool a breeze to use – even if you're new! And don't worry about paying more–you get all these great benefits at an affordable price point too.
I recommend Kajabi as a high-end course creation tool.
You can take a spin for yourself with a free trial.
Disclosure: I may receive affiliate compensation for some of the links below at no cost to you if you decide to purchase a paid plan. You can read our affiliate disclosure in our privacy policy. This site is not intending to provide financial advice. This is for entertainment only.
---
Last Updated on December 8, 2022 by Adam Enfroy