Kajabi vs Teachable: Which Course Tool is Better in 2023?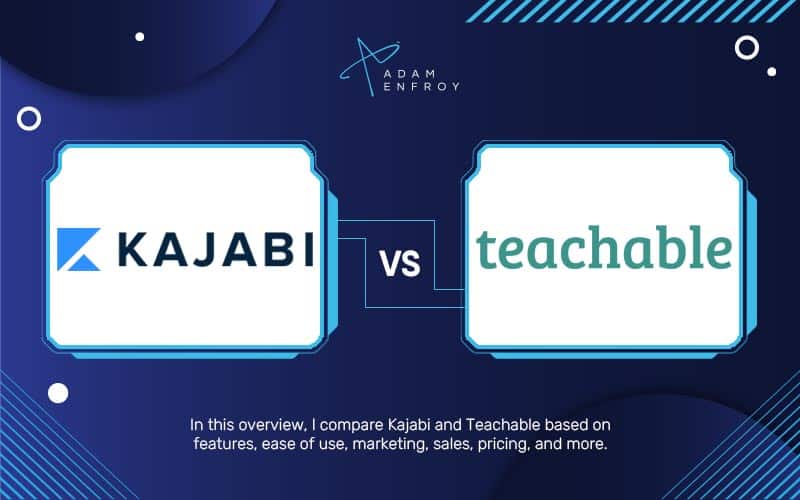 Kabaji and Teachable are two very popular online course platforms.
While they both create online courses, they have some key differentiators to consider when choosing between Kajabi vs Teachable.
Here's the main difference: while Teachable can help beginners create and sell online courses, Kajabi is a complete solution that helps you run a full online course business, including sales funnels, marketing, and website themes.
However, Kajabi costs more. So it's up to you to decide if the robust features of Kajabi are worth the higher price point.
In this guide, I review and compare Kajabi vs Teachable so that you can make the best decision for your online course business.
Disclaimer: This article contains affiliate links that I receive a small commission for at no cost to you. However, these are two tools I recommend when it comes to building online courses. You can read my full affiliate disclosure in my privacy policy.
Let's get started.
Kajabi vs Teachable: Overview.
Founded in 2013, Teachable is now associated with more than 100,000 instructors and boasts of earning more than $500 million in sales.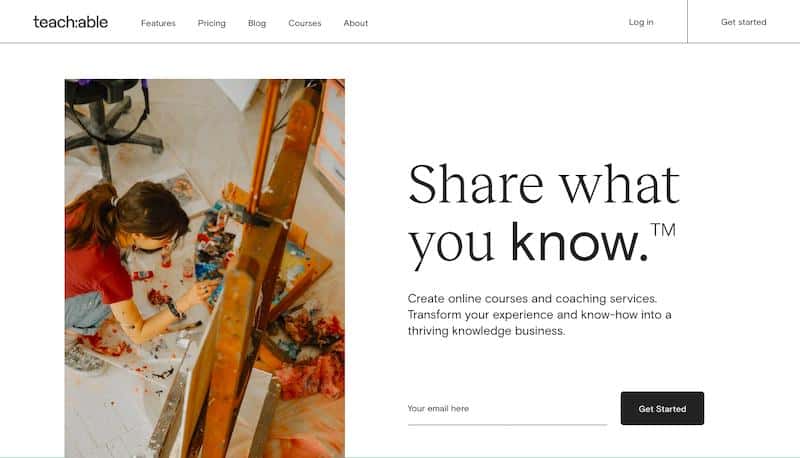 The one-stop-shop for all your course needs, the Course Builder is a perfect place to create and sell courses on any topic. Whether you're looking to teach others about health & fitness or lifestyle topics like food writing; if it's relevant then this tool can help!
You'll never have trouble finding an audience with its diverse range of categories–and there are plenty more where those came from too (travel?!).

Some of its main highlights are:
Can link to existing website under a custom domain
Extensive customization and third-party integrations
Flexible page editor
Integrated payment tools
Flexible pricing options
Handles EU Digital Goods VAT tax
As for Kajabi, it launched in 2010 and is currently used by more than 50,000 people across 120 countries. So far, it's clocked more than $1.5 billion in revenue. Based out of Irvine, California, Kajabi now has more than 100 employees.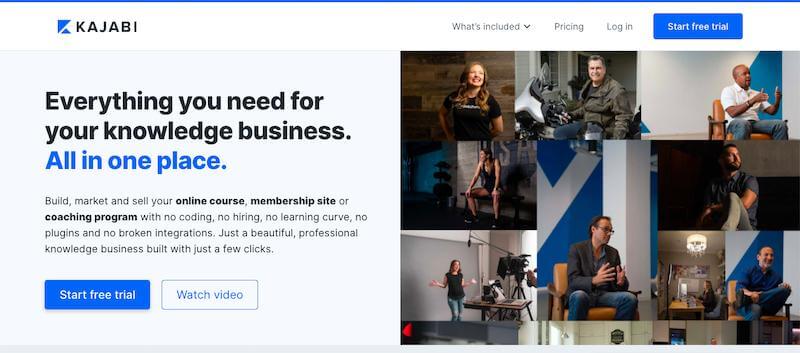 Some of its main highlights are:
Marketing tools, including sales pipelines, sales funnels, email templates, and websites
Course website builder
Excellent customer support
Easy creation of products and pipelines
Unlimited creation of landing pages and emails
Extensive third-party integrations
Over ten pre-designed themes for course player
You can read my full Kajabi review for more detailed information.
With intense competition in the online course market, there are niche products and no "one-size-fits-all" brand.
So which one should you choose? Let's find out.
Kajabi vs Teachable Breakdown.
Pros and Cons
Online Course Creation
Themes & Templates
Webinars & Video Hosting
Sales & Marketing
Data Analytics
Student Discussions/Forums
Certificate of Completion
Pricing Plans
Customer Support
Kajabi vs Teachable: Pros & Cons.
To get started, let's check out the main pros and cons of each online course platform.
Overall, Teachable is a cheaper option with less
Teachable Pros and Cons

Kajabi Pros and Cons:

Let's get to the point-by-point comparison.
1. Online Course Creation.
The ease of course creation is a foremost criterion for choosing one of the course tools.
Teachable
Overall, Teachable is more user-friendly than Kajabi when it comes to uploading content. In the case of Teachable, you can start creating courses directly from the admin area.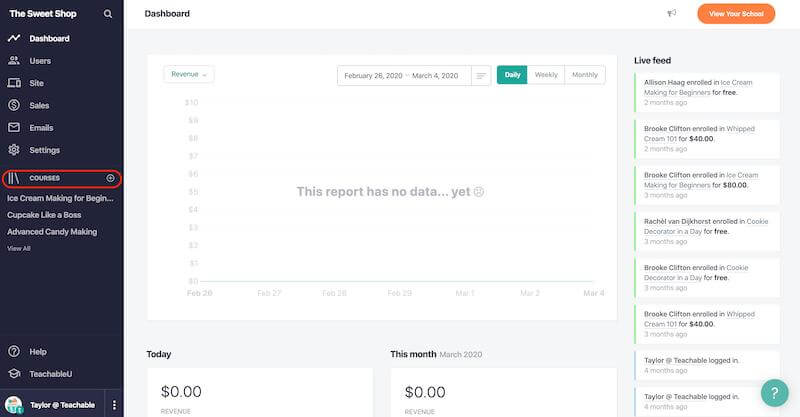 Teachable's user-friendly dashboard lets you enter details like course title, sub-titles, and author name easily – without any coding. You can also add a small introduction to the author.
Teachable also provides an in-built SEO section that you can use with the legacy page editor.
Here's how it lets you make SEO-friendly additions and changes: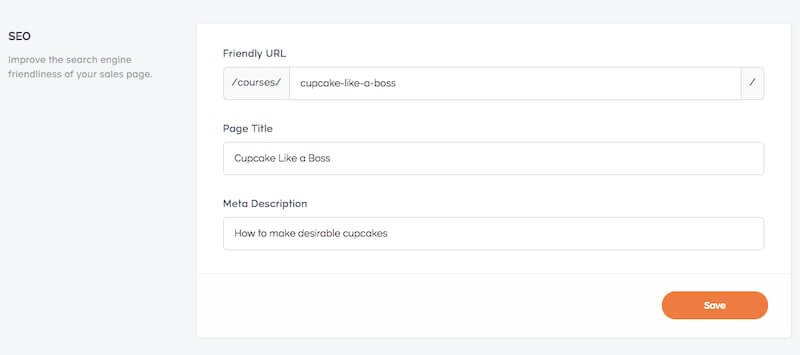 Teachable's course creation editor nudges you to make SEO-friendly decisions like creating:
Friendly URLs
To-the-point page titles
Metadata descriptions in less than 160 words
It also includes your branding via thumbnails and promotional videos. Plus, you can curate the page where you want students, teachers, or parents to land after making a purchase.
There are plenty of other options to help you manage:
Course pages
Curriculum
Course compliance
Pricing
Coupons
Bundle contents
Reports & certificates
Comments
And more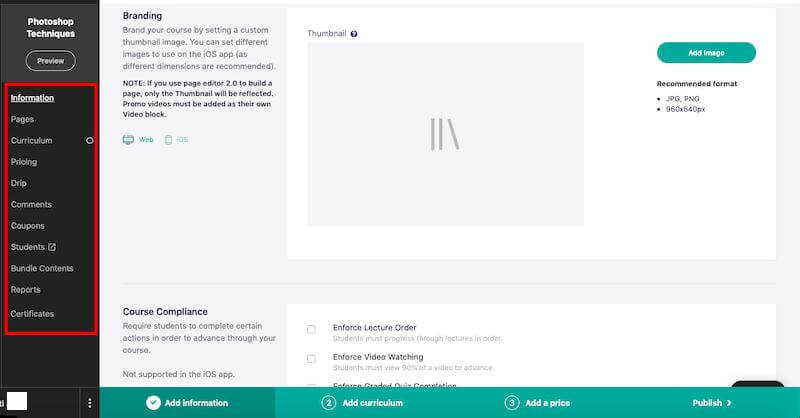 You can edit and make additions to all these options with a few clicks, preview them, and finally publish your course. You can always make changes even after publishing the course.
Next, you can start by adding different types of content to lectures in your course.
You can add many different content types:
Text-based content
Upsells
Quizzes
Code examples
Custom code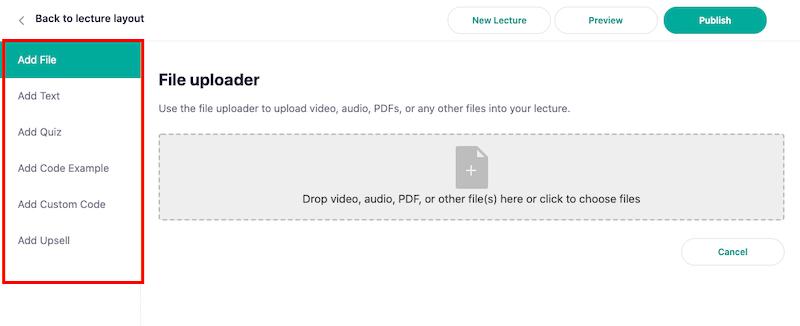 You can also easily embed video, images, PDFs, and audio files directly into your course lecture. You can either upload files straight from your system or from other platforms like the web, Dropbox, Google Drive, etc.
Teachable only supports specific content types. This doesn't mean you can't add upload other content types – however, you can only add them as downloadable files for your students rather than embedding them into the lectures.
Here's a list of all the content types supported by Teachable:
Teachable also lets you create up to 10 sales pages for your course, although you'll also have to create a primary page.
In case you don't like how your course structure turned out and want to replace it, you can simply delete the course by selecting it from the admin sidebar. However, be sure you want to do it before deleting a course since courses once deleted cannot be brought back.
Kajabi
Kajabi also offers an easy-to-use dashboard that lets you build courses, coaching programs, and membership sites with no coding or learning curve.
Just like Teachable, it also lets you embed PDF files, videos, images, etc. to your courses directly from your device or any other web-based platform.
To start creating your course: Head over to the top right corner of your Kajabi dashboard and click on the 'New Product' option to start creating your course.
Kajabi allows you to choose from six built-in blueprints, including a blank one that lets you create a course from scratch.
You can select any of these three blueprints for course creation:
Mini-Course
Online Course
Evergreen Training (provides drip content option)
You can create categories, classifications, and segment your courses in a lot of ways. It also enables you to add posts and sub-categories within the higher classifications. This extra level helps you better structure your online course.
You can add media like assessments and videos within the lessons, and you can also add unlimited blog posts for each lesson you create.
On the homepage for every lesson, you get details regarding student engagement to help you keep track of their progress.
You can also add things like educational modules or blogs, assessments, and quizzes, links to private articles, etc., with every course.
Teachable is more user-friendly when it comes to uploading content. It provides more flexibility as you can upload different content types to one module.
2. Themes & Templates.
Pre-designed themes and templates let you create attractive sales pages, course player, landing pages, etc. You can customize and publish them right away.
Teachable comes with a basic theme that lets you customize your banner image, logo, content, font, color, etc.
Here's a quick glimpse of a theme you'll get with Teachable: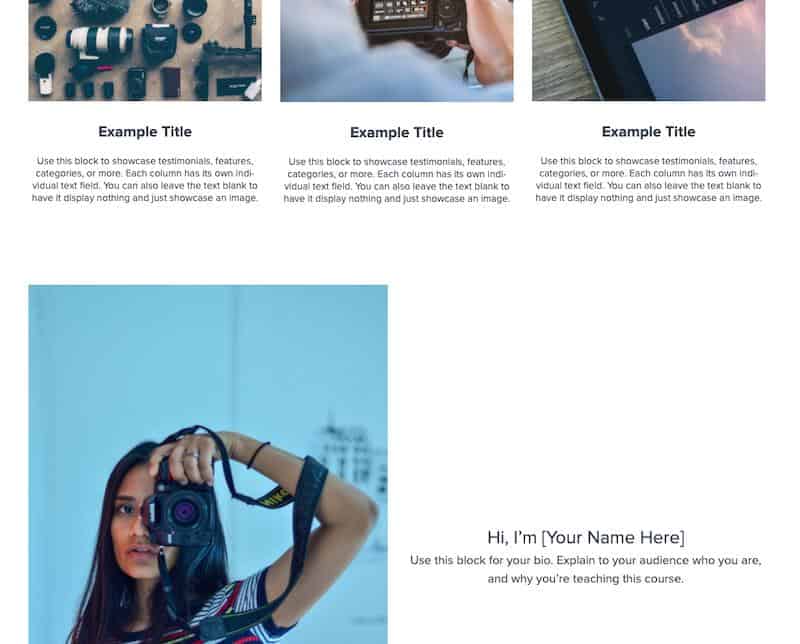 Overall, Teachable lets you change the typography, colors, and logo & background of this singular. This means you can still change it drastically to match your course, but you still don't get many options.
On the other hand, Kajabi offers 12 different themes suitable for any digital product, including webinars, online modules & lessons, membership sites, etc.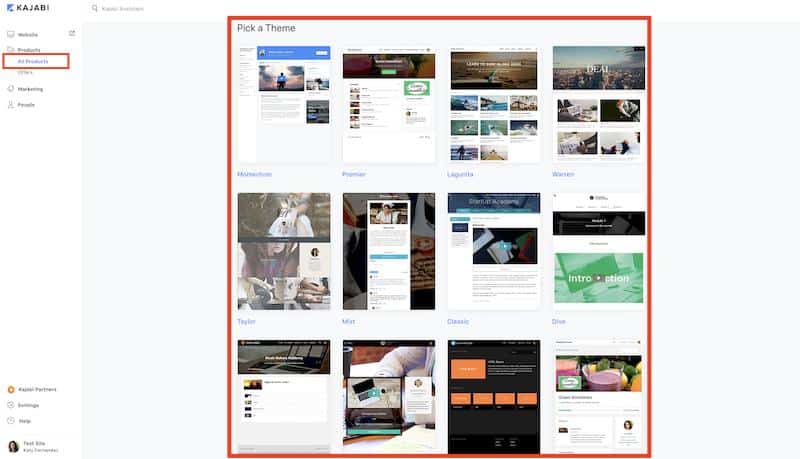 Simply pick a theme from Kajabi's dashboard, install it, and customize it to add your personal touch.
Kajabi's extensive theme options also let you replace additional landing page building tools like ClickFunnels and email tools like ConvertKit.
3. Webinars & Video Hosting.
Videos and webinars are the perfect avenues to leverage the full power of online teaching. 5 billion videos get streamed and watched on YouTube every day.
Both Kajabi and Teachable use Wistia for back-end video hosting, and both provide:
Unlimited courses and video hosting
High streaming quality
Uninterrupted playback
Ability to adjust the quality of the video based on the viewer's internet quality
Teachable
Despite not having a native webinar hosting feature, Teachable makes it easy to use videos and webinars on its platform using numerous third-party integrations.
Some of them include:
Livestream
Ustream
Adobe Connect
YouTube
Twitch.tv
The process of using any of these tools to stream or host videos is relatively the same.
First, select the course to embed your video or live stream, and then choose or create the lecture you need to embed your live stream feed into.
Embedding is relatively easy. Simply scroll down to the bottom of the live stream page, and click on 'view on watch page.' Once you click on the 'share' option, you'll find the option to embed.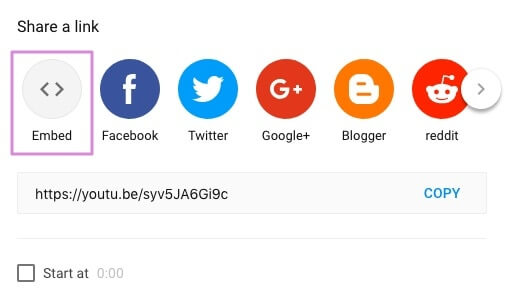 Teachable webinars help you sell an online course, reach out to students, build up a comprehensive email list, etc.
There are also a variety of videos that you can make using Teachable, including:
Talking Head – These videos are where you sit down and have a nice conversation with the viewers. It can either be formal or casual.
Screencast – These videos are where you record and share your activities with the viewers. For example, it's the perfect way to show how to use a particular application.
Slide Presentation – These are like PowerPoint Presentations, albeit with more features and let you give instructions easily.
Kajabi
Kajabi lets you conduct live webinars for free – without any additional integrations.
Login to your account and click on 'Marketing' on the left sidebar.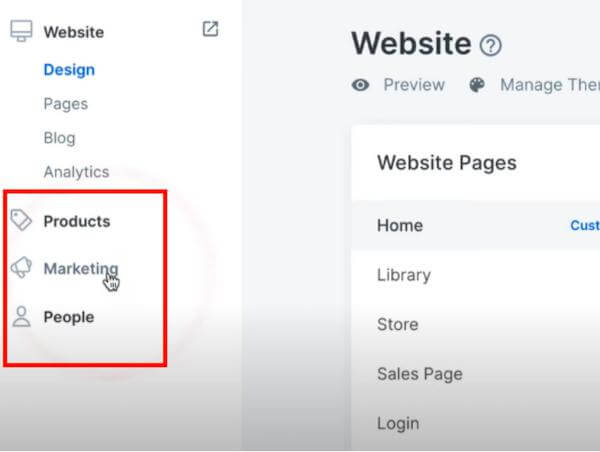 You'll get the option to use pipelines and have to select 'New pipeline' on the top right-hand corner.
Basically, you have two options to set up webinars. If you're already paying for a Zoom integration, you can host videos or webinars through the Zoom Webinar OVO application.
The other way is to use YouTube. Click on the bottom of the page on 'Legacy pipeline,' and click on the 'Webinar' option.
Follow this video for the complete process:
Kajabi's free webinar hosting option gives you the option to:
Capture emails
Create a 'Thank you' page
Go live
Create sales pages
Provide offers at checkout
What's more, with Kajabi, you can opt for pre-recorded webinars as well.
Kajabi offers well-rounded video hosting capabilities. Its Zoom integration and YouTube live features make it easy to create videos of various formats. Kajabi is the winner in this round.
4. Sales & Marketing.
The ultimate aim of any course business is revenue generation. Without an effective marketing and sales plan, revenue may be less than average. Both tools have marketing features, but which one is better?
Teachable
Teachable offers some good marketing features, including multiple sales pages for a single course to target different customer segments with A/B testing.
Teachable provides conversion-optimized courses and lets you place call-to-action (CTA) buttons anywhere on the page.
It also lets you add upselling options to your Thank You pages to increase your average order value.
Teachable also provides all of the basic email marketing features that you need and you can access them by selecting the Emails option from your dashboard.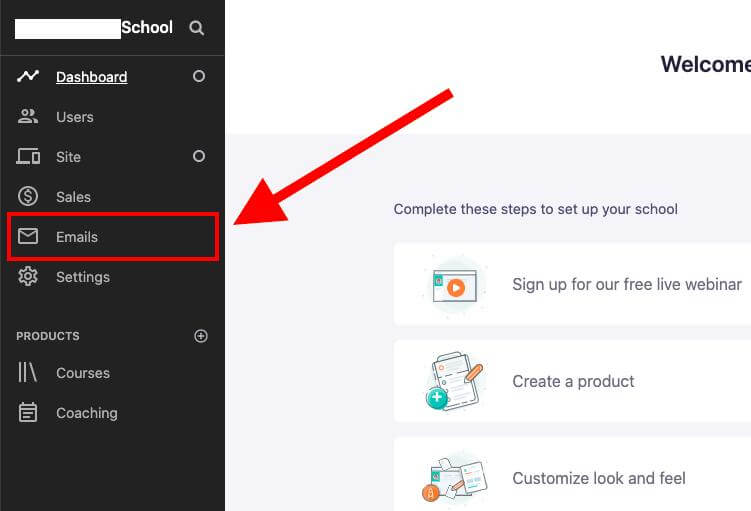 The email section lets you send specific emails to segmented users and control automated email notifications you want to send to your students.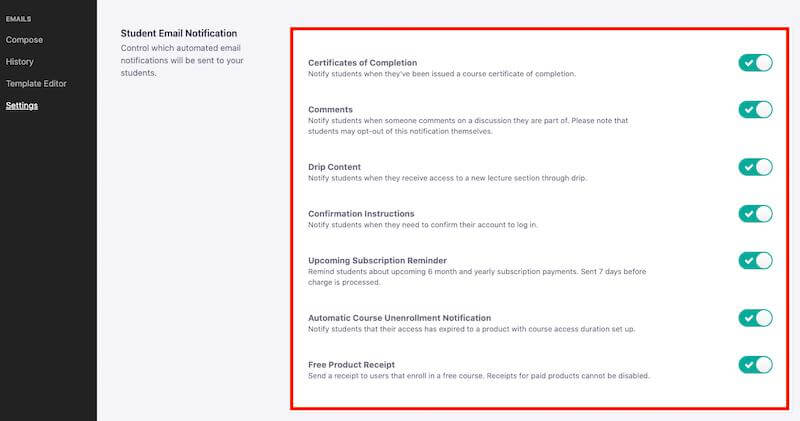 Kajabi
Kajabi also offers upselling and email marketing options.
When it comes to email marketing, Kajabi provides full control over email marketing campaigns and lets you create email broadcasts and sequences. This eliminates the need to sign-up for additional email marketing software like AWeber or Mailchimp.
It can recommend a specific course of action like one-time email blasts or multi-touch sequences based on customer behavior.

You also get an intuitive visual editor that makes it easy to customize and preview emails before sending. It lets you enrich emails by differentiating elements like countdown timers, videos, and multiple personalization levels.
Besides adding triggers to emails, Kajabi also lets you add triggers to opt-in forms.
Plus, Kajabi offers ready-made pipelines that make it easy to scale and automate marketing activities.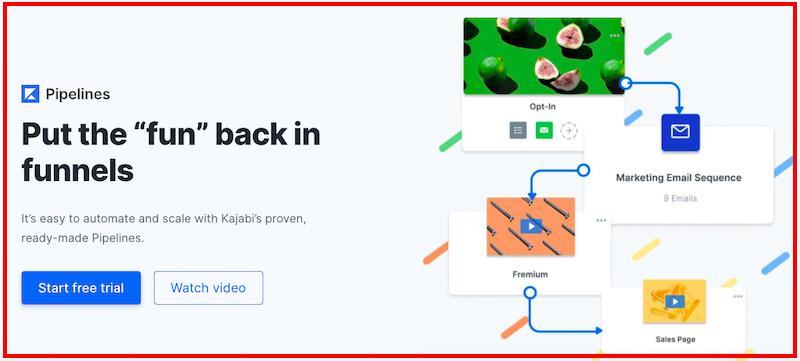 With pre-built templates and funnels for marketing activities like lead generation, product launches, webinars, and more, you can quickly launch customized marketing campaigns.
Kajabi is the clear winner because of its extensive email marketing, pre-built pipelines, and marketing automation features.
5. Data Analytics.
Teachable provides extensive and reporting options. Just select the 'Reports' option from the left side of your dashboard.
You'll be able to view reports based on:
Lecture completion
Video stats
Quiz scores
Leaderboards
Video engagement
These reports get further segmented based on factors like paid students, discounted students, free students, etc.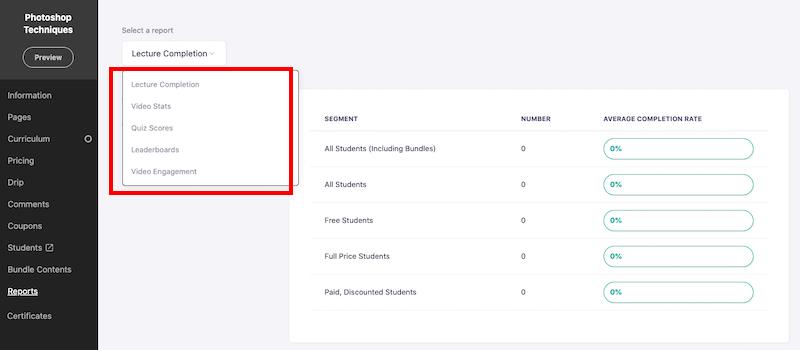 Plus, Teachable provides seamless integration with Google Analytics that lets you evaluate and measure essential metrics and customer preferences.
Paid plans also provide integration with Facebook Pixels that capture sales page view events and purchase events. Once your ads are set up, it lets you monitor the traffic and performance of your sales pages from the Facebook Ad Center.
Kajabi also provides a built-in data analytics platform that measures important metrics like churn rates, revenue, offers sold, subscription metrics, etc.
You also get progress reports and detailed, actionable insights for businesses. Clear, streamlined reporting enables you to identify problem areas to eliminate them while concentrating on the areas providing maximum benefits.
Additionally, Kajabi provides a mobile application that helps you track your progress anytime and anywhere.
Teachable is the winner here due to its integration with various analytics tools like Google Analytics and Facebook Pixels. These features negate the requirement of analytics tools like ActiveCampaign.
6. Student Discussions and Forums.
Whether it's traditional classroom teaching or digital learning, teacher-student discussions and peer-to-peer interactions are indispensable. An easy-to-navigate student discussion platform bolsters understanding and bridges the gap that instructors and students may face in digital learning.
Teachable provides one of the best avenues for seamless student discussions on their platform.
Instructors can enable comments on every learning session simply by toggling the button at the bottom.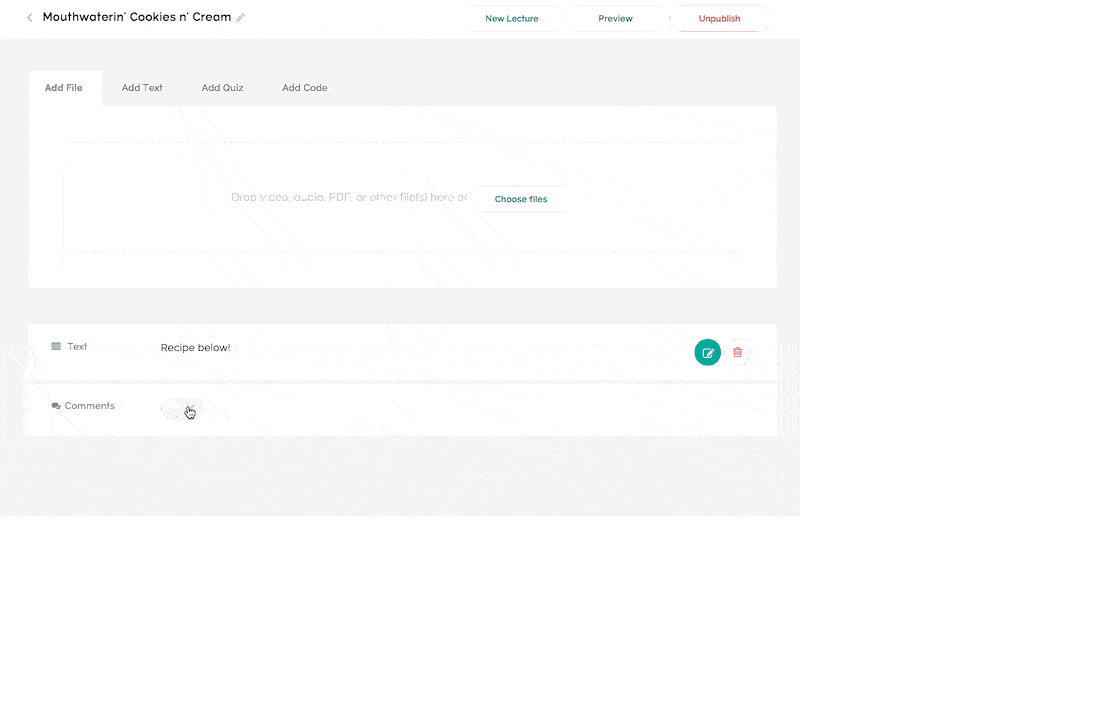 Interested students can post comments, ask questions, solve problems, and communicate in general via the comment box. You can also manage the comment settings by toggling the buttons below.

The instructors can control, enable, and allow comments moderation, comment attachments, and multi-level response threads. Teachable facilitates communication by allowing instructors to post attachments and share links to comment threads on different forums. Communication between peers from other classes is also possible.
The platform also allows instructors specific controls and checks, including the power to delete comments from the public forum. Comments, once deleted, won't get retrieved.
Kajabi addresses the requirement for student forums with their 'Community' feature. It allows holistic peer-to-peer and peer-to-mentor communications to discuss, ideate, address, and solve problems.
The page admin has the power to organize and prioritize the communication feeds so that students and teachers don't lose track of things in the middle of a discussion.
Winner: It's a Draw.
7. Course Completion Certificates.
Teachable provides ready-to-use certificate templates that you can access right from its dashboard.
You get three built-in templates along with the option to create your own from scratch using custom codes.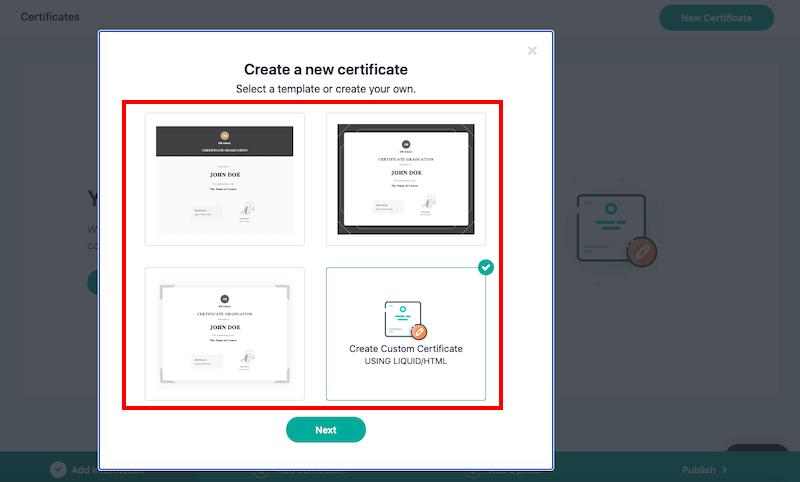 Although all the templates are professional, you can still personalize them further the way you want.
Kajabi, on the other hand, doesn't let you create and share certificates of completion natively. However, you can use its Zapier integrations and use any third-party app to create certificates and share with your students.
8. Pricing Plans.
Pricing is one of the essential deciding factors when it comes to choosing an online course tool. After all, additional features often don't make a difference if you don't have the budget for it in the first place.
Let's see how Kajabi and Teachable fare in terms of pricing.
Teachable offers highly flexible payment plans for every need. You can either register for annual plans or monthly plans.
Here are three Teachable pricing plans:
Basic: $29 per month billed annually
Pro: $99 per month billed annually
Business: $249 per month billed annually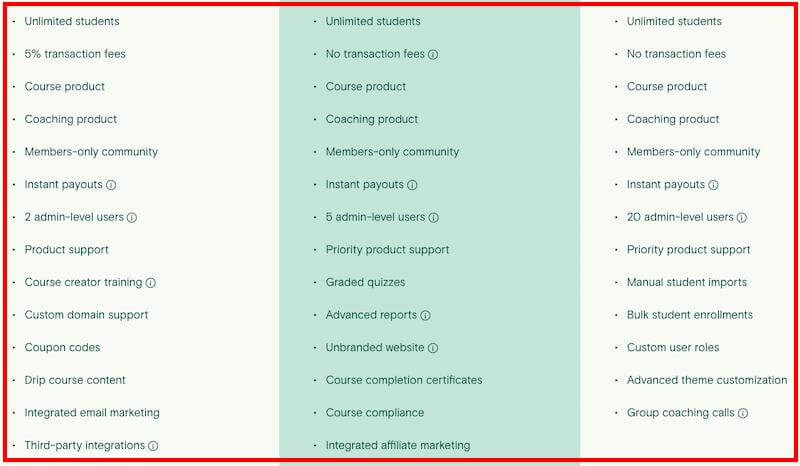 The annual plans come with a discount of around 25% over the monthly plan.
Each plan has a unique target set of customers. The Basic plan is suitable for creating your first online course, while the Business plan gives you the best experience of Teachable.
Teachable also includes many features that are always available, no matter which plans you're using.
Each plan includes:
Basic quizzes
Unlimited videos, courses, and hosting
Holistic student management and comments in lectures
The integrated payment processing platform
VAT (value-added tax) for EU
No fees on free courses
Teachable offers a free trial period for users to try out the features and get used to the interface.
A free trial is one of the features that make Kajabi a great choice, too. Like Teachable, Kajabi also offers a 14-day free trial period for users to zero in on the most useful plan for them.
Having said that, every plan from Kajabi is more expensive than Teachable. This makes it especially important to check out what they're offering.
Here are Kajabi's pricing plans:
Basic: $119 per month billed annually
Growth: $159 per month billed annually
Pro Plan: $319 per month billed annually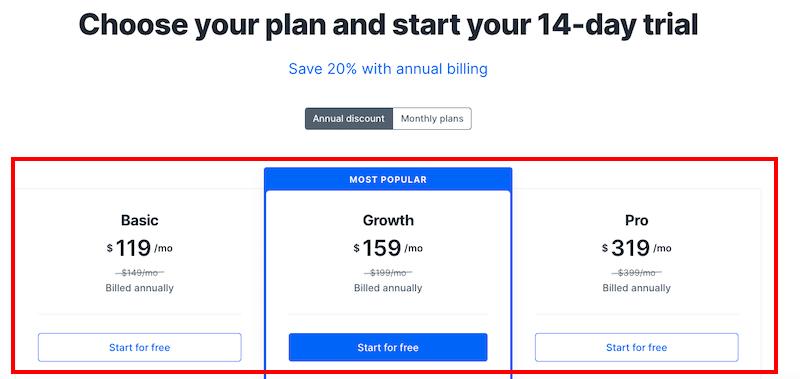 These are at a 20% discounted rate from plans billed monthly.
Kajabi's Basic plan has an associated transaction fee, which the users of the other two plans are exempted from. All the plans are specifically curated, keeping a specific target population in mind.
Some of its standard features include:
Integration with payment gateways
Email marketing and the ability to create email sequences
Holistic product support
Drip course content
Course creator training
Automated marketing features
In case you don't like the platform after making the payment, you can always ask for a refund since Kajabi offers a 30-day money-back guarantee.
Also, neither of the tools offer a free plan.
Although it depends on your requirements and budget, Teachable is the more affordable option. Kajabi is comparatively higher-priced, and with Teachable you get many of the same features like unlimited videos, hosting, and basic quizzes. While it isn't as great for marketing or building a full online course business, Teachable is more affordable.
9. Customer Support.
Teachable offers a 'help' button on the left-hand side of the home page.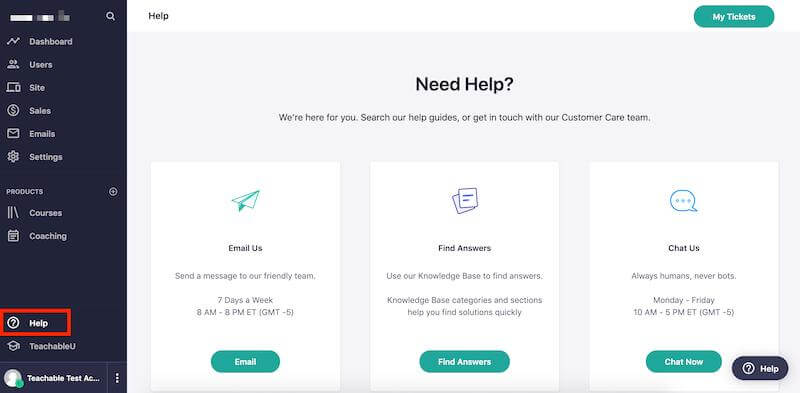 It offers customer support via:
Email
Live chat
A rich, in-built knowledge repository and tutorials
The Knowledge base is a unique treasure trove of information that has documents and articles outlining solutions to some of the most common problems you're likely to face. You'll get a host of information for issues related to account and billing, selling your course, integrations, student guidelines, and customizations.
To get more customized help, you can send targeted problem-solving tickets. The tickets get addressed and closed in the shortest possible time by Teachable experts.
For users who need help right away, there's the option of live chat.
Email responses are available between 8 am to 8 pm ET, seven days per week. Live chat is available weekdays, from 10 am to 5 pm ET, only for Professional Plan or higher members.
When it comes to Kajabi, the most effective way of getting support while using Kajabi is by visiting the Help Center.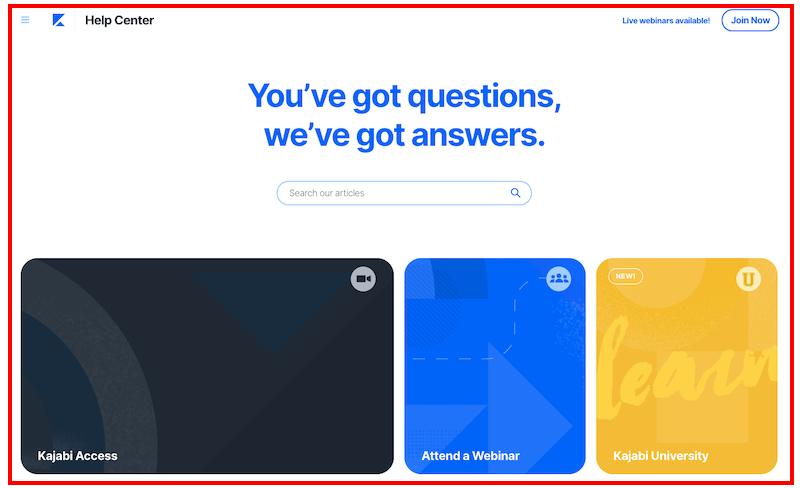 It contains plenty of help articles that address many of the most common problems. They also allow users to view live training that can solve real-time problems.
You can also get in touch with customer support executives by:
Emailing the support team
Connecting through live chat
The customer support team is usually prompt with their response, which helps customers solve pressing business problems on the go.
For Growth and Pro plan users, Kajabi offers 24/7 live chat, which is a nice differentiator.
Plus, Kajabi facilitates the process of reaching out to independent contractors if you need additional help. However, it doesn't claim responsibility for the service received from them.
Summary
In this in-depth guide, I tried to cover all the points you'd need to make a final choice between Kajabi vs Teachable.
Overall, both platforms have their fair share of strengths and weaknesses.
While Teachable is better for course compliance, creating certificates, and pricing – Kajabi is stronger for sales pipelines, email marketing, building course pages, and automation.
Plus, Teachable is a great, cheaper option for people just starting out. It also works better for users who already have other parts of their business figured out, like automation and marketing.
That said, Teachable isn't very scalable. The moment your business takes off, you'll need to migrate to another platform like Kajabi.
While Kajabi is more powerful than Teachable in certain aspects and offers a lot more third-party integrations and features, business needs can vary.
Then there's the question of price. Kajabi is pricier but more advanced, while Teachable is simpler but more affordable.
To sum it up, the decision comes down to how advanced you want your online course business to be and what your budget is.
To read further and get more insights into other course tools, check out my guide Thinkific vs. Teachable and my full Thinkific review. And for a comparison of all platforms, read my guide to the best online course platforms.
Editorial Process:
Our reviews are made by a team of experts before being written and come from real-world experience. Read our editorial process here.
Some of the links in this article may be affiliate links, which can provide compensation to us at no cost to you if you decide to purchase a paid plan. These are products we've personally used and stand behind. This site is not intended to provide financial advice. You can read our affiliate disclosure in our privacy policy.
---
Last Updated on December 8, 2022 by Adam Enfroy