Thinkific vs. Kajabi: Which Course Platform is Best in 2022?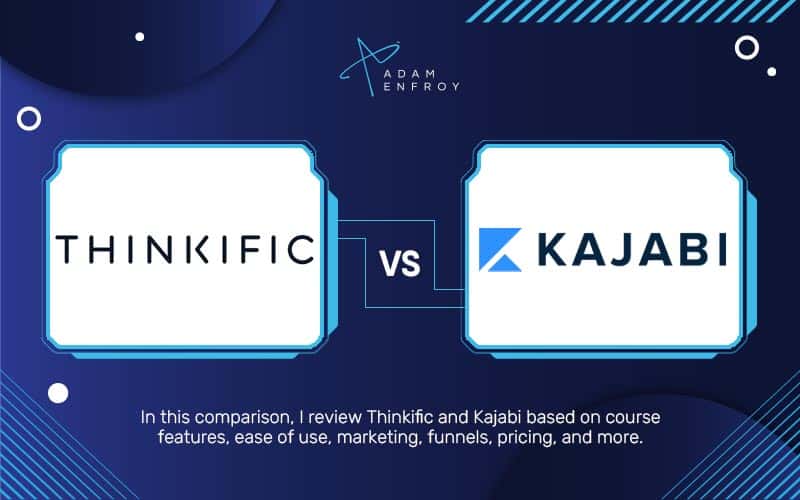 ---
Last Updated on December 29, 2021 by Adam Enfroy
Thinkific and Kajabi are two of the most popular online course platforms.
But which one is best?
When creating and selling an online course, this decision really hinges on a few key factors:
The look of the course website itself.
The design and conversion rates of the course sales pages.
The student experience and how the dashboard looks when they're taking the course.
The pricing options and course cadence (all at once vs. dripped over time).
Ultimately, here's the goal: Provide a premium course experience to your students so that they don't even realize they're inside of a course builder.
The truth is, both Thinkific and Kajabi can do all of these things. However, there are some big differences when it comes to pricing, membership options, and a few other key details.
In this course review, I'll cover each main feature of Thinkific and Kajabi so that you can choose which platform is best for you.
Let's get started.
Disclaimer: This article contains affiliate links where I may receive a small commission at no cost to you (if you decide to purchase a paid plan.) However, these are two tools I fully recommend when it comes to launching online courses. You can read my full affiliate disclosure in my privacy policy.
Thinkific vs. Kajabi: Overview.
Thinkific is a cloud-based online course platform that allows you to create, market, and sell your online courses.
It provides features like a course website, sales pages, email drip series, course curriculums, and more to turn your knowledge into an online business.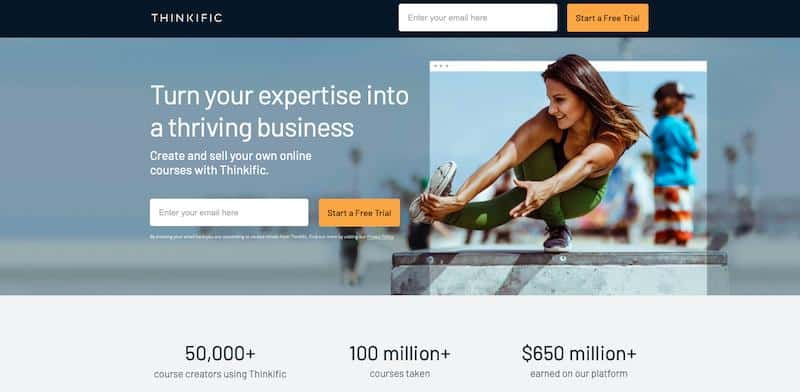 Some of Thinkific's main highlights are:
Drag-and-drop builder to help you upload videos, build quizzes, and organize your learning content.
Set pricing, schedule lessons, and automate your content to curate a great learning experience.
Customize courses to match your brand.
Engage students with rich multimedia course content.
Build a fully customizable course website designed specifically to sell courses and tutorials.
Marketing features, integrations, and payment options to promote your business, sell courses, and build an audience.
Automated progress and reminder emails, unlimited replays of course material, and language control to make the learning experience easier.
Group and cohort reporting, detailed segmentation, and data exports.
Secure cloud hosting and daily backups.
Free Wistia video hosting.
You can read my full Thinkific review for more details.
Kajabi is an all-in-one cloud-based platform that helps you build, market, and sell online courses, membership sites, and coaching programs.
It's more expensive than Thinkific, but offers a slightly higher-end experience for information businesses.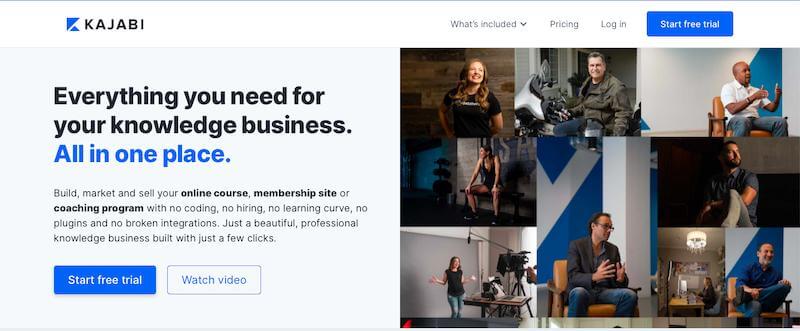 It comes with pre-designed templates that make it easy to build a course and upload educational content in a few clicks. Everything like marketing, payment gateways, course builder, etc., works in sync from a single dashboard.
Some of Kajabi's main highlights are:
Kajabi's project generator lets you create online courses, subscriptions, and more in minutes.
Ready-to-use one-click templates.
Customize pricing, delivery, and packaging.
Integration with Stripe and PayPal to get paid easily.
Make informed decisions with thoughtful, real-time insights into your business with data.
Grow, manage, and reach your subscribers and email list with customizable emails.
Create a fully integrated page with available themes.
It allows you to track your leads.
Free Wistia video hosting.
Kajabi is an all-in-one system that includes everything, from email automation to sales pages and pipelines. You also get features to host webinars and create custom sites, blogs, memberships, etc.
You can read my full Kajabi review for a deeper dive.
Let's dig deeper and go into their main pros and cons.
Thinkific vs. Kajabi: Pros and Cons.
Before getting started with the detailed comparison between both platforms, here's a quick overview of their pros and cons.
Thinkific Pros and Cons.
Pros:
30-day free trial.
Beginner-friendly builder and pricing plans.
A freemium bundle that doesn't need a credit card.
An earnings calculator on the homepage.
Several subscriptions offer – a membership, payment plan, or a one-time price.
Live or interactive classroom experience with surveying and narration features.
Integration with Zapier.
Easy to customize your online learning.
Lets you create an affiliate program and reward loyal users.
Allows you to add numerous content formats in the same lesson.
Comprehensive training tools and guides.
Offers course completion certificates without any third-party integrations.
Allows you to sell courses in Shopify stores.
Cons:
You have to get Thinkific's higher-cost plans to get the premium features.
No live chat support.
Limited marketing capabilities.
Transaction fees on paid plans.
No mobile app.
No 24/7 email support. They work only Monday to Friday, from 10 am to 5 pm PST.
The training courses are costly if you're using their free or lower-paid plan.
You need integration to create autoresponder campaigns.
Kajabi Pros and Cons.
Pros:
14-day free trial.
No transaction fees.
Integration with Zapier.
Unlimited video hosting.
Advanced email marketing and automation features.
All-in-one online course creation platform with marketing and selling tools.
The ability to create membership tiers to bill customers weekly, monthly, annually, etc.
24/7 customer support helpline.
Great customer onboarding experience.
Plenty of customization options.
Built-in templates to build your course quickly without any coding experience.
An Android/iOS app to manage your business from anywhere.
A heroes rewards program that offers rewards when you reach a certain milestone of earned revenue. The more you earn, the more rewards you can get.
Cons:
It's a more expensive course builder.
No freemium plan.
You can add only one content format at a time. For instance, you can't add quizzes and video content on the same page.
You require third-party payment gateway integration to sell in Shopify stores.
Now, let's get to my side-by-side comparison of Kajabi vs. Thinkific.
Table of Contents
1. Ease-of-Use.
A good course creation platform should be user-friendly and intuitive. All the features would become irrelevant if you find it difficult to use the platform.
Thinkific:
Thinkific is a beginner-friendly course builder and comes with a neat user interface.
You can start creating your course right after you log in to your dashboard.
You'll also find all the functions under the menu items at the leftmost part of your dashboard.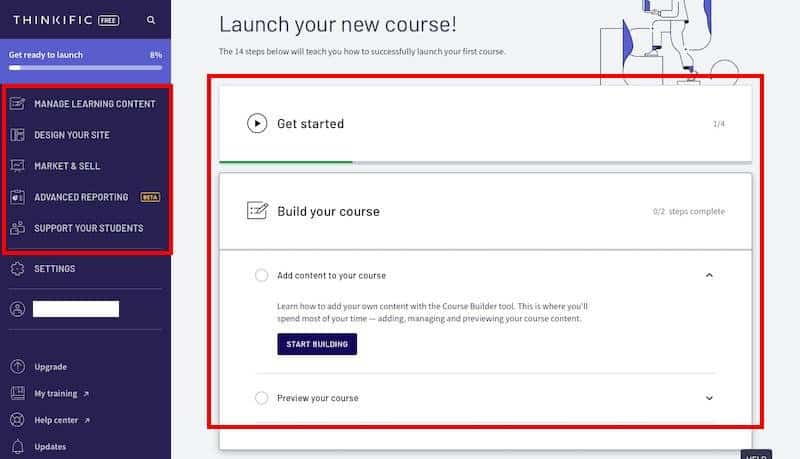 Menu Items include options like:
Design Your Site.
Market and Sell.
Advanced Reporting.
Manage Learning Content.
Support Your Students.
The navigation is also simple. You can view all the nested features with a single click without getting redirected to a new page.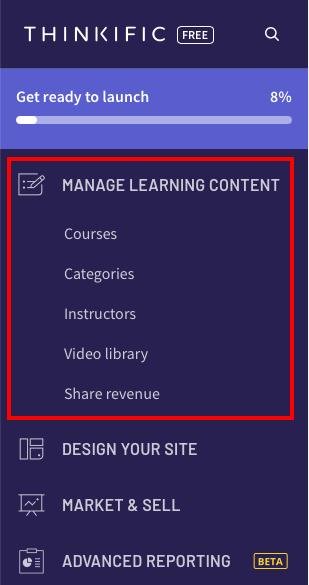 There's also the "Help" option at the bottom-left of the dashboard in case you have any queries. You can type your queries as you'd do in any search engine like Google.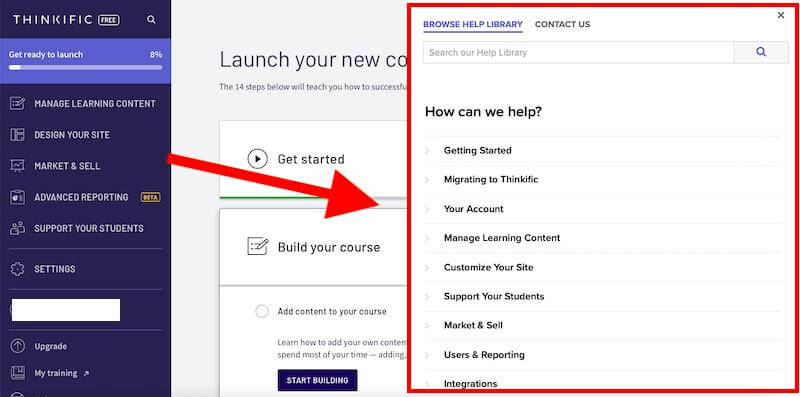 All in all, Kajabi's interface is beginner-friendly, and every feature is right in front of you as soon as you sign in.
Here are some other features that make Thinkific easy to use:
Clean user interface.
Drag-and-drop builder to upload videos, build quizzes, and organize your learning content.
No coding skills required for customization.
Content automation feature to curate content.
Pre-built themes to easily launch your learning platform.
Integration with email marketing tools.
Kajabi:
Kajabi also comes with a neat dashboard with all the menu items nested in the sidebar.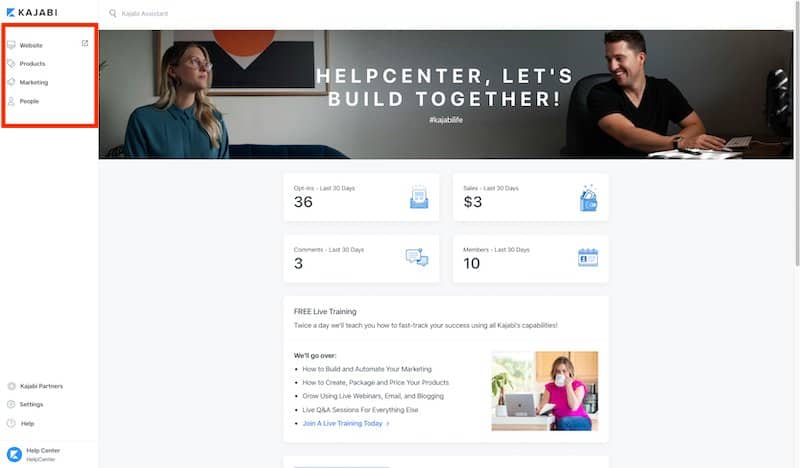 Kajabi's dashboard provides a brief overview of your stats from the last 30 days, including opt-ins, sales, comments, and members.
The menu items include options like:
Website
Products
Marketing
People
There's also a "Kajabi Assistant" feature that you can access by simply clicking on the search bar at the top.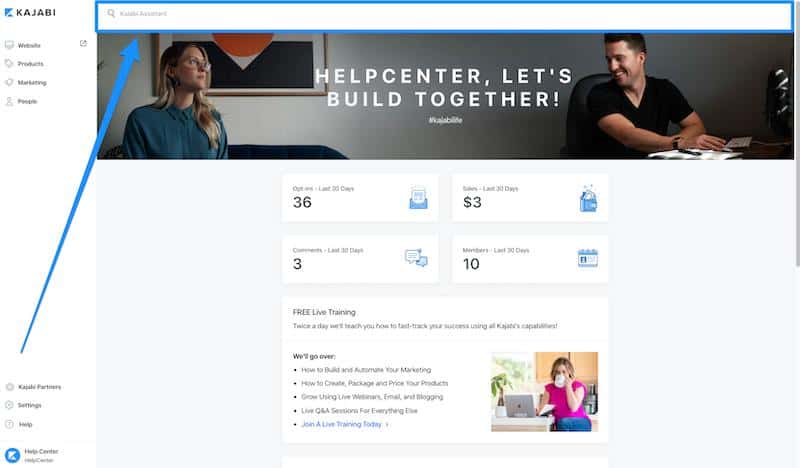 The Assistant helps you quickly navigate the platform and directly use features you can't find. You just have to enter the keywords relevant to your search.
Here are some other features that make Kajabi easy to use:
A neat user interface.
Product generator that allows you to create online courses, subscriptions, and more.
Ready-to-use templates and themes.
Upload course content in bulk. You can upload up to 20 videos simultaneously.
Smooth integration with Stripe and PayPal.
Customizable emails to grow and reach your customers.
Mobile app to connect with members of your community.
Winner: Kajabi.
Though both platforms are easy to use, Kajabi is the winner because of its more extensive feature list. It has extensive customization and marketing tools in one place. Plus, it has a mobile app that makes communication easier.
2. Course Builder.
Thinkific:
Thinkfic's visual editor helps you build your online courses either using pre-made templates or from scratch. You can create different membership levels, customize course appearance, and drip content based on membership tiers.
It also supports different content types that you can add to your courses, including PDFs, quizzes, videos, surveys, audio, assignments, etc.

When it comes to adding the content, the builder allows you to drag-and-drop video, audio & PDF files in bulk.
There are various appearance customization options, including adding descriptions for individual courses, different color themes, fonts, a course player logo, and lesson labels.
Kajabi:
Kajabi also comes with a drag-and-drop that allows you to build online courses, membership sites, sales pipelines, landing pages, and more.
The easy-to-use builder lets you customize pre-designed templates offered by Kajabi, allowing you to build your courses without any coding requirement.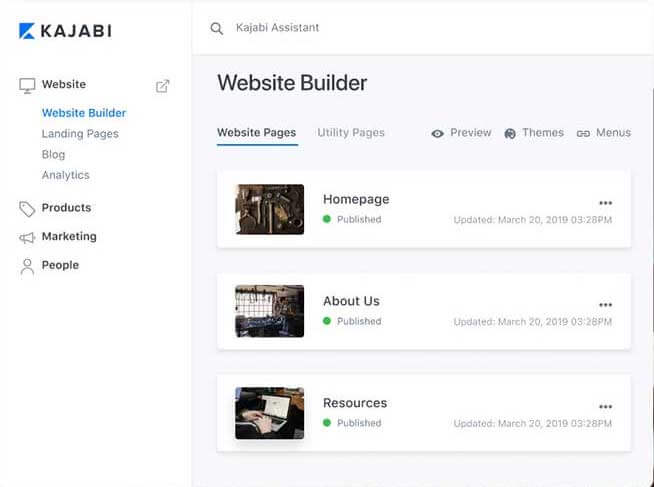 It lets you embed different forms of content to your site and courses, including PDFs, images, videos. You can either upload files from your system or any third-party app. The online downside is that it doesn't allow you to add different content types on a single page.
Disregarding what you're building, you just have to pick a theme or template and customize it with your own content and graphics. Kajabi has themes and templates for every type of page, campaign, pipeline, course, or website you might want to create.
Customization is easy since each section of your page has specific blocks. You just have to add personalized content to those sections and publish your course.
For example, here, the Offer Section consists of an "Offer block" and a "Text block."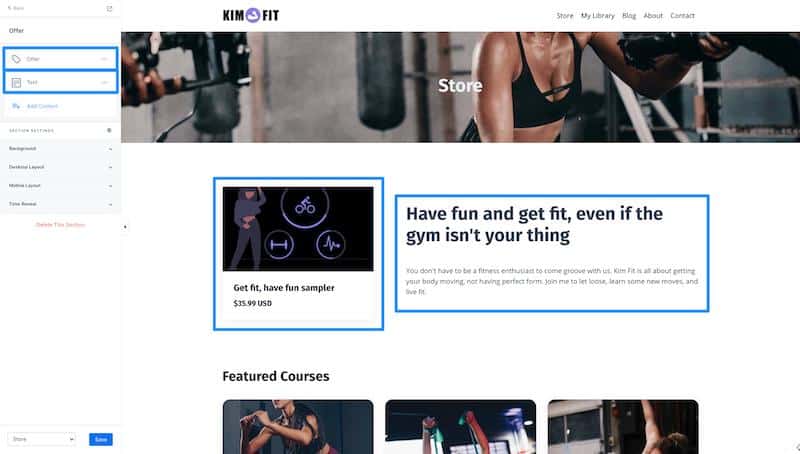 It also allows you to add animations, select elements to be visible on the mobile site, change padding, etc.
Besides, Kajabi's website builder allows you to:
Unify design across your website, blog, landing pages, etc.
Customize the homepage to align with your brand.
Add a custom domain.
Add alt-tags to your images.
Create an "About" page to share your story.
Create a custom store to display your digital and physical products.
Create upsell and cross-sell options from your Members Library Page.
Add quizzes, assignments, educational modules, and more to your courses.
Segment your courses using categories and classifications. You can further add posts and sub-categories to the higher classifications.
Winner: It's a Draw.
Both Kajabi and Thinkific have visual, drag-and-drop builders that allow you to add different content types and customize your courses.
3. Themes and Templates.
Pre-designed themes and templates make it easy to build a course, membership site, landing pages, and more. It gets even easier when you can access different templates for different actions you want to perform.
Let's see all the different options offered by both the online course platforms.
Thinkific:
Thinkific offers three themes in different styles in its theme library – Empire, Vogue, and Vision.
You can change and preview the styles of the themes from the "Theme Settings."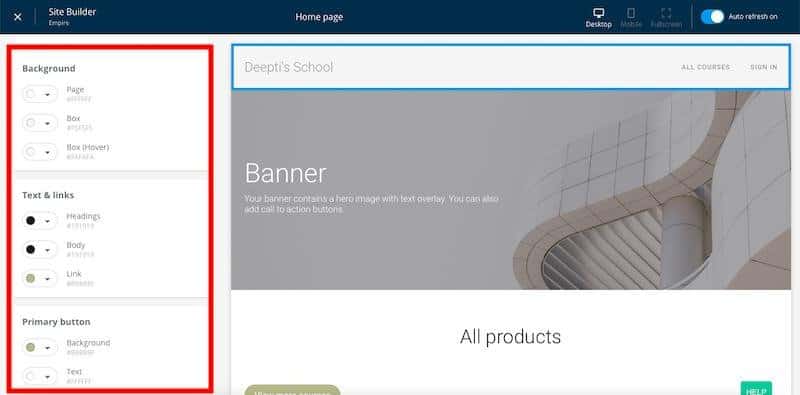 The settings allow you to change the style of the theme, colors, typography, and banner image.
Kajabi:
Kajabi offers 12 themes for different products, including webinars, online courses, membership sites, and more.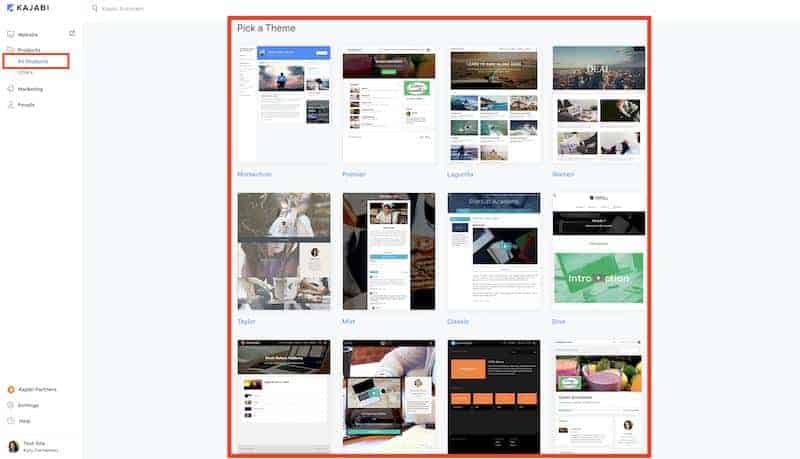 Like Thinkific, Kajabi also allows you to customize and change the style of the themes the way you want.
Winner: Kajabi.
4. Creating Memberships.
Creating a course and promoting it isn't nearly enough. You need to have a working revenue strategy in place using membership sites and selling courses in bundles.
Creating memberships allow you to earn recurring revenue, provide ongoing training, build a community of like-minded students, and retain customers.
Thinkific:
Thinkific allows you to create numerous membership or subscription tiers and sell your courses with different pricing options.
You can create a course bundle for your membership site by clicking on the "Manage Learning Content" option from your dashboard.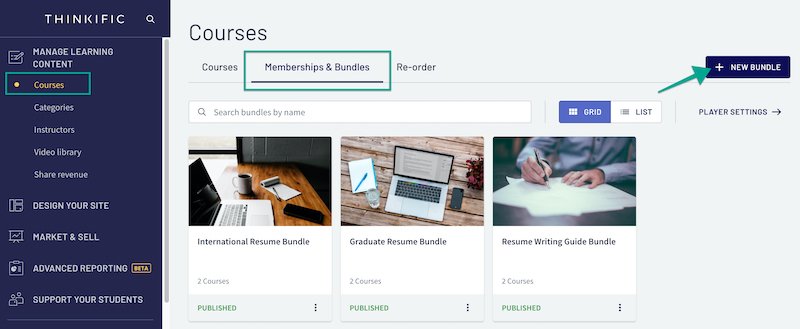 The online course platform allows you to set numerous membership options, including:
Freemium plan.
One-time payment.
Subscription-based membership (monthly, annually, etc.)
Monthly payment plan.
Custom pricing plans.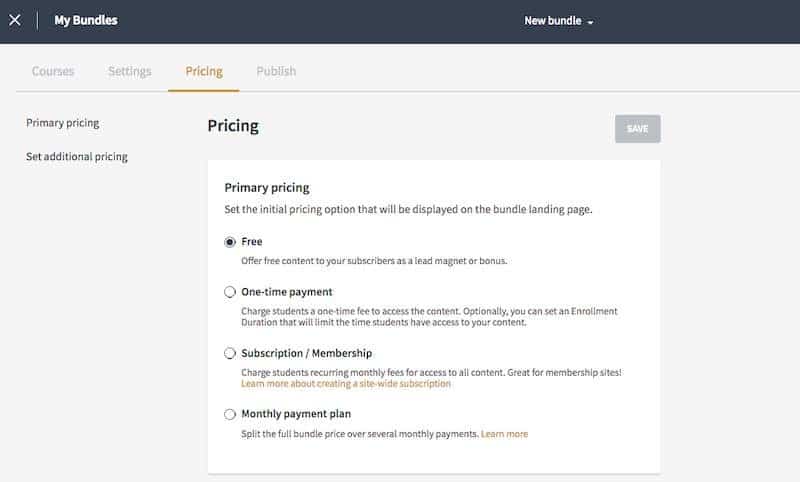 Thinkific also lets you "hide" specific content until a student completes a certain module or milestone.
However, you need Thinkific's Pro plan to access the membership feature.
Kajabi:
Kajabi allows you to create a membership site or page using pre-designed templates. Start by picking a new template under Products > New Products > Membership.
You can add several membership tiers and even run special offers and discounts on different levels.
Different membership tiers include:
Recurring payment.
One-time plan.
Trial payment plans.
One-click upsells.
And more.
The tool also allows you to add levels to memberships like Gold, Silver, and Bronze.
Winner: It's a Draw.
5. Marketing and Sales Tools.
The end goal of creating your course is to sell it to as many students as possible. Thus, it's crucial to compare the marketing and sales tools of both platforms.
Thinkific:
You can access Thinkific's marketing and sales features by clicking on the "Market and Sell" option from the dashboard.
It allows you to sell memberships and subscriptions, run promotional deals on discounts, offer free trials, and more. You can also place customizable sales widgets on any third-party website or blog, allowing students to buy your course from anywhere.
You can also create an affiliate marketing program to encourage students to share your course with those who will benefit from it.
Thinkfic also allows integrations with over 1000 business tools, including Facebook, Google Adwords, and more. For example, you can easily connect it with email marketing software like MailChimp, ConvertKit, and more to create targeted email campaigns.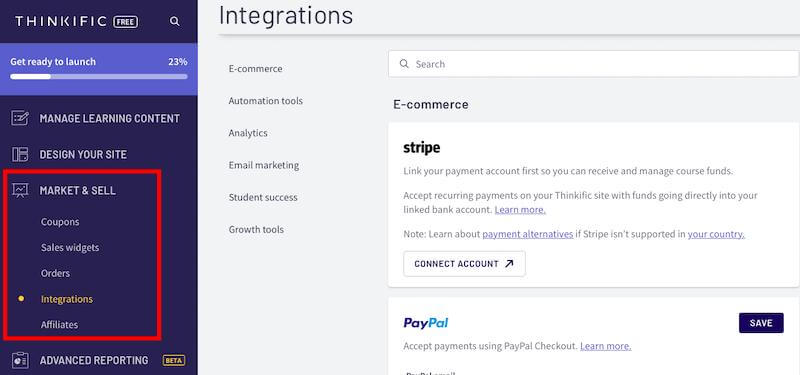 Other engaging features include progress indicators, unlimited replays, language controls, built-in completion certificates, automated progress and reminder emails, etc.
When it comes to getting paid with Thinkific, you can charge your students in 100+ currencies and accept all credit cards. It also integrates with PayPal and Stripe for quick and secure payouts.
Kajabi:
Kajabi comes with numerous marketing and sales tools and features to help you promote your courses or site.
Overall, here are all the marketing options you'll get:
Build sales pipelines.
Email campaigns.
Automations.
Events.
Forms.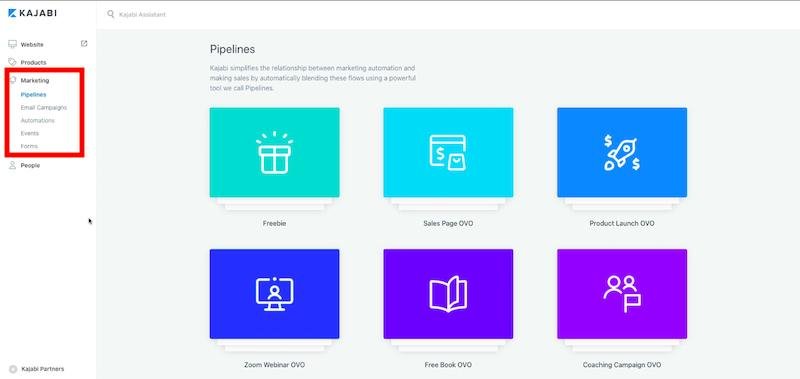 It comes with pre-built templates for various purposes like lead generation, product launch, webinar launch, etc.
Each pipeline blueprint or template comes with a pre-written copy and a complete framework. It helps you nudge your students and audiences in the right direction and the right sequence.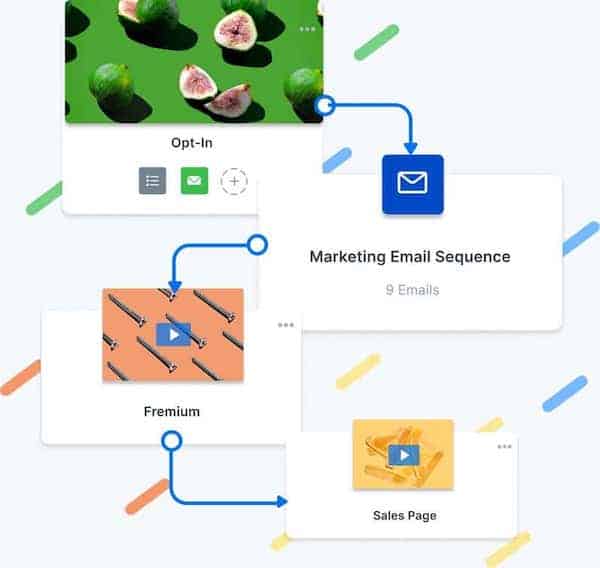 Kajabi's email marketing tool also gives it an edge over other course platforms. The visual editor and built-in email templates make it easy to customize and preview email campaigns. There are templates for every type of email like event announcement, product showcase, etc.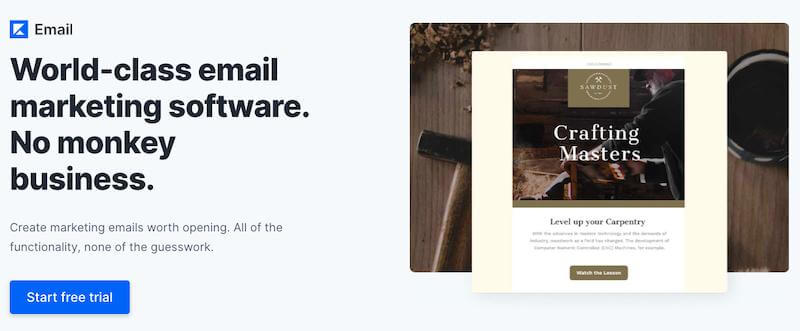 It also gauges customer behavior and sends one-time email blasts or automates multi-touch sequences accordingly. You can further personalize your campaigns with elements like countdown timers, automation subject line validation, videos, etc.
There's also a built-in CRM (customer relationship management) tool that lets you trigger emails, special offers, coupons, and product access. You only have to set some rules once, and Kajabi's CRM does the rest automatically.
The CRM tool also allows you to track your customers' behavior, import contacts via CSV, create custom data fields, segment customers, etc.
Coming to payment gateways, the platform helps you set up your payment system via integration with Stripe and PayPal.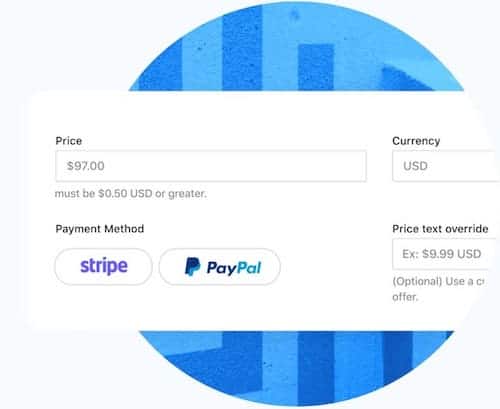 The good news is that Kajabi doesn't take a percentage cut of your revenue.
TL;DR? Here are some of Kajabi's key marketing and sales tools:
Integration with Stripe and PayPal to get paid easily.
Choose how to sell your courses – you can charge a one-time fee or ask for a weekly, monthly, or yearly subscription.
Use the one-click upsell option to encourage purchase while students checkout.
Offer free trials to encourage students to buy your course in full.
An in-built customer relationship management tool.
Comes with built-in sales flow pipelines and email templates.
Use the intuitive visual editor to customize and preview emails.
Automate and customize email marketing without using a third-party email marketing plugin.
Winner: Kajabi.
Thinkific focuses only on offering core features to students and learners. Thus, Kajabi is the clear winner when it comes to marketing and selling.
You don't need to piece together different platforms since Kajabi comes with built-in email marketing, CRM, landing page builder, and other business tools.
6. Reporting and Analytics.
Reporting and analytics are essential to understand your customers and identify their preferences. They also help you determine whether your audiences like your content or not and which facets need improvement.
Thinkific:
Thinkfic provides advanced reporting options to measure metrics like revenue, orders, enrollments, and student engagement. You can further filter your reports by product name, product type, time, payment provider, affiliate source, etc.
However, this feature is only available with the Pro + Growth plan.
You can also view a detailed student progress report under the "Support Your Students > Progress" section. There's also an option to export this data as a CSV by selecting the Export CSV button.

Besides, it integrates with Google Adwords, Facebook for analytics, ad tracking, data tracking, and to create retargeting campaigns. Other analytics and reporting features include group and cohort reporting, detailed segmentation, data exports, and more.
Kajabi:
Kajabi helps you monitor your subscription rate and even displays data from all touchpoints. It also measures and tracks metrics like your revenue, offers sold, opt-ins, page views, subscription rate, etc.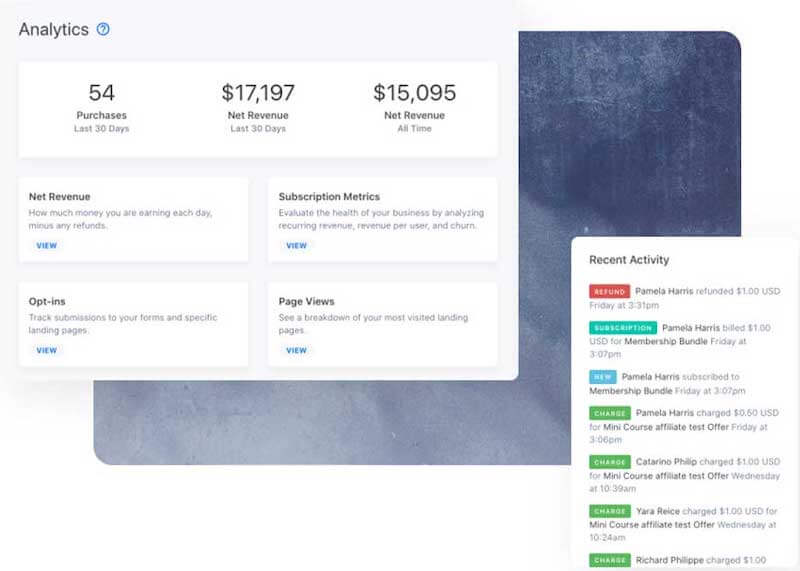 It also provides in-depth reports and analytics on student progress, profitable areas, subscription churn rate, areas where you can improve, etc.
Winner: It's a Draw.
Both platforms provide detailed customer insights and progress reports to help you determine your strengths and weaknesses. Additionally, both of them provide integration with Google Analytics for a more detailed analysis.
7. Student Experience.
Your students' experience while taking your online course is so important. It helps you generate future sales, coaching upsells, testimonials, referrals, and word-of-mouth.
Again, the goal is to make your course feel premium and like it's not using a cheap course builder.
Thinkific:
Thinkific allows you to add many content formats, including videos (obviously), text, multimedia, downloadable files, images, narrated presentations, quizzes, live streams, webinar content, surveys, audio, etc.
Your students get a clear, visually appealing, and easy-to-follow dashboard. They can also view their progress report and keep updated on what's next in their course.
Here's the student view of a course I took on DSLR cameras, which uses Thinkific: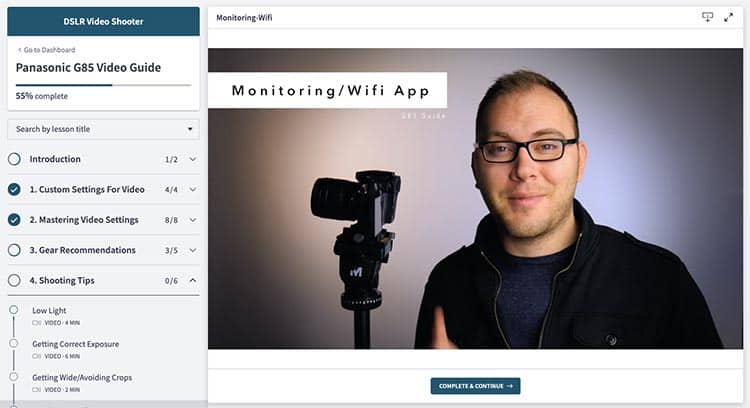 Students can easily expand or collapse each lesson using drop-down menu options. They can also add text below the video and add multiple downloadable file types to one video page.
Here are some other key features that help Thinkific provide the best student experience:
Free Wistia video hosting (a huge value as video hosting can get expensive).
Built-in student certificates.
Automated progress and reminder emails.
Can edit module colors, fonts, themes, etc.
Kajabi:
Kajabi also allows you to add text, videos, images, quizzes, and other content types to your online course. The platform offers several themes to help you customize the course for a better learning experience.
Kajabi's ready-made mobile app is another bonus. It allows your students to access your courses and products anywhere, anytime with one click.
The app comes with a "magic link" feature that lets your students access your content without a password. It even saves their progress, allowing them to pick up from where they left the course previously.
Winner: Thinkific.
Both platforms make it easy for the students to learn. However, Thinkific wins here as it's specifically designed to create and deliver your courses. Its dashboard displays students' progress, motivating them and making it easy to follow the course.
You can also work with their onboarding team to create a completely custom experience for your students.
Although, Kajabi's engaging mobile app makes it a close second option.
8. Pricing Plans.
Cost is another important factor that will help you decide which platform to use.
Thinkific:
Thinkific comes with four main pricing tiers:
Free: $0
Basic: $49 per month
Pro: $99 per month
Premier: $499 per month
Besides these four main tiers, Thinkific offers a Growth plan – an add-on for the Pro plan. This Growth package gives you access to advanced features available on the Premier plan only.
There's also the Enterprise plan for customizable features.
All plans provide a 30-day money-back guarantee and a 14-day free trial. You can also save 20% if you opt to pay annually.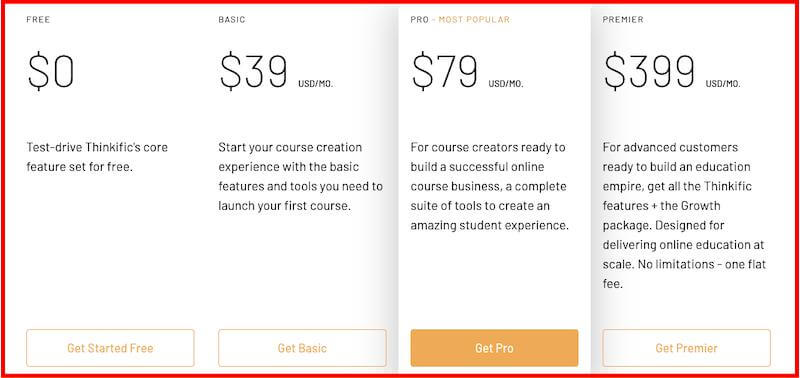 All of these plans come with core features like drag-and-drag course builder, upsell offers, student notifications, discussion forums, multiple instructor profiles, etc.
Although they normally offer a 14-day free trial, you can get started with a 30-day free trial of their Pro + Growth Plan with my link below.
Try the Thinkific Pro + Growth Plan.
Kajabi:
Kajabi offers three plans, including:
Basic: $149 per month
Growth: $199 per month
Pro: $399 per month
You can start with a 14-day free trial and save 20% on the annual plans.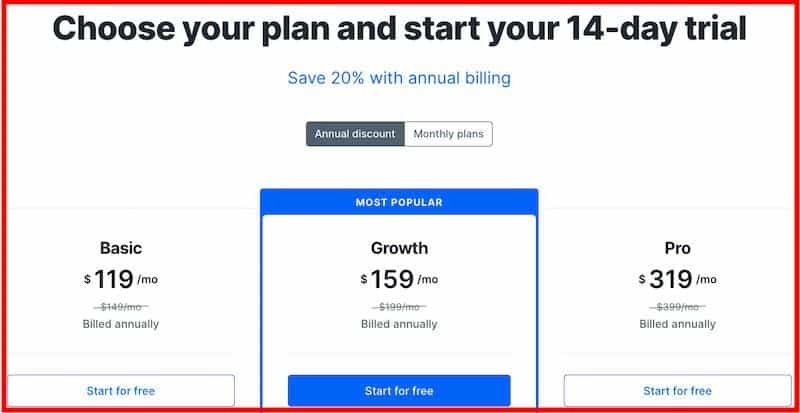 Unlike Thinkific, Kajabi doesn't offer a free plan.
At first glance, Thinkific is the cheapest option. It allows you to host unlimited students and create unlimited courses without paying even half of what you'd required to pay with Kajabi.
However, the subscription plans differ when it comes to many advanced features. For instance, you would need to purchase Thinkific's Pro plan ($99 per month) to build a membership site.
Similarly, you need to take various other features into account to compare their plans precisely. That's why there's no one winner when it comes to pricing plans.
Get started with a 14-day free trial of Kajabi.
9. Student Limits.
The number of students you can accommodate becomes a crucial factor when considering an online course delivery platform.
Here's the student accommodation limit of each platform:
Thinkific:
Whether you choose the free plan or a paid plan, Thinkific accommodates an unlimited number of students in your courses. There's no transaction fee either.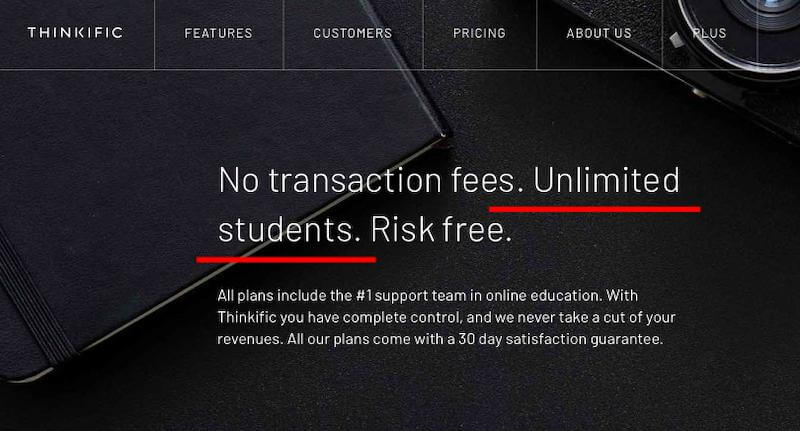 Kajabi:
With Kajabi, the pricing plan you choose will determine the number of students or members you can host.
Here's the breakdown of the number of students/users supported by each plan:
Basic: 1,000 Active Members.
Growth: 10,000 Active Members.
Pro: 20,000 Active Members.
Winner: Thinkific.
Thinkific is the clear winner here. For the price you have to pay to use Kajabi, there shouldn't be any restriction on the number of members you can accommodate.
10. Course Limits.
One of the major differences between the two platforms is the number of courses you can create.
Thinkific:
Here's what you can do with Thinkific:
You can create up to three courses with the free plan. You can also host three different content types, including PDFs, Audio, and Video.
All of the paid plans allow you to create unlimited courses.
Kajabi:
Kajabi doesn't provide any freemium plan.
The Basic plan allows you to create three products and three pipelines.
The Growth plan allows you to create 15 products and 15 pipelines.
The Pro plan lets you create 100 products and 100 pipelines.
Winner: Thinkific.
Kajabi charges $119 per month for their basic plan that lets you create only three products and three pipelines. On the other hand, Thinkific lets you create unlimited courses on the basic plan that costs $49 per month, more than half of what Kajabi costs.
You can even create three courses with Thinkific's free (but limited) plan.
11. Customer Support.
Both Thinkific and Kajabi offer reliable customer support, but let's see which platform offers more options.
Thinkific:
The platform offers help via their Help Center, paid training site, blog, the expert marketplace, and status page. There's also an FAQ section for self-service.
Besides, Thinkific offers customer support via:
Email support.
Phone support (Monday to Friday, from 9 am to 5 pm PST).
Step-by-step video tutorials.
An active Facebook community.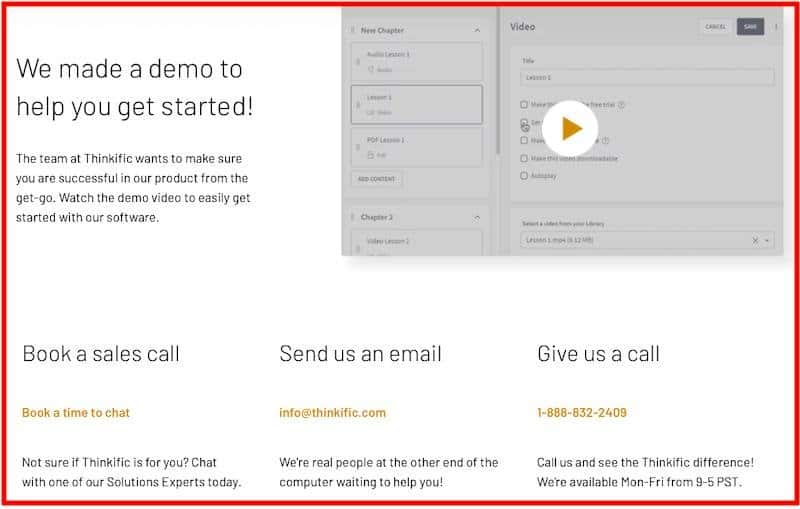 You can also interact with Thinkific through social channels like YouTube and Twitter.
You get options like an hour-long onboarding call and additional training on a dedicated site with Thinkfic's "Premier" and "Plus" plans.
Kajabi:
Kajabi offers customer support through the following modes:
The customers get access to a 24/7 helpline. You can also reach their support team via email.
Onboarding call with all of the plans.
24/7 live chat with the Growth and the Pro plan.
It comes with an extensive FAQ section and a search tool.
You can collaborate with a thriving community of experts on social media to solve problems.
Live training to solve issues in real-time.
Kajabi also provides help via training webinars and Kajabi University, which allows you to search for nested features easily.
Winner: Kajabi.
Though both offer stellar customer support, Kajabi wins with its real-time support and access to free tutorials. For Thinkific's new users, the tutorials on their training site cost as much as $299.
12. Money-Back Guarantee.
Many people consider the refund policy before choosing a platform. To be on the safe side, you should be aware of the refund policy too.
Both Kajabi and Thinkific offer a 30-day money-back guarantee. You can get a full refund within the first month if the product doesn't satisfy you.
Who's the Winner?
Let's wrap this up.
Kajabi is for more experienced marketers or online course creators looking for an all-in-one platform.
It's a holistic platform built for information businesses, allowing you to create your courses, landing pages, and pipelines, and market them to reach a wider audience.
You should also go with Kajabi if you want a create a membership site platform or subscription-based selling model.
Kajabi also works as a substitute for email marketing tools like MailChimp and landing page builders like ClickFunnels.
In my opinion, Thinkific is the best platform overall.
It's cheaper than Kajabi, while allowing the custom course experience that you want for your audience. You can do the things you need:
Customize your course site's home page and design
Add videos, text, and assignments to the same course page
Send drip email sequences
Send one-time courses or drip them out over time
Remember, in the end it's all about your students' experience.
I'll say it again: The main goal here is to make your students feel like you're not using a cheap course builder. You want your course to feel like a professional learning experience.
Thinkific can do that at a lower cost than Kajabi.
But honestly, test them out for yourself and see what you prefer because you can't go wrong with either.
Both platforms offer a stellar user experience, excellent customer service, and are easy to use.
Ask yourself: What kind of online courses do you want to offer? Who is your target audience? How much work do you want to do on your own? That will make your decision easier.
To read more online course comparisons, check out my guides to:
---
Last Updated on December 29, 2021 by Adam Enfroy