Kartra vs. Kajabi: Which Course Software is Best in 2023?
The world of online courses and virtual learning is on the rise. As a result, the demand for online course platforms is becoming more popular.
Being an industry valued at $240 billion by the end of 2022, the demand for eLearning is huge.
But there are so many options available that it can be challenging to know where to start when it comes to creating an online course.
In this article, I will compare course software platforms that have been around for a while: Kartra and Kajabi.
There are many similarities between Kartra and Kajabi.
Both are built for marketers and offer a full suite of lead generation and sales tools.
But there are also some crucial differences, which I'll dive into in a short while.
Keep reading to find out more.
Kartra vs. Kajabi: Overview.
Kartra:
Created by Andy Jenkins and Mike Filsaime, Kartra is an all-in-one online business platform that offers digital marketing tools to market, sell and deliver your products and services online.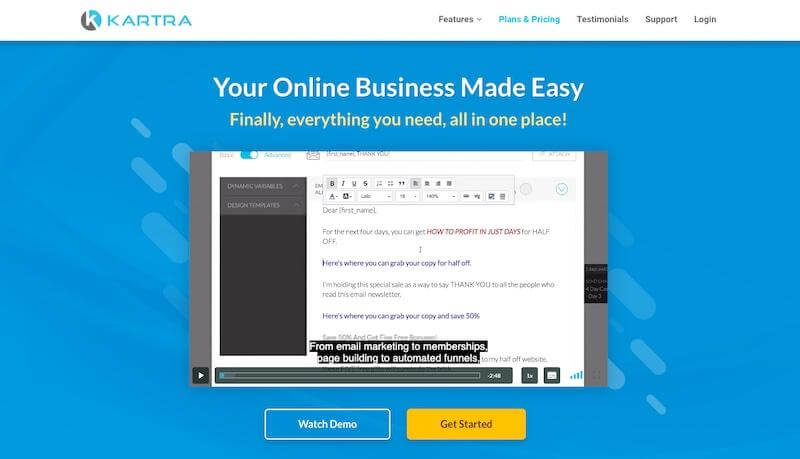 Incorporating elements of marketing automation, email service, help desk ticketing, shopping cart, and affiliate management software, Kartra also makes it easier for entrepreneurs to get their products and services out there to earn money doing what they love.
You can use it to create websites, landing pages, email marketing campaigns, and other online assets, even without any prior coding and programming language.
Kartra's key features include:
Drag-and-drop builder for landing pages and websites
Email marketing automation features
Advanced marketing features
Marketing and sales funnel templates
Affiliate management
Helpdesk solution/live agent chat support system
Knowledge base management
Membership sites
Opt-in forms
Video marketing
Kajabi:
Founded by Kenny Reuter, Kajabi is a powerful cloud-based platform that allows users to market, sell, and deliver online courses, digital products, video libraries, or distribution websites.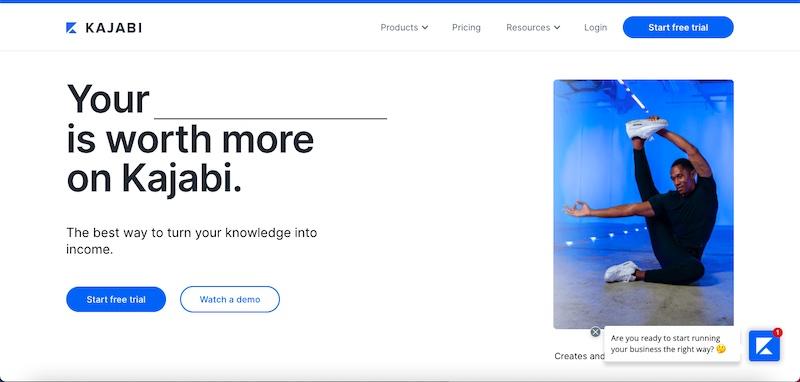 It gives you the tools to create content, market it to customers, sell it to consumers and manage it all in one place.
Then it has a range of features that provide you with everything you need to create an online business.
These include website hosting, payment processing, email marketing, and analytics.
Like Kartra, Kajabi doesn't require any prior coding .experience either.
You can build interactive websites and landing pages using a straightforward drag-and-drop builder and pre-designed page templates.
Using the built-in email marketing tools, you can also automate and send condition and trigger-based emails based on the behavior of your target audience.
Some key features include:
Blogging page templates and tools
Customizable website themes
Create unlimited pages
Build your own community to increase interaction with students
Email marketing and automation
Marketing and sales funnel templates
Create surveys, quizzes, and assignments for evaluation
Drag-and-drop interface for building websites and landing pages
In a nutshell, Kajabi offers more tailored solutions for course creators, while Kartra is more of an all-in-one online marketing platform.
Let's analyze their features in detail.
Kartra vs. Kajabi: Pros and Cons.
Here's a quick overview of Kartra's pros and cons:
| | |
| --- | --- |
| KARTRA PROS | KARTRA CONS |
| Seamless Integration | 50 GB bandwidth limit in the starter plan |
| Built-in email service | No blogging features |
| Built-in shopping cart and affiliate management system | Can't add a comments section video pages |
| Easy to use with a drag & drop feature | |
| Pre-designed templates and sales funnels | |
| Automation of lead capture and sales conversion processes | |
| In-built split testing | |
| Better marketing features than Kajabi | |
| Sufficient to help run an entire online business | |
Here's a quick overview of Kajabi's pros and cons:
| | |
| --- | --- |
| KAJABI PROS | KAJABI CONS |
| In-course assessments | Costlier than Kartra |
| Multiple membership tiers | Lack of advanced email marketing features |
| Add a standard blog with every website | |
| Student comments section for each video | |
| Detailed student analytics | |
| Webinar funnels | |
| Unlimited video hosting | |
| Visual page builder | |
| Visual sequence builder | |
Kartra vs. Kajabi: Detailed Comparison.
1. Online Courses Builder.
Kartra:
Despite course creation not being Kartra's primary product, it provides options to create membership sites, portals, lead capture pages, checkout pages, sales pages, and more.
Even better, it's an all-in-one marketing solution.
This means you can use it to create and host your course and training material and, at the same time, market and promote it using Kartra itself.
There's no need to invest in viable email marketing platforms, landing page builders, sales funnel builders, tools for surveys and quizzes, etc.
The builder comes with drag-and-drop functionalities, where you can create and customize sections for your online courses and membership sites in minutes.
There's no need to create online courses from scratch, as these modules are pre-designed.
Pick the template you like and customize any element on your page, including colors, images, videos, font, etc.
These templates are 100% mobile responsive regardless of the touchpoint you're viewing them in, whether mobile, desktop, or tablet.
You can also create and automate drip content to provide training material to your students at different intervals, including files, PDFs, and videos.
For example, releasing new lessons on specific days after someone joins the course — and setting prerequisites for particular lessons.
In addition, there's an entire stack of helpful features to make your courses engaging:
Track student progress through your content.
Use categories and sub-categories to structure your articles.
Upload text, video, audio podcast, or a mix of three.
Add multiple membership tiers.
Set up automated welcome emails for students.
Set up surveys and quizzes
Kajabi:
Kajabi primarily focuses on helping people build and sell courses with different features compared to Kartra.
It includes web hosting, payment processing, shopping carts, course creation software, product delivery systems, and more.
The service is aimed at businesses that want to use video as their primary course delivery method.
You can use Kajabi to sell digital training products, such as online courses, membership sites, coaching programs, virtual summits, email marketing follow-up sequences, and more.
Aside from regular courses, you can also use Kajabi to create:
Mini-Course
Evergreen training
Community (a Facebook-like community)
Coaching program (a 12-week coaching program template designed by Brendon Burchard)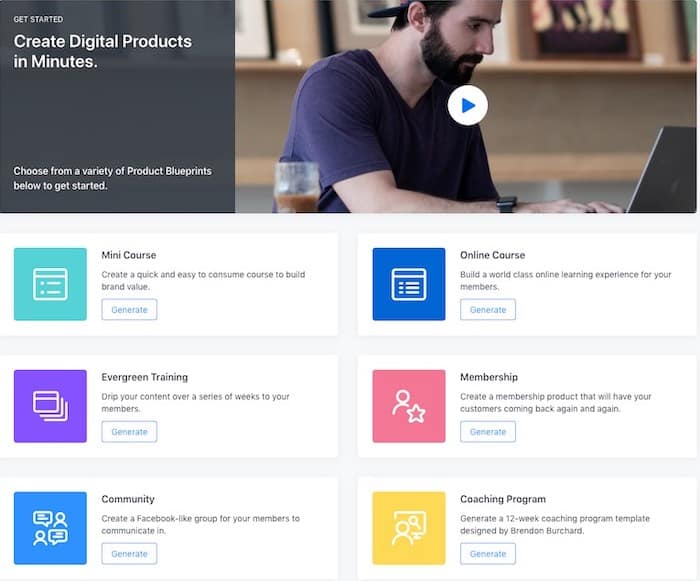 (Source: Kajabi)
Either use Kajabi's built-in drag-and-drop builder and product blueprints to create courses or import existing content for selling online.
All these blueprints and templates are highly customizable to add your logo and header images.
Like Kartra, Kajabi also allows you to group your courses in categories and subcategories, making your course appear like an online syllabus.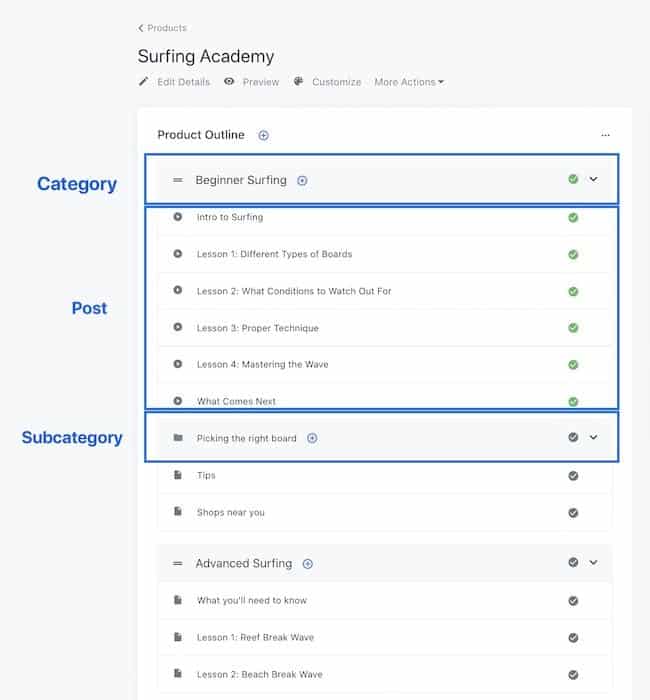 (Source: Kajabi)
In addition, Kajabi offers several assessment options.
You can set up multiple-choice questions, open-ended questions, fill-in-the-blank statements, and images as the question itself.
Apart from being 100% mobile optimized, Kajabi allows your students to maintain one-click access across all devices without having to remember login credentials.
Final Verdict: Kajabi.
If your primary goal is course creation and engagement, Kajabi offers more options and features than Kartra.
You can even build an online community in Kajabi to initiate private conversations, send real-time notifications, advanced assessment options, and more.
2. Membership Sites.
One of the best ways to generate a passive income is through membership sites.
Membership sites allow you to build a following and give your subscribers access to exclusive content, courses, and offers.
Both Kartra and Kajabi allow you to build membership sites, but how do they compare?
Kartra:
Kartra makes it easy to deliver content to your customers, whether paid or free.
You can start with a basic level and grow your membership site as your business grows — all within the Kartra platform.
The drag-and-drop interface makes it easier to build membership sites.
There are pre-designed templates that you can customize to align with your branding.
Uploading text, videos, audio files, podcasts, PDFs, and documents to the Kartra servers is also straightforward.
The options are endless.
Provide single sign-on credentials and allow users to access password-protected pages.
Or set up complex multi-level membership programs and define each level with their own pricing and content.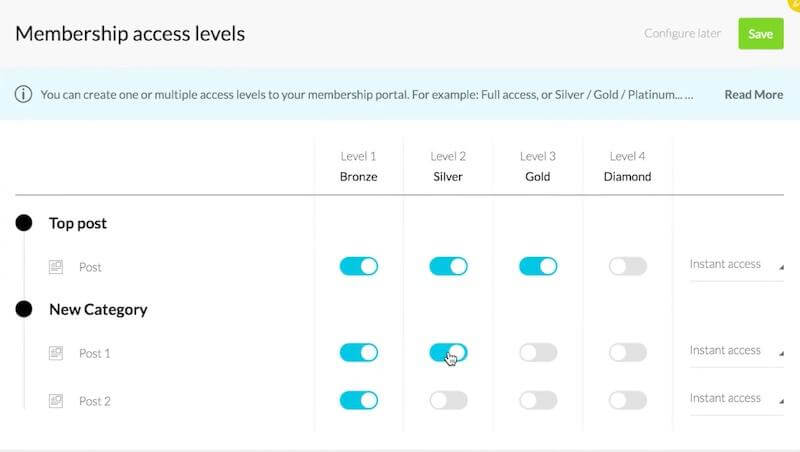 In terms of content dripping, you can either upload all the content at once or drip it over time.
And in case you have more than one membership site, put them together and host them in the membership portal.
Only allow access to the course your customers paid for, enabling cross-sells and upsells.
Once the members are in, you have the power to:
Manage their comments,
Revoke or grant access
Tag them automatically or manually
The ability to track how your users are progressing with the available content is another bonus.
Get insights like:
Subscription and unsubscribe rates
Active members
Average retention rate
Average content progression
Average time to completion
There are also options to filter data by date, membership, access level, and more.
There's a catch, however. 50 GB is the maximum amount of content you can upload on a starter plan.
You might need to upgrade to higher-priced plans to access more bandwidth.
Kajabi:
Kajabi also has tons of features to help you offer members-only content and courses on your website.
Customizable, pre-built themes and a drag-and-drop builder allow you to tinker with the background, images, colors, layout, and more.
You can also add elements like:
A download section
Media player
Video, audio, and PDFs
Social sharing options
Comments section
Blog posts, and more.
You also get full access to analytical and student progress reports to see whether they're going through the course and digesting all modules.
Kajabi also lets you filter the progress report to see how a specific student group is performing.
Analyze information like:
A video heat map
Graded quiz scores
Where do they drop off?
Are the students getting stuck anywhere?
Are they completing the course?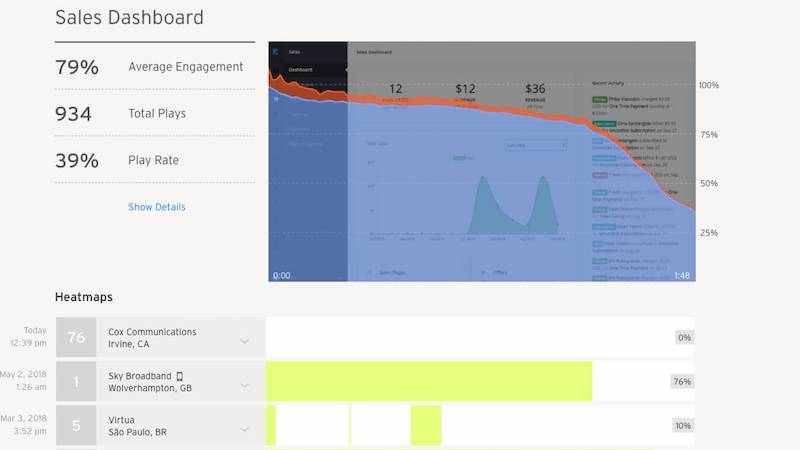 You can also build your community around the membership site with Kajabi.
They also offer unlimited bandwidth and a number of courses, which means there's no cap for streaming on your site.
Final Verdict: Kajabi
Kajabi is primarily a course and membership site builder.
Naturally, it offers several features and elements to make it an easy and hassle-free process.
Unlimited bandwidth on all plans is another bonus.
3. Sales Page/Website Builder.
The two most important elements of any online business or course are the sales page and the website.
Kartra and Kajabi both provide their users with pre-made templates to choose from, along with full customization options.
Their drag-and-drop page builders also remove the need to hire a website developer and make the page building experience easier.
However, let's take a closer look at each platform to determine which one provides the best sales page and website features.
Kartra:
For the most part, you can run your entire business within Kartra, as it has a built-in website builder and sales page creator.
This means that you don't have to integrate external tools to run your business.
Furthermore, you can use Kartra's customizable templates or simply create your own designs from scratch.
With 500+ customized pages and drag-and-drop available, Kartra users can pick and try available themes to build lead capture pages, sales pages, checkout pages, and landing pages.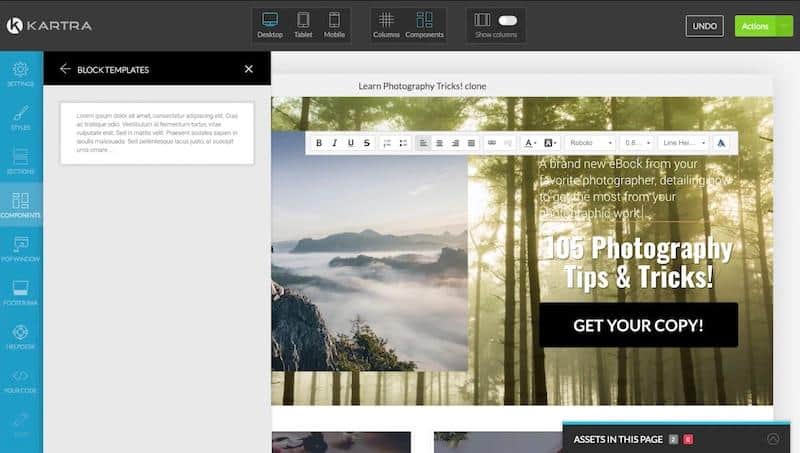 Create a fully-functioning website with:
Checkout page
Email system
Lead capture pages
Sales pages
Membership site
Built-in helpdesk/ Live chat support
Calendars
Video hoster
Analytics
Sticky alert bars
Google maps
Countdowns
Opt-in forms, lead capture forms, and checkout forms
Kartra also has tons of advanced features, including dynamic countdown timers, parallax scrolling, dynamic backgrounds, pop-ups, forms, and more.
All these templates are mobile responsive and automatically align with the device's screen.
If you feel you need to redesign the entire thing, you can even create one on a blank canvas and incorporate your branding over it – logo, colors, theme, watermarks, and fonts.
You also have complete control over the coding process using HTML, Javascript, and CSS if you want to get really technical.
In addition, Kartra provides "behavior adaptive marketing," which means your pages can change content like a headline or a video based on each visitor's information.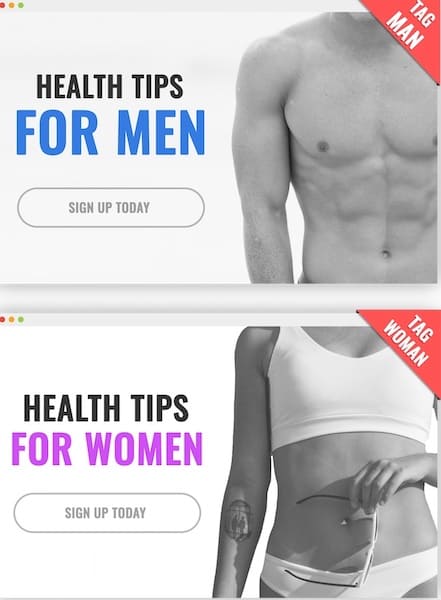 With reports and analytics, you can also:
Check out heat maps
Analyze conversions per device
Split test up to four variations of a page
Kajabi:
Kajabi also allows you to create your own website or standard pipeline pages for lead generation, sales, lead capture, and more.
You can choose from the existing framework, put an entire website together, or build one from scratch.
Add custom domains, URLs, titles, SEO protocols, and more to create a fully-functioning site.
The pro plan even lets you edit the code, allowing you to add any extra functionality.
You can also connect your web pages and sales pages to a membership site, marketing campaigns, emails, offers, blogs, and more.
In fact, you can tie an automated sales pipeline to your website.
Final Verdict: Kartra (considering you don't want a blog).
Kartra offers more advanced website and page-building functionalities than Kajabi.
With the ability to drag and drop elements like calendars, sticky bars, countdowns, and more, Kartra has a clear edge over Kajabi.
It's also one of the few course builders with a built-in helpdesk and calendar and scheduling system.
However, Kajabi allows you to run a blog on your site, while Kartra doesn't have this functionality.
4. Sales Pipelines/Funnel Building.
Kajabi and Kartra are both popular tools to help you create marketing funnels.
But while they have some key similarities, they also differ in a few ways.
Kartra:
Kartra comes with ready-to-use sales funnels and helps you piece together campaigns and run them on auto-pilot.
The sales funnel builder lets you drag and drop different sales elements to a standard canvas and connect them with arrows.
You can also set up alternative paths depending on your user behavior.
Kartra takes care of everything:
Tested campaigns complete with design and text
Videos to draw visitors in
Emails that get delivered to their inboxes automatically
Tags that organize your leads by their behavior
To help you elevate your lead generation and sales, Kartra's sales funnel templates also include opt-in forms, email sequences, advanced automation, tagging, triggers, and more.
And it's all easy to connect through the editor.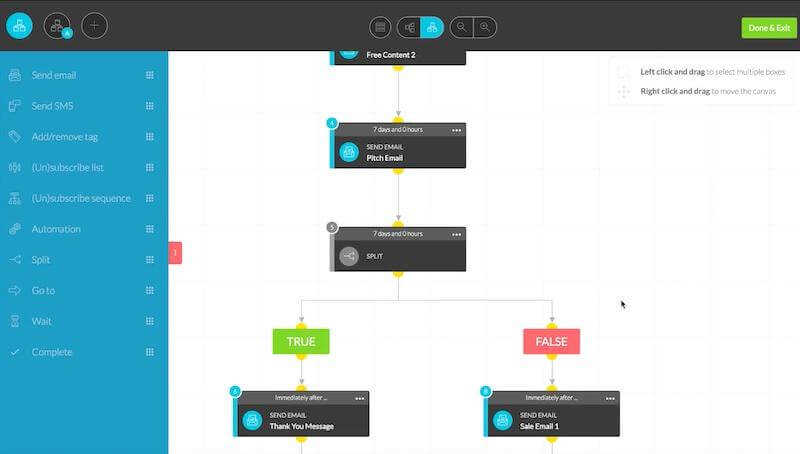 It's up to you – either piece together your campaign from scratch or use done-for-you campaigns put together by other Kartra members and staff teams.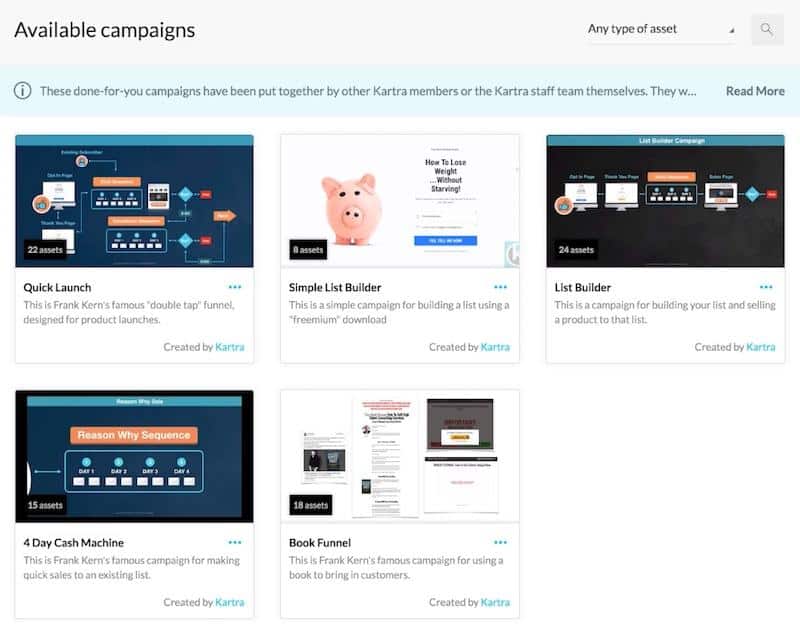 Kartra also gives you a complete overview of your sales pipeline and the percentage of viewers who make it to the end.
Kajabi:
Kajabi also provides ready-to-use playbooks, sales pipelines, and blueprints to help you market your course.
Pick a template and customize it based on your goals.
It could be lead generation, sales, hosting webinars, product launches, and more.
Pre-built sales pipelines tie together your landing pages, opt-in forms, automated email sequences, and more to help you achieve all your goals.
The good news is that Brendon Burchard, the world's #1 high-performance coach and a 3-time New York Times bestselling author, designed each sequence.
Plus, these sequences consist of pre-written sales copies and best-selling sales content. All you have to do is customize it and fill in the blanks to align with your requirements.
And just like that, you can launch your new sales pipeline in a few clicks.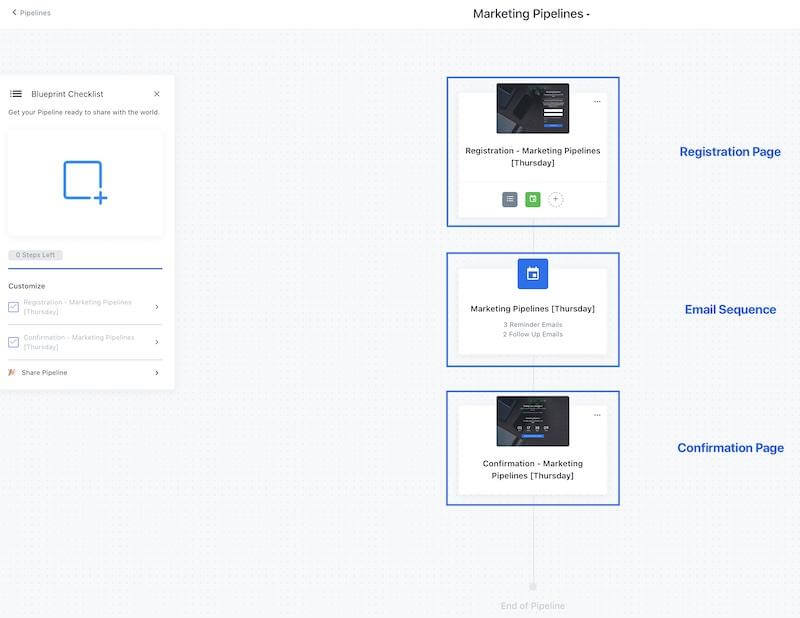 And since pipelines run on auto-pilot, you can set them up once and sit back to analyze your results.
Final Verdict: It's a Draw.
Both offer ready-to-use funnel blueprints, campaign triggers, automation, email marketing sequences, and more. Although Kartra allows split testing, Kajabi doesn't.
5. Affiliate Program.
Both Kartra and Kajabi allow you to set up a referral program for your online courses, mail all your affiliates, add new affiliates, and track the performance of your affiliates.
But there are some distinctions.
Kartra:
Kartra offers several ways to automate the process of managing your affiliates, including setting up and tracking commissions and managing your products and salespersons.
From choosing your potential affiliates via a screening process to building custom landing pages for your affiliates, Kartra assists you with everything.
You can also set up special commission tiers to incentivize affiliates and provide detailed analytics to decipher their progress.
And once they satisfy the minimum sales threshold, set up and release instant payments via PayPal. Or set up affiliate commissions based on transactions or subscriptions.
To stay connected with your affiliates, you can encourage them to subscribe to your affiliate-only email list.
Other key features include:
Built-in affiliate questionnaire
Referral Tracking Links
Promo Tools
Earning reports
Automated Affiliate Payments
Affiliate marketplaces
Analytics for your affiliate sales for other brands
Kajabi:
Kajabi also has a built-in affiliate management system that helps you track your sales through affiliates.
You'll get insights into how your affiliates are performing and track the overall affiliate share links, form submissions, conversions, etc.
You can also set a commission for your affiliates based on their sales report.
However, Kajabi lacks advanced affiliate marketing features that Kartra offers, including affiliate marketplaces, promo tools, built-in affiliate questionnaires, and more.
Another downside is that the affiliate marketing program is not available with Kajabi's base plan.
Final Verdict: Kartra.
Kartra offers much more tools than Kajabi and helps build a strong portfolio of affiliates in terms of affiliate marketing.
6. Video Hosting.
Most online courses websites use videos as their primary means of delivering content and lessons to the students.
Let's see what video hosting features do these platforms offer.
Kartra:
Kartra allows you to host, edit and display video content on your Kartra pages with a fully integrated and customizable player.
Color, themes, and layouts are customizable to align with your branding.
You can also add interactive elements to your videos, such as clickable CTAs, sign-up buttons or forms, buy now buttons, tagging, and watermark branding.
Videos come automatically optimized for all devices and touchpoints like mobiles, tablets, and desktops.
Students can consume your content regardless of their location and device. Plus, you can even embed your video into the webpage or load it as a popup.
Kartra analytics gives you a detailed insight into your content's performance.
Kartra has a set cap for the amount of content you can upload, but you can upgrade your account if you want more space.
Kajabi:
Because Kajabi uses Wistia for hosting, there is no bandwidth limit on the content uploaded; this differs from Kartra, which has a limit for hosted videos.
Kajabi also offers video analytics that allows you to analyze the engagement level of your videos.
However, it doesn't include CTA or sign-up buttons/forms options like Kartra.
It also does not offer embedded video or pops up options for your videos.
However, because Kajabi doesn't provide embeddable video or forms or sign-up buttons/forms options, it falls short of Kartra in this respect.
It also does not offer clickable CTAs or pop-up options for your videos.
Final Verdict: Kartra.
7. Email Marketing Automation.
Automating email responding through Kartra and Kajabi is convenient because you don't need to pay for a separate service like Aweber or Mailchimp.
Let's see how they compare:
Kartra:
Kartra has a built-in email system called Kartra Mail, an email autoresponder that allows you to send broadcasts and follow-up emails.
You can send automated emails based on users' actions without extra work from you.
Kartra also comes with an email editor and templates for both desktop and mobile devices.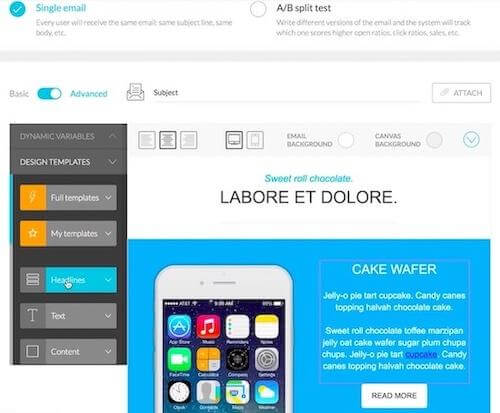 The builder lets you create emails from the available templates and add customizable elements like testimonials, timers, video thumbnails, CTAs, and more.
Personalization features let you target your leads based on their actions and attract them with relevant emails.
Automate trigger emails based on a recipient's behavior – when they click on a link, do not open a previous email, wish to unsubscribe, and more.
You can also use Kartra's dynamic countdown feature to increase scarcity and your conversion rates.
Use split-test emails to identify the best-performing email copies to increase open rates and conversion rates.
Kajabi:
Like Kartra, you can create email campaigns using the available templates and modules.
The visual, drag-and-drop email editor allows you to create and send personalized emails and email broadcasts, and autoresponders.
Either send one-time email blasts or segment your audience using its tagging feature and send tailored messages to specific users.
Choose a template from a stack of 15+ email templates, 12 preset sections, and mobile vs. desktop layouts.
You can even add interactive elements like timers, videos, CTAs, and forms to your emails.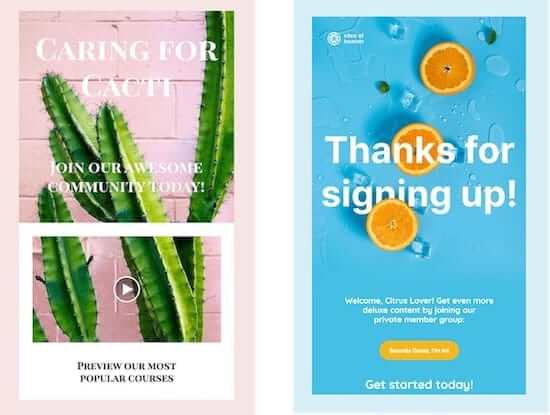 Customize your emails the way you want, preview them, and finally schedule them.
The best part? Kajabi offers unlimited emails in your basic and growth plans.
Beyond that, features like automatic subject line validation and content elements like countdown timers, videos, and personalization make your emails more interactive.
Moreover, the email system works in sync with the rest of your site.
They'll also check for spam triggers and suggest what you need to change to increase open rates.
Final Verdict: Kartra
With advanced features like list cleaning, email split testing, SMS sequencing, Kartra is the winner here.
However, you can only send 15,000 emails with Kartra's Starter plan, and if you wish to send more, you need to upgrade your plan.
On the other hand, Kajabi allows you to send unlimited emails with all plans.
8. Integrations and API.
Kartra:
Kartra allows you to integrate your online platform with all major business and marketing tools.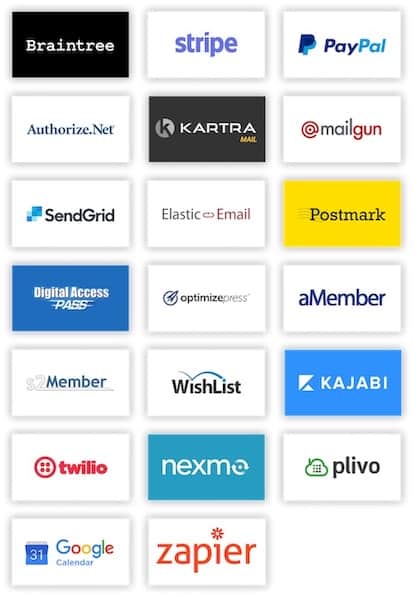 For Kartra checkouts, you can integrate it with Stripe, Authorize.net, PayPal, and Braintree.
Integrate it with SendGrid, MailGun, Postmark, and Elastic Mail for your mailing campaigns.
And if you don't wish to integrate with any SMTP gateway, you can use the built-in Kartra Mail.
For SMS gateways, you can integrate with Twilio, Nexmo, and Plivo.
For membership portals, you can integrate with Kajabi, aMember, Digital Access Pass, Optimize Press, S2 Member, and Wishlist.
In addition to their turnkey integration with many of these leading tools, Kartra gives you the ability to create your own custom integrations via Kartra API.
You can also sync Kartra Calendars with Google Calendars.
Kajabi:
Kajabi integrates with major business tools, including email autoresponders, membership sites, sales tools, analytics tools, payment gateways, and more.
Popular integrations include Google Tag Manager, Calendly, Cloudfare, Stripe, Aweber, Segment, Acuity, ActiveCampaign, Survey Monkey, Typeform, PayPal, Drip, Covertkit, Mailchimp, Google Analytics, Facebook Pixel, Zapier, and more.
In addition, Kajabi and its user-friendly inbound and outbound webhook support make it easy to integrate with third-party tools.
However, you need coding experience to implement a webhook via an API.
Final Verdict: Kartra.
9. Pricing Plans.
Kartra Pricing:
Kartra offers four different paid subscriptions:
Starter
Silver
Gold
Platinum
All of these come with a 30-day money-back guarantee.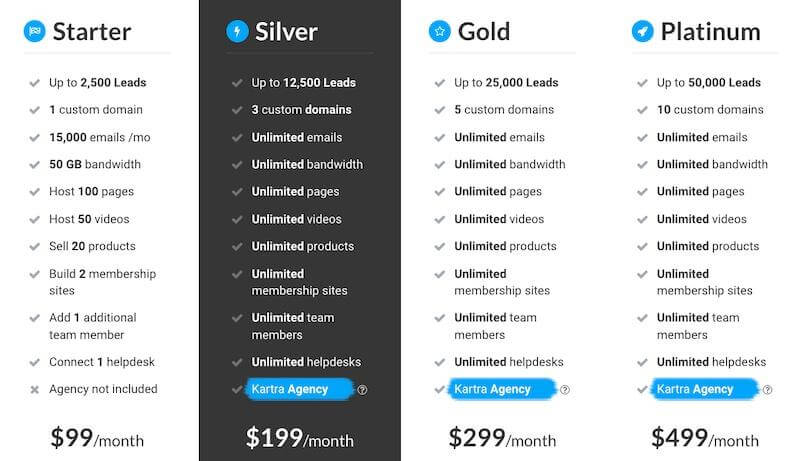 You can also avail of a 25% discount on annual payments and a 7-day trial for $1 for any of Kartra's paid plans.
Here is an overview of Kartra's pricing plans:
Starter Plan ($99/month) – up to 2,500 leads, one custom domain, 15,000 emails/mo, 50 GB bandwidth, host 100 pages, host 50 videos, sell 20 products, two membership sites, one additional team member, one helpdesk.
Silver Plan ($199/month) – up to 12,500 leads, three custom domains, unlimited emails, unlimited bandwidth, unlimited pages, unlimited videos, unlimited products, unlimited membership sites, unlimited additional team members, unlimited helpdesk, Kartra Agency.
Gold Plan ($299/month) – Everything in the Silver plan + up to 25,000 leads and five custom domains.
Platinum Plan ($499/month) – Up to 50,000 leads and ten custom domains.
All plans have common features like Kartra checkouts, pages, sales funnels, surveys and quizzes, marketplace, calendars, helpdesk, and more.
Kajabi Pricing:
Kajabi comes with three paid plans: Basic, Growth, and Pro. They come with a 30-day trial, and when billed once annually, you can avail of a 20% discount.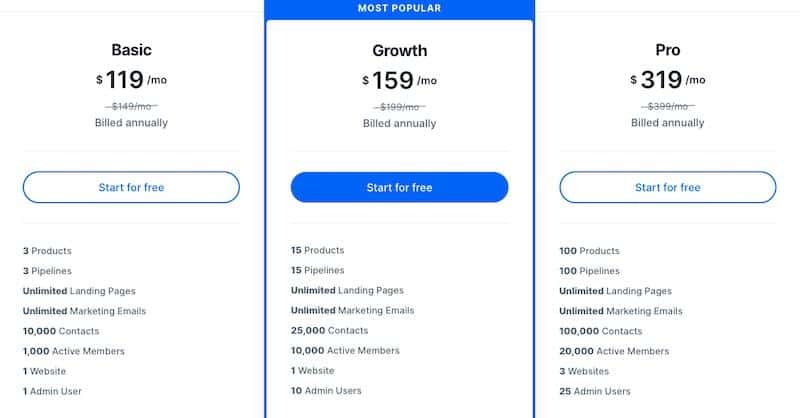 Here's a breakdown of Kajabi's pricing plans:
Basic Plan ($119 per month) – 3 Products, 3 Pipelines, Unlimited Landing Pages, Unlimited Marketing Emails, 10,000 Contacts, 1,000 Active Members, 1 Website, 1 Admin User.
Growth Plan ($159 per month) – 15 Products, 15 Pipelines, Unlimited Landing Pages, Unlimited Marketing Emails, 25,000 Contacts, 10,000 Active Members, 1 Website, 10 Admin Users.
Pro Plan ($319 per month) – 100 Products, 100 Pipelines, Unlimited Landing Pages, Unlimited Marketing Emails, 100,000 Contacts, 20,000 Active Members, 3 Websites, 25 Admin Users.
Final Verdict:
Despite Kartra offering more features at an affordable price, it doesn't provide online course selling features of Kajabi.
Kartra's strength lies in business management and marketing with its "Done For You" Campaigns, Behavioral Adaptive Marketing, advanced automation features, and Affiliate marketing features.
On the other hand, Kajabi is more about online course creation, community features, and membership sites.
Executive Summary.
Kartra and Kajabi are two different online course platforms created to help people build sales pages and websites and create automated marketing campaigns.
Both platforms have many similarities as well as unique features that make it easy for someone to get started online.
The most significant difference between Kartra and Kajabi is that Kartra is a little more of an "all-in-one" platform compared to Kajabi.
Kajabi is primarily an online course platform for developing and selling online courses.
The platform is suitable for business owners, entrepreneurs, coaches, thought leaders, and others who want to make money sharing their knowledge on the internet.
Kajabi is primarily for creating courses, membership sites, and email autoresponders.
Kartra includes a shopping cart, ecommerce features, full-fledged affiliate program, email autoresponder, membership site creator, customer support/help desk ticketing system, calendar, SEO features, and more such features.
Further reading on AdamEnfroy.com: If you want to be able to focus on the lessons you're sharing (rather than the technology) when creating an online course, then check out these learning management systems for more information.
In addition, check out my other online course platforms reviews:
Disclosure: I may receive affiliate compensation for some of the links below at no cost to you if you decide to purchase a paid plan. You can read our affiliate disclosure in our privacy policy. This site is not intending to provide financial advice. This is for entertainment only.
---
Last Updated on December 8, 2022 by Adam Enfroy