How to Sell Online Courses in 2023 (How I Make $100k a Month)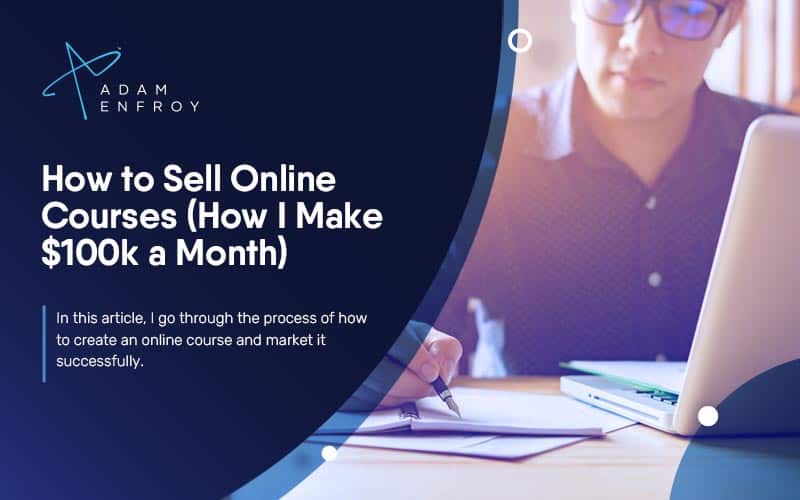 Those that wanted to create an online course in the past had to go through a lot of trouble.
They had to create their own website, set up a payment processor, record and deliver the course content, and promote their course – all aspects requiring hard work and various tools.
Each of these steps was fraught with difficulties, and it was pretty common for people to give up before they even got started when realizing how many steps were involved.
Nowadays, many platforms will handle (almost) everything for you.
With some of the best online course platforms currently available, it's easier than ever to get started with creating and selling your own courses.
In this article, I will not only go through the process of how to create an online course but also how you can market it successfully and sell it to an audience that will love it.
Keep reading to find out more.
How To Sell Online Courses
With course creators in mind, here are the steps that you need to take to create an online course that sells.
1. Choose A Subject You Are Knowledgeable In
The course creation process starts with you.
More specifically, it begins with what you know.
It would help if you had in-depth know-how about a subject before creating a course.
Otherwise, students will question your level of expertise – and rightly so.
Think about what you know and what you're good at and have more knowledge than the average person.
It could be anything, from cooking to playing the guitar.
Your course topic should also be something you can see yourself teaching for a long time and won't probably die down in popularity in the near future.
You don't want to create a digital product on a trend that will cease to exist in a few months.
A profitable online course means finding the perfect balance between what you're good at, what you love, and what people are willing to pay for.
2. Create Your Outline
A successful online course starts with a great outline.
This will help structure your online course and keep students engaged from start to finish.
Your outline should be comprehensive, covering all the essential aspects of your chosen subject.
It's good to break down your outline into sections and subsections.
When you create online courses, an outline is also great for pre-selling your course to an audience.
This allows you to give them a taste of what's to come.
Sharing your outline with your target audience is crucial to ensure that your course will sell after being recorded and get initial feedback from potential customers.
3. Choose A Course Hosting Platform
To create successful online courses, you have a couple of options.
The first would be to create your website and use a payment processor like PayPal.
This option gives you the most control, but it's also challenging and time-consuming.
The second option is to use an online course platform.
Especially if it's your first online course, consider using such a course platform as it will take care of your logistics.
This way, you can focus on creating online courses that help your students the most – without getting bogged down with technical problems.
When choosing a course platform, make sure to consider the following features.
Ease Of Use
Those who consider themselves beginners in online courses should avoid complex course providers.
Even if you're not a beginner, you still want a user-friendly platform that won't take too much time to get started with.
The last thing you want is to spend hours figuring out how to use the platform when you could be spending that time creating great course material for your course.
Automation
The more automation features a platform has, the better.
You want to be able to set up your course and then have the platform do most of the work for you.
For example, you should be able to send email reminders, perform upsells, and create coupons without putting in too much effort.
Integration Capabilities
Having various online course ideas is one thing, but bringing them to life is another.
The right platform will allow you to integrate with the tools required to create a fantastic course.
For example, integration options with your website can be something to consider, as this will make it easy for people to find and purchase your course on your site and immediately start taking it through the course platform.
In addition (and also goes without saying), you should be able to easily add audio, video, images, and any other type of media to your course content.
Certification And Badges
In addition to content, students also love getting certifications and badges that show they've completed a course.
This is especially true for those taking a course for professional development.
The right platform will make it easy for you to create and issue certificates and badges for students.
Student Management
The right online training platform makes it easy to track and manage your students.
You should see which students have completed the course, how long it took them, what lessons they struggled with, etc.
This information can be precious, as it can help you improve your course for future students.
Payment Processing
Accepting credit cards, Paypal, and other forms of payment should be a straightforward process.
The last thing you want is for students to get frustrated (and give up) when trying to purchase your course.
Reporting And Analytics
In addition to various marketing tools, you want a platform that provides reporting and analytics.
This data can be crucial, as it can help you understand how well your course is performing and where you need to make improvements.
When choosing a platform, consider your needs and budget as they relate to analytics.
Mobile Support
A selling point of online courses is that they can be taken anywhere, at any time.
This means that your course platform should have mobile support so that students can access your course on their phones or tablets.
Customer Service And Support
The best online course platforms have excellent customer service and support.
You should be able to quickly get in touch with someone if you have any questions or need help with something.
Having an expert give you a step-by-step tour of the platform can also be very helpful, especially if you're a beginner.
4. Figure Out Your Pricing
After choosing your platform, it's time to start thinking about pricing.
Pricing your course can be a difficult task, as you don't want to charge too much and discourage potential students, but you also don't want to charge too little and leave money on the table.
Your course content, length, and production value will all play a role in pricing your course.
It would help to consider what the competition is charging for similar courses.
5. Define How To Increase The Course Value (And Price)
If you want to take pricing to the next level, consider the following.
Some LMS platforms also allow you to add an upsell or downsell to your courses.
You can offer a lower-priced course to those who don't want to spend too much and a higher-priced course to those looking for more value.
If you're going to be charging more, you need to consider what additional value you can offer to justify the price increase.
Here are some other ideas to help you price your course:
Bonuses
A great way to increase the value of your course is to offer bonuses.
This could be anything related to the course topic and would be helpful for students.
It's tough to give a specific example here, as it will vary depending on your course topic but think about what students would benefit from the most (or what further questions they would have) when they go through your main course.
Checklists
Another great way to increase the value of your course is to offer checklists.
People love drilled-down content that they can use to take action.
For example, this could be a checklist of things to do before starting a blog or a list of tools to use when starting an online business.
Tutorials
If you have any video tutorials related to your course topic, you can offer them as additional value adds.
This could be a tutorial on setting up a WordPress blog or a video explaining how to use Facebook ads.
Templates
If your course is about design, you could offer templates as bonuses.
For example, if you're teaching people how to create infographics, you could include templates that they can use to create their own infographics without starting from scratch.
Plugins
You could offer plugins as bonuses if you teach people how to use WordPress.
For example, this could be a plugin that allows people to create landing pages or even an eCommerce plugin that makes setting up specific landing pages easy.
Quizzes
A great way to increase engagement and make your course more interactive (i.e., more valuable) is to include quizzes.
You can use these quizzes to test people's knowledge and see how well they're doing.
Webinars
If you have any relevant webinars related to your course topic, you could offer them as bonuses.
The great thing about webinars is that no matter which topics your course is about, the perceived value of webinars is always high.
In addition, using one of the leading webinar platforms can make creating your own webinar an easy process.
6. Record Your Modules
After you've decided on your pricing and any additional bonuses you'll be offering, it's time to start recording your course modules.
This is where you will spend most of your time, as you'll need to record, edit, and produce all of your course content.
The amount of time this takes will vary depending on the length and complexity of your course.
While some people get stuck at this stage, it's important to remember that you don't need to have everything perfect.
You can always go back and edit your modules later on.
The easiest way to get this done is to use screencasting software to record your screen as you go through slides and deliver your video lessons.
Once you've recorded all of your modules, it's time to move on to the next step.
7. Release Your Course
No online learning can happen unless you publish your course.
This is where you'll need to upload your course modules and make them available to students.
The process of releasing a course will vary depending on which LMS platform you're using.
8. Create Your Course Sales Page
Once your course is released, it's time to start selling it.
The first step in this process is to create a sales page for your course.
This is the page where people will go to learn more about your course and decide whether or not they want to buy it.
While your landing page and sales page might be the same (especially at the beginning), it's important to remember that they serve two different purposes.
Your landing page is designed to get people interested in your course, while your sales page is designed to get people to buy your system.
Your sales page needs to be more focused and persuasive than your landing page.
It should include things like:
A headline that grabs attention
A subheadline that explains what the course is and what it will do for students
A video explaining what the course is and why it's valuable
A section explaining what students will learn in the course
A section detailing the benefits of taking the course
A section explaining the different bonuses that are included with the course
A call-to-action (CTA) that encourages people to buy the course
Creating a sales page might seem like a daunting task, but there are plenty of resources to help you.
Down the line, you could also have various sales pages that you split test to see which one is best for your online course business.
You could also invest in a sales funnel to help increase your conversion rate.
9. Market Your Course
Your marketing strategy will play a significant role in the success of your online course business.
It's important to remember that marketing is an ongoing process, not a one-time thing.
You'll need to promote your courses if you want to make sales constantly.
Check out the following section for more information about marketing your course.
10. Get Student Feedback And Improve Your Course
Once you have some students taking your system, it's essential to get their input and use it to enhance your course.
This feedback will help you identify any areas of your course that need improvement.
It can also help you develop new ideas for making your course better.
11. Gather Testimonials
As your online courses business grows, you'll start to get students who are ecstatic with your course and their results from applying the information.
These students can be a valuable asset to your business, as their testimonials can help you sell more courses.
Ask for testimonials from satisfied students and include them on your sales pages.
12. Keep Iterating Your Course
The final step in this process is to keep iterating your course.
This means constantly making changes and improvements based on student feedback.
It's important to remember that your course should never be static, and as such, it would help if you always were looking for ways to improve it.
Marketing Your Course
Having a successful marketing campaign is critical to the success of your online course business.
There are several different ways that you can market your courses.
Running A Blog
Having your blog has many advantages.
When it comes to selling your course, a blog will help you attract leads and generate traffic to your courses' sales pages.
Remember that making money blogging and selling online courses can go hand-in-hand.
SEO
If you want to drive traffic to your course long-term, you need to invest in SEO.
This will help your courses' sales pages rank higher in search engines, which will result in more traffic.
When it comes to SEO for bloggers (if the last point applies to you), the two most important things to focus on are creating content and link building.
These will ensure that more people will organically find your course as they search for specific solutions your course can help them with.
Referral & Affiliates Traffic
Consider that people who write/podcast/record videos about the topics your course covers are likely to have an audience interested in taking your course.
Having an affiliate program is a great way to get other people to promote your course for you.
Paid Advertising
While ranking on a search engine for specific terms relating to your courses can take time, paid advertising can help you get in front of your target audience much faster.
As such, paid advertising can be a great way to generate leads and drive traffic to your courses' sales pages.
Channels such as Facebook Ads, Google Ads, and LinkedIn ads can effectively promote courses.
Email Marketing
Having an email list is one of the most valuable assets for your business.
This is because you can use it to both provide value and directly promote your courses to people interested in what you have to offer.
Entrepreneurs who successfully sell courses online tend to have people on their email list that trust what they say.
This is because they've built relationships with their subscribers over time – this allows them to promote their courses directly.
Social Media Marketing
Depending on your course topic, Facebook groups, Twitter, and LinkedIn are among some of the great social networks to promote your courses.
This is because many people on these platforms are interested in learning new things.
As with other marketing channels, providing consistently great content gets you in front of your target audience and helps you build trust with them.
You could even provide a free course as a lead magnet that's shared on social media, helping you generate leads and drive traffic to your main courses' sales pages.
Run A Podcast
Learners that get to know about an online course through a podcast they love listening to, are generally more engaged and are more likely to purchase the course than someone who's interrupted with an ad on social media.
This is because they've already been exposed to the content and have formed a relationship with the instructor.
Using podcast hosting sites to build an audience while hosting a podcast and then letting them know about your course as you're building it until it's ready to go, can be a great way to generate leads and sales.
YouTube Marketing
YouTube is a great place to market your course.
This is because you can use it to create engaging videos that will pique the interest of your target audience.
Starting a YouTube channel and creating video content around the topics covered in your courses is a great way to find people interested in your course.
Wrap Up.
While the functionality of an e-learning management system can take you far, the most important thing is to ensure that your courses help students succeed.
This means creating high-quality content that is engaging and easy to follow.
Knowing the pain points that potential customers are going through, and providing accurate solutions in your course, is essential to succeed in the online learning business.
It is also necessary to market your new course correctly and to the right audience.
With that said, the strategies mentioned above should help you get started on the right foot.
If you want to create and sell online just to generate revenue, you will likely fail.
Doing your research and ensuring that your online course creation process is aligned with the needs of your target market is essential.
If you can do that, you'll be well on your way to success.
Further reading on AdamEnfroy.com: Check out my online course platforms reviews to see which eLearning platform is best for you:
You can also read the following reviews for a side by side comparison of these platforms:
Disclosure: I may receive affiliate compensation for some of the links below at no cost to you if you decide to purchase a paid plan. You can read our affiliate disclosure in our privacy policy. This site is not intending to provide financial advice. This is for entertainment only.
---
Last Updated on April 7, 2023 by Adam Enfroy