Online Course Ideas To Maximize Your Earning Potential In 2023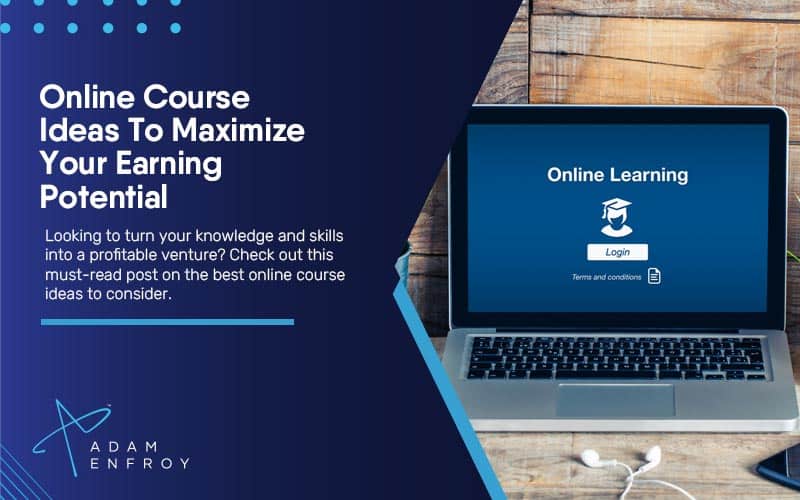 Are you an expert in your industry?
With the ease at which people can create and upload videos on online course platforms, teaching others has never been easier.
This post is a must-read if helping people and monetizing your knowledge and skills appeal to you.
In it, I cover the best online course ideas to consider, the basics of creating an online course, and share some tips on how to make it successful.
Choosing The Best Online Course Ideas
Here are the best categories (and various subcategories) of online course ideas to get you thinking.
Business & Entrepreneurship
Starting and growing a business requires knowledge of many different topics.
From finance to marketing, people always look for courses to help them build the skills to succeed in entrepreneurship.
Search Engine Optimization
Search engine optimization (SEO) is another increasingly popular topic in this digital age.
A deep understanding of SEO involves understanding how search engines work and updating content on your website accordingly.
Learning about WordPress and other website-building platforms can also be beneficial to optimize your on-page SEO.
Additionally, knowledge of the latest SEO trends and techniques will help students stay ahead of the competition.
As a marketing course using search engines, those that enroll can learn about keyword research, content creation, and link building.
Startup Development

Image Credit: https://www.coursera.org/
With ever-evolving technology and high demand for high-quality products and services, startup development courses can provide the necessary knowledge to get your venture off the ground.
These classes cover topics such as creating a viable business model, developing a compelling pitch deck, understanding customer needs, and marketing strategies that will help you succeed.
Financial Planning & Budgeting
Budgeting your money is essential for any entrepreneur or a small business owner.
Online financial planning and budgeting courses can teach you about cash flow management, tax planning, investment strategies, and more.
Accounting & Bookkeeping
For those looking to understand the intricacies of accounting and bookkeeping better, there are courses available that can help.
These classes cover everything from double-entry bookkeeping tax law, and business auditing.
Project Management
With the elearning world covering many topics, project management is essential for anyone looking to succeed professionally.
Classes in project management can teach you about time management, resource allocation, and budgeting so you can manage any project effectively.
Cryptocurrency
Bitcoin is chief among the ever-growing list of crypto-based topics, but other cryptocurrencies have also become popular recently.
An online cryptocurrency course could cover digital wallets, blockchain technology, trading methods, and security protocols.
As more people continue to invest in crypto, creating a course on the subject could be helpful for many.
Affiliate marketing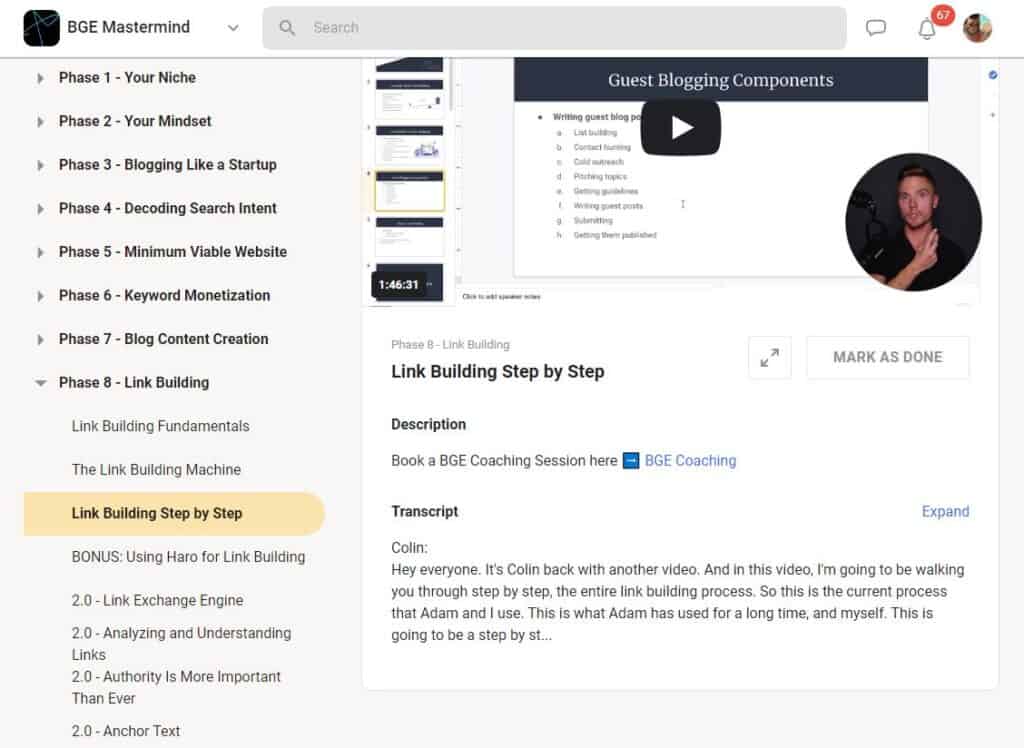 With the rise of technology and the internet, bloggers and content creators must adapt to new opportunities to keep making money online with specific methods.
Creating an online course in affiliate marketing can help your audience understand how to monetize a blog, develop compelling topics and clusters to write about on their sites, and optimize their websites for greater profits.
Life Coaching
A life coaching course can provide helpful advice on how to set and achieve goals, build a successful career, or manage relationships.
Whether building a personal brand, finding a job, or simply leading an enjoyable life, this course would teach individuals how to manage their lives in the best way possible.
There is no doubt that a life coaching course could benefit many people.
Technology & Programming
The tech and programming industries are booming.
The demand for software engineers, web developers, mobile app developers, and more is at an all-time high.
Creating an online course in tech or programming can help teach the skills needed to become a successful engineer.
The course should include theory and practical lessons, components like interviews with industry professionals, code snippets to practice coding concepts, and more.
Web Development & Design

Image credit: Udemy.com
Creating a course revolving around web development and design can be highly lucrative.
Plenty of web development and graphic design courses exist on sites, so differentiating your system from the rest is critical.
That said, the demand for such topics is there, ensuring that brainstorming and executing profitable online course ideas can be lucrative.
Whether it's HTML, Python, CSS, JavaScript, web frameworks, or other such technologies, creating a comprehensive course can help others learn and benefit from your expertise.
Mobile Application Development
Mobile app development is one of the most popular tech fields, with companies looking for skilled developers to build apps for platforms like iOS, Android, and Windows.
Courses in this field will teach you about native and hybrid mobile development, coding for multiple platforms, and creating engaging user experiences.
Game Programming And Design
Game programming is a rapidly growing industry with lots of potential.
Building games requires many skills, from developing the game logic to designing stunning graphics.
If you're an expert in the field, you can teach everything from a scripting language course to 3D animation with game programming and design courses.
Data Science & Analysis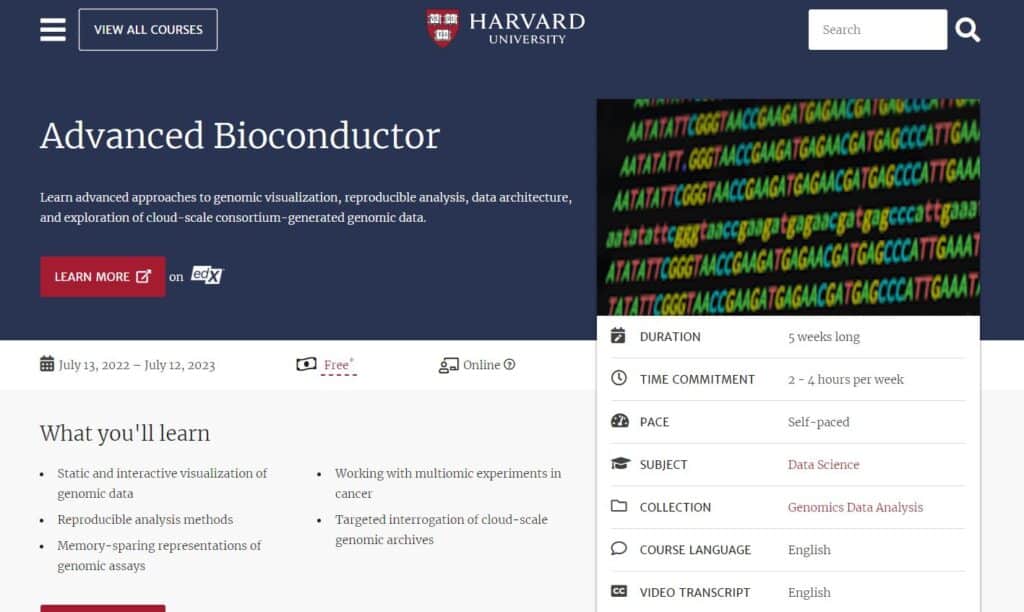 Image Credit: https://pll.harvard.edu/
Data science is becoming an increasingly important part of businesses everywhere.
As companies rely on data analysis to make decisions that can impact their bottom line, data science professionals get paid well. They have the opportunity to make a real difference in their field.
Data scientists and analysts can teach data analysis tools such as Excel, R, Python, SQL, and machine learning algorithms.
Creating data science and analysis classes can help students learn how to work with data sets, identify trends, build predictive models, and develop algorithms for machine learning.
Health & Wellness
Good health is the foundation of a successful life.
Taking care of your physical, mental, and emotional well-being can help you stay productive, creative, and motivated.
Yoga Instruction & Coaching
Yoga is an excellent way to relax, improve strength and flexibility, and cultivate mindfulness.
Classes in yoga instruction & coaching will teach students how to lead practical classes and use yoga principles daily.
Nutrition, Dietetics & Health Guidance
Eating a healthy diet is critical to achieving optimal well-being.
Nutrition, dietetics, and health guidance courses can help people learn about food science, dietary guidelines, and nutrition labeling to create nutritious meals for themselves.
Mental Health & Wellness Counseling
Mental health plays a vital role in overall well-being, and mental health & wellness counseling courses can help you learn about topics such as depression, anxiety, and addiction.
Classes also cover therapeutic techniques to help others manage their mental health.
Fitness & Exercise Instruction
Exercise is essential for maintaining physical health, and fitness & exercise instruction classes can teach you how to lead effective workouts for yourself or your clients.
These classes will cover everything from weight loss and anatomy to nutrition so you can create safe and effective exercise programs.
As you sell courses in this arena, collaborating with certified trainers and dietitians with a big email list can help you reach more potential clients.
Arts & Creativity
Art is essential to many, allowing them to express their feelings, explore new ideas, and become inspired.
From music production to interior decorating, courses in the arts and creativity can help you grow your creative potential.
Here are some subcategories to consider.
Music Production & Composition
Music production and composition classes can teach students about creating music.
From audio recording techniques to songwriting and arrangement, it's all part and parcel of this industry.
Additionally, lessons in MIDI sequencing will introduce students to computer-based music production tools.
Acting, Improvisation & Theater Performance
Theater performance is about more than just memorizing lines — it requires creativity, presence, and collaboration.
Classes in acting, improvisation, and theater performance will give students the skills to bring characters and scenes to life on stage.
Dance Instruction & Choreography
Learning to dance is more than just mastering steps – it's about expressing oneself creatively and dynamically.
Dance instruction and choreography classes will teach students everything from ballet to hip-hop so they can create compelling performances.
Jewelry Making & Design

Image Credit: https://www.skillshare.com
Jewelry-making & design classes can help students learn how to create stunning jewelry pieces with traditional or contemporary techniques.
They can also learn how to use CAD software for creating 3D models of their designs.
Interior Decorating, Interior Design
Interior decorating and interior design classes can help people create stylish, functional spaces.
Classes could cover topics such as color theory, furniture layout, and home décor trends so you can become an expert in creating beautiful interiors.
Painting, Pottery & Sculpture
Using traditional and modern art techniques can open up a world of creative possibilities.
Painting, pottery, and sculpture courses will give students the skills to create stunning artwork for themselves or their clients.
With plenty of Facebook groups to find people interested in your material, having your own online course can be an excellent way to share your knowledge and make some extra money.
Personal Development
Personal development is an integral part of living a balanced and fulfilling life.
From learning how to manage your time more effectively to finding creative ways to reach career goals, personal development courses can help students gain the skills needed for success.
Here are some sub-topics within this vast industry.
Time Management & Productivity Coaching
Time management and productivity coaching classes will teach students strategies for being better organized and staying on track with goals.
Courses cover creating daily schedules, setting priorities, delegating tasks, and using productivity tools.
Personal Finance Planning & Investing
Being financially literate is a critical factor in achieving long-term financial security.
Personal finance planning and investing classes can help your audience learn about budgeting, saving, credit cards, debt management, and investment options.
Career Development Guidance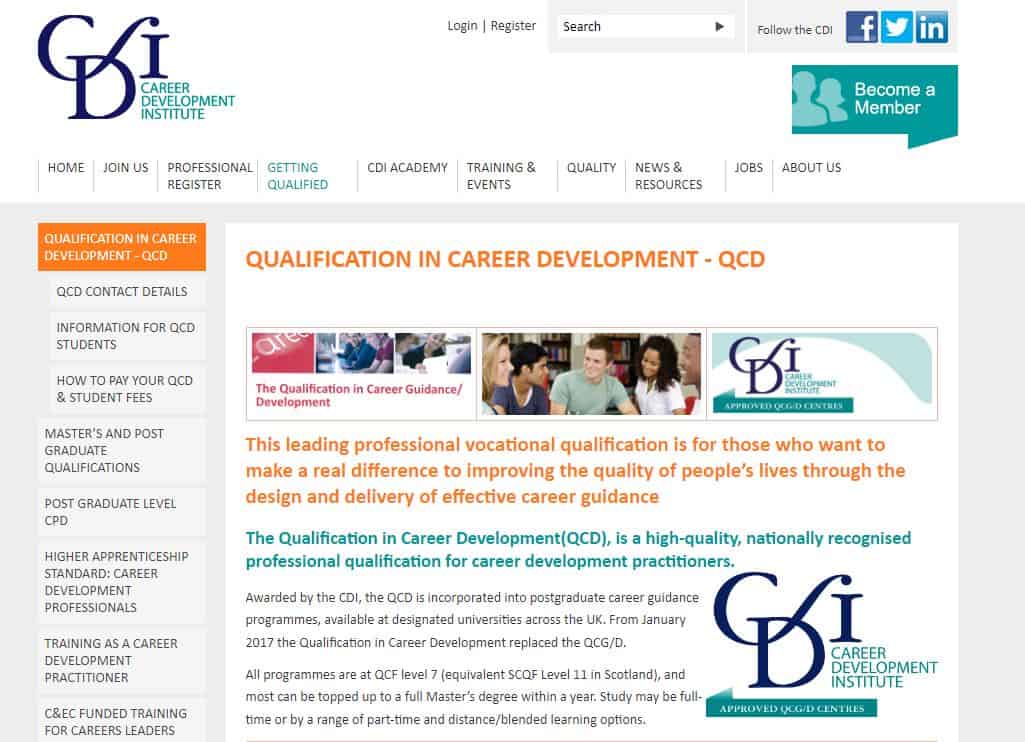 Image Credit: https://www.thecdi.net/
Whether just starting or looking to make a career change, courses in career development guidance can help students reach their specific goals.
Classes could cover resume building, interview preparation, networking, and job search strategies.
Language Learning Courses
Learning a new language is an excellent way to expand one's cultural knowledge and open up future opportunities.
Language learning courses will give students the skills to read, write and speak confidently in any language they choose.
Establishing a Successful Online Course Business
Here are the steps to consider when setting up an online course.
Outline Your Content Marketing Plans
With most people shifting to digital learning environments, following the proper steps to content creation is critical to your success.
Before you jump into teaching online courses, you'll want to outline the topics and ideas you will cover in your system.
With an ecommerce landscape that is constantly changing, ensuring your outline is up-to-date and reflective of the latest trends and techniques will help you stay ahead of the competition.
Moreover, depending on one's goals, online course creation can be as straightforward or as complicated as desired.
For example, your outline can include a simple series of lectures.
Alternatively, you can opt for more interactive methods such as online quizzes, webinars, and virtual reality simulations.
Testing Your Product
One of the most critical steps in launching a successful course business is testing your product before you launch.
Testing includes gathering feedback from potential customers about what they want to learn, how much they are willing to pay for the course, what format they want the content delivered in (e.g., video or text-based), etc.
Gathering this information before you launch can help you create an online course that meets customer needs more effectively and ultimately results in more sales.
Building Services Into Your Curriculum
In addition to testing your product, another tip for success is building services into your curriculum.
Offering additional services such as one-on-one coaching or consulting sessions alongside your course materials can increase the lifetime value of your customer.
These additional services can attract customers and give them more value than lectures.
It also helps build trust with potential customers who may be hesitant to purchase an online course without any support available afterward.
Online learning is in high demand, and some people would be more inclined to get a more personalized experience.
This opportunity opens up the chance to provide additional services as a unique selling point.
For example, in the dog training industry, people prefer an online course that includes one-on-one coaching sessions with the instructor or video consultations with a veterinarian.
In the cybersecurity world, people may opt for a course that includes an analysis of their networks and systems or personalized advice from the instructors on how to protect their data best.
Compared to choices where it's only online lessons, coaching provides a complete learning experience.
Deciding On A Specific Topic
When looking for the most profitable course ideas to get started with, it's essential to first decide on a specific topic and niche.
Your top priority should be to know what is in demand and what can generate the most revenue.
For example, in the job interview niche, you could create a course that provides step-by-step guidance on preparing for an interview, the types of questions recruiters ask, and what makes a good answer.
In the language learning market, you could create a course that provides beginner-level language instructions.
If you're taking someone from beginner to proficient, your course should include fundamentals such as vocabulary and pronunciation and more complex concepts such as grammar and verb conjugation.
You should also consider whether to break down multiple lessons into various courses.
With a clear focus on delivering meaningful content in each lesson, students will be more likely to recommend your courses and continue using them for future learning opportunities.
Using An Existing Solution
Rather than starting from scratch, you should also take an already-established solution that solves a problem (without eliminating it) and enhance it for maximum success.
Let's say your target audience is small business owners needing marketing help.
You could start by looking at existing solutions and course examples, then use what's out there to craft your course.
A profitable online course that can solve a marketing problem for small business owners in a better way provides additional value to people looking for a solution.
For example, it can include resources such as templates, tools, and tutorials to get things done faster.
It could also include step-by-step instructions on specific things to say in a particular situation.
Let's make it more practical.
Consider the arts and crafts niche.
In this industry, you could create a course teaching people how to make jewelry or quilting.
You could also provide tips on pricing their finished products and selling them online.
Suppose other (competitor) solutions dance around the issue people in this market experience (like not having enough knowledge of the market).
In that case, your course should give them the information they need in digestible chunks.
Enhancing Your Solution
As the business landscape changes faster than ever, business courses must be flexible and meet different needs.
When you know what you want to teach, enhancing the solution and making your course stand out from others on the market is essential.
You can do this by offering a variety of learning methods, such as text-based lessons, webinars, or even one-on-one video calls.
If passive income is something your industry is interested in, a course that helps students create multiple sources of income will be highly sought after.
In this case, you could provide step-by-step guidance on monetizing different types of content and creating the proper income.
Adding interactive elements such as quizzes and discussions can keep students engaged and motivated.
Getting feedback, testing new ideas, and seeing what works best is critical.
Create Engaging Content
Online course creators that manage to keep people engaged provide better solutions to their target audiences while creating more trust with those who matter.
Exciting content in your online learning journey is also a great way to attract new customers.
Take the concept of web design as an example.
Most would agree courses in this industry aren't the most exciting, but you can make yours stand out by adding interactive elements.
By doing this, you can help your students better understand the concepts and keep them engaged.
Ultimately, creating helpful and valuable content for your audience will benefit you and your customers.
Choose The Right Software & Content Formatting
Whether you're building video tutorials or podcasts, the right software can help to make the process easier and more efficient.
For beginners, it is essential to choose user-friendly and intuitive software, so they don't have to spend too much time learning the technicalities before they can create beautiful content.
Remember that content formatting ability when creating online courses is just as crucial as choosing the right software.
Consider length, clarity, and visuals when considering various platforms.
You'll be able to deliver a better experience to your students and build their trust in you as an expert.
The software you choose can differentiate between success and failure in this highly competitive industry.
Marketing Your Course
With the explosion of popular online courses, most would-be course creators forget about the importance of hustle when marketing their courses.
Many online course platform options offer internal marketing tools, but you can also use digital marketing strategies to help get the word out about your course.
While there are platforms like Udemy that have a significant user base and do the marketing for you, such a marketplace is crowded with tons of competitors.
If you're using a platform like Teachable or Thinkific (or even creating a course on your website), you must rely more heavily on the right strategies to get the word out about your course.
Over time, your digital marketing arsenal could include various channels, including:
SEO
Social media marketing and content creation
Email marketing campaigns
PPC ads
YouTube videos
And much more.
By leveraging these channels correctly, you can effectively reach your target audience and promote your course.
Wrap Up.
Having an online course is a great way to share your knowledge and skills with the world while creating an additional source of income.
Always remember that creating online classes that are engaging and informative is the key to success.
Moreover, as you scale and create online courses, consider expanding your offer to sell additional services and gain more experience in your field.
Choosing a profitable online course idea and running with it will be a rewarding experience.
Considering the above points and creating an online course will make a difference in many people's lives.
Further reading on AdamEnfroy.com: Before publishing your course, here's vital information on choosing the right learning management system for your audience.
The right choice can help you maximize your ROI and provide a fantastic user experience for those who take your course.
Disclosure: I may receive affiliate compensation for some of the links below at no cost to you if you decide to purchase a paid plan. You can read our affiliate disclosure in our privacy policy. This site is not intending to provide financial advice. This is for entertainment only.