Blog Income Report for May 2020: How I Earned $80,188 This Month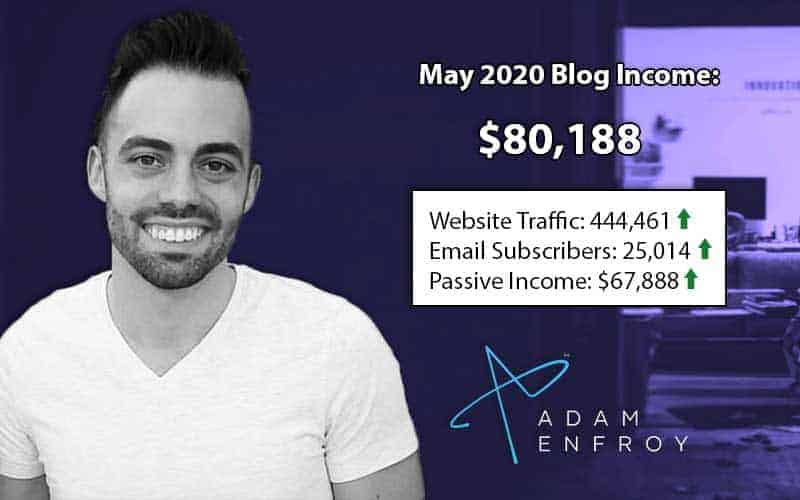 While most Blog Income Reports are from bloggers who started 5+ years ago, here's one for my blog that launched 17 months ago in January 2019.
First, if you're looking to launch a blog and follow my strategies, you can check out my full guide on how to start a blog and launch your blog with Bluehost for just $2.95/month.
Get started with Bluehost.
Disclaimer: The two Bluehost links above are affiliate links which provide a small commission to me at no cost to you. These links track your purchase and credit it to this website. Affiliate links are a primary way that I make money from this blog and Bluehost is the best web hosting option for new bloggers. You can read full affiliate disclosure in my privacy policy.
Let's dive into my blog income report.
1. Blog Income in May 2020: $80,188
May brought new highs for my blog in terms of traffic and revenue. Website traffic increased from 414,389 sessions in April to 444,461 in May. My blog's revenue increased from $74,484 in April to $80,188 in May.
As many people have asked, this revenue is from organic traffic and I spend $0 on advertising.
I've seen a lot of blog income reports recently that state revenues of over $100k, but they don't disclose how much they spend on Facebook and Google Ads, which can often be upwards of 70% of their stated revenue.
While I spend money on my freelance assistant, content creation, and tools, I spend $0 on advertising and this traffic is all free via Google organic search.
Let's move on to my blog's income streams.
Affiliate Marketing Programs:
Overall, I brought in $63,373 from 64 different affiliate programs – a 6% increase over April 2020.
This is a 2,180% increase compared to May of last year (when affiliate revenue was just $2,906).
Some software categories rose and some fell, but overall I increased my affiliate income by $3,590 in May.
Other Revenue Sources:
Digital Product Sales: $4,515
SEO and Link Building Consulting for 3 B2B Clients: $12,300
Total revenue in May: $80,188
Expenses in May 2020: $6,089
Besides my fixed expenses, the only ones that increased were my new subscriptions to Brandstrong for graphic design and a bonus I sent my awesome freelance assistant. Here are my expenses for May 2020:
Freelancer $2,200
Content $1,540
Fiverr $399
CS Software $350
WP Engine $290
BrandStrong $259
CPA $245
ConvertKit $210
Ahrefs $179
Development $155
Elementor $74
BigCommerce $64
Adobe CC $56
G Suite $38
Cloudflare $30
Total expenses in May: $6,089
Profit: $74,099 (92.41% Gross Profit Margin)
Here are some interesting blog financial statistics and other leading indicators:
MoM Revenue Increase: $6,124
MoM Revenue Increase %: 8.26%
Passive Revenue: $67,888
MoM Passive Increase %: 10.86%
Passive % of Revenue: 84.7%
Revenue Trailing Quarter: $178,932
Revenue YTD: $294,166
Gross Profit YTD $270,867
Now, onto some traffic stats and a May recap.
2. Traffic for May 2020: 444,461 Sessions (+36.3%)
Overall in May 2020 compared to April 2020, I increased my blog traffic from 414,389 to 444,461.
Compared to last year (May 2019), sessions increased by 1,235.8%

With a huge May 2020 Google Algorithm Core Update being released, I saw a slight dip in week-over-week traffic some days but still increased my overall traffic in May. Here are my monthly traffic metrics so far, dating back to January 2019 when I launched my blog:
2019
January: 1,147
February: 2,055
March: 7,672
April: 16,920
May: 34,261
June: 46,355
July: 76,926
August: 105,056
September: 133,391
October: 141,348
November: 143,705
December: 178,021
2020
January: 248,910
February: 231,524
March: 303,960
April: 414,389
May: 444,461
4. Email Subscribers for May 2020: +3,654
As of May 2020, I have over 25k subscribers on my email list.And as this part of my business is about 5% of my revenue, I'm ready to start opening it up to other revenue streams. In the next few months, I plan to launch an in-depth video course on blogging like a business, including keyword research, SEO, using WordPress, and affiliate marketing.
But for now, just know that I'm adding around 150 email subscribers per day and my list is now over 25k.
5. Tasks Completed in May:
Created a new logo for my site.
Published 8 new blog posts.
Added new infographics to my posts on how to start a blog and the best web hosting.
Published guest posts for WP Dev Shed, The Digital Project Manager, New Breed Marketing, and Boingnet.
Increased my Alexa Rank from 15,444 to 13,432.
That's it for my Blog Income Report for May 2020.
The purpose of these new blog income reports is to showcase that with the right strategies, it doesn't take years to make a substantial income.
Thank you so much for reading – I'm very grateful you found your way here.
If you're looking to launch a blog and use my tactics, you can check out my full guide on how to start a blog and launch your blog with Bluehost for just $2.95/month.
Get started with Bluehost.
Disclaimer: The two Bluehost links above are affiliate links which provide a small commission to me at no cost to you. These links track your purchase and credit it to this website. Affiliate links are a primary way that I make money from this blog and Bluehost is the best web hosting option for new bloggers. You can read full affiliate disclosure in my privacy policy.
Feel free to follow me on Facebook, Twitter, and Instagram so we can connect.
Finally, if you want to start treating your blog like a business and make life-changing money in months, not years, join my email list for a free 10,000+ word, 7-day email course, a 15-page WordPress blog launch checklist, and you'll get access to our Private Facebook Group of 2,000+ new bloggers.
Editorial Process:
Our reviews are made by a team of experts before being written and come from real-world experience. Read our editorial process here.
Some of the links in this article may be affiliate links, which can provide compensation to us at no cost to you if you decide to purchase a paid plan. These are products we've personally used and stand behind. This site is not intended to provide financial advice. You can read our affiliate disclosure in our privacy policy.