Online Education: Advantages and Disadvantages of Online Classes in 2023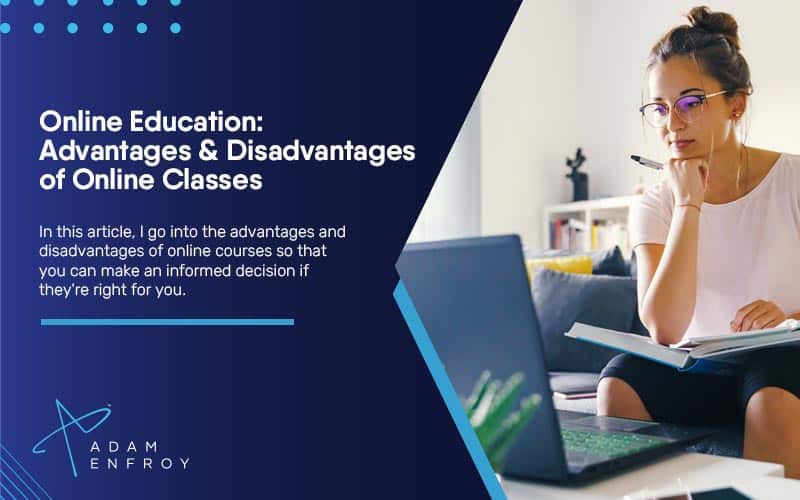 Online courses have seen a surge in popularity in recent years.
With more people looking to further their education or learn new skills, online courses have become an attractive option for many.
Compared to traditional education, online course platforms offer several advantages – both for learners and those wanting to create an online course.
In this article, I'll go into the advantages and disadvantages of online courses so that you can make an informed decision about whether they're right for you.
If you're thinking about taking an online course (or even creating one), this article will give you the information you need to decide.
Let's get started.
The Pros of Taking Online Classes
Let's start with the benefits of online education.
You Can Learn At Your Own Pace.
Online coaching platforms allow learners to go at their own pace.
That's one of the main advantages of online education – learners can take as long or as little time as they want on each module and revisit sections as often as they need to.
The learning material is also usually available indefinitely, so learners can take their time working through it.
Students can retake an online course a year later if need be.
You Can Access Materials At Any Time.
Digital learning allows learners to access course materials anytime, anywhere in the world.
This is a significant advantage for busy people who can't commit to attending traditional classes.
In addition, some people are early risers while others prefer to stay up late – online courses give learners the flexibility to study at any time that suits them.
You Can Communicate With Your Instructor And Classmates Easily.
While distance education has been around for quite some time, fast internet has made communication between instructors and students much more accessible.
One advantage of online education is the ability to speak to fellow students and instructors easily and readily.
Having other students to communicate with (sometimes at various hours of the day) can make learning more enjoyable and help keep you motivated.
You Can Get More Out Of A Course Than In A Traditional Classroom.
Higher education is not just about attending lectures and taking exams.
It's also about developing soft skills, such as communication, teamwork, and problem-solving.
The pandemic has shown us a new normal and that we can still thrive when not physically together.
In the classroom vs. online learning debate, this is an advantage of online learning – it allows learners to develop these essential skills without having to be in the same room as their classmates.
You Can Take Courses That You Wouldn't Have Otherwise Been Able To Handle.
The logistics of setting up some courses can incur a cost that not everyone can afford, including fees for field trips or buying/hiring expensive equipment.
But with online education, the sky's the limit.
Anything that one can teach digitally can be made available to anyone, regardless of location or financial situation.
You Can Save Money On Tuition, Travel, And Other Associated Costs.
Another point relating to cost is that renting or buying a property near a university you're studying at can be expensive.
With online learning, there's no need to worry about this – you can study from anywhere in the world.
Being in an online environment (versus a physical classroom) means there are no associated costs, such as commuting, travel or accommodation.
You Can Learn In Various Ways (Text, Audio, Video, Etc.).
Catering for the learning styles of all students can be difficult in a traditional classroom setting.
But with online courses, this is much easier to do.
Course creators can use a variety of formats (text, audio, video, etc.) to deliver their content, and learners can consume it in the way that suits them best.
Upon choosing the right learning management system, instructors can also track the progress of individual students and see which formats they engage with most.
The learning tools that many LMSs provide, such as quizzes and forums, can also make the learning process more interactive and engaging.
You Can Take Advantage Of Free Online Courses.
Finally, learning new skills is no longer something that only people who can afford to pay for courses can do.
Nowadays, thousands of free online courses are available on the internet, covering many topics.
Whether you're looking to improve your job prospects or want to learn something new, there's a free online course out there for you.
The Cons of Taking Online Classes
Here are the disadvantages of online learning
You May Feel Isolated And Alone.
Face-to-face interaction used to be an integral part of the learning process.
Building relationships with classmates and instructors can be challenging for some when you're not physically present in the same room.
You may also find it hard to stay motivated without the support of your peers.
You Need Better Time Management And Independent Working Skills
The self-discipline to take an online class is not just about the course material.
It's also about learning how to manage your time and work independently.
This can be difficult for some students, who may prefer the structure of a traditional classroom setting.
It's also worth noting that some jobs require team-based work, so taking online classes may not prepare you for this environment.
It Can Be Challenging To Stay Motivated Without The Structure Of A Traditional Classroom.
Attending classes that meet in person makes staying on track and motivated easier.
But when you're taking classes online, getting sidetracked and forgetting to do your coursework can become a problem.
Practice-based learning can also be challenging on your own – it's often helpful to have someone there to give you feedback and help you improve.
Technical Problems Can Be A Significant Headache.
It's not just you – everyone struggles with technology from time to time.
Technical problems can be a significant headache when taking an online class.
If your internet connection is slow or unreliable, or if the learning platform is down, it can be challenging to participate in your class or get the information you need.
You May Not Have Access To The Same Resources As On-Campus Students.
While most colleges and universities now offer some form of online learning, not all of them provide the same level of support or resources.
For example, you may not have access to the same library resources or be unable to participate in campus events.
Doing your research before enrolling in an online program to ensure you'll have the resources you need.
Some Employers Prefer Candidates With Traditional Degrees.
Educational institutes providing online lectures are not accredited in some industries/communities/countries.
While this is changing, some employers still prefer candidates with degrees from traditional colleges and universities.
Knowing this, you may want to consider whether an online program is the right choice for you.
While distance learning has advantages, it's essential to be aware of the potential disadvantages before enrolling in an online program.
Therefore, weighing the pros and cons can help you decide if distance learning is the right choice.
Technology In Online Learning
E-learning, or learning through electronic devices, has become increasingly popular in recent years.
From primary and secondary schools to universities and professional training programs, more and more people are using technology to learn.
But what does this mean for us?
How has technology changed how we learn, and what do those changes mean for the future of education?
There are a few key ways that technology has changed the way we learn:
We can now access information more quickly and efficiently than ever.
We can share information with others more readily.
We can receive feedback more quickly and easily.
We can customize our learning experiences to suit our individual needs better.
Are Online Classes Right For You?
Comparing the factors that a virtual classroom offers (in relation to a more traditional learning experience) can help you decide if an online class is the right choice.
An online degree might appeal to you for a variety of reasons.
For example, having real-time interaction with other online students and professors might be vital to you.
Or the ability to attend class from anywhere with an internet connection might be a deciding factor.
On the flip side, if you think that more screen time is not something you want or need more of in your life, an online degree might not be the right fit.
The same applies to a sense of isolation – if you feel like you learn and retain information better in a more traditional classroom setting, an online degree might not be the best choice for you.
Ultimately, only you can decide if this is the right move.
Who Benefits The Most From Online Learning Platforms?
Students with excellent time management skills can benefit from online programs that offer more flexibility in terms of when class sessions are held.
Taking advantage of online education and using apps, forums, quizzes, and other online programs to help you learn can be a great way to finish your degree quickly and efficiently.
Similarly, students who cannot attend a traditional college or university due to work or family commitments can still gain the education they desire through online programs.
In addition, online learning environments can provide great flexibility for learners who have difficulty sitting in a classroom for an extended period.
If you have a disability that makes traditional classrooms inaccessible, online programs can be a great way to get the education you need.
Wrap Up.
Technology has changed the way we learn.
It has made information more readily available, increased our ability to share information with others and receive feedback, and allowed us to customize our learning experiences.
When deciding if online classes suit you, consider your learning style, time management skills, and commitments.
If you can take advantage of the benefits of an online learning environment, you might find that it is the right choice and that your future opportunities increase due to such learning.
Further reading on AdamEnfroy.com: Many of the more modern online course platforms offer features that make courses more engaging.
Whether you're a potential student looking for an online course or a subject expert thinking about teaching one, there are a few platforms that I recommend you should check out.
Check out the following reviews of some of these platforms to see which features might be the most suitable for you:
Disclosure: I may receive affiliate compensation for some of the links below at no cost to you if you decide to purchase a paid plan. You can read our affiliate disclosure in our privacy policy. This site is not intending to provide financial advice. This is for entertainment only.
---
Last Updated on January 17, 2023 by Adam Enfroy