Podia Review: Course Pricing, Features, and More (2023)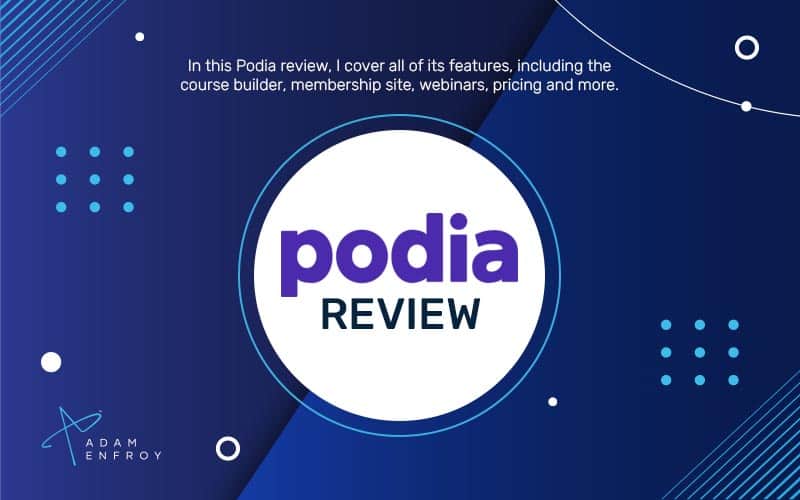 The right online course platform can make a big difference in your business. It can help you save time, money, and headaches.
But with so many options out there when creating an online course, how do you choose the right one that has the features you need?
Podia is a great online course platform to consider for businesses of all sizes.
In this Podia review, I'll look at the features and benefits that make this platform stand out from the rest.
By the end of this review, you'll know if Podia is the right online course platform for your online business needs.
Let's dive right into this review.
What is Podia?
Podia is an all-in-one business platform that lets you create, sell and share online courses, memberships, webinars, and digital downloads.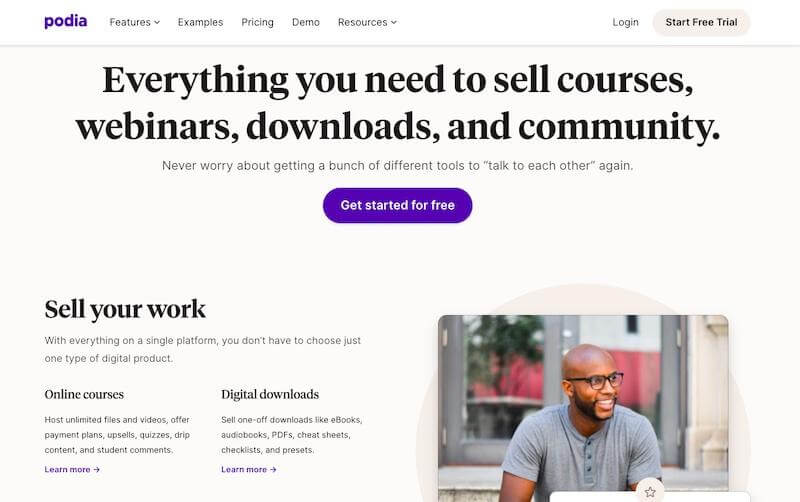 It can also replace your website, email provider, social media accounts, video hosting platform, and payment processor.
With the Podia platform, you can:
Create an online school for your courses or memberships in minutes. No tech skills required.
Create a customized digital storefront and sell your courses or memberships on your own website without worrying about the checkout process, like payment processing and customer support.
Provide and monetize your one-on-one coaching sessions and webinars.
Build an online community to interact with your students and members.
Accept payments in multiple currencies and even offer coupon codes.
Send unlimited emails and create drip campaigns to nurture your audience through the sales funnel.
Add Google Analytics to see how many visitors come to your pages and how they interact with them — so you know what works (and what doesn't).
Integrate with major business tools, including MailChimp, Zapier, ConvertKit, ActiveCampaign, Google Analytics, and more.
It also has stellar customer support, including live chat support seven days a week and live video support hours every weekday.
Podia Features.
Here are all the features to consider.
1. Course Builder.
Podia's Course Builder allows you to upload and organize your course material, including videos, audio files, and text documents.
You can even create courses with multiple modules and lessons for students to work through at their own pace through the intuitive user interface.
You'll also be able to add quizzes and homework assignments for students if you want to add to their user experience and get them to actively engage with your course content.
Once you log in, you can start adding products related to your course.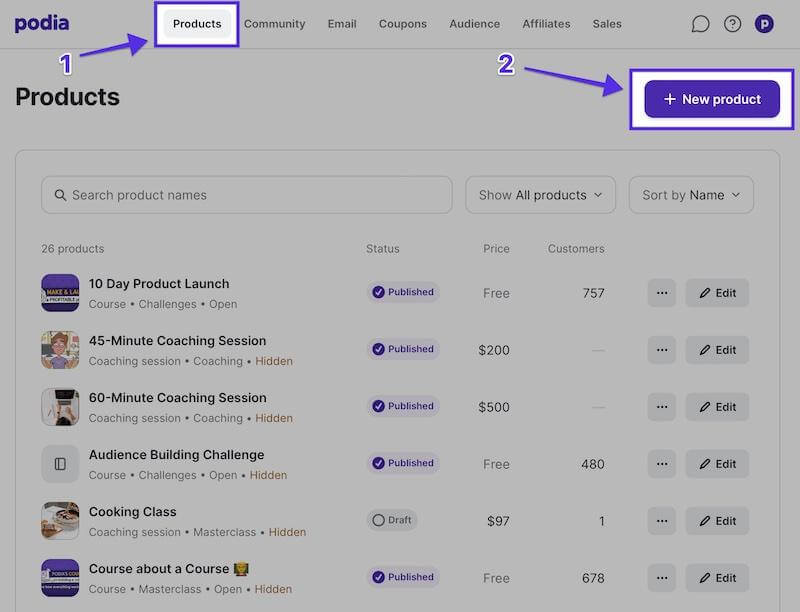 Simply click on New Product, choose Online Course from the list, and give an appropriate name to the course.
Podia lets you create multiple types of courses, including:
Standalone Courses: You can create your course using any type of media such as text, images, videos, audio files, MP3, links, PDF, PSD, quizzes, and more.
Drip Courses: You can set your course to be delivered section-by-section, scheduled as your choice.
Bundle of Courses: If you have several related courses, you can sell them together as a package.
Pre-sell Courses: Before you start selling online courses, you can validate the demand for your course idea. Here, you can collect funds before the launch, which will act as a crowdfunding campaign for your course.
Cohort-based Courses: You can schedule your course so that all of the students can start simultaneously.
Pre-launch Courses: You can pre-launch your course to measure the effectiveness and create buzz around the course topic. This will help you pre-sell your course before students enroll in the program.
Aside from an online course, you can also create a webinar, offer files for download, or a bundle of products.
Once you add your product, the builder prompts you to add your course's title, description, and section.
Below that, you can set your section to be available immediately or delay it by a certain number of days.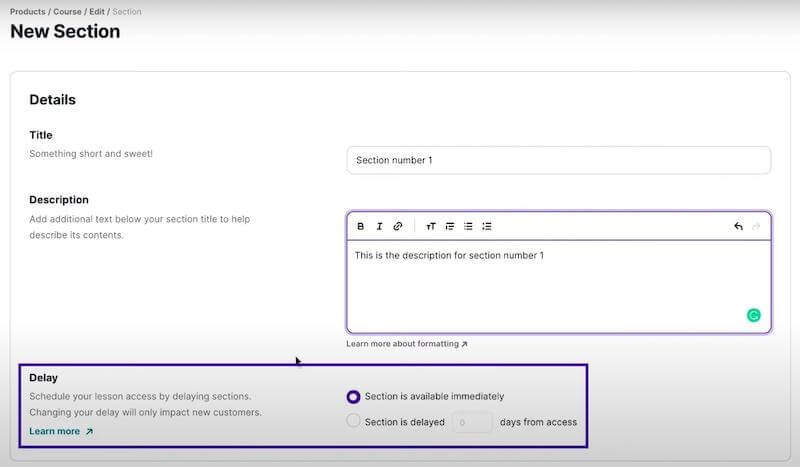 Next, you can add different elements to your courses, such as text, links, quizzes, attachments, and other file types.
There are also various options for course visibility, allowing you to choose whether you want a particular lesson to be visible to your customers or not.
From the settings and the pricing tab, you can also:
Categorize your course.
Set a start date.
Open and start the enrollment.
Set pricing plans.
Offer different payment options.
Add upsells to other products.
Share coupons and discount codes with your customers.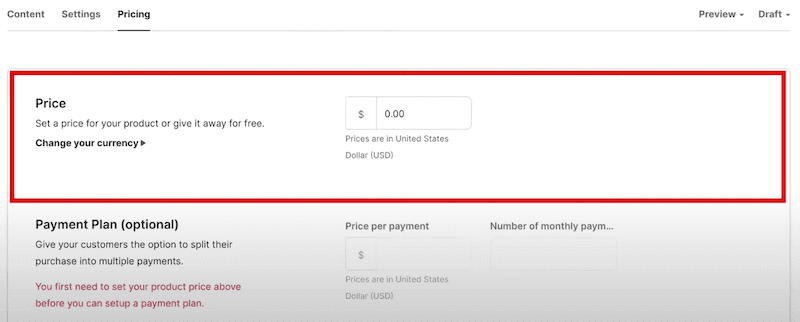 There's no need to hire a professional or acquire any design or development experience to build and customize your course.
The built-in editor assists you every step of the way, whether it's building your course or creating a site to host the course.
Customizing your course is also straightforward, and you have complete control over the placement of the elements and appearance.
Plus, you can see how everything looks as you make changes thanks to its live preview functionality.
The course also comes optimized for every device, i.e., desktops, mobiles, and tablets.
Not only course creation, but Podia also lets you interact and assist the students.
For instance, as the lesson ends, you can verify whether your students understood it by adding a quiz, and on course completion, send personalized certificates to your students and track their progress.
If they are stuck somewhere in the course, you can also email them to help.
You can interact with site visitors, students, and customers via an on-site chat widget.
2. Membership Site.
Membership sites are a great way to build a recurring revenue stream.
With Podia, you can create a membership site that gives your members access to exclusive content and resources over time.
It lets you create and publish different posts for your membership site visitors. It can be a member-only post, shared pinned posts, or schedule posts in advance.
Configuring your membership includes naming the plan, adding a short description explaining the plan, related images, price, particular products that customers can access, availability to specify whether it's open for subscription or not, and more.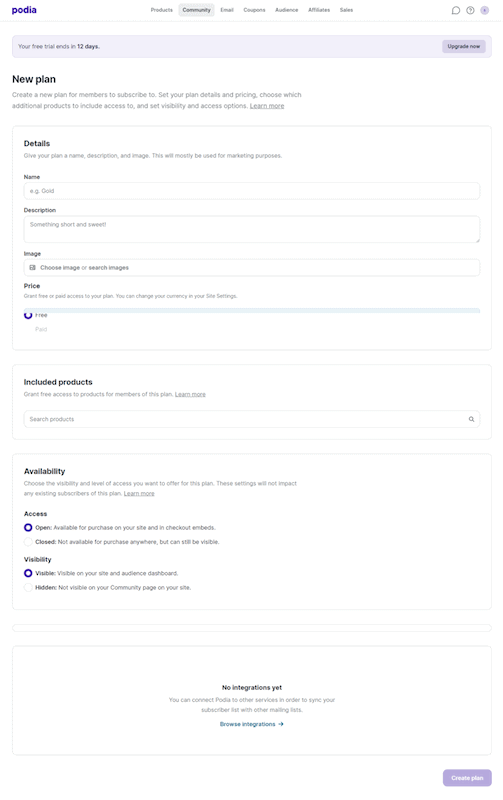 You can charge a membership fee on a monthly or yearly basis.
You can also offer a free trial and different tiers based on what your members get access to.
Podia also lets you set up discounts and coupons for your memberships to incentivize people to sign up.
You can also upsell your membership by offering additional products to your subscribers.
And as soon as the visitor converts into a member, you get instant payouts. There is no hold or waiting period to get paid and no transaction charges.
Other key features include:
There is no limit on the number of membership levels. You can have unlimited members on your site, each with different plans and perks.
Create a topic in your community and invite the audience to interact with your topic.
Integration with other Podia-hosted products in your membership plans.
Integration with the Facebook group, Slack channel, and Palapa community, enabling paying members to connect with your channel.
Embed Podia's checkout page with any site on the internet.
You can take content from almost two thousand platforms (some of which are Twitter, Typeform, SoundCloud, and more) and put it directly on your newly created website.
To make your membership more appealing to your students and customers, you can also create and customize a sales page.
Plus, you can add media elements such as text, video, images, and testimonials to market your course better.
3. Digital products/Digital Downloads.
Aside from a fully functional membership feature, Podia also allows you to sell downloadable products.
It supports all file types, allowing you to distribute your course through any medium that your company allows.
Types of digital products that you can host on your site:
eBooks (PDF or EPUB format)
Templates (PSD, XMP, PNG, or any other format)
Bundles (Combined courses or webinars)
Music
Podcasts
Courses
Videos
Presets
Adding digital content to Podia's dashboard is also simple.
Upload and edit your files, add pricing options, set the availability, and more with the click of a few buttons.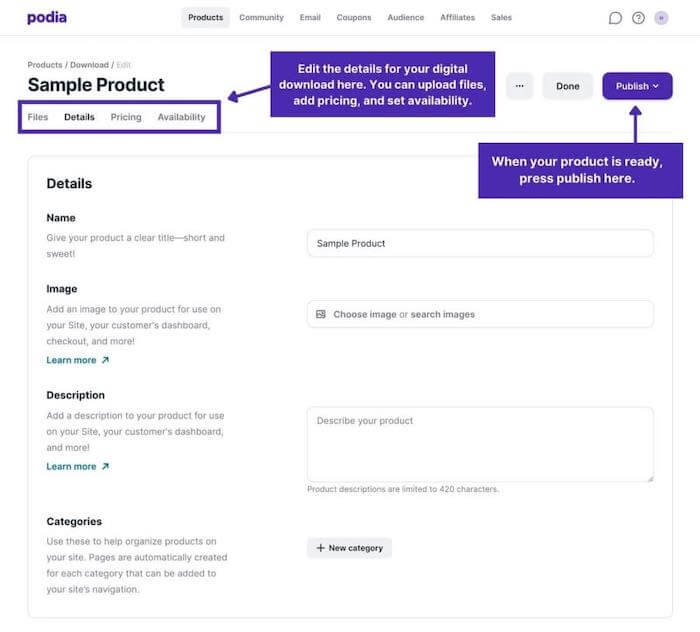 Adding downloadable digital products
Just like with course creation, you can group your downloadable products into different sections.
The best part?
Content, students, emails, and earnings, everything is unlimited.
You can sell whatever you want to as many people as you want.
Podia also provides unlimited video bandwidth with all payment plans, eliminating the need for any third-party video hosting platforms.
There are no transaction charges either.
All you pay from your sales is PayPal's regular transaction fee.
You'll also get access to tons of features to help you market and sell your products.
For example, you can offer relevant upsells to customers who purchase your digital downloads and increase the quantity of each order.
Upsell at Checkout
Upselling works with existing products. You can select any product to offer from the Pricing tab.
You can also set a discount with the upsell product, either a fixed amount or by percentage.
To persuade more buyers, you can also use coupons with expirations, caps, and product limitations.
Get started with Podia.
4. Podia's Email Marketing Features.
Email marketing is a great way to sell online courses, memberships, and digital downloads. You can send an email newsletter, an announcement, or a special offer to your subscribers.
With Podia, you can collect subscribers for your email list using all the tools the platform provides.
You can also encourage them to sign up on your website using Podia's embeddable forms, or invite them to sign up when they purchase something from you.
Once someone signs up for your newsletter, they'll be added to your audience, and you can send them emails directly from Podia – no need for third-party email marketing apps.
You can also build an entire sales funnel or an automated workflow to nurture and convert leads.
For example, when someone downloads a free product or course lecture, start your drip campaigns and move them down the funnel to your paid products.
The dashboard gives you a complete overview of your campaigns, email broadcasts, and email metrics.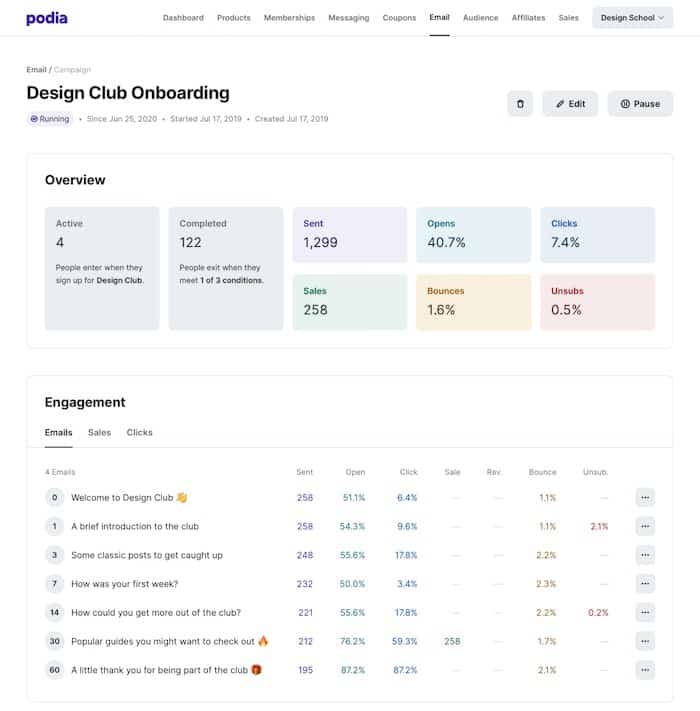 Not just an overview, you'll also get access to open rates, clicks, conversion rates, and more for each email.
They also give you a variety of customizable email templates to choose from.
You can add your branding colors and logo to every email to match the style of your emails to the look of your online school or store.
Podia also allows you to segment your subscribers into groups according to their purchases, allowing you to send relevant product recommendations.
5. Webinars.
Podia supports two types of webinars: Live webinars, where you can host presentations for an audience in real time, and pre-recorded evergreen webinars.
You can integrate YouTube Live in Podia, allowing you to get subscribers from your YouTube audience by making them sign up via Podia or integrate with Zoom, which will work with Podia's Shaker and Earthquaker plans.
Your audience will be able to register, purchase, and attend your webinars directly through the Podia site and you don't have to feel limited by Zoom or YouTube's branding options.
Podia lets you create a customizable and mobile-friendly website to host your webinars.
Website elements include customizable testimonials, images, videos, text, logo, and more.
In addition, you can set a price for your webinar or offer it for free to your attendees. You can even earn passive income by selling webinar replays.
Next, you can select your timing, provide instructions, add a replay video, and manage reminders.
You can edit the details, pricing, and availability the same way as your other digital products and courses.
For example, you can control when your webinar is available by scheduling it in advance and promoting it beforehand,

Podia also lets you bundle your webinars with a membership program or offer them with other online courses or digital downloads.
And like other Podia tools, Webinars also come with marketing tools like:
Upsells
Coupons
Embeds
Chat widget
Live chat support
All-in-one integration
In-built video hosting
Integrated email marketing
High-converting checkout pages
Affiliate marketing, and more.
6. Live Coaching Sessions.
With Podia, you can offer live coaching sessions to your customers.
Your audience can sign up for your coaching sessions, pay for their sessions, and join your virtual classrooms with just a few clicks.
You can sell monthly coaching or one-time consultations as a standalone product or include them as a content block in your online course.
Podia also allows you to embed a booking calendar on your customer's product page.
They offer four popular scheduling platforms for you to choose from, namely Calendly, Acuity, YouCanBookMe, and SavvyCal, or, you can even use your own custom link.
Next, you can provide instructions for your customers, which will appear on your product page.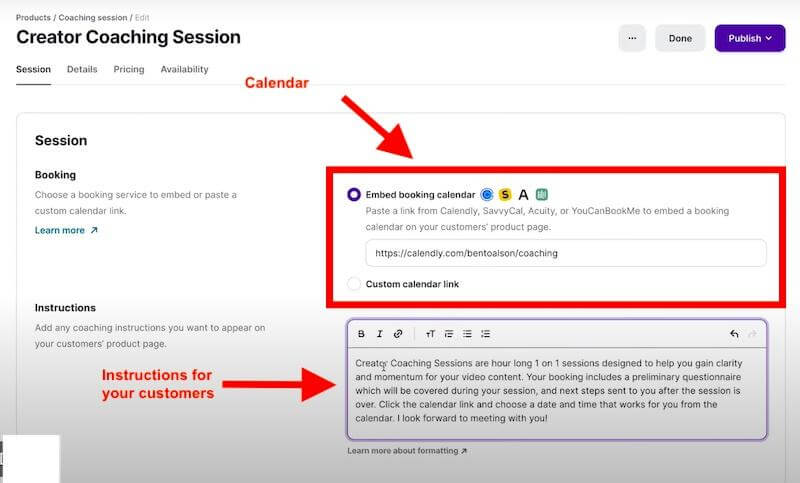 You also edit your product name, add categories, and more from the "Details" page. Then you can set your pricing and upsells.
And in the availability tab, you can manage your product's status, access, visibility, and set a start date for when your product will be available.
Other key features include:
Unlimited coaching sessions – You can sell unlimited coaching sessions to unlimited members.
Easy setup – Add a coaching session to your course so that your students can directly book appointments from your Podia site.
Upsell – Offer coaching as an upsell with another product, and earn additional income.
Bundle – Offer your coaching session as part of other online courses and digital downloads.
Certificates – You can issue a customized certificate to your students after they complete the course. This will look great on their professional profiles.
Like all other modules of Podia, coaching also comes with similar features, including coupons, email marketing, embeds, free migrations, instant payouts, live previews, messaging, live chat support, and more.
7. Online Community.
Podia makes it easy for you to create an online community, build your brand, and engage your audience.
Having access to an online forum can also be valuable if you want to create an active learning environment for your students or provide additional support for them outside of class time.
With community, members can:
Purchase your products
Consume your content
Post and join discussions
And they can do all of it in the same place without logging in to a separate platform.
Podia's community builder allows you to create a variety of topics and posts related to your product or course that your audience can follow.
They can also comment and even post content themselves based on the level of access you allow.
You can set who can view and engage with your content based on membership plans.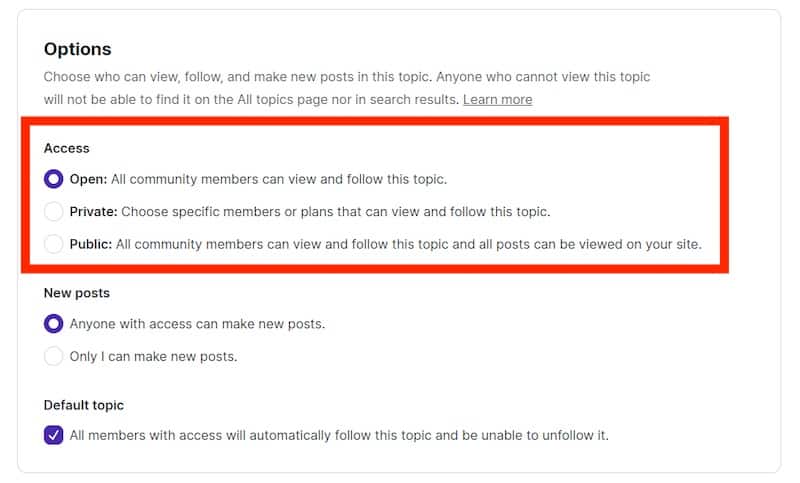 You can give access to all community members or keep it private for specific members.
You can even make it public to all members so they can view and follow your community topics and all of the posts on your website.
Here's a stack of benefits you get with Podia's community feature:
The bridge between your audience and your content – Your online community runs in the same place as your digital products, connecting both ends and providing more opportunities.
Simple Login – Customers can use one login to access both your content and community.
Great for content creators – The Podia community provides all the features that a creator may require, such as comment moderation and control over content access.
Posts, comments, and likes – You can invite your audience to create posts, comment, and like your content.
Customer information – You get full access to your customer's information, including their names, emails, and products.
And just like everything with Podia, you can customize all branding elements of your community page to make it align with your course or products.
8. Podia Custom Website.
Podia comes with a built-in site builder that allows you to create a search-optimized, mobile-friendly website.
You'll be able to drag & drop content into your site without having to learn code.
You can design your own logo, choose a custom color scheme, and add as many or as few pages as you like.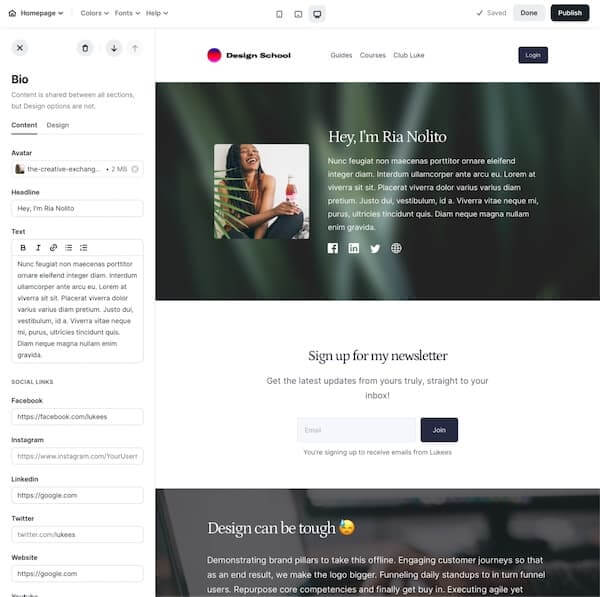 In a nutshell, the site builder lets you create:
A homepage to feature your work.
Sales pages to feature each of your products.
A newsletter signup page.
Other custom pages to build any kind of web page.
The editor also gives you a live preview of all changes and makes it easy to customize each with different fonts, color schemes, images, videos, layouts, text, and more.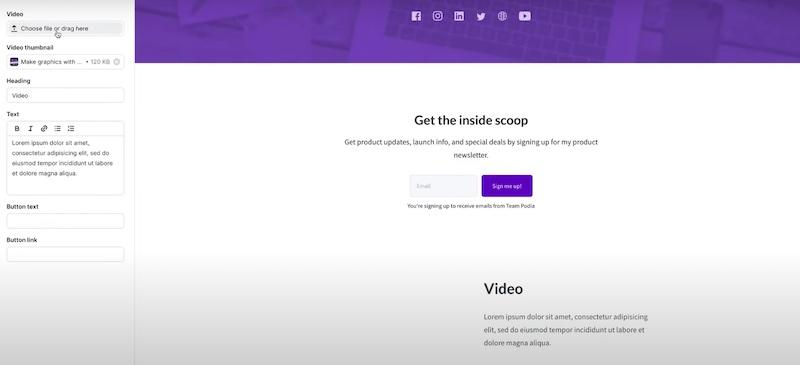 Your website will automatically be set up with a Podia subdomain that you can swap with your own custom domain if you want.
Get started with Podia.
9. Podia Marketing and Sales Features.
Podia's marketing and sales features are pretty basic but sufficient for course builders.
Here's a quick overview of the Podia features that help you sell and market your courses and products:
1. Affiliate Marketing.
It has an affiliate program, which you can configure to give affiliates a percentage of each sale or a flat fee per sale.
You can launch your own affiliate program and create your own commission terms, invite affiliates, and more.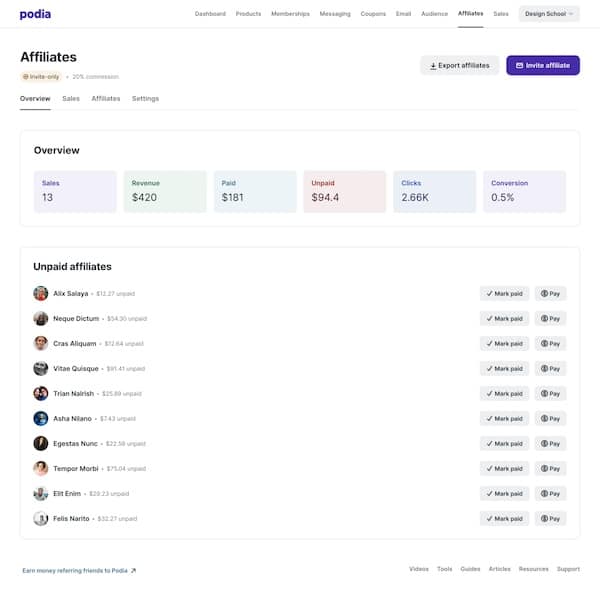 There are also affiliate reports available on your Podia dashboard.
2. Pre-launch and pre-sell.
You can create a landing page and start growing an email list or even taking payments while you're still working on your course.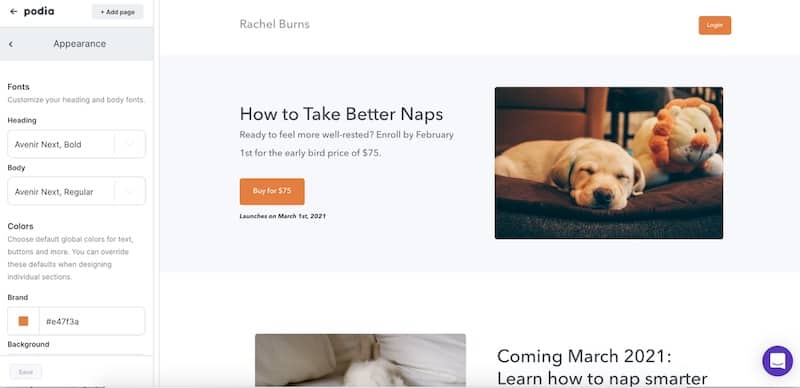 This is a great way to get some early income for your project, as well as test the waters for demand.
3. Add Coupons and Discounts.
Podia lets you provide public discounts, assign coupon codes to selected members, give everyone a coupon for your product by creating a public coupon, and more.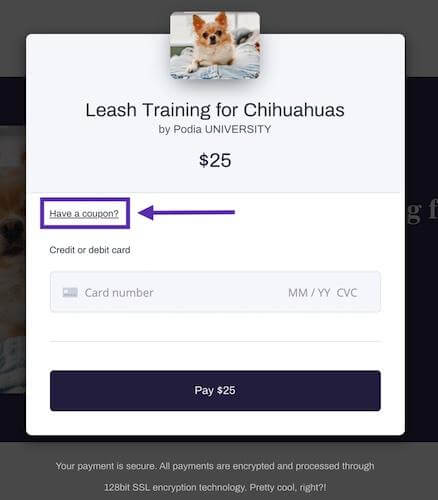 You can choose from five different types of coupons:
All products and plans: This discount coupon will enable your customers to get all of your products and courses for a reduced price.
Products only: To get a discount on all current and future products in your store, including online courses, digital downloads, and bundles.
Plans only: This coupon can be used against all available plans on your site.
Specific plans: Only selected plans with discounts will be applicable with this coupon.
Specific products: This coupon will let the customers search and add particular courses, digital downloads, and webinars to get the discount.
4. Upsell.
One of the great features of Podia is that it has a built-in upsell feature.
You can offer your customers an additional product or service when they are making another purchase, helping you increase your revenue.
Other features include:
Embeds – You can embed Podia's checkout pages experience on any of your websites.
Bundles – Boost your sales by combining your digital downloads or mixing them with online courses or webinars hosted on Podia.
Instant payouts – You get paid instantly for each digital product you sell. There is no holding or waiting period, so you can get hold of your money as soon as possible.
Messaging – The on-page chat widget will allow you to close deals with site visitors and connect with logged-in course buyers.
10. Payment Gateways.
Podia currently supports two payment gateways: Stripe and PayPal.
You can connect both to your Podia store, and customers can choose which one they prefer at checkout.
Connecting Stripe to Podia will let you accept credit card payments for products, payment plans, and recurring subscriptions via community plans.
On the other hand, connecting with PayPal will only enable your customers to purchase your products through PayPal.
So, if you are going to collect a one-time payment, you can integrate with PayPal. And if you are expecting recurring payments, it's better to connect to a Stripe account.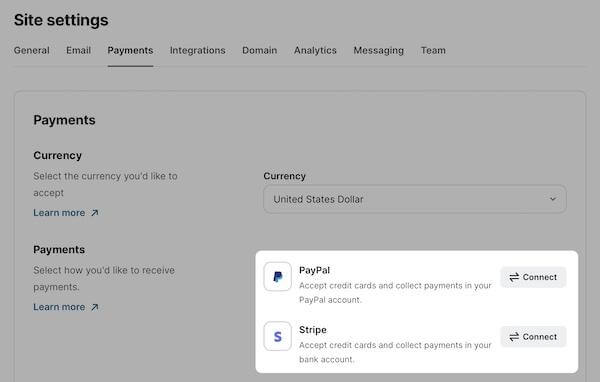 The good news is that Podia doesn't charge you a dime for Stripe or PayPal transactions, regardless of the type of product you're selling or the plan you're on.
Podia Pricing Plans.
Podia comes with four pricing plans, one of which is free.
The payment plans include:
Free ($0 per month) – full website, email marketing functionality, build a community, and more.
Mover ($33 per month/paid yearly) – custom website, email marketing, customer messaging, community, unlimited courses, unlimited downloads, unlimited webinars.
Shaker ($75 per month/ paid yearly) – Everything in the Mover plan + unlimited coaching products and affiliates.
Earthquaker ($166 per month/ paid yearly) – Everything in the Shaker plan + priority support, onboarding calls, and monthly creator call.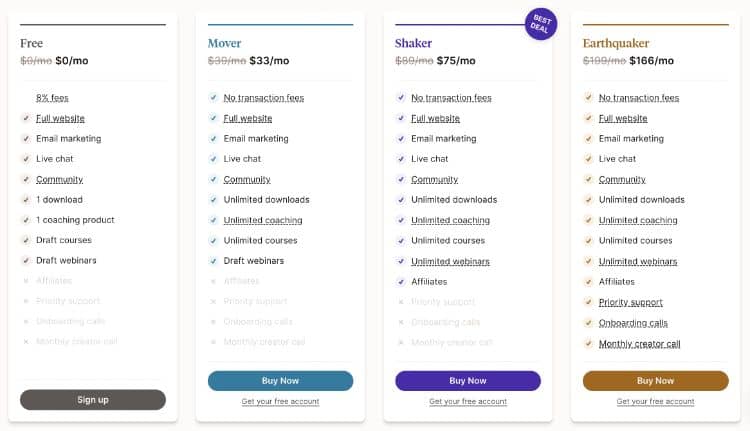 Podia Pros and Cons.
We saw that Podia is an all-in-one platform for digital creators that allows you to sell courses, memberships, and downloads in one place.
You can also sell products via a customizable website.
However, the online course platform has its fair share of pros and cons.
| | |
| --- | --- |
| Podia Pros | Podia Cons |
| No transaction fees on sales. | There's no free plan available |
| Unlimited products and unlimited customers | Basic marketing automation tools |
| A built-in email marketing tool | Does not include blog functionality |
| A free plan | No phone support |
| Ease of use | |
| Simple pricing model | |
| Zapier integration | |
| Integrated with Stripe and PayPal | |
| No need for any other software or coding knowledge | |
| Course and website builder with extensive customization options | |
Executive Summary.
To sum things up, Podia is an online course business platform for freelancers, beginners, course creators, entrepreneurs, and small businesses.
It also empowers you to build a community around your freelance business.
Plus, instead of having to use multiple platforms (like a website platform, email service provider, course marketplace, etc.), you can manage everything from your own Podia store.
This makes it easier to grow your business because you won't need to worry about integrating multiple services together.
You can get started with their free plan, so you can see if it's a good fit for your business before committing to a paid one.
Get started with Podia.
What that said, if you want to know more about the best online course platform for your needs, here are some other comparison articles for other platforms you might find helpful:
Disclosure: I may receive affiliate compensation for some of the links below at no cost to you if you decide to purchase a paid plan. You can read our affiliate disclosure in our privacy policy. This site is not intending to provide financial advice. This is for entertainment only.
---
Last Updated on December 8, 2022 by Adam Enfroy