Classroom Learning vs. Online Learning: Which Is Better?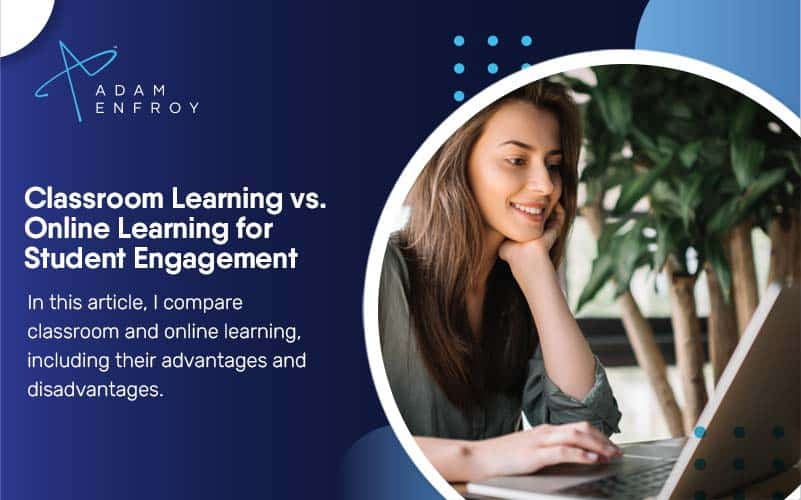 We've all heard online learning and distance thrown around, but what do they mean?
And how hard are they to use as a student or instructor?
Online course platforms generally include video conferencing, interactive whiteboards, and other digital tools to provide an engaging experience for both students and teachers.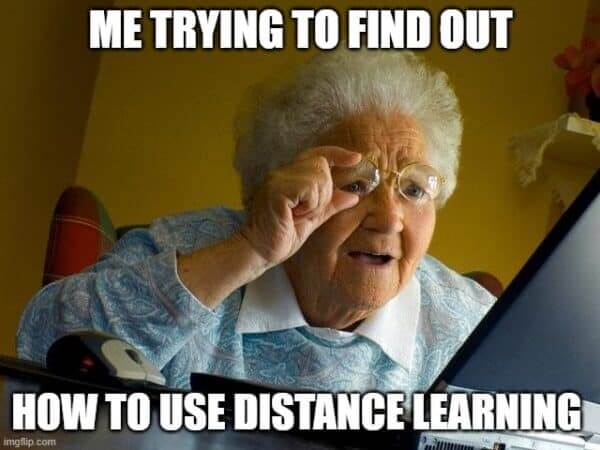 With cloud-based technology making it easy to access from any device, online classrooms are revolutionizing how we learn!
This article will compare classroom and online learning, including their advantages and disadvantages. I'll also discuss blended learning and my take on traditional education.
Benefits Of Online Learning
Here are some benefits of online learning to consider.
Online apps
In recent years, apps have become an integral part of online learning.
These apps allow for interactive experiences that help students easily engage with the course material.
While classroom learning involved heavy textbooks used for course material in the past, using apps and digital tools now allows online learning to provide a more engaging experience.
Universities, colleges, and educational institutions now offer online apps that provide a better experience than any past textbook.
Moreover, higher education becoming increasingly available online through such apps opens up more opportunities for people to study from home.
In the traditional classroom learning environment, mobile phones were not allowed, and educators expected students to write notes in their notebooks.
With online learning, most course materials are available digitally, and students can access them on any device.
Flexibility and Convenience
One of the main benefits of online learning is its flexibility and convenience.
In traditional classrooms, students must arrive at a specific place at a particular time to attend their classes.
Online classroom teaching is becoming increasingly popular, allowing students to attend classes from anywhere in the world with an internet connection.
All this means they don't have to worry about getting stuck in traffic or missing out due to illness.
With online education, students can also learn at their own pace and take as much or as little time as they need to complete assignments.
Increased Engagement
Online classrooms also (subjectively) offer increased engagement between teachers and students by providing them with more interactive tools and activities than ever before.
Video conferencing allows teachers to create virtual classrooms where they can conduct lessons in real time while sharing resources such as slideshows or videos with their students.
Screen-sharing tools allow teachers to collaborate remotely with their students or provide coding or graphic design demonstrations.
For some students, courses online can be more engaging than traditional, in-person lectures.
Moreover, for international students, online learning is an excellent option due to its flexibility and convenience.
Having students participate in class discussions facilitated by an instructor creates a new learning experience, which helps students better understand the course material.
Overall, online education makes it easier for students to connect with other students worldwide and effectively explore cultural diversity.
Cost Savings
For students on a budget, online courses can provide course materials, access to experienced instructors, and a flexible schedule – all at an affordable price.
While traditional classroom settings require physical space and equipment such as desks and chairs, this isn't necessary for digital classrooms.
Educational institutions (or even course instructors – more on this later) can save money on rent or utility costs associated with maintaining those spaces.
Additionally, many online learning platforms are low-cost compared to traditional textbook materials, which can add up quickly over time.
Students can save money by opting for online meetings using free or low-cost applications such as Zoom (or one of its alternatives) for a virtual classroom.
As the cost of real-time communication is significantly lower than traditionally renting out a physical classroom space, online education has become more accessible to individuals from all walks of life.
Disadvantages Of Online Learning
While online learning has many advantages, there are a few drawbacks to consider when evaluating online course options.
Overreliance On Technology
With online teaching methods heavily reliant on technology, it can be challenging to create the same level of connection and engagement as an in person classroom.
Additionally, students need reliable access to technology to attend introductory lectures or assignments.
Lack of Human Interaction
The debate over classroom and distance learning often revolves around the lack of human interaction.
While digital classrooms have made strides in providing students with real-time connection to their instructor, some argue that online courses cannot replace the social benefits of being in a physical classroom.
In addition, some argue that in-person classes allow students to get to know their instructors better and make it easier to collaborate with peers.
Poor Time Management Skills
While eLearning has become a popular alternative to traditional learning, some students may need help with the self-directed nature of a virtual environment.
To be successful in an online course, students must have the discipline and motivation to complete their work on time without the physical presence of their instructor.
Fitting an online class into their schedule could be challenging for those struggling with balancing multiple responsibilities.
Benefits Of Traditional Classroom Learning
Now, let's look at some of the benefits of traditional classroom learning.
Face-to-face Interaction
While the increase in online learning has broadened educational opportunities for many, face-to-face learning still offers invaluable experiences.
Classroom learning provides social interaction that supplements the learning process.
Students can develop relationships with their peers and instructors, making the experience more collaborative.
As traditional classes are a mainstay in education, many students still prefer to learn in an environment where they can ask questions and receive help from their teacher.
Collaboration Opportunities
In addition to providing more opportunities for direct interaction between teachers and students, traditional classrooms also offer plenty of chances for peer collaboration.
For example, in classroom learning, students can work together on projects, exchange ideas, and ask for help from their classmates.
Group activities provide a learning experience where students work together to practice problem-solving skills and hone their communication abilities.
Better Focus
In-person classes can provide a different learning experience than online classes.
Classroom learners might have better focus and concentration due to the physical presence of their teacher.
On-campus learning also provides an environment conducive to studying, eliminating distractions, and keeping students accountable for their work.
Disadvantages Of Traditional Classroom Learning
Here are some disadvantages to consider when evaluating traditional classroom learning.
Limited Access to Resources
In traditional classroom learning, online resources are often limited.
Without access to the internet, students can't take advantage of websites or other materials that might be beneficial for their studies.
For example, with online whiteboards in virtual classes, teachers can create interactive visual aids that help bring concepts alive for their classes.
Many classrooms still need to catch up in this regard and make it easier for students to learn.
Inflexible Scheduling
Classroom learning has been de facto for centuries, yet virtual learning offers a much more flexible approach to education regarding scheduling.
Online learning provides the flexibility of time management as students can access course materials anytime, anywhere.
Moreover, online learning allows students to work at their own pace and take exams when they are ready.
These features are generally not possible with classroom learning.
Possibility of Cheating
While classroom and online learning offer various subject matters, when it comes to testing, online university education can have policies that don't allow students to switch tabs when doing exams, making cheating difficult.
In traditional classrooms, however, students that want to can find a way to cheat.
Distractions Still Exist
Classrooms can also be distracting, leading to difficulty in concentrating on learning.
In traditional learning, other students in the school can cause distractions and other external factors like temperature and lighting.
Traditional classroom distractions are not present for online students that prefer this type of learning.
Risk of Covid-19 Infection in Classroom Settings
Due to the recent pandemic, one major disadvantage of traditional classroom learning is the risk of infection.
Despite physical distancing and safety measures in place, classrooms presented a higher risk of Covid-19 transmission than online learning environments.
The Blended Learning Approach
In today's learning environment, many institutions and organizations are beginning to appreciate the advantages of both classroom learning and online learning methods.
As e-learning has revolutionized the way we learn, blended learning (sometimes called hybrid learning) is an approach that combines both online instruction, as well as practical hands-on training.
Online and hybrid learning combines traditional classroom instruction with digital tools and activities, allowing students to get the best of both worlds.
It is an excellent way for institutions to ensure they are providing their students with the best possible educational experience while keeping costs at a minimum.
Students will benefit from the flexibility and convenience offered by virtual courses.
They also get real-world experience that will help them apply their knowledge in various contexts outside the classroom.
Whether it's eliminating commuting needs, reducing the amount of time spent in a physical classroom, or accessing learning materials anytime and anywhere, blended learning offers students several advantages.
Is Traditional Education Worth It?
Many career seekers wonder if they should choose career advancement through traditional education or opt for online learning.
While online classes provide an efficient way to gain knowledge and skills, traditional education can still have advantages.
For specific careers, traditional education often provides a more structured learning environment with face-to-face interaction with teachers and peers.
With online degree programs, you may miss out on traditional education's social and networking opportunities.
The question of blended learning comes in again.
With many universities and colleges offering hybrid learning options that incorporate both online instruction and in-person experiences, students can still enjoy the benefits of traditional education while minimizing potential risks.
Students must also consider how valuable their skills will be when they finish a traditional course.
For example, if you want to start a blog, build an ecommerce business or get a job in digital marketing, online programs can be more valuable than traditional ones.
These programs teach you the skills needed to succeed in those industries.
Getting specific education on a skill in demand is much better than a broad understanding of a subject.
How To Achieve Your Educational Goals
Here are some tips to help you achieve your educational goals.
Create A Plan
In this day and age of self-directed study, with classroom and online learning as two primary educational paths, self-discipline and a strategic plan are crucial to success.
Take the time to map out a roadmap for your educational goals, and determine which path is best for you.
Our lifestyles have changed over the years, making courses and education more accessible and accommodating than ever.
Setting clear objectives to measure your progress and stay on track.
Take Advantage Of Technology
You can focus on what interests you the most with offline and online lessons.
Utilize online resources such as videos and tutorials to enhance your learning experience and stay engaged with the material.
In the online learning vs. classroom debate, you can always find ways to supplement or complement both paths.
Leverage Networking Opportunities
Both students and teachers have connections in the industry that others can leverage.
As students learn, they can also reach out to their mentors and peers for advice and guidance on career paths or other areas of interest.
Knowing the right people can open up many opportunities and increase your chances of success.
Stay Organized
Those who pursue classroom learning need to be self-motivated and organized to get the most out of their classes.
Scheduling regular study sessions, taking notes, tracking your progress, setting goals and deadlines for yourself, and having a plan for when things don't go as expected are all key.
For online learning, use online tools such as calendars, Google Drive, and OneNote to keep track of your progress.
Remain Focused And Motivated
Nowadays, students only need laptops and internet access to begin their learning journey.
With the right tools, you can focus on your goals by carving out dedicated time to get work done.
Knowing how far you've come and rewarding yourself for reaching milestones can help you stay motivated and inspired to pursue your goals.
Building Your Online Course
While many consider themselves students, most hesitate to create online courses.
If you're a subject expert and want to share your knowledge with the world, creating your online course is an excellent way to do that.
As eLearning statistics show the ever-increasing popularity of online learning, now might be the perfect time to get started.
Want to know the best part?
You don't need any prior experience in web development or editing to get started.
Here are a few tips on successfully creating and running an online course:
Plan and Research: Before you start creating an online course, make sure to do your research and plan the course. Think about what topics you want to cover and how many modules to include.
Choose the Right Format: There are different formats for online courses that you can choose from, such as video lectures, audio-only courses, interactive courses, or a combination of all three. Choose the format that works best for you and your audience.
Create Quality Content: The content of your online course should be well-researched, high-quality, and engaging. If you need help crafting engaging content, try using visuals, videos, and other multimedia elements.
Make Your Course Engaging: To keep your learners engaged with the course materials, you can use gamification techniques such as quizzes, challenges, or polls to make the learning process more interactive and fun.
Promote Your Course: Once you have created your course, it's time to promote it. Build a website or landing page where people can learn more about the course and sign up. Use social media, email marketing, and other channels to spread the word about your online course.
Conclusion
It's an age-old debate – physical classroom vs. online learning.
In reality, each student's educational journey will look different.
To successfully reach your goals and maximize the educational opportunities available, it is essential to stay focused on realizing that focusing on the possibility that creates the best return on your time spent is the key to success.
With education so freely available, the key is to realize that you can succeed at anything you choose to – but not everything.
Choosing wisely and remaining focused is vital.
Further reading on AdamEnfroy.com: Here's the best way to sell online courses this year.
Moreover, here's a review of Thinkific vs. Kajabi, two popular online course platforms.
Disclosure: I may receive affiliate compensation for some of the links below at no cost to you if you decide to purchase a paid plan. You can read our affiliate disclosure in our privacy policy. This site is not intending to provide financial advice. This is for entertainment only.
---
Last Updated on February 20, 2023 by Adam Enfroy