7 Best Online Learning Platforms of 2023 (Ranked & Reviewed)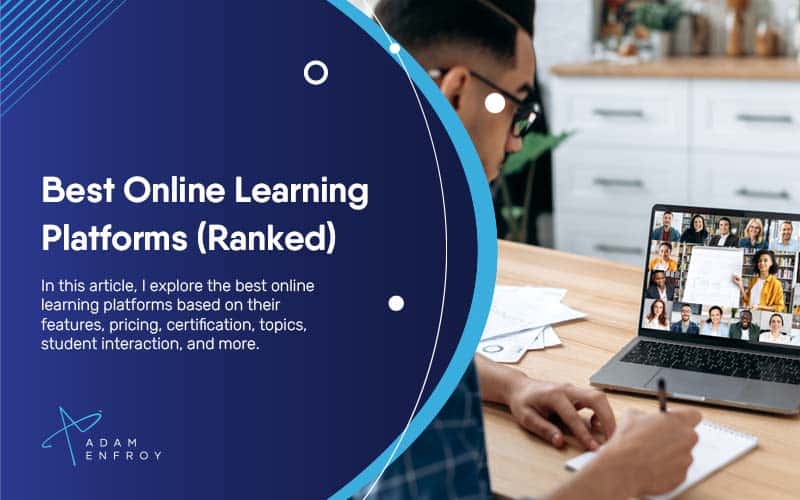 Online course platforms are so popular that the eLearning industry has experienced a 900% growth since 2000.
In this article, I'll rank and review the best online learning platforms based on their features, pricing, certifications, topics, student interaction, and more.
Whether they're looking at creating an online course to supplement their income or are interested in building an online micro-learning platform that focuses on employee training, knowing what's out there is critical.
Let's get to the list.
What Are The Best Online Learning Platforms?
Best For Its Range Of Available Courses.
Udemy offers a broad selection of courses, ranging from programming and data science to design, illustration, and personal development.
No matter what you want to learn, Udemy has a course for it.
Udemy offers more than 185,000 online video courses taught by expert instructors.
You can learn at your own pace and on your own time, and new courses are constantly being added to the Udemy platform.
With various instructors comes various course styles, so you can find a teaching style that works best for you.
Also, if you are an expert in a particular field, you can create your course and earn money by teaching others on Udemy.
Key Features: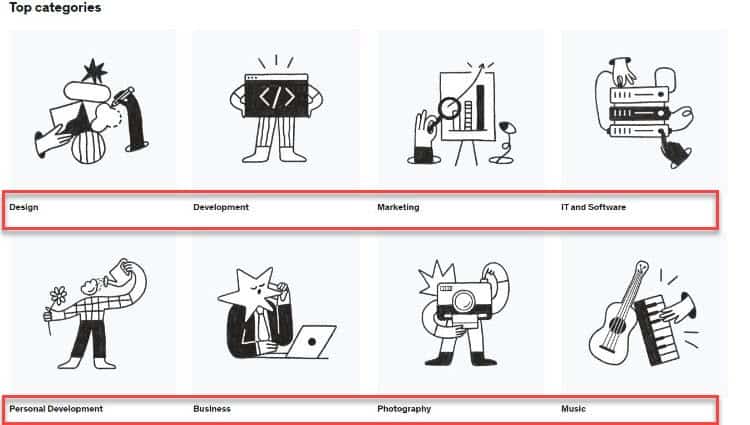 Lifetime access to courses ensures that you can revisit the material as often as you need to
Learn at your own pace with flexible schedules
Get a certificate of completion to showcase your achievement
Ask questions to instructors and get feedback that helps you learn better
User Experience: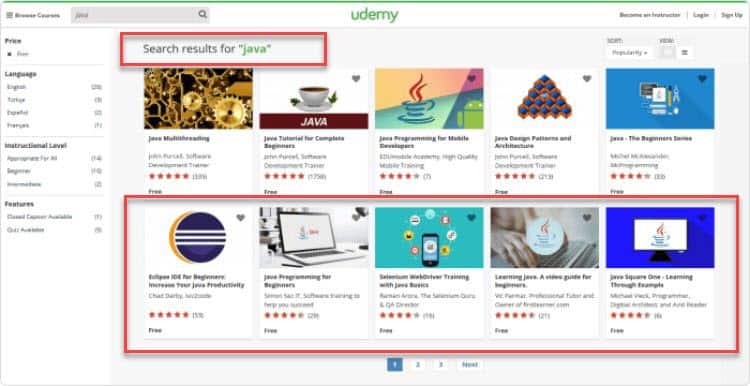 Finding courses is relatively easy, and the platform is designed to make learning easy and fun.
No matter which topic you want to learn about, Udemy has a course for it.
Pricing:
The cost varies depending on the course you choose.
The good thing about Udemy is that they offer various discounts throughout the year.
What I Like/Dislike About Udemy
Like:
The range of available topics really is as vast as it gets.
Both web and mobile applications are available for enrolling in Udemy Business courses.
Dislike:
Several courses could be further enhanced through better / fresher quality.
Product Updates:
Udemy for Apple TV allows students to take their learning experience to various other devices.
Get started with Udemy.
Best For Creative Courses.
Skillshare is an online learning platform with a focus on creativity and design.
If you want to learn how to be more creative or improve your design skills, Skillshare is a great option.
With a mobile app, online courses, and offline events, Skillshare makes it easy to learn new skills and connect with other creatives no matter where you are.
With courses with projects assigned to them and a community of like-minded creatives to connect with, Skillshare is an excellent platform for those who want to improve their creative skills in various areas.
Key Features: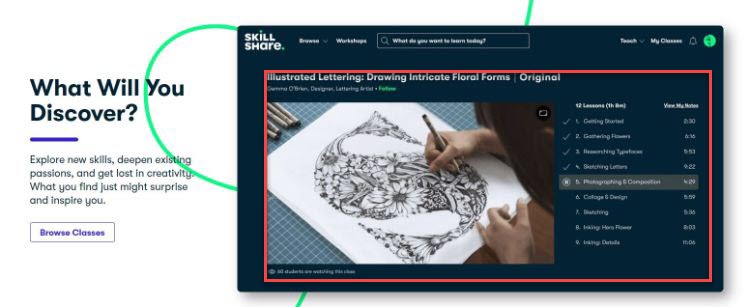 Get a meaningful membership that helps you lead a more creative life.
Online learning designed for real life gives you the flexibility and support you need to achieve your goals.
Learn from anywhere with a mobile app that makes any of your courses more accessible.
User Experience: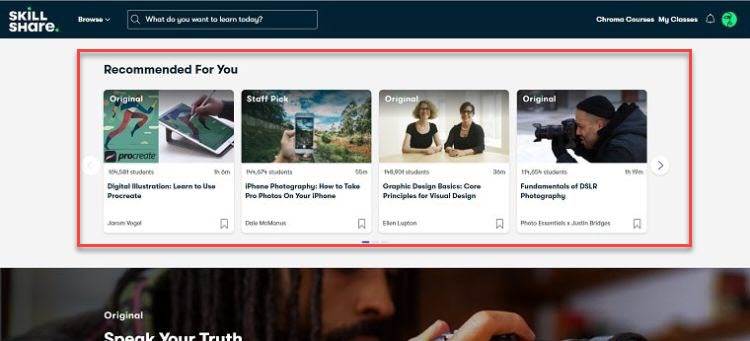 The product recommendations are usually on point and show you some great options you may not have considered otherwise.
Pricing:
There are various plans to consider.
Skillshare for Teams allows you to get together and access the right content for groups of people.
This is perfect when supporting one another through the learning process.
Corporate gift cards are also great to show employees that you value their development.
Finally, there are also some free courses to consider.
What I Like/Dislike About Skillshare
Like:
Compared to other platforms, Skillshare's courses are more demonstrative.
The site will benefit graphic designers, painters, and lifestyle artists more than other types of careers.
Dislike:
Some courses might not go into more advanced details about a topic or particular study area.
Get started with Skillshare.
3. EdX.
Best For Institutional Education.
EdX is the top online learning platform for the world's educational institutions, offering high-quality courses in various subjects.
Exploring top courses that can get you closer to your career goals from the comfort of your home is a great advantage that this platform can offer.
As part of its core mission, EdX aims to enable transformation as part of the learning process.
Based on cutting-edge cognitive science research, EdX is designed to help individuals learn more effectively and achieve their goals.
Key Features:

Experience world-class courses from the best instructors
Learn at your own pace with flexible schedules
Get a certificate of completion to showcase your achievement
From computer science to business & management, engineering, and much more, you can find suitable courses on EdX.
User Experience: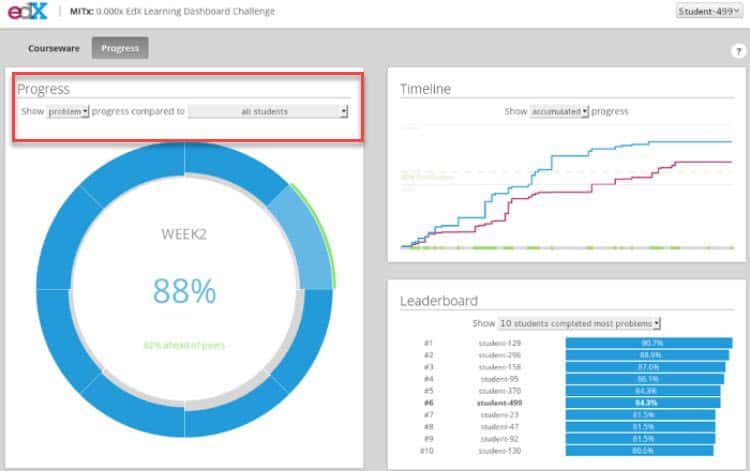 Seeing course progress and where you stand compared to peers is a great way to stay motivated while learning on EdX.
In this regard, there is also a timeline and leaderboard information that is very helpful.
Pricing:
It depends on the course you decide to go for.
What I Like/Dislike About EdX
Like:
This is a fantastic resource for serial learners that want to upskill or change their career paths.
Users have the option to personalize or modify anything in the projects.
Dislike:
The authoring components of EDX may be complex for those just starting.
Product Updates:
edX launches its first courses with Meta immersive learning so you can take your learning experience virtually.
4. LinkedIn Learning.
Best For Business Professionals.
While many turn to LinkedIn for its professional networking capabilities, LinkedIn Learning is an excellent resource for those who want to improve their skills and learn new ones.
Linkedin Learning offers many personalized courses based on your role, industry, and skills.
With the social networking platform identifying areas that you may need to improve on, LinkedIn Learning is a great way to get tailored content to help you reach your goals.
You can also search for the top skills you want to learn and get started with a course that covers that topic.
Key Features:

Relevant recommendations make it easy to find the courses you need
The intuitive admin tools make it easy to manage your learning
You can save your progress so you can pick up where you left off
Custom and pre-built learning paths help you organize your learning journey.
User Experience: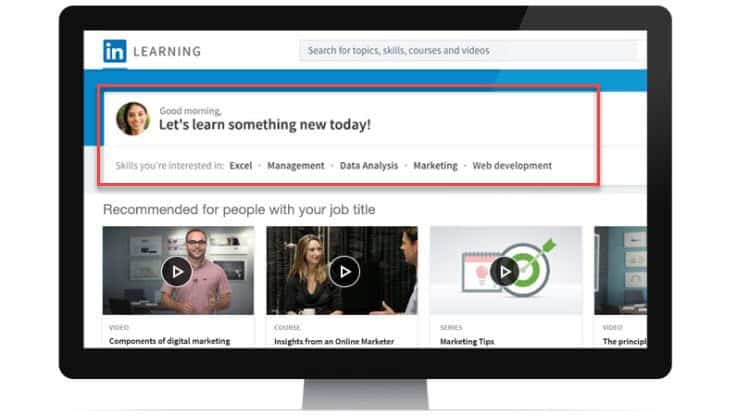 The level of detail when it comes to specific recommendations is beneficial.
Sometimes, you don't even think of a skill that might be helpful in your current role, but the platform brings it to your attention.
Pricing:
You get a free month with this online learning platform.
After that, you can buy the specific courses you're interested in.
What I Like/Dislike About LinkedIn Learning
Like:
There are a variety of training options to select from.
Instructors are generally great at what they do, teaching effectively and making the subject matter easy to understand.
Dislike:
The LinkedIn team sends you regular updates, which might be too much for some users.
Product Updates:
More new content and features are added to make learning more engaging and enjoyable.
5. Mindvalley.
Best For Self-Development Courses.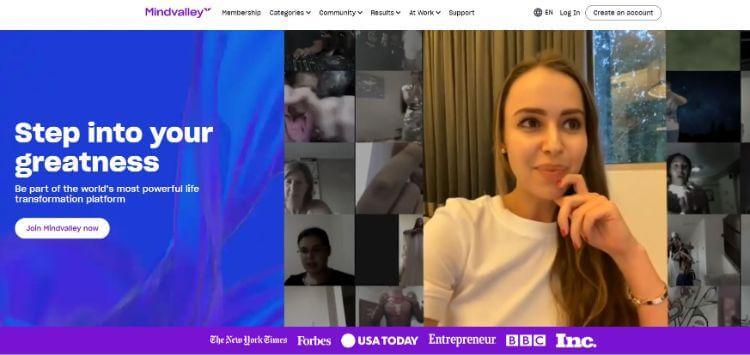 Mindvalley is an online learning platform that offers courses on various topics such as personal growth, health and fitness, lifestyle, business and entrepreneurship, spirituality, and more.
With a focus on personal development, Mindvalley offers programs that are designed to help you reach your full potential.
With complete access to all the courses, Mindvalley makes it easy to find the content you need and start learning.
There are also daily live classes from top instructors, which makes it easy to get started with Mindvalley, no matter where you are in your journey.
Finally, with their private social network, you'll also meet like-minded people from all over the world who can support you on your journey.
Key Features: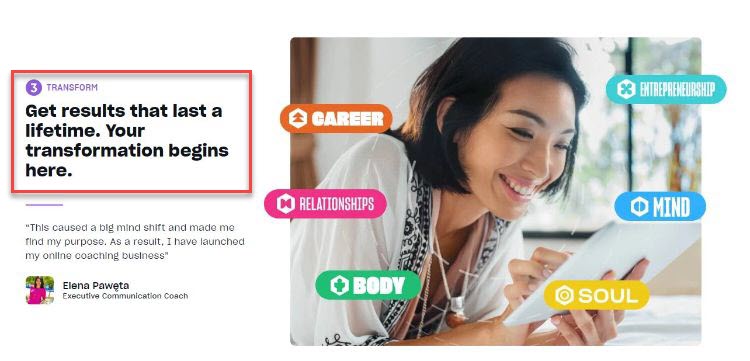 Level up your life with Mindvalley, getting better in various aspects.
Be part of a community that cares about you, your goals, and your journey.
Get results that last a lifetime with programs designed to help you reach your full potential.
Their events will help you connect with like-minded people and top instructors.
User Experience:
You can resume any course at any time with automatically saved progress.
New courses are also released weekly, keeping the platform fresh and up-to-date.
Pricing:
There are two plans available:
Monthly Membership: $99/month
Yearly Membership (Save 58%): Charged annually at $41.60/month
What I Like/Dislike About Mindvalley
Like:
The tool offers brief, easy-to-understand video lessons, so it's perfect for those with a short attention span.
The community is very encouraging, and connecting with like-minded people is easy.
Dislike:
The price is higher than other platforms, but you get access to a lot of content.
Product Updates:
The provided self-assessment shows you where you need to grow and what kind of Mindvalley courses will help you achieve success.
6. DataCamp.
Best For Data Science.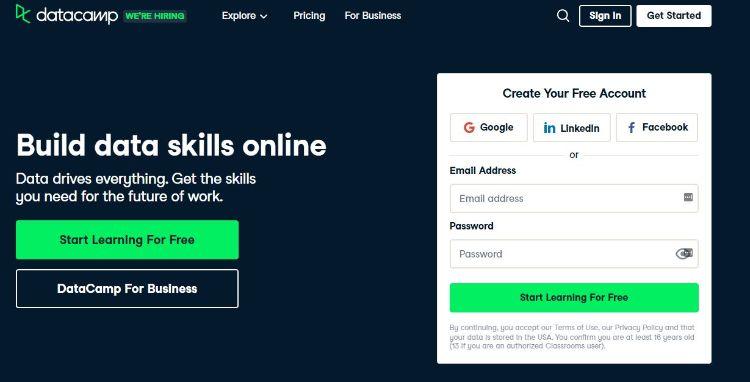 DataCamp is an online learning platform that offers data science, programming, and analytics courses.
With a focus on helping users learn the skills they need to get a job in the tech industry, DataCamp has a variety of courses that cover topics such as Python, R, SQL, and more.
DataCamp also offers certification programs that help you stand out from the crowd when applying for jobs.
With regularly updated content, DataCamp is an excellent resource for those who want to stay up-to-date with the latest trends in the tech industry.
With professional courses in various areas ranging from non-coding essentials to data science, this online learning platform is perfect for those who want to learn everything they need about data.
Various learning paths designed by experts are available, so you can learn at your own pace and according to your needs.
Key Features: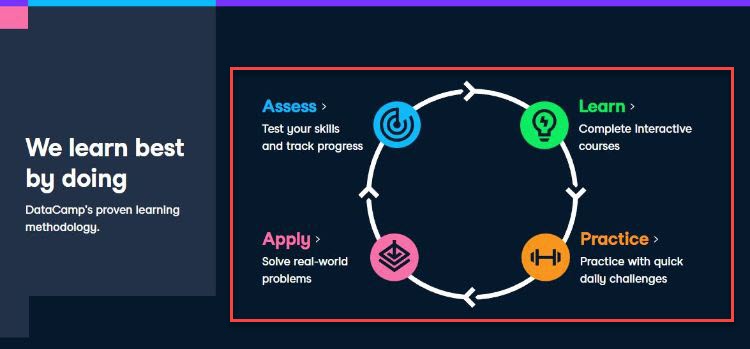 Build data skills online using the latest tools and technologies.
Skill up at scale with DataCamp's enterprise solutions.
The hands-on learning experience with interactive exercises and short videos.
Practice and apply your skills with the code you're learning, directly from your browser.
Pricing:
There are two pricing plans on offer:
Teams (2+ people): $12.42 per user /month billed annually
Enterprise: Contact sales for pricing
Best For Expert Education.
MasterClass offers courses taught by experts that have significantly impacted their field.
Get access to video lessons, behind-the-scenes footage, and more from some of the world's best athletes, chefs, writers, and business leaders.
With courses that cover a wide range of topics, MasterClass is perfect for those who want to learn new skills or improve their existing ones.
With new classes added monthly, MasterClass is constantly expanding its offerings, so you can find a course that's perfect for you.
From arts and entertainment to business, music, and food, MasterClass has something for everyone.
Key Features: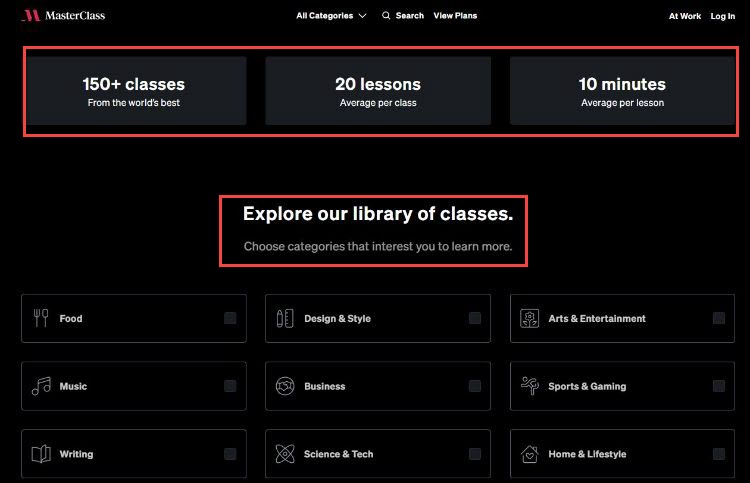 MasterClass classes are about 2-5 hours on average, so you can finish a class quite quickly.
Individual lessons are usually between 2-5 minutes, making each content piece easily digestible.
Classes come with a workbook that contains all the needed materials to follow along with the course.
With interactive assignments, you can test your newly learned skills.
Be a part of a supportive community and get access to exclusive events.
Pricing:
Here are the plans that Masterclass offers:
Individual: $15/mo billed annually
Duo: $20/mo billed annually
Family: $23/mo billed annually
Other online learning platforms not mentioned in this article include Coursera, Massive Open Online Courses (MOOCS), Lynda, Udacity, and more.
What Are Online Learning Platforms?
An online learning platform is a website or software application that helps users learn new skills or knowledge. These resources can offer various content, including courses, articles, videos, and more.
With online course platforms, users can learn at their own pace and on their own time.
These platforms also offer a convenient and flexible way to learn new skills since you don't need to commute to a physical location.
Learning Management System Vs. Online Education Course Platform
While there are many ways of referring to platforms that deliver lessons online, knowing the difference between an online education platform and learning management systems (LMS) is critical when determining the best option for your needs.
The main difference between an LMS and an online course platform is that the former is traditionally designed for managing courses.
In contrast, an online course platform is designed to create and deliver lessons without much thought about the backend.
The use cases of an LMS and an online course platform can overlap, but the former is generally geared towards formal learning experiences, while the latter is geared towards more informal and flexible learning experiences.
The learning curve with using an LMS is generally longer than an online course platform since managing courses is more complex than just delivering lessons.
Also, the time to market is generally longer with an LMS since you need to account for the learning curve as well as the time required to populate the system with your course content.
Pricing is another crucial difference, with an LMS generally being more expensive since it requires more maintenance to ensure it's running smoothly.
An online course platform usually comes with a monthly subscription fee, but it will be lower than an LMS since there is no need to account for the same degree of overhead when managing courses.
Features Of A Great Online Learning Platform
From self-paced learning to e-learning platforms that allow for real-time interaction between the instructor and the learner, the right system provides a space where education can happen.
With these eLearning platforms becoming more popular, there are several features to look out for when choosing the right system.
Some of these features include the following.
Unlimited Access To Course Materials
One key functionality that an online learning platform should have is unlimited access to course materials.
For those that are beginners in a subject matter, being able to access course materials as many times as necessary is key to ensuring that they understand the concepts being taught.
This feature is also essential for those that want to review a particular subject matter before taking an exam or sitting for professional certification.
A Variety Of Media Formats Available
When it comes to the courses offered on an online learning platform, there must be a variety of media used to cater to different learners' needs.
Some students prefer video content, while others prefer reading articles or listening to audio.
The best online learning platforms will offer a variety of content types to cater to the needs of all learners.
Professional Certificates From An Accredited Institution
Traditionally, sitting for an online degree from MIT, Harvard, the University of Berkeley, or any other top-ranked institution was a great way to further your career.
However, not everyone has the time or the resources to attend these institutions.
Whether it's higher education, a Bachelor's, a Master's degree, or even just a certification, an online learning platform that offers professional certificates from accredited institutions is a great way to further your career without having to attend these institutions physically.
A Course Library That Reflects Current Trends
The spectrum of topics needed for professional development is constantly changing.
Nowadays, having an idea of what's happening in various areas, including humanities, cybersecurity, web development, and anything in between, can be helpful.
With the pandemic having a significant effect on the work landscape, having a range of topics offered through online learning platforms is key.
All the courses should reflect the latest trends to ensure that those taking them are up to date with the relevant knowledge and skills.
Self-Paced Training
Individual courses should always focus on quality, and the right online learning platform will allow you to self-pace through a course.
Whether you're a fast or slow learner, being able to control the pace of the course is a great way to ensure that you're getting the most out of it.
Self-Testing Methods
From tutorials and quizzes that follow video content to learning materials that come with tests at the end of each chapter, the best online learning platforms will always provide a way to test your knowledge.
This ensures that you are learning and retaining the material correctly and can apply this knowledge when needed.
Ability To Go Through A Free Trial Before Paying
While you can get an idea of the learning environment you can expect from the homepage of a platform, the testimonials and reviews on offer, and various case studies, there is nothing like trying a platform out for yourself.
Having at least a seven-day trial to experience the platform and the course material is ideal when making an informed decision about whether or not an online system is the right fit for you.
Various Pricing Plans
Whether a monthly subscription or a one-time fee for a course, the best online learning platforms might offer different pricing plans.
This caters to the needs of all learners, as well as ensures that there is a plan that fits one's budget.
Mobile App
The platform you choose should have a dedicated app for those who prefer to use their iOS or Android mobile devices to learn.
This makes it more convenient and easier to access the courses and learning materials, track your progress, and gain knowledge while on the go.
A Community
Forums can help get students together to discuss the course material, ask questions, and even support each other.
From future entrepreneurs to potential social media graduates, the best online learning platforms will have an active and engaged community regarding the subject matter.
Wrap Up.
Nowadays, online learning platforms are a dime a dozen.
However, the ones that reflect the needs of current and future students, and provide specific features that enable learning, are those that will still be around for years to come.
With a global desire for both flexible and affordable education, a learning platform that can offer this will always be in demand.
To recap, the best online learning platforms right now are:
Udemy: Best For Its Range Of Available Courses
Skillshare: Best For Creative Courses
EdX: Best For Institutional Education
Have you taken a course on any platform on the above list?
If so, what was your experience like?
Let me know in the comments below!
Further reading on AdamEnfroy.com: Taking online classes has its pros and cons.
Understanding these advantages and disadvantages can help you be a more successful online student, as you'll be able to tailor your learning experience to fit your needs.
Whether you're an employer looking for the best employee training software to keep your staff updated on the latest trends, or one that is looking for a digital adoption system to ensure that your customers are using your product the way it is intended, you're going to want to find a learning platform that has everything that you need.
Check out these review articles dealing with some of the top online course platforms available right now:
These reviews can help you get a better idea of what each platform offers, as well as how they might be able to benefit you and your online learning goals.
Finally, one of the simplest platforms I've found for creating an online course is Skool. With a focus on community building along with the ability to easily create and manage courses, you'll be able to quickly get up and running with your own personalized learning experience.
Check out my full Skool review for more information.
Disclosure: I may receive affiliate compensation for some of the links below at no cost to you if you decide to purchase a paid plan. You can read our affiliate disclosure in our privacy policy. This site is not intending to provide financial advice. This is for entertainment only.