Skool Review: Features, Benefits & Pricing (2023)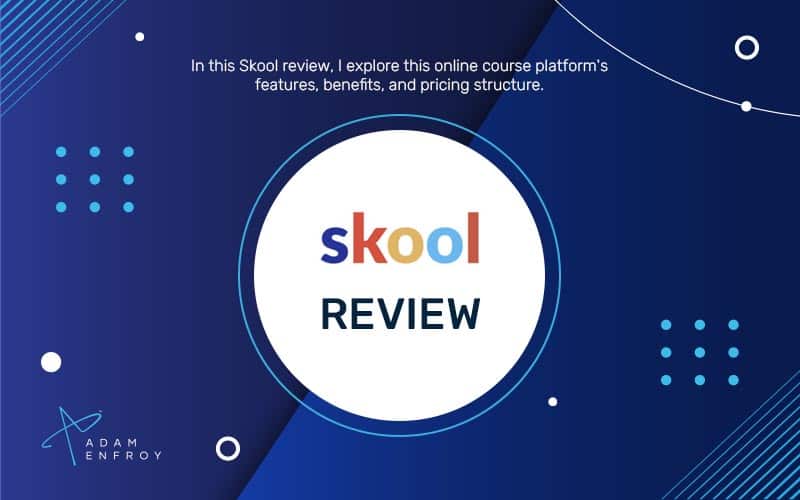 Building a community of engaged students is one of the most challenging aspects of an online course.
The technical complexity of setting up and managing a platform used to be too much for most, and the cost of hiring a dedicated support team was prohibitive.
Until now.
Skool claims it can change the process of creating online courses, simplifying the life of course creators.
It provides a comprehensive platform for such creators to engage their students quickly and cost-effectively.
But is Skool the right platform for your needs?
In this review, I will explore Skool's features, benefits, and pricing structure to help you decide.
What Is Skool?
Skool is a community and course-hosting platform created to incentivize interaction among students and instructors.
Founded in 2019 by Sam Ovens (known for his popular course "Consulting Accelerator"), Skool focuses on creating an engaging environment to promote learning.
With the community at the center of the student's experience, Skool aims to deliver what more powerful course platforms have yet to provide.
If a simple and easy-to-use platform that encourages students to engage with each other and the instructor sounds like a dream, Skool might be the platform to consider.
Skool Features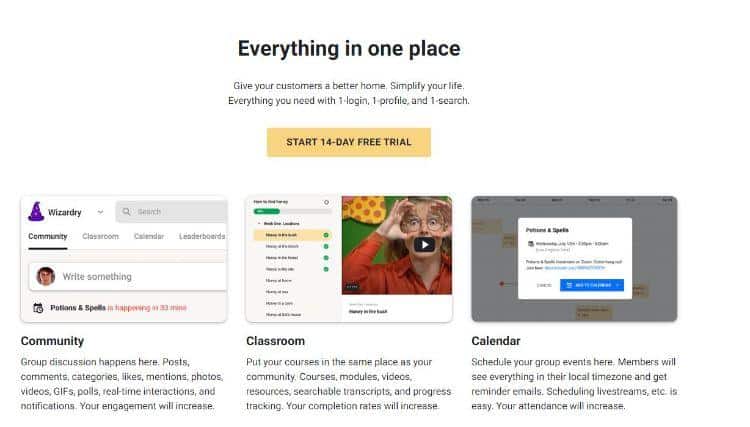 One can build their own community by taking advantage of Skool's course creation features.
These features simplify the process, so business owners can quickly create and manage their course content.
However, this tool shines with its community creation tools.
From displaying engaging notifications, simplifying content consumption, and using gamification and reward features, Skool helps to ensure member engagement.
Staying on top of things was a headache in the past whenever students undertook courses.
Skool provides course takers with a visual calendar, offering an easy way to keep track of all their courses, upcoming events, and class times.
Skool's Online Course Platform
Let's go deeper into Skool's online course feature.
With the core curriculum of your programs added to the platform, community members can access content from anywhere and on any device.
As the owner, you can easily share your lessons with students.
You can also combine content such as videos, images, and downloads through a simple back-end that allows you to add your materials quickly.
Categories also help you organize your course into various sections.
Each module can also include multiple files and documents to help teach the material.
There are also action items for members to complete during their learning journey.
You can even offer transcripts to your members so they can review important topics more quickly.
Overall, the course user experience is smooth and intuitive – allowing students to navigate courses without any learning curve.
Get started with Skool.
The Cons Of Skool's Online Course Creation
Note that Skool does not support video hosting, and you'll have to use your solution when adding videos into modules or lessons.
In addition, the layout and design are pretty static and can't be changed much.
The developers created this on purpose, going for a default build that is simple and minimalistic.
Skool's online course creation also lacks several learning tools and testing tools that can help assess students' understanding of the material.
There are no ways to assess your students as they complete modules or even when you add new material.
In other words, there are no quizzes, PDFs, assessments, or any other student test tools.
This lack of testing abilities is a con compared to other popular platforms.
Skool's Community Platform
As a community tool, the Skool platform allows course owners to engage with their members and build an active community.
This community aspect feels similar to a Facebook group feed where users and admins can create posts that include text, video, polls, or links.
Also, the posts are easily searchable since the system organizes them into categories that help users find the ones they want.
Direct messaging allows for private conversations between instructors and students, as well as students and other students.
This communication facilitates the building of relationships and interaction with the community.
Consuming Content
When consuming content, users can read, like, and comment on the posts in the forum.
Users can also subscribe to get notified when new replies come in from other members, which helps keep them up-to-date with any changes or discussions within a specific post.
They can also attach their files to any answers they provide, making it easier for people to share resources and knowledge when needed.
The functionality of this platform also allows for easy sharing on social media.
One can easily share each post on external platforms, including publishing tweets and sharing images on various networks.
Member profiles
Every member gets a profile that anyone in the community can view.
Here, members can see each other's activity and latest posts, encouraging them to engage with one another.
Users can also direct message each other to discuss specific topics or questions.
Gamification Aspect
One of the best functionalities this platform offers is its gamification aspect.
With a leaderboard that shows who's the most active and engaged member, it encourages people to take part in conversations and post high-quality content.
As users make posts the community deems valuable, they will receive likes from other members.
These likes indicate appreciation for their contribution but also serve as an incentive for others to participate more.
They also translate to points and levels, which admins can use as rewards for reaching certain milestones or goals within the course.
With the ability for admins to mark posts as gems, there's also an element of recognition, as popular posts will be highlighted and rewarded.
Posts will then display a gem icon next to them to show that they are special or unique within the course.
If you're looking to build a community that rewards members and motivates them to contribute more content, Skool is worth considering.
Skool Calendar Feature
Whether you offer coaching programs or need help organizing events, Skool's Calendar Feature is the perfect tool to help you keep everything in place.
With a calendar integrated into your platform, you can easily schedule and manage your upcoming events.
It uses an email marketing system to deliver email notifications about upcoming group calls, webinars, or any other event you add.
The system also considers your member's time zone upon scheduling these events so they can get all the essential information in due time.
Skool is not a scheduling platform, so you'll still have to use an event-hosting tool to arrange events.
This feature makes it easier for everyone involved to find out what's happening and when.
What Skool Is Missing
Let's consider various aspects Skool might want to add to be a complete platform.
Tools for collaborative learning: Skool currently offers the ability to post and comment on content. It would be great if they could add features that allow members to work together, such as document sharing and collaboration functions.
Mobile App: Although Skool is available through a web browser, there is currently no dedicated app. This lack of a mobile app means users have to access their courses using a laptop or desktop computer, which can be inconvenient for those who are always on the go.
Integrations with other platforms: Skool could integrate with popular software such as Zoom (or one of its alternatives) or Calendly so that users can have a one-shop-stop experience with their courses.
API or webhooks to integrate with other platforms: By having APIs or webhooks, users could build custom integrations with other platforms to make their courses even more dynamic.
What I Love About Skool
The platform makes a significant effort to keep a simple and sleek user interface.
The back end is concise and easy to navigate for members and admins.
This ease of use makes it accessible to everyone, no matter their technical ability.
New members get a side panel that combines the platform's various options, from creating content to joining group calls.
This sidebar makes it easier for people new to online courses to understand what they must do before embarking on their learning journey.
It also removes unnecessary confusion or guesswork, which can sometimes derail an educational experience.
Get started with Skool.
Skool Customer Support
While there is no live chat or direct tech support, you can use email to contact support, and they are usually quick to reply.
While this type of communication might not be the most convenient, shooting the customer support team an email is usually enough to resolve the issue quickly.
Pricing
Skool keeps the idea of simplicity with its pricing structure.
Offering a single plan costing $99 per month, it is accessible to businesses of all sizes.
Note that this fee allows admins to manage a single group through the platform.
A group features an unlimited number of members following unlimited courses.
There are also all the community and calendar features mentioned earlier, which make both engagement and planning events much more accessible.
One can also go through a 14-day trial to decide if Skool suits their needs before committing.
Skool Review – FAQ
Who Is Skool For?
Online course creators and coaches who need an easy-to-use platform to share their content, manage a community, and connect with their students will find Skool helpful.
Additionally, anyone looking for an all-in-one platform solution to manage an educational or training program can use this platform.
Does Skool Allow For Collaborative Learning?
Skool does not offer any native tools for collaborative learning, but it does have a platform community feature that allows members to communicate with each other and engage in discussions.
Additionally, members can send each other direct messages.
Wrap Up.
In this Skool review, I hope I have been able to give you a good overview of the platform and its features.
As an online course platform, Skool is an excellent option for a user-friendly, all-in-one platform with plenty of features and support.
With its free trial and affordable monthly plan, it is worth trying out for the course creator who wants to create an online course without any hassle.
However, if you're looking for a more complex yet feature-rich learning platform, Skool might not be the right fit.
Get started with Skool.
Further reading on AdamEnfroy.com: Online learning platforms for businesses come in many shapes and sizes.
Knowing which one to choose can take time and effort.
Here are some of the top course platform reviews to consider:
In addition, knowing how to sell online courses is as important as choosing the right platform.
Finally, check out the best microlearning platforms to create more easily consumable courses.
Disclosure: I may receive affiliate compensation for some of the links below at no cost to you if you decide to purchase a paid plan. You can read our affiliate disclosure in our privacy policy. This site is not intending to provide financial advice. This is for entertainment only.
---
Last Updated on February 20, 2023 by Adam Enfroy