The Must-Have GPT 3 Content Generators for Marketers (2023)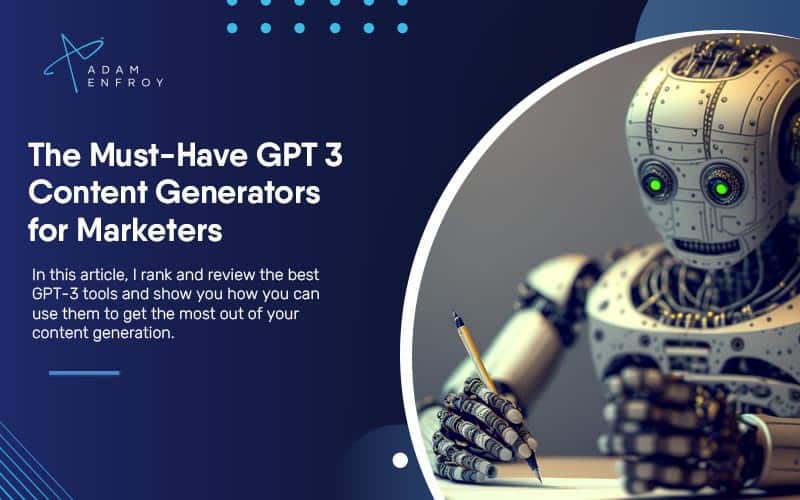 GPT-3 is a powerful tool for content generation.
It uses a deep learning algorithm to generate high-quality, natural language text based on user input.
Whether you run a blog, need content for your website, or want to generate creative ideas to market your business, GPT-3 is a great way to get started.
In this article, I'll review the best tools utilizing GPT-3 technology and how you can use them to get the most out of your content generation.
What Is The Best GPT 3 Content Generator?
Here are some of the best GPT-3 content generators available.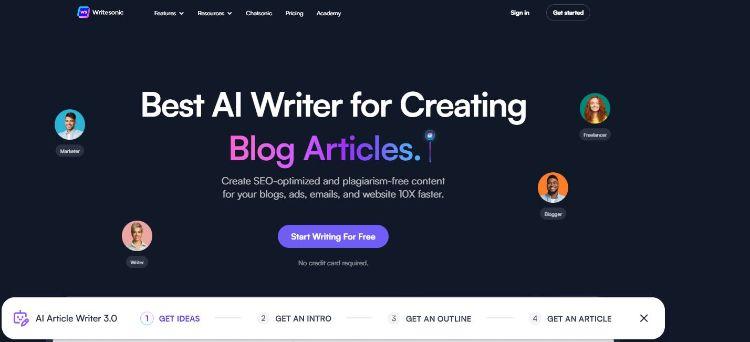 Writesonic is a revolutionary AI-powered technology based on GPT3 that enables the rapid creation of high-quality content.
From SEO-optimized content that is plagiarism free to its Growth Ideas Generator for building high-converting landing pages, Writesonic has it all.
Writesonic's SEO optimization tool helps you create SEO-optimized content quickly and easily.
This technology uses natural language processing (NLP) algorithms to generate unique, SEO-friendly, plagiarism-free content.
With this tool, you can create keyword-rich content to boost your website's ranking in search engines.
You can also use the tool to generate hundreds of unique articles in just minutes—saving you time and money in the long run.
The Growth Ideas Generator helps you create high-converting landing pages by offering up a range of ideas based on user research data.
You don't need any technical skills or coding knowledge.
Input a few keywords into the generator, and it will produce a list of creative ideas for optimizing your website's performance.
Writesonic also offers ad copy tools specifically designed for Facebook, Google, and other media platforms.
These tools help you write compelling ads more likely to be clicked by potential customers.
Key Features:

Get blog post ideas that hook readers and get them to keep reading.
Instantly generate influential SEO-optimized articles that are plagiarism free.
Create hundreds of unique articles in minutes with the AI-powered Article Generator.
Automatically write compelling ad copy for Facebook, Google, and other media platforms to boost conversions and reduce costs per click.
Gain valuable insights from user research data to optimize website performance.
Powerful AI algorithms continuously learn and generate better recommendations over time.
User Experience: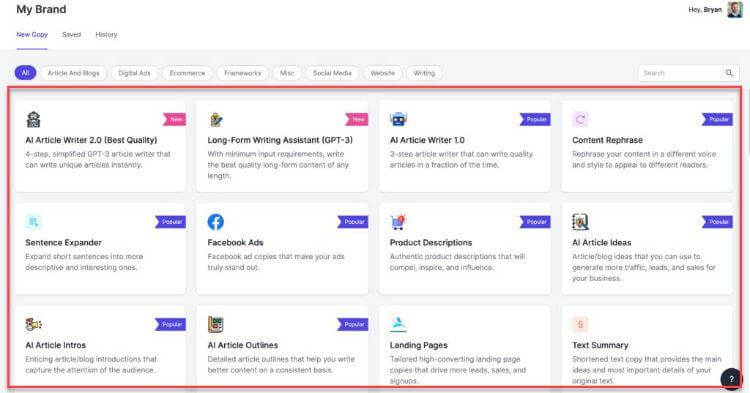 Tens of Writesonic templates allow you to quickly generate high-quality content, making the entire process simple and efficient.
Pricing:
Writesonic offers three pricing plans:
Free Trial: $0
Long-form: $12.67 /month
Custom Plan: Contact Sales for pricing
What I Like/Dislike About Writesonic
Like:
Their AI writing assistant creates high-quality content quickly and efficiently.
The tool ensures the content produced is entirely original and plagiarism-free.
Dislike:
One can only add a limited number of users under one account.
Product Updates:
Chatsonic, a chatbot that assists customers in real-time, is now available on Writesonic.
Best For AI Copywriting.
Copy.ai is an AI-powered content generator allowing users to quickly create engaging campaigns.
In addition, this platform helps users quickly create meaningful social posts without sacrificing quality.
Copy.AI transforms your input about your brand and products into focused messages that grab attention and engage with your target audience.
With Copy.AI, you can quickly generate high-quality content in less time than it would take to do it manually – all while saving money on costly copywriting services.
One of the best features of Copy.AI is its editor feature, which allows users to fine-tune each campaign message until it's just right.
This feature ensures that each post generated is tailored specifically for your target audience.
As a result, your audience is more likely to respond positively to the message and further engage with your brand.
Not only does this make creating content fun to do, but it also saves time and money by eliminating the need for additional editing services from outside sources.
With Copy.AI, busy copywriters no longer have to waste time on manual content creation or pay extra fees for editing services.
Key Features:
Generate blog intros using natural language processing and machine learning algorithms.
Write better digital ad copy for Google Ads, Facebook Ads, and more
Create catchy email subject lines that get people to open and read your emails
Optimize your website's SEO with the AI-powered meta tag generator
Generate campaign ideas from user research data to drive conversions
User Experience: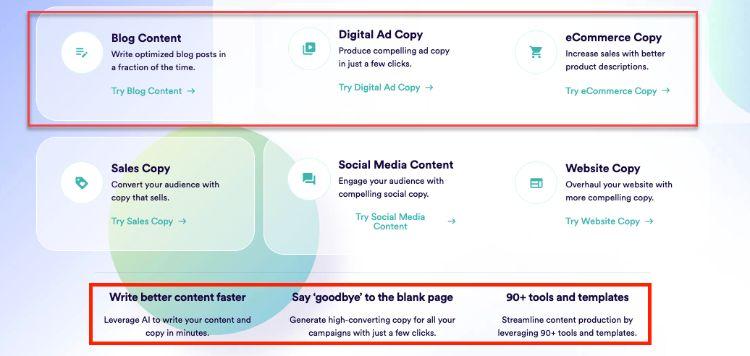 The team has placed all the necessary tools under the correct category.
Doing so makes finding what you need quick and easy.
Copy.ai's user interface is intuitive, making creating campaigns without design experience or technical know-how simple.
Pricing: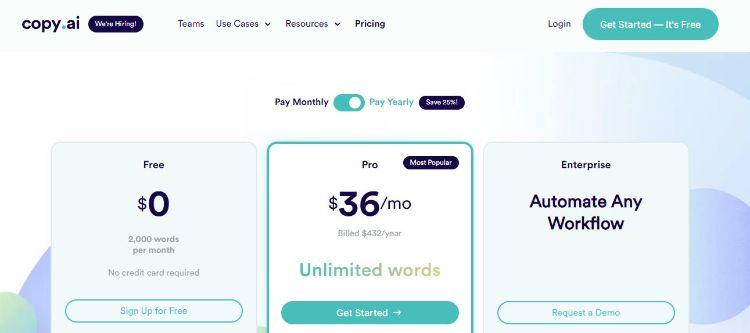 Copy AI offers two pricing plans:
What I Like/Dislike About Copy AI
Like:
The provided free credits are great for testing the features before committing to a paid plan.
The quality of generated content and the AI-powered content generation process is top-notch.
Dislike:
If the platform implemented sub-folders as a way of organizing created content, it could make the user experience much better.
Product Updates:
With the free credits that regenerate every month, you can try out new features and updates on the platform forever.
Best For Long-Form Content.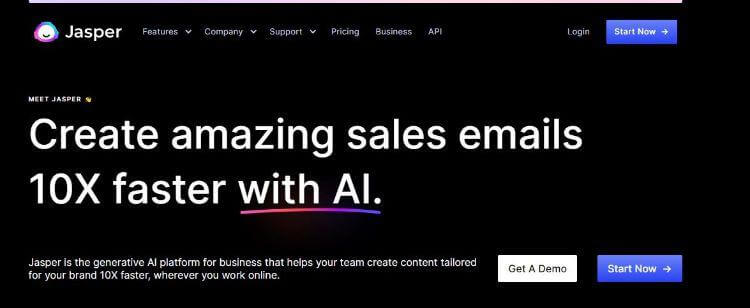 Jasper's artificial intelligence platform helps you create compelling and high-converting marketing copy much faster.
Not only is Jasper multilingual and able to read and write in 25 languages, but it also has a convenient browser extension so you can work on sprucing up your text from anywhere.
Jasper offers more than seventy templates you can choose from, depending on the type of content you need to create.
From LinkedIn outreach posts to blog posts and press releases, Jasper has a template for you.
Jasper also allows you to write long-form content faster than ever.
With its AI-powered text editor and suggestions, you can create compelling content quickly with fewer spelling and grammar mistakes.
Jasper's long-form content tool (Boss Mode) helps you write in-depth articles, book chapters, and even entire books.
Key Features: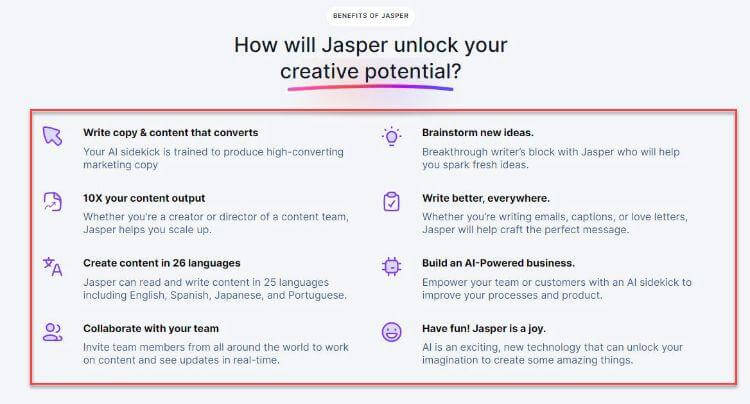 Come up with dozens of clever Instagram captions for the perfect post.
Write catchy video scripts to go viral on YouTube and TikTok.
Brainstorm unique marketing angles for your products or services.
Generate stunning images that grab attention in social media feeds.
Create bespoke sales emails with an AI-generated image that complements their content.
Use the Jasper Chrome Extension to write directly wherever you are on the web.
Ask Jasper to brainstorm problems your market faces.
User Experience:
The Jasper team ensures that the platform stays user-friendly and easy to use while being bug-free.
From its Boss Mode (with its extended form editor) to templates with its AI-powered text editor, the platform helps users create content quickly, accurately, and with fewer errors.
Pricing: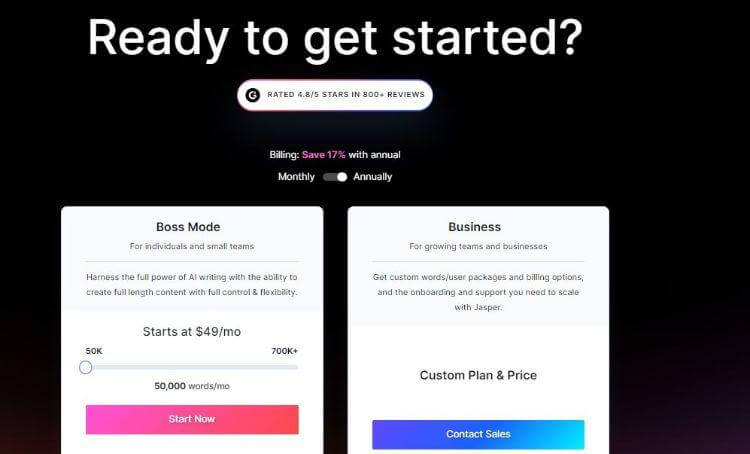 Jasper offers two pricing plans:
Boss Mode: Starts at $49/mo
Business: Custom Plan & Price
What I Like/Dislike About Jasper
Like:
Users can work in any of the 27 supported languages.
The AI-powered text editor helps writers create content faster with fewer spelling and grammar errors.
It has a convenient Chrome extension for writing directly on the web.
Dislike:
Its AI art product is standalone, meaning users must pay extra to access this feature.
Product Updates:
Jasper recently released Jasper Chat, an AI chatbot with natural language processing that can answer questions about any product or service.
Best For Scaling AI Output.

Scalenut is an AI-powered platform that provides leading brands with powerful tools to create persuasive copy quickly and easily.
Scalenut helps businesses create powerful brand marketing that outpaces their competitors.
It has semantic terms that boost optimization and a dynamic SEO score that gives businesses an edge in visibility online.
The platform also provides real-time feedback so companies can adjust their content.
Additionally, the platform's AI-powered content lifecycle allows brands to easily manage all aspects of their content creation process, from idea generation to execution.
Scalenut also offers comprehensive reporting so businesses can track their progress and analyze their results to identify improvement areas.
Additionally, the platform has built-in social media management tools so brands can easily share their content on various platforms and engage with customers directly.
Finally, the platform has robust analytics capabilities so businesses can gain valuable insight into customer behavior and preferences for better-targeted marketing efforts in the future.
Key Features:

Having the entire SEO content lifecycle in one app ensures that you won't have to switch between apps
Their AI reads the latest information, ensuring that outputted content is up-to-date and relevant
Advanced NLP language model let you create content faster and more accurately than ever before
The 1 SEO blog creator, Cruise Mode, helps you create compelling SEO blogs with ease
1:1 onboarding & world-class support gives you the help and guidance you need for success
User Experience: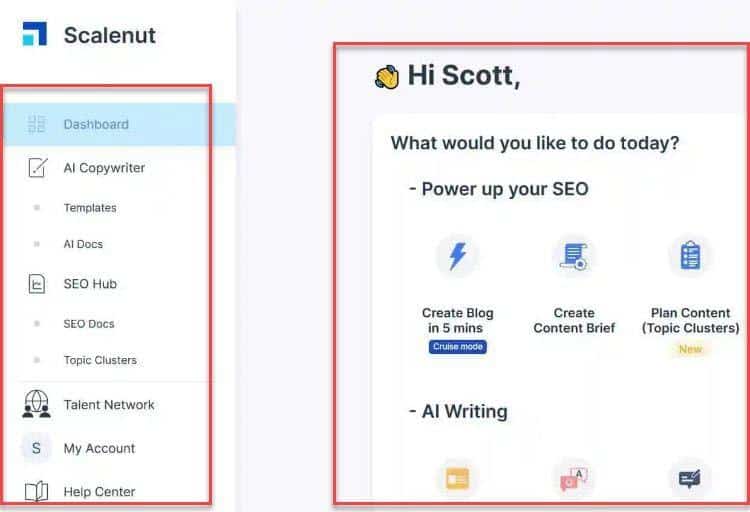 A left-hand side menu combines the AI copywriter, templates, SEO hub, and everything else you need to create compelling copy that resonates with customers.
Pricing:

Scalenut offers three pricing plans:
Essential: $23/mo
Growth: $47/mo
Pro: $89/mo
What I Like/Dislike About Scalenut
Like:
The interface is intuitive, which makes learning how to use the platform easy.
You can write long-form content quickly and efficiently with their AI copywriter.
The platform has robust analytics capabilities so businesses can gain valuable insight into customer behavior and preferences for better-targeted marketing efforts in the future.
Dislike:
Cruise mode should be part of the leading platform instead of a standalone product.
The pricing plans might be too expensive for small businesses.
Product Updates:
Cruise mode has a new user interface, allowing you to create SEO blogs in minutes.
5. Copysmith.
Best For Increasing Online Visibility.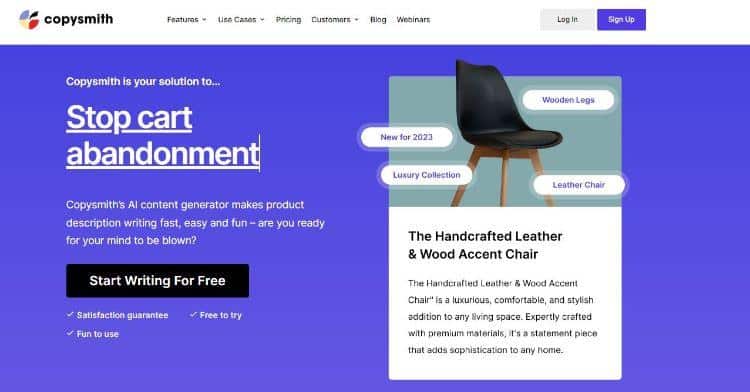 Copysmith's AI-driven software utilizes artificial intelligence (AI) and natural language processing (NLP) to generate unique and optimized content much faster than traditional methods.
Their software can understand the context of given words, phrases, sentences, and even entire paragraphs to produce accurate and effective output.
Businesses can create product descriptions, copywriting, and other forms of content without any manual effort or time investment.
Using Copysmith is an effective way for businesses to increase their online visibility and conversion rates.
Additionally, their automated process reduces the time required for content creation.
This time can go from hours or days down to mere minutes – resulting in significant savings on operational costs.
Finally, the AI-driven platform ensures that all content is unique and reflects the desired style and tone of voice.
Whether you're after product descriptions, blog posts, or anything in between, Copysmith is an excellent solution for automated content creation.
Key Features:

Write product descriptions that match the tone and style of your brand
Create content in bulk so you can focus on other tasks
Rewrite old content instantly to save time and effort
Designed to work seamlessly with multiple teams and departments, the tool guarantees a comprehensive workflow
User Experience: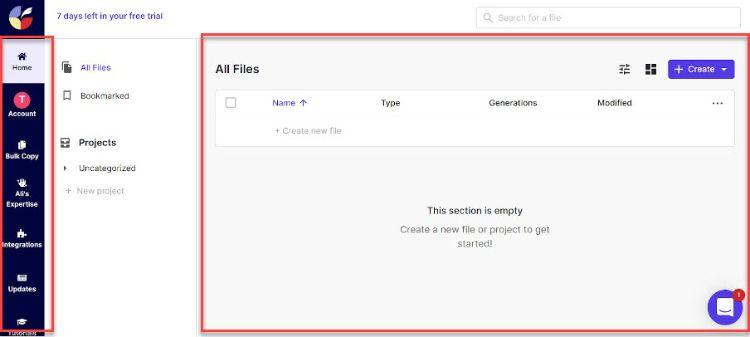 For those doing any copywriting, the experience is quite intuitive and user-friendly.
The interface is simple, and the features are easy to navigate.
Pricing: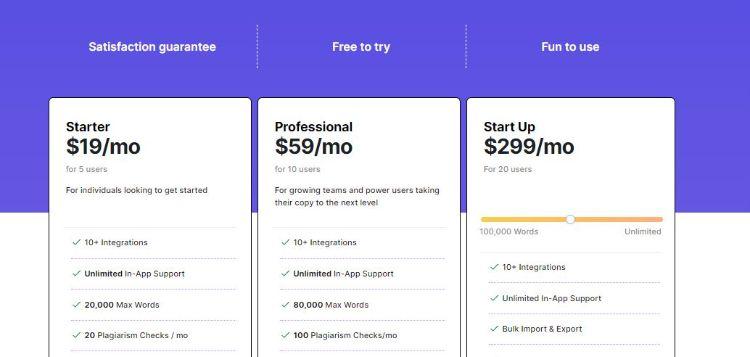 Copy AI offers three pricing plans:
Starter: $19/mo
Professional: $59/mo
Startup: $299/mo
What I Like/Dislike About Copy AI
Like:
The content generated is suitable for marketing purposes. Whether you're creating product descriptions, blog posts, and other forms of copywriting, the tool can help.
You can easily manage, edit and export your content from the platform.
Dislike:
You can lose the credits over time if you don't use them.
Product Updates:
The team added six new templates to help you create content faster, more accurately, and with more impact.
6. Writecream.
Best For Outreach Generation.

Writecream makes creating emails a breeze.
The platform offers a complete package that allows you to create and customize emails quickly and easily.
One can start with the ART feature, which instantly transforms creative concepts into artwork.
Users can create visually appealing content without prior design experience quickly.
Next is ChatGenie, which provides multilingual support for enhanced conversational AI.
Customers can communicate in their native language and get more accurate responses from your business.
ChatGenie also provides detailed reports of customer conversations so you can better understand your customer's needs and improve your service quality over time.
Finally, Command Mode enables users to get desired outputs quickly and efficiently by simply entering commands into the system.
Personalization is an excellent feature of this mode that helps businesses engage prospects with personal introductions.
Using personalization, businesses can create custom messages for each customer, making them feel unique and more likely to purchase your product or service.
Key Features:
Customize the AI tool to reflect your brand and voice
Use voiceovers and AI art to create videos for marketing campaigns
Check for plagiarism with a built-in plagiarism checker
Generate YouTube video scripts tailored to your audience & business needs
Create YouTube voiceover recordings with an AI voice assistant
Optimize Google & Facebook Ads to get maximum return on investment (ROI)
Pricing: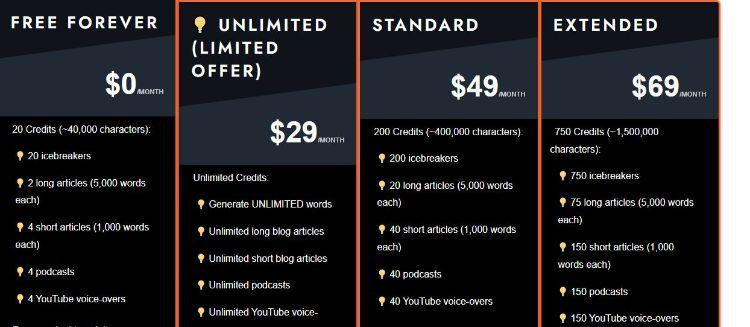 Writecream offers these four pricing plans:
Free Forever: $0/month
Unlimited: $29/month
Standard: $49/month
Extended: $69/month
7. Viable.
Best For Customer Feedback.

Viable is revolutionizing how businesses sort through comments, compliments, complaints, questions, and requests with cutting-edge artificial intelligence models and GPT-3 technology.
If you ever find yourself overwhelmed by the sheer amount of customer feedback your business receives, Viable's AI-fueled automation can help.
Viable works by leveraging powerful AI models that can quickly and accurately identify patterns in customer feedback.
These models use GPT-3 technology to generate natural language reports indistinguishable from human authorship.
Companies benefit from cost savings due to the automated process while receiving detailed insights into their customers' needs.
With this data, businesses can make informed decisions about their product or services and respond to customers quickly and efficiently.
Using Viable saves time.
Instead of manually sorting through customer feedback, you can use Viable's AI models to extract valuable insights that would otherwise take hours or days to uncover.
Key Features:
Automate your analysis through AI-powered models
Eliminate blind spots with weekly reports and insights
Leverage custom reports and dashboards for deep data analysis
Data-driven insights make more intelligent decisions about products or services
Integrate seamlessly with your current customer service platform.
Pricing: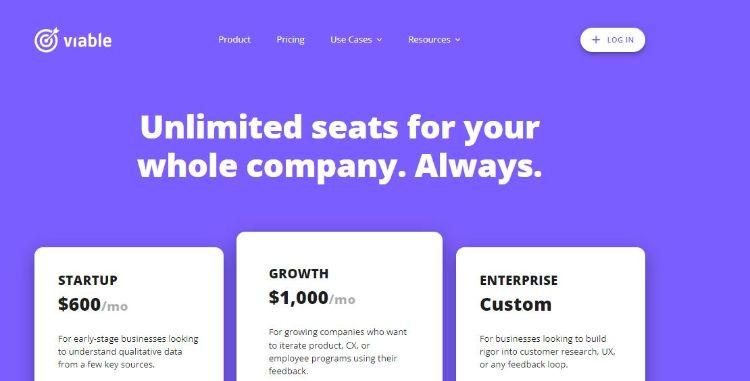 Viable offers three pricing plans for its AI-powered comment and customer feedback analysis:
Startup Plan – $600/month
Growth Plan – $1,000/month
Enterprise Plan – Custom-priced option for larger companies.
What is a GPT 3 Content Generator?
A GPT 3 AI content generator is a tool that uses OpenAI's natural language processing algorithm to generate content.
It uses machine learning to understand the context of a given prompt and then generates text that flows logically from it.
Marketers, copywriters, and other professionals use GPT 3 text generators to quickly create high-quality content without spending hours writing or editing.
Types of GPT 3 Content outputs
Here are various types of content outputs generated by GPT 3 Content Generators.
Social Media Posts
A GPT 3 Content Generator is a powerful text generation for social media posts.
It uses statistical language models to interpret the input and output of human-like content.
The GPT 3 Content Generator can generate short, snappy posts based on a given input for social media.
This technology helps create engaging content quickly and efficiently.
Meta Descriptions
The meta description is an HTML tag used by search engines to describe a website's content.
The proper meta descriptions hook people in and draw them to your website.
A GPT 3 Content Generator can generate such content, enticing people to click on a link through search engines.
Product Title And Descriptions
A GPT 3 Content Generator can create product titles and descriptions that capture the essence of your products and engage customers.
Whether you want to start an ecommerce store selling outdoor apparel or handcrafted jewelry, GPT-3 can generate product titles and descriptions that accurately describe the item, its features, and its benefits.
With the right prompt design, you can ask GPT-3 to generate product titles and descriptions that include searchable keywords while sounding natural to readers.
Blog Posts
With its advanced natural language processing capabilities, GPT-3 can quickly help content writers brainstorm effective blog ideas and write engaging blog posts.
As a tool that uses advanced language processing techniques to generate text that sounds human and captures the emotion and tone of your brand, GPT-3 can be a powerful tool.
Email Newsletters
With the ever-advancing technology of AI writing, building an email list and sending email newsletters are other areas where GPT-3 excels.
Having an artificial intelligence writing assistant that synthesizes content based on a given style and creates high-quality content that engages your audience can help you save time and get better results.
Online Ads
GPT 3 content generators can assemble a rich set of AI content that helps sell your products or services.
With its ability to identify patterns in language, GPT-3 can create unique headlines and captions for online ads that attract attention, engage the audience, and drive conversions.
Sales Letters And Pitches
OpenAI GPT-3 can also generate sales letters and video pitches to help sell products.
Using such an AI content generator, marketers can quickly create persuasive copy that resonates with their target audience and encourages them to take action.
Long-Form Articles
As one can create sentences that flow naturally from one topic to another, the combination of GPT-3 and a human editor can help create long-form articles that are informative, engaging, and SEO-friendly.
With the right content writing tools, producing high-quality content quickly and efficiently is easier than ever.
Landing Page Copy
The number of writing tools available to marketers is growing, and more platforms now tap into OpenAI GPT-3 for landing page building.
As landing page builders become more and more advanced, GPT-3 content generators can also create high-quality web copy.
With integration to Open API becoming more accessible, web developers can use GPT-3 to create landing page copy that stands out.
Use Cases
Let's now look at various use cases in which GPT-3 content generators excel in multiple areas of digital marketing.
Removing Writers' Block
As digital marketing strategies become more complex and data-driven, AI content generation tools such as GPT-3 are invaluable assets.
A GPT 3 Content Generator can create quality and instantly accessible docs for any digital campaign.
Whether marketers want to reduce or remove writer's block and rapidly produce copy for websites, emails, and more, the technology is available with a click of a button.
Content Creation
GPT 3 content generators also help content writers to maximize their creativity.
Whether one wants to create tweets, blog posts, articles, or podcasts, GPT-3 can generate ideas for topics and write informative and entertaining sentences.
Copywriting
Generating words that sell is a crucial skill of successful copywriters.
With GPT-3 Content Generators, copywriters can compose persuasive copy quickly and easily without sacrificing quality.
Email Automation
GPT 3 Content Generator can also create email marketing campaigns faster.
Based on one's actions, like website visits or product purchases, AI-powered automation tools can trigger personalized emails at the right time with the right message.
Whether it's creating an advanced automated HTML email to thank customers for their purchase or offering personalized product recommendations, the possibilities are endless.
Conversational AI
Having a conversation with a robot is beneficial in several ways.
It helps businesses provide customer service 24/7, process orders quickly, and answer FAQs accurately.
One of the most exciting AI advancements in GPT-3 AI is ChatGPT, designed to create natural language conversations.
With Microsoft investing billions into the development of conversational technologies, ChatGPT looks set to become one of the leading tools for creating automated chatbots.
Moreover, with companies like Google aiming to introduce their versions of GPT 3 and its chatbot, GPT-3 Content Generators are set to become even more powerful.
Customer Support Automation
Customer experience software tools are another use case of GPT-3 AI technology.
By using the dataset of customers that have previously interacted with the company, marketers can generate automated communication for real-time customer inquiries.
From creating error message options when things don't go as planned to providing helpful recommendations and suggestions, GPT-3 content generators open up a world of potential for customer service departments.
With many open-source systems having a plugin using API key integration to leverage GTP-3's capabilities, it's easier than ever to incorporate automated content into customer service strategies.
Wrap Up.
GPT-3 Content Generators are the future of digital marketing, and they provide an invaluable asset to help marketers create content faster while maintaining quality.
Whether creating copy for emails, generating conversational AI, or automating customer service inquiries, GPT-3 Content Generators can help businesses quickly unlock new opportunities.
Being open to new strategies and technologies can help any business maximize its potential, so it's worth considering the advantages of such technology to stay ahead of the curve.
Further reading on AdamEnfroy.com: Using AI to write articles and content faster gives businesses an advantage over their competition.
Whether you're doing AI affiliate marketing or AI copywriting, GPT-3 Content Generators can provide tremendous value to your business and help you stay ahead.
Editorial Process:
Our reviews are made by a team of experts before being written and come from real-world experience. Read our editorial process here.
Some of the links in this article may be affiliate links, which can provide compensation to us at no cost to you if you decide to purchase a paid plan. These are products we've personally used and stand behind. This site is not intended to provide financial advice. You can read our affiliate disclosure in our privacy policy.