17 Best 3D Printing Software of 2023 (CAD and Modeling Tools)
Choosing the right 3D printing software is vitally important to ensure you can scale up your 3D printing designs. From minimizing waste when creating rapid prototyping to turning 3D models into physical objects, the best 3D printing software can help you meet your goals. In this guide, I ranked and reviewed the 17 best 3D printing software, along with my top 5 choices, so that you can pick the best one for you.
---
We're reader-supported. When you buy through links on our site, we may earn an affiliate commission.
3D printing software has advanced exponentially in the last decade.
From construction and manufacturing to technology and healthcare – 3D printing is in its infancy and promises to create life-like models from software, enhance design efficiency, and expedite the production of many complex products.
However, these 3D require sophisticated 3D printing software to create and print these intricate designs. In recent years, 3D printing software has bombarded the market with innovative features, extraordinary new capabilities, and seamless integration with computer hardware.
Let's get started with the best 3D printing software.
What is the Best 3D Printing Software?
Here's a list of my top picks for the best 3D printing software, along with their key features, pros, cons, and pricing plans.
Best Overall 3D Printing Software.
Adam's Take
I like Autodesk Fusion 360 when it comes to printing software because it really combines all the tools that professionals need in one place. Fusion 360 can be used for prototyping, product development, 3D printing, and much more.
Autodesk Fusion 360 is one of the most powerful 3D printing software tools on the market. It is one of the preferred choices of products for mechanical engineers, designers, and machinists.
The best part is that it seamlessly combines the power of design, engineering, and manufacturing into one platform. Moreover, it streamlines the product development process to ensure smoother and faster delivery of high-quality products.
Best For:
Ideal for the production of highly efficient mechanical parts.
Key Features:
It offers full control over shape designs, allowing you to print objects of any shape efficiently
The powerful modeling tool provides robust features to create highly detailed and clean models
Its History Tree feature helps in faster and more accurate editing of objects
You can easily collaborate with other designers on the same platform in real-time
Leverage simulation to ensure early testing of the design for simulation and functionality
Generates high-quality designs by setting up material and manufacturing constraints easily
Pricing:
The pricing is based on your term length:
$60/month when paid monthly.
$42/month when paid annually.
Get started with Autodesk Fusion 360 and enjoy integrated CAD, CAE, CAM, and PCB on one development platform.
Best High-End 3D Printing Suite.
Adam's Take
If you're looking for a great 3D printing tool that offers a lot of versatility, AutoCAD is the software for you. I suggest checking it out when it comes to creating anything from small objects to large-scale models. AutoCAD is also a great choice for anyone looking to get into 3D printing.
Created by Autodesk, AutoCAD is another amazing 3D printing tool on this list, most suitable for professional use.
Overall, it is a very versatile 3D printing software that offers a lot of capabilities to create 3D models. It allows the user to attach and import data from PDFs, add annotations to drawings, and extract object data to tables. All these features also help in better presentation of the data, along with real-time analytics.
As an added bonus, when you subscribe to AutoCAD, you get access to both tools for Windows and Mac, plus industry-specific platforms and tools like AutoCAD Plant 3D, AutoCAD Architecture, AutoCAD Map 3D, AutoCAD MEP, AutoCAD Electrical, and more.
Best For:
The software is most suitable for 3D printing professionals who have extensive experience in programming models algorithmically and need a full-featured toolset.
Key Features:
It is most suitable for creating detailed 3D models, perfectly optimized for 3D printing.
It also offers a web and smartphone application.
AutoCAD is capable to easily convert 3D models into STL files for efficient 3D printing.
It provides the latest version of the DWG file format for the efficient drafting of files across various formats.
The software comes loaded with preloaded information and plugins about building product designs including doors and windows.
Easily modify and create robust mechanical designs for 3D printing.
Pricing:
Its paid version is available for $1449/year. AutoCAD also offers a free and fully functional version that can be used by educational faculty and students.
Get started with Autodesk AutoCAD and get integrated with a full suite of industry-specific tools.
Adam's Take
If you're a beginner looking to start 3D printing, Ultimaker Cura is an excellent choice. One great feature that many seem to like is the recommended mode, which gives new users suggestions on how to print their model based on its size and complexity.
Ultimaker Cura is an open-source software tool that offers seamless integration with the 3D printer. It provides relevant recommendations to new users with its recommended mode, making it an excellent proposition for new users.
Other than this, its customization mode also offers highly customizable features to meet different requirements and for in-depth control.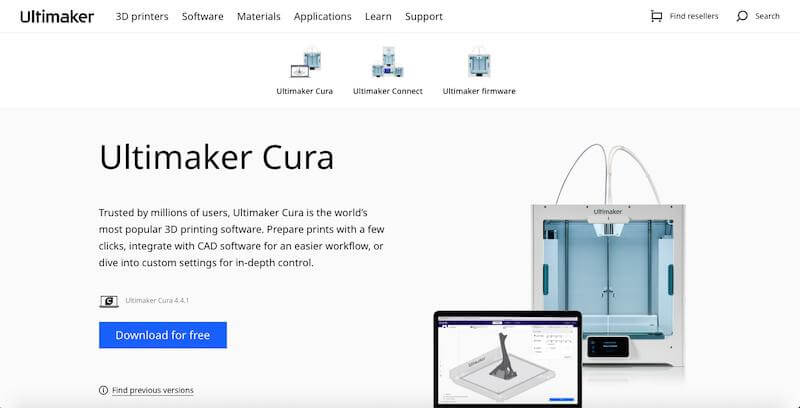 Best For:
It is one of the best options for beginners who don't want to spend big bucks on paid software.
Key Features:
Users can easily monitor all the 3D printing jobs from a single user interface
You can leverage adjustment tools to scale the 3D model quickly
Can be used to print on multiple networks and t is compatible with STL, X3D, OBJ, and 3MF file formats
Easily add printers and custom material to an exhaustive library
New users can easily use the software with a quick learning curve
Cons:
The 3D viewer offers the limited capability to view the model from multiple angles
Takes a lot of time to print 3D models
Pricing:
It's an open-source, free 3D sculpting tool.
Adam's Take
Have a complex model that you want to design? No problem! TinkerCAD allows you to group different shapes together to create a more complex model. If you want to make the most out of the resources that are currently available to you, then I suggest you group different shapes together through TinkerCAD to create a more complex model.
TinkerCAD is a web-based 3D modeling and designing tool. The software comes with a straightforward and easy to use interface that simplifies the process of 3D printing. At the same time, it provides you with the capability to design complex models by leveraging shape grouping and shapes.
Best For:
TinkerCAD is perfect for creating complex as well as simple 3-D models. Therefore, it comes in handy whether you are a beginner or a professional designer.
Key Features:
It supports STL files that enable designers to start 3D printing immediately
Users can easily import 2D and 3D models for printing
TinkerCAD is capable of executing laser cutting
You can instantly start 3D printing with a simple click
It offers cloud storage to save 3D models and designs
Provides an intuitive and easy to use UI to complete a wide range of tasks
Requires a smooth learning curve to leverage all its features
Offers a detailed tutorial to learn the software's functionalities
Cons:
3D designed object's complete surface triangles will never exceed the allowance value
The same bug also happens will importing files in the software
Pricing:
It is free software that you can use in your web browser or via application.

Adam's Take
I recommend MeshLab for those that work with 3D meshes and models frequently as it offers a wide range of functions. You can use all of MeshLab's functions to edit, render, provide texture, and convert into meshes easily. Plus, it's open-source so you can always improve or customize the software to better suit your needs.
MeshLab, again, is an open-source 3D designing tool that is most suitable for editing and processing 3D meshes. Users can leverage all its functions to edit, render, provide texture, and convert into meshes easily. Moreover, you can easily slice and prepare the design ready for 3D printing.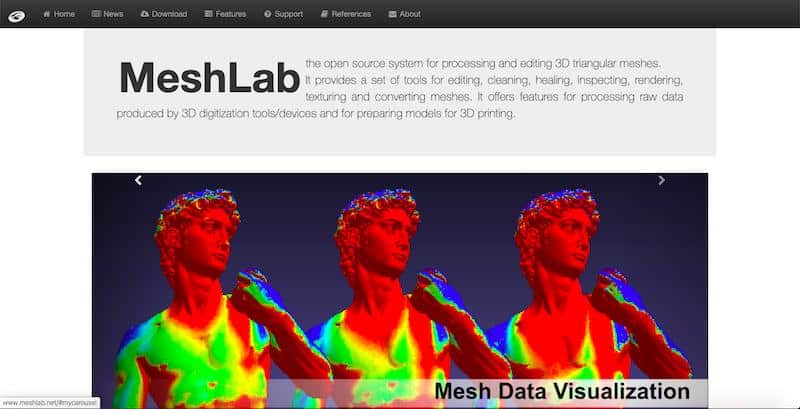 Best For:
The software offers leading-edge capabilities to process and edit 3D triangular meshes.
Key Features:
Its 3D reconstruction capability is efficient to create stunning designs
Does 3D color mapping and texturing
Best for 3D printing, offsetting, hollowing, and closing
Its efficiency enables the user to enhance the speed of 3D printing workflow
It offers convenient options to clean the mesh efficiently
The measurement tool can do reading linearly to calculate the distance between two points of the mesh
Cons:
The navigation is rough and lacks several essential options
Same buttons have multiple functions
Pricing:
Meshlab is a free, open-source platform.
The open-source 3D modeling tool offers excellent capabilities to design real-life designs of any shape and size. The software comes equipped with a focus to train budding 3D modelers.
Best For:
You can leverage FreeCAD as an efficient 3D printing training tool.
Key Features:
It comes powered with parametric components to make 3D model editing more efficient and easier
It creates the history of each edit to enable designer easily change the parameters of a 3D model
The designer can leverage geometry constrained 2D objects for the base to create 3D models easily
It offers robust support in Windows, Mac OS X, and Linux platforms
You can use it for a wide array of applications, including architecture and mechanical engineering
It provides a plethora of useful tools including geodata workbenches, Element Analysis (FEA) tools, BIM, Path workbench, experimental CFD, a robot simulation module that enables the user to study robot movements
Cons:
The software offers limited functionalities
The user interface is pretty basic
Pricing:
The open-source 3D printing software is available free.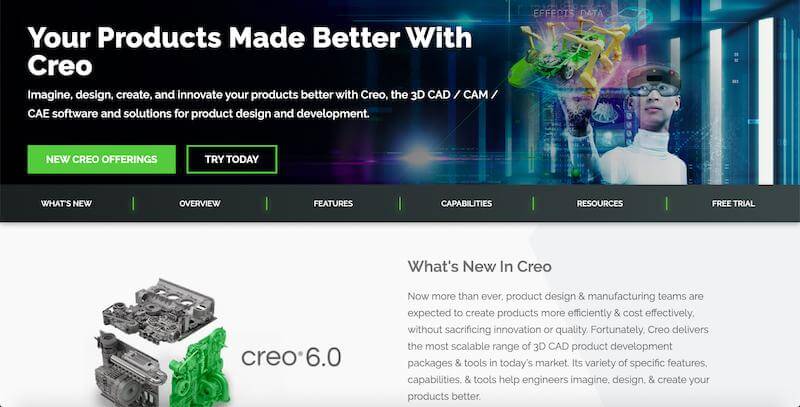 Developed by Parametric Technology Corporation, Creo is one of the market leaders in product design.
The biggest reason for its popularity is the amazing functionalities the tool offers, including motion, structural, and thermal, among others. Moreover, it provides excellent capabilities to design, simulate, and print 3D models efficiently through modeling, surfacing, finite element analysis, and tooling abilities, among others.
Best For:
It is one of the best software for 3D printing products' manufacturers.
Key Features:
Users can leverage its augmented reality capabilities to easier and efficient simulation of 3D designs
It offers multiple tools for designer to create stunning designs
It comes with one of the best topology optimization technologies
It leverages data from models used in the real world to generate smarter designs
Creo's Model-based definition feature allows the user to create 3D models that have all the data embedded in it to define the product
Cons:
The plethora of features could look overwhelming for new users for the first time
You will have to change the metric default template always
Not compatible with systems of lower configuration
Pricing:
The tool comes at a one-time license fee of $2,310. You also get a 30-days free trial to check out the product before making your final purchase.
Solidworks is developed by Dassault Systemes and is one of the preferred choices of 3D designers. It offers a wide range of tools and features to efficiently design 3D models for industrial purposes.
Furthermore, Solidworks comes enabled with a lot of detailed and unique features that empower professionals to create innovative 3D designs.
Best For:
It is best for serious professionals who need to create innovative and reliable 3D designs
Key Features:
It offers unique features including reverse engineering and validation tools to create 3D models easily
It leverages a unique system of NURBS to create incredibly detailed curvatures
Solidworks uses dimensional sketching to ensure hassle-free resizing
The software offers 3DEXPERIENCE® to efficiently manage every aspect of development and smooth delivery of products
Its 2020 version offers enhanced performance features for better efficiency
The software provides a straightforward design, simulation, and manufacturing enabled simplified workflow
Cons:
You would need a secondary program to download and edit STL files
Pricing:
The subscription cost of the software is available on a request basis.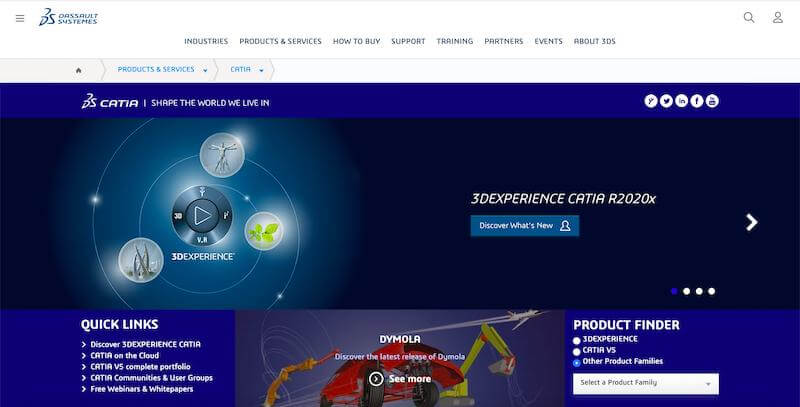 CATIA was first developed to meet the internal requirements of Dassault Aviation. However, it has gradually garnered massive popularity for being a multi-platform suite. The software also comes equipped with the 3DEXPERIENCE platform of Dassault Systemes.
Best For:
It is one of the most capable options if you require multi-platform requirements, including CAD, CAM, and CAE in the aerospace and automotive industries.
Key Features:
It is one of the capable options that can be leveraged by engineers for applications of large organizations
Users can track all the changes done to the 3D model for efficient revision of the product
The software efficiently manages all the data during product development
Its large set of tools offerings are perfect to meet specific requirements of different organizations
It is used by some of the largest corporations of the world, including Boeing, to design complex systems
Through this software, users can collaborate online for product modeling and share designs of 3D models
Cons:
It is one of the most expensive offerings on the market
Beginners will find it extremely difficult to use the software
Pricing:
Initially, CATIA offers a free trial. For the paid plan, you have to request a quote to know the subscription cost of the software.
OpenSCAD is an open-source software platform that is perfect for creating highly efficient and reliable 3D models. The tool comes in handy for professionals who are working on complex and elaborate projects. It is also intuitive enough for coders and programmers.
Best For:
OpenSCAD is best suited for professionals as it requires appropriate knowledge of descriptive language to operate it.
Key Features:
It comes equipped with Constructive Solid Geometry (CSG) and the Extrusion of 2D outlines
The software is most suitable to create simple shapes and designs that parametrically defined priorly
Users can leverage either constructive solid geometry or the extrusion of 2D outlines to create 3D models
It offers a robust community of 3D designers to discuss issues and get instant solutions
The software is available on Linux, Mac, and Windows
With numbered changes of the design, the software offers measurable results for the end 3D models
Cons:
Since it is wholly based on the descriptive language, it's not user-friendly for beginners
Not good with creating complex shapes
Pricing:
It is entirely free and open-source software.
Rhinoceros 3D is touted as one of the most versatile 3D-modelers. Rhino uses NURB, a mathematical model that is precise and enables the users to manipulate curves, points, surfaces, meshes, and solids in any manner. Apart from this, the tool offers a wide range of design features to graphic designers.
Best For:
It is one of the most capable software tools to create any sort of versatile 3D modeling and printing.
Key Features:
Users can leverage the history recording feature to edit input curves and update the object
You can easily display control points on the 3D model to efficiently manipulate the designs as per the requirement
It enables the user to point edit on curves, surfaces, and meshes
It allows the import of files from several sources, including DXF, SolidWorks, IGES, AutoCAD, OBJ, SketchUp, MicroStation, STEP, and STL, among others.
The software also supports 3D digitizers and is capable of importing 3D-scanned point data from the cloud
Rhinoceros 3D allows you to add dimensions in any viewpoint
Cons:
It requires a steep learning curve to use the software
Users have also reported that it sometimes to fail to capture the user intent accurately
Pricing:
It comes bundled with several packages. The paid plans start from $495.
BlocksCAD was specifically designed for educational purposes. Its primary goal was to train users and make them capable of using OpenSCAD, professional software for creating 3D models for the real world. The software also has a YouTube for tutorial proposes to ensure efficient knowledge transfer.
Best For:
If you aim to use OpenSCAD, it is the best tutorial tool to learn all the nitty-gritty of 3D modeling and printing.
Key Features:
The commands are represented by colored blocks that are synonymous with the blocks of construction toy, LEGO.
Its code is entirely compatible with OpenSCAD to allow users to give final finishing through more advanced professional software
It offers a YouTube channel that has tutorial videos
It offers a simple and easy to use interface
Cons:
It offers limited features, which is why it is not capable of creating and printing professional 3D models
Designers can't draw components that are partly inside each other
Pricing:
The software is available free of cost.
SketchUp is a capable software tool that is most suitable for architectural design. It offers 3D modeling and printing solutions for professionals from all walks of life, including designers, architects, makers, builders, and engineers. The software allows users to transform ideas into 3D models easily.
Best For:
The software is best for professionals who need to create 3D models easily to showcase them to clients.
Key Features:
It allows the users to document 3D designs in 2D
The software offers a collaborative workspace through the sharing of 3D model designs and other relevant information
Its immersive VR experience enables designers to simulate the design before printing
It offers several templates that users can make as a base to start creating 3D designs
It provides an excellent option for beginners who are new to 3D modeling and printing
Offers an engaging and intuitive user interface
Cons:
The software comes with limited capabilities to design complex 3D models
Its paid versions are expensive
Pricing:
Initially, you can try out its free trial version. After that, the paid plans start from $119 per year and range up to $1199 per year.
Sculptris leverages digital sculpting to develop stunning 3D models. That means the software allows you to make 3D models by shaping any mesh through different brush strokes. The process looks equivalent to shaping a lump of clay in real-time.
Best For:
Sculptris is best suited for artists and professionals from creative fields.
Key Features:
Users can digitally sculpt 3D models
Offers a more natural learning curve through a user-friendly interface
It leverages surfaces with countless triangles to eliminate the worry of creating snapped figures
The software allows incorporating details to various parts through using different sized brushes
You can leverage its Symmetry Mode to make sure that the model is symmetrical from both sides
Cons:
Being an entry-level software for beginners, it allows limited functionalities
Can't be used to create complex 3D models and prints
It is no longer in development. So, it might not run on new hardware and operating system versions
Pricing:
Sculptris is available free of cost.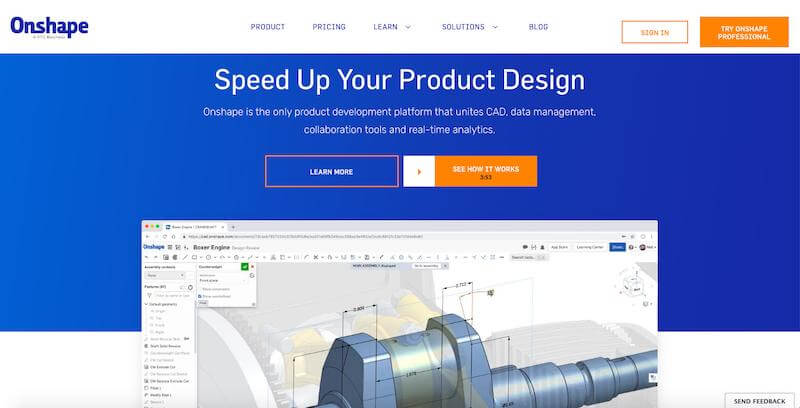 The cloud-based 3D software is one of the most capable options for 3D modeling and printing. The robustly built software is easy to use in comparison to other software available in the market. The good news is that it is entirely built on the cloud, which helps you save plenty of storage.
Best For:
Since OnShape is cloud-based, it is best for teams who need to collaborate efficiently on different projects regularly.
Key Features:
Being built on the cloud from scratch, it offers end-to-end collaboration features
It is compatible on all platforms and devices including desktops, smartphones, and tablets
It is built considering the needs of designers, engineers, and manufacturers
It is the best option for agile teams that require close collaboration and integration
It offers capable tools to create detailed and immersive 3D models for printing
The software provides a single master version of the CAD program data eliminating the hassles of copying files or software license
Cons:
It is challenging to find commands for Onshape product
Pricing:
For basic functionalities, you can use the free version. For more advanced functions, you might want to invest in a paid plan, starting from $125 per month per user if billed annually.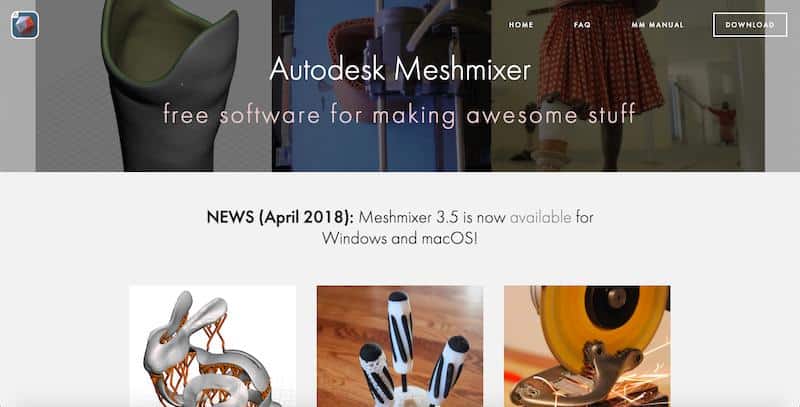 Meshmixer is one of the most used tools on this list. The primary reason behind its popularity is that it comes equipped with capabilities to work with triangular meshes. It also offers functions that can edit and sculpt 3D models efficiently.
Best For:
Meshmixer is best used to prepare 3D models.
Key Features:
Users can easily make a .stl from a .obj file to make a quick format or adjustment in the 3D model
It offers an easy and straightforward user interface
The software is capable of softening the texture to ensure a better finish of the 3D model
Meshmixer is capable of converting any kind of mesh into a solid 3D model
It autosaves the latest version of the model
It offers advanced selection tools including surface-lasso, brushing, and constraints
Cons:
The software faces the issue of abrupt crash
At some points, the 3D parts viewer becomes complex and difficult to inspect
Pricing:
Meshmixer is available entirely free of cost.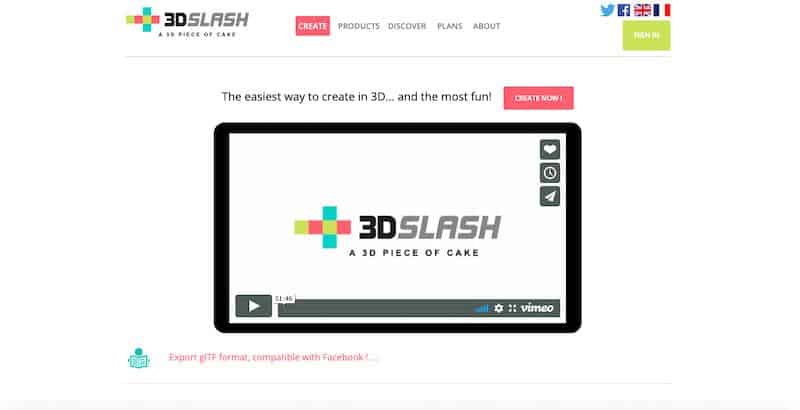 If you are a non-technical person who is interested in 3D modeling and printing, then 3D Slash has you covered. The tool takes a straightforward approach and is fun to use. Its advanced features and unique user-interface makes it easier to print 3D models.
Best For:
3D Slash is one of the best options for users who are beginners or have limited technical know-how.
Key Features:
It allows the insertion of rounded shapes or STL/OBJ in the 3D models
The new version has combined the features of Basic and Expert into one version
It offers High Definition Mode to enable more precise modeling and editing of 3D models
You can easily apply color underneath the block through its Syringe tool
The software comes equipped with the VR mode to enable users to visualize the 3D model in virtual reality
It is capable of editing an STL file efficiently
Cons:
Not suitable for professionals who are looking for advanced features and higher customization
Not capable enough for industrial use
Pricing:
The paid plans start from as low as $2 per month and range up to $20 per month. You can also opt for its freemium plan.
Note: tools not yet reviewed and included on the list are Blender, Netfabb, Pixologic ZBrush, Repetier,
What is 3D Printing Software?
Earlier it used to take a fortune to develop 3D modeling software. On top of that, you would require a particular set of expertise to operate it. But now 3D printing software tools have become more seamless in engineering and designing capabilities.
3D printing transforms 3D models into real models that you can touch and use in the real world with computer-aided design (CAD) models.
The software takes the 3D model as the input and directs the 3D printer to create a replica of the model. The 3D printer is filled with the cartridge of the material and required colors to print the model.
Moreover, before making the final print, the 3D model is optimized for printing to make sure the design doesn't break during printing or deform into something else.
Today, these tools come equipped with several advanced features like collaboration over the cloud and virtual reality compatibility to simulate the 3D model efficiently. Along with these features, you also get a user-friendly interface that has enabled several non-technical people to enter the field.
Additionally, there are other terms to be familiar with:
Slicer (also called slicing software): software used in the majority of 3D printing processes, converting 3D objects to specific printer instructions.
Fused deposition modeling (FDM): a 3D printing process that uses an ongoing filament of a computer-controlled, thermoplastic material to create a printed shape for objects.
Parametric 3D printing: refers to the model being defined by individual parameters (specific lengths, heights, and widths, which are editable during and after the modeling process.
G-Code: a standard programming language for 3D printers that contain commands to move parts within the printer.
How Do You Choose the Best 3D Printing Software?
With a ton of tools available in the market, it's crucial to know what sort of tool would work best for your requirements.
Here are a few things that you must keep in mind before choosing the right 3D printing software:
Customization – Look for customization features like sculpting, edit history, and the ability to leverage 2D models to create 3D models. Excellent customization features will help you create more stunning 3D model prints.
Collaboration – 3D design software with cloud capabilities will empower you and your team to collaborate more efficiently over 3D models and design tools. With the cloud, users can also leverage the software from anywhere to assist in 3D modeling and printing.
File Format – The more file format the tool supports, the easier it gets to import and incorporate new elements into the 3D model.
Simulation – The simulation feature through VR can help designers to find gaps and errors in the design at a starting phase. It helps by letting you view model histories and saves time and resources.
Scalable – Look for a 3D modeling software that offers powerful adjustment tools to efficiently scale the design of the 3D model to any limits. It would enable you to create 3D models of any shape and size.
Executive Summary.
These were some of the best 3D printing software available. All these tools are capable enough to meet your needs.
However, there's no best option when it comes to selecting any particular software. It's best to critically analyze every tool against your requirement to make the right decision. Whether you're a hobbyist, entrepreneur, or video game creator, you need to choose the 3D CAD software that's right for you.
Here are a few crucial points that you might want to consider:
Your Budget – Make sure that the subscription cost of the software falls in your budget while meeting all the requirements. For instance, if you are a beginner, then it would be better to start with open-source options that are available free of cost.
Features – Several tools are perfect for industrial use and come with numerous advanced features. Here, you need to ask yourself a question – are these features useful? Is it worth to pay for such sophisticated features? If yes, then go ahead and make the purchase.
Learning Curve – Several tools come with extensive features and a need to write scripts. It would require steep learning for users who are not well versed in 3D printing technology. Hence, make sure to research about the level of the learning curve you would need to use the software efficiently. Also, find out whether you have the expertise and IQ to learn such complexities easily.
With the points in mind and due diligence, you can easily select the perfect 3D printing software to meet your requirements.
3D printing has never been easier, thanks to all of the impressive minds behind the software on this list.
Which 3D printing software do you plan to use? Give your feedback and comment below.
Recommended Resources on AdamEnfroy.com: To further your research, check out my guide on how to make money online and the best business ideas to try this year.
Disclosure: I may receive affiliate compensation for some of the links below at no cost to you if you decide to purchase a paid plan. You can read our affiliate disclosure in our privacy policy. This site is not intending to provide financial advice. This is for entertainment only.