11 Best Drawing Software of 2023 Reviewed (with Free Options)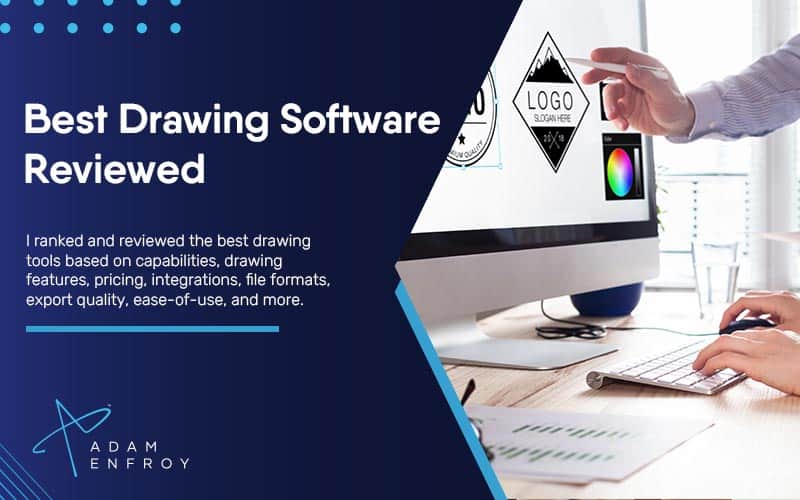 Want to jump straight to my recommended products? My personal choices are Adobe Photoshop and CorelDRAW.
When a spark of creativity enters your mind, are you using the right software to get the job done?
From print advertisements and magazines to comics and digital graphics, the art of drawing and designing has moved online. With plenty of skills needed in professional graphic design, there's also something new to learn.
If you're interested in figuring out which digital art tools are best to get started in this field, I ranked and reviewed the best drawing software to use this year.
Most of these drawing tools work much like graphic design software or even animation software, allowing you to create digital art, manipulate images, alter typography, and build vector illustrations.
Many tools also work with your stylus so you can make real brush strokes right on your iPad or laptop.
These reviews of the best drawing tools are based on capabilities, drawing features, pricing, integrations, file formats, export quality, ease-of-use, and more.
I included a few options for free drawing software too.
Let's get started.
Disclaimer: This article contains affiliate links that I receive a small commission for at no cost to you. However, these are merely the tools I fully recommend when it comes to drawing software. You can read my full affiliate disclosure in my privacy policy.
What Is The Best Drawing Software?
Best Overall Drawing Software For Professionals ($20.99/Month).
Adobe Photoshop is the undisputed industry standard when it comes to creating images and graphics. It's most suitable for activities like photo editing, digital painting, graphic design, and animation.
As a part of Adobe Creative Cloud, it provides a powerful set of features to help you design mobile apps, complex illustrations, photographs, 3D artwork, and more.
It's also capable of video editing and painting reproduction, among others. In a nutshell, you can bring any idea to life with Adobe Photoshop. Somte of its key features include lens blur, object selection tools, image warp feature, and more.
Key Features:
Adobe Sensei –

It's an in-built AI tool that helps you make fast and precise selections by drawing simple shapes around the relevant object.

Modern Presets –

The tool offers intuitive presets like new gradients, patterns, swatches, layers, styles, and shapes.

Enhanced Transform Warp –

You get more options to add control points or divide your image with a customizable grid based on your needs.

Pulled String Mode –

This particular feature helps you easily change the direction of painting in mid-stroke.
Pros:
It comes with specific three-stroke smoothing features.

Adobe Photoshop provides integrations with numerous third-party applications like Facebook, Twitter, Skype for seamless sharing.

It offers realistic painting tools that can create 3D images.

It comes with a 7-day free trial.

You can combine images to create new scenes, animation, and passport and stamp-sized photographs using it.

It also offers an educational discount.

As a part of Adobe Creative Cloud, it's one of the most popular tools both Apple MacOS and Microsoft.
Pricing:
Adobe Photoshop offers two pricing plans, namely the 'Single app' and 'Creative cloud all apps.' They cost $20.99 and $52.99 per month, respectively. There are also a ton of other software from Adobe that can be access from the same page.
Get started with Adobe Photoshop CC.
One Of The Best Tools Vector-Based Creatives ($198/Month).
CorelDRAW is a graphic design and drawing software widely used for both personal and professional purposes. While its USP is vector-based designing, you can use it for various purposes like designing logos, cards & brochures.
Corel has an ensemble of products that caters to the specific use, making it highly functional and relevant in the respective domains.
The good news is that it's easy to use and comes with an intuitive user interface. Plus, it provides platform-specific versions to ensure the software can leverage the full potential of the hardware.
You also get loads of customization features for efficient graphic design with Corel painter products.
New Features:
Extraordinary Precision –

It allows you to create highly detailed technical documentation with exact specifications.

PowerTRACE –

You can create vector images directly from vector sources and save precious time with this AI-assisted feature.

LiveSketch Tool –

This tool enables you to instantly use a pen-enabled device to give digital shape to your ideas.
Pros:
It offers a 15-day free trial period and a 30-day money-back guarantee.

The tool always provides immaculate color consistency, no matter which format you use to export your drawing that helps logos and brochures stand out.

It has an excellent Gaussian blur feature and prominent interactive sliders.

CorelDRAW lets you perform efficient font filtering.

Adjustment of the design space is easy and highly customizable.
Pricing:
CorelDRAW comes with two pricing plans. The first is for the annual subscription and costs $249. It also has lifetime licence comes in at a one-time payment of $424.
Get started with CorelDRAW Graphics Suite today.
Best for High-Quality Illustrations and Drawings ($20.99/Month).
Adobe Illustrator is a vector drawing and editing software used by millions of creative artists, web designers, video game makers, book illustrators, billboard advertisers, and brand managers.
It's capable of producing designs with pixel-perfect accuracy. Professional artists and graphic designers can easily create stunning designs through easily accessible templates and presets.
In fact, it provides over 80 million in-built templates, graphics, videos, and images to make online drawing and graphic design easier.
Key Features:
Extensive Font Styles –

You can choose from over 16,000 different fonts to create the perfect drawing.

CSS Extractor Tool –

Use this feature to give shape to highly customized and dynamic websites.

Shape-builder Freeform Mode –

You can create highly customized shapes and sizes of any drawing and take inspiration from other images.
Pros:
It offers a free trial period and customer service in multiple languages.

It comes with an excellent vector graphics functionality and an SVG export option.

You can create pixel-perfect designs, matte paintings, dynamic symbols, and custom designs.

The tool offers 24*7 customer support.

You can also perform "Perspective Drawing Enhancements."

Adobe Illustrator Draw has an iPhone app with loads of editing tools.
Pricing:
For individuals, Illustrator costs $20.99 per month for annual plans. There are separate plans for businesses, students & teachers, and schools & universities, where it's available as part of the creative cloud.
Get started with Adobe Illustrator today.
4. Vectr.
Suitable Simple Tool to Design Vector-Based Graphics (free).
Vectr is one of the best free drawing programs available and another great drawing app on this list. One of its most significant functionalities is its vector graphics designing capabilities.
This tool is powerful yet decidedly simple to use.
It's suitable for professionals like creative artists, web designers, social media marketers, and illustrators. You don't have to worry about device compatibility since it's compatible with multiple operating systems, including ChromeOS, Linux, Windows, and Mac.
Vectr also offers a simple user interface and all the necessary digital drawing tools, including shape tools, arrange elements, pen tool, and pathfinder for basic drawing and editing.
However, it lacks some of the advanced features offered by high-end tools.
The good news is that it's now coming up with a paid subscription plan with enhanced features for great professional use.
Key Features:
Scalability –

The tool allows you to scale images to any size without loss of quality. It also helps create high-quality logos, cards, presentations, and more.

Real-time Collaboration –

It lets you collaborate in real-time with colleagues in remote locations.

Automatic Sync –

Vectr is exceptionally flexible. Whether you use it online or download it on your PC, it will always sync and save your work.

Advanced Toolset –

It allows you to access special shapes and designs like arrows, calendar icons, clipart, and more.
Pros:
You can either download it in your system or use it online directly.

It allows you to import and edit SVGs and bitmaps and set them as your background.

It has an intuitive user-interface that makes it easy to access pens, shape tools, and text tools.

The paint software has an easy-to-use image tracing feature.

It comes with a rich database of tutorials and user guides for beginners.
Pricing:
It's free for use and doesn't have any hidden costs.
5. Adobe Express.
Best for Beginners to Create Online Graphics ($9.99/Month).
Adobe Express is an excellent tool for website building, drawing, and graphic design. Used by professionals and students alike, the software allows seamless collaboration between multiple stakeholders of a project.
It also provides extensive integration with social media platforms, which makes it especially useful for social media marketers.
It also comes equipped with different versions to easily create images or publications for various requirements, including web pages, social media websites, or videos. It also allows for easy inclusion of video clips, photos, voiceovers, and decorative stickers.
With a shorter learning curve, any beginner can quickly figure out the functionality of Adobe Spark to create stunning designs.
Key Features:
Multiple Images –

You can choose from thousands of images on the web, or choose your personal images from Dropbox, Google Photos, Lightroom, etc.

Professional Themes –

You can choose from a wide range of layouts, colors, and fonts, and manipulate them with icons, texts, and photos

Automatic Synchronization –

The projects you work on get synced automatically with all your devices in real-time
Pros:
It comes with a freemium plan that offers necessary features.

It also provides a wide range of fonts and image options.

You can share your images in real-time on social media or via email.

It enables you to scroll through the 'Inspiration Gallery' and study some of the finest Spark projects.

It also provides free webinar training for beginners.

You can remove Adobe watermarks and personalize your images.
Pricing:
Apart from the free version, it offers two paid plans, namely 'Individual' and 'Team.' They cost $9.99 and $19.99 per month, respectively. It also offers quote-based custom plans for enterprises.
6. Inkscape.
Best Free Vector-Based Option (free).
Inkscape is a popular cross-platform drawing program that's compatible with Mac, Windows, and Linux operating systems. It finds great acceptance among students, artists that want to create concept art, and graphic designers because of its user-friendliness.
Inkscape also offers a stable, transparent, and consistent user interface, along with several tips and tutorials, to efficiently use the software. It leverages SVG (Scalable Vector Graphics) to create and design banners, logos, or any other media in vector mode.
Key Features:
Node Editors –

These editors help the users' mold vectorized shapes, objects, and graphics with greater control.

Object Creation Functionality –

This feature enhances the scope of common tools like pencil, calligraphy, and shape tools and allows users to fuel their creativity.

Object Manipulation Functionality –

It allows users to perform operations on objects, like moving, scaling, skewing, raising and lowering, and creating image layers to create hierarchical trees.

Scalable Vector Graphics (SVG) –

The USP of this tool is using SVG as the native format.
Pros:
Since it's an open-source tool, it provides high customizability to suit the user's needs.

It allows you to export files in numerous formats like PNG, OpenDocument Drawing, DXF, sk1, PDF, EPS, and PostScript.

It allows specific types of text support like kerning, letter-spacing, line-spacing, and more.

The tool has color picker tools and a gradient editor that can create multi-stop gradients.

It also allows bitmap tracing.

You can access customer service in multiple languages.

The tool has rich resources in the form of videos, tutorials, books, manuals, and FAQs for novices.
Pricing:
Inkscape's digital art software is free for use.
7. Krita.
Best Suited For Amateur Artists Learning The Nuances Of Design (free).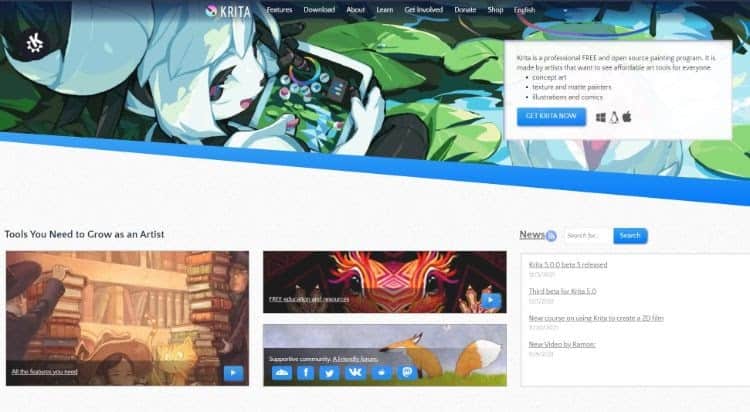 Krita is free drawing software designed by artists looking to create a holistic drawing tool for beginners. The tool is most suitable for creating digital paintings, manga, and animations. It offers fast performance with expansive features.
Plus, it gives users multiple tools for blending, rendering, smoothing, mirroring, transforming, color mixing, layering, and more. All of its features work on both desktops and tablets.
Key Features:
Layer Management –

This feature helps digital artists to manage, group, and combine drawings.

Brush Tools Creation –

The digital art tool lets you create personalized brushes digitally for a seamless experience. You can also tag these brushes via a unique tagging system.

Layer Visibility Options –

These options enable you to delete or remove any part of a drawing.

Wrap-around Mode –

This feature helps in the creation of complex patterns and textures.
Pros:
Their painting software offers PSD & HDR support.

It provides a rich color palette and over 100 professionally made brushes.

The tool lets artists create silhouettes very easily with Fill Brush Circle and Fill Brush Block.

It offers nine in-built brush engines and over 30 dockers for great flexibility.

The Airbrush Pressure brush can create excellent contrasts to images.

You can use the unique

'Ink Ballpen'

feature to scratch about and get drawing practice before starting.
Pricing:
Krita is entirely free software and an open-source painting program.
8. GIMP.
Good For Designers Looking For An Affordable Image Editor (free).
The GNU Image Manipulation Program (GIMP) is a cross-platform image editor. It's compatible with operating systems like GNU/Linux, OS X, Windows, and more. It's one of the best free drawing software tools, allowing users to edit the source code, making it extremely customizable.
It's best suited for graphic designers, photographers, and illustrators. GIMP's features allow users to easily fine-tune images and photos and comes equipped with advanced features, including filters and layer masks.
It also offers animation packages and supports downloadable as well as pre-installed plugins. Some of its basic features are gradients, color adjustments, cropping, noise reduction, and customizable brushes.
Key Features:
High-Quality Photo Manipulation –

GIMP provides many tools for high-quality photo manipulation like retouching, restoring, and creative composites.

'Open as Layers' Command –

It enables you to map an image directly into the layer of another image.

Scripted Image Manipulation –

The tool allows scripted image manipulation in languages like C, C++, Python, PERL, and more.
Pros:
GIMP offers comprehensive color management features to ensure high-fidelity color reproduction across digital & printed media.

It's user-friendly and offers a highly intuitive interface.

It offers features like filters, Bezier curves, and animation.

The tool allows noise reduction, cropping, automatic image enhancement, and color adjustment tools via features like the elimination of vignetting and barrel distortion.

You can view essential drawing details from the image tabs via informative thumbnails.

There's a great 'fullscreen mode' that allows you to view and edit drawings using your entire screen.
Pricing:
It's entirely free.
9. PaintTool SAI.
Best For Simplicity on the Go ($50.81/License).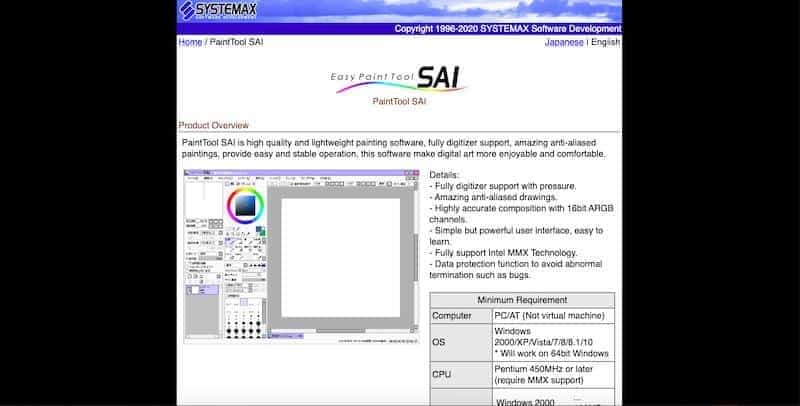 PaintTool SAI is an easy-to-use drawing software that provides you with an environment to display your creativity. It comes with a friendly user interface and is suitable for professionals like graphic designers, website designers, and students.
This tool offers many of the perks of Adobe Photoshop at a lesser price. Moreover, the software can minimize distorted images or illustrations in case a low-resolution image gets imported into the software.
The user-friendly tool also offers fully digitized support and provides compatibility with numerous devices, including laptops, desktops, tablets, and smartphones.
Key Features:
Color Functionality –

It provides an extensive collection of colors, along with a range of shades from light to dark for each color. You can also adjust the saturation and lamination levels of images.

Layer Tools –

Layer tools provide additional flexibility to users. They also help you combine and transfer drawings, and delete specific parts of an image.

Brush Transformation –

Users can transform brushes into erasers, and delete specific image parts that are otherwise difficult to erase.
Pros:
The tool supports Intel MMX technology.

It comes with comprehensive data protection to shield it from bugs and other abnormal terminations.

It offers accurate compositions with 16-bit ARGB channels.

You can create anti-aliased drawings and view their mini-versions.

It also provides a free trial period of 31 days.

You can lock two image layers together and move them about, using one of the pin buttons of the images.
Pricing:
Initially, it offers a 31-day free trial. Afterward, the paid software license costs $50.81 for each license.
10. ArtRage.
Best For Designers Looking To Create Realistic Painting Designs ($79/License).
ArtRage is an intuitive, simple, and feature-rich drawing software designed to bring out the best in any artist. It has a broad scope, and you can use it to create symbols, logos, illustrations, T-shirt art, video gaming concepts, and more.
It offers a digital canvas for oil-painting, watercolors, and pencil sketches for both professional and beginner digital painters. If you want to create painting-like stunning designs, then look no further than ArtRage.
It also offers a range of transformation tools, cloning capabilities, selection options, gradient, and patterns fill features.
It's one of the few digital painting software tools that come with a smartphone app. Its mobile app provides unique features like editing features, graphics design tools, and drawing aids, among others.
Key Features:
Palette Knife –

It allows artists to blend and mix colors and textures digitally.

Cloner Tool –

The cloner tool helps you clone or copy any existing image and its properties for further manipulation.

Reaction Simulation –

The tool allows users to simulate real interactions between watercolors, water, and paper.
Pros:
It allows you to measure the depth and wetness levels of their paints, and add grids for proportional creation of drawings.

It also allows you to import and export files easily.

You can create your own custom digital brushes and share them with colleagues.

It also provides pattern and gradient fill features to recreate charcoal effects.

It offers a 30-day money-back guarantee and a range of manuals and tutorials.
Pricing:

ArtRage comes in at $80/licence.
11. MyPaint.
For Designers Who Only Want to Work on Graphics Tablets (free).
MyPaint is a free and open-source graphics editor and painting program. It's compatible and widely used in conjunction with the Wacom tablets.
That said, it can also run on Windows, MacOS, and Unix, and is excellent at creating bitmap images.
One of the best parts about this is that it gets updated regularly.
And its latest version got released in early 2020 only. Its user interface mostly consists of the canvas only, and its design consists of sensitive graphic tablets. Users can also easily zoom out to get a bigger canvas if required.
Key Features:
Comprehensive Tutorials –

It provides a comprehensive manual and tutorials for novices.

Customizable Hotkeys –

This feature allows users extensive control while drawing.

Multiple File formats –

The default format to save images is Open Raster, but users can also save their files in PNG or JPEG formats.
Pros:
The maximum number of points in the input curves is 64, which allows users extensive flexibility.

It's an open-source tool, which allows for a high level of customizability.

Symmetrical painting allows you to choose from modes like 'vertical,' 'horizontal,' 'vertical & horizontal,' snowflake,' and 'rotational.'

It uses linear composting and spectral blending, which mimics traditional media like ink, pen, and charcoal to a large extent.

The

'flood fill tool'

supports offset, blur, gap detection, and cancellation.
Pricing:
The tool is free for use.
Note: Other tools not yet reviewed for this list include Clip Studio Paint, Clip Studio Paint Pro, and MediBang Paint.
What Is Drawing Software?
Drawing software is a computer program that can help you create and view art on a computer. These tools can either be simple or highly advanced. Paint is probably the first drawing software that most of us got acquainted with.
However, there are far more excellent tools in the market now. Most of them are highly customizable, keeping in mind the scope and variety of their uses. Simply put, drawing software enables you to materialize your ideas digitally with the help of the screen, a keyboard, and a mouse. The added advantage is that these tools let you draw, delete, and redraw at the click of a button, unlike traditional art.
Some excellent examples of such tools are AutoCAD and QCAD, both widely used for civil, mechanical, and electrical engineering designs. Apart from engineers and students, these tools find extensive use by professionals in the domains of creative and fine arts, tattoo artistry, T-shirt designing, and more.
How To Use Drawing Software or Digital Art Tools?
Although different drawing tools may vary in their features and properties, the way to use them is largely similar. Here's an example of GIMP and how to use it: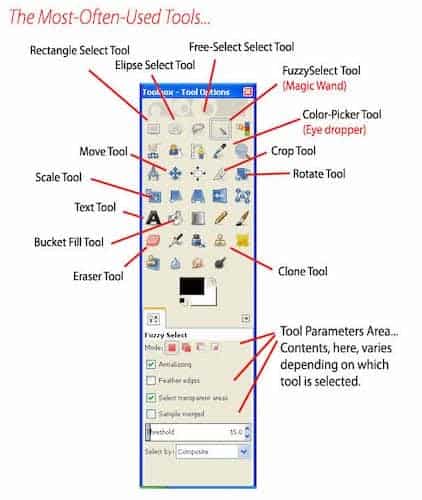 First, choose a drawing software. Even if you don't choose GIMP, the ensuing steps will be alike.

After you install the software, open it, and click on the 'File' option and then choose 'New.'

You need to choose the size of the drawing you want – you will have plenty of options to choose from.

Pick any tool you want and start drawing.

If you're an expert, you'll probably know all the tools. If you're just starting, you should spend some time exploring different types of tools. You can get confused by the wide selection of tools, so it's better to try all of them out before you finally choose one.
Now, start by drawing a simple image. Get familiar with the methods of drawing shapes like circles, rectangles, and more. You won't be an expert in a day, so you might as well take your time.

Next, make sure to save your work. Usually, you can save your work in formats like PDF, JPEG, EPS, and more.

To save your file, you can directly enter 'Shift+Control+S' or do it from the taskbar.
Most drawing tools are straightforward to use. However, there may be some specific, highly advanced tools used for particular business purposes that may be difficult to grasp without sufficient expertise.
What Should You Look For In Drawing Software?
You can use drawing software in both a professional and personal setup. Naturally, the required features in each case will differ. However, some features are central to any drawing software:
1. Color Consistency.
Color consistency can vary on the digital platform, just like on paper or canvas. You might notice a change between the brightness levels across formats like JPEG, PDF, and EPS. That's why you need a tool that never compromises on the consistency, no matter what the format is. Here, CorelDRAW is an excellent example.
2. Holistic Toolsets.
The basic drawing software has features like drawing area, painter, marker, eraser, paint brushes, lines & shapes, and more. A good drawing software should ideally have a wide range of colors in the palette. Moreover, you should be able to create 3D effects and animations, like in 3D Slash.
Furthermore, a drawing tool should enable artists to use wet tools, including acrylic and watercolor. Rebelle is another example that provides you with these options.
3. Third-party Integrations.
A Business may require easy import and export to and from applications like Word and PowerPoint. Therefore, extensive third-party integration is an essential feature of drawing tools. SmartDraw is a great example that offers efficient integrations.
4. Multi-Platform Compatibility.
A tool that is compatible with PC, laptops, smartphones, and tablets improves accessibility for businesses and fosters real-time collaboration. That's why it's important to choose a drawing tool that offers multi-platform compatibility. Autodesk Sketchbook is a great example.
5. Pattern Recognition.
In today's world, software should offer you the chance to recreate your art. It's possible only when the software has the ability to record all of your strokes and allied processes and repeat them. That's why pattern recognition is a useful feature in the engineering drawing industry.
6. Property Computation.
A drawing tool used in the industry should be able to perform accurate calculations to emulate real-world conditions correctly. Such accuracy is especially helpful in the engineering and healthcare industries, among others. For example, ChemDoodle comes in handy in drug designing to mimic properties like boiling point, melting point & angle of refraction.
There are plenty of other desirable properties when it comes to designing software. However, these are some of the most important.
Executive Summary.
Ultimately, we all have different software requirements and budgets. So it's safe to say that your choice of drawing software will vary compared to others.
To summarize, if you're on a tight budget, then you can go with an option like Adobe Spark or MyPaint.
If you want a well-rounded tool that allows animation and graphic design, Adobe Photoshop is a great option.
Plus, if you want extensive customizability with a range of options in brushes and colors, you could choose Krita. And for vector graphics, CorelDRAW Graphics Suite is a great choice.
Make sure to carefully evaluate your goals, requirements, and budget before making your final decision.
Which drawing software do you use? Let me know your feedback in the comments below.
Further reading on AdamEnfroy.com: Want to not only be great at drawing software but also at other types of editing? Here's my list of the best photo editing software and video editing software right now.
Editorial Process:
Our reviews are made by a team of experts before being written and come from real-world experience. Read our editorial process here.
Some of the links in this article may be affiliate links, which can provide compensation to us at no cost to you if you decide to purchase a paid plan. These are products we've personally used and stand behind. This site is not intended to provide financial advice. You can read our affiliate disclosure in our privacy policy.