10 Best Cloud Storage Services of 2023 (Ranked and Reviewed)
Choosing the right cloud storage services is vitally important to your business. From data security to storage capacity, the best cloud storage services can help you meet your goals. In this guide, I ranked and reviewed the 10 best cloud storage services, along with my top 5 choices, so that you can pick the best one for you.
---
We're reader-supported. When you buy through links on our site, we may earn an affiliate commission.
More secure than physical servers, and with more storage space than hard drives, cloud storage is quickly becoming the primary way to organize and share files.
Want to get right to the point? My top picks for the best cloud storage are Dropbox and Google Drive.
With so many options to choose from, this guide to the top cloud storage options makes your decision easier and includes:
The best for small businesses.
The best for individuals.
The best for enterprises and large companies.
And more.
What is the Best Cloud Storage?
Here are my top picks for the best cloud storage to use this year.
Best overall software for cloud storage ($15 per user per month).
Adam's Take
My top choice for the best cloud storage service is Dropbox because it's easy to use and has a great free plan. Plus, it integrates with a lot of other apps and services. Whether you're after a personal or business solution, Dropbox should be on your radar.
Dropbox is a file hosting service that offers cloud storage, personal cloud, file synchronization, and client software. Now you can save your tools, content, and files in one place and share with whoever you want.
You can also store content from Google Docs, Sheets and Slides, Microsoft Office files, and Dropbox Paper in your Dropbox folder. Dropbox also lets you access your files from multiple devices like computers, tablets, phones, laptops, and more. You can also use the Dropbox for Gmail add-on making it even easier to share and access your files.
Not only this, but you can access your files from your web browser by signing in without installing the software. Or you can install the mobile app and access files and manage them right from your smartphone. Both your desktop and mobile app also let you upload files to the Dropbox folder.
Additionally, you can take a backup of all your essential files. Plus, you can upload files, cameras, phones, and SD cards.
Integration with several business tools like Zoom and Slack also helps you collaborate with your team members. There's also a calendar integration option that suggests relevant content, files, and note taking templates for your upcoming meetings.
Security features include SSL/TLS encryption of files at rest and in transition and two-factor authentication for Dropbox accounts. However, Dropbox doesn't provide any end-to-end encryption.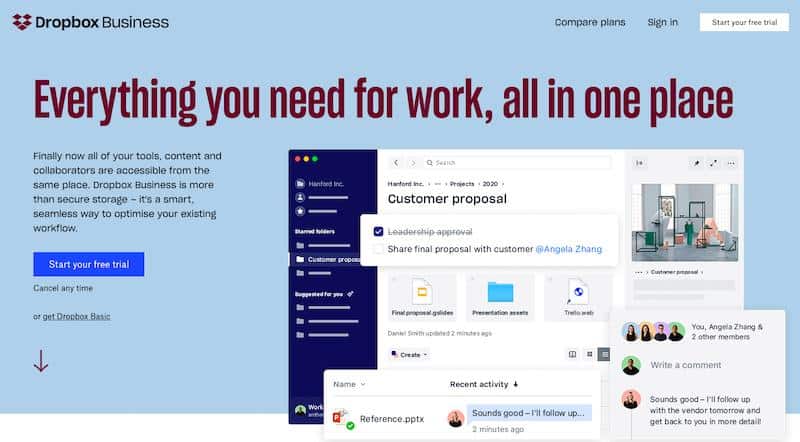 Key features:
File Recovery – You can also recover accidentally deleted files from the Dropbox backup folder. The recovery software lets you restore all of the files deleted in the past 30 days.
Dropbox Transfer – With Dropbox transfer, you can send files up to 100GB to anyone you want. Also, send files up to 250GB with creative tools add-on.
Content Suggestions – It provides content suggestions based on your Dropbox activity that helps you directly jump to the files that you're most likely to need.
Pros:
Dropbox lets you share over 175 types of files without installing any software.
It's compatible with all operating systems like Windows, Mac, iOS, and Android.
256-bit AES and SSL/TLS encryption for safe and secure file transfer.
You can recover your files for up to 180 days.
The 'Advanced' plan provides access to unlimited space.
Activate 2-factor authentication.
Phone support 24/7 in English.
Pricing:
Dropbox provides the following four plans:
Professional: $19.99 per month
Standard: $15 per user per month
Advanced: $25 per user per month
Enterprise: Quote-Based
The Professional plan offers a 14-days free trial, while the other two paid plans provide a 30-days free trial.
Best for safeguarding your data ($1.99 per month).

Adam's Take
Google Drive is a solution that many businesses have used to store, share and collaborate on files. In addition, there are quite a few things you can do with Google Drive. I like that it has both a desktop application and a mobile app. You can also create docs, sheets, and slides within Google Drive.
Google Drive is a cloud-based file storage and synchronization service that lets you store, share, and collaborate on your files. You can access, store, and share your files from any device like mobile, computer, laptop, tablets, and more.
Plus, Drive integrates with apps like Google Docs, Sheets, Slides, and several cloud-based apps to help you collaborate with your team. All your works in Docs, Sheets, Slides, and others also get automatically saved in Drive. This also avoids the need to migrate and move your content from one tool to another.
Integration with Microsoft Office also helps you collaborate with multiple team members and work on the same file simultaneously. Not only this, but Drive also collaborates with Slack, Salesforce, Adobe, DocuSign (some DocuSign alternatives), Atlassian, and other business tools.
Moreover, the cloud storage tool supports more than 100 file formats like PDFs, images, videos, CAD, and more. Thus, you don't have to go through file conversion every time you store a file in Drive.
They use Google AI search technology that helps your team to find the right content quickly and accurately. Also, the AI-based Priority feature predicts and helps you find the most relevant content based on your past activities.

Key Features:
Security Measures – Google Drive provides numerous security features like Data Loss Prevention, Vault for eDiscovery, and archiving to safeguard your data. It also prevents team members from sharing sensitive content with outsiders.
Offline Access – You can create, edit, and view files even if you don't have an internet connection. Plus, all of the changes made in offline mode get automatically sync when you get the internet.
Pros:
You can store 15 GB of data for free.
Every Google Drive plan includes integration with other Google tools like Gmail, Docs, Sheets, Slides, etc.
It also works with all Adobe products and business tools like Slack, Salesforce, Atlassian, DocuSign, etc.
All paid plans come with a 14-days free trial.
It's compatible with both Windows and macOS.
Pricing:
Google Drive offers plans based on the amount of storage provided:
100GB: $1.99/mo
200GB: $2.99/mo
2TB: 9.99/mo
30TB: $299.9/mo
Best cloud storage tool for taking backups ($74.62 for 250 GB of storage).

Adam's Take
If you want to keep your data safe and secure, iDrive is another excellent way to go. With military-grade encryption and automatic backups, you can rest assured that your data is always protected. Plus, you can access your files from anywhere globally with an internet connection.
iDrive is a cloud storage and data backup company that lets you backup unlimited devices into a single account. You can backup any device you want, including PCs, Macs, iPhones, iPads, and Android.
The storage tool protects all your data in your cloud account, and the stored data is encrypted with 256-bit AES encryption.
You can also install the iDrive online backup app on your mobile phone from the App Store and Google Play Store. It lets you take backup directly from your smartphone – of your contacts, videos, photos, calendar events, files, and more.
The Snapshots and Versioning feature provides an overview of historical data for point-in-time recovery and protection against ransomware. The tool also retains up to 30 previous versions of all of the files backed up in your account.
Plus, you can access all your backed up files from any device and even any web browser. Not only this, but you can also share, manage, and restore all of the backed up files on any device.
Other key features include:
Files and folders get synced in real-time across all the devices that you link using iDrive.
Sector-level backup or file-level backup to secure your entire system.
It automatically detects and backs up the modified parts of your data.
You can retrieve deleted files within 30 days.
Your data never gets deleted until you do a manual cleanup or run 'Archive Cleanup.'
Additionally, you get regular notifications about activity reports, share reports, backup status reports, and more.
Key Features:
RemotePC – Operate your PC anywhere and anytime from any device. The remote desktop software lets you manage your files, print documents, transfer data, and more remotely.
Vision – Vision is a free add-on that helps you enhance remote customer support, troubleshooting, and internal training using video assistance.
Offline View – You can use the offline view to view your files on your mobile devices without any internet connectivity.
Pros:
256-bit AES encryption provides an additional layer of security.
Also, you can install the iDrive app on an unlimited number of devices and take backup.
They provide 24/7 technical support.
It provides multiple computer backup, Linux backup, Hybrid backup, and more.
Snapshot-based restore.
Remote management.
Pricing:
iDrive offers two types of plans for business and personal use.
iDrive Personal:
5 TB: $52.12 first year
10TB: $74.62 first year
iDrive Business:
250GB: $74.62 for the first year
500GB: $149.62 for the first year
1.25TB: $374.62 for the first year
2.5TB: $599.62 for the first year
5TB: $1124.62 for the first year
12.5TB: $2249.62 for the first year
Besides, you get a free plan for up to 5GB of cloud storage.
Best for those using Windows 10 and working with Microsoft 365 ($1.99 per month).

Adam's Take
If you prefer to use a Microsoft application for your cloud storage needs, you should check out Microsoft OneDrive. It offers a variety of features that make it an excellent choice for both personal and business use. Perhaps the most appealing part of OneDrive is that it integrates seamlessly with other Microsoft products, such as Office 365 and SharePoint.
Microsoft OneDrive is a file hosting and synchronization service provided by Microsoft as a part of Microsoft 365. You can save your files in the Microsoft OneDrive folder and access them from anywhere you want.
You can access, edit, and share your files on any of your devices, anywhere, and anytime. Not only this, but you can also take backups of all your important files and restore them whenever you want.
OneDrive also lets you share files with multiple members by sending a link via text or email. Plus, there's no limitation to the file size – you can send files of any size.
It also provides integration with numerous third-party apps like Outlook, AutoCAD, Xbox One, etc. Integration with the Xbox console suggests that you can store just about every type of file in OneDrive.
Security-wise, OneDrive lets you store sensitive files like passports, driver's license, or insurance documents in your Personal Vault. You also get a ransomware recovery feature to safeguard your documents.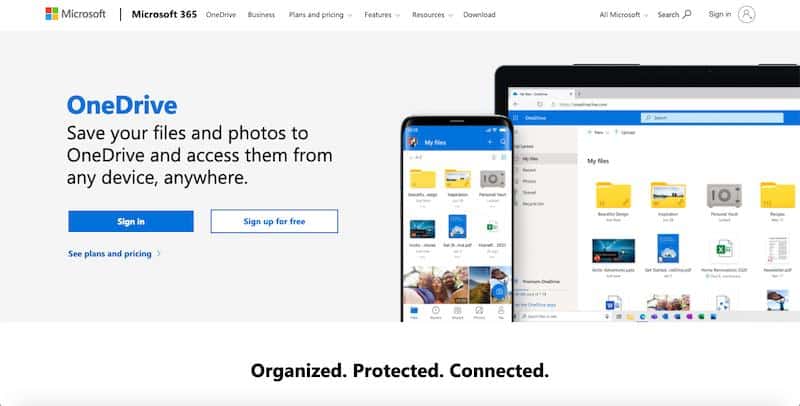 Key Features:
Personal Vault – This feature lets you store some of your essential files with an extra layer of protection. You can also offer an additional security layer using identity verification with your fingerprint, face, SMS code, or other methods.
Document Scanning – OneDrive also provides a document scanning feature to help you scan and store notes, receipts, business cards, documents, and more.
Pros:
Your files backed up on PC get automatically synced with your mobile app.
Restore any OneDrive file up to 30 days.
You can access files in offline mode.
Share files with password protection.
Ransomware detection and recovery.
Pricing:
Microsoft OneDrive comes with four pricing plans:
OneDrive Basic: $0 per month (5GB)
OneDrive Standalone: $1.99 per month (100GB)
Microsoft 365 Personal: $69.99 per year (1TB)
Microsoft 365 Family: $99.99 per year (6TB)
There are different plans for large businesses that start from $5 per user per month for 1 TB of storage.
Best for regular Macbook, iPhone, and iMac users ($0.99 per month).

Adam's Take
If you're an Apple user and want a solution that integrates well with your other Apple products, then iCloud is a great option. I like iCloud because it's very user-friendly and easy to set up. Great for people who use multiple Apple products, it helps keep everything in sync.
Apple iCloud is a cloud storage and cloud compounding service provided by Apple that helps you store notes, files, photos, and more. You get free storage for up to 5GB and can add more storage whenever you want.
All your original photos and videos get uploaded on iCloud, while the lightweight version stays on your device. This helps you save plenty of mobile storage without losing your media, even from years ago. Not only this, but you can also manage and share photos using iCloud.
Now, you can access, organize, and store all of your files using Apple iCloud. It even lets you share them with whoever you want using a private link. Just choose the members who can see, add comments, and their own photos and videos.
What's more, the changes you make on one Apple device gets automatically updated on every other device with the same Apple ID. This feature helps you keep all your contacts, notes, calendars, reminders, etc., up to date.
You can also save all your work on Pages, Numbers, and Keynote on iCloud. It also lets you manage, share, and edit your documents on the web. You can even give your team, and family members access to edit your files and collaborate with you.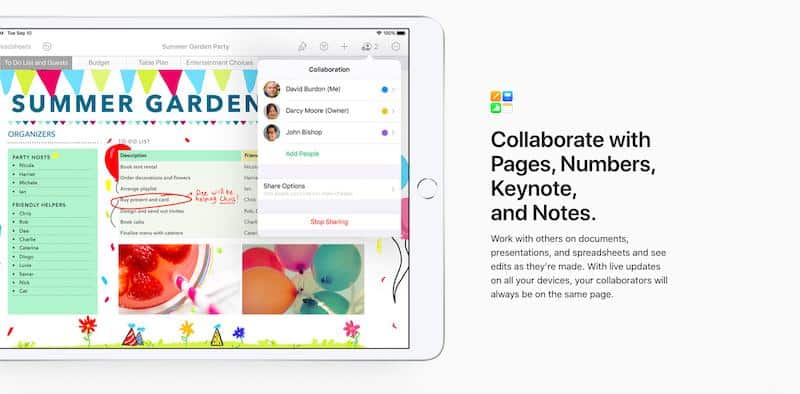 iCloud also helps you access your messages and continue your conversation from any device, including iPhones, iPads, Macs, iPods, etc. You can even read articles from your reading list without internet access and use the same bookmarks on all your iOS devices.
Key Features:
iCloud KeyChain – It automatically stores all confidential data entered in your iOS devices, including your passwords, credit card detail, etc.
Find My Device Feature – This feature helps you locate or track all your Apple devices backed with iCloud, including iPhones, iPad, Mac, etc. You can also share the location with anybody you want.
Family Sharing – You can share your iCloud account with up to five members for free. This helps you share your favorite books, music, media, and other purchases with your family members.
Pros:
Apple iCloud comes natively built with all Apple products.
iCloud automatically backs up all your devices as soon as they get connected to the internet.
It provides two-factor authentication to keep your data secure.
Organize your files with folders, rename them, and color tags.
It comes with a freemium plan for up to 5GB of storage.
Pricing:
Apple iCloud offers four plans:
5 GB: Free
50 GB: $0.99 per month
200 GB: $2.99 per month
2 TB: $9.99 per month
Best for large enterprises that need mass storage ($14.99 per month).
Zoolz offers cloud storage and backup plans for unlimited users and servers. It provides unlimited uploads and downloads along with no capping on the speed. Plus, Zoolz comes with an AWS-based backend for better security and migration to the cloud.
Features like multi-faceted backup, duplication, and redundancy ensure the on-demand availability of the data. You can also take faster backups with functions like deduplication, block-level uploads, and specified file retention. These features also let you limit the amount of storage utilized by a specific file.
There's a file browser that lets you manage, organize, share, search, and preview all your files saved in the cloud. You can also leverage its centralized to restore files to any computer and at any point in time.
It also gives you full control over your data by allowing you to configure backups and writing policies for users.
Major control options include:
Backup selection
Storage limit
Encryption
Privileges
Ability to suspend, activate, and delete users
Not just this, you can even encrypt and decrypt files and share expiration date for download. You'll get a notification as soon as someone access or download the shared file.
Additionally, Zoolz adheres to General Data Protection Compliance (GDPR) regulations. Besides, it offers HIPAA compliance and various other certifications, privacy acts, laws, and frameworks.
Key Features:
Cold Storage – You can use it to archive files by selecting the data to create instant backups for lesser-used files. It also offers zero restore costs and remote restore.
Hybrid+ Feature – It creates local copies of backup files to achieve lesser recovery time using a local repository over the cold storage.
Snowball Appliance – It sends Amazon's Snowball appliance for businesses that need to transfer over 10 TB of data.
Pros:
Safeguard your data with 256-AES Server Side Encryption.
It lets you upload small files in bulk to create faster backups.
Download or share an unlimited number of files.
It supports admin or user-defined backups.
Restore files to alternate or original locations.
30-days money-back guarantee with all of the plans.
Pricing:
Zoolz offers three pricing plans for unlimited users and servers.
1TB: $14.99 per month
2TB: $29.99 per month
5TB: $74.99 per month
All plans offer unlimited network-attached storage (NAS) and external devices, AES-256 data encryption, unlimited servers, etc. Zoolz also provides a long-term plan that costs $30,000 for 100 TBs of storage for five years.
Best for businesses looking for a self-hosted cloud storage platform (1900€ per year).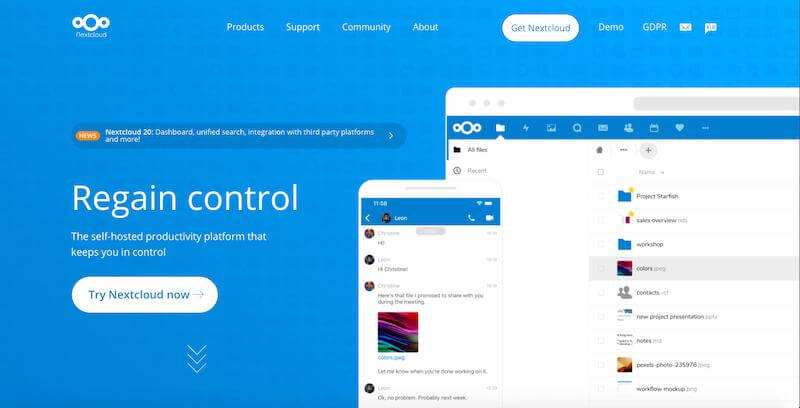 Nextcloud is a self-hosted cloud storage platform that helps you share and access photos, files, and documents for work. You can integrate your on-premise storage system with a local area network to create a cloud storage system with Nextcloud.
With its extensive integration, you can access data from FTP, SharePoint, Windows Network Drive, NFS, Object storage, and more. Integration with Calendar, Contacts, Mail, etc., also helps you collaborate with your team and get work done quickly.
Nextcloud also sends real-time notifications regarding comments and shares on mobile apps for better team collaboration. Besides, you get productivity tools like private audio and video conferencing, on-premise Universal File Access, and live chat to improve communication.
Additionally, Nextcloud provides HIPAA & GDPR compliance, file access control, and auditing capabilities.
Key Features:
Data Retention – You can define rules to ensure data retention and allow periodic cleanup of files. You can also put a time limit to data to keep the data for a particular amount of time.
Automate Tasks – You can automate tedious and repetitive tasks like data entry. You can also include flow elements, including triggers or actions, and build separate flow apps.
Nextcloud Data Analytics – It transforms data into actionable reports and shares them with you and your team members. You can also use it to track and analyze the data imported via API.
Pros:
Use tags to control file deletion and retention.
Share files with multiple users on your own server.
It offers a web installer, easy-to-manage VM images, and Snapshop backups.
Leverage multi-layered encryption for added security.
Set multi-level permissions on access and sharing of files.
Nextcloud provides SAML, LDAP/Active Directory, and Kerberos authentication.
It also offers in-built collaborative editing of MS Office compatible files.
Pricing:
Nextcloud offers three pricing plans:
Basic: Starting at 50 users for 1900€ per year
Standard: Starting at 50 users for 3400€ per year
Premium: Starting at 50 users for 4900€ per year
You can also purchase add-ons like installation and configuration support, global scale setup, branding, and more. Or you might want to get in touch with the sales team for customized plans based on specific requirements.
Best for browser-based UI and apps for desktop & smartphones ($1.67 per month).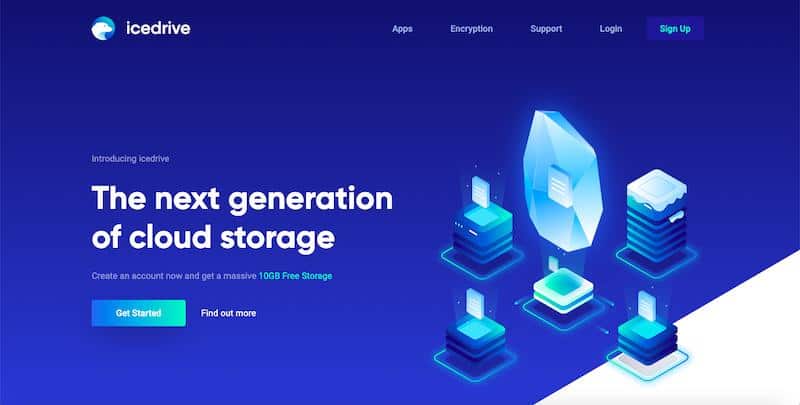 Icedrive is a cloud storage tool that helps you manage and access cloud storage directly in your operating system. You can use it directly on your browser or download a desktop app or mobile app.
The desktop app offers a native operating system user experience to delete, edit, upload, and open files. On the other hand, the mobile app lets you stream your media, share files & folders, and perform an entire device backup.
Plus, its cache-control solution ensures swift access to large files. You can cache used files to open files quickly, which means you don't need to wait for files to sync.
It's compatible with all types of devices and is available on all app stores, which is helpful for easy access to files. You can also receive and give feedback by adding comments on your showcase page.
Icedrive also offers an in-built media player to stream video directly from the database and watch previews of documents. You can also view images without downloading them.
Key Features:
Advanced Browser Upload – It offers a browser-based upload system that leverages 'chunked uploads' to upload big files without any interruption.
Document Conversion – You can convert all vector types and documents to a particular format to preview the documents directly on your browser.
Featured GUI – Its web-based software provides a user-friendly interface that supports drag-and-drop and right-click functionality.
Pros:
It uses the Twofish algorithm to offer bulletproof security.
Icedrive lets you encrypt folder and file names.
You get 10 GB of free storage.
Each file gets encrypted individually and double encrypted over HTTPS.
Leverage cloud within the native OS environment.
Built-in document and vector viewer.
It provides caching systems to expedite file access speed.
Pricing:
Icedrive provides three pricing plans (yearly):
Lite: $1.67 per month for 150GB storage
Pro: $4.17 per month for 1TB storage
Pro Plus: $15 per month for 5TB storage
All plans come with features like client-side encryption, share timeout, password protection, and more. You can also avail of the free plan that comes with 10GB of cloud storage.
Best for remote teams ($8.99 per month).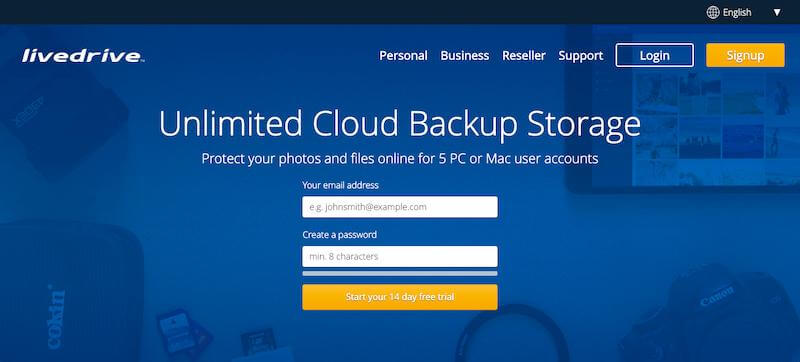 LiveDrive is a cloud storage platform that provides cloud backup storage for personal use, business use, and reselling purposes. It offers unlimited PC/Mac backups and helps you edit and access files from any location.
LiveDrive can also automatically upload files to its data centers located in the UK. Plus, it enables you to restore files to a new device in case of theft or breakdown. It also leverages intrusion prevention technology and offers round the clock physical security.
You can also use LiveDrive to create team folders and enable professionals to collaborate privately. What's more, you can use these folders to send data to the entire company and control files' access.
Additionally, its dashboard reflects the status of the latest backup and scheduled tasks and shows the amount of storage left.
Security-wise, LiveDrive offers two-factor authentication (2FA), three layers of physical access security, EU privacy laws compliance, and more.
Key Features:
Backup+ Pro – Easily backup and restore your documents, folders, and files by installing Mac or Windows software. You can also download files in any format from LiveDrive.
Briefcase – You can place all your files in a single 'Briefcase' folder and then view and edit them from any device. This online file drive feature also supports AES-128 security encryption.
Co-Branding and White Label Options – You can add your own logo, change the name, and replace images or text on the portal.
Pros:
LiveDrive's services are SOX compliant, and SOC2 self-certified.
You can limit the bandwidth for downloading and uploading files.
Its integrity check feature verifies every file online for security.
The mobile app can also take data backups.
It lets you control access for users and limit who can edit or view your files.
Pricing:
LiveDrive offers different plans for business and personal use.
Personal Products:
Backup: $8.99 per month
Pro Suite: $25 per month
Briefcase: $16 per month
Business Products:
Business Express: $50 per month for 2TB of cloud storage
Business Standard: $160 per month for 10TB of cloud storage
You get a free trial with all of the plans.
Best for data encryption ($6 per month).
Backblaze is a cloud storage and data backup company that offers enterprise-grade and S3 compatible storage. You can also migrate your data from Amazon to Backblaze B2 Cloud Storage quickly.
You can seamlessly integrate it with SAN, NAS, or your go-to-software. Plus, compatibility with native or S3 APIs, GUI, and CLI means minimal coding requirement to migrate the data.
BackBlaze is also compliant with HIPAA to offer data solutions for healthcare organizations. You can also set up throttling and threading preferences manually.
Some of its most prominent features include:
Store and archive data securely on VMs, servers, NAS, and computers.
Distribute and push your globally stored content with Backblaze CDN partners.
Cloud services are resizable to handle every workload.
Manage and store large media files without changing your regular workflows.
Additionally, the software can also measure the time required to create a backup based on the last file transfer speed.
Key Features:
Internet Transfer – Use multi-threading to move files over your current internet bandwidth.
Fireball Rapid Ingest – Move files in batches on-premise up to 70 TB using the Backblaze fireball device.
Equinix Server – BlackBlaze partners with Equinix to offer on-demand servers on an hourly basis for high performance.
Pros:
Use the joint light-touch framework from MSP360 and Backblaze for a simplified backup process.
It provides HIPAA compliance with its Business Associates Agreement (BAA).
Easily manage data through a centralized admin framework.
It allows keeping versions of old files for an unlimited time period.
It also offers a 256 GB flash drive and external hard drive up to 8 TB to securely send data backup.
You can access all of the files on an Android smartphone, iPad, iPhone, and more.
10GB of cloud storage is free.
Pricing:
BlackBlaze offers three pricing plans:
Monthly: $6
Yearly: $60
Two-year Plan: $110
All plans offer unlimited cloud storage, the ability to restore multiple older versions of a file, automatic backup, and more. You also get a free trial period to try out the product before purchasing any of the plans.
What is Cloud Storage?
Cloud storage leverages a cloud computing model to store data on virtual storage servers. You can upload and download data on the servers of a cloud computing solution that offers data storage and management services.
Here are some of the benefits of using cloud storage services:
On-demand services for the required storage capacity.
They charge you only for the amount of storage you actually use.
It eliminates the requirement of buying and managing a physical data storage infrastructure.
You can remove or add data storage capacity in real-time to manage retention and performance metrics.
It provides a much-needed scale, agility, and efficiency to businesses globally.
Apart from this, centralizing data storage in the cloud also helps in performing powerful information management tasks. You can leverage automated tiering or lock down the data to meet compliance requirements.
Cloud storage also allows IT teams to deliver the right amount of required data storage efficiently. It also enables you to solve complex application problems instead of focusing on managing data storage systems.
Which Features Do You Need in a Cloud Storage Platform?
Here are a few essential features that you should look for in a cloud storage service.
File Versioning – You can edit without any worries with file versioning. Thus, look for a cloud storage service that offers storage of unlimited file versions. This will also help you extract overwritten data from any version of files.
Auto Sync – The auto-sync feature automatically saves all of the changes made to the file. This means you don't have to worry about losing any change or edit made even when you're offline.
Remote Access – You should be able to view and edit files from anywhere and at any point in time.
Collaboration Tools – Collaboration features can enable teams to work simultaneously on the same file or folder.
Security – With as many as 48% of surveyed companies saying they don't know when someone breaches their system, your cloud storage should offer security measures like encryption of files, access control, 256-bit AES and SSL/TLS encryption, and 2-factor authentication.
Flexible Storage – You should be able to increase and decrease cloud storage anytime you want to suit your business requirements. It will also help you cut down costs whenever you require lesser data storage.
How Do You Use Cloud Storage?
In this article, I'm using Zoolz to demonstrate and help you understand how to create a data backup.
Step#1. Sign In.
First, sign in to Zoolz with your email and password.
If you are a new user, you can sign up for the Zoolz account by filling up the required information, including name, email, and password.
Step#2. Select Data.
Once you enter the dashboard, click on any of the tabs, including Smart Selection and My Computer, to select the data. Finally, click on the "Next" button.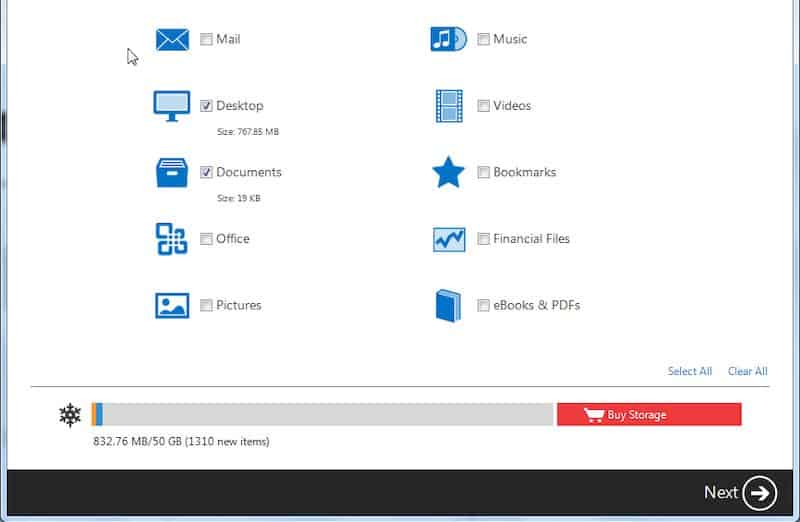 Step#3. Backup Settings.
Now, choose preferred backup settings from options like:
Run on Schedule
Security options
Enable or disable 'Bandwidth Throttling.'
Hybrid+, and more.
After you select the preferred option, Zoolz will start uploading your data. After the uploading of data is complete, you can also access the files online.
Hope these steps will help you understand how cloud storage solutions work.
Executive Summary.
There you have it – some of the best cloud storage service providers. Cloud storage is one of the best storage options and can help you eliminate complex storage options like USB and hard disks. The best part is that cloud storage is now more affordable than ever before and is suitable for both personal and business use.
However, each cloud storage platform has its own USPs that might interest you based on your requirements.
For instance, you might want to try Google Drive if you are looking for secure and free cloud storage. Or if you only ever use Apple products and need cloud storage for personal use, then I'd suggest Apple iCloud.
Overall, my top pick is Dropbox due to features like:
256-bit AES and SSL/TLS encryption.
2-factor authentication.
Integration with Google Docs, Sheets and Slides, Microsoft Office files, and more.
Ability to access your files from multiple devices like computers, phones, etc.
And more.
All in all, make sure to review each cloud storage tool carefully before making your final choice. You can also give multiple tools a try since most of them offer a trial period, ranging from 14 days to 30 days.
Which one of these cloud storage platforms are you planning to use, and why? Let me know in the comments below.
Further reading on AdamEnfroy.com: Using cloud storage is important to ensure that your documents, images, and videos stay safe and secure.
But what if you want to know which apps to use to capture video on your phone in the first place?
Here's an article on how to screen record on an iPhone for more information.
In addition, here's how to screenshot on your iPhone – this will allow you to save the exact images you want from your phone and then use cloud storage to store them safely.
Disclosure: I may receive affiliate compensation for some of the links below at no cost to you if you decide to purchase a paid plan. You can read our affiliate disclosure in our privacy policy. This site is not intending to provide financial advice. This is for entertainment only.