7 Best Crowdsourcing Platforms of 2023 (Ultimate Guide)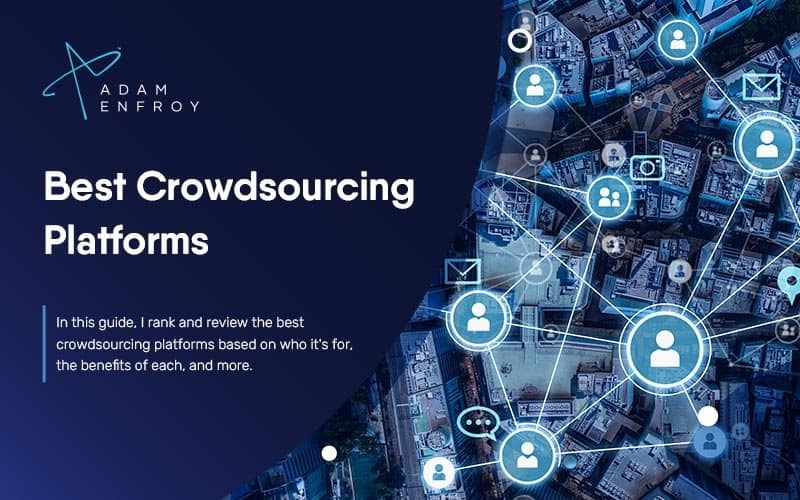 Crowdsourcing is a term that has exploded in popularity in recent years. It refers to the practice of sourcing tasks or complex projects from a large group of people to get help with things like funding, ideas, and labor.
By 2027, the global crowdsourcing market is expected to reach $154,835.74 million due to the methods involved.
That means that choosing the right crowdsourcing platform can do wonders for you and your business. You will be able to get an idea out quickly, get input from tons of people and move forward much quicker than if you had gone alone.
We've put together a list of our favorite crowdsourcing sites and put them to the test. These are all excellent platforms, but not every platform is right for every situation.
Let's get into more detail about each one.
What are the Best Crowdsourcing Platforms?
Here are my top picks for the best crowdsourcing platforms of 2022.
Best for solving the world's greatest challenges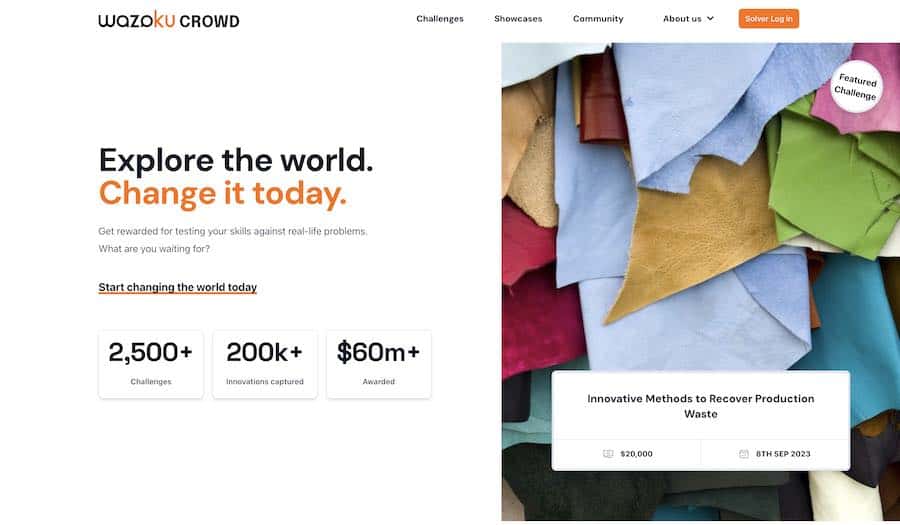 Wazoku Crowd has helped global businesses, governments, public sector organizations, and charities harness the power of a crowd by providing opportunities for anyone to get involved and change lives.
With so much innovation coming from challenges, governments and organizations are looking to solve crucial problems and this is where human collective intelligence and all the bright minds come together to find solutions to complex projects.
With more than 500,000 problem-solvers around the world, Wakozu Crowd has become the market-leading organization putting challenges online and helping others access expertise from around the globe.
Features
Extending problems to multiple people means that many more minds can help with problem-solving.
Connect directly with the people who understand the issues that your organization faces
By posting challenges online, organizations can spend their time focusing on other areas of business instead of problem-solving them themselves.
Improve your own expertise in a topic through helping others with practical solutions so you can excel at what you do.
Pricing
When it comes to pricing for Wazoku Crowd, you are required to get in touch with the company to learn more.
Best for finding bold, innovative solutions to solving complex problems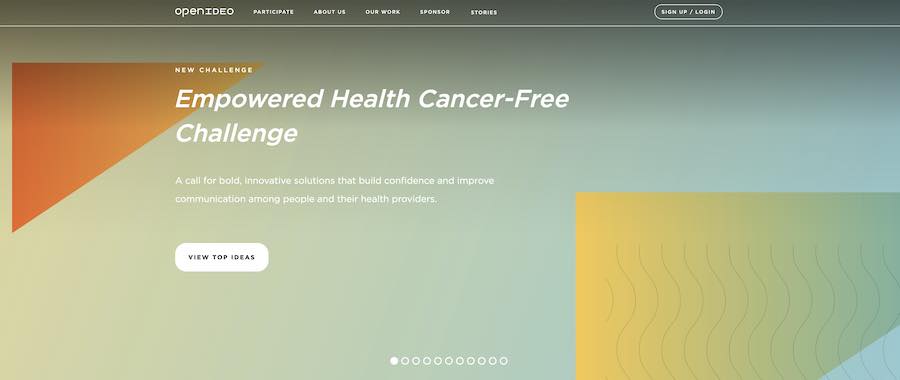 OpenIDEO is a platform that makes it easier for people around the world to come together and share new ideas about how we might solve complex problems in our communities. By using this platform, anyone with an Internet connection can access tools like IDEO's Toolkit or collaborate on challenges from anywhere in the world.
We all know that design thinking can solve many problems, but it's not easy for everyone to learn and practice.
Design thinking involves many steps, which means there are also many places where things can go wrong. This is especially true when you try to apply the method outside your own organization.
OpenIDEO makes this process easier.
Features
Be a part of something bigger than yourself and elevate your business in the process.
Use the power of communities to fuel momentum towards a successful business.
Connect with people who share your values and passions to create a collaborative environment that encourages growth.
Gain diverse insights to fuel social change worldwide so that you can make your business more effective in targeting a bigger audience.
Pricing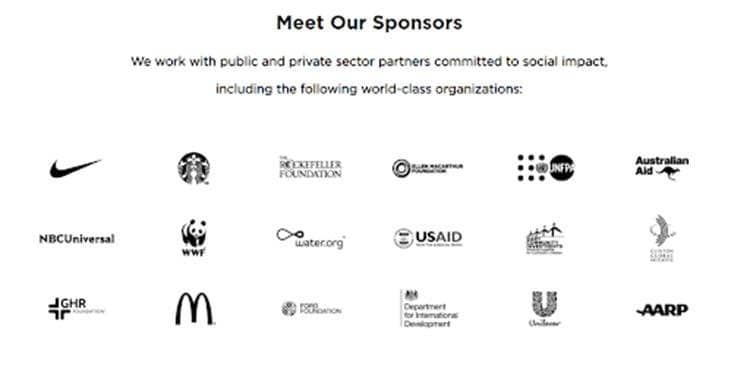 OpenIDEO works with some of the biggest organizations in the world that are committed to having a great impact on society.
These companies sponsor OpenIDEO to bring about the change that they desire.
Best for finding people to help complete crowdsourced tasks

If you want to run microtasks, Amazon's Mechanical Turk is the ideal service.
The platform has been growing rapidly over the years and they have expanded their marketplace to include everything from micro tasks, simple data categorization tasks, asking workers to gather data and even more complex work involving product generation.
Mechanical Turk is a huge marketplace where companies and developers put up available small tasks and projects, known as "HITs," or Human Intelligence Tasks.
Workers then go through the existing HITs on offer, choose ones they like, complete them, and get paid via Amazon's MTurk crowdsourcing site.
One of the biggest attractions of using Amazon's Mechanical Turk is that you can use this online platform as a starting point before turning to external options for outsourcing tasks that need more specific, high-quality attention.
In fact, here is a list of the top 5 things to outsource as a blogger so if you are interested in this topic, then MTurk might be a useful starting point for you.
You can even get workers on MTurk to perform validation on work done by other workers.
Features
Hire a distributed workforce for the specific task at hand so that you can get small pieces of work completed by a large number of workers.
Use people to complete tasks that you need doing, but for which you don't have sufficient time or resources – like the time needed for extensive research.
Increase personal data collection and analysis with an army of workers so that you can get small pieces of work completed by a huge number of workers.
Get other works to validate previous work done by workers to ensure that it is up to your needed standards.
Pricing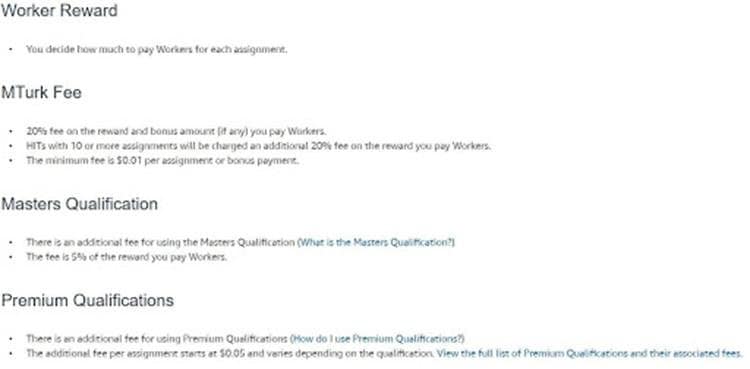 When it comes to pricing, you decide how much to pay Workers for each assignment and MTurk will take 20% of the reward you pay them as well as any bonuses.
There are a few different qualifications: Masters, Premium, Basic; which one you use determines what additional charges there may be.
4. uTest.
Best for finding user testing jobs and make an impact on digital products

uTest has over 500,000 testers in their community who are looking for freelance work and new challenges to grow their careers.
They also have a team of community managers who connect testers with clients on an ongoing basis to provide the best software testing experience.
When people sign up to uTest, they will match them with high quality freelance software testing opportunities that suit their skill set and interests
If you're looking for a community platform that allows you to get better at user testing, uTest is definitely one of the best crowdsourcing sites to check out.
With the sharp increase of no code development platforms in 2021, a crowdsourcing platform like uTest offers a visible benefit to those involved.
Features
Help shape the future of technology (smartphone apps, websites, etc) so that it fits the needs of people that will be using it.
You'll have the opportunity to see new products before they're released which means you'll be part of the development process.
Get paid for your opinion on new products without needing any prior experience.
Gain valuable insights into what makes or breaks the software that people use in 2021 so you stay current in this area.
Pricing

uTest is free to register and take part in tests.
Even better, they will pay the registered users based on the tests that they take part in.
This is a great opportunity for those interested in user testing and wanting to get experience in this area.
5. Upwork.
Best for finding the right freelancers to complete tasks

With Upwork, you can get thousands of freelancers to carry out a task whether it's writing an article or coding some software that you need.
Their interface makes it easy for people with less knowledge of these types of crowdsourcing platforms to use them and get work done as quickly and efficiently as possible – you can even use templates to make the process faster.
When you post your task or crowdsourcing project online either via mobile app or desktop browser window, you type in what kind of work is needed and a list of freelancers will be provided to you.
Once selected, you can chat with them via the platform itself and negotiate a pay rate.
Upwork has managed to take away thousands of hours that would otherwise have been used on finding and hiring freelancers.
If you're on the other end of the spectrum, you can also consider using Upwork to find the best freelance writing jobs and proofreading jobs in 2021.
Features
Find freelancers who are proven experts in their field of expertise so that you get the best possible results from your crowdsourced work
Upwork does all the vetting for you beforehand, ensuring you're only working with a highly talented person
Get your work done as quickly as possible using collective intelligence by connecting with the most talented freelancers in their field, all available at your fingertips via Upwork for very reasonable rates
Keep your work private and off the grid, just pay for their service via credit card and keep it between you and the freelancer
Pricing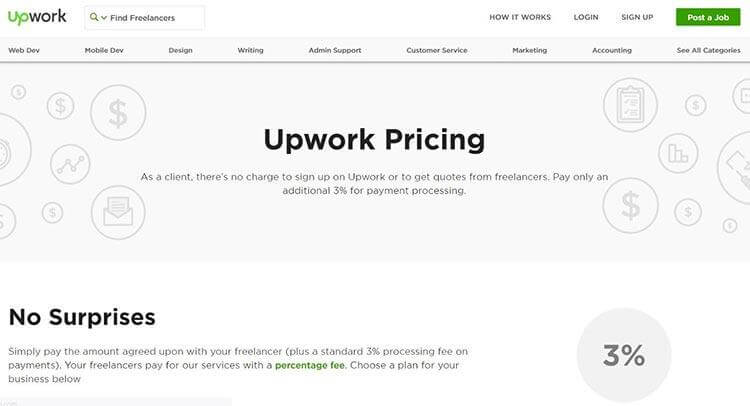 Upwork charges 3% as their service fee on all payments made through them. You can trust your freelancer with this percentage because they will also be paying an amount in fees for using Upwork's platform.
6. 99Designs.
Best for finding a great graphic designer to create engaging designs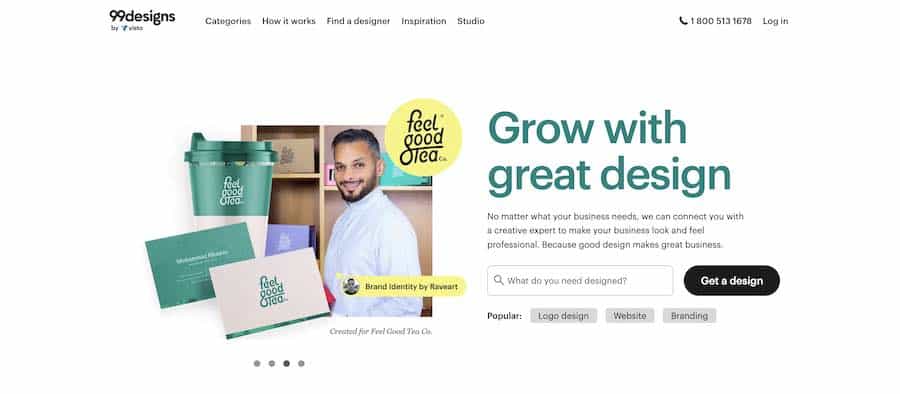 99Designs is a crowdsourcing site where you get to create a graphic design contest for a business logo, website, or packaging.
From here, you'll receive dozens of designs from talented graphic designers around the world who will submit their graphic design based on your requirements.
You have the opportunity to choose the best graphic design and then purchase the rights to that design. This is great for businesses who want expert graphic designers to design their branding and logo but don't have the time or skill set themselves.
This crowdsourcing platform starts with a competition where designers submit their graphic designs as quickly as possible. This ends up being way more efficient than doing this yourself using graphic design software.
After these innovation contests end, you can choose which one you like out of the pool of submissions, pay for the rights to that design, and use it immediately.
This is perhaps one of the most effective business models out there, especially in terms of getting results from crowdsourcing work. It's a platform where freelancers are reliable, trustworthy, and do their job diligently.
Features
Broad selection of professionally crafted graphic designs which means that you're guaranteed to get a design that looks enticing, professional, and full of innovative ideas.
Unique design contest approach so that you don't have to deal with thousands of irrelevant designs
Guaranteed quality in every design submitted so that you get exactly what you're looking for
Convenience with a fast, real-time turnaround for any project so that you don't have to stress over finding the right freelancer for the job
Pricing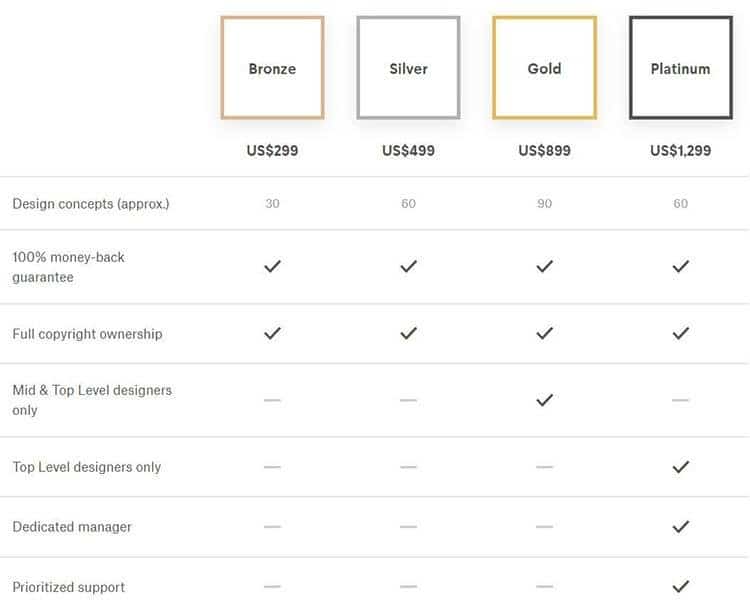 With 4 different packages available, you are sure to find the right solution for your needs.
Bronze package, priced at $299 which gets you approximately 30 designs
Silver package, priced at $499 which gets you approximately 60 designs
Gold package, priced at $899 which gets you approximately 90 designs
Platinum package, priced at $1299 which gets you approximately 60 designs from the top-level designers on the crowdsourcing platform
7. Cad Crowd.
Best for getting 3D designs and printing ideas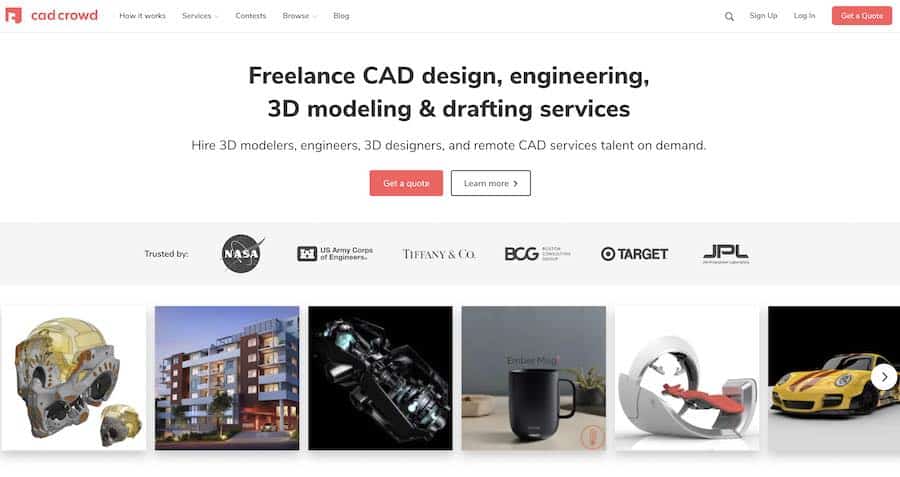 Cad Crowd is a creative community of 3D modelers and designers who work on real creative projects from clients worldwide using all different types of CAD software.
They are not just another graphic design marketplace — they're the place to find the next best ideas and turn them into reality. Their platform offers you access to thousands of CAD modelers, designers & drafting contractors for your designs, 3D printing or any product project.
You can choose between freelancers with different levels of experience in some of the most relevant fields. The best thing about using their services is that there are no long-term commitments required; you post your project and wait for responses.
Features
Get qualified help on demand for all your 3D modeling needs so that you can free up time to focus on the big-picture projects.
All your projects are guaranteed to be done by experts with extensive experience in CAD design, construction, and architecture.
Projects are done remotely, at your convenience to suit your schedule for extra flexibility and convenience.
Save money by hiring freelancers on demand so that you only pay for the design, drafting, and 3D modeling work when you need it – rather than having to employ full-time staff continuously.
Pricing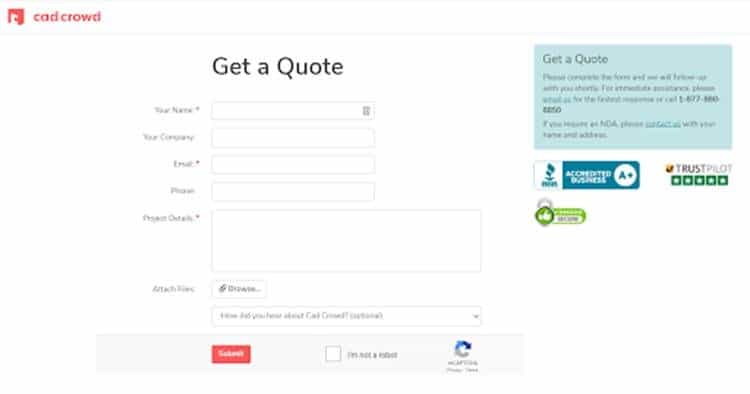 No prices are shown on this crowdsourcing website since this depends on the type of job you're looking to get done.
However, there is the option to get a quote based on the project details that you input. You can also get an NDA by providing your name and address.
What is a crowdsourcing platform?
If you want to harness the crowd's power when raising money for your startup, project, or idea, a crowdsourcing platform is the solution.
The people on these platforms are looking for ways to harness the power of the crowd to achieve a final outcome. A crowdsourcing platform allows you to find these people.
People can come on board meaning that resources are compounded which ultimately gives you a better probability of getting what you want.
On the other hand, if you're a user, you can rest assured that you're contributing to making something of a higher quality than it already is.
The best part is that all such platforms are different and offer something unique – it's up to you to pick the one that's the best fit for your idea.
Crowdsourcing Platform FAQ.
What is an example of crowdsourcing and what do they provide?
A crowdsourcing website allows people with the best, new ideas to come together to form online communities. This allows quality control in each and every crowdsourcing website, which is of mutual benefit to everyone involved.

Many companies find solutions to technical problems that small businesses are not able to do by themselves.

Creative crowdsourcing is work done by a large body of people who tend to have specific skills. Crowdsourcing is a good example of a situation where one project can turn into a multitude of new ideas.

Crowdsourcing sometimes also allows products and services to be produced at a low cost due to the collective brainpower that can deal with challenges related to product design.
Are specialized skills needed in crowdsourcing?
Due to the nature of the topic, specific skills are well suited to excel in this area.

However, even more important is to develop something from the idea stage to the production stage in the most effective way.

Some of the best small business ideas are generated when people put their brains together and collaborate. That is where the power of crowdsourcing really takes off.
What is crowdsourcing on social media?
Crowdsourcing companies use social media as an online tool to aggregate and collect a wide variety of different content, services, and contributions from many members of the public.

Crowdsourced work can take a variety of forms utilizing crowdsourcing concepts – in fact, social media sites make it possible for contributors to voluntarily share their own knowledge, data, arguments, etc with others.

We also recommend that you check out this list of the best social media management tools if you're interested in taking your social media game to the next level.
Wrap Up.
With crowdsourcing platforms available in all industries, the possibilities are endless.
The best part of this industry is that it's constantly evolving, so there will always be ways for you to get involved.
Make your pick from the best Crowdsourcing Platforms of 2021 below:
Wakozu Crowd
Openideo
Amazon Mechanical Turk
uTest
Upwork
99Designs
Cad Crowd
These crowdsourcing platforms are great tools that help bring people and resources together, making it an effective way to gain support for an idea and take it as far as it can go.
Editorial Process:
Our reviews are made by a team of experts before being written and come from real-world experience. Read our editorial process here.
Some of the links in this article may be affiliate links, which can provide compensation to us at no cost to you if you decide to purchase a paid plan. These are products we've personally used and stand behind. This site is not intended to provide financial advice. You can read our affiliate disclosure in our privacy policy.