15+ Best Web Design Software of 2023 (Ranked and Reviewed)
Choosing the right web design software is crucial to building a successful website that engages your audience. From creating an intuitive interface without any code to directly uploading your site online, the best web design software can help you meet your goals. In this guide, I ranked and reviewed the 15+ best web design software, along with my top 5 choices, so that you can pick the best one for you.
---
We're reader-supported. When you buy through links on our site, we may earn an affiliate commission.
Want to get right to it? My top web design software right now are Wix and GoDaddy.
What started as a text-based page with hyperlinks in 1991 has now become HTML 5, Bootstrap, mobile-first websites, and full-fledged content experiences.
If you're looking to create a website today, there are a lot of different routes you can take.
Ultimately, it comes down to your coding knowledge and the features your website needs:
A simple website builder like Wix is an excellent option for a small business.
If you're a web designer building a more complex website for a client, Webflow is a great option if you have experience with HTML5 and JavaScript.
Ecommerce platforms make building ecommerce websites easy.
And using your web hosting with WordPress is your best choice if you're planning to start a blog.
The choice is up to you.
In this article, I review the best web design software based on their features, pricing and more.
Let's get started.
What is the Best Web Design Software?
Here are my top picks for the best web design software:
Best Website Builder For Small Businesses ($8.50 per month).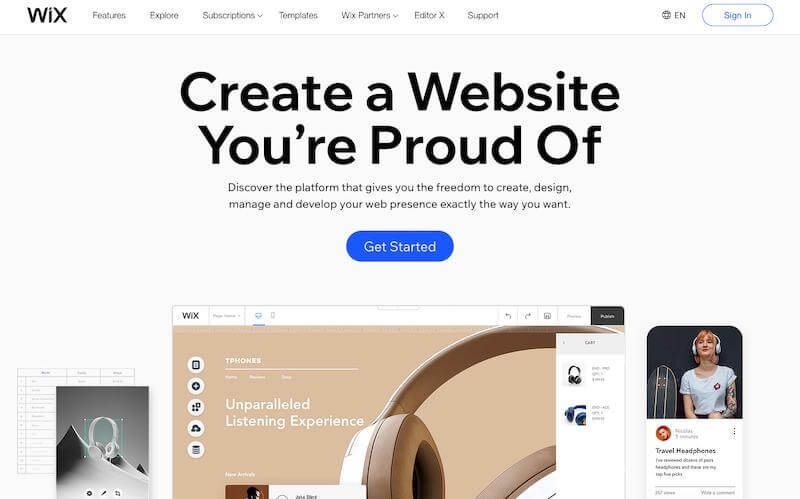 Wix is a SaaS website builder that helps you design your website with attractive templates and web design tools for beginners.
It provides a simple drag-and-drop editor to help you create stunning web designs without coding. You can also add many effects like video backgrounds, animations, and scroll effects.
It also comes equipped with over 500 designer-made templates.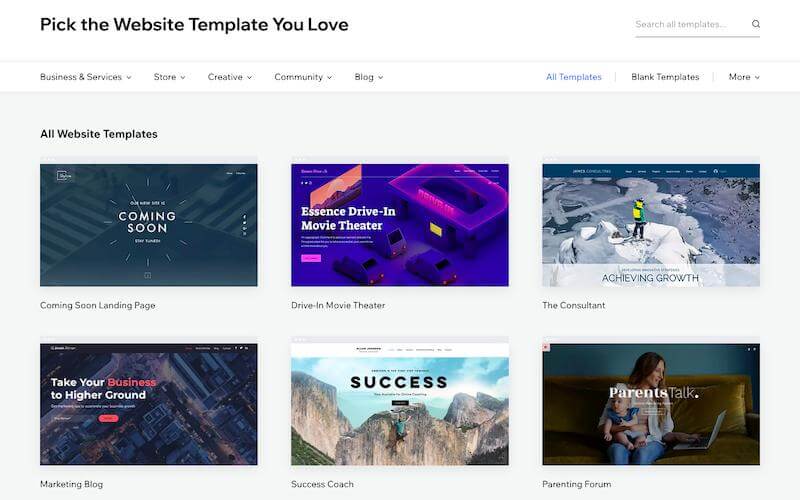 You'll never have trouble finding a suitable template for your site. Wix also offers plenty of filters to narrow down your search.
For example, you can choose from industry types like Health & Wellness, Beauty & Hair, Fashion & Style, and more.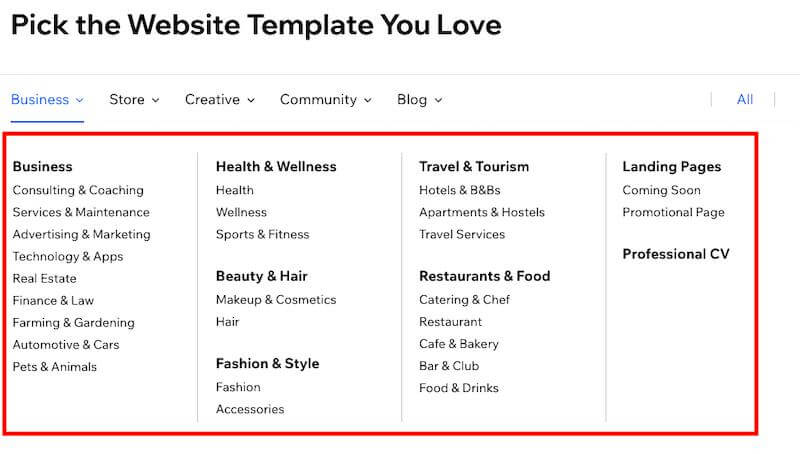 To make things even easier, you can just answer a few business-related questions, and Wix will design your site tailored for you.
Apart from the templates, Wix has over 30 built-in media galleries. You can showcase your images, autoplay videos, and text in these galleries.
Wix also lets you design your site just the way you want with elements like:
A blog to share ideas and grow your community.
Logo Maker to design a professional logo for your site.
Professional custom domains for your site's branding.
Mobile-friendly themes & templates.
Wix can also help you with starting your eCommerce store. You can also edit your website in the mobile view to optimize your website for smartphone users if you have an online or offline store.
It also offers a personalized SEO plan based on your location, business, keywords, and location.
Key Features:
Wix ADI – Artificial Design Intelligence (ADI) can build a highly personalized website with tailored content based on your few answers. You can also edit its features or add/remove any elements you want.
Wix Corvid – It offers hassle-free coding with serverless computing. Achieve total design freedom by managing your web pages from integrated databases and adding your code in the built-in IDE. You can also work in your environment and connect with 100s of APIs.
Overlay Effects – Easily add multiple cool visual effects like shadows, flares, and reflections with Wix Photo Studio.
Dynamic Pages – Bring your website to life with dynamic pages. Automatically update titles, descriptions, images, or text when needed.
Wix Mobile App – Manage your website through the Wix mobile app for a hassle-free and optimized experience. Keep track of orders, publish blog posts, receive customer feedback, and more.
User Experience:
The ability to structure your site in a drag-and-drop interface makes Wix one of the most accessible site builders.
You can add and rearrange elements on your pages with just a few clicks, and there's no need to worry about coding or other technical aspects of web design.
The platform also makes it easy to set up a chat function on your site, which means that your site visitors will be able to get in touch with you directly – and you can respond quickly to any queries or concerns they may have.
Pricing:
Wix provides four paid plans:
Combo: $8.50 per month for personal use.
Unlimited: $14.50 per month for entrepreneurs & freelancers.
VIP: $26 per month for priority support.
You can also connect your domain only for $4.50 per month.
All the premium plans come with a 14-day free trial.
What I Like/Dislike About Wix:
Like:
Easily add alt text to background images for better SEO.
You can collaborate with other designers by assigning multiple roles.
Add scroll effects, video backgrounds, and animation to deliver an engaging experience.
It also offers a professional logo maker to help you build your brand easily.
It offers free images from Unsplash and its own media library.
Dislike:
No inbuilt reviews app can natively handle customer reviews, testimonials, and ratings. This can be a turn-off for businesses in the eCommerce or lead generation space, as user reviews are crucial for boosting conversions.
Cannot add java codes means that certain dynamic website features may not be possible to implement.
Very few animations compared to other site builders.
Product Updates:
Professional proposals make it easy to close deals with clients.
Advanced SMS automation helps you stay in touch with customers better.
You can get started with Wix for free and upgrade to get a custom domain.
Best All-in-One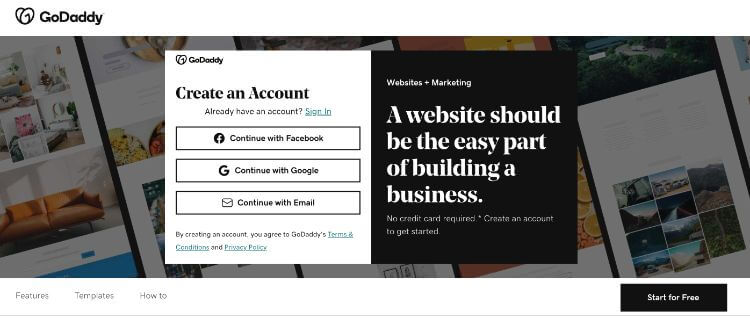 GoDaddy allows you to edit or add entire sections with its intuitive drag-and-drop editor. Plus, you can switch templates anytime without losing your content or design changes.
Whether you want to create content for social media, email marketing, or your website, GoDaddy has you covered.
Their platform makes it easy to resize and format your images for all these uses with just a few clicks.
With professional ecommerce templates, you can set up your shop so that it looks great and is easy to use – perfect for selling online.
Finally, using a single dashboard ensures that your branding is consistent across all your channels.
GoDaddy offers an all-in-one web design platform that makes it easy to get started and achieve professional results.
Read my full GoDaddy website builder review for more information.
Key Features:
Website hosting ensures that your site is always up and running, with fast loading times and 24/7 support.
Content creation with GoDaddy studio gives you everything you need to produce high-quality content for your site or blog.
Customizable themes let you change the look and feel of your site with just a few clicks without losing any of your content or design changes.
Designer-made templates provide a professional starting point for your design, with customizable options to make it your own.
Mobile design and editing let you create and edit your site on the go, so you can keep your business running even when you're not at your desk.
User Experience: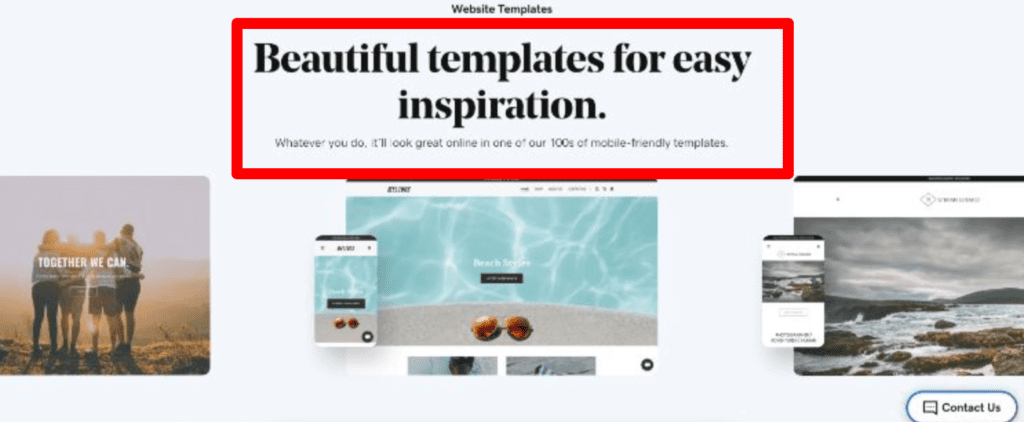 If you love templates that can be used to get up and running quickly when building a web design store, GoDaddy is an excellent platform to check out.
Looking great on mobile and desktop, these templates are easy to use, no matter which industry you're in.
Pricing:
GoDaddy offers these pricing plans:
Basic: $9.99
Premium: $14.99
Commerce: $16.99
Commerce Plus: $29.99
The above prices are on a per monthly basis.
What I Like/Dislike About GoDaddy:
Like:
Integration with Paypal allows you to get started selling various products.
Being beginner-friendly, with easy-to-use templates and tools, means there isn't a huge learning curve involved.
Dislike:
The block elements can be restrictive when trying to get the exact design you want.
Product Updates:
Create various sales reports showing where your customers are coming from and their interests.
The Commerce and Appointments navigation has been updated, making it easier for customers to find what they're looking for on your site.
Get started with GoDaddy.
Best Website Builder for Design Templates ($12 per month).
Squarespace is an all-in-one solution for web designers to design professional websites. It provides best-in-class web templates that you can easily customize to meet your creative and professional requirements.
Browse the templates according to numerous categories (online stores, photography, consulting, etc.) to find the most suitable option.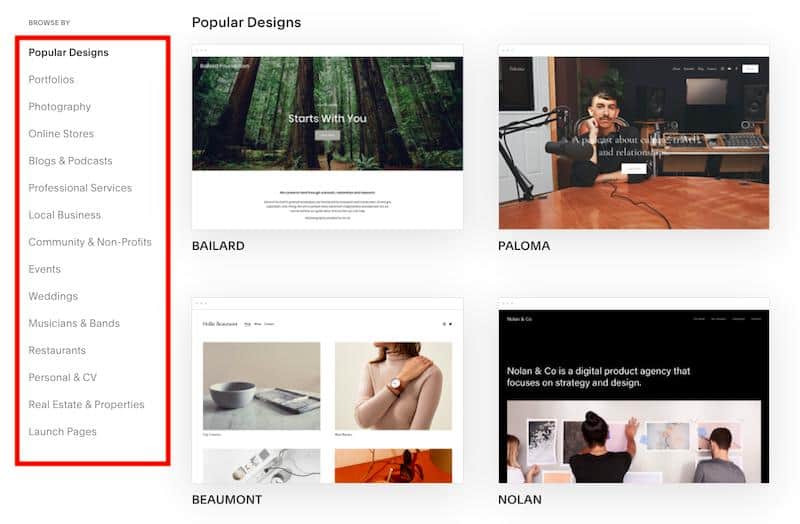 And if this doesn't help you find a template best suited for your business, you can answer a couple of automated questions. After that, Squarespace will automatically handpick some templates tailored to your requirements.
Here are some of those questions:
Moreover, it enables you to create intuitive portfolio designs through customizable galleries and password-protected pages. Squarespace also controls image editing, including cropping and resizing images.
You also get powerful blogging tools to share your ideas and post company news or product releases. The blog dashboard lets you schedule, categorize, and share your posts in whichever way you want.
Not just the web design features, Squarespace also provides built-in SEO and analytics tools. These tools help you rank higher on search engines and track your site's performance.
Key Features:
Chart Blocks – Display data in stunning formats using interactive and responsive pie charts and line/bar graphs.
Free Typekit Fonts – Squarespace collaborates with Typekit to provide high-quality fonts without paying any additional charges.
Audio Collections – This music-specific feature enables artists to upload their soundtracks and albums with an art display and an integrated audio player.
Video Backgrounds – Add life to your site with stylish video backgrounds. It helps you to increase the engagement of visitors to your website.
Drop-Down Menus – Create endless custom navigation menus and make it easier for users to navigate through different pages of your website.
User Experience:
With the ability to move slides around to get the exact order and look you want and see a live preview of what your site will look like as you make changes, Squarespace is one of the most accessible site builders to use.
You can also control various layers, including backgrounds, foregrounds, and the position of block items.
Pricing:
Squarespace offers four pricing plans:
Personal: $12 per month paid annually
Business: $18 per month paid annually
Basic Commerce: $26 per month paid annually
Advanced Commerce: $40 per month paid annually
You can save up to 30% on annual plans; every plan comes with 24/7 customer support.
What I Like/Dislike About Squarespace:
Like:
The main and advanced commerce plans offer free payment transactions.
Add unlimited sections to web pages through their page builders.
It offers designer color palettes for higher and unique customization.
Change content layouts with a simple click.
Quickly set multiple roles for your team members to collaborate efficiently.
Get prioritized support on Enterprise plans.
Dislike:
Images will sometimes not drag and drop where you want them to go, which can be frustrating.
Migration to the latest version is not always smooth and can cause issues with your site.
Product Updates:
AI-powered voiceover features help site owners to create content easily and quickly.
Different templates give users more choices in the design of their site.
The video studio app for content creators helps users to create and edit videos for their websites.
Get started with Squarespace for free and upgrade to a paid plan for the best features.
Best For Experienced Web Designers and Developers ($12 per month).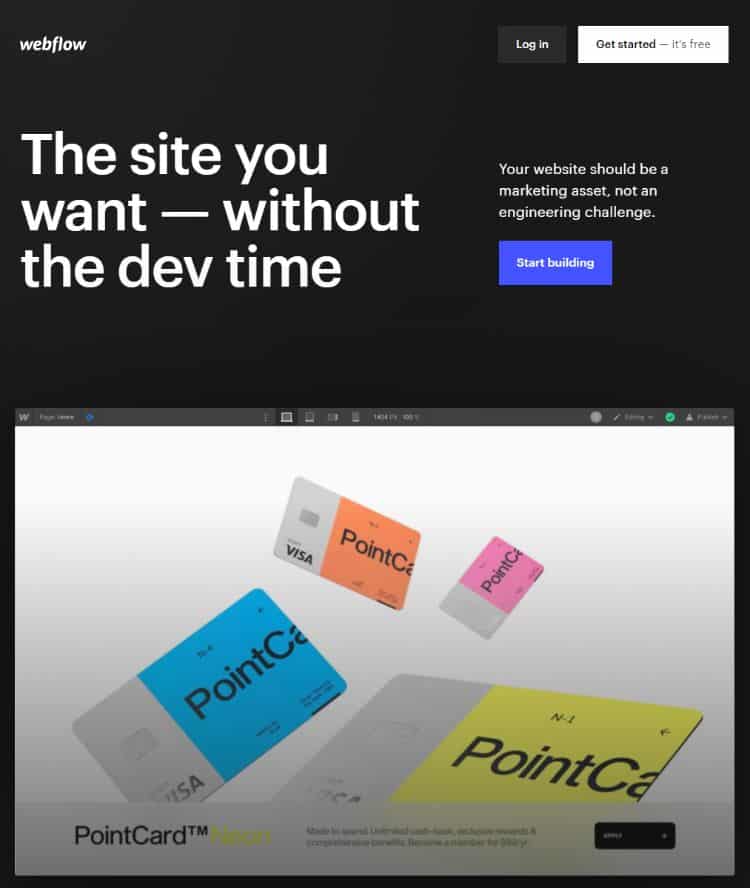 Webflow is a new, popular web-building platform that provides an online visual editor platform to design, build, and launch websites. It enables you to design custom and modern websites like a visual canvas.
Webflow's visual canvas lets you control CSS3, HTML5, and JavaScript and translate semantic code into customized websites. It also allows you to use unstyled HTML elements to gain total control.
Additionally, you can use pre-built pieces to design complex elements like sliders, background videos, tabs, and more. Webflow also enables you to build reusable elements, including nav bars, footers, and signup forms.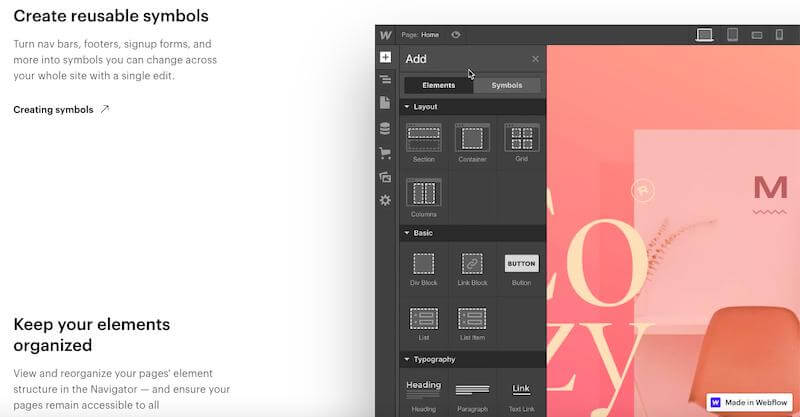 You can easily reorganize and view your web page element structure through Navigator to access all the pages simultaneously. Also, directly work with eCommerce products and CMS data to quickly create a website with actual content.
Key Features:
Scroll-Based Animation – You can add scroll-based effects like a progress bar, parallax, precise reveal animations, and more. You can also transform styling, element sizes, and positions linked to scroll progress on a specific element or to the complete page.
Multi-Step Animation – Easily build rich, timeline-based animations without needing a code editor. You can also customize the layout of the home and product pages.
SEO Controls – Leverage Webflow Editor to update SEO like page titles, URLs, meta descriptions, open graph settings, etc.
Content Management System – Easily manage your content with Webflow CMS, which allows you to store, display, and organize rich data fields like text strings, comments, files, images, and videos.
Embedded Code – Embed code snippets like HTML, CSS, and JavaScript into pages and custom forms.
User Experience:
Want to get up and running with designing your site quickly? Webflow makes it easy to get started quickly.
Whether it's a two or three-column page or a more complex layout, you can get started quickly and easily.
You can also add all the elements you need with just a few clicks, and there's no need to worry about coding or other technical aspects of web design.
Pricing:
First, Webflow offers a forever-free plan with all the essential web design features. However, you won't get a custom domain with the free plan.
For your branding, there are several paid plans.
Here are the four site plans:
Basic: $12 per month. For a simple site without an in-built CMS.
CMS: $16 per month. For content-driven sites.
Business: $36 per month. For high-traffic marketing sites or blogs.
Enterprise: Quote-based plan.
Then there are account plans based on the maximum number of designers allowed on a single project. Account plans start from $16 per month.
What I Like/Dislike About Webflow:
Like:
Link movement and animation to the cursor position to grab user attention.
Collaborate with other professionals by inviting multiple editors to work on the same website while keeping track of the work.
Make your website more interactive by displaying panels, modals, and hidden elements.
Use 20 prebuilt animations and interactions to add a new feature instantly.
Instantly control the playback of 'Lottie animations' and 'After Effects' through interaction triggers without writing code.
You can study the Interactions and Animations Course at Webflow University.
Dislike:
You have to compress images manually, which can be time-consuming.
The CMS limit is still relatively low on some of the plans
There can be a bit of a learning curve when getting started with Webflow.
Product Updates:
Live phone support so you can get help when you need it
Apply superscript or subscript formatting to your text with just a few clicks
Adjust gap space between elements in Flexbox layouts for more control over your design
Get started with Webflow for free.
Best for Beginners Needing a Simple Website ($5 per month).
Weebly is a website builder that makes designing and creating websites, blogs, or online stores easily. It provides access to many customizable web page designs to build a website – without writing a single code.
It also offers planning tools and expert starter guides to help build pages without hassle. All its themes are fully customizable to ensure you never compromise on design requirements.
With responsive themes and an intuitive drag-and-drop builder, website design becomes super easy with Weebly. Moreover, it lets you design websites that look good on any device or screen size.
You can leverage custom fond, reveal, and parallax features to make the web design more interactive. You also get a photo editor and an extensive photo library to create professional-quality images.
Its dynamic design elements, like video background and custom HTML/CSS or JavaScript, ensure you are always completely in control of your creativity.
Key Features:
Marketing Campaigns – You can design beautiful newsletters and customer action-based emails to boost your marketing efforts.
HTML/CSS Control – It offers total control over HTML and CSS to help you quickly achieve unlimited customization.
Design Management – Easily save your designs and edits by marking them as templates for future use. You can also use older designs in other projects multiple times.
Analytics – Measure the effectiveness of your campaigns with built-in analytics.
Integrations – Get more out of marketing by connecting it to other tools like CRMs, payment gateways, and webinar platforms.
User Experience:
Another excellent user experience is found when using Weebly.
Weebly has a drag-and-drop interface that makes adding and rearranging elements on your pages easy.
You simply click on an element in the left-hand side menu and then drag it to where you want it on your page.
You can also preview your pages in real-time, showing what your visitors will see.
Pricing:
Weebly provides four plans:
Free: $0 for basic use.
Connect: $5 per month (for connecting a custom domain).
Pro: $12 per month (for groups & organizations).
Business: $25 per month (for small businesses & stores).
What I Like/Dislike About Weebly:
Like:
Its intuitive mobile app helps you track the performance of your website easily.
It provides web hosting, along with SSL certificates and DDoS Mitigation.
24/7 chat and email support.
Add a website search bar to find anything on the website easily.
Reply to comments and interact with visitors through the mobile app.
It also offers a free plan with all the necessary features.
Dislike:
Getting customizations right can be challenging.
More theme options would be great.
It can be challenging to learn how to use.
Product Updates:
Professional product shots allow you to take high-quality photos of your products to show on your website.
Announcement banners let you display important messages to your visitors, such as announcements about sales or new products.
Curbside pickup allows customers to pick up their orders from your store without entering the premises.
Get started with Weebly for free.
6. Adobe Dreamweaver.
Best for Custom Web Design Jobs for Clients ($20.99 per month).
Adobe Dreamweaver is a web design platform that works as a fully-featured HTML web and programming editor. It offers a simplified and intelligent coding engine to help you manage dynamic websites easily.
Its access code hints help you edit and learn CSS, HTML, and other web standards. You can also use its visual aids to expedite the development and reduce the scope of errors.
To help you go live faster, it offers a host of customizable templates that you can use to build:
Highly customized mailers
eCommerce pages
About pages
Portfolios
Blog pages
Newsletters
And more
You can also quickly import assets from Adobe Stock or your libraries. A preview feature helps you edit your site in real time by showcasing the look and feel.
Key Features:
Live View Editing – Easily edit image and text properties. You can add classes directly in the Live View and instantly preview your changes without switching to separate editing mode.
Git Support – Easily collaborate with Git support while managing your source code. You can also execute tasks directly from the Git dashboard.
Intelligent Coding Assistance – You can leverage HTML, JavaScript, and Ajax code hints through Spry, Prototype, and jQuery. It also offers PHP code hints to help you learn more about coding while working on your web designs.
CSS Preprocessors – Create dynamic and organized stylesheets faster with the help of popular CSS preprocessors like SASS and Stylus.
File Management – Organize and manage your projects easily in one place with file management tools.
Pros:
It designs websites in such a way that they fit any screen size.
Multi-monitor support for Windows machines.
Leverage edit linting to catch the errors while editing.
Integration with OpenSSL, LibCURL, Xerces, and Ruby, among others.
You get a 7-days free trial.
Leverage preemptive code suggestions for faster development.
Easily insert colors, hyperlinks, fonts, headings, and more through the properties menu.
Pricing:
Adobe Dreamweaver provides two pricing plans:
Adobe Dreamweaver Single App: $20.99 per month. Get Adobe Dreamweaver as part of Creative Cloud.
Creative Cloud All Apps: $52.99 per month. Get Adobe Dreamweaver along with the entire collection of Adobe creative apps.
Students and teachers get a discount of up to 60 percent on the entire collection of Creative Cloud apps. You also get a 7-days free trial.
7. GIMP.
Best Free, Open-Source Image Editor That Can Design Websites (Free).
GIMP (GNU Image Manipulation Program) is a free web design software and open-source graphics editor for web design, image editing, free-form drawing, etc.
It provides several tools for high-quality photo manipulation and color management features for high-fidelity colors. GIMP's high-quality framework also helps you handle scripted image manipulation efficiently. It supports multiple languages like C, C++, Python, Perl, Scheme, and more.
Plus, GIMP lets you customize your working environment the way you want. For instance, you can change colors, widget spacing, and icon sizes to customize toolsets.
Then there are impressive photo enhancement features that let you:
Fix perspective distortion in images caused by the camera lens.
Make your photos stand out with numerous filters.
Digitally touch up minor details with the healing tool.
Eliminate lens' barrel distortion and vignetting.
All these features help you create high-quality images for your websites.
GIMP also supports multiple platforms, including GNU/Linux, Windows, and OS X. Other than this, it offers several third-party plugins and customization options for an enhanced web design experience.
Key Features:
Photo Manipulation – Easily execute top-notch photo manipulation through retouching and restoring to creative composites.
Graphic Design Elements – Produce icons, graphical design elements, and stunning art for user interface components, mockups, and more.
Hardware Support – GIMP supports unique hardware devices like pressure and tilt-sensitive tablets and a wide range of MIDI or USB controllers.
Print Production – Get the most out of GIMP's matrix and printer drivers for creating large batches of print-ready documents.
Scripting & Programming – Enjoy access to a vast selection of scripting languages like Python, Scheme, and Script-Fu for customizing your user interface or automating tasks.
Pros:
GIMP lets you change its source code and share the changes.
Convert images to multiple graphical file types like BMP, JPEG, PDF, PCX, MNG, GIF, PS, PNG, PSD, SVG, TGA, TIFF, and XPM.
Easily add text and graphics-rich interactive banners.
Scale images precisely through the menu bar.
Use the Paintbrush tool to draw pictures quickly.
Efficiently customize the view and behavior of your work environment.
Leverage the clone tool to clone elements with perspective instantly.
Pricing:
GIMP is 100% free to use.
8. Google Web Designer.
Best Free Option For HTML5 Interactive Websites (Free).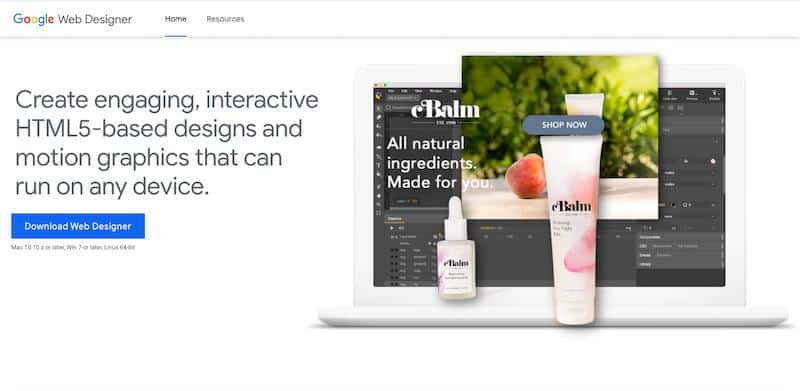 Google Web Designer helps you create engaging HTML-5-based web pages. It enables you to use interactive elements and animation to create engaging web pages. Google Web Designer also integrates with Google Drive, Google Ads, and Display & Video 360.
It lets you:
On mobile devices, set up event pages with physical gestures like touch, rotation, or shaking.
Drag and drop elements like maps, image galleries, and video players to your web page.
Create multiple pages with several scenes to give an immersive user experience to your audience.
You can also build all of these components using your JavaScript. It also provides a 'Quick Mode' to string together simple scenes for better animation. Characteristics like custom easing and motion paths also help you add attractive animations to your web pages.
Moreover, it designs and develops your site simultaneously with a complete design suite and the ability to edit CSS, Javascript, and HTML. You can even switch between the Design and Technical Code views to preview the design in real time.
Key Features:
3D Graphics – Manipulate and create 3D content by using CSS3. You can also rotate 2D designs and objects across the axis, visualize translations, and 3D transformations.
Content Creation Tools – Use Pen or Shape tools to instantly create your design and add or import text/assets.
Ad Formats – It supports an extensive range of Ad formats for display and video ads like Static Panorama, Static Cue Cards, and Video Lightbox, among others.
Animations – Create a great viewing experience with powerful and easy-to-use animation tools.
Video Integration – Embed videos from YouTube or Vimeo into your designs, or use one of the many available third-party services.
Pros:
Directly edit CSS, HTML, and JavaScript.
Monitor your changes by switching between the code view and the design view.
It supports Google Fonts.
You get access to loads of learning resources.
Easily create multiple pages for a single product.
Pre-programmed web components, including iFrame, tap areas, maps, images, and YouTube.
Pricing:
Google Web Designer is 100% free to use.
9. Bootstrap Studio.
Best For Advanced, Mobile-Responsive Websites ($29 one-time payment).
Bootstrap Studio is a web design and development application that provides drag-and-drop options and customizable templates to build mobile-responsive web pages.
It provides a simple and powerful user interface that makes web design and prototyping decidedly easy without a huge learning curve involved.
It has numerous beautiful and mobile-responsive templates you can customize to create a tailored website.
Bootstrap Studio offers complete control over CSS, SASS, JavaScript, and HTML if the drag-and-drop interface isn't enough for you.
Here's everything you get for technical web design:
Advanced CSS and SASS Editors
Import codes directly from your existing sites
HTML Editing
Collaborate with external editors
Javascript Editing
The open-source front-end toolkit includes extensive prebuilt components, a responsive grid system, and powerful JavaScript plugins. You also get pre-designed components like headers, footers, galleries, slideshows, spans, and divs, serving as a tutorial if needed.
Key Features:
Realtime Preview – this feature lets you preview your changes in multiple web browsers and devices immediately.
Bootstrap Themes & Icons – It has numerous Bootstrap themes and icons that you can use to create beautiful designs.
Blog – Easily launch your blog in a few minutes through a magazine-like template that includes navigation, header, and featured content.
Analytics – Track your website performance, including visits and page views.
Code & Publish – Easily copy/paste code snippets to customize and publish your content across multiple networks.
Pros:
Create appealing and engaging home pages with single-page themes instantly.
Its dashboard comes equipped with a fixed sidebar and navigation bar.
Leverage cards to build a custom pricing page quickly.
Include a drop-down component menu in pages within minutes.
It supports HTML, Less (version 3), Sass (version 4), CSS, and JavaScript Extensions.
Pricing:
Bootstrap Studio offers two paid plans:
Standard: $29
Lifetime: $59 with free updates forever.
You can buy the entire toolkit at a one-time payment.
10. Figma.
Best For Teams and Agencies ($12 per editor/month).
Figma is a vector graphics editor that provides UX and UI design features to create professional websites.
It provides all types of powerful design features like:
Intuitive, vector-based interface
A modern pen tool
Arc tool
Vector networks
Its collaborative and cloud-based approach enables large teams to work together efficiently. Different stakeholders can leave comments, and developers can copy code snippets to simplify collaboration.
You can also leverage its animated prototypes that feel like real elements. You can also study insights from users and quickly test design concepts. Figma also provides plenty of beautifully designed, ready-to-use templates. Apart from this, you get plugins like stock imagery, colors, flow diagrams, etc.
Key Features:
Observation Mode – Shadow the moves of presenters to efficiently track all the changes and edits.
Inspect Design Files – You can quickly view and grab snippets of code for CSS, iOS, and Android.
Tag Your Team Members – Easily tag people through @Mention to notify them about tasks, comments, or project completion.
Organize Your Workflows – Create flexible boards for organizing and tracking tasks, deadlines, project statuses, and more.
Share Your Ideas – Gather feedback from team members through built-in collaboration tools like chat, comments, likes/dislikes, or polls.
Pros:
Use vector networks to draw in all directions without connecting or merging original paths.
It offers advanced font features to create distinct and immersive designs.
Instantly create and distribute plugins within the organization.
Leverage multiple plugins like stock imagery, color accessibility, flow diagrams, charts, and icons.
It offers accessible libraries to drag and drop assets in your files.
Pricing:
Figma offers three plans:
Starter: Free for up to two editors and three projects.
Professional: $12 per editor/month billed annually.
Organization: $45 per editor/month billed annually.
11. Sketch.
Best For Remote Teams and Mac Users ($9 per month).
Sketch is a digital design toolkit for macOS primarily used for UX and UI designs of websites and mobile apps.
It provides powerful vector-editing tools and boolean operations to help you create non-destructive and pixel-perfect designs. You can zoom in to pixel-level to align things with Smart and Snapping guides – or simply adjust layers to perfection.
Sketch also provides plenty of advanced, design-focused features like:
Grids & layout to customize width, columns, colors, etc.
Resizing constraints to set things for different screen sizes.
Math operators for simplified functions like resizing, adjusting the width, etc.
Variable and OpenType fonts.
It also offers multiple export options to export elements individually. You can also set up export presets to expedite the entire process. Use quick shortcuts to instantly toggle layout views and grids while customizing column widths, colors, and more.
Key Features:
Reusable Components – Leverage Symbols to reuse a single component multiple times. Easily update the element in one place and automatically get updated throughout the whole website.
Smart Layout – Ensure automatic resizing of components while considering padding and proportions.
Shared Libraries – Create libraries of your Text Styles, Layer Styles, and Symbols for better collaboration. All team members can track the updates as your design evolves.
Animation & Interactivity – Add life to your design and create a better user experience with animation.
Smart Layout – Leverage Grid System to maintain visual consistency across all screen sizes.
Pros:
Create prototypes by linking different design elements and easily share them through a URL.
Use the Mirror app to test your designs on iOS without writing codes.
It provides Pexels, Clues, Chart, Overflow, and more integrations.
Sketch is native to macOS.
It comes equipped with Variable Font support.
Quickly scale up by setting resizing rules and pinning multiple design elements.
Pricing:
Sketch offers two plans:
Standard: $9 monthly
Business: Get in touch with their sales team
It also provides a fully-featured 30-day free trial for the standard edition.
12. Adobe XD.
Best For Mobile Apps, Games, and Complex Jobs ($9.99 per month/user).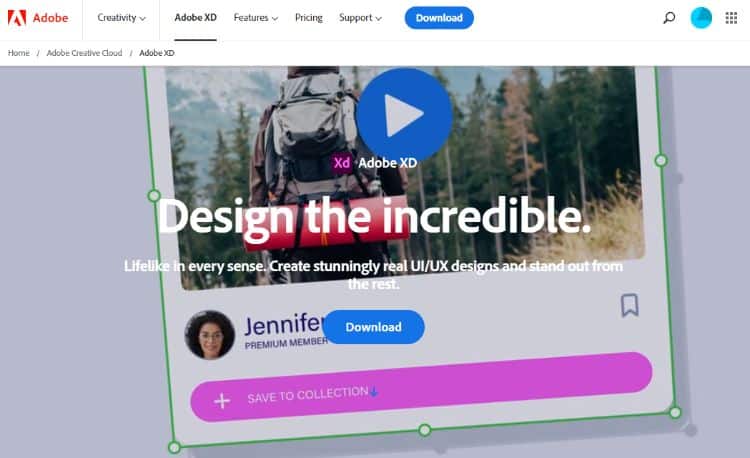 Adobe XD is a UI/UX design and collaboration tool for designing websites, mobile apps, games, and more. Its latest Coediting feature lets you collaborate with large teams in real time. This feature runs seamlessly in the background, enabling multiple designers to design in the same cloud doc simultaneously.
The good news is that Adobe XD is a powerful tool enabling your UI/UX design process – you won't need any other third-party tool. It lets you create everything, including user flows, high-fidelity designs, wireframes, interactive prototypes, and animations. You don't have to worry about design sync or combining multiple applications.
It also provides numerous unique features to speed up everyday tasks so you can focus on more creative tasks.
These features include:
Repeat Grid
Responsive Resize
And Auto-Animate
Key Features:
Design Systems – Use design systems in XD to create and share character styles, colors, and components for collaboration. You can also use them for multiple projects.
Extensive Integration – It offers hundreds of plugins and integration with Adobe Creative Cloud and other third-party apps.
Content-Aware Layout – Avoid manual work to edit or create layouts. It will automatically make the changes as per design adjustments.
Components – Create and use components for reuse and collaboration.
Responsive Design – Easily design adaptive layouts that look great on any device or screen size.
Pros:
Quickly edit images in Adobe Photoshop or sync your favorite fonts from Adobe Fonts.
Instantly share your designs with third-party apps like Slack, Jira, and Zeplin.
Directly edit images from XD in Photoshop.
Use the 'Repeat Grid' feature to replicate a design element multiple times.
Work with blend modes, boolean operators, and other vector editing features to create icons, wireframes, and other components.
Resize groups of elements to fit multiple screen sizes while maintaining scale and relative placement between objects.
Pricing:
Adobe XD can be either on its own or as part of a bundle:
XD:

$9.99 per month per user

All Apps: $52.99 per month
13. InVision Studio.
Best For Frontend Design ($7.95 per month).
InVision Studio is a screen-design tool that enables prototyping, animation, collaboration, and design systems – built in a single place. With InVision Studio, you get the best-in-class layout engine.
It helps you quickly design, adjust, and scale your designs to fit any screen or layout perfectly. You can use features like advanced pinning, relative positioning with containers, and percentage-based geometry to create responsive designs at scale.
Some of InVision Studio's most prominent features include:
Vector-drawing tool for lighting fast speed.
Adaptive layout to create pages compatible with every type of device.
Interactive design for rapid prototyping.
Built-in animations that provide advanced motions with more emotions.
Shared design libraries for seamless collaboration.
Completely synced workflow.
It also helps you create prototypes rapidly with fluid interactions, mobile device mirroring, and instant playback. You can also create intuitive, frictionless animations using features like smart-swipe transitions, auto-layer linking, and timeline editing.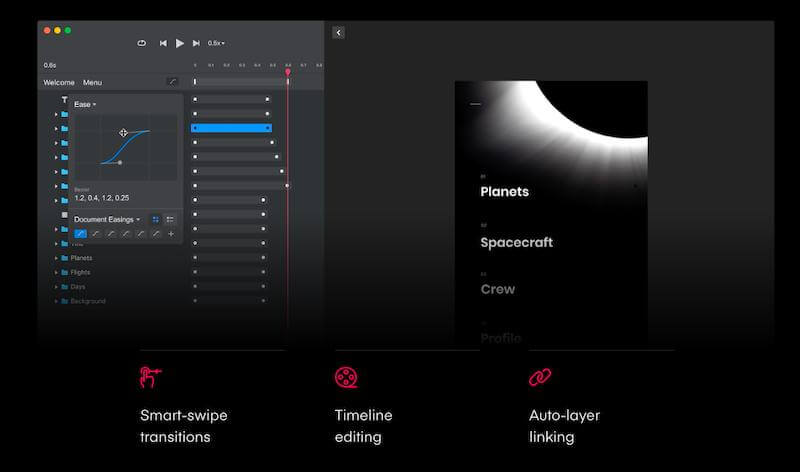 InVision Studio also offers real-time updates, global syncing, and seamless component swapping to ensure less teamwork.
Key Features:
Iteration Versions – Instantly switch to the last version or roll back changes. You can do everything with just a single click.
One-Click Updates – Easily pull and push library changes with Sketch and Studio plugins.
Sync Code – Leverage APIs to export Atomic properties in multiple styling formats, including JSON.
Manage Libraries – Keep track of Atomic libraries, symbols and components with a streamlined team workflow.
Share & Collaborate – Invite colleagues and clients to view designs in real-time, instantly share changes and get feedback without ever leaving the app.
Pros:
Control edit access to your designs by assigning permissions and roles to different users.
Share auto-generated customizable web views.
It comes with private cloud options, SSO, and 2FA.
Store an unlimited number of projects, assets, and designs.
Manage multiple brands and UX components from an intuitive dashboard.
Instantly turn static screens into functional prototypes by adding micro-interactions and transitions.
Pricing:
InVision comes with three pricing plans:
Free: $0 For individuals & small teams.
Pro: $7.95 per month billed annually. For cross-collaborative teams.
Enterprise: Quote-based plan. For organizations with advanced needs.
You can also request a free demo to check the product before purchasing it.
14. WordPress.
Best For Content Sites and Blogs (WordPress.com is free/WordPress.org needs web hosting).
WordPress is a free and open-source web development platform that provides everything you need to build a dynamic website. WordPress is a complete web design and development suite from customizable themes to web hosting.
It offers thousands of highly customizable themes. And the library gets updated every week.
You can choose responsive themes or make your website mobile-friendly through a simple click. You can also drag and drop images into pages and posts to create stunning picture galleries. WordPress also allows you to embed video, audio, and more on your web pages.
You can also update your websites on the go from its apps designed for iOS, Android, Windows, Mac, and Linux. It also offers powerful multi-tier user management to ensure all the users are only making changes they can make.
Key Features:
Media Management – Drag and drop images to upload them. You can also edit images directly on WordPress or add text and captions to make your website more accessible.
Import Themes – WordPress offers thousands of premium and mobile-ready themes. However, you can still import your custom or third-party theme to build a unique website design.
Multiple Languages – WordPress supports over 70 global languages. If you can't find your language, you can request customer support to include it in the next release.
Advanced Plugins – By taking advantage of advanced plugins, you can add almost any feature or functionality to your WordPress website.
SEO Friendly – WordPress is incredibly SEO friendly, so you don't have to worry about optimizing your pages for search engines.
Pros:
WordPress also works as a content management system.
Use custom web designers to implement menus and custom widgets instantly.
Easily customize the website header and add/edit elements like services, products, and more.
It also allows you to customize the page background with colors, images, designs, and videos.
Ensure unique branding by uploading your fonts and colors.
It offers fully responsive designs for mobile devices.
It provides custom API, HTML, and more for higher customization.
Pricing:
On its own, WordPress is 100% free. And there are plenty of free as well as paid themes. However, you might need paid plans for a custom domain name, personal branding, and more.
Here are all the paid plans by WordPress:
Free Version: $0
Personal: $4 per month
Premium: $8 per month
Business: $25 per month
eCommerce: $45 per month
15. Constant Contact.
New Website Builder with Built-In Email Marketing ($20 per month).
Constant Contact is an email marketing software company that recently launched its site builder. Now they're a website-building platform that lets you build mobile-responsive and professional websites in just a few minutes.
There's no need for any technical skills or guesswork. What's more, you don't even need to enter your details. Just link Constant Contact with your Facebook business page – and its AI-powered website builder will automatically pull in all the relevant information to create your website.
It also integrates with Unsplash to help you access over 550,000 free and professional-quality images.
Key Features:
CDN – It offers CDN for all websites to ensure faster loading of webpages and to prevent site crashes.
eCommerce Platform – It comes equipped with a powerful eCommerce platform where you can list thousands of products on your online platform.
Multiple Layouts – Use multiple layouts to create web pages for a blog, product listing, corporate website, or more.
Custom Domain Setup – With the help of this feature, you can easily set up your domain name without any hassle.
Drag & Drop Builder – It has an easy-to-use drag & drop builder that allows you to create stunning web pages in no time.
Pros:
It offers an AI-powered logo maker to help you meet your branding needs.
Easily edit an image or embed a link in it. You can also change or remove the image from the same place.
It also enables you to restore any saved version of the design.
Quickly turn on or off your page elements from a sidebar.
Instantly add sections to your pages to add elements, designs, and more.
Embed videos on web pages through YouTube URLs.
Pricing:
It costs $20 per month and is suitable for small businesses looking to build their brand and sell online.
There's also a $45 per month plan for those that want more.
16. Framer.
Best For Design Prototyping ($20 per month).
Framer is a design and prototyping tool that lets you design prototypes with complex animations. It also generates codes for React (a JavaScript library). Framer introduced React and JavaScript/TypeScript to program loading data, micro-interactions, and animations.
It provides all the features you need – multi-player editing, inline commenting, easy sharing, reusable components, developer handoff, and more. You can even import static elements from any UI design tool and replace them with interactive components in Framer.
Framer also provides incredible ease of use with its drag-and-drop function. Moreover, you can use 'connectors' to draw a link between components on the canvas for easy prototyping.
It also offers four tabs in the sidebar, including Tools, Layers, Components, and Store, to help you edit designs efficiently. You can instantly click on the 'Preview' and 'Live Preview' buttons to take a sneak peek into your designs.
Key Features:
Publish Your Creations – Publish your creations, including icons, illustrations, or interactive code components, to the store for other users. That means you can also install components from the store quickly.
Scroll Tool – Use the interactive 'Scroll Tool' to create proportionate designs with minimal effort.
Easy Prototype – Validate product designs early without depending on the development resources. You can also easily collaborate with development teams with a prototype.
Share Your Work – Share projects to receive feedback from team members and clients rapidly.
Animate & Interact – Quickly animate objects, prototype interactions, and even add audio without coding skills.
Pros:
Use a personal dashboard to connect with new team members while maintaining consistent quality across the project.
All the component packages are easily accessible to team members.
Framer provides SSO authentication and global access controls for robust security.
Use near-native prototypes to test on real users in real-world environments.
Share designs through simple URLs and get feedback.
Automate communication between designers and developers to kill the communication gap.
Pricing:
Framer provides four pricing plans:
Free: $0.
Pro:

$20 per month

Enterprise: Custom pricing plan
All the plans let you invite as many editors as possible to collaborate and comment on a Framer project.
What is Web Design Software?
Web design is about creating a website that looks attractive, has user-friendly elements, and has an efficient flow of content. It includes several aspects like graphic design, webpage layout, and content.
A capable website design software helps build the required elements for the website. It also lets you design your website how you want – without writing a single line of code. Some standard features include a drag-and-drop editor, templates, WordPress themes, and plugins to make web design faster and more efficient.
At the same time, these tools provide website development features like image hosting, form building, and content delivery networks.
What Features Should You Look For in Web Design Software?
A massive number of web design software features and USPs might appear overwhelming. That's why I collated a few benchmark features to look for in a web design tool.
Drag-and-Drop Editor – This feature lets you instantly add elements like layout, text, images, videos, and widgets without writing a single code. A drag-and-drop text editor is a handy feature for making any last-minute changes.
Responsive Themes – An extensive directory of themes can help you select the right design for your business. Using a theme can help you design a website at a faster pace. You can simply put your content, images, and branding in a theme to make it align with your business.
Integration With Third-Party Apps – Extensive integration with third-party apps like image libraries, widgets, social media, fonts, videos, and more will help you design websites seamlessly from a single source.
Mobile Responsive – Today, it's crucial to have a mobile-friendly website. Look for a tool that can help you build mobile responsive web designs with preview features.
Mobile Editing – The ability to edit urgent tasks on the mobile can help you edit or make changes. Thus, you might choose a tool that offers powerful mobile apps.
eCommerce – Many businesses create websites to sell their product and services online. If you are one of them, select a tool that offers eCommerce functions to list your product landing pages in multiple layouts.
CDN – CDN or content delivery network can help your website load faster globally. Thus, choose a web design platform that comes with this feature.
WYSIWYG – A 'what you see if what you get editor' helps you get things exactly the way you want them by giving you control over the fine details.
Types Of Website Design
You can use three main approaches when designing a website: static, dynamic, or CMS and eCommerce.
Static
Static websites are built with HTML and CSS coding and typically do not require any database or another programming language.
These sites have limited functionality but are very simple to set up and maintain.
Static website design is most suitable for small business owners or hobbyists who want an essential website without many bells and whistles.
The content for the static website is hard-coded into the HTML files so one can update it sparingly.
Examples of static websites include a personal blog or portfolio site.
Dynamic
Dynamic websites rely on programs like .NET, Java, or PHP to bring data from the website's back end to the front end for visitors to interact with.
Dynamic websites are more complicated than static ones because they utilize databases like MySQL to store information about visitors and content.
One can tailor dynamic websites to each visitor's needs by providing personalized content based on their preferences.
Dynamic sites also allow users to easily update their content without going through tedious manual coding processes.
Examples of dynamic sites include social media platforms, online stores, and complex web applications such as search engines and mapping services.
CMS
CMS (content management system) websites are built using WordPress, Joomla, or Drupal software, enabling users to quickly and easily add documents, images, and audio/video files.
The CMS features an intuitive user interface that allows even those with no coding experience to manage their site's content seamlessly without learning any technical terminology or coding languages.
A CMS also enables users to create multiple access levels for different parts of their website so that different types of users can access different sections depending on what permissions the admin granted.
eCommerce
Lastly, eCommerce websites enable businesses and organizations, large and small set up shop online – allowing them to connect with potential customers globally in ways never before possible in history.
With an eCommerce setup, you can showcase your products beautifully on your custom-designed platform and offer discounts & promotions at will through coupon codes.
You can also accept payments for goods/services securely via credit cards & other payment gateways such as PayPal & Stripe, among many others.
Plus, thanks to modern-day tools like Shopify & WooCommerce, you don't need an IT team – you'll be able to configure your store yourself!
The Process Of Designing A Website
Here's how you can create a professional website with a web design program.
1. Choose a template
Picking the correct template is half the battle won. With an easy-to-use template selector, you can create fantastic websites in minutes.
2. Customize your website
A web design tool will allow you to change colors, fonts, and layouts and add content to make it unique for your business or projects without writing any code!
3. Add images & videos
Once you have designed a layout right for you – use drag-and-drop image uploaders to add photos and relevant graphics to complete your site quickly and easily.
4. Publish!
Once everything is just how you want it – publish! The program will be live for everyone to browse.
A website can serve as a foundation for your digital marketing campaign.
A website might become the most crucial window to your business as it can help establish credibility and offer several ways to contact potential customers.
Thus, with a bit of research, you can create a stunning website in no time with web design software!
Summary.
That ends my list of the 15 best web design software. All of these tools can help you build a nice-looking website in its unique way.
However, not all of them can achieve the exact design requirements.
Therefore, it is crucial to review their features and USPs to identify which tool can meet your business requirements.
For instance, Bootstrap Studio is an excellent option for designing mobile-first designs. GIMP can come in handy if you want a free and open-source option.
Wix is great for creating simple small business websites. And if you're looking to create a content site or highly-customized blog, WordPress is an excellent option.
Which web design software do you use? Let me know in the comments below.
Further reading on AdamEnfroy.com: Did you know that code review tools can help improve your website's build quality if it's written using coding language?
Editorial Process:
Our reviews are made by a team of experts before being written and come from real-world experience. Read our editorial process here.
Some of the links in this article may be affiliate links, which can provide compensation to us at no cost to you if you decide to purchase a paid plan. These are products we've personally used and stand behind. This site is not intended to provide financial advice. You can read our affiliate disclosure in our privacy policy.