7 Best AI Design Software Tools in 2023
Choosing the right AI design software tool is vitally important to your business. From designing wireframes for your newest app to complex interactive prototypes, the best AI design software tools can help you meet your goals. In this guide, I ranked and reviewed the 7 best AI design software tools, so that you can pick the best one for you.
---
We're reader-supported. When you buy through links on our site, we may earn an affiliate commission.
When I was younger, I loved to imagine all the different things I could create if I had the power to design anything in the world.
A beautiful castle with towering trees and brightly flowering plants?
A luxurious home with every comfort and amenity imaginable?
Even entire worlds with their own laws of physics and civilizations?
As I grew older, my interests shifted more towards digital marketing.
But the question still lingered in the back of my mind: If I could design anything in the world, what would it be?
As I learned more about graphic design software and its possibilities, I realized that I could create anything I wanted to – and so can you!
While there are specializations like web design software that handles the dynamic nature of webpages and CAD software that focuses on more technical drawings, at its core, graphic design software is a versatile tool that can be used to create anything you can imagine.
To make it even better, a new software category has emerged with the recent rise of artificial intelligence (AI) in design.
AI design software uses machine learning algorithms to automate or assist with the design process, making it easier and faster to create high-animation software for creating motion graphics.
In this article, I'll review the best AI design software tools available and how they can help you automate your design workflow.
Let's get right into it.
What Are The Best AI Design Software Tools?
The following are the best AI design software tools available.
1. Adobe Photoshop CC.
Best Overall For AI Design.
Adobe Photoshop CC is one of the best AI design software tools that can be used for creating stunning visual graphics.
It offers a wide range of features and allows you to create highly realistic and detailed images.
Photoshop provides everything you need to create the perfect output, from retouching your pictures to remixing and combining multiple images.
You could even use their artificial intelligence to turn boring pictures into incredible works of art.
Combined with tools like Adobe Illustrator and others within the same suite of tools, you could create anything your imagination could think of.
Key Features: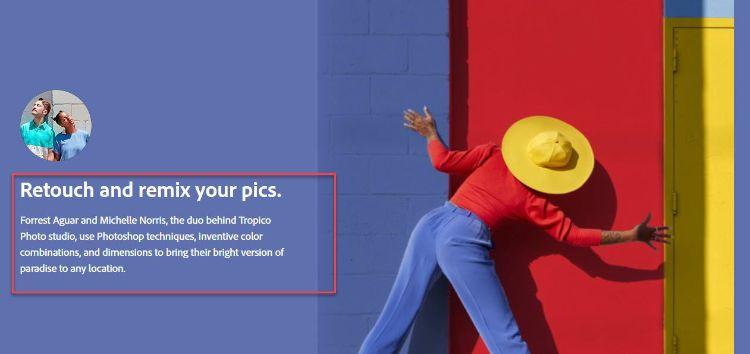 Using the neutral color mode UI settings allows you to make easy color palette adjustments.
I like the Harmonization neural filter and its ability to apply consistent changes to your photos.
I think precisely controlling the results of your edits with 16-bit document previews is excellent.
User Experience: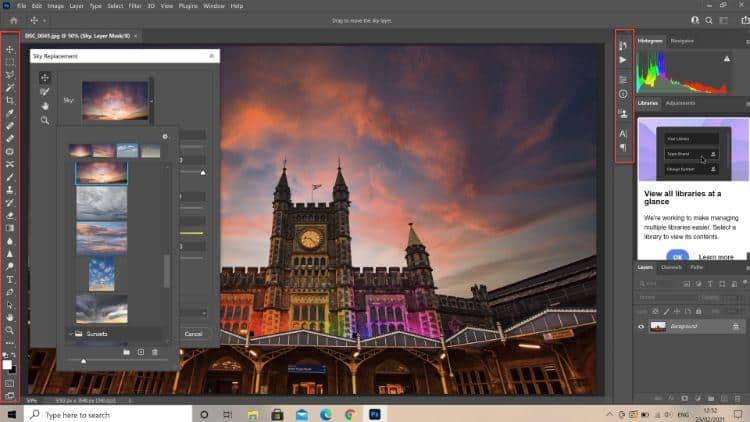 Now with a new dark theme that's easy on the eyes, finding the right tools and setting is easier than ever, no matter which time of day you work.
Pricing:

Photoshop offers the following plans:
Photoshop Plan: $20.99/mo
Photography Plan (1TB): $19.99/mo
All Apps Plan: $54.99/mo
You can also get a 7-day free trial before buying.
What I Like/Dislike About Adobe Photoshop CC
Like:
You can add, remove, change, or do anything you want with images to create realistic or imaginary scenarios.
The sheer number of tools and features available ensure you can get the job done from one interface.
Dislike:
The learning curve is rather steep, and it can take some time to get used to all the features and tools.
Product Updates:
A preferences search for Windows allows you to find and change any settings you want quickly.
2. Planner 5D.
Best For Creating Interior Designs.
Planner 5D allows you to use AI to create the dream home or office you've always wanted. This powerful software will enable you to easily create detailed floor plans and 3D models of your desired space.
You can also furnish and decorate your space with their wide range of furniture and home décor items.
With a 2D/3D home design tool that's quite advanced and easy to use, you can create the perfect space for yourself, your family, or your business.
There's also the option to hire a professional designer through their site, which is ideal for those who want someone else to take care of the details.
Key Features: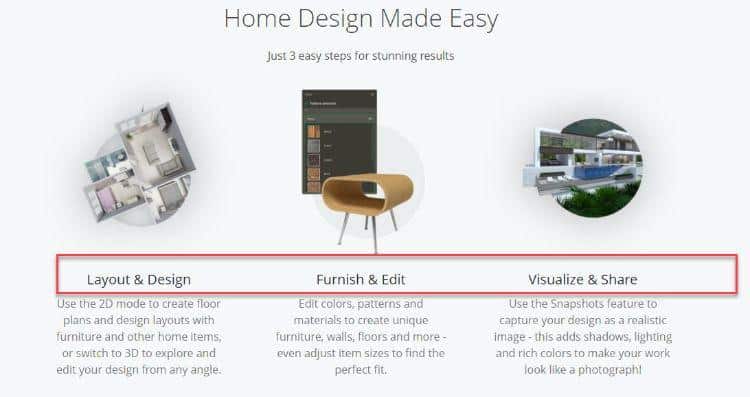 They have HD visualizations, and I like how it allows for beautiful and realistic renderings of my designs.
I also appreciate that they have 2D/3D Modes so that I can view and edit my space from either perspective.
The user interface is easy to use, and creating one's dream home or office is easy and fun.
I also like that the community allows for the sharing of designs with others as well as getting feedback.
Item editing is also a great feature because it allows for the customization of furniture and décor items to fit my space perfectly.
The 5000+ item catalog is also beneficial because it has everything I need to furnish and decorate my home or office.
User Experience: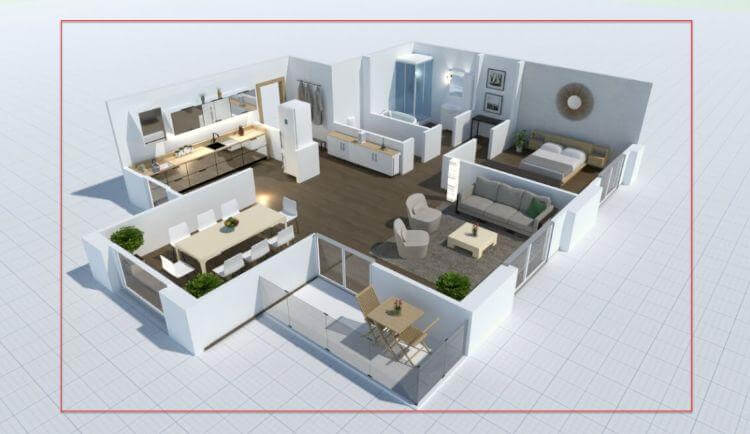 Designing your home, office, or dream space has never been easier with the tools that Planner 5D provides.
The easy-to-use interface and wide range of features make it an excellent choice for anyone who wants to create detailed and realistic floor plans and 3D models.
Pricing: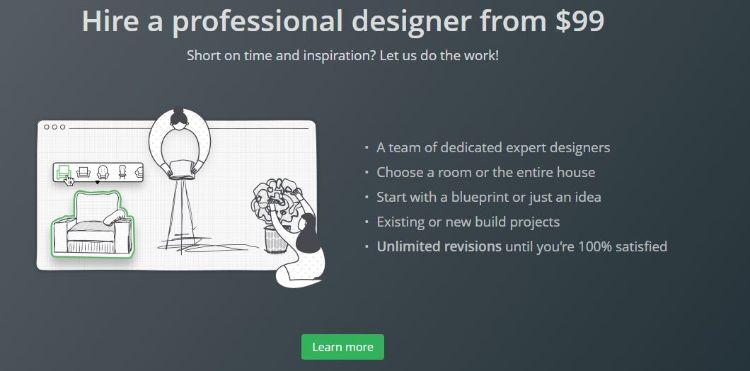 You can use the software for free or hire a professional designer for $99.
What I Like/Dislike About Planner 5D:
Like:
The augmented reality features let you see what your space will look like in real life before you make any changes.
Dislike:
Having a smaller screen is not as conducive to design work using this software.
Product Updates:
Wall thickness update makes it easier to create accurate measurements for your space.
3. Foyr Neo.
Best For Rapid Designs.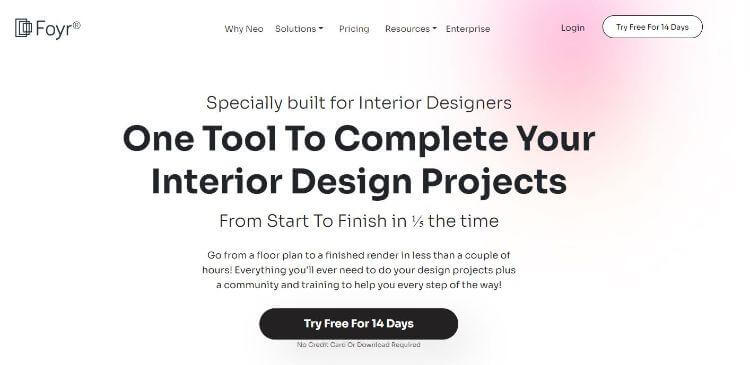 Foyr Neo takes the design process and cuts down the time needed to finish a project, allowing you to get ready in as much as a fifth of the time it takes using other software.
Going from a floor plan to a finished render is simple and easy, thanks to their user-friendly interface.
They also provide community and training resources to help you get the most out of their software.
If you're tired of juggling various tools to get one project done, Foyr Neo is the perfect solution for you.
Key Features: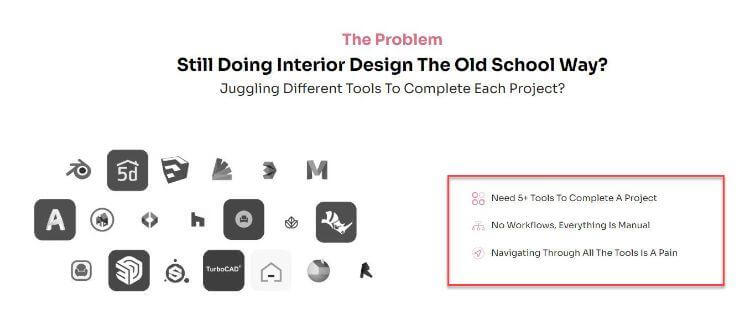 I think their floor plan creation is easy to use and helpful because it can help me design anything I want in minutes instead of hours.
With 3D models, the design process becomes more realistic, and I can better understand what my home or office will look like.
Their mobile app is also helpful because I can design anywhere, at any time – and so can you!
User Experience: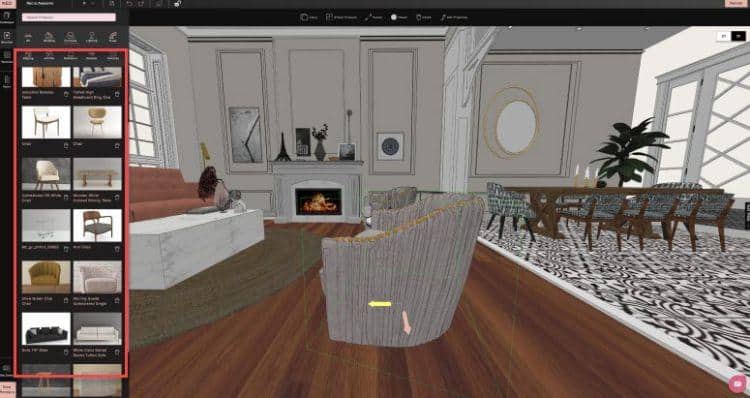 Various templates and elements can be used to create an HD realistic rendering of a space that would take hours with other software.
Pricing:

Foyr Neo's pricing is as follows:
Basic: $44 per month
Standard: $55 per month
Premium: $99 per month
What I Like/Dislike About Foyr Neo:
Like:
One-on-one tutorials can help you get the most out of their software.
The component library offers a wide range of products to furnish your space.
Dislike:
You'll need to upgrade to a premium account for more advanced features.
Product Updates:
Lighting fast rendering is now available on all devices.
4. Let's Enhance.
Best For Upscaling Images.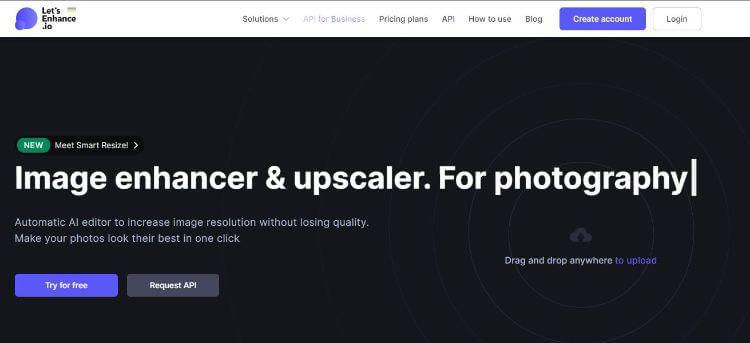 Let's Enhance is an image upscaler that enhances photos with the help of artificial intelligence.
With this software, you can increase the image resolution of your images by up to 16x without losing quality.
It's the perfect tool for those who want to improve their photos' quality without spending hours editing them.
From making images crisper and ready for print to increasing the size of photos for social media, Let's Enhance can help you get the perfect shot every time.
With this tool, you can automatically improve your images' resolution, colors, and lighting so you can focus on the more essential things in your business.
Key Features:

Their unblur feature is really good, and I enjoy how it helps me fix my photos.
I believe the ML-powered HDR is a great feature because it can help me fix photos that are too dark or too bright.
The resolution increase is also a great feature because it allows me to use UGC photos on my website or social media.
I think that the ability to blow up pictures without losing quality is also worth considering.
In general, this is a great software to consider if you want to automatically edit your photos or improve the colors, contrast, and lighting of your product photos.
User Experience: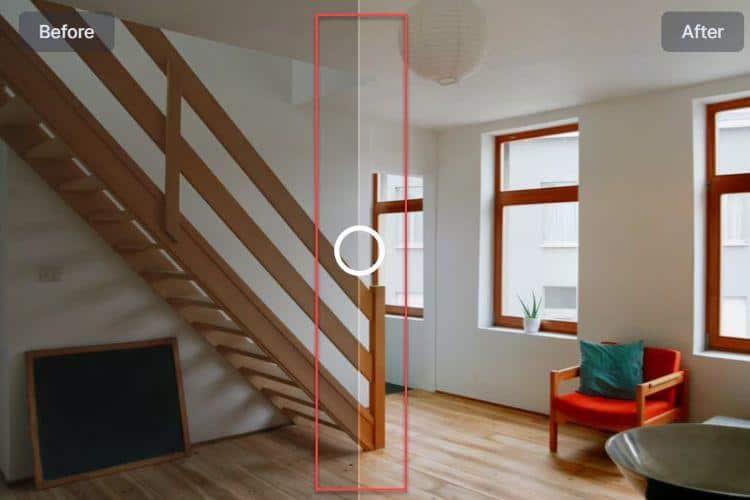 Being able to improve quality without getting into the nitty gritty is always a huge time saver and Let's Enhance makes this a simple process.
Pricing: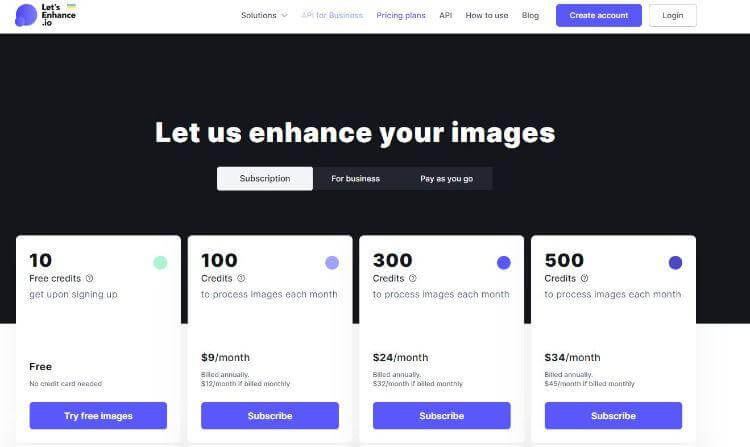 Let's Enhance comes with the following plans:
10 Free Credits: $0
100 Credits: $9/month
300 Credits: $24/month
What I Like/Dislike About Let's Enhance
Like:
Compared to doing it manually, the process of improving photo quality is much faster with this tool.
Dislike:
There are no advanced editing options other than the enhancing options available.
Product Updates:
New users now get ten free credits to try out the software before committing to a paid plan.
5. Uizard.
Best For Wireframe Creation.
Uizard helps founders quickly turn their sketches into high-fidelity wireframes and UI designs.
This software can go from a low-fidelity sketch to a high-fidelity wireframe or UI design in minutes.
Whether creating web apps, websites, mobile apps, or anything in between, Uizard can help you get it done quickly and easily.
There's no need to be a designer to use this tool, as it's easy enough for anyone.
You can also get feedback from users on your designs, saving you a lot of time and effort if multiple stakeholders are involved.
Key Features: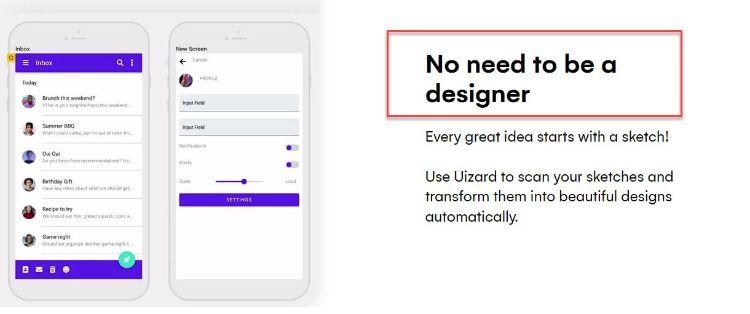 Foyr Neo offers rapid product prototyping, which allows for faster design and development.
I love how you can create high-fidelity wireframes in seconds with this software!
I also appreciate that you can ideate and iterate like never before, so you can get feedback early and often.
This software has helped me fast-track my app or web design.
I also think the collaboration tools are amazing because you can collaborate with anyone, anywhere.
User Experience: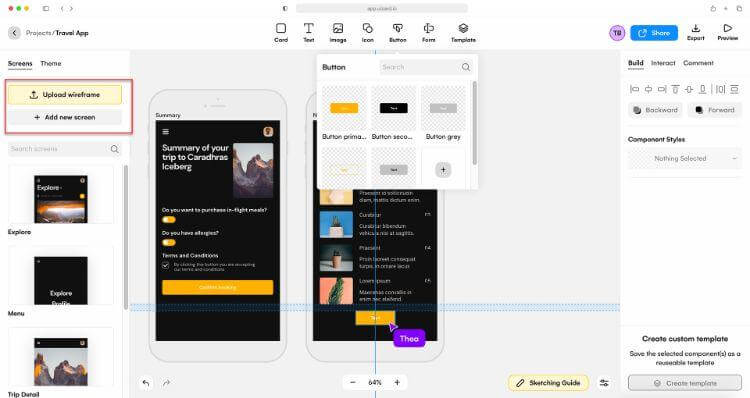 Whether you're uploading an existing sketch or starting from scratch, you can quickly create a wireframe that looks like the real thing.
Pricing: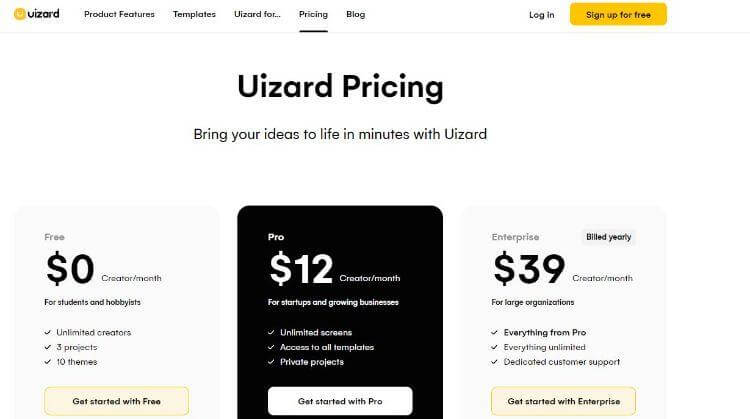 Uizard offers these pricing plans:
Free: $0
Pro: $12 per creator per month
Enterprise: $39 per creator per month
What I Like/Dislike About Uizard
Like:
Even a non-designer can quickly create high-fidelity wireframes.
The tool is accessible on the web and mobile.
Dislike:
The pro version is required to get the most needed features
Product Updates:
AI-powered text suggestions can help you develop text to accompany your wireframes.
6. Autodesk Maya.
Best For 3d Animations.

Autodesk Maya is a 3D animation software that gives you the power to create expansive worlds and complex characters.
With Maya, you can bring your stories, ideas, and dreams to life with the help of its powerful toolsets.
No matter how complex your characters or environments are, Maya can quickly help you create them.
It's the perfect tool for those who want to create high-quality 3D animations for movies, games, and other purposes.
With various engaging animation toolsets, Autodesk Maya can help you create a virtual world that is only limited by your imagination.
Key Features:
Autodesk Maya's powerful toolsets allow you to create high-quality 3D animations and simulations.
Whether detailed simulations or more simplistic designs, Autodesk Maya can help you achieve your goals.
Pricing:
Autodesk Maya offers three pricing plans based on the period you choose:
$5,085/paid every three years
$1,785/paid annually
$225/paid monthly
7. Autodesk 3Ds Max.
Best For 3D Models.

Autodesk 3Ds Max is for those that want to create high-quality designs that require 3D modeling.
Architects, engineers, and other professionals can use this software to create realistic models of their designs.
With Autodesk 3Ds Max, you can create anything from product prototypes to animated characters.
It's a versatile tool that can be used for various purposes, making it a valuable asset for any business or individual.
You can also iterate your designs quickly and easily with Autodesk 3Ds Max's user-friendly interface, ensuring that each new design is better than the last.
Key Features:
It's great that this platform can create photorealistic designs because it can help get an accurate representation of what the final product will look like.
Additionally, the automation feature is excellent for productivity because it can save time and effort.
Lastly, the toolset is also rich and flexible, giving you many options to create realistic 3D designs.
Pricing:
Autodesk 3Ds Max offers the following options:
$5,085/paid every three years
$1,785/paid annually
$225/paid monthly
Other AI design software not mentioned in this article include Khroma and Adobe Sensei.
What Are AI Design Software?
AI tools in the graphic design industry are becoming more prevalent.
With artificial intelligence and machine learning, design software is becoming as capable (if not more) of completing tasks traditionally done by humans.
For example, AI-powered design tools that allow users to create logos, follow style guidelines, enhance the creative process, and everything in between are becoming increasingly common.
When it comes to a logo maker, having the same abilities as graphic designers with tons of experience allows you to follow the right design concept for the job.
Through a deep learning tool, you can answer a few questions and automatically have the tool automatically generate a suitable logo for your business.
Moreover, when it comes to getting creative inspiration, such tools can help with the brainstorming sessions one goes through when starting a project.
This traditional manual work that took hours or days can now be done in minutes.
Overall, AI design software is becoming more and more capable of completing tasks traditionally done by humans.
What Is An AI Prototype?
Having a clickable, interactive prototype as part of a visual design tool allows you to bring your designs to life in a way that was impossible before.
With the ability to automate repetitive tasks in the design process, an AI prototype is a fantastic tool for designers who want to focus on the creative aspects of their work.
Creating an engaging customer experience can also start with having an AI engine that helps with the design and layout of such a prototype.
Then, with AI design tools creating multiple prototype variants, you can test different versions to see what works best for your customers.
Whether this is used for augmented reality or real-world design generation, generative AI algorithms that form part of a design process are becoming very popular in prototyping.
Top Features Of AI Design Software
While the choices both beginners and more advanced users have in AI design software are pretty diverse, there are still some key features that all of the best tools have in common.
Here are some of the functionality to look for in AI design software.
Cloud-Based Software
From UI designers to social media managers, accessing your design work from any station and at any time is critical, and cloud-based software makes this possible.
Having elements such as your color palettes and gradient tools available when inspiration strikes are essential, and cloud-based design software will offer this ability.
This software will also offer cloud storage, meaning you can always retrieve your work – no matter what happens to your device.
Real-Time Updates
No one wants to use templates that do not reflect in real-time what the finalized work will look like.
Real-time engines ensure that any changes made to the design are reflected immediately.
This also allows the user to catch any errors early on.
Able To Generate Mockup Variations
Whether you run a startup and need specific outputs or want to make the most of a generative design neural network, having the ability to generate multiple mockups is critical.
The design software of choice should be able to create different variations of the same design so that you can test which one works best.
Able To Convert "Image To HTML CSS" Code
This is another important feature that many designers look for when choosing their design software.
It is essential because it allows for a more seamless workflow, as you will not have to convert images into HTML code manually.
Whether it's JPEG, PNG or any other format that needs to be converted, this is always a handy feature to have.
While standalone options do this, having this ability as part of the AI design software of choice will allow you to convert images automatically at the click of a button.
Wrap Up.
AI design software is becoming increasingly popular as it offers many advantages over traditional platforms.
When choosing AI design software, knowing which features to look out for is critical, as these will be vital to your success using the software.
Also, take some time to learn about the different types and formats AI design software can generate, as this can help you find the one that best suits your needs.
What do you think about AI design software?
Do you think it's something that can help you in your work?
Let me know in the comments below!
Further reading on AdamEnfroy.com: 3D printing software can help with product development and prototyping.
Whether you want to create a 3D-printed statue of cartoon characters or make a functional prototype, many different software options are now available.
Moreover, consider using an AI art generator when you need some design inspiration, as such a tool can help you create unique pieces of art based on your input.
Disclosure: I may receive affiliate compensation for some of the links below at no cost to you if you decide to purchase a paid plan. You can read our affiliate disclosure in our privacy policy. This site is not intending to provide financial advice. This is for entertainment only.