Hootsuite vs. Buffer: Which Social Tool is Best in 2023?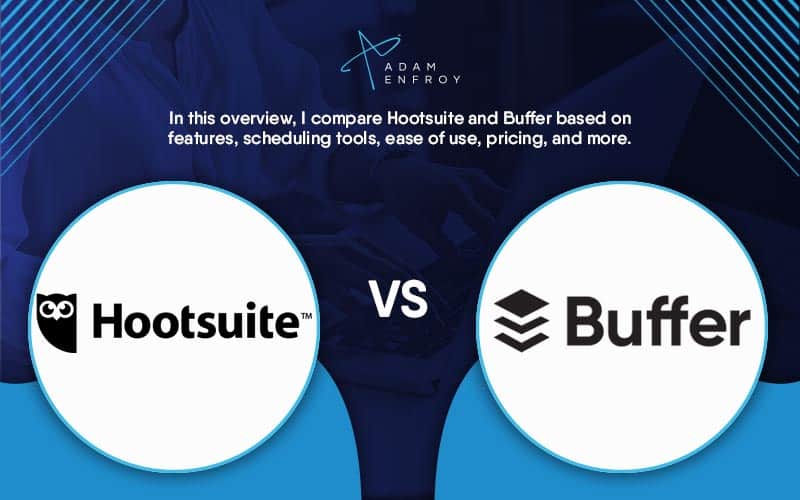 With over 60% of the world's population on social media, the fact is obvious that your brand needs a presence on these channels.
And with so many social channels to manage simultaneously, it's easy to feel overwhelmed.
This is where social media management tools come into play.
Whether you're looking to grow your follower count, boost engagement, make money on Instagram, or even sell products on Facebook, you need software to help get you there.
In this guide, I'm reviewing and comparing two of the top choices: Hootsuite vs. Buffer.
Let's get started.
Hootsuite vs. Buffer Overview
Both Buffer and Hootsuite have emerged as market-leading tools for managing social media accounts. These tools help small and medium businesses take care of their entire social presence from a single interface.
Though both are similar they cater to slightly different audiences. That's why in the following, I'll give you a clear idea of how each tool operates. But before that, let's take a quick look at what these tools offer.
What is Hootsuite?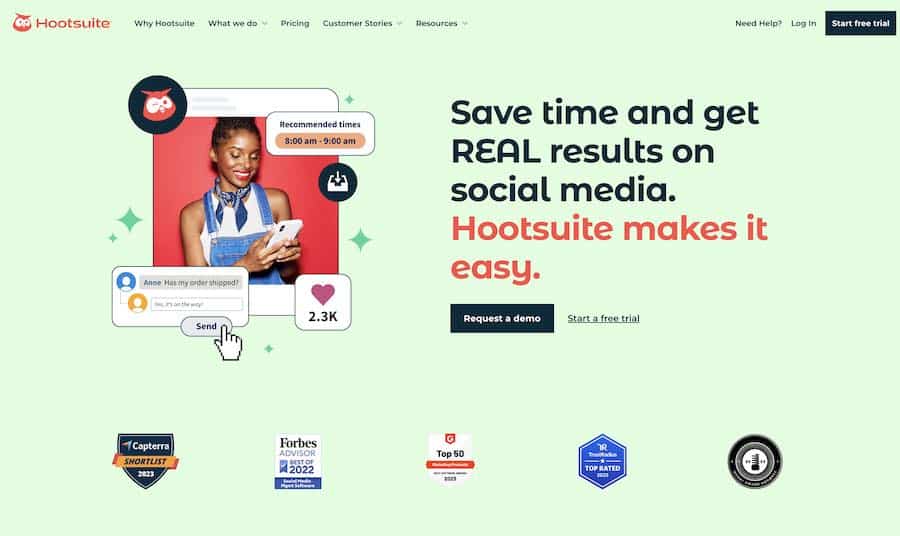 The Hootsuite social media management platform was created and launched in 2008 by Ryan Holmes. Its features cover most aspects of social media management, such as content curation and post scheduling. It even offers dedicated analytics features for ROI measurement.
The tool offers a clean interface and a single dashboard for accessing all social media campaign data. It includes team management and collaboration features and can even integrate with many third-party apps.
Some of the most prominent features of Hootsuite are:
Hootsuite provides complete options for social scheduling and content management
It offers detailed analytics features for tracking and improving social media ROI
Hootsuite integrates with over 100 third-party apps, boosting its feature-set
What is Buffer?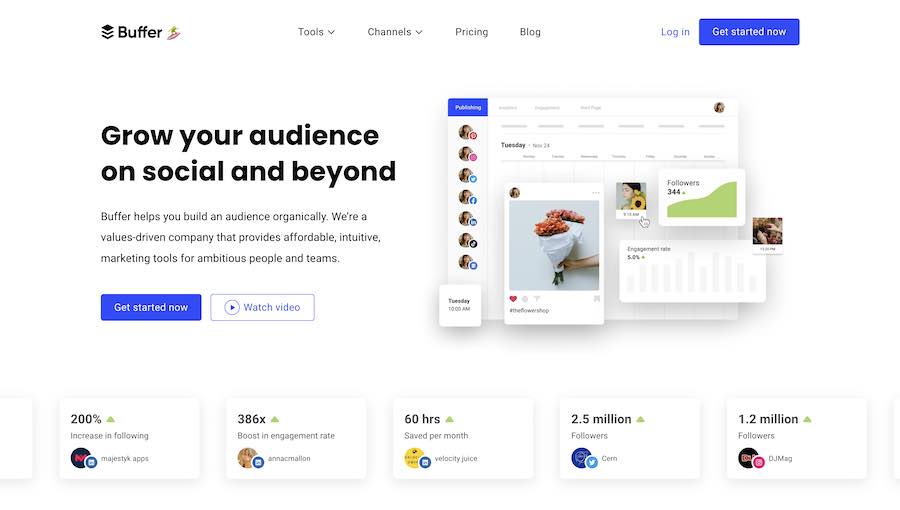 Buffer is a clean and user-friendly tool that provides features for publishing content on social media channels. It's easy to set up and start working with a Buffer account. The primary strength of the tool is its extreme ease-of-use.
Buffer provides many features for data analysis and report creation. It even provides strategic recommendations for increasing social reach and engagement. And it integrates with the latest social features like Instagram Stories.
Some of the most prominent features of Buffer are:
It has dedicated apps for content publishing and analysis
Using Buffer, you can visually plan your social media campaigns
It also provides in-depth insights for measuring social media engagement
Both Hootsuite and Buffer work with most of the popular social channels, but I've found their primary focus to be different. Hootsuite is a dedicated social media management tool and lets you manage all your social channels from a single location.
Buffer focuses more on the content creation side of things. At its heart, it's a tool for queuing and publishing content that integrates with social sites. Naturally, Hootsuite is a more comprehensive tool and provides more features than Buffer.
In the following sections, I'll provide a feature comparison of the two tools so that social media marketers can their own decision on which is best.
Hootsuite vs. Buffer Pricing
Hootsuite Pricing

Hootsuite offers a limited Free plan with only one user account, 30 scheduled messages, and 3 social profiles.
Since that plan won't be suitable for most businesses, it offers the following paid plans:
A. Professional Plan
The Professional Plan comes at $99 per month and is best suited for small businesses and individual entrepreneurs. It offers the following benefits:
Up to 10 social profiles
One user account
Ability to schedule unlimited messages
Real-time analytics features
An unlimited number of RSS integrations
B. Team Plan
The Team plan is best suited for small marketing teams looking to scale up their social presence. It comes at $249 per month and offers the following features:
Includes up to 20 social profiles
Has support for up to 3 users
Custom analytics
1 each of custom branded URLs and Social Media Certification
Everything that comes with the Professional Plan
C. Business Plan
This plan is ideal for larger businesses and digital marketing agencies. Costing $739 per month, it includes all features of the above plans, along with the following:
Up to 35 social profiles
Up to 10 users
Data export features
Approval based publishing
Integration with premium apps
24/7 support
Special onboarding and training
D. Enterprise Plan
If you're a large corporation with custom requirements and need to handle multiple teams, opt for the Enterprise plan.
This plan provides custom features such as:
Tailor-made social media solutions
Integrations with premium business apps such as Adobe and Talkwalker
Developer APIs
Curated training services
The price of this plan will vary according to the features you choose to go with.
Buffer Pricing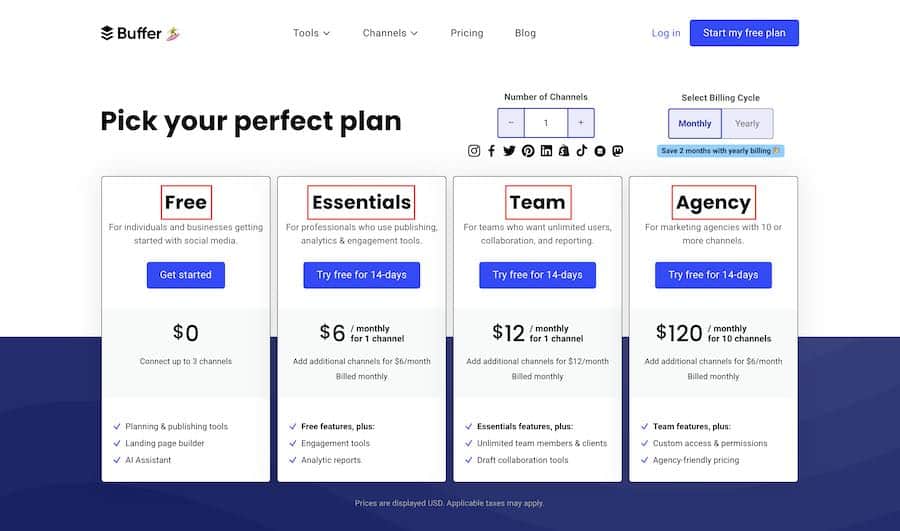 Moving on to Buffer, here also we see the Freemium model in action. Buffer offers separate sets of plans for publishing and analyzing.
With the Free plan, you can publish 10 scheduled posts per channel per month on 3 social channels. In case that's not enough for you, you can opt for any of their paid plans:
A. Essentials Plan
Billed monthly at $6, the Pro plan lets one user post on up to 8 social channels and schedule up to 100 posts per channel. You get access to all integrations and apps, complete community support, and limited planning and scheduling options. The only thing this plan lacks is team management features.
B. Team Plan
Costing $12 per month, this plan gives you access to everything the Pro plan offers. In addition, you get up to 2000 scheduled posts per channel per month, complete planning and scheduling, and team management features.
C. Agency Plan
The Business plan is for larger corporations and provides access to 25 social channels with 2,000 scheduled posts per channel. It lets you include up to 6 users and gives the complete Buffer toolset access. It comes at $120 per month.
In case you want to get a feel for each tool, you can opt for the free trials. Here Hootsuite takes the upper hand with a 30-day trial period, while Buffer offers a 14-day free trial.
Winner: Hootsuite And Buffer
Comparing the pricing plans of Buffer and Hootsuite is a lot like matching apples and oranges. Buffer is decidedly the more affordable of the two.
But Hootsuite offers complete social media management facilities at reasonable costs. Plus, it has a longer trial period so that you can test the product.
Hootsuite vs. Buffer: Pros and Cons
To get to the main differences quickly, here are some of the biggest Hootsuite vs. Buffer pros and cons:
Hootsuite
Pros:
Complete social media management toolset
Freemium payment model
Supports the most social media channels
Built-in advertising and social conversation management
Cons:
Slightly complicated user interface
Not as robust with content creation
Buffer
Pros:
Best for publishing social content
Intuitive yet powerful user interface
Easy collaboration and teamwork features
Integrated platform security
Support for social scheduling and publishing
Cons:
Doesn't have paid advertising features
Not as robust scheduling as Hootsuite
Hootsuite vs. Buffer: Which One is Best?
1. User Interface and Ease of Use
The most noticeable difference between Hootsuite and Buffer lies in their user interfaces.
Buffer has a clean and sleek dashboard that shows a queue of all social media posts currently scheduled. It's minimalistic and lets you focus on the aspect that truly matters: your scheduled content.
Hootsuite, as I've already mentioned, is more feature-rich. So, even though the Hootsuite dashboard is not as attractive as Buffer's, it contains greater capabilities packed in.
For instance, you can use it to follow all your social media accounts, view social timelines, and even track mentions across channels.
If I'm frank, it's not fair to compare the user interfaces of these two tools. Since Buffer focuses on content creation, its user interface is built to support that function.
Hootsuite has to support a larger number of features, so naturally, the dashboard is more complicated.
That said, I still have to admit that Buffer's interface is more user-friendly and modern. The minimal dashboard makes it easy to manage and edit all scheduled posts. In comparison, Hootsuite's approach has a steeper learning curve.
Winner: Buffer
Buffer is the better tool for individual users and small teams in terms of simplicity and ease-of-use.
On the other hand, Hootsuite is more suited for larger teams with more elaborate social media marketing plans.
Hootsuite's interface is more customizable, while Buffer is more intuitive and easy to learn.
2. Supported Social Networks
Buffer provides support for the following social media networks:
Facebook
LinkedIn
Twitter
Instagram
Pinterest
Using Buffer, you can manage Facebook pages and groups, along with LinkedIn pages and profiles. If you're using the Pro version, then you can work with up to eight separate profiles and manage them. Buffer doesn't offer YouTube support, for that you'd have to lean on Hootsuite.
Hootsuite integrates with all the channels above, along with WordPress and YouTube. Using it, you can schedule posts and content, observe timelines, and monitor all social media feeds. Hootsuite even supports lesser-known social sites such as Tumblr, Foursquare, Reddit, and Mixi.
Winner: Hootsuite
If I'm going by the sheer number of social sites it integrates with, Hootsuite certainly takes the winner's crown. However, Buffer provides access to all the major social media sites, so you won't be left behind if you're using it either.
3. Scheduling and Publishing
You can post to your social media accounts using both Buffer and Hootsuite. Both platforms also allow you to schedule posts ahead of time and customize them according to the target platform.
As far as scheduling is concerned, these apps have different approaches. Buffer has the Buffer Queue, which is a custom schedule of all your posts.
It allows you to schedule posts over a month in advance of the actual publishing date and provides the following advantages:
Let's you add emojis to social media posts
Allows image uploads
Supports distributing the same post across multiple networks
Lets you create professional infographics using the Pablo tool
Hootsuite lets you customize and schedule posts manually. But it also has an auto-scheduling feature that automatically selects the best post publishing time. However, when going with this option, you won't have the flexibility to decide the order of posts.
In case you're using the free accounts for these tools, you'll have to deal with scheduling limitations as well:
Buffer's free account only lets you schedule ten posts for every social media account.
Hootsuite has a top limit of 30 posts scheduled across all social media channels.
In case you want to see a preview of the posts you've scheduled, Hootsuite has you covered. It also has a draft function that lets you save incomplete posts. Buffer provides a similar facility, but it's available with the Business or Pro plans only.
Finally, the Hootsuite Planner shows only a week's worth of scheduled content at a time. Buffer, on the other hand, provides monthly, weekly, and even list views.
Both tools allow you to publish syndicated content collected from RSS feeds and blog content. And in case you're looking for ad-hoc posting, these tools have dedicated browser plugins to help you with that.
Winner: Hootsuite And Buffer
In this category, both Hootsuite and Buffer tie in the first place. Both have good scheduling and publishing features. While Buffer is easier to use, Hootsuite offers a greater number of options in terms of content scheduling flexibility.
4. Social Conversation Management
Hootsuite and Buffer offer entirely different approaches to social media conversation management. When using Hootsuite, you'll find social conversation management built into the product itself.
Since in Hootsuite you can customize the dashboard any way you want, managing messages and comments becomes easier.
Hootsuite Streams is another excellent feature. It allows you to interact and respond to social media channel activity precisely as you would on the original site.
Streams lend a certain edge to this tool as far as I'm concerned. In short, Hootsuite offers all the tools you'd need to reply to your social media audience and keep track of them in real-time.
Buffer uses an entirely separate app for managing social media conversations. The Buffer Reply app comes with many useful features, but the only downside is that it's pretty expensive. Hootsuite provides conversation management features even with the free version of the tool.
In contrast, the Buffer Reply app costs $50 per month just for the basic version. And that's for just one social media account.
In case you're looking to scale up, you need to add users at the rate of $25 per user per month. For additional social media accounts, you'll have to shell out $10 per account per month.
Despite the high price, I'd say the app is worth the wide range of features it offers. You can assign conversations to individual team members and add conversation notes. The app even tracks responses in real-time.
The app integrates with other business communication tools such as Slack. In case you're upgrading to the Business plan, you'll get tools for monitoring keywords as well as automation features.
Winner: Hootsuite
Buffer Reply provides many advanced features that are good enough for small brands. In contrast, Hootsuite is ideal for large businesses looking to scale up fast.
5. Collaboration and Teamwork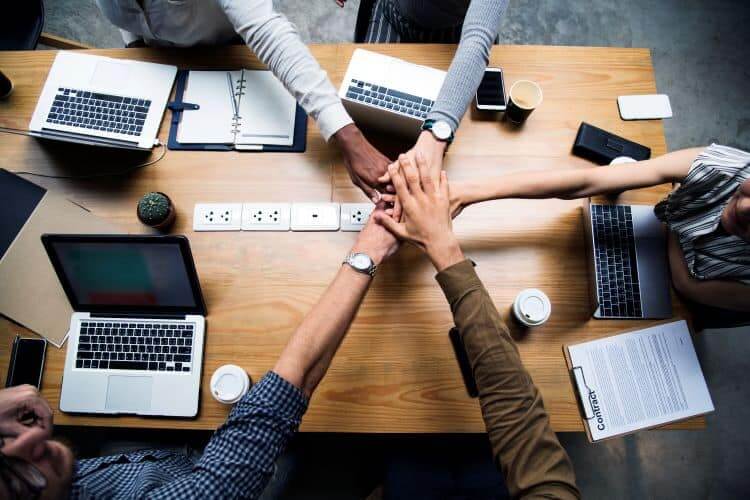 The number of people you have on your social media team might determine whether you go with Buffer or Hootsuite. As a scheduling tool, both allow you to delegate specific accounts to individual team members.
When you're using Buffer to collaborate, you'll have to manually select which social media accounts your teams will manage. On this platform, you'll get two permission types: Contributor and Manager.
Using these you can either grant contributors full posting rights or keep the provision for approval before posting.
Now, this simple workflow is suitable for smaller organizations working with a limited number of social profiles. For larger corporations with a massive social media presence, Hootsuite has more features to offer.
With Hootsuite, you have the option to break up your teams into individual members or groups. You can even create groups of teams on an organizational level. This way, it becomes simpler to enable large scale marketing efforts.
Winner: Buffer and Hootsuite
Both tools are comparable in terms of collaboration features. The only difference I can see is that Buffer provides a more straightforward approach that's more suited for smaller teams. For larger organizations, Hootsuite is the better choice.
6. Advertising
Paid social media content is an essential part of any social media strategy. Without paid promotions and advertising, it's tough to maximize your reach.
However, paid campaigns require detailed post customizations, ad placements, audience and geolocation selections, and more.
You can always use each social platform's native advertising interface to manage campaigns. The trouble is, this might involve switching between multiple dashboards.
Hootsuite saves you from trouble by providing a single dashboard from which you can create and manage ads across a number of social media sites.
The only downside is that you have to spend on Hootsuite Ads, the company's separate ad manager. But if you want a seamless social media experience using the same tool, I suggest you go for it.
Buffer, sadly, doesn't provide any provisions for handling social media ads. If you're using the tool to manage your social media content, you'll have to stick to the native social interfaces.
Winner: Hootsuite
In this category, Hootsuite wins uncontested since Buffer doesn't offer options for ads management. In fact, you can even combine both: just use Buffer for daily social media management while using Hootsuite Ads for managing paid campaigns.
7. Content Curation
Creating engaging content takes time. As a result, filling your social feeds every day can become challenging. This means you'll often have to curate content from other sources for driving continuous engagement.
Both Hootsuite and Buffer help you in this regard. Buffer offers a dedicated content curation tool called Content Inbox, which lets you manage RSS feeds from the dashboard. Using it, you can find relevant content and add it to your social media queues.
The only downside to this is that the Content Inbox tool is available for just Pro and Business plans. In case you're working with lower-level plans, Buffers lets you integrate with other content curation tools such as Pocket and Feedly.
As expected, Hootsuite gives you a greater number of tools from within the app for finding relevant content. Using Hootsuite, you can create hashtags and keyword searches on platforms like Instagram and Twitter. In addition to that, you can even share posts with greater flexibility and ease than on Buffer.
Hootsuite and Buffer also offer browser extensions that work with all major browsers such as Safari, Chrome, and Firefox.
I particularly like the Hootlet extension, which makes finding and adding tweets to your social queues a much easier process. It even provides you with a feed of the most recent tweets on the topic you're interested in.
Winner: Hootsuite And Buffer
When it comes to content curation functionality, Hootsuite and Buffer are at the same level. Buffer is the better choice for monitoring RSS feeds. But if you're looking to keep an eye on social searches and the latest tweets/retweets, then Hootlet is the way to go.
8. Analytics and Reporting
Social analytics and reporting must play a significant role in your social media strategy. Unless you're keeping track of what's working and what's not, you stand to lose out. Both Buffer and Hootsuite offer many tools for analyzing audience response to your social media activity.
Let's talk about Hootsuite first, which offers multiple analytics levels based on the plan you're using.
Here's a breakdown of Hootsuite's analytics:
The Hootsuite Free plan provides necessary analytics tools to get a broad engagement overview
The Professional plan provides real-time reporting and post-wise engagement metrics
The Enterprise plan has all of the above, along with team-level performance overviews
Using Hootsuite, you can get a complete snapshot of how your social posts are performing across all channels.
As I've already mentioned, Buffer is mainly a content publishing platform. So, it only offers analytics on posts published through its interface. As a result, you won't get reports on how content posted via the native social apps are performing.
That said, social media managers will love Buffer's intuitive Buffer Analyze app.
Using it, you can track performance based on engagement, post type, and reach. Buffer has a mobile app so you can track your social performance on the go. Plus, you can export all the data for further analysis.
Winner: Hootsuite
Again, Buffer and Hootsuite both offer analytics features. But Hootsuite comes out on top as it provides analytics on even the free plan and across all social posts.
In contrast, Buffer is limited in its capability and works only for content posted from the platform. Also, there's the fact that it doesn't offer any analytics features on their free tier.
9. Platform Security
For any social media management tool, security plays a significant role. Especially if you're a large corporation that works with many social accounts, you need to provide controlled access to each.
Thankfully, both the tools I'm talking about here have robust security features. You either need a valid email address or social media account for logging in to these tools. Both even offer role-based control of user accounts, which is helpful in the case of off-boarding and onboarding employees.
Hootsuite supports single sign-on via corporate accounts. Buffer, on the other hand, provides 2-factor authentication, which adds an extra layer of protection. It even keeps activity logs for the past two weeks so that you can keep tabs on any unauthorized access.
With Hootsuite, you also get to use a double-approval system that stops users from posting to the wrong networks. Apart from the above, it provides access to the HTTPS protocol, keeping your passwords and access data safe from prying eyes.
Winner: Hootsuite And Buffer
As far as security features are concerned, both Buffer and Hootsuite are comparable services. That said, Hootsuite offers a more granular level of access permissions as compared to Buffer.
So, for larger organizations, Hootsuite is the better choice. Buffer is ideal for smaller businesses and teams.
10. Number of Integrations
In terms of the number of integrations, Hootsuite outperforms Buffer by a long shot.
Buffer provides around 60 integrations and Hootsuite offers more than 140.
Hootsuite provides digital marketers with apps for ad management, marketing automation, and influencer marketing, to name a few. With so many integrations at your fingertips, there's very little that you can't do with it.
Winner: Hootsuite
Decidedly, Hootsuite takes the crown in this category. Its sizable number of integrations ensure that you meet your social media needs without a hitch. Buffer isn't far behind but still doesn't come up to Hootsuite's level.
11. Resources for Training
Hootsuite has its own academy where users can learn from free and paid social media marketing courses.
It's a pretty awesome set of online courses and over 550,000 students have gone through the program.
Hootsuite Academy offers courses for the following topics:
How to use Hootsuite
Social Media Marketing
Social Selling Training
Advanced Social Advertising Training
There are courses for corporate teams as well as individuals. Some of these courses even offer certificates and can be tied in with college credits.
The Buffer website offers multiple resources such as blogs, guides, FAQs, and online tutorials to help new users. They even host periodic webinars through which the company experts teach users how to derive value from the tool.
Winner: Hootsuite
Buffer offers standard resources for training that serve the purpose well. However, Hootsuite takes the bar a notch higher with the dedicated Hootsuite Academy courses. Its structured courses make learning social media a great experience. Plus, they offer professional certifications.
12. Customer Support
As far as customer support is concerned, both platforms offer a positive enough experience. Buffer is active on Slack and Twitter and also provides email support systems. Hootsuite has a live chat feature and is also active on social media sites.
Winner: Hootsuite And Buffer
For customer support, both apps are comparable, though I tend to gravitate towards Hootsuite. Its live chat feature provides a real-time resolution of problems. In contrast, Buffer's email responses take more time.
Wrap Up
I hope this detailed comparison of Hootsuite vs. Buffer helps you make an informed decision.
Overall, both are robust platforms for social media content management.
If you're looking for a simple tool that allows you to publish social content, Buffer is your best choice.
However, for larger organizations that need a complete social media management solution, Hootsuite is best. If needed, you can even use the two in combination.
What social media tools do you plan to use? Let me know in the comments.
Disclosure: I may receive affiliate compensation for some of the links below at no cost to you if you decide to purchase a paid plan. You can read our affiliate disclosure in our privacy policy. This site is not intending to provide financial advice. This is for entertainment only.