How to Sell on Facebook Shops and Marketplace in 2024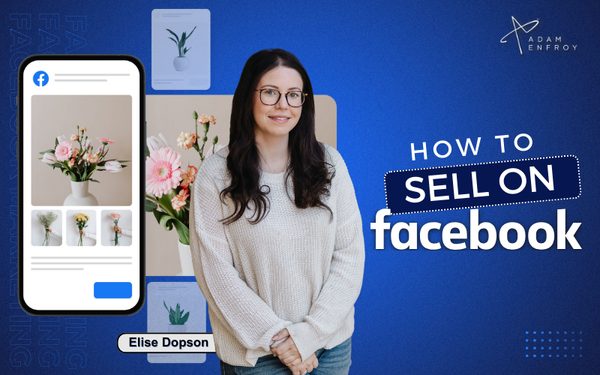 Facebook has come a long way from its origins in college dorm rooms.
Now boasting over 26 million monthly active users, people aren't just on the platform to connect with friends. This year, it was estimated that 37% of users will buy at least one product through the Facebook app.
As the founder of an ecommerce brand that sells on Facebook, I've been in your situation. I questioned which commerce features were worth setting up and whether we could increase sales by creating a storefront on the social media platform.
The answer to that last question was: Yes—Shops and Marketplace are two huge opportunities that help us acquire new customers through Facebook.
If you want to learn how to sell on Facebook effectively, you're in the right place. This step-by-step guide shares two of Facebook's best commerce features for online businesses (Facebook Shops and Marketplace), complete with tips on how to drive sales from Facebook.
How to sell on Facebook Shops
Facebook Shops is the social media platform's main commerce feature. There are over 250 million active Facebook Shops serving one million monthly global users.
Businesses with a Facebook Shop can create a virtual storefront that's associated with the business's Facebook Page. When people visit your Page, they'll see your products.
You can also tag products in organic content and divert people to the product page on your e-commerce store—a much smarter way to drive web traffic than pushing people toward the generic link in your caption.
Here's how to create your own Facebook Shop:
Check you meet the requirements
Create a Facebook Page and Business Manager Account
Create a Facebook Shop
Add a product catalog
Customize your Facebook Shop
1. Check you meet the requirements for Facebook Shops
Facebook has strict criteria on who can use the platform to sell. Before you start the process of creating a Facebook Shop, you must:
Have admin access to the Page and Business Account
Adhere to the Facebook Commerce policies
Have verified ownership of your website domain (if you have one)
Demonstrate trustworthiness with an "authentic, established presence" on Facebook
The platform might disqualify you from creating a Shop if you've just started out. In that case, spend some time building the credibility of your page—by posting content regularly and building your follower base—before creating a Shop.
2. Create a Facebook Page and Business Manager Account
Once you meet the criteria for opening a Facebook Shop, sign into your Facebook account and locate the Page you want to sell from.
Bear in mind that you'll need a Meta Business Manager Account and full administrative access before you get started.
3. Create your Facebook Shop
Next, head to the Commerce Manager within your Meta Business Suite. This is where you'll manage your Facebook Shop.
Review the existing information in your Commerce Manager, including your email address and sales channels (i.e., your business's Facebook Page).
Then, choose one of the following checkout methods:
Checkout on another website. If you have an online store, choose this option and divert people towards your website when they want to buy something through the Facebook Shop. This is usually the better option since you can use a wider variety of payment methods like PayPal, Shop Pay, and debit/credit card. There are no additional fees; just the ones you already pay for sales made through your ecommerce platform.
Checkout with Facebook. If you're a small business that doesn't have an online store, choose this option and let Facebook process payments for you through an in-app checkout. This is the most friction-free experience for buyers since they don't have to leave the Facebook app, but there's a 5% selling fee for merchants.
Checkout with messaging. Prefer to make sales through conversations? Push Facebook buyers towards a messaging app—such as Messenger or WhatsApp—and take payment there. You'll need your own payment processor and order fulfillment process, making it the most complex way to set up a Facebook Shop.
Finally, select which countries you ship to and submit your Facebook Shop for review. This can take up to 48 hours.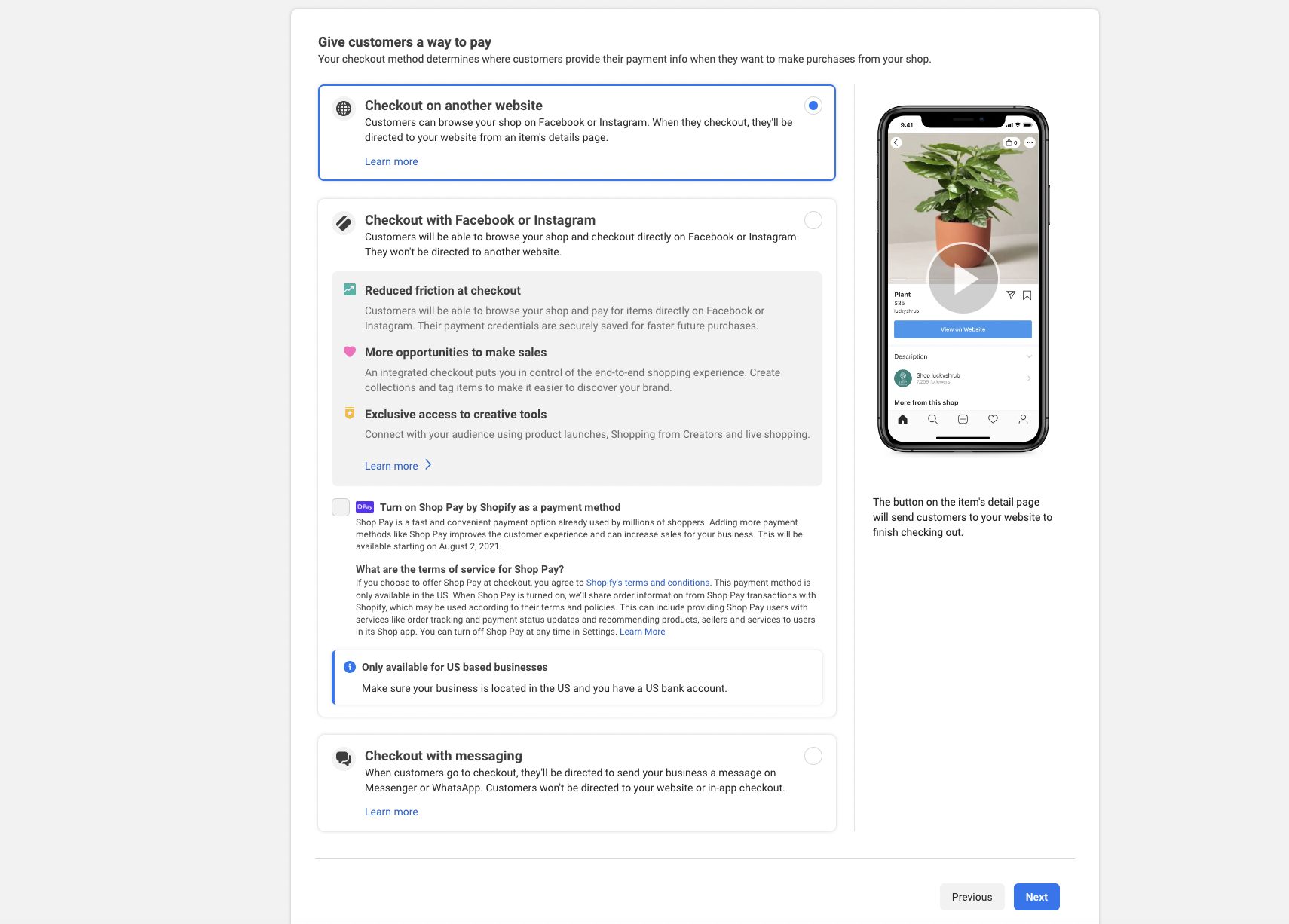 4. Add a product catalog
Once your Shop has been approved, head back to your Commerce Manager and upload a product catalog. This is a list of products that you want to sell on Facebook, including key product details such as its:
Name
Product title
Stock keeping unit (SKU) number
If you don't have an online store, you'll need to do this part manually. Create a Google Sheet or Excel document with the information listed above, then upload it to the Catalog section of Commerce Manager: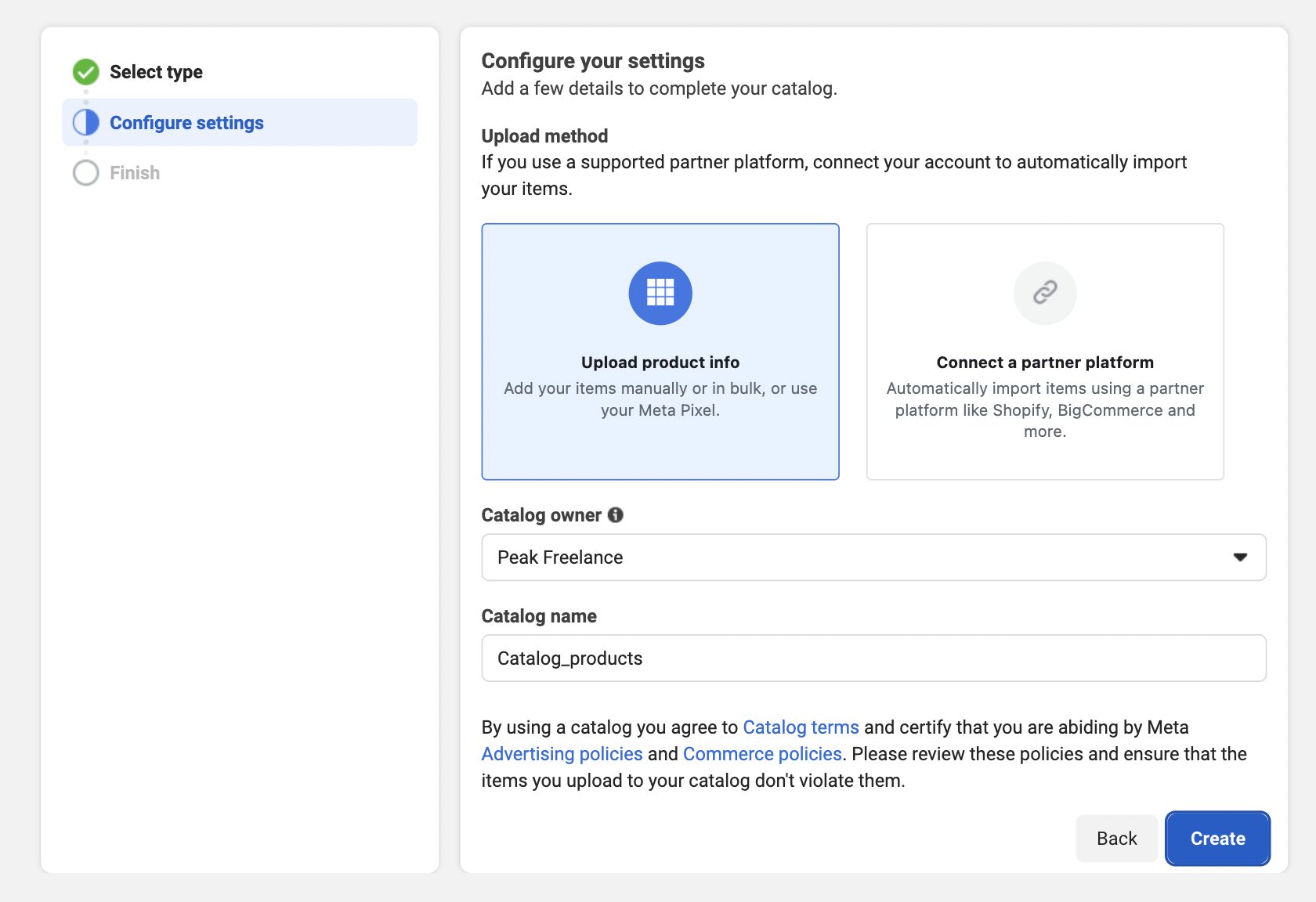 If you do have an online store, the process is a little different.
Skip the manual data entry and connect a partner platform such as Shopify and BigCommerce. These ecommerce platforms can pre-populate your Facebook Commerce Manager with products that you want to list in your Facebook Shop.
5. Customize your Facebook Shop
By this point, your Facebook Shop is technically up and running. People can see your products and purchase items through the checkout method you specified.
But before you start promoting items in your shop, take some time to customize the shopping experience. Much like you'd design your website to improve user experience and conversion rates, the same concept applies to your Facebook Shop.
Head to your Commerce Manager and select "Edit Shop". The Shop builder will open for you to:
Change the layout of your Facebook Shop
Create product carousels to showcase bestsellers
Add product collections (similar to categories on your ecommerce site)
Show dynamic products that are most relevant to each individual viewer
Add a "Suggested for you" section to upsell and cross-sell items similar to those a shopper has already viewed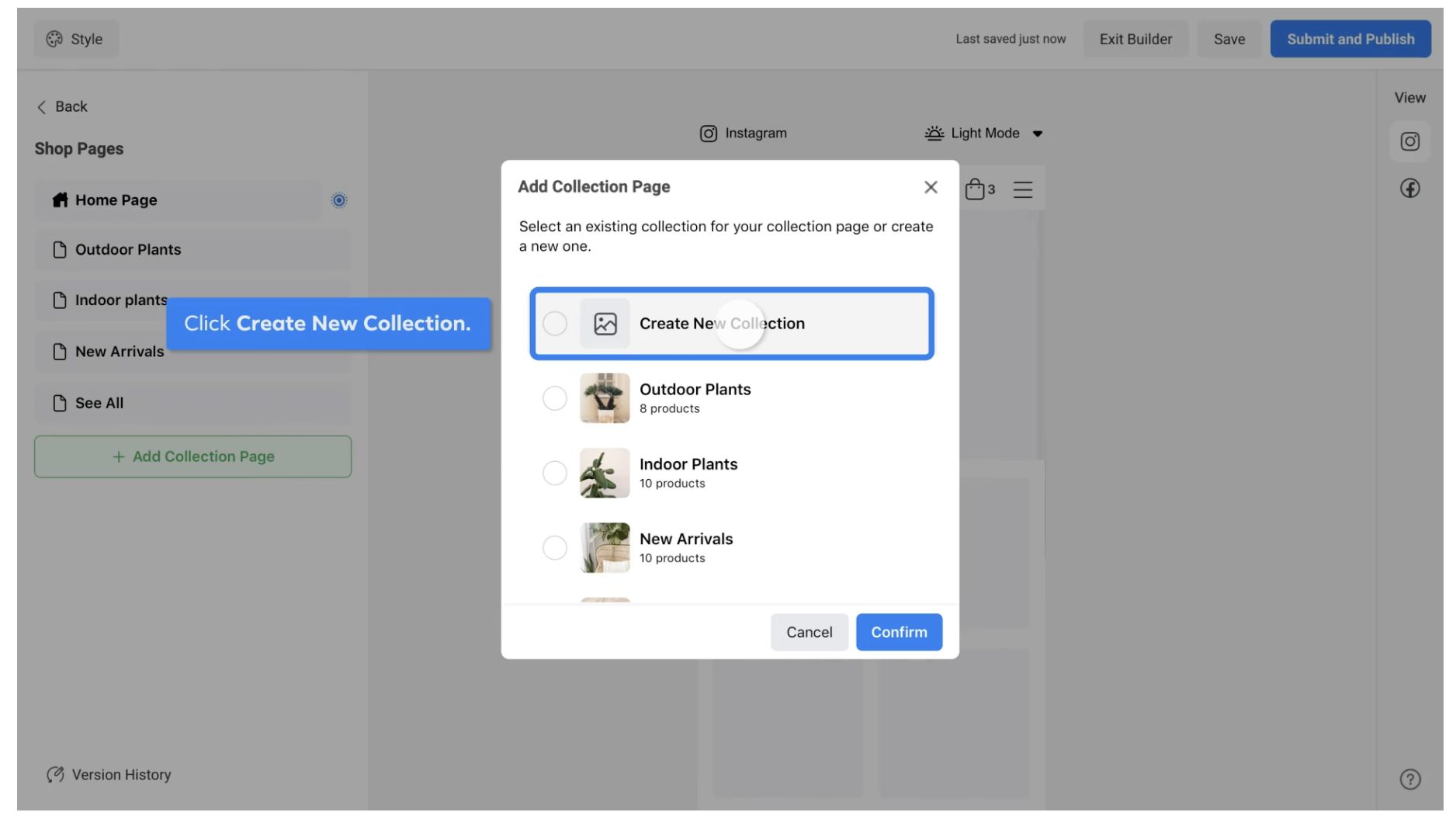 Source: Facebook
How to sell on Facebook Marketplace
Facebook Marketplace is similar to Craigslist in many ways. It's like a digital garage sale: you post your items and members of your local community will get in touch if they want to make a purchase.
Facebook Marketplace may be a better fit than Craigslist for city dwellers because there will be more locals looking for what you have to sell. It's a great spot for items that aren't worth the cost of shipping, like paperbacks or DVDs.
"Marketplace is a great place for people to start leveraging Facebook as it is free and if you're selling products in a local market people are searching for your products compared to you trying to find the customer. Essentially the customer finds you vs. the other way around, which puts you in a good position to get the sale." —Tyler Wisnewski, owner of OneUp Furniture
Unless you're using Facebook's shipping feature, the platform doesn't have any role in the payment or delivery of any marketplace listing. You can drop off items to local customers (or have them pick them up) for free.
But if you want to start selling on Facebook because you're not ready to open a store or run a full online business, this could be a great option for you.
1. Check your products meet Marketplace requirements
Anyone can list items on Facebook Marketplace if they have an active Facebook profile, live in a country where Facebook Marketplace is available, and are over 18 years old.
That said, Facebook also has limitations on the types of products you can sell through Marketplace.
You can't use Facebook Marketplace to sell:
Digital products, such as eBooks or online courses
Services, such as house cleaning
Animals
Healthcare and medical products
Items that have been recalled by the manufacturer or a government entity
2. Create a new Facebook Marketplace listing
Once you've confirmed that you're eligible to sell products on Marketplace, sign into your personal Facebook account and navigate to the Marketplace tab. Select "create new listing".
First, choose a listing type. Most ecommerce businesses will choose "item for sale".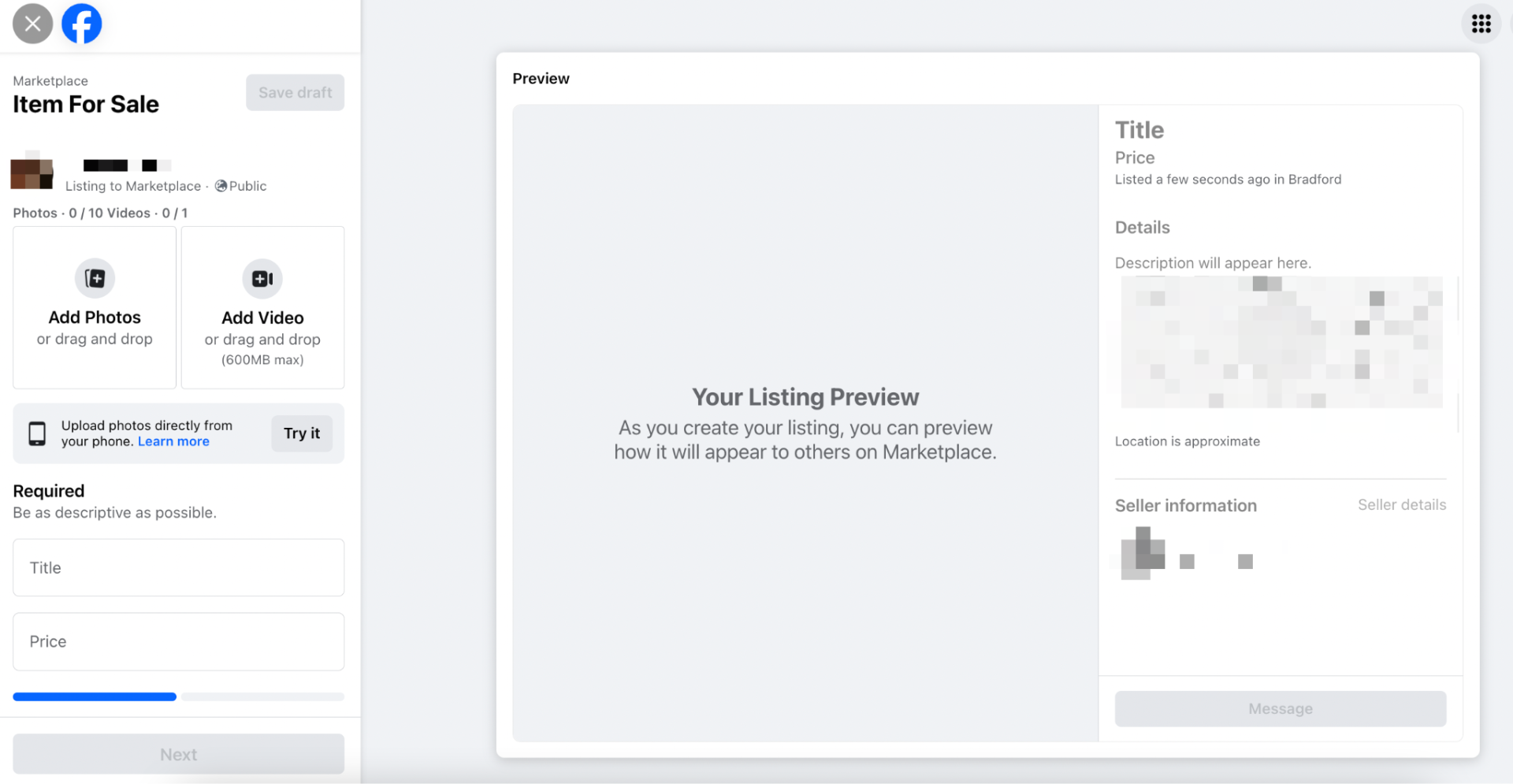 Then complete the listing information for the product you want to sell on Facebook. You'll need to enter:
Product photos: High-quality photos can help your product stand out from the competition. You can add up to 10 photos and one video to a Facebook Marketplace listing. Use them to your advantage and show the product from different angles so people can view it before they buy.
Title: Use search engine optimization (SEO) best practices to help Facebook's algorithm show your Marketplace listing to people searching for it. In your title, use the keywords someone would search to find it.
Price: How much are you willing to part with your product? Ecommerce businesses might have strict product prices, but if you're selling old or secondhand goods, there could be a bit of leeway to price competitively.
Product category: Help Facebook shoppers discover your products by placing the listing within the most relevant category. If you're selling children's books, for example, your listing could go under the "Books" category.
Condition: Facebook has four options to help you describe a product's condition: "New", "Like New", "Good", and "Fair". While it might feel tempting to describe everything as top-quality, you could open the floodgates for returns if you misjudge the condition.
Detailed description: Similar to product descriptions on an ecommerce store, this section of your listing is a superb opportunity to sell your product. Write a detailed product description that lists its key features, the benefits of buying, and other important information someone would want to know. (You could even save time on this step with a free AI content generator.)
Location: Marketplace helps you reach local shoppers, so choose the city that you're located in. Facebook will automatically add a radius to reach users in your local area.
3. Arrange payment and delivery
Once you've uploaded your Marketplace listing, Facebook will begin to show it to people who are most likely to purchase. Interested buyers can message you (using Facebook Messenger) or buy the product directly (using Checkout on Facebook).
How you'll get your products to a customer depends on where you're located and what you're most comfortable with. All merchants on Marketplace can arrange:
Public meetup
Door meetup (buyer comes to you)
Door drop-off (you go to the buyer)
Facebook users in the US can also use the platform's shipping feature to deliver items sold through Marketplace. For a 5% fee, Facebook will process the customer's payment and send the money to your bank account within 15-20 days.
Not only does this solve the logistical challenge of delivering goods to products in your local area, but it opens you up to more sales opportunities. Brands that use Facebook shipping can sell to anyone in the US on Marketplace—not just those in their city.
"I love that the shipping options are worked into each item, making it easy to make certain items shipping and certain items local pickup only." —Sarah Feldscher, Facebook seller
The best part: all orders that use this fulfillment option are covered by Facebook's Purchase Protection. You could increase your conversion rate when customers know they're protected against items that arrive damaged, unauthorized purchases, or unreceived orders.
How to promote products when selling on Facebook
You've got your products listed on Facebook—be that a Marketplace listing or the catalog you uploaded to your Facebook Shop. Next, it's time to drive traffic to your product listings so you can start making money through Facebook.
Reshare your content to Facebook Groups
Facebook Groups are often filled with people who have a keen interest in specific topics or niches. By resharing your content there, you're tapping into an audience that's already primed to engage with your content.
Buy and sell groups. People in this type of Facebook Group want to participate in buying and selling. That makes them one of the most effective ways to promote products, though it's important to note that many participants are bargain hunters. Be prepared to haggle (or get haggled with).
Community groups. These groups center around a local area—be that a town, city, or state. They're great for promoting Marketplace products because you'll show items to people within the pickup area you specified when making the listing.
Niche or special interest groups. When you share valuable content within communities that share the same interest as your target audience, you're not just promoting your brand, but also building relationships with potential customers. These people may be more likely to pay premium prices for items that are liked by other community members.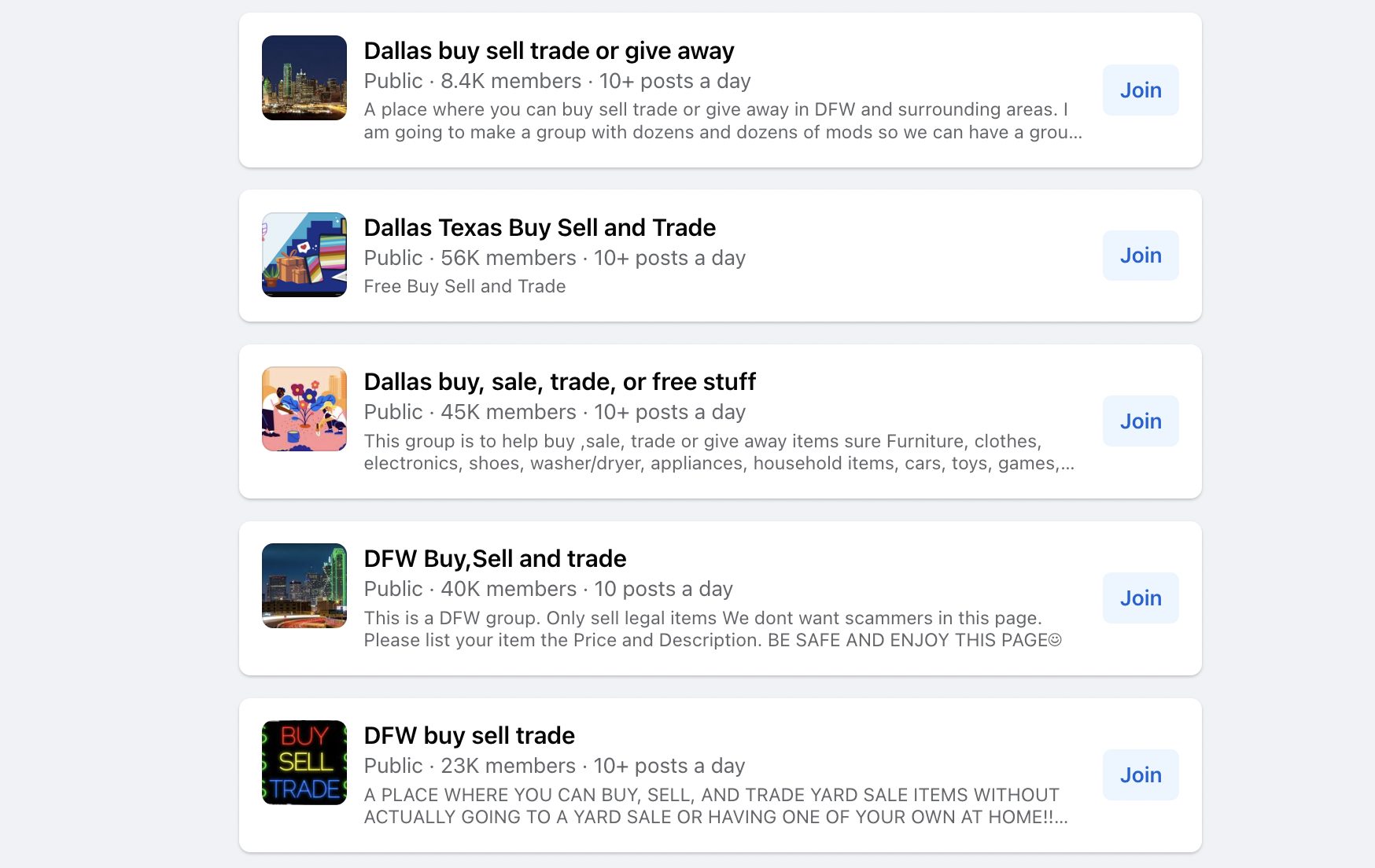 Caption: The most popular buy and sell groups in Dallas are 56,000+ members strong.
"My favorite feature of the Marketplace is the fact that you can share directly to individual groups," says Facebook seller Sarah Feldscher. "This ensures that the items you post can get seen right away in buyers and sellers groups. It helps you get your items in front of the customers right away."
The key here is to be respectful of group rules and avoid spammy behavior. Share your content in a way that genuinely benefits group members to prevent your Page from being kicked out.
Tag products from your Facebook Shop in organic content
Your Facebook Page is a great way to communicate with potential buyers on the platform. And since your new Facebook Shop is attached to your business's Page, you can tag products from your catalog in any content you post.
This allows you to highlight specific products and make them shoppable directly from your content.
The best part: you don't have to create this content yourself.
Dawn LaFontaine, founder of Cat In The Box, says: "My business sells unique cat products, and so I use my page to primarily post funny (and sometimes poignant) memes and videos about cats. These are often shared, which helps expand the reach of my Page."
"About 20% of my posts are [user-generated content] UGC featuring my products," Dawn adds. "Keeping the percentage of posts on the lower side helps prevent the page from feeling too salesy, while offering social proof that cats and their guardians are enjoying my products."
Chat with customers in Messenger
Selling on Facebook is all about building connections and trust with your potential customers. Facebook Messenger, the platform's built-in instant messaging feature, allows you to have personalized, private conversations with your customers.
You can answer questions, offer product recommendations, and build rapport with customers—all of which contribute to a positive customer experience that could convince Facebook shoppers to buy.
If you're running a large business or are active on multiple social media platforms, use help desk software like HelpScout to route all inquiries into a single dashboard. You'll be able to see:
New inquiries
Purchase history
Preferred contact channel
The urgency or priority status
Which team member is assigned to the ticket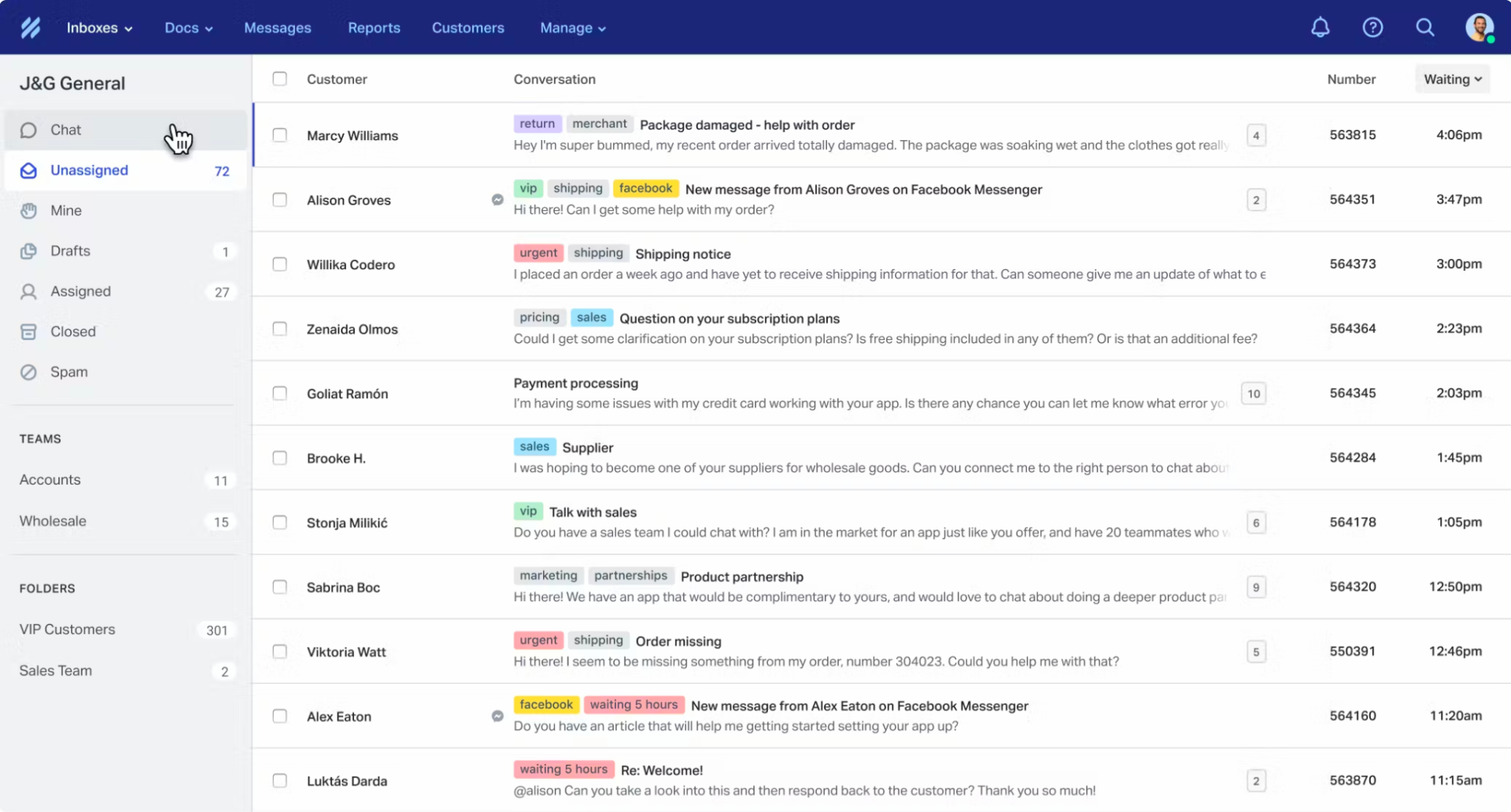 Source: HelpScout
"My biggest tips for selling on Marketplace are to be friendly, respond quickly, and follow up with potential customers often," says Tyler Wisnewski, owner of OneUp Furniture. "People live busy lives and buying your products/services are not always at the forefront of their mind."
Tyler adds: "After you get a sale, it is essential to over-deliver and provide excellent communication throughout the entire process. Customers love when you communicate the details of their delivery and update them throughout the process."
Run Facebook advertising campaigns
Facebook is one of the most popular advertising platforms for a reason.
You can reach people based on their demographics, interests, behavior—even their past interactions with your Facebook Shop. This precision helps you reach potential customers who are more likely to convert.
For example, you could retarget:
People who've visited your online store within the last 30 days
People who've visited a specific product page
People who've added an item to their online shopping cart but haven't bought (using Dynamic ads)
Madewell is one ecommerce brand that retargets people on Facebook using data it has already collected. In this example, the ad copy tells people to "wait" because an item "is perfect"' for them. It's something simple that could stop people from scrolling past the ad in their News Feed—and instead, bring them to the retailer's website.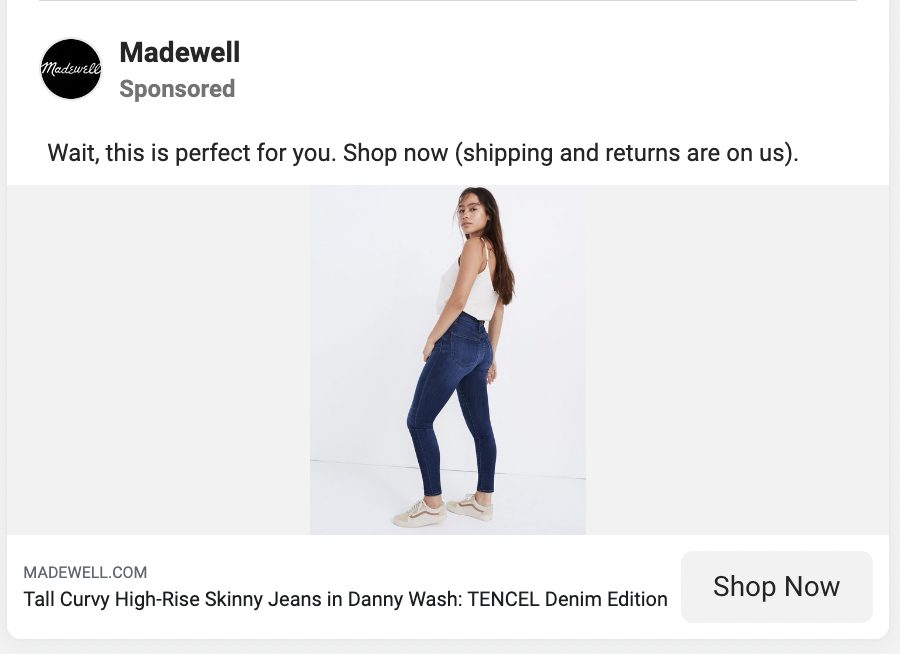 Promote sales and discounts
Discounts and promotions can be powerful motivators. They encourage potential customers to make a purchase they've been contemplating.
This often involves offering special promotions, discounts, or limited-time deals to your audience through your Facebook Business Page (with the products tagged from your catalog so people can easily buy them).
"Facebook will give your items a small boost into buyers' feeds if you run a small sale or promotion. If you are a new seller, it can be a great way to get your items in front of buyers without having to spend any money." —Sarah Feldscher, Facebook seller
Promotions are effective because they create a sense of urgency and excitement around your products—especially if the deal is time-sensitive.
We used this tactic for my online shop (Betty Jade Gifting Company). We promoted a skincare product with a time-sensitive deal that expired at midnight on the same day: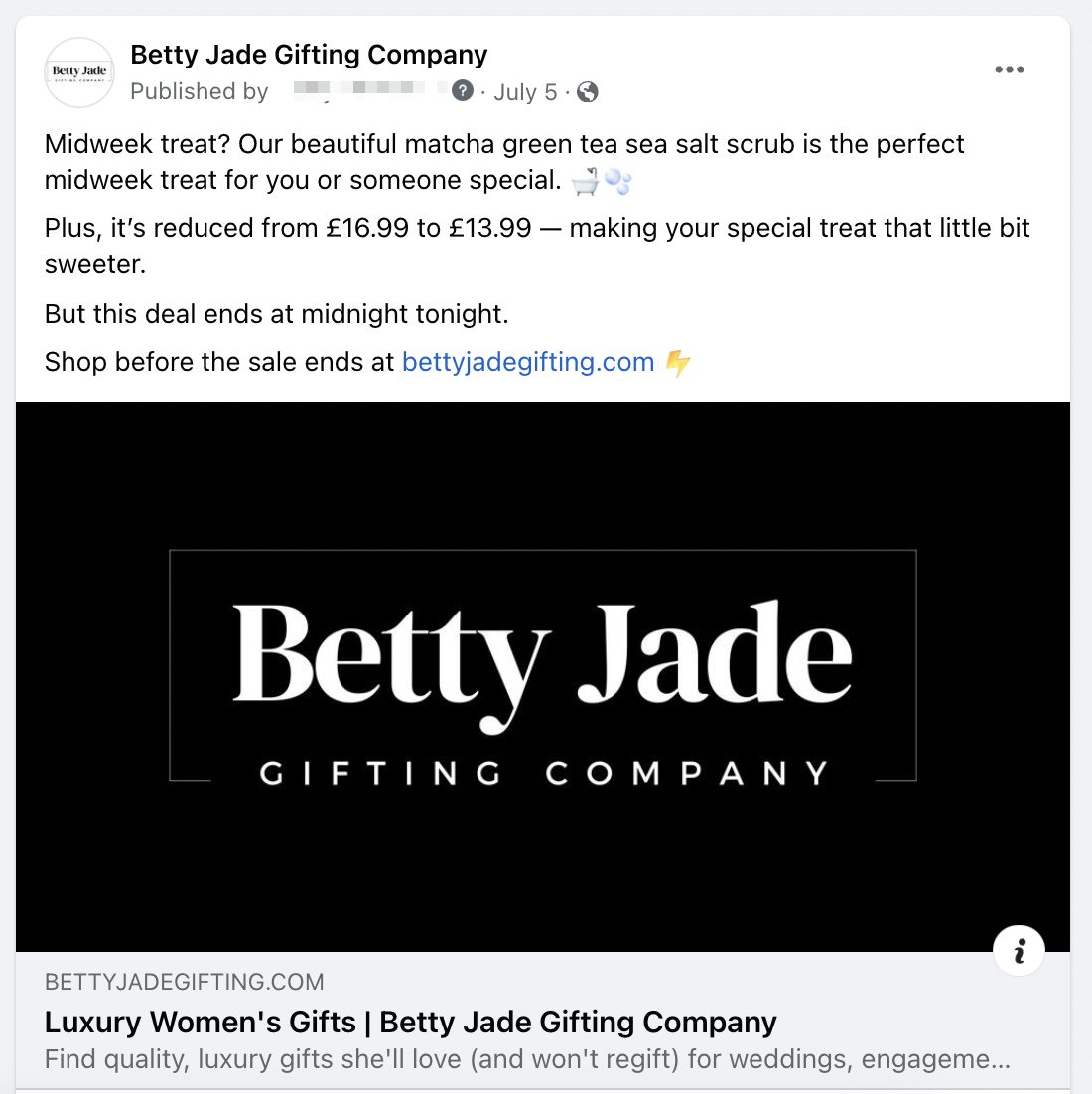 Start selling on Facebook today
Facebook is an incredible social commerce platform that your target audience is probably already using to buy products online.
Follow the steps we've shared above to set up your own Facebook Shop and Marketplace listings. From there, all that's left to do is promote your products on the social media platform with promotions, advertisements, and user-generated content.
How to sell on Facebook FAQs
How much does it cost to sell on Facebook?
It's free to sell on Facebook through Marketplace and Shops. The only time you'll have to pay is when you accept payments through Checkout on Facebook. These transactions are subject to a fee between 2.9% and 3.49% of the total transaction value.
How do I receive payment from Facebook Marketplace?
It's free to sell on Facebook Marketplace if you arrange your own payment on pickup or local delivery. If you're using Checkout on Facebook, Marketplace orders are subject to a 5% selling fee.
Can I sell on Facebook Shops without a website?
You don't need a website to create a Facebook Shop. The platform provides an all-in-one commerce platform for businesses to showcase and sell their products directly on Facebook, eliminating the need for a separate website.
Does Facebook Marketplace allow digital sales?
Facebook's policies state that you can't sell digital products on the Marketplace. This includes downloadable content such as PDFs, movies, eBooks, and coupons.
Editorial Process:
Our reviews are made by a team of experts before being written and come from real-world experience. Read our editorial process here.
Some of the links in this article may be affiliate links, which can provide compensation to us at no cost to you if you decide to purchase a paid plan. These are products we've personally used and stand behind. This site is not intended to provide financial advice. You can read our affiliate disclosure in our privacy policy.