How to Sell on Facebook (Ultimate Guide for 2023)
Facebook has come a long way from its origins in college dorm rooms. The average user spends 40 minutes a day on Facebook.
And even though most people who are 25 years and under are drifting away from the platform, more 55+ year-olds are hopping onto the platform every day.
This means an incredible audience for selling on Facebook.
Consumers are becoming more omnichannel and buying products online across different platforms.
If you can learn how to sell on Facebook effectively, you can start generating your first sales or increase your existing ecommerce businesses reach substantially.
The History of Selling on Facebook.
Facebook introduced business pages in November 2007.
Once there was the option to sell on Facebook, it caught on quickly as businesses saw a high ROI. After all, the best thing any entrepreneur can do is sell where their customers already are.
Plus with Facebook's advanced audience algorithms, you can find customers based on their demographics, location, interests, and other (somewhat creepy) means.
Whether you already have an online store or are just starting out, a Facebook store is necessary and will help you reach more customers.
You can add your product catalog onto Facebook and upload images, prices, and product details to generate more sales.
Fast forward to today and 90 million small businesses use Facebook and 87.1% of U.S. marketers will use Facebook marketing in 2020.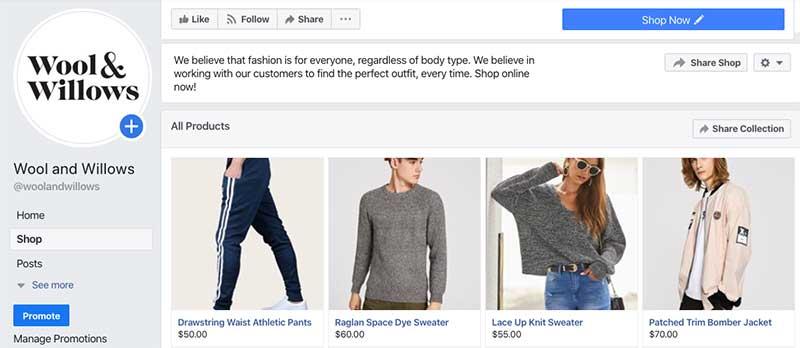 How to Sell on Facebook – Your Step-By-Step Guide.
1. Select your Physical Products.
Before you get started, there are some limits to what you can sell on Facebook.
Their guidelines are clear – it has to be a physical product.
This means that digital products like eBooks or services like social media management aren't an option.
Your products will need to go through an approval process before they go live in your Facebook store.
If you're not sure what to sell, this is a great resource for product ideas.
2. Facebook Business Basics.
If you're starting from scratch, you'll want to approach your new Facebook store like a seasoned professional.
Your competitors will include some of the biggest brands, but you will have an edge because of the personal touch that you can add to your new store.
First, create a business plan that outlines your goals for your products and store.
This includes naming your products, branding, and pricing your product for Facebook.
Facebook charges a 5% selling fee for each transaction, so price your products with that extra cost in your budget.
It's also a good idea to research the prices of your competitors on and off Facebook.
This will help you understand the price that will lead to the most sales.
3. Get Your Products Ready to Sell on Facebook.
It takes time to prepare a product for sale, so get everything ready before you get online.
Write a 150 character description of your business and your products.
Write an "About Us" description of your new business.
Take some great pictures of your products.
You'll need to shoot your products on a white background and show each product from multiple angles.
When you add photos and place an item for sale, your final images should be at least 1024 x 1024 px.
You'll also want to take some pictures or shoot videos of your products in real-life situations.
Add these to your feed with captions that tell a story and describe the experience of using the product.
Remember, most people are on Facebook to connect with family and friends.
Keep this in mind as you create a new listing with new products and promote them.
This helps to keep your new business from feeling intrusive.
4. Create Your FB Business Page.
Now that you have everything ready, it's time to create your Facebook business page.
There are a few requirements from Facebook before you move to the next steps for selling on Facebook:
Accept and review Facebook's Merchant Terms
Link to a valid bank account
Have a tax identification number
You'll also need to share your email address and mobile phone number so customers know how to get in touch.
Write out how you plan to handle:
Customer service, including the hours you'll be available to answer questions
Your privacy policy
Your commerce policies
Chosen shipping option and rates
Delivery and return times
Payment methods
Your Facebook business page will be a hub for communications about your business.
It will also be a showcase where customers can shop for your products.
You may want to prepare some content before you launch your page so that you can start marketing your products the minute you go live.
There are multiple options for selling once your Facebook business page is ready.
The first option is the Facebook Marketplace.
How to Sell on the Facebook Marketplace.

The Facebook Marketplace is similar to the popular Craigslist platform in many ways.
Facebook offers the added benefit of connecting to friends and friends of friends instead of strangers.
You aren't able to buy or sell directly from this Facebook shop, so there's no shopping cart or fees.
Facebook doesn't have any role in the payment or delivery of any marketplace listing.
If you want to start selling, but you're not ready to open a store or run a full online business, this could be a great option for you.
It's like a digital garage sale.
You post your items and members of your local community will get in touch if they want to make a purchase.
The Facebook Marketplace may be a better fit for city dwellers because there will be more locals looking for what you have to sell. It's a great spot for items that aren't worth the cost of shipping, like paperbacks or DVDs.
Items for kids are also great products to sell because there are so many parents on Facebook.
1. Post Your Product Information.
When you create your posts, include as many details as you can to help your potential customers a good idea of what you're offering. Include brand names, sizes, dimensions, and the condition your products are in.
You may also want to mention why you're selling.
This is a personal platform, and personal stories can help you sell on Facebook.
It's easy to post a product to the Facebook Marketplace.
From your feed, click Marketplace on the left-hand navigation.
From there, click the Sell Something button and select a category.
Then, add your product description, pricing, general location, and images.
Your markplace listing will live in the Marketplace section of your Facebook business page and you can make edits to your post from there.
2. Check your privacy settings
Once you start selling online you may be talking to strangers, so it's a good idea to double-check your Facebook privacy settings.
Go to "Settings", then "Privacy." Click the padlock and use Facebook's privacy check-up tool to make sure that the Facebook audience you chose looks right to you.
3. Close the Sale.
To make money on the Facebook Marketplace, make yourself available to potential customers.
Answer questions quickly and consider adjusting your offer if a product isn't selling as fast as you'd like.
It's also a good idea to select a safe and public place to hand over your sold items.
Selling on Facebook Groups.
You may not know it, but there are thousands of people buying and selling on Facebook Groups.
There are over 11,000 people in the "Buy and Sell on Facebook" group alone.
There are also many niche groups with a huge following that you can join to promote and sell your products on Facebook.
It's easy to join these groups.
They usually have an administrator to approve your addition to the group. Once you're in, Facebook will suggest other groups for you.
Posting items for sale in a local group is like selling on the Facebook Marketplace.
Just post directly on the group page.
Most buying and selling groups have a simple form that includes the details you've already put together- product description, price, category, and images.
You can also choose to post to a group you're a member of at the same time as you list on the Marketplace.
Use short sentences in your product descriptions for easy scanning.
Members of these groups usually know what they're looking for, and you want to make it easy to attract these potential buyers.
Product images are also very important, so make sure the images you add are high-quality.
Selling Via Manual Entry and Direct Sales.
Are you ready to start a business selling online? Selling from a Facebook store is a better option than the FB marketplace or groups for you.
You can create your Facebook Store, list products, and add a shopping cart for payments right in your Facebook account.
It's free to add products to your Facebook store, and there are clear instructions on how to get everything set up.
You can enter as many products as you'd like.
Manual entry is a great option for someone selling three or four products online.
As your business begins to grow, you will notice some limitations.
If you are serious about learning how to sell on Facebook, you'll want to learn the ins and outs of using an ecommerce platform to sell online.
Selling on Facebook with Ecommerce Platforms.
It may seem a little intimidating to start a separate online store when you're just beginning to sell on Facebook.
The truth is, an ecommerce platform can help you sell more with less effort.
First, there's fulfillment. Facebook doesn't integrate with other platforms, so without an ecommerce platform, you'll need to manually manage your orders and shipping.
This is fine if you're only selling a few products a month, but if you're selling ten products a day it can be difficult to keep track of it all.
Most ecommerce builders also have integrations with other helpful online tools.
This means that when your business grows from one sale to 20 per day you can get help with shipping and fulfilling orders.
You can get started with an ecommerce platform like Selz or BigCommerce to get started.
1. Expand to Another Other Sales Channel.
Another challenge with selling on the Facebook platform alone- if you're making regular sales you may be limiting yourself.
Adding just one more place to sell your products online could double your sales and business.
You can use an ecommerce platform to add more products to your store, and it will be easier to make updates.
There are many different ecommerce options available, and you can use the time you save focusing on other parts of your new business.
2. Choose Your Ecommerce Platform.
There are many things to weigh as you choose an ecommerce platform.
It's most important to choose one that is right for what you want for the next five years of your business.
The following qualities are what make the difference to most entrepreneurs when choosing an ecommerce platform.
Store Builder
Customer Service
Customer Experience
Tools and Features
Security
Design
Fees and Pricing
In addition, you'll want to make sure that the platform you choose has direct integration with Facebook.
Once you've chosen a platform, you can create your online store.
If you want to learn more about building an online store, check out this step-by-step guide from Selz.
Once your site is ready, add your products to your online store via manual upload or CSV file.
Then, connect Facebook to your online store to sync the platforms and start selling online.
How to Promote Your Products on Facebook.
There are many ways that Facebook makes it easy to promote the products you're selling on their platform.
We're going to go through the different features you have to maximize profit.
1. Organic Posts.
You don't want your followers to feel like you're only on Facebook for sales.
So, find ways to let people know that you're also online for the community.
Besides liking and sharing posts from your audience, create content that shows them you care.
Facebook made some updates this year that bring videos to the top of every feed.
Whether you want to share premade videos or live video on-site, find a way to add more videos to your Facebook page.
Videos are also popular for sharing.
Once someone visits your page for the first time, you can help them get to know your products with remarketing.
You may not have a lot of experience making videos, but it's easier than it looks.
Most people aren't looking for a professional video, they just want to see something that feels authentic.
Some popular ideas for Facebook videos include:
Videos that demonstrate how to use your product
Customers talking about your products and the value they offer
How you make, pack and ship your products
Stories about your team
Videos that teach something useful related to your products
2. Facebook Messenger.
We've all used Facebook Messenger to chat with friends and colleagues.
The messenger can also be a powerful sales tool.
You can use this feature for customer support and to quickly address customer concerns.
In addition, these chats are a great way to get to know your customers better and refine your message.
You can also introduce shoppers to other products that they might like.
3. Facebook Ads.
Once you've made the most of organic channels to sell on Facebook, it's time to look at the paid options.
There are two ways to advertise on Facebook- ads and sponsored posts.
Sponsored posts let you promote a post that you might share with your network with a much larger audience.
When you promote these posts it can help you reach as many followers as your budget can handle.
Sponsored posts are simple to make, and can be very useful.
They look just like a normal Facebook post, aside from a bit of text at the top of the post.
Facebook ads are more traditional advertising.
Carousel ads on the platform let you show several images of your products and can feature calls to action.
If you want to start your business with a bang, targeted Facebook ads can be a great way to connect with your niche.
Expand your Reach with More Selling Channels.
Most of the people you hope will buy your products on Facebook won't purchase until they've seen your products a few times.
Most shoppers make buying decisions with many devices.
They might scan their phone after seeing a billboard, make a visit to your site on their laptop, and then buy after a Facebook visit during lunch at work.
So, it's a good idea to be where your customers are.
Everywhere.
With an ecommerce website, you can enter your product listings just once, but sell items in multiple places online.
This can include your own website, blog, Pinterest, and Instagram, in addition to selling on Facebook.
Instagram shopping.
Once you're selling on Facebook, the next step is to expand to Instagram.
Instagram dominates a lot of retail industries like fashion and jewelry.
Once you're selling on Facebook you can connect your business account on Instagram to start selling directly from the platform.
Selling on Other eCommerce Platforms
You might also decide to sell on Amazon or eBay.
Doing so will expand your reach and make customers checkout on the platform they feel most comfortable on.
While most Facebook users are OK with buying on this platform, there might be a target audience that prefers to shop on a proper eCommerce site.
When it's time to set up your account and create new listing, keep in mind that as you list items and they get sold, your stock needs to be kept in mind.
Managing multiple platforms might mean more work for you but it's all worth it in end.
Get Ready for Facebook Success.
Now that you know how to sell on Facebook, it's time to put your new knowledge into action.
There is something for everyone, so pick the option that's best for you and start selling!
Read Further on AdamEnfroy.com: Check out these extra articles on how to make money on Instagram, the latest business ideas and other ways to make money online this year.
****
By Jana Rumberger – a writer and content manager for Selz e-commerce. She has expertise in strategy, selling products online, and small business solutions. Jana combines diverse experience in education, design, and manufacturing to craft engaging content.
In addition to her writing, she is a visual artist and foodie in Portland, Oregon.
Disclosure: I may receive affiliate compensation for some of the links below at no cost to you if you decide to purchase a paid plan. You can read our affiliate disclosure in our privacy policy. This site is not intending to provide financial advice. This is for entertainment only.