7 Best SSO Providers and Software of 2023 (Ranked)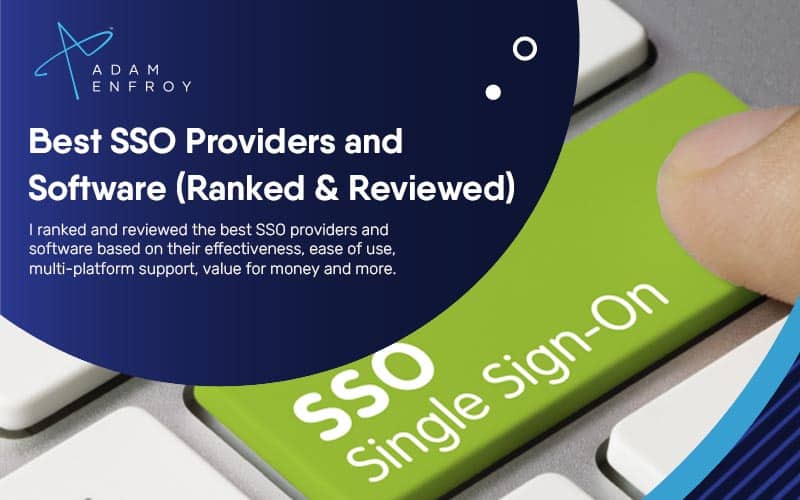 An SSO, or single sign-on, is a means of authentication which allows users to access multiple software applications with a single account.
In other words, if they have been authenticated once by their identity provider, they can use the same credential to access any application that they are authorized for.
Whether you are using risk management software in your business, trying to adhere to set policies using the right compliance software, or ensuring the integrity of your database software, an SSO solution will make your life a lot easier.
The problem with finding the right SSO is that so many providers and authentication software are available on the market.
While some provide less than ideal services, others offer outstanding options for businesses to simplify their workflow.
To help you determine which solution fits your needs best, I have created a list of the best SSO providers and software.
I used the following criteria to determine the rankings of this software:
Effectiveness.
Ease of use.
Multi-platform support.
Value for money.
Effectiveness.
Authentication options.
And more.
Let's dive deep into this topic.
What are the Best SSO Providers and Software?
The following are the best Single Sign-On software systems, ranked according to the criteria outlined above.
1. Microsoft Azure Active Directory.
Best for those looking for integration with countless other software.
The Microsoft Azure Active Directory (also known as Azure AD) enterprise identity service offers SSO services, as well as MFA (multi-factor authentication), to secure your users against most cyberattacks.
The Azure AD is one of the most influential single sign-on solutions due to its multi-platform support, allowing users to log in with their corporate credentials on any device or application.
It offers tight integration with over 90 different third-party apps and software suites such as Salesforce, Office 365, Box, DocuSign.
If you want a single platform that can safeguard your company by allowing you to connect various systems, the Azure AD is the way to go.
Conditional access and multi-factor authentication are two tools that help secure and regulate access, which can help your business ensure that only authorized users can access the data.
Moreover, developers will appreciate the inclusion of developer tools that make it simple to integrate identification into your apps and services.
Key Features:
Connect your team by providing single sign-on to more than 90 third-party apps and software suites.
Get access to identity-driven security, policy management, productivity tools, and analytics services in one place.
Choose from thousands of SaaS apps to provision for your user base.
Protect and govern access to corporate data with conditional access and multi-factor authentication tools.
Integrate identity into your apps to verify users and offer SSO.
2. Ping Identity Intelligent Platform.
Best for those looking for a secure SSO solution.
Ping Identity Platform combines all the tools in one platform to help you strengthen security and engagement in your digital business.
User experience is a top concern in today's business climate, so the ability to provide a safe and convenient way for users to verify their identity is vital.
The PingOne Cloud Platform can help you optimize your user experience with a comprehensive, standards-based platform suited for hybrid, multi-generational, and multi-cloud computing.
You can now allow all users and devices to securely access the cloud, mobile, SaaS, and on-premises applications and APIs.
The PingOne for Workforce helps you provide a consistent identity experience for your users while lowering the total cost of ownership.
It ensures scalable single sign-on to any cloud, on-premises, or mobile application, making it secure and straightforward for business employees to access all their resources during working hours.
If you want employees that are more engaged, productive, and safe in your business, PingOne might be the way to go.
Key Features:
Manage app and API access securely by the user or dynamically by the device.
Identity verification allows you to provide a consistent experience while improving security.
Account provisioning tools allow you to automate and standardize the pace of change in your business.
Centrally manage context-specific, fine-grained access restrictions to ensure that your users can interact with your application in the exact way that you intended.
Catching fraud in real-time on all of your web and mobile channels is a must.
Artificial intelligence is used to secure sensitive data and business processes, ensuring your data is safe and secure.
3. Okta Identity Cloud.
Best for managing all your user groups from a single location.
The Okta Identity Cloud is an autonomous and impartial platform that connects the right people to the appropriate tools at the optimal moment.
Single Sign-on by Okta helps you manage your people's access to apps and data, no matter which device or app they are using.
In addition, Okta Identity Cloud enables organizations to connect their users with the right tools on any device at the right time.
With flexible Multi-Factor Authentication, the Okta Identity Cloud makes it easy for employees to use their phones or wearables as additional authentication factors.
According to their studies, 81 percent of data breaches are caused by weak or stolen credentials, making it critical to have secure access for your whole company.
Okto provides a central location to manage all your users, groups, and devices from a single location.
You can also automate all lifecycle stages with any company process for external and internal consumers.
Key Features:
Okta's custom apps that use an API backend are more up-to-date, flexible, and innovative than traditional software.
Users won't need to enter the same information multiple times, meaning that they'll save time while the organization improves security.
Automate user lifecycle management to make it easy for users to apply, be approved, and access the right apps
Advanced Server Access Management is a seamless way to manage and control company data, including that found in CRM software, finance apps, or databases.
Boost your app's login and registration process to offer a range of features that make your employee's working life easier
4. OneLogin Unified Access Management Platform.
Best for those who want to make the most of cloud computing.
OneLogin Unified Access Management Platform is made for organizations managing a complicated application environment.
This solution is aimed at those with a portfolio of SaaS apps or commercial off-the-shelf and custom web applications.
These can be hosted on-premises, remote data centers, or even in private clouds.
Conventional identity and access management solutions force businesses to manage access to distinct environments separately, resulting in a fractured approach that can lead to complexity, waste, redundancy, and pricing.
With the OneLogin Unified Access Management Platform, you can manage your applications through one master administrator.
Access Management systems that are complex, costly, and disconnected from modern SaaS environments are a thing of the past, thanks to OneLogin Access.
OneLogin Unified Access Management brings you the benefits that cloud computing has to offer: simpler administration, decreased IT expenses, enhanced security, and improved user experience.
Users enjoy a simple, consistent experience with single-click access to SaaS and on-premise applications from any device through the OneLogin Portal.
Key Features:
Simplify the management of your web access management system by eliminating unneeded complexity.
From a single dashboard, an administrator can give everyone access to the right apps while providing a unified user experience.
Modernize access management with easily deployed, configured, and managed tools.
Migrate away from costly and time-consuming legacy web access management systems.
Remove the need to remember hundreds of passwords for each application and streamline end-user provisioning.
5. Duo Single Sign-On (SSO).
Best for those looking for a secure login process without unnecessary steps.
Duo's two-factor authentication solution, Duo SSO, allows users to log in to any app using only their password.
It's straightforward to use with any software, whether in-house or cloud-based.
Duo is ideal for anyone who needs security without slowing employees down with extra steps.
It is simple, has a single dashboard for access to applications, allows for customized access to different services, and works on any device.
Duo may be used for both new and existing SSO solutions, thanks to Duo's secure and straightforward sign-on experience.
Key Features:
Log in once and work from anywhere with their single sign-on solution.
Increase application security, access, and productivity with Duo Security's 2FA.
Gain flexibility for your business to integrate with cloud-based applications, enterprise SaaS solutions, on-premise apps, or any network service.
Duo provides SSO for the Modern Workforce and lets you manage innovative tools without sacrificing your company's security.
Any security architecture is compatible with it, making Duo the most flexible SSO solution of its kind.
6. CyberArk Workforce Identity.
Best for those looking to eliminate the need for VPN access.
CyberArk Workforce Identity provides easy and secure access to corporate solutions, allowing you to free up time for your employees.
If you want to grant access securely to cloud apps, avoid password sprawl, and eliminate the need for a VPN across devices, CyberArk offers a simple solution to meet your requirements.
CyberArk Workforce Identity allows employees to work from anywhere without compromising security with frictionless sign-on.
Not only will it save you time, but it's secure too, with the ability to monitor and track activity.
With adaptive access controls and granular policy management, you maintain tight control and visibility into who has access to what features.
You can also make intelligent access choices based on AI-fueled analytics.
Key Features:
Adaptive Multi-Factor Authentication means that employees can log in with their standard password or use any device to provide multi-factor authentication.
Protect your business' sensitive data while ensuring your employees can get their jobs done without unnecessary hassle.
Make cloud apps secure and straightforward access, eliminating the need for a VPN across devices.
Lifecycle Management for credentials enables you to quickly and easily provision or de-provision users while synchronizing all of your access policies.
Granular policy management lets you stay in control with views into who has access to what.
Manage usernames, groups, and devices on-premises or in the cloud.
7. JumpCloud Directory-as-a-Service.
Best for providing a customized user portal to get things done.
JumpCloud Directory-as-a-Service provides access to various company resources, including web and on-premises apps.
You can access these from anywhere through safely encrypted logins that are multi-factor.
JumpCloud Directory allows you to give users single access to all of their web and on-premises apps, as well as any other apps they need, in just a few clicks.
You can use SAML JIT and SCIM to generate and manage user accounts in applications directly from JumpCloud and pass user attributes to allow federated access.
A centralized logging and monitoring platform for SAML apps is also included, along with multi-factor authentication (MFA)-initiated login to the SAML-based user portal.
Key Features:
One dashboard with unlimited apps gives you instant access to hundreds of cloud and on-premises apps.
Create user accounts in a scalable and flexible way, providing federated access with SAML 2.0.
Customize your user portal experience to meet business requirements.
Multi-factor authentication (MFA) is used to protect the JumpCloud User Portal.
What are SSO Providers and Software?
SSO stands for single sign-on and allows users to access all their apps with just one set of login credentials.
This is done in a secure and straightforward fashion.
Instead of having multiple usernames and passwords, administrators can use SSO software to centralize the access process.
Using this simplifies administration by removing the need to manage multiple credentials for each user.
On top of having a central authentication platform, SSO also guarantees secure access to applications across platforms and devices.
Some examples of these platforms include cloud apps, on-premises apps, SaaS services, mobile apps, and even virtual desktops.
The Benefits of SSO
The following are some of the main benefits that SSO provides.
Reduced IT Costs
With one set of login credentials, SSO reduces the costs of managing user access to applications.
This includes use cases that reduce time spent resetting passwords following a data breach, distributing application logins among the entire staff, and ensuring every member has their account activated in different systems.
Increased User Productivity
Users can use just one set of credentials to access all apps, so their productivity is bound to increase.
This means that they have more time to focus on what matters most-their work.
Additionally, the IT department will feel appreciated and valued since they get it right the first time. This might increase morale and reduce staff turnover.
Better Security & Compliance
A fundamental part of security is controlling access, which SSO facilitates. It also ensures SSO compliance with HIPAA, ISO 27001, and Sarbanes Oxley regulations.
These regulations can be difficult and time-consuming to maintain if each employee has a separate account for every app they need in the workplace.
Instead of having different credentials for each app, it makes sense to standardize one set of user credentials.
Centralized Reporting & Auditing
One of the main features that SSO software provides is a centralized place to manage logins and passwords.
This makes it easy to report on user activity, including who has access to which app, when they logged in last, and their location.
If you need to investigate possible data breaches or policy violations, the central reporting feature will be essential for you.
It can also help IT staff quickly identify storage usage by individual users, giving them a heads up when action needs to be taken.
User management
User identities are managed in SSO software, another crucial piece of the whole puzzle.
It controls the creation, modification, and deletion of user accounts across all apps that are integrated with SSO software.
This ensures standardization of access control practices by eliminating exceptions to password policies, hardcoding usernames, or using other mechanisms.
It also allows for granular reporting on logins based on individual user identities.
Multi-factor Authentication (MFA)
Many SSO providers include multifactor or two-step verification options for login to their user portal.
On top of entering a username and password, users will usually need to enter a unique code sent via email/SMS to their device before gaining access.
The multi-factor part is designed to provide an extra layer of security.
Self Service Password Reset
Many organizations also use SSO software to allow users to reset their passwords by themselves.
This is generally done through the User Portal and is usually combined with MFA for added security.
One should note that many SSO solutions do not provide self-service password reset capabilities, even if they provide other forms of MFA.
If your organization requires this, you will need to investigate whether the particular SSO software supports it or not before deciding to go with one solution over another.
Ease of Use
SSO providers offer web-based portals that end-users can self-register for with just one form submission.
No technical knowledge is required; users enter their credentials once and are assigned unique login URLs for each app they have access to.
It typically takes just one minute to sign up for an app on your own after the SSO is configured.
With Single Sign-On enabled, users are also not required to create new passwords every time they switch between apps or reset their credentials when they forget them.
This enhances productivity and reduces administrative effort in IT departments.
Integration Capabilities
SSO providers offer different integration capabilities with other apps in the market depending on the specific product you choose.
For example, one can set up some products simply by importing pre-configured XML files containing usernames/passwords.
In contrast, others support more advanced integrations via API connectivity with your identity management system.
The more advanced SSO providers have a wide range of apps that they integrate with to ensure that users can access any app from a single portal interface.
They also support custom integration requirements and open source code compatibility.
More advanced products will also provide a good user experience across all browsers, including mobile devices.
This ensures compatibility regardless of the device used by your employees.
In-product Self-Service Helpdesk Portal
As part of their user Portal, most SSO providers now offer an in-product self-help feature that lets users ask questions about the service directly within the product itself instead of going off-site for technical help.
The idea is to reduce the workload on IT staff and make technical assistance more readily available for all users.
UI Customization
As part of their user Portal, SSO providers generally offer the option to customize the UI/UX of your portal pages depending on your preferences, branding, or security requirements.
This includes customizing backgrounds, text colors, and buttons shown on screens to fit in with your company's identity better.
If you don't want any changes, you can also opt to create a page from a template instead.
Active directory federation services
User authentication is the most critical part of Single Sign-On. If you are looking to invest in an SSO provider, this is where you should start your research.
The most common form of authentication across all SSO products is Active Directory Federation Services (ADFS).
This allows users to access apps without a password by logging in using their Windows credentials.
ADFS is very secure and widely supported, but it is relatively expensive to set up.
If not configured properly, it can also lead to a worse user experience, so you must select a product with a proven and reliable ADFS solution.
Cloud-based identity
Identity management is rapidly moving to the Cloud, and most mainstream SSO providers support this trend.
Instead of needing to install third-party software locally, cloud identity management services use APIs and OAuth methods to authenticate users across multiple products without requiring any extra hardware or infrastructure investment on your end.
Most SSO providers will offer a range of plans with various levels of requirements depending on your budget and business needs.
One should expect to pay anything from $5 per user/month for basic functionality up to $500+ if you need particular features such as SAML single sign-on.
API Access management
An API enables users to directly communicate with your company's security software without going through the main web interface.
This has several benefits, including faster issue resolution times, reduced engineering overhead on your end, and greater flexibility for users on how they want to access corporate resources.
For many companies, an API access management solution is one of the most critical aspects of their security app strategy because it allows them to streamline their resources across the board.
A Look Into User Remote Access
A single sign-on functionality is just one of the benefits that SSO providers offer.
Beyond this, most companies are looking for remote access tools that can help them save time and money by streamlining their app strategy.
Some products will also provide audit logs if you need to review user activity across your network in real-time. This is useful to ensure that employees don't abuse their privileges or attempt to use company resources without being present in the office.
Who is SSO ideal for?
SSO is typically used by companies that want to improve their employee productivity and efficiency, reduce end-user support requests and keep their data secure.
In addition, those companies that employ SIEM tools to have real-time visibility across their organization can also benefit from SSO.
While it's not always necessary for every company, several specific sectors will benefit from SSO.
These include those that are an educational service provider, are involved in healthcare even, government institutions, or even certain types of non-profit organizations.
This enables them to manage all aspects of their app strategy in one place instead of handling different products independently.
Other identity provider tools like SAML and SCIM are great for managing users across several platforms.
Still, they can become costly and difficult to manage when business scales.
In this situation, SSO is a better alternative that will allow an organization to save time and money by managing the single sign-on solution much easier for administrators.
Customer identity management is an integral part of any company's app strategy. It allows the right people to provide users with the right level of access associated with their accounts.
If you're looking for a solution that can increase productivity, then SSO is one way to help your employees quickly access corporate resources without the need for additional support.
Wrap Up.
As we continue to see advancements in cloud technology, companies need scalable single sign-on solutions to meet their changing needs.
While it's true that managing passwords is an easy way for IT admins to provide users with access to company resources, SSO is quickly becoming a popular alternative because it eliminates problems that having easily-available passwords gives rise to.
At the same time, this is all done without adding too much complexity to an organization's infrastructure.
The best part about SSO tools is that they offer several benefits that will help you improve your company's security and reduce end-user support requests in one fell swoop.
To recap, the best SSO providers and software right now are:
Understanding whether SSO is the right solution for your company is the first step towards improving employee productivity and providing a better user experience.
Have you ever used SSO as an employer or an employee? Does any tool not mentioned above deserve to be on this list? Let me know if I missed anything in the comments below.
Further reading on AdamEnfroy.com: If online privacy is crucial for you, here's a list of the best VPN services to consider in your organization.
In addition, the following VPS hosting services can help keep your data safe, especially if you need to host private information or ensure anonymity.
Disclosure: I may receive affiliate compensation for some of the links below at no cost to you if you decide to purchase a paid plan. You can read our affiliate disclosure in our privacy policy. This site is not intending to provide financial advice. This is for entertainment only.