11 Best Photo Management Software of 2023 (Ultimate Guide)
Choosing the right photo management software is vitally important to your business. From sorting and organizing to editing and sharing, the best photo management software can help you meet your goals. In this guide, I ranked and reviewed the 11 best photo management software, along with my top 5 choices, so that you can pick the best one for you.
---
We're reader-supported. When you buy through links on our site, we may earn an affiliate commission.
The use of digital images is growing exponentially. In fact, humanity will take 1.4 trillion photos in 2020.
Where do all of these photos go and how are they managed?
Managing, organizing, and storing digital assets in the cloud is a big priority for designers and businesses of all sizes.
Plus, with higher image quality comes the need for more storage. And with a higher quantity of photos comes the need to quickly and easily access these image libraries.
This is where photo management software comes into play.
Photo management tools help individuals and businesses:
Let's get to the list.
What is the Best Photo Management Software?
Here are the top choices for photo management software.
Best overall ($9.99 per month).
Adam's Take
Adobe Lightroom is the clear winner if you're looking for the best overall photo management software. It's easy to use and provides everything you need to edit, organize, store, and share your photos.
Adobe Lightroom is a cloud-based photo management software that lets you edit, organize, store, and share your photos across any device.
It comes with AI-technology to automatically manage numerous pictures at once and save all the edits done on your smartphone. Moreover, it provides a machine learning feature that recognizes people and themes and creates albums on its own.
Initially, you get 1 terabyte of cloud storage for free, which is enough for most graphic designers and mid-sized businesses. However, you can buy more storage whenever required.
It also leverages non-destructive edits to eliminate the requirement of keeping multiple copies of a photo. This means you can save editing adjustments while preserving the original images and changes in the same picture.
Key Features:
Image Labels – Leverage organizational tools, including ratings and flags, pictures marks, and instantly create albums with a single click.
Adobe Sensei – Its machine learning automatically recognizes the faces, locations, objects, themes, and colors in your images. This feature helps you find the photos you are looking for – whether you added the relevant keywords or not.
Photoshop on the iPad Integration – Directly send your images from the Lightroom library to Adobe Photoshop on your iPad and vice-versa.
Pros:
Auto-tagging of images for easier searchability.
Easily add photos from desktop, mobile, or web.
Upload images from messages and email attachments directly.
Organize images through ratings, flags, and albums.
It takes an automatic backup of your images.
Lightroom also helps you manage the image library from any mobile device or computer.
It offers access to all the files that you want to share from any device.
Lightroom comes with step-by-step how-to guides and tutorials to help you get started.
Pricing:
You can get Adobe Lightroom as part of Adobe Creative Cloud for $9.99 per month.
Best for cloud storage ($20.99 per month).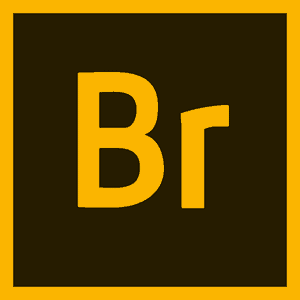 Adam's Take
If you want to take the process of editing and organization of your photos to the next level, Adobe Bridge is the app for you. Its many features and integration with other Adobe products provide a complete solution for managing assets.
Adobe Bridge is a digital asset management app that enables you to preview, edit, organize, and publish multiple photographs quickly. It also allows you to edit metadata and add labels, keywords, or ratings to organize your images.
Metadata search and filter options also help you find and organize your assets in order. The photo management app also collaborates with multiple libraries – which helps you publish your photos directly to the Adobe Stock.
Additionally, you can visualize your images with rich previews and bold thumbnails. You can also edit your photos by opening them directly inside Adobe Creative Cloud apps.
Recently, they added three key features in Adobe Bridge:
Export your images in bulk to formats like DNG, TIFF, and PNG.
Resize images based on the short edge.
Toggle thumbnail transparency on and off.
Key Features:
Adobe Portfolio – Build a professional portfolio of your images, InDesign, or illustrations through PDF contact sheets.
Adobe Camera Raw – Open your raw images directly from the Bridge for editing.
Photo Downloader – Import all your digital images through Photo Downloader to convert them into DNG files during the import or rename them.
Pros:
It's capable of batch exporting or renaming your images with multiple scale and size options.
Quickly stack and organize panoramic or HDR images.
Import videos and photos from a digital camera or mobile phone on the macOS.
Create an Adobe website directly from Bridge.
On-demand metadata and thumbnail generation.
Use PDF contact sheets to create portfolios of your photos, illustrations, or InDesign files.
Pricing:
Adobe Bridge is not a standalone tool; it comes with the complete Creative Cloud package that costs $20.99 per month.
Best for beginners looking for a free photo management software (Free).
Adam's Take
Magix Photo Manager is a free and easy-to-use photo organization app that is great for organizing and editing your photos and videos. You can also sort your photos into albums, create slideshows, and share your pictures with others.
Magix Photo Manager is a free photo organization app that helps you edit, sort, and organize your photos and videos. Its optimized user interface helps you make quick edits, develop easily shareable slideshows, and directly import pictures from the camera.
You can also leverage its adjustable view modes and custom albums to find videos and photos from your library. Plus, you can rate and categorize images for better management.
To highlight your photos correctly, it offers a dark-colored background. Finally, share your photos and videos directly from Magix's dashboard to several social media channels like YouTube.
All in all, Magix lets you manage, present, and share your photos and videos from a single dashboard.
Key Features:
Cloud Import – Import images directly from multiple cloud storage services. This can help you merge your local photo libraries with the pictures already stored in the cloud.
Wireless Import – You can use WiFi to upload your videos and photos directly from your smartphone.
Facial Recognition – Magix photo manager can detect faces to help you find photos of a particular person easily. You can save up to 10 faces with its free version.
Pros:
You can optimize color, sharpness, contrast, and brightness of images in just a few clicks.
Easily back-up your media to DVD, CD, and hard drive.
Burn your slideshows straight to a DVD or CD.
Describe images with memories, locations, and names.
You can also add music, commentary, and sound to your slideshows.
It provides 600 MB free disk space for program installation.
Pricing:
Magix Photo Manager offers a freemium tool that lets you manage and categorize your photo collection. However, it also provides a paid plan for more advanced photo management and editing features.
Here are all the pricing plans offered by Magix:
MAGIX Photo Manager: Free
MAGIX Photo Manager Deluxe: $49.99
Best for extensive RAW support ($44.95, one-time payment).
Adam's Take
Using the power of facial recognition and data location, ACDSee can help you keep all your photos organized in one place. With this tool, you'll be able to find and edit photos faster and easier than ever before, so I recommend it for anyone who struggles to keep their photos sorted.
ACDSee is a digital asset management tool that helps you organize photos with facial recognition and data location features. It also helps you search, sort, and share your media collection. Features like customizable categories, import-free access to your photos, and keywords help you facilitate your workflow.
Additionally, ACDSee also provides performance-based adjustment layers and parametric photo editing features. Leverage RAW editing and digital asset management toolsets to edit your images just the way you want. The GPU-enriched software also claims to processes your edited images at a faster pace.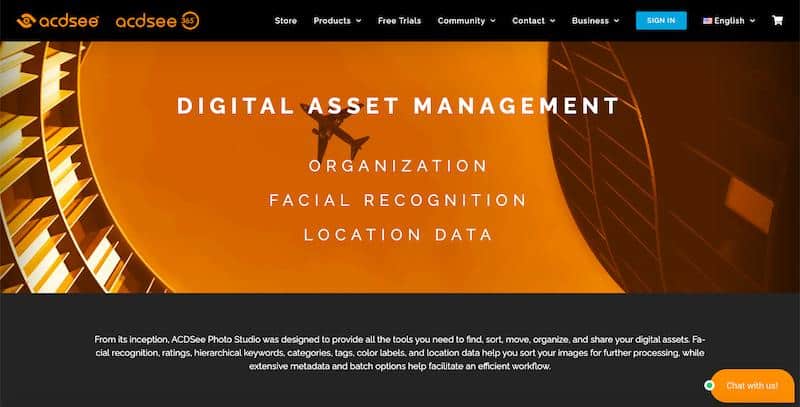 Key Features:
Location Data – Its Map pane displays the geotags to mark the location where you took the images. It isolates groups of images based on the region they were clicked through embedded longitudinal and latitudinal information. On top of that, it also allows you to drag and drop images for geotagging.
Facial Recognition – It identifies faces so that you can name individuals and search for images easily.
RAW Support – It offers RAW support for more than 550 digital camera models.
Pros:
They offer free updates, tutorials, photography tips, and workshops – which comes in handy for beginners.
You can import images from Picasa and Lightroom.
Sync your mobile phone with ACDSee and share photos and videos directly from your device.
Process and save images in batch.
Drag and drop searching.
Customer Support Team is available Monday to Friday.
You get access to a 30-days free trial for the full product.
Pricing:
ACDSee's pricing starts at $44.95 as a one-time payment, per user.
Best for beginners and small businesses (Free).
Adam's Take
As with any other Google product, you can expect a certain professional quality and set of features from Google Photos. I advise you to check out this product if you are looking for a great photo management solution for your home or small business.
Google Photos is a free photo management software that lets you backup and accesses your videos and photos from any device.
You can either drag and drop your photos directly from your system to Google Photos or click on the "upload" button.
Once uploaded in cloud storage, Google Photos automatically organizes all your photos and makes them searchable. You just have to enter relevant keywords in the search bar to find the picture you are looking for. It also allows you to search for images based on various factors like events, people, and locations.
You can also easily share your picture or albums with friends and family. You just have to select the media you want to share or create a link to post it on any social media channel.
Google Photos also offers editing tools and various filters to help you edit and save your images.
Besides, it lets you sync your files to all your devices, including mobile phones, tablets, and computers.
Key Features:
Photo Prints – You can get your photos and libraries printed in an album, photo books, and canvas prints. It also offers a same-day pickup at your local CVS or Walmart. The prices for photo prints start from $0.25.
Suggested Sharing – Google Photos' 'Suggested Sharing' feature shows photo groups at the top and reflects events along with face bubbles.
Albums Page – Its AI engine automatically shows pages with the photo along with the albums you create.
Pros:
You can adjust the exposure, color, and brightness of images.
It creates metadata and processes photos in bulk.
AI-based assistant creates animation and slide-shows using similar images.
It automatically captures geolocation and image information from digital cameras and smartphones.
You can use an object-based search to find files whose names you don't remember.
You can upload images in multiple resolutions according to your storage availability.
Pricing:
Google Photos is entirely free and provides unlimited storage. However, you can only save images with 16MP resolution, while videos get compressed to 1080p.
If you want to save original files, you can opt for the paid subscription plan that starts at $19.99 per year for 100GB. The good news is that this plan is also free up to 15GB.
Best free and open-source photo management software (Free).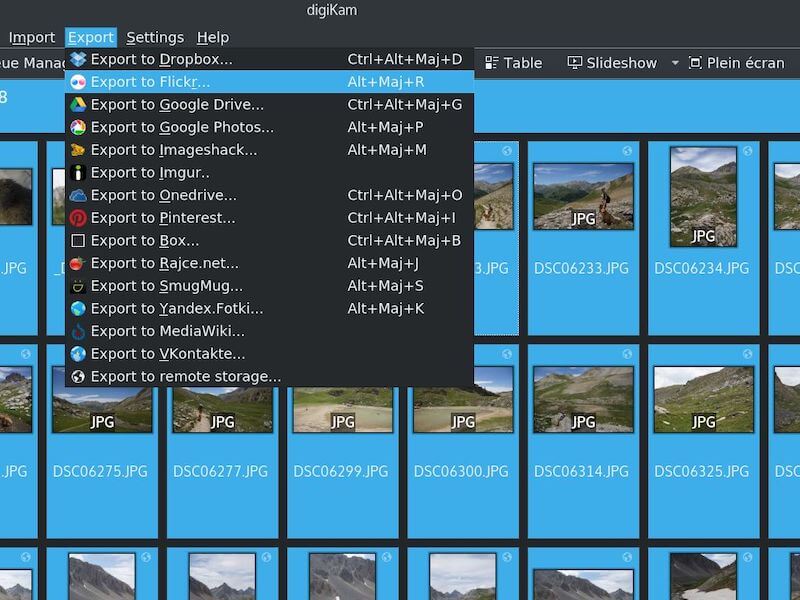 digiKam is a free and open-source photo management software that can handle libraries containing over 100,000 images.
It enables you to import, manage, edit, and share RAW files or photos. You can also import pictures, videos, and RAW files directly from external storage devices or digital cameras.
The uploaded photos get organized in albums that you can sort:
Chronologically
By folder layout
Or by custom collections
You can also add tags, comments, and metadata to sort and find your images – and do away with folder constraints. Furthermore, it lets you group photos together by file-name, date, and time-lapse.
You can also configure import rules and settings that organize and process the images. digiKam's light table function also helps you review your pictures and touch up specific areas.
Additionally, it provides tagging tools that let you assign tags, labels, and ratings to photos and RAW files. You can then leverage filters to find the stored images quickly.
Key Features:
Search Capability – You can search the photo library using factors like labels, tags, rating, location, data, and specific IPTC, EXIF, or XMP metadata.
LibRaw – It's capable of decoding RAW files. Plus, the library gets maintained actively and regularly updated to ensure it supports the latest camera models.
Lens Correction – It leverages software based on Lensfun to enable auto lens correction of images.
Pros:
It helps you manage video files for cataloging.
Compatible with macOS, Windows, and Linux.
You can write plugins to export and import images to third-party web-services, add new editing features, and batch process photos.
You can store data either on a remote or local server.
Leverage the' Tags Manager' feature to organize tag's properties and hierarchies.
Use the 'Similarity' feature to find duplicate images.
Pricing:
digiKam is an open-source tool, hence entirely free to use.
Best for varied photo management and editing options ($19.95 one-time payment).
Faststone is an image viewing and management software that helps you organize, edit, rename, and add text and watermark to your images.
The platform supports all the major image formats, including JPEG, PNG, BMP, JPEG 2000, animated GIF, ICO, TIFF, PCX, WMF, TGA, etc. It also supports digital camera RAW formats like CR2, CR3, NEF, CRW, PEF, DNG, RW2, X3F, and more.
FastStone provides four sub-products for various tasks:
FastStone Image Viewer – An image browser, converter, and editor. It provides features like image viewing, management, red-eye removal, resizing, cropping, color adjustments, etc. It also creates automatic slideshows with over 150 transaction support. And you can even add music in the slideshows with MP3, WMA, WAV files support.
FastStone Screen Capture – A screen capture tool that lets you capture and annotate anything on the screen.
FastStone MaxView – An image viewer that lets you view and manage images in all major formats. You can also view password-protected ZIP, 7-Zip, and RAR files instantly. Additionally, FastStone MaxView helps you rotate, annotate, resize, and print images.
FastStone Photo Resizer – It lets you convert, rename, crop, and rotate your images. Plus, you can add text and watermark and change color depth in the batch mode. Plus, it comes bundled with a screen capture and video recording tool that can record all screen activities, microphone audio, mouse movement, etc. Additionally, it can capture BMP, JPEG, TGA, PDF, TIFF, etc. formats.
You can purchase any of these tools separately based on your requirements.
Key Features:
Multithreading Supported – All the sub-tools let you process multiple images simultaneously using all cores of your processor.
Dual Monitor Support – FastStone provides optimization for dual-screen users. You can also drag & drop the images or your main window to any of the monitors.
Drag and drop feature – Manage images, copy, move, re-arrange files with drag, and drop support.
Pros:
Set images as windows desktop background wallpapers
Add text, arrows, shapes, and many other objects to the images
Assign hotkeys to take screenshots and screen capture
Supports high DPI and high-resolution displays
FastStone photo resizer provides drag and drop feature.
You can blur selected areas in your images.
Pricing:
Here are the costs of four different FastStone photo management products (all the licenses are available for Lifetime):
FastStone Image Viewer: $34.95
FastStone Capture: $19.95
FastStone MaxView: $19.95
FastStone Photo Resizer: $19.95
Faststone Image Viewer, Photo Resizer tool are free to use for personal and educational use, whereas FastStone Capture and MaxView require a license. However, you need support for all tools if you are using them for any type of commercial purposes.
You can try FastStone Capture and MaxView free for 30 days.
Best photo organizing software for PC ($39.95 one-time payment).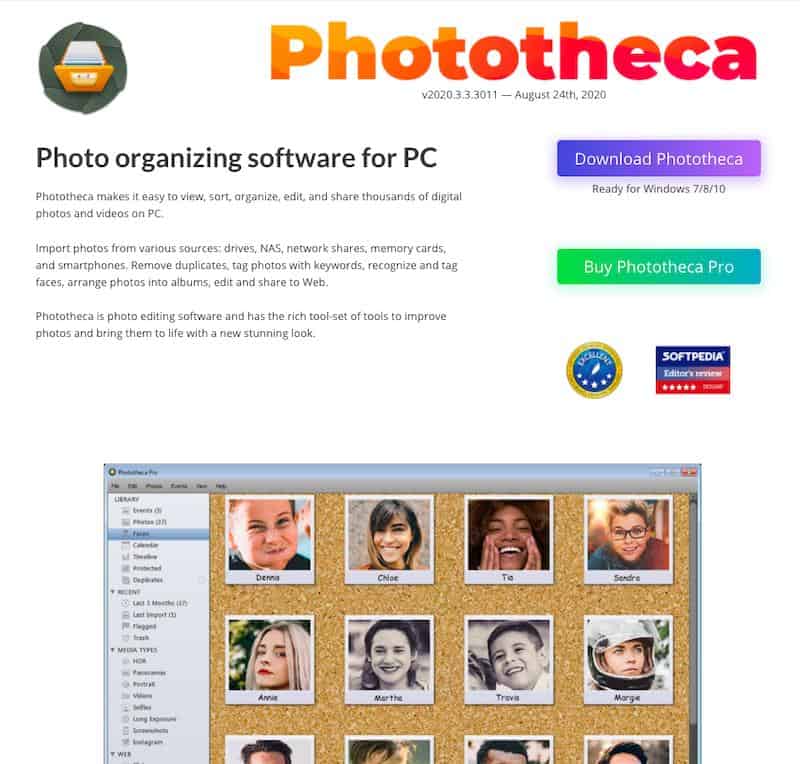 Phototheca is a photo organizing software that helps organize, view, sort, edit, and share images and videos on your computer.
To begin with, you can source images from multiple sources like drives, NAS, network shares, memory cards, and smartphones. Next, create a multilevel photo library, albums, folders, events, and smart folders.
Finally, arrange photos with timeline, events, calendars, nested folders, etc., and tag them using keywords and places. The tagging feature makes it easier to find images in the future. Plus, the dual view feature helps you utilize the second display and organize photos with more space.
Not only this, but you can also transfer images to your iPhone from your PC in just a click. It also lets you share images directly to Flickr, Google Photos, and Twitter.
Phototheca also scans your storage and automatically removes all the duplicates images while keeping the original image secure.
Additionally, the PC-based photo management tool comes with a built-in photo editor. It provides image editing features like noise reduction, sharpening, de-hazing, white balancing, lighting, and more.
Key Features:
Smart Albums – This feature helps you gather all the photos that meet your specified criteria.
Viewing Capabilities – Phototheca lets you zoom-in and zoom-out your images or switch to a full-screen mode. You can also run a slideshow to view all the images seamlessly.
Facial Recognition – You just have to tag your photos, and its AI-technology will recognize the same person in your photo collection and group them into an album.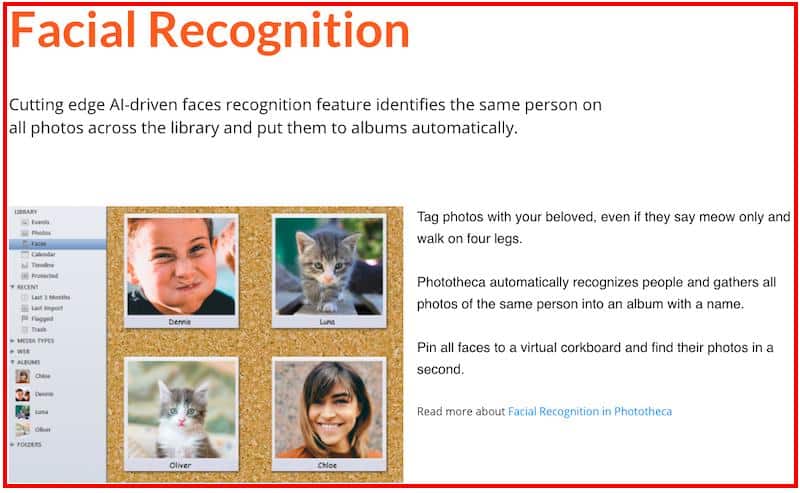 Pros:
It supports multiple RAW camera formats.
Phototheca's Premium plan works with up to 5 PCs and can manage unlimited photos.
Built-in 56 high-quality photo filters.
Native support for iPhone media types.
Send photos through emails directly using Phototheca.
Hide selected photos in password-protected albums.
Duplicate photo detection feature.
Pricing:
Phototheca provides three paid plans (at a one-time payment):
Home: $39.95, manages up to 100,000 photos.
Pro: $49.95, manages up to 250,000 photos.
Premium: $54.95, manages unlimited photos.
You can get a 30 days money-back guarantee with all the plans. Plus, students get 50% off, and all educational institutions can get a 20% discount.
Best for multi-user access ($59.95 for a single license).
PicaJet is a photo management and image database software that lets you organize, edit, and sort your digital collection. You can organize photos into unlimited category nesting levels – it can either be complex category structures or simple ones.
Multiple users can access photos at the same time using their servers. However, only one user can modify the database content at a time.
You can use different icons to categorize images, making it easier to find specific photos from a complete collection. It also lets you store pictures in your local storage while retaining smaller thumbnails in your PC's hard disk. This feature saves your PCs storage and helps you access images by directly clicking on the small-sized thumbnails.
PicaJet supports over 60 image files and image formats, including JPEG, PNG, GIF, TIFF, BMP, etc. Not only this, but they also support all camera RAW file formats from Sony, Nikon, Canon, etc.
Plus, you can import, manage, and play videos of all major formats like MPEG2, MPEG4, AVI, and more.
The ability to hide private images is another helpful feature. You can hide pictures by just pressing Shift+Ctrl+H and permit who so ever you want.
Additionally, it provides an in-built photo editor that offers features like:
Transformation
Crop
Sharpening
Red-eye removal
Sepia
Key Features:
Fast Photo Indexing – PicaJet leverages OpenGL graphic acceleration and image processing techniques to index your photo collection by importing metadata information. OpenGL also you smoothly zoom images in and out in just a single click.
Backups and Restore – It takes automatic backup of your photos and videos. And if your hard disk fails or gets corrupted, restore all the pictures or videos in just a click.
Slideshow software – The in-built slideshow software helps you create slideshows with various transition effects similar to Hollywood style effects.
Pros:
Export data in XML format.
PicaJet supports Adobe DNG format.
PicaJet arranges photos in a manner that takes the least space on paper – saving your paper while printing.
You can customize PicaJet's interface.
It supports over 20 languages around the world.
Convert photos to JPEG format in bulk.
Upload images on Fotki and Flickr for free.
Sort and group photos using any criterion you want.
Pricing:
PicaJet offers two types of licenses (at one-time payment):
Single License: $59.95
Family License: $99.95 (install on up to five computers)
Best for organizations looking to sort images with various formats ($39.95).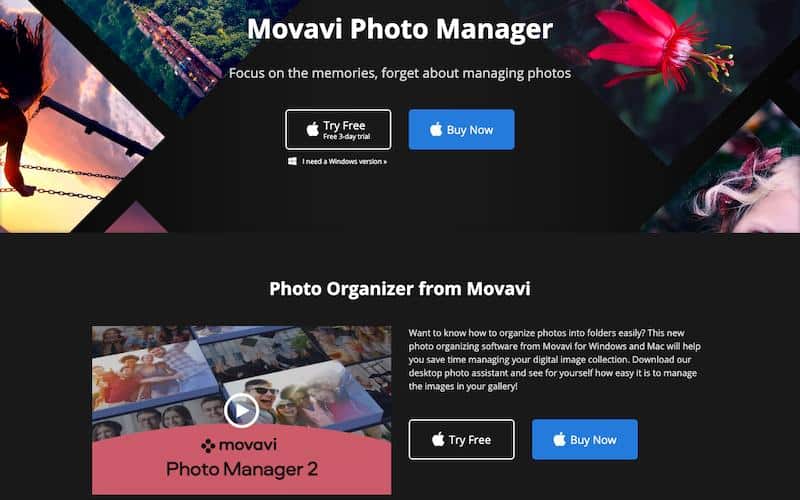 Movavi photo manager helps you manage and edit your entire photo collection. The software supports all major image formats like JPEG, PNG, RAW, and more.
Their software detects similar faces and automatically compiles them in an album. Then you can edit those images simultaneously or delete and organize in batch. The facial recognition feature also detects photos from the entire collection and creates separate albums for each person.
Besides, you can also add tags to your photos to find specific images and navigate the gallery. Movavi photo manager also takes backup of your photos, albums, tags, and places. This function helps you restore your data in case of any loss.
The photo editor lets you edit single or multiple photos at the same time. Plus, you get all the essential photo editing features like crop, rotate, sharpen, flip, straighten horizons, etc.
Key Features:
Geolocation – Movavi Photo Manager automatically sorts photo albums based on the places they were clicked. You can also filter albums by cities.
Duplicate Photos – It scans your PC's hard disk and removes all the same photos.
Automatic Album Creation – The photo manager sorts all your images and creates albums based on date and GPS coordinates.
Pros:
Edit multiple images at the same time.
Add tags, texts, and graphics to photos.
Restore old photos.
Change or remove the image background.
You get a 3-day free trial.
Pricing:
Movavi Photo Manager provides three pricing plans for both personal and business use:
Personal:
Photo Manager: $39.95
Photo Manager + Photo Editor: $59.95
Photo Manager + Photo Editor + Slideshow Maker: $79.95
Business:
Photo Manager: $99.95
Photo Manager + Photo Editor: $149.95
Photo Manager + Photo Editor + Slideshow Maker: $199.95
All the plans come with a 3-days free trial.
Best for photo editing ($4.99 per month).

Zoner is a photo organizing software that comes with four sections – Manager, Develop, Editor, and Create. Some of its standard features include RAW processing, layer support, presets, and cataloging.
You can copy images instantly from your camera to the computer, and the software will sort them into different folders. You can further tag or rename your photos, add descriptions & keywords, and take quick backups at once.
After tagging and organizing them, browse your media collection by dates, keywords, locations, folder, and more.
Other than this, Zoner Photo Studio helps you enhance your photos with its photo editor. The photo editor lets you add colors to your photos, add a magical atmosphere, radial filters, etc.
Additionally, you can share your images directly from Zoner to social channels like Facebook, Twitter, Messenger, etc.
Key Features:
Disconnected Disks – Now, you can access photos from disconnected and corrupted hard disks.
Zoner Photo Cloud – This feature keeps all your photos safe in cloud storage. The basic plans give you up to 20GB of space. Also, you can get up to 1TB of storage for $19.99.
Photo Products – Get all your photo products delivered to your place for just $7.99 in the EU region for $19.99 in the other areas.
Pros:
Send postcards directly from the dashboard.
Add star ratings and colored labels.
Integration with Google Disk, Dropbox, and OneDrive.
Presets for all moods available.
Print your photos, calendars, photo books, canvas prints, and more.
The photo editor helps you edit photos with layers and mask support.
Pricing:
Zoner Photo Studio X costs $49 per year or $4.99 per month.
You can get a significant discount if you want to buy their software for non-profit organizations, schools, government offices, and businesses.
What is Photo Management Software?
Along with the evolution of digital photography, the management of digital images is constantly evolving.
Digital photo management comes under Media Asset Management (MAM) and Digital Asset Management (DAM). And from minimalist and free to premium tools – there are numerous photo management software tools in the market.
Essentially, a photo management software helps you manage photo assignment requests, assign photo users, and create metadata that you can link to DAM records.
Other vital benefits of photo management software include:
They streamline the process of importing, presenting, and sharing images.
Automatic updates and emails related to the assignment.
Supplement metadata directly to the DAM.
Track finished assignments through a searchable database.
You can use it to manage videos as well.
On top of that, modern photo management tools also enable you to share, backup, and edit photographs through mobile apps. Artificial intelligence technology in some software can also help you sort and manage images more efficiently.
What Should You Look For in Photo Management Software?
Here are a few common considerations that you should know before purchasing a photo management tool.
Artificial Intelligence – It's nice to have features like facial recognition and object recognition. These AI-based functions can help you quickly sort images and search using factors like events, names, objects, and more. That means you don't have to remember relevant keywords to search for a picture.
Mobile App – Modern smartphones now come equipped with powerful cameras, and we often click our images directly through your phones. That's why a mobile app can come in handy to instantly capture, store, share, or edit pictures and videos. You can also use it to manage, export, or share files and images.
Search Capability – Your bank of images can reach thousands or even six figures. The possibilities are endless! Hence, you should be able to quickly search your pictures through a wide range of factors, including tags, locations, geotag, ratings, labels, etc.
RAW Support – An ideal photo management platform should help you store RAW images directly from your digital camera to the software. Plus, you should be able to store large photos without transferring them into your laptop.
Wireless Support – It's a boon if you don't like wires. You can seamlessly transfer all your data through a WiFi connection.
Photo Editing Features – Editing options like exposure correction, brightness, contrast, and lens correction can help you edit images at a faster pace without having to rely on standalone photo editing software.
How Do You Use Photo Management Software?
To help you give a quick overview of how photo management software works, here's a step-by-step demonstration of Google Photos.
Let's get started!
Step #1 Sign-Up.
Signing up with Google Photos is simple; you can sign up in a single step with your existing Gmail address.
If you don't have one, you can create it in a few seconds.
After you are signing in or creating a new account, click on photos.google.com.
You should see a screen like this:
Step #2 Download Google Photos Application and Sync.
Head to your app store and quickly install the Google Photos app. It's compatible with both iOS and Android.
After downloading the app, allow Google photos to access images present on your device. It might take a while if you want to upload a lot of pictures. You can also choose the sources of backup.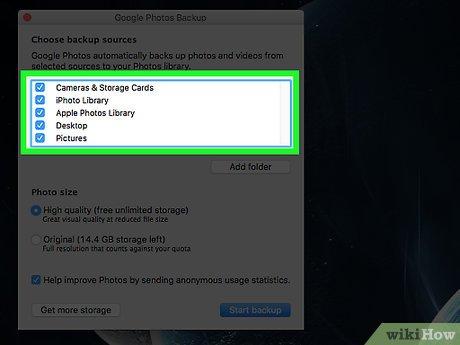 You also have the option to upload images manually. Simply press Ctrl (Windows) or ⌘ Cmd (macOS) while clicking the files for multiple selections.
Step #3 Get The Settings Right.
Open the Google Photos app on your phone and go to the settings. There, check the following options to make sure Google Photos works perfectly.
Here is how you can do it on your smartphone:
Toggle Grouping ON
Turn ON Google Drive to pull all the picture from the drive as well
Turn on Back up and Sync settings for automatic backups
Here is how you can do it on your desktop:
Go to the settings and click on the "High Quality" option to ensure your pictures get stored in the best possible quality.
Step #4 Edit Photos.
You can use the editing features of Google Photos to enhance the quality of your pictures.
Open any photo you want to edit. Next, click on the photo editing (pencil) icon.
Now you can adjust the light, color, vignette, and pop of the photo. Or you can also use the Auto mode to retouch the image automatically.
Besides, you can also leverage filters to enhance the look and feel of your pictures.
After you edit the photos of your choice, they get saved automatically in Google Photos. In case you edit or delete any image, your Google Photos library will also get updated across all synced devices.
Step #5 Search Photos.
Tap on the magnifying glass to enter keywords and search your images. You can also search through different categories, including people, things, and places.
These were some of the standard steps to use Google Photos efficiently. Hope this helps!
Executive Summary.
These were some of my top picks for the best photo management software. Most of these tools provide photo editing features along with management services.
Organizing your photos and other media collectives is essential to seek clarity, whether at individual or enterprise levels.
If you want to manage your images solely on the web, I'd suggest using Google Photos. It's a great free tool with all essential photo organizing features.
For the best overall photo management software, go with Adobe Bridge. The fact that you get all other Adobe Creative Cloud tools with Adobe Bridge is a huge bonus.
The primary reason Adobe Bridge is my top pick is due to features like:
It lets you add keywords, labels, and ratings to your photos.
Powerful filters and advanced metadata search features.
Integrates stock photos on Adobe Stock with Adobe Bridge.
Rename or export your photos en masse with various scale and size options.
In the end, review all the tools and choose the one that aligns with your budget and photo management needs.
Which of these photo management tools are you planning to use, and why? Let me know in the comments below.
Disclosure: I may receive affiliate compensation for some of the links below at no cost to you if you decide to purchase a paid plan. You can read our affiliate disclosure in our privacy policy. This site is not intending to provide financial advice. This is for entertainment only.