The Best AI Marketing Tools To Automate Your Business (2023)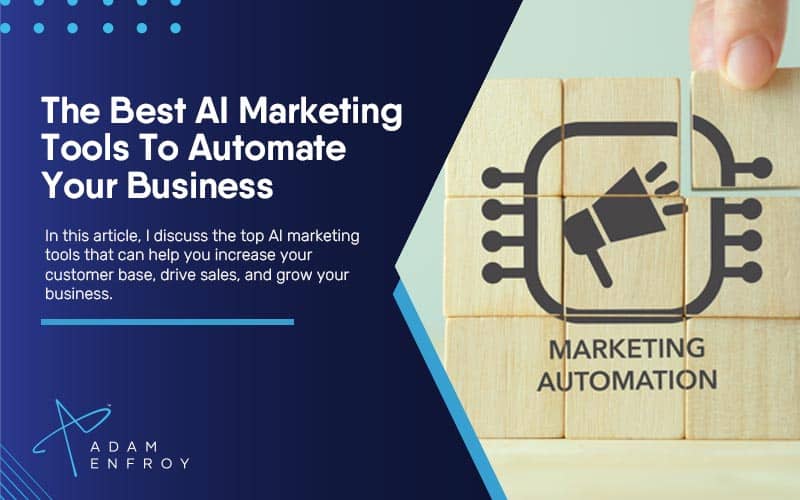 While marketing strategies can be time-consuming and expensive, you still need to find ways to reach your target audience.
So how do you stand out?
AI marketing tools are here to help.
In a recent survey, researchers found that AI adoption helps various departments in almost 4 out of 5 cases, allowing businesses to connect with their best potential customers.
In this article, I'll discuss the top AI marketing tools that can help you increase your customer base, drive sales, and grow your business.
What Are The Best AI Marketing Tools?
Here are the top AI marketing tools to consider.
Best Overall Marketing Tool.

Jasper AI is an artificial intelligence platform that helps you create better content faster.
Whether you're looking to generate fresh ideas for your next ad campaign or need help optimizing your blog posts, Jasper AI can help.
Their developers designed their machine-learning technology to scale your product offerings and improve customer communications.
With Jasper AI, brainstorming new ideas is a breeze.
Enter the necessary details about what you're looking for, and the AI engine will generate original concepts for you to work with.
Once you've settled on an idea, their platform can help you create high-quality content in record time.
With Jasper AI, there's no need to worry about writer's block or stare at a blank screen.
With tons of templates you can utilize, you can scale your marketing no matter what the situation is.
Key Features: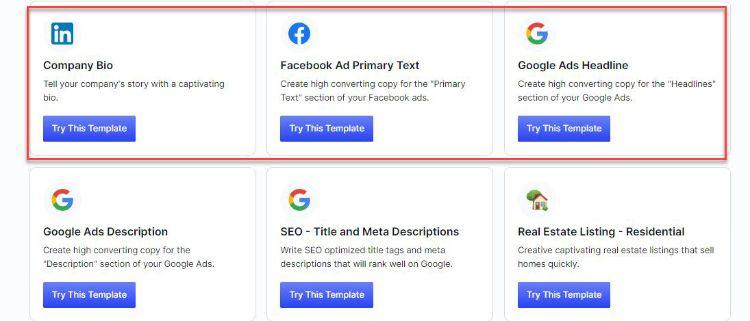 Create content 5x faster so you can focus on other tasks
Generate 100% original content using an AI-powered engine
Produce SEO-friendly content that gets read and shared
Use easy-to-use tools and templates to help you get started quickly
Work in any of the 25+ universal languages supported by Jasper AI
Take advantage of the helpful recipes for "Boss Mode" content creation.
User Experience: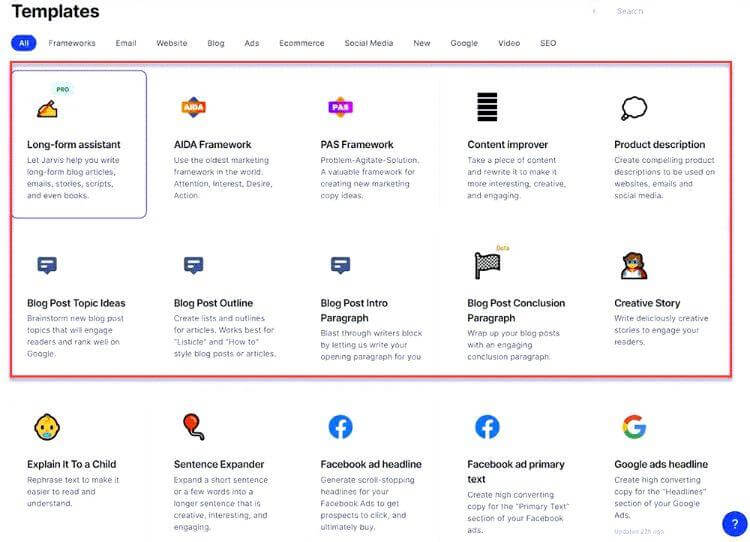 With various marketing templates to choose from, Jasper makes it easy to create high-quality and original material.
Just pick the one you need, provide some input, and you're ready to go.
Pricing: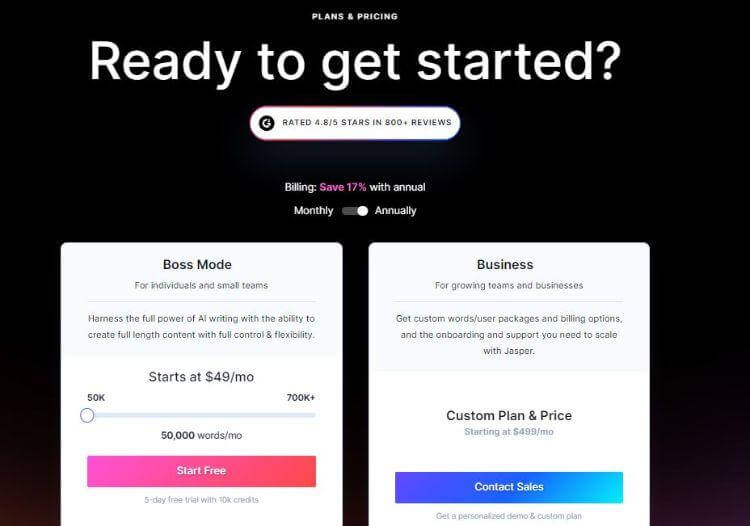 Jasper offers two pricing plans:
Boss Mode: Starts at $49/mo
Business: Starts at $499/mo
What I Like/Dislike About Jasper
Like:
Its boss mode plan allows you to create long-form marketing content without any learning curve.
Its support team is accommodating and knowledgeable.
Dislike:
The platform works on a credit system, so you may need to buy additional credits to get the most out of it if you use a lot of generations.
Product Updates:
Jasper Chat now allows you to speak to its AI and get answers to your marketing questions.
Get started with Jasper.
Best For Perfecting Your Marketing Copy.
Grammarly is a great way to ensure your writing is up to par – and then some.
This AI-powered app goes beyond grammar, spelling, and style suggestions to offer a comprehensive approach that works across multiple applications.
From emails and social media through to sophisticated plagiarism checking, Grammarly has you covered.
They also offer expert-generated citations for free use.
Grammarly's AI marketing tool uses cutting-edge technology to ensure your writing is error-free and polished.
Next, their spelling and style suggestions come into play, helping you fine-tune your writing and ensuring it's engaging and on brand.
Finally, their plagiarism checking catches anything the tool might have copied from another source.
This check ensures that your work is 100% original.
And if you're citing sources, they've got you covered there too.
Just enter the information about your sources, and they'll generate the citations for you.
Key Features: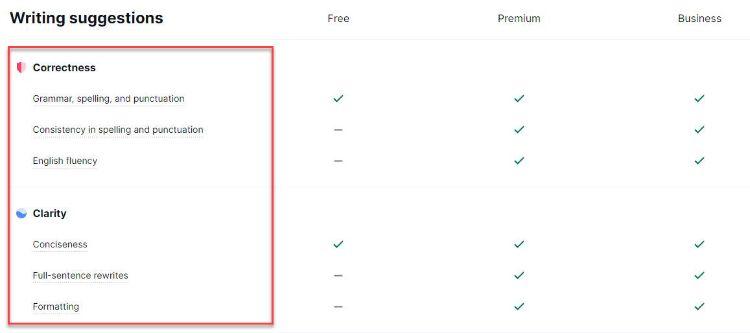 Grammarly's plagiarism checker uses advanced technology to ensure that your work is 100% original.
If you need help with citations, Grammarly creates adequately formatted citations for your sources.
The essay checker helps you hone in on areas where you could improve your writing and covers everything from basic grammar to advanced structure and flow.
Grammarly's tone detector helps you identify the right tone for your formal or casual writing.
The style guide provides helpful information on how to craft your piece in a way that is consistent with your brand voice.
User Experience: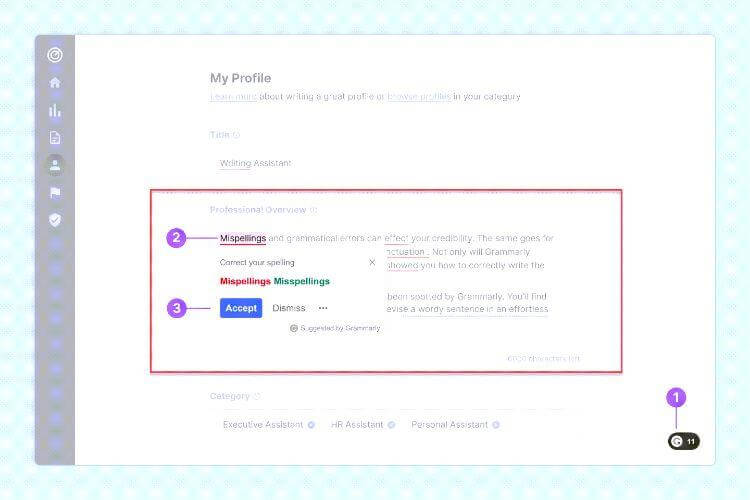 The text editor highlights all the errors and explains the type of correction needed, making it easy to know what action to take.
Pricing:

Grammarly offers three pricing plans:
Free: Includes basic grammar and spelling checks
Premium: Starting at $12.00/month
Business: Starting at $15.00/member/month
What I Like/Dislike About Grammarly
Like:
Grammarly provides short explanations for suggested corrections, making it easier to understand why the change is needed.
You can easily adjust the settings to match your specific writing style.
Its free version is excellent for basic grammar and spelling checks.
Dislike:
Grammarly can sometimes be too aggressive with its suggestions, which may lead to confusion.
The business plan is expensive and may not be suitable for all budgets.
Product Updates:
The Grammarly API now allows you to integrate Grammarly into your existing workflow. This opens up a world of possibilities for businesses.
Get started with Grammarly.
Best For SEO Optimizing Your Content.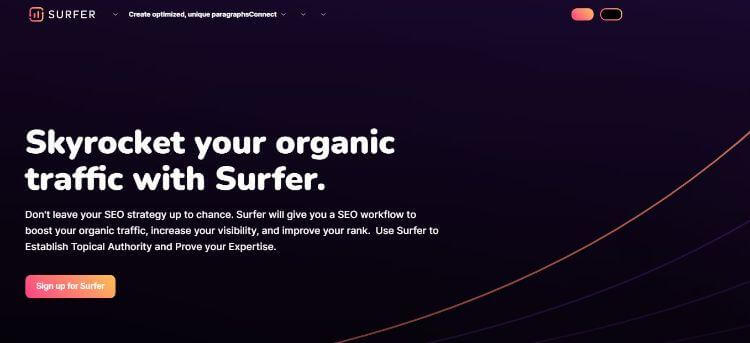 Surfer SEO helps you get detailed keyword lists and provides feedback on your optimization.
With Surfer SEO, you'll get access to detailed keyword lists that will help you optimize your website for the right keywords.
This way, you can ensure that your website is visible for the keywords potential customers use in their searches.
With Surfer SEO, you also get feedback on your optimization, helping you make changes as needed.
There's also an Outline Builder included.
This builder helps you create an effective structure for your content with headings and questions.
Not only does this keep your content topic, but it also makes it easy to read and navigate.
Key Features:

Surfer's Grow flow helps you identify and prioritize the most impactful SEO changes to maximize your rankings.
The Content Editor enables you to improve your content with automated recommendations and AI-powered copywriting tools.
The Keyword Research tool helps you find new keyword opportunities relevant to your niche.
Surfer's Audit feature lets you analyze how your competitors optimize their content.
You can also install the Keyword Surfer extension to get real-time search volume data for any keyword.
The AI Outline Generator helps you create an effective structure with headings and questions – all with real-time metrics available.
User Experience: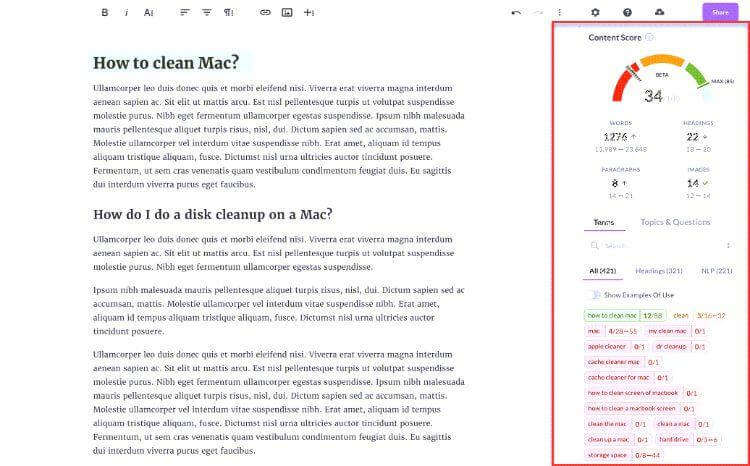 What was a content editor has now become a comprehensive SEO suite.
The user experience is consistent across all its features and tools, making it easy to learn and use.
Pricing: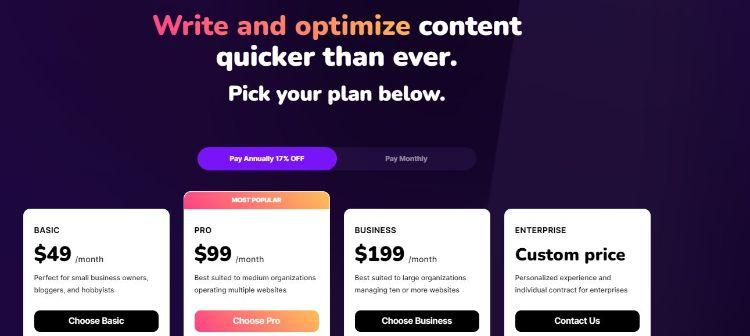 Surfer SEO offers the following plans:
Basic: $49/month
Pro: $99/month
Business: $199/month
Enterprise: Custom price
What I Like/Dislike About Surfer SEO
Like:
Combining content strategy, creation, and optimization tools gives you a complete SEO overview of your website.
Surfer's AI tools can help you fine-tune your content to be more engaging and effective.
Dislike:
The basic plan offers fewer features than other SEO tools.
Product Updates:
You can now get new SEO insights every week, helping you to stay updated on the latest SEO trends and strategies for your site.
Get started with Surfer SEO.
Best For SEO & PPC Marketing.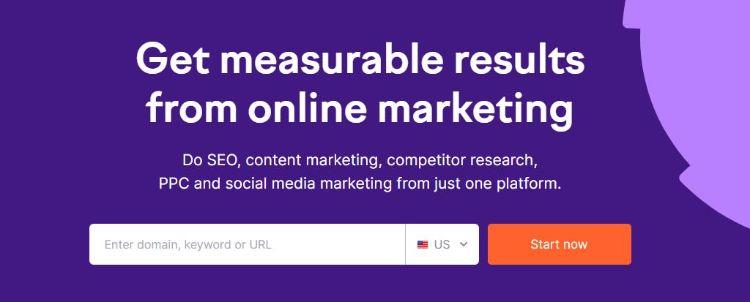 Semrush is an AI marketing toolkit that offers an unbeatable suite of features to help marketers succeed in all aspects of their strategy.
Semrush offers 23 billion keywords and 130+ checks for website audits, plus content-improving recommendations.
You can use Semrush's Position Tracking tool to monitor your rankings, uncover keyword opportunities, and view backlink analysis to better understand your content's performance.
You can also optimize title tags, meta descriptions, and URL structure with the On-Page SEO Checker.
With all these features, Semrush is the ultimate online marketing SEO toolkit.
You can also track your competitor's strategies and quickly create effective PPC campaigns in a simple three-step process.
First, analyze your competitors' strategies with their competitors' reports.
With this data, you can run detailed PPC campaigns with the Ad Builder tool.
Finally, create content that drives website traffic with their content marketing platform.
Key Features: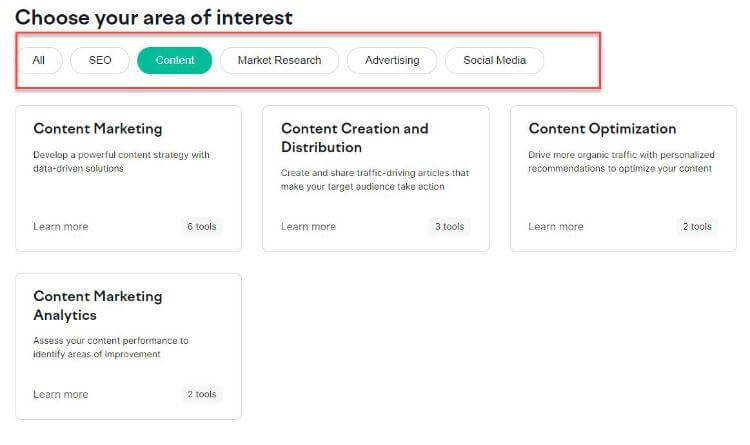 Analyze your competitor's strategies so you can identify opportunities and tactics to outrank them.
Manage social campaigns with advanced features like post-scheduling, content analysis, and competitor benchmarking.
Research keywords to find the right ones for your SEO and PPC campaigns.
Track up to 1500 keywords so you can monitor performance on an ongoing basis.
Conduct link building by finding high-authority sites for guest posting and link outreach.
Get on-page insights, such as SEO ideas and content templates.
User Experience:
A visual dashboard makes it easy to see progress on each task and provides actionable insights for improving your marketing.
Pricing: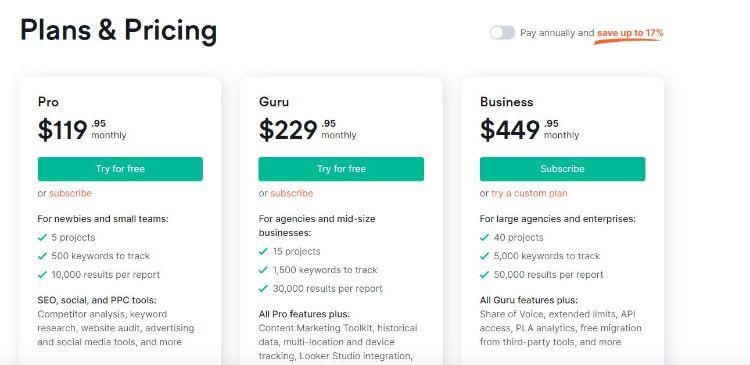 Semrush offers three plans:
Pro: $119.95/month
Guru: $229.95/month
Business: $449.95/month
What I Like/Dislike About Semrush
Like:
An abundance of in-depth insights on SEO and PPC campaigns ensures you get the best ROI from your strategies and campaigns.
They also have a social media team that helps you monitor, track and respond to your social media presence.
Dislike:
Mastering all the features can take some time as the learning curve is steep.
Product Updates:
Semrush recently acquired Backlinko.com, increasing its monthly traffic by more than 500K. This acquisition gives Semrush access to Backlinko's SEO resources, helping them to meet the needs of their customers better meet their customers' needs.
Get started with SEMrush.
5. Phrasee.
Best For Analyzing Customer Sentiment.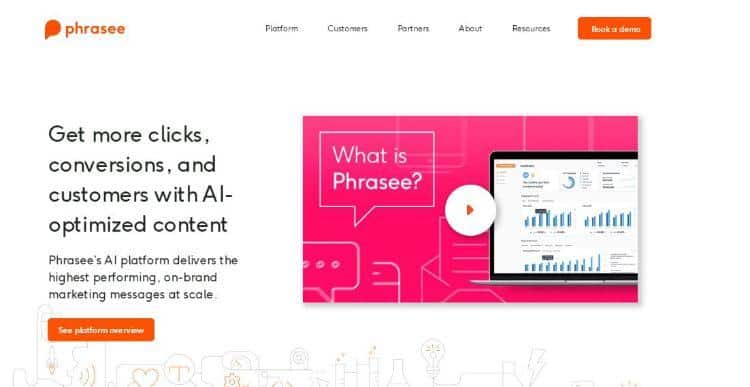 Phrasee's AI platform takes the guesswork out of crafting the perfect message.
The platform uses data science and artificial intelligence to generate copy that can perform better than purely human-generated ones.
Their technology analyzes past customer behavior data and identifies patterns that result in higher customer engagement rates.
You'll be able to automatically generate headlines, subject lines, calls-to-action, and more ideas that are proven to get results.
In addition to providing better results than human copywriters, Phrasee's platform also saves companies time and money.
With Phrasee's help, companies can automatically generate millions of options for their next campaign in seconds, allowing them to test different versions until they find a winner.
This process would be impossible for human copywriters to do on their own.
Phrasee is also a provider of AI-generated copy for email, SMS messages, and web content.
Their technology analyzes past customer behavior data and identifies patterns that result in higher engagement rates.
Key Features: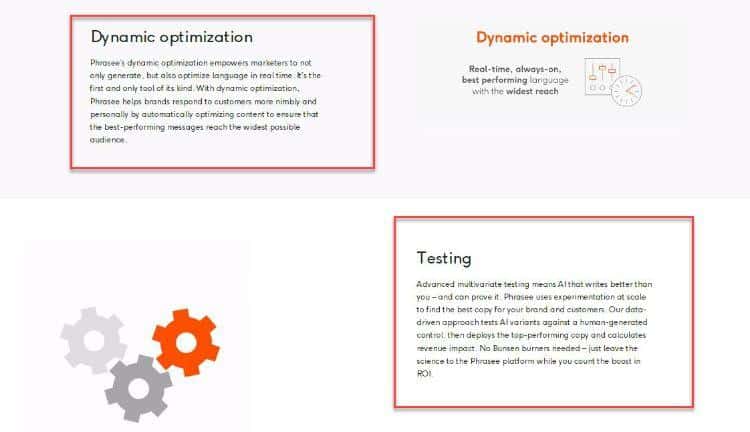 Powerful AI allows users to generate millions of ad variants in seconds.
Insights provide actionable data that one can use to develop campaigns, create automated workflows, analyze results, and more.
Integrations allow users to access their data and content from multiple sources quickly.
Users get The Phrasee Score, an automatic rating system that can help them determine which copy has the best potential for success.
User Experience:
Analyzing customer sentiment used to be a slow and tedious process, but Phrasee makes it fast and easy.
The platform's visual dashboard lets users quickly identify which content is performing the best, helping them focus on what's working and make informed decisions.
Pricing: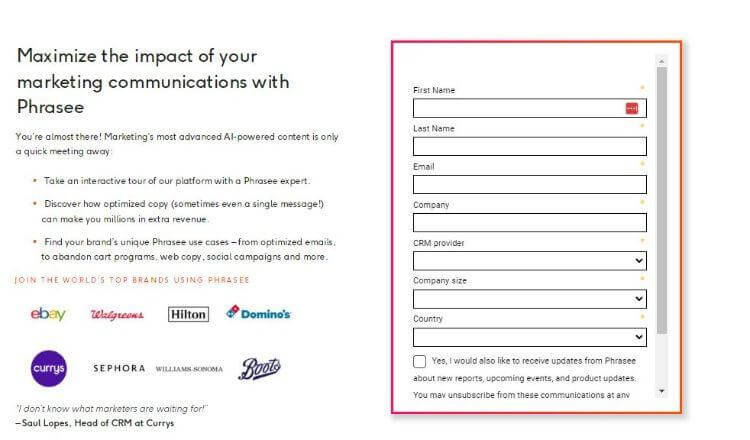 Book a demo to learn more about Phrasee's pricing plans.
What I Like/Dislike About Phrasee
Like:
It's easy to convert leads to customers with all the data collected on the platform.
With machine and deep learning, their automation is increasingly more accurate, creating more effective campaigns.
Dislike:
Combining data can become a lengthy process, especially at the beginning.
Product Updates:
Their natural language generation system can now generate even better human-sounding copy variants you can use to test against your existing content.
6. Chatfuel.
Best For Creating Marketing Chatbots.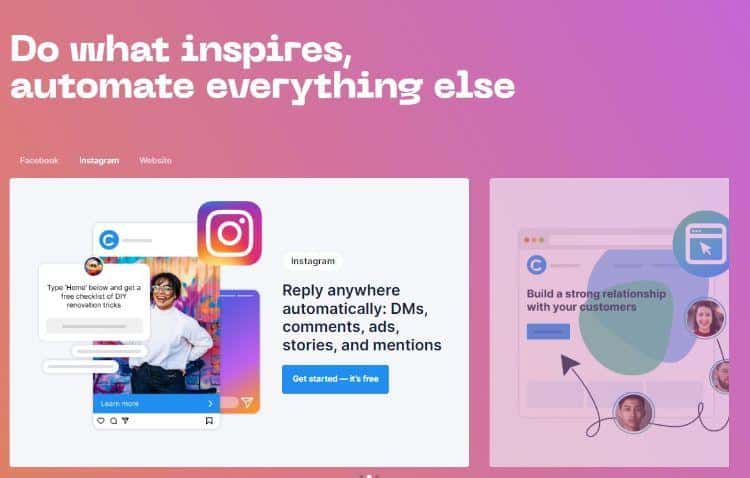 Chatfuel enables you to create and customize chatbots for your business.
Thanks to its unique dialogue feature, you can ensure that every part of the conversation is unique and tailored to your brand.
Chatfuel is incredibly easy to use – after you sign up for an account, you can start creating your chatbot by adding content blocks.
Content blocks are pre built blocks of content you can add to your chatbot conversation flow.
For example, there are blocks for collecting email addresses, answering questions, providing follow-ups, and more.
Once you've added all the content blocks you need, you can then customize the conversation flow to fit your specific needs.
And if you ever need any help, Chatfuel offers excellent customer support.
Key Features:
AB Testing helps you determine which copy has the best potential for success.
AI/Machine Learning can generate multiple conversation variants in seconds.
The Activity Dashboard provides insights that can be used to develop campaigns, create automated workflows, analyze results, and more.
Alerts and notifications allow users to stay up-to-date on their chatbot performance.
Auto-responders enable users to create automated responses for common queries quickly.
Automated publishing allows users to schedule and publish messages without manual marketing efforts.
Pricing: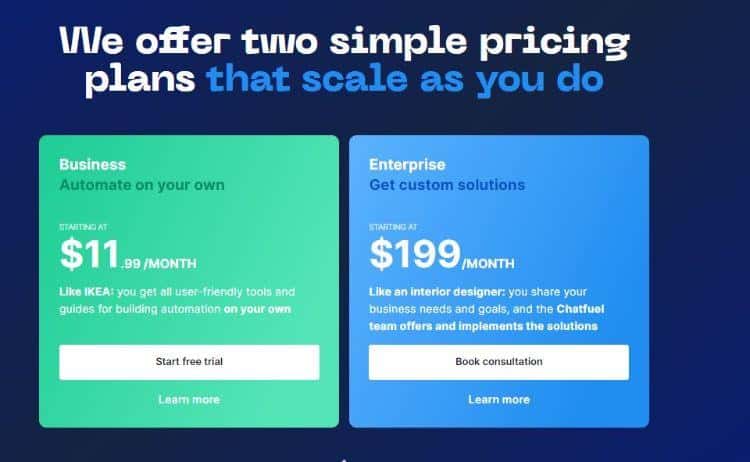 Chatfuel's pricing plans are as follows:
Business plan: starting at $11.99 per month
Enterprise plan: starting at $199 per month.
7. Zapier.
Best For Integrating Your Marketing.

Zapier is a powerhouse of automation that helps users reduce their workload and optimize efficiency.
You can use Zapier to automate any part of your business.
It can handle everything from generating leads to emailing customers, marketing strategies through contracts, and DevOps operations with optimal user provisioning.
With Zaps, you can connect two or more apps.
Tasks will then execute when certain conditions happen.
This process eliminates manual data entry and ensures accuracy by eliminating human error.
Plus, you don't have to be tech-savvy to use it effectively.
Its easy-to-use interface makes it accessible even for beginners.
Another great thing about Zapier is that it offers do-it-yourself guidance and certified expert assistance.
You can leverage its library of prebuilt Zaps or create your custom Zaps depending on your specific needs.
Key Features:
Zapier Transfer helps you move data between different apps with ease.
Zapier Interfaces provide a user-friendly way to interact with data stored in Zapier Table for easier manipulation.
Save time by automating manual tasks like data entry, notifications, and follow-up emails.
Use Zapier Tables to create custom tables and columns to store, organize, and access your data from one place.
Move faster with automated workflows that identify sales opportunities or help teams collaborate more effectively on customer support requests.
Pricing:

Zapier's pricing plans are as follows:
Free plan: $0
Starter plan: $19.99 per month
Professional plan: $49 per month
Team plan: $399 per month
Company plan: $799 per month, billed annually.
Other AI marketing tools not mentioned in this article include Albert, Marketmuse, and Hubspot's Seventh Sense.
What Are AI Marketing Tools?
AI-powered marketing tools are a relatively new category that allows marketers to leverage the power of artificial intelligence (AI) to enhance their marketing campaigns.
AI marketing tools use algorithms to analyze customer data and provide insights, enabling marketers to develop better strategies.
These tools offer marketers a way to simplify the customer journey by processing internal and external insights in real time and generating automated customer recommendations.
By processing these insights, AI marketing tools are revolutionizing the marketing world.
Features Of A Great Ai Marketing Tool
Here are the key features of a great AI marketing tool.
Natural language generation
AI marketing tools have revolutionized customer experience by allowing organizations to produce content quickly based on market trends.
Natural language generation (NLG) is one feature that allows businesses to leverage a single dashboard for generating content.
This feature allows organizations to quickly produce content based on market trends, customer interactions, and data-driven insights.
Whether it's marketing campaigns, website content, or customer support chatbots, NLG helps organizations produce the right content at the right time.
Businesses can also produce personalized content for their customers.
Moreover, natural language processing (NLP), another branch of AI, helps organizations understand the sentiment behind customer queries and automatically generate tailored responses.
Deep learning
Through deep learning, AI software can quickly analyze vast amounts of customer data to identify trends and patterns that are extremely hard for humans to detect.
As content marketing tools allow businesses to produce personalized content quickly, they eliminate many arduous digital marketing tasks like the manual segmentation of customers.
Predictive analytics
Predictive analytics is another feature of AI marketing tools that have revolutionized marketing teams.
Such analytics allow marketing teams to quickly analyze customer behavior and draw insights from them.
Whether it's a social media strategy, improving conversion rates on social media platforms, or building customer segments, AI's predictive analytics provides the most accurate insights marketing teams can consider.
Huge sites like Amazon and Netflix use predictive analytics to anticipate customer behavior and recommend products best suited for them.
Marketing automation
Automation is another key benefit of using AI powered tools.
These tools can automate almost all aspects of your campaigns from start to finish.
Using automation helps organizations reduce costs, improve efficiency and scale quickly with limited resources.
Automated workflows help streamline processes saving time and money for businesses.
Affiliate marketing tools
AI affiliate marketing tools allow businesses to use existing customer data to create affiliate programs and optimize campaigns for better conversions.
These tools use big data and predictive analytics to identify the right affiliates, generate relevant commissions, track performance and send notifications when market changes occur.
The AI-powered algorithms deployed by these tools help organizations make sure they get the most out of their affiliate programs and save them time.
Segmentation
Segmentation divides customers based on specific characteristics, such as demographic information, purchase history, or interests.
AI is revolutionizing the way marketers target their target audience.
From building AI-driven landing pages tailored to the customer's interests to creating personalized content with deep learning, AI marketing technology has enabled businesses to hyper-personalize their marketing strategies.
As AI technology integrates seamlessly with a content marketing toolkit, businesses can now segment customers accurately and quickly for better targeting.
Use Cases Of AI Marketing Tools
Here are some of the top use cases of AI marketing tools.
Email Marketing Campaigns
AI marketing tools offer an attractive option for email marketing campaigns.
With powerful customer analytics capabilities, sophisticated customer data tracking, and predictive analytics, marketers can create more effective email campaigns with higher conversion rates.
Moreover, artificial Intelligence marketing tools are becoming increasingly popular due to invaluable insights into the right email marketing strategy.
AI can quickly analyze consumer behaviors, identify new use cases, and offer actionable insights for better targeting through email marketing software.
Actionable Insights For Content Strategy
Businesses can optimize their content marketing strategies to maximize ROI using an AI-powered tool to drive insights.
From a simple WordPress web page to complex ecommerce websites, AI content generator options have revolutionized ecommerce with predictive analytics and personalized customer recommendations.
Social Media Marketing
AI marketing tools are becoming increasingly popular among social media marketing platforms.
With their ability to automate and streamline social media management tasks like scheduling posts, responding to customers, and analyzing data, social media marketers can focus on creating engaging content that resonates with their target audience.
For example, Facebook Messenger bots can automate customer service tasks and provide personalized insights into customer behavior based on data collected from customers' past interactions.
A social media marketing agency that leverages AI technology can quickly respond to customers' inquiries and drive customer loyalty.
Social media marketers have unprecedented access to powerful customer insights that will help them create more effective campaigns with greater accuracy.
With more platforms adopting AI marketing tools, marketers will benefit from its advanced capabilities when using social media management tools.
Customer Relationship Management
Customer relationship management (CRM) is integral to any successful content marketing strategy.
A content strategy that uses the data from a CRM to influence targeting, segmentation, and personalization can make a huge difference in how customers perceive a brand.
As AI technology aligns various media channels with CRM systems, a company's brand language will become more consistent across all platforms.
The right artificial intelligence marketing tool will be able to:
Process customer data quickly and accurately
Gain deeper insights into customer behavior
Enable businesses to improve their targeting strategies
Optimize the effectiveness of their campaigns
And more.
Automating Repetitive Tasks
Using AI marketing tools is a great way to automate tedious tasks such as scheduling posts for social media accounts or responding to customer inquiries.
An AI scheduling software can automate the process and save countless hours.
If a business uses Google Docs to format content repetitively, marketing AI tools can also help.
Another automation application of this technology is using AI chatbots to respond to customer inquiries.
Users can train these bots to respond accurately and quickly, thus freeing up time for other tasks.
Wrap Up.
Overall, AI technology is a potent tool for marketing.
AI tools can analyze customer behavior and trends to customize content that resonates with audiences.
And by using AI-driven automation strategies, businesses can streamline their workflows and achieve better results.
AI technology is here to stay, so marketers should strive to learn more about its capabilities while implementing valuable strategies in their businesses.
Further reading on AdamEnfroy.com: Combining AI marketing tools with the right marketing strategy for digital growth helps companies stay ahead of the curve.
Whether using AI writing software to write articles that rank or using AI art generators to make money, AI is helping marketers reach new heights of success.
Editorial Process:
Our reviews are made by a team of experts before being written and come from real-world experience. Read our editorial process here.
Some of the links in this article may be affiliate links, which can provide compensation to us at no cost to you if you decide to purchase a paid plan. These are products we've personally used and stand behind. This site is not intended to provide financial advice. You can read our affiliate disclosure in our privacy policy.