7 Best SMS Marketing Software of 2023 (Ranked & Reviewed)
Choosing the right SMS marketing software is crucial if you want to increase sales and engagement for your business. From ensuring high deliverability to improving campaign performance and ROI, the best SMS marketing software can help you meet your goals. In this guide, I ranked and reviewed the 7 best SMS marketing software, so that you can pick the best one for you.
---
We're reader-supported. When you buy through links on our site, we may earn an affiliate commission.
SMS marketing plays a vital role in reaching customers on a personal level. Today, both prominent brands and small/medium businesses use text messaging to boost their marketing campaigns.
The reason for the popularity of SMS marketing is its broad reach and personalized effect. And SMS marketing software helps to automate the entire process of marketing via text messages. However, not every SMS marketing tool is created equal.
The tools offered by different companies have different feature sets that help businesses.
Let's get right to it.
What is the Best SMS Marketing Software?
Here are my top picks for the best SMS marketing software to use this year.
Best Overall For SMS Marketing.

Adam's Take
EZ Texting is one of the best solutions for those companies that are looking for an easy and effective way to communicate with their customers or employees. With detailed tracking and reporting, you can see exactly how your campaigns are performing and make changes on the fly to ensure maximum success.
EZ Texting is another web-based SMS marketing software that helps your business curate real-time text message campaigns. The platform has all of the tools required to launch and run successful text message marketing.
Since it comes with flexible packages, EZ Texting is suitable for all business sizes. Its ease of use is impeccable, and you can control most features right from the dashboard. It even provides a guided tour that can help you start with mobile marketing quickly.
Coming back to the dashboard, it's incredibly user-friendly and offers intuitive controls that you can pick up quickly. The extreme user-friendliness makes it simple to add new contacts, monitor performance, and analyze reports.
Features:
EZ Texting's multiple features make it an SMS service that's worth checking out. You get detailed analytics and reporting features with the platform, along with easy contact management.
Given below is a list of the features EZ Texting has to offer:
Intuitive and straightforward contact management
Detailed reporting and tracking
Text message customization for enhancing open rates
Incoming messages free
Seamless integration with third-party apps
Reusable message templates
Text scheduling and forwarding
Text-to-landline messaging
Pricing: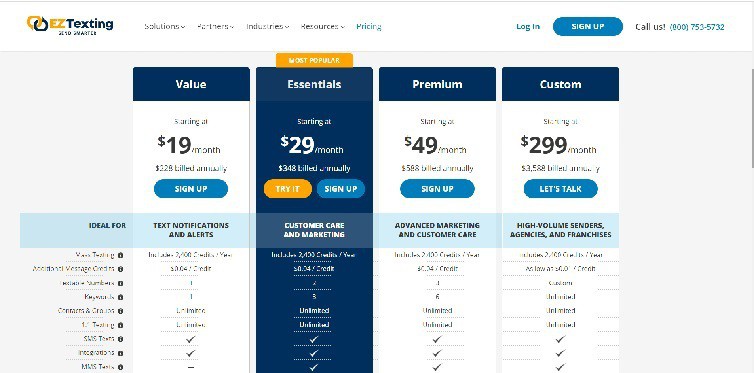 The EZ Texting pricing plans are divided across four tiers and are billed either monthly or yearly. Annual plans are better in the sense that these allow you to save 20%.
Here's a list of the yearly pricing plans for EZ Texting:
Value Plan starting at $19/month
Essentials Plan starting at $29/month
Premium Plan starting at $49/month
Custom Plan starting at $299/month
Get started with EZ Texting.
Best For Complete SMS Marketing
Adam's Take
If you're looking for an easy way to send SMS messages, then SimpleTexting is my #1 recommendation. Take your SMS marketing to the next level and send text messages that get results!
SimpleTexting offers what it proclaims: a clear and simple SMS marketing software. It's fast, easy to use, and affordable, making it the ideal SMS text messaging marketing tool for businesses of all sizes.
Your business can send opt-in SMSs to an entire contact list. It supports bulk SMS sending and allows you to create drip campaigns through automated follow-up messages.
The popular SMS marketing software lets you add promotional items such as images and opt-in links to messages. You can also track which users clicked on a particular link and enable hassle-free two-way communications. The service even has dedicated customer support for tackling problems.
Key Features:
One of the exciting features of SimpleTexting is that it can easily integrate with third-party tools such as Zapier and Mailchimp. This lets you incorporate contacts and automate the entire marketing process.
Here's a list of the features SimpleTexting offers:
Intuitive two-way messaging
Advanced message scheduling
Ability to create autoresponder-based drip campaigns
iOS as well as Android apps
Easy data collection through custom fields
Audience segmentation and tracking
Powerful integration through SimpleTexting API
Time-saving message templates
Ability to create surveys and polls
Group texts and self-cleaning lists
User Experience:
With the ability to instantly see a preview of what your text will look like on both desktop and mobile devices, SimpleTexting makes it easy to create and send engaging texts.
You can also set up campaigns based on keywords, which is a great way to automate your marketing.
Pricing: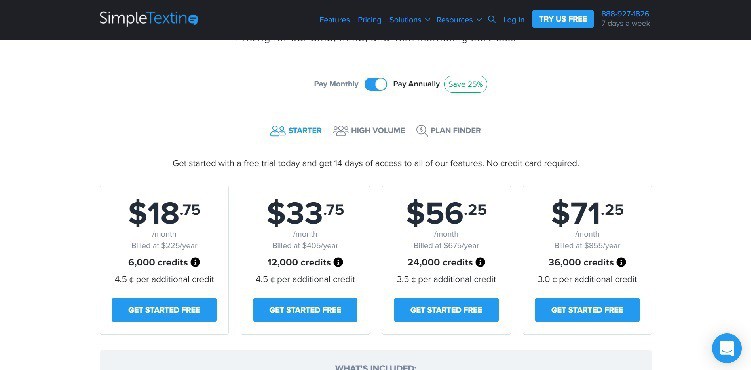 SimpleTexting's pricing plans are staggered across three tiers, and you can opt for monthly or annual billing. I recommend going for the yearly billing plans as they allow you to save up to 25%.
The following is a breakup of SimpleTexting pricing plans:
Starter Plans beginning at $18.75/month
High Volume Plans starting at $108.75/month
Customs Plans based on individual requirements
All of the prices mentioned above are for yearly billing and come with a 14-day free trial. During this period, you get access to 50 outgoing messages, unlimited incoming messages, and complete access to all of the SMS marketing service features.
What I Like/Dislike About SimpleTexting:
Like:
With SimpleTexting, you get access to a comprehensive API that lets you integrate the platform with other software. This is great for advanced users who want to automate their marketing.
SimpleTexting uses some of the most advanced technology in the SMS marketing industry, allowing you to send texts with high deliverability rates.
Dislike:
Initial integration is labor-intensive, which can be a turnoff for some users. However, the company offers excellent support to help with this.
I also don't like that there is no duplicate button to create similar Keywords and Campaigns texts. This can lead to mistakes and wasted time.
Product Updates:
A SimpleTexting API v2 is now available, making it easier to integrate the platform with other software. This is great for advanced users who want to automate their marketing.
You can also now use SimpleTexting to create web sign-up forms that allow people to join your list from your website. This is a great way to grow your list and engage more customers.
Get started with a free trial of SimpleTexting.
Best For Multi-Platform SMS Marketing

Adam's Take
If you want to use various platforms to send SMS messages, then Textmagic is the service for you. With Textmagic, you can send SMS messages from your computer, phone, or even directly from our website. I also like their API integration, allowing you to integrate their service with your own website or app.
TextMagic is a UK-based SMS marketing software company that can help you streamline your marketing efforts through multiple channels. Using this tool, you can easily send notifications and bulk SMS marketing messages through mobile, desktop, and even web browsers.
The tool helps you establish two-way communication with your subscribers and send mass text messages. It even lets you send text messages through email, which can be thought of as an alternative to email marketing.
Similar to SimpleTexting, TextMagic can also integrate with CRM solutions through APIs and Zapier integrations. This allows you to automate, optimize and streamline your SMS marketing plans. It also offers reliable reporting and analytics features.
Key Features:
One of the significant advantages of TextMagic is that it lets you send simple messages to customers, employees, and other business associates. It's a cost-effective solution for efficient and secure messaging.
At the same time, it also allows small businesses to send SMS messages across multiple platforms from one interface.
Here's a list of some of the essential features that TextMagic offers:
Online SMS through TextMagic
Easy conversion between emails and text messages
SMS gateway API
Available on mobile devices, Mac, and PC
SMS distribution lists and two-way chat
Global coverage across multiple nations
Enhanced security through SSO and 2FA
Enterprise SMS solutions
Carrier/Email lookup and validation
Unicode-based multi-language SMS
Detailed reporting and analytics
User Experience:
With a left-hand side that incorporates all you'd need, TextMagic's interface is accessible and comprehensive.
I like that there are separate tabs for different features, as it makes it easy to find what you're looking for.
You can also customize your messages as you see fit, which is great for personalization.
Pricing: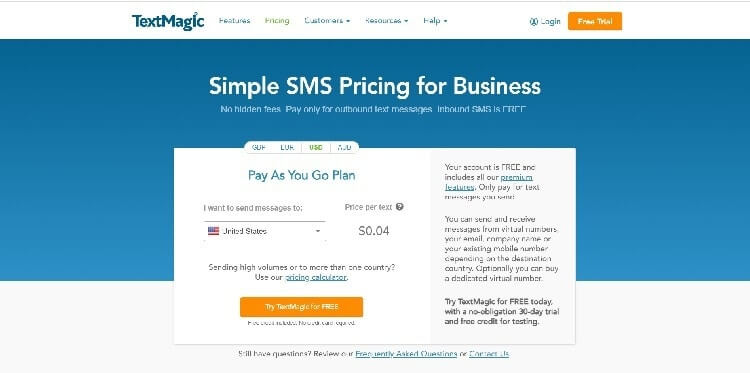 As far as pricing is concerned, TextMagic keeps things magically simple. Opening an account on the platform is free, and you don't have to pay for any inbound messages. Only outbound messaging is charged, that too, on a prepaid basis.
You can buy unlimited credits and use them when you need to. Prices vary depending upon the country you want to send the messages to. I suggest you use the nifty pricing calculator available on the website in case of high volume requirements.
One of the best aspects of this SMS marketing software is that credit never expires, and you simply pay-as-you-go. You can also cancel anytime you want, and all the credit will be refunded instantly. It's as simple as that.
What I Like/Dislike About Textmagic:
Like:
A ton of good functionality for the price
The interface is easy to use and navigate
Dislike:
Unable to send and receive picture texts when using the web app
Contacts management could be more accessible to keep track of who is subscribed to what list
Product Updates:
Sub-accounts for team members help you delegate tasks and monitor performance. This is a great way to keep track of your team's progress and see who is performing well.
Get started with a free trial of TextMagic.
Best For Web-based SMS Marketing

Adam's Take
Whether you use SMS for retail, marketing, schools, or any other type of business, SlickText can help you drive results with this powerful communication tool. What I like about this product are the various use cases it offers. It can provide appointment reminders, sales notifications, and even loyalty programs for retail. One can use it for emergency alerts, announcements, and event reminders for schools. And for businesses, one can use it for lead generation, customer support, or appointment scheduling.
SlickText helps businesses across the US and Canada with an affordable, entirely cloud-based SMS marketing software. The service's advanced technology and an emphasis on details that most similar services overlook make it ideal for SMS marketing.
Apart from the web-based interface, SlickText also has a dedicated mobile app that you can use to monitor your SMS messages and marketing on the go. It also provides dedicated support for teaching businesses how to use the tools to their advantage.
The reason for the widespread adoption of SlickText is its intuitive interface and extreme ease of navigation. The platform is supported by experts who have detailed knowledge about marketing compliance, making it a service suitable for businesses of all sizes.
Key Features:
SlickText is a CTIA compliant software and lets you send text messages in bulk. It doesn't charge for incoming messages and provides sufficient customer support for new users learning the ropes.
The following is a list of some essential features that SlickText has to offer:
Bulk text messaging
MMS support
Supports text-to-join and shortcodes
Comes with dedicated link-shrinker
Advance text message scheduling
Supports SMS autoresponders
Two-way, inbox-based text messaging for attracting potential customers
Enhanced audience engagement through text-to-win contests
Automated birthday texts
Supports SMS-based surveys and votes
Automated drip campaigns
Unique opt-in links
Easy Zapier, Facebook, Email, and Shopify integration
Simple customer segmentation
And that's just the top of the feature-set that SlickText has to offer.
User Experience:
The ability to quickly set up a workflow that automatically responds to keywords is one of the things that sets SlickText apart.
You can also look at the history of various contacts, which is excellent for understanding how they interact with your texts.
Pricing: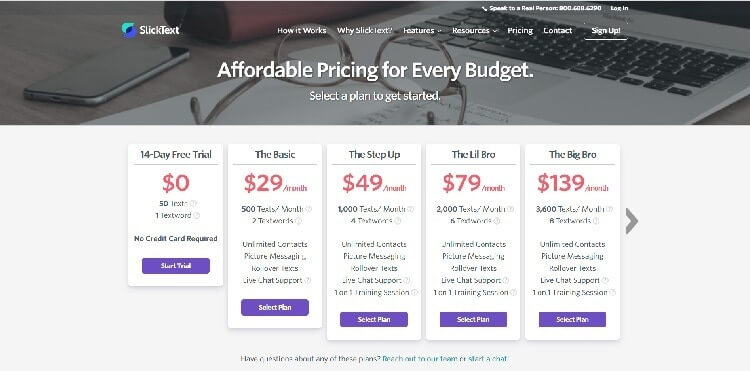 As far as pricing is concerned, I think SlickText provides the greatest number of options. Its pricing plans span a massive ten tiers, each with a successively increasing number of features.
The following is a quick breakdown of SlickText's pricing plans:
14-day free trial plan at $0
The Basic Plan at $29/month
The Step Up Plan at $49/month
The Lil Bro Plan at $79/month
The Big Bro Plan at $139/month
The Boss Plan at $189/month
The Albatross Plan at $350/month
The Whale Plan at $750/month
The Monstro Plan at $1,250/month
Custom Plans at variable rates
What I Like/Dislike About SlickText:
Like:
Client support is one of the best things about SlickText. They are very responsive and helpful.
Dislike:
Need more options for Managing contacts so you can keep track of who is subscribed to what list.
Can't purchase credits outside messaging my account rep, so you're always relying on customer service.
Product Updates:
Automate personalized, behavior-driven texting experiences with workflows to allow for your contacts' personalized experience.
Get started with a free trial of SlickText.
Best For Pay-Per-Text Mass Messaging

Adam's Take
A growing business requires an SMS solution that can scale, and ClickSend is perfect for that. You can send bulk SMS messages to customers or employees with just a few clicks and track the results to know what's working and what's not. With an easy-to-use interface and various features, ClickSend is an excellent tool for your business.
If you're a business owner or marketing expert looking for a cost-effective pay-per-text messaging service, then look no further than ClickSend. This SMS marketing service lets businesses conduct SMS marketing campaigns that have a global reach.
The software is entirely online, and you don't need to download anything to use it. ClickSend lets you send SMSs through cellular services and even email. This SMS marketing platform allows you to send bulk text messages using social media like Facebook messenger as well.
ClickSend has dedicated APIs that allow easy integration with third-party apps. This functionality lets you connect with other marketing automation platforms, which helps to streamline your marketing strategy further.
Key Features:
As far as marketing solutions go, ClickSend is an all-in-one mass text messaging solution. But that's not where it stops. Apart from text, it lets you send voice messages and rich media. It also supports marketing through fax, email, and postal channels.
Please go through the following list of ClickSend's features:
SMS/MMS/Voice/Email/Fax gateway
Dedicated online dashboard and APIs
Fast delivery and global coverage
Military-level 256-bit SSL security
Reliable 100% uptime SLA
Global reach
Easy integration with Zapier, Salesforce, and similar apps
24/7 prompt customer service
Extended limit of 1224 characters per message
User Experience: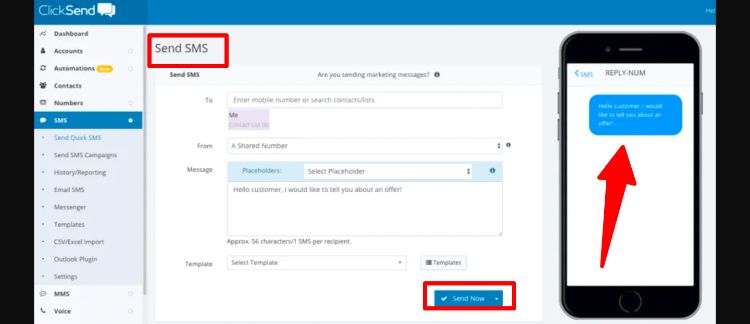 Whether you want to send SMSs, access your contacts or look at reporting, ClickSend's interface makes it easy to do all of that from one place.
There's also a message preview screen which is handy to see what your text will look like before you send it.
Pricing: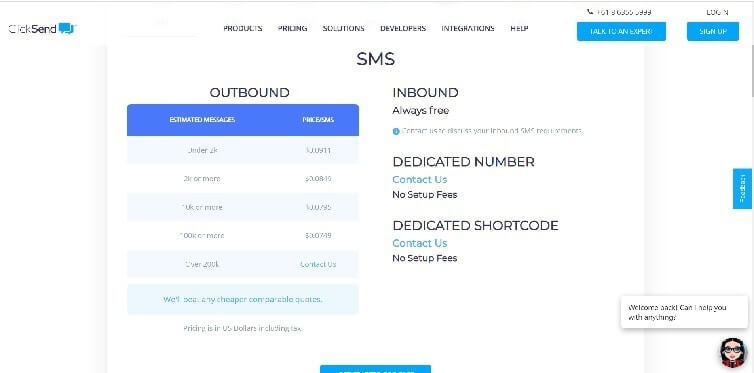 ClickSend's pricing plans are divided across its multiple services. Regarding the SMS marketing pricing structure, the rates start from just $0.0911 per message for under 2000 messages. The greater the number of messages, the lesser the price-per-message.
Inbound messages are always free with any plan, and you get a dedicated number and short code at no cost to you. The company also offers voice, email, fax, and postal marketing services, for which you can check out the pricing structure here.
At the same time, the SMS marketing software doesn't charge any setup fees, has no hidden costs, and provides free customization and delivery reports. You even get the option of prepaid and postpaid services.
What I Like/Dislike About ClickSend:
Like:
Ease of uploading and managing SMS subscribers helps you keep your list clean and up-to-date.
Contact management is straightforward, making it easy to keep track of your subscribers.
Dislike:
The inability to quickly opt people out of lists can be frustrating, especially if you have an extensive list.
Integration can also be a challenge, although the company does offer support to help with this.
Product Updates:
Sales Activation SMS Templates make it easy to reach out to your contacts and get them interested in your product or service.
6. Salesmsg.
Best For Small And Medium Businesses
It's not only large businesses that need SMS marketing automation; small and medium ones do too. That's the clientele that Salesmsg serves; it gives your small business the tools it requires to conduct successful mass text campaigns at affordable prices.
The tool's user interface can seem a bit bland compared to other, more expensive options. However, users believe that this simple and user-friendly nature of the tool sets it apart from others in the same niche.
Like the previous tools on this list, Salesmsg can interface with other applications such as Zapier, Hubspot, and Zoho. Using it, you can also generate new contact numbers for reaching out to your prospects via phone.
Key Features:
The Zapier integration stands out among its many features as it allows the app to interface with hundreds of other applications like Slack, Mailchimp, ClickFunnels, and more. These integrations increase the usability of the tool by multiples. It also supports auto-replies, mass texting, and call-forwarding to landlines.
Here's a list of the tool's notable features:
Simple, secure, and highly scalable
Two-way online texting
Support for local landlines as well as toll-free numbers
Integration with third-party CRMs and marketing automation platforms
MMS support
Auto-replies and canned responses
Forward scheduling of text messages
Double opt-in as well as opt-out management feature
Calendar integrations and emoji support
Private and archived conversations
Tag-based segmentation
User Experience:

The ability to send text messages just like you send an instant message from your desktop makes Salesmsg's interface easy to use.
Use tags to keep track of meaningful conversations, and set up automated responses to specific keywords.
Pricing: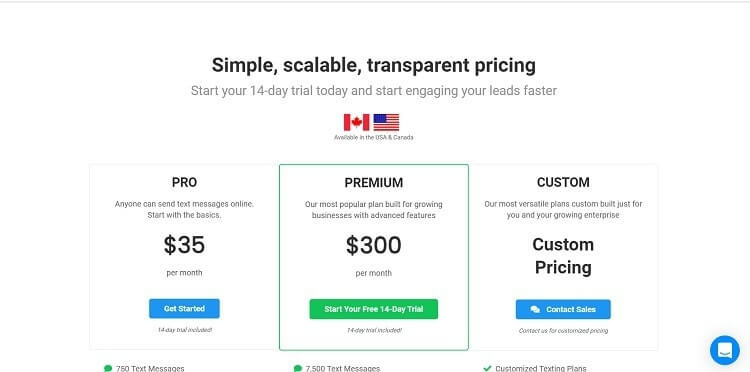 Just like its user interface, Salesmsg pricing plans are transparent and straightforward. It offers a three-tiered breakup of plans, which are available across the US and Canada. And as every plan comes with a 30-day moneyback guarantee, there's no risk to the customer.
The following is a list of the Salesmsg pricing plans:
Pro Plan at $35/month
Premium Plan at $300/month
Custom Plan at variable rates
What I Like/Dislike About SalesMsg:
Like:
SalesMsg integrates with Keap, so if you use that for your CRM, this could be a good option.
The ability to save templates is also convenient if you find yourself sending the same message repeatedly.
Dislike:
Option with mobile app calling out as a default would be helpful to have a better workflow.
Can't add extra users without paying, and this is frustrating if you have a team that you need to communicate with.
Product Updates:
Granular Opt-outs Management now means you have more control over who receives your texts. You can either opt people out of all messages or just specific keyword messages.
Salesmsg for HubSpot Tickets allows you to manage your support tickets directly from Salesmsg. This is a great way to keep track of your customer's journey and ensure that they get the best support possible.
7. Tatango.
Best For Political SMS Marketing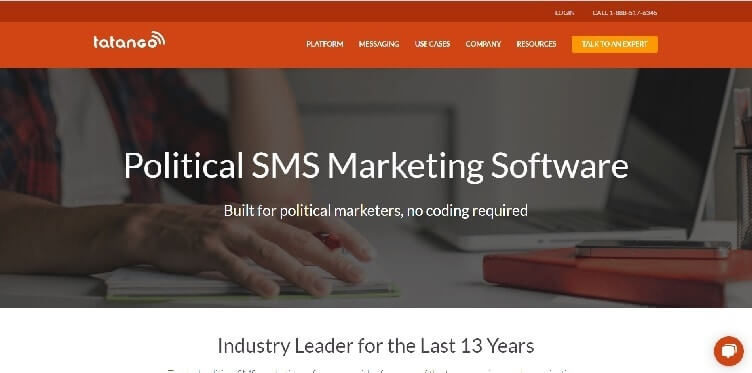 Tatango has capabilities similar to other SMS marketing services, but it's built particularly for political marketers. It has held a position as one of the top political SMS marketing software for over 13 years.
Tatango lets you create messaging workflows with zero coding skills needed. Using this tool, you can segment your subscribers and send the appropriate messages to the right customers.
It also provides you with detailed messaging and subscriber analytics, which allow you to glean effective marketing insights. All this combines to make Tatango a marketing tool that's ideal for political SMS marketing.
Features:
But that's not where the advantages of Tatango ends. Apart from the above features, this tool allows you to create merge tags for personalizing text messages. It even integrates with other marketing apps using the Tatango API.
The following is a list of Tatango's essential features:
Event-based SMS automation
Message tracking through analytics
Dedicated mobile messaging API
Complete administrative controls
Multi-channel messaging
CTIA compliant messages
Pricing: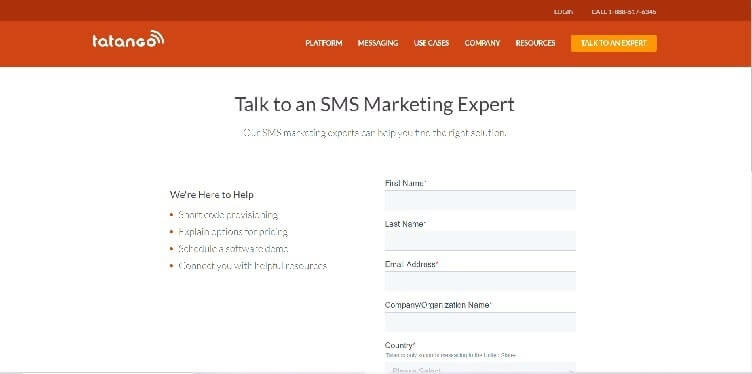 Tatango's pricing plans start at $199/month and go up according to the type of campaign you require. However, it doesn't provide any free version and doesn't come with a free trial period.
What is SMS Marketing Software?
SMS marketing software refers to (usually) cloud-based tools that allow businesses to send personalized SMS messages to potential and existing customers. Globally, over 75% of consumers actively seek SMS messages with special offers curated for them.
Currently, the global SMS marketing industry is growing at a CAGR of around 20.3%. With mobile phones and apps such as Facebook messenger dominating communications, it's no wonder more and more marketers depend on SMS.
SMS Marketing Software FAQ.
Is text message marketing effective?
Yes, 100% text message marketing is effective. It is a much more efficient way to get in front of your prospects. Depending on the time of day, the promotion you are running, or the type of product text message marketing can be even better than email marketing.
What software is used for SMS marketing?
You have a lot of options when it comes to text message marketing but my top picks are SimpleTexting and TextMagic. They are really easy-to-use SMS marketing services that most B2C businesses would be able to use.
What is the best SMS marketing tool?
The best SMS marketing tool is SimpleTexting. This is my top recommendation out of all the options I have listed above. Each product is a little bit different from the next but for text message marketing the goal is simple; get the text message to send properly.
Is SMS marketing free?
No text message marketing is not free but a lot of SMS marketing service options will offer free trials of their products making it much simpler to pick the right tool for you.
What is the best bulk SMS software?
The best bulk SMS software for text message marketing is SimpleTexting. It is also my number one go-to text message marketing service but it also does a great job at handling bulk SMS as well.
Summary.
Today, consumer phone numbers have become a gold mine for marketers. And SMS marketing is the one way to mine this valuable resource.
If you're a local business and want to follow up with your customers to get more reviews, increase customer retention, and increase your sales, one of these tools might be for you.
Personalized text messages can impact consumers better than any other marketing channel.
If you're planning to boost your business by leveraging SMS marketing, then the following tools can certainly help you out:
Whatever your industry niche or business size, you can be sure to find a suitable SMS marketing software tool from among the above.
Disclosure: I may receive affiliate compensation for some of the links below at no cost to you if you decide to purchase a paid plan. You can read our affiliate disclosure in our privacy policy. This site is not intending to provide financial advice. This is for entertainment only.