11 Best Task Management Software of 2021 (Review Guide)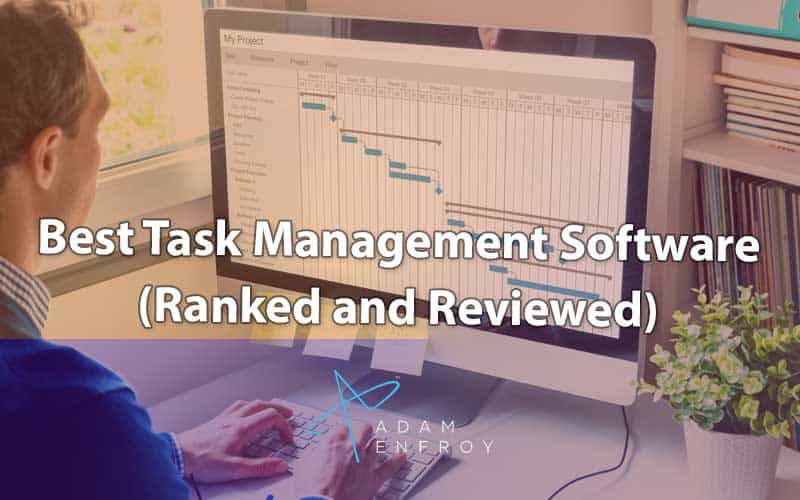 Last Updated on December 3, 2020 by Adam Enfroy
With more teams working remotely than ever before, it's important to manage projects efficiently.
Whether you're a project manager or running an agency, SaaS, or marketing team, everyone needs to be on the same page and know what needs to be done.
This is where task management software enters the picture.
According to statistics, file sharing and time tracking are the two most important priorities companies look for in a task management solution.
Basically, you need a task management tool that can help you with things like file sharing, timesheets, tracking objectives and key results, and assigning tasks to complete projects quickly.
To help make your decision easier, I ranked and reviewed the 11 best task management tools based on key features, project management tools, pricing, ease of use, and more.
Let's get started.
What is the Best Task Management Software?
Here are my top picks for the best task management software to use this year.
Best For Kanban Boards ($9.99 Per Month).
Trello is a productivity platform that lets you collaborate with your team and get more work done in limited time. Its boards and cards organize your work and help you prioritize your urgent tasks.
It's also famous for its straightforward, drag-and-drop interface. For instance, you can easily drag and move cards with allotted tasks from one section to another.
All in all, it lets you create stages for your projects – from the beginning until completion. You can give each card a name, assign it to team members, set a due date, and more.
Then there's its built-in workflow automation butler that performs multitudes of tasks on your behalf:
Calendar commands.
Rule-based triggers.
Due-date alerts.
It creates custom cards.
Key Features:
Built-in Automation Tool 'Butler' – Butler automates the entire task management process by performing several tasks, including calendar commands, setting reminders, and more.
Third-party Integrations – Integration with applications like Slack and Dropbox lets you collaborate with your team.
Information at Glance – Collaborate with your team by creating different cards, adding activities, setting due dates & reminders, and more.
Pros:
It provides numerous templates for featured categories like engineering, marketing, business, and so forth.
Straightforward process – just copy the templates, customize them, and start collaborating.
Ability to attach images and files to any card.
Drag-and-drop user interface.
Easy file sharing and file storage.
Task progress boards help you start prioritizing task lists.
Freemium plan with unlimited personal boards, cards, and lists.
Pricing:
Trello offers three different plans that include monthly or yearly subscriptions.
Free: $0 per user per month.
Business Class: $9.99 per user per month.
Enterprise: $20.83 per user per month.
All the plans offer some standard functions like unlimited personal boards, cards, and lists.
Best Task Management Tool For Remote Teams ($10.99 Per Month).
Asana is a task management software that keeps your team coordinated and manages your tasks, projects, and assignments online. Millions of professionals across the globe use it owing to its straightforward user interface.
Just like Trello, Asana provides a drag-and-drop interface to visualize your work. Similarly, you can move through multiple stages – from the beginning until the end of the task.
Then there's the 'Timeline' feature that helps you sync similar projects together.
The timeline view also shows your entire team how the pieces of a task fit together. You can also automate tasks to save time.
Here are five manual processes that you can automate with Asana:

Moving tasks to correct project cards.
Assigning tasks to the right team member.
Automatically adding followers when the due date changes.
Setting and changing due dates.
Alerting team members when the task is ready.
Aside from this, Asana's reporting features track finished tasks and send alerts when a task is completed.
Key Features:
Visualize Your Work – Visualize your tasks using different formats like boards, lists, timelines, and calendars.
Tasks & Subtasks – Break down your task tracking into manageable pieces to show the entire project process.
Add Attachments – Add Dropbox links, images, and files in numerous formats to any task in a card.
Views & Reporting – Monitor your tasks' status, get automatic updates and see what's happening across your entire organization.
Admin Controls – Admin control lets you control teams and collaborate with vendors. It also lets you ensure that every member has access to the right task and information.
Pros:
Integration with over 100 third-party tools under one dashboard.
Ability to set security controls and admins.
Collaborate with your team and invite guests securely.
Add comments on tasks to convey everything in detail.
Create Gantt charts to visualize your tasks.
Pricing:
Asana offers four different plans:
Basic: $0.
Premium: $10.99 per month billed annually.
Business: $24.99 per month billed annually.
Enterprise: Quote-based plan.
Both the paid plans come with a free-trial period.
Best For Ease of Use and Simplicity (Free – $18/month)
Teamwork is a task management platform that is growing in popularity due to it not only being a powerful tool but also due to its ease of use.
It has an intuitive user interface and allows users to manage multiple complex projects easily, making it popular with project managers, business owners, agencies, and professional services providers.
Key Features:
Instantly know what's on track with board views, dashboards, and project health status updates.
Time tracking allows you to track how long tasks are taking so you can plan more effectively.
Workload feature allows you to check all team members' workloads at a glance so you can assign and re-distribute tasks as required.
Project visualization is easy with Gantt charts, marked calendars, and set-up reporting.
Pros:
Flexible, easy to use, and feature-rich enterprise software.
Excellent customer support.
30-day free trial.
Free access to invoicing and time tracking for your clients.
Pricing:
Free Forever: Max 2 Projects
Pro: $10 per user (annually), billed monthly is $12.50
Pro: $18 per user (annually), billed monthly is $22.50
Contact Teamwork to discuss Enterprise pricing
For Modern & Medium-Sized Enterprises ($9.80 Per Month).
Wrike is another excellent task management tool for modern enterprises. It's most suitable for teams who want to edit and customize their task workflows within a single task manager. It further helps you simplify your workload. Wrike's primary focus is on remote team collaboration and customization of workflows.
With features like custom dashboards and streamlined workflows – it helps you stay productive even when away from your team members.
You can work in real-time with unique features like:
Real-time commenting on tasks.
Ability to share information with all stakeholders.
Live editing.
Powerful reporting.
Key Features:
Extensive Integration – Wrike provides integration with essential business tools like GitHub, Slack, Salesforce, and more.
Improve Communication – The entire communication, decision-making, and task management take place in one shared space. The real-time collaboration tools further improve communication.
Create Customizable Reports – Pick up a template, customize it, and build templates for a better insight into your tasks.
Pros:
Wrike's multiple views feature provides full transparency over your tasks.
Built-in approval features help your team seek complete feedback for each task.
It has numerous security measures in place to provide access to only authorized members.
Breakdown tasks into several pieces to micro-manage them and tag your team members on each card.
Wrike Analyze feature provides in-depth reports to monitor your tasks and accomplishments.
Pricing:
Wrike comes with four plans:
Free: $0 for 5 users.
Professional: $9.80 per month for 5,10, 15 users.
Business: $24.80 per month for 5-200 users.
Enterprise: Quote-based plan for 5-unlimited users.
All the plans come with a free trial. The freemium plan provides all the essential features, including task management, board view, file sharing, real-time activity stream. Plus, the paid plans come with more advanced features like Gantt chart, time tracking, and more.
Some of the Best Automation Features ($39 Per Month).
Monday.com is another popular task management tool that provides a straightforward layout and UI. The user interface appears like a spreadsheet, albeit a highly customizable one. It also comes with multitudes of features that make it interactive and powerful.
With automation and remote task management capabilities, it makes your work easier. The 360-degree view lets you monitor all the tasks and ensure that team members stay on the same page. The good news is that you get a 14-day free trial to try out the premium plans before purchasing them.
Key Features:
Automated Workflows – Code-free automation helps you with tasks like status change, setting up due dates, moving cards, sending notifications, and more.
Integrations – You can integrate over 50 business tools to bring all the data under one single dashboard. It also streamlines your tasks.
Display Data Effectively – Monitor your tasks across multiple boards and manage your workload. Functions like 'Timeline' and a visual dashboard also lets you visually plan your team's work.
Pros:
Its visual dashboard gives you an idea of your progress easily.
Tag members and assign deadlines for tasks on any card.
It provides extensive integration with over 50 business tools.
You get an in-depth overview using the calendar, timeline, and kanban view.
Apart from collaborating with your team members, you can invite guests too.
Share files & links and add comments to define the tasks.
Pricing:
Monday.com offers four pricing plans based on the number of users.
Here are the pricing plans (for up to five users):

Basic: $39 per month billed annually.
Standard: $49 per month billed annually.
Pro: $79 per month billed annually.
Enterprise: Quote-based plan.
All the plans provide a 14-day free trial with unlimited boards. No credit card required. You also get an 18% discount on annual payment.
Best For Time-Tracking & Detailed Planning ($7 Per Month).
Jira is an excellent option for agile teams to plan, track, and organize tasks. You can create stories and issues for each team member to assign separate tasks. The complete visibility of boards helps you keep track of the progress of tasks. You can also set different filters to the cards, such as released, unreleased, and in progress.
One of the most amazing features is that it lets you choose your workflow. To put it simply, you can create your own submission path.
For instance, you can assign cards in this order:
Open > In Progress > Under Review > Final Approval > Done.
Or you can create any other workflow.
Apart from this, you can expand your workflow by integrating with other business tools you already use. Jira also comes with strict security measures to secure your data.
Key Features:
Accurate Estimation – Estimations like hours, points, etc., helps you become more disciplined and efficient.
Planning Features – Frameworks like scrum, kanban, and mixed methodology enable you to create flexible plans for your team.
Data Encryption – Jira uses strict security policies and data compliance to keep your organization's data secure.
Pros:
It provides scrum boards and Kanban boards for better transparency and flexibility.
Create roadmaps for your team to help them visualize the delivery path of the task.
Real-time reports provide an overview of your company's task management process.
Automation and drag-and-drop interface makes task management easier and saves time.
The mobile app lets you stay in touch with your team from anywhere you want.
Customizable workflows.
It integrates with over 3000 third-party apps.
Pricing:
Jira software offers three pricing plans:
Free: Free plan for up to 10 users.
Standard: $7 per user per month.
Premium: $14 per user per month.
Both the paid plans are free for the first week, and no credit cards required. You can request customized pricing for over 100 users.
Best for a Detailed Overview of Your Tasks ($39 Per Month).
Nifty is one of the best task management apps for a detailed overview of tasks. It helps you break down your projects into tasks to fulfill big goals. You get three types of views (Kanban view, detail view, and list view) to visualize all your tasks without missing a step.
Nifty's "My Tasks" section keeps you updated on your assignments and activities and lets you stay on top of your tasks.
You can even sort all the tasks by the deadline to know what to finish first. Other than this, you can filter tasks by the due date, milestones, and more. You can also create templates for recurring tasks and use them for future tasks.
The good news is that switching to Nifty is also pretty easy. It lets you move your pre-existing tasks from platforms like Trello quickly.
Key Features:
Automate Task Assignments – When you assign a task to a member from a list, they automatically get access to all the tasks on that list.
Add Subtasks – You can add subtasks to set smaller objectives and manage your tasks easily.
Time Tracker – The time tracker helps you keep track of your hours and how much time you took to complete a task.
Pros:
The user interface is intuitive and simple to use.
Switching from another platform to Nifty is pretty straightforward.
You can use custom tags to organize your tasks.
Compatible with Mac, Windows, iOS, and Android.
Set tasks to repeat by date or status to create a scheduled cycle of tasks.
Pricing:
Nifty offers four pricing plans:
Starter: $39 per month billed annually.
Pro: $79 per month billed annually.
Business: $124 per month billed annually.
Enterprise: Customizable plan.
You can upgrade or downgrade to any plan any time you want. Plus, there's a 14-day free trial to help you get an overview of the product.
Task Management For Bigger Teams ($4.19 Per Month).
MeisterTask is a task management tool for teams that gets more work done in less time. Its user interface is pretty straightforward and easy to navigate. You just have to focus on three major building blocks, namely tasks, dashboard, and projects. On top of that, they offer lots of tutorials and support articles to get started easily.
Other essential features include regular data backup and recovery software, Kanban-style boards, extensive integration with third-party tools, in-depth reports and statistics, and more. You can also become a "watcher" and assign tasks to team members and stay in the loop to monitor the progress.
Key Features:
Time-Tracking – The built-in time tracker monitors how many hours it took to finish a task. It comes in handy for team estimation and projections.
Custom Fields – Add custom fields to categorize tasks and information that you need regularly.
Checklists – Multiple checklists help you ensure that all tasks get covered in time.
Add Attachments – You can add files and other attachments of up to 250 to the cards with tasks.
Pros:
The drag-and-drop structure of the user interface is sleek and easy to navigate.
The Kanban-style boards make task management easier and provide a 360-degree view of your tasks.
It's available on smartphones so that you can collaborate with your team remotely.
You get automatic notifications to keep you in the loop.
No installation or manual updating required.
The freemium plan offers all the necessary features for a beginner.
Pricing:
MeisterTask offers four pricing plans:
Basic: Free.
Pro: $4.19 per month.
Business: $10.39 per month.
Enterprise: Custom-based plan.
The Basic plan is suitable for simple task management, while the Pro plan for extensive integration and automation. On the other hand, the Business plan is for extensive group sharing. Then there's the Enterprise plan, which is suitable for large enterprises that require more advanced custom features.
Organize Your Tasks With To-Do Lists ($3 Per Month).
Todoist works as a to-do list to organize tasks. It provides lots of incredible features to help you organize tasks by date, color-code, and more.
You also get plenty of curated templates, such as social media calendar, product roadmap, development workflow, etc. Other than this, Todoist provides a clear overview of all your tasks. You can quickly add new tasks and comments, set recurring due dates, and create neatly organized subtasks.
On top of that, integrations with third-party business tools like Google Drive also streamlines the entire task management process.
Key Features:
Share the Workload – You can easily delegate the tasks and get automated notifications when someone posts comments or completes tasks.
Set Daily Goals – Todoist awards "karma" points for finishing tasks to motivate your team members to complete daily goals.
Link Todoist with Business Tools – Integrate with other business tools you already use, such as Dropbox, Zapier, Amazon Alexa, and more.
Pros:
It's compatible with all types of OS, including macOS, Windows, desktop, smartphones, and more.
The Gmail add-on and other email plugins like Outlook turn email marketing into a task.
Set recurring due dates and add color-codes to categorize tasks.
You can pin favorite tasks and add labels & filters.
The freemium plan lets you handle up to 80 tasks.
The paid plans also offer a 30-day free trial.
Pricing:
Todoist provides three pricing plans:
Free for starters.
Premium: For pros at $3 per month billed annually.
Business: For teams at $5 per month billed annually.
You can try both the paid plans for free for a month. What's more, you can also receive refunds within 30 days of purchase.
To-Do List With Calendars & Reminders ($5.99 Per Month).
Any.do is a task management with a list-like interface that offers calendars, planners, and reminders. Just like many other task management apps on this list, Any.do also offers a drag-and-drop interface. However, there are some other incredible features that make it unique.
Take its "Moment" feature, for instance.
Basically, you'll get a push notification telling you about all your plans for the day. There are other amazing features like voice entry, automatically clearing finished tasks, and more.
There's also a free reminder tool that lets you add daily, weekly, and monthly reminders.
Other than this, the mobile app lets you access your list of tasks anywhere in the world. It also helps you collaborate with your team easily.
Key Features:
The Calendar App – The calendar app lets you control your tasks in a single view. It also lets you combine all your commitments under one dashboard, including social events, business meetings, etc.
Daily Planner – It alerts you every morning to tell you your tasks throughout the day.
Online Personal Assistant – The online personal assistant schedules appointments on your behalf, looks up deals, and more. What's more, it works like any real assistant.
Pros:
Its online personal assistant is one of the unique features in any task management app.
The user interface is beautifully designed.
It also provides a Chrome extension.
The pricing plans are extremely reasonable, especially when you consider its advanced features.
It works with both Siri and Alexa.
It's compatible with all types of devices, such as Android, iPhone, Chrome, Windows, and more.
Pricing:
Any.do offers two plans:
The freemium plan
Premium plan: $5.99 per month billed annually.
Once you upgrade to the Premium plan, you can:
Color your tasks.
Customize themes.
Set location-based reminders.
Customize recurring tasks.
Add unlimited attachments.
You can also get an assistant that works 24*7*365 at a reasonable price. However, you have to request the cost.
Task Management Using Spreadsheets ($14 Per Month).
Smartsheet is a spreadsheets based app to manage tasks and plans under one dashboard. Basically, it works like a spreadsheet with more advanced features for task management. It lets you store all the tasks you're working on in a single spreadsheet. You can even open them all together in a tabbed view.
You also get plenty of tools to build task overflow, set due dates for tasks, and break down task rows into sub-rows.
It also lets you perform other actions like:
Adding checkboxes for tasks.
Add attachments to rows with tasks.
Comment on tasks to describe anything in detail.
Key Features:
Conditional Reminders – You can set conditional reminders to get regular updates on the status of any task. For instance, you'll receive reminders whenever a task hits a milestone or the due date is coming up.
Multiple Views – Visualize your tasks effectively using different views, namely grid, Gantt, card, and calendar view.
Reporting – Its reporting feature lets you consolidate all your data and task information into a single overview.
Pros:
The mobile app for iOS and Android provides real-time access to your tasks from anywhere you want.
It provides seamless integration with tools like Adobe Creative Cloud, G Suite, Microsoft, Slack, and more.
The dashboard is easy to use and provides a bird's-eye view of your tasks' status.
It lets you view real-time tasks and data with live charts.
You can automate task workflows and recurring tasks.
Pricing:
Smartsheet offers two standard pricing plans:
Individual: $14 per month billed annually.
Business: $25 per month billed annually.
Both the plans come with standard features like streamlined administration, multiple views, support & training, and more. You can also request a customized plan for advanced features that are not available with either of these plans.
Free Task Management App For Easy Collaboration.
Sendtask is a task management tool that can create to-do lists for your tasks. It lets you collaborate with your team, clients, and suppliers under a single dashboard. The amazing part is that your suppliers and clients don't even need to have an account – they can still collaborate with your team.
Other than the onboarding process, auto-reminders and direct integration with Slack are other plus points. Moreover, the software is still in its beta version, so it's free for use. The official website also claims that the current features will always remain free – so that's another good news for you.
Key Features:
Task Management Right From Your Inbox – You can keep track of your task workflow and manage everything right from your email. Neither your team members nor your guests need Sendtask accounts for access.
Recurring Tasks – You can set specific tasks, so they recur as per your schedule. You can also break down tasks into subtasks for better task management.
Collaboration Features – You can give instructions to your team with comments, add links & attachments, assign tasks to anyone you want, and so forth. All of these task management features help you collaborate easily with your team.
Pros:
It offers great customization options. You can add filters and sorting options to your task workflow.
Task management gets simple with subtask breakdown and recurring tasks, including resource management.
Monitor and keep track of the progress of your tasks.
Collaborate with your team without user accounts.
Email management and task management directly from your inbox.
It offers an iOS mobile app.
Pricing:
The software is still in its beta version and is free indefinitely.
What is Task Management Software?
Every project in existence includes multiple smaller tasks. Addressing, managing, and completing all of these tasks makes a business run.
To put it simply, task management software is an online tool that helps manage tasks, including estimation and scheduling, time-tracking, and collaborating with team members to push projects to completion.
They range from managing simple to-do lists and aiding teams' work to chat functionality and advanced work management features. Businesses need to be clear about their aims to maximize the benefits of these tools.
Task management software should help businesses achieve clarity in their planning process and coherently execute their tasks.
How Do You Use Task Management Software?
Every task management software aims to organize tasks for businesses and complete them on time. Most of the tools work in the same manner.
Let's demonstrate it using the example of Asana:
First, create an account and login using your credentials. You can create your first task right away by clicking on the 'Add task' button.
Asana lets you create your first project similarly. A project usually involves the collation of numerous tasks for a particular initiative or goal.
With Asana, you can visualize every task at various levels of detail like lists, boards, calendars, and timelines. Other than this, you can also organize your tasks based on various factors. You can also sort and filter tasks the way you need.
What Should You Look For in Task Management Software?
The requirements differ for every business. For instance, the uses of a task management software for business A may not be the same as those for business B.
However, here are some of the standard features required and desired universally:
Manage All Tasks On a Single Platform – The software should allow users to manage all the tasks on a single platform. You should be able to delegate and track tasks directly from your dashboard. For example, Asana. It allows you to manage all your tasks right from its dashboard.
Seamless Collaboration – Management of tasks for any business demands collaboration. Thus, your task management tool should be able to share files, feedback, ideas, and more. It helps all team members to keep track of the tasks from the same page
Automation – Businesses today need the power of automation. It helps to have a tool that can create automated workflows to improve your time management.
Free Trial – You can't know which software will work out the best for your business. Therefore, it makes sense to try out different ones and experience firsthand. Task management tools like Monday.com offer a 14-day free trial period. It helps you gauge its merits without any investment.
Third-Party Integration – Task management software must offer extensive integrations with third-party applications for seamless collaboration. For instance, Monday offers integration with Zoom, Slack, Zendesk, Salesforce, Outlook, Excel, Jira, and more.
Executive Summary.
Finding the right task management software should be simple now with this review.
All these task management tools can help you organize, track your progress, and collaborate with your team.
These are standard features that you will find in almost all these apps. However, you have to focus on other critical elements before making the final decision.
For instance, if you're looking for a simple to use tool with drag-and-drop UI, then you might like tools like Trello or Asana.
For better time-tracking functions, MeisterTask is an excellent option.
Which one of these task management tools are you planning to use? Let me know in the comments below.
Further Reading on AdamEnfroy.com: For more software reviews, check out my guides to the best project management software, best OKR software, and the best business process management (BPM) software to use this year.