How To Use Pinterest For Blogging In 2023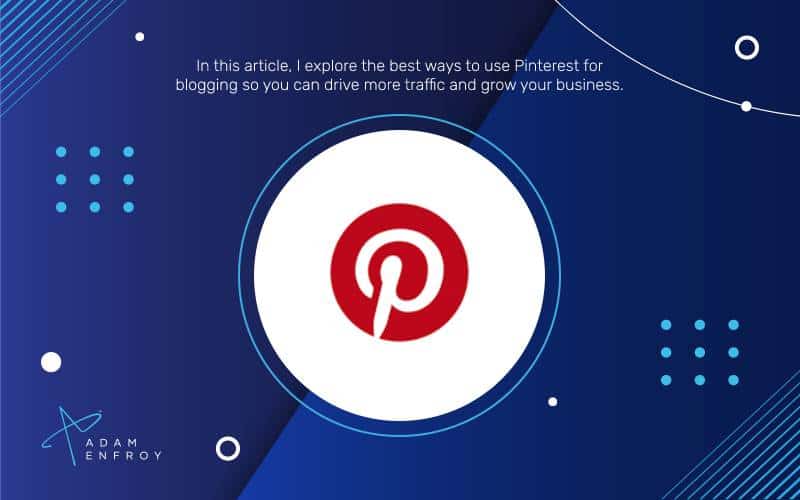 Ah, Pinterest.
The Land of unending DIY projects, tantalizing recipes that throw your diet plans right out of the window, and mood boards for weddings that might not happen for another decade.
We've all spent hours on this addictive platform, pinning away like no tomorrow.
But did you know that amidst this fun-filled activity, you could stumble upon a goldmine for your blogging business?
In this article, I'll explore the best ways to use Pinterest for blogging.
With this platform, you can drive more traffic and grow your blog faster than ever, ensuring you not only launch a successful blogging business but one that sustains itself over time.
How To Use Pinterest For Blogging
Here are some top ideas you should consider when using Pinterest for blogging.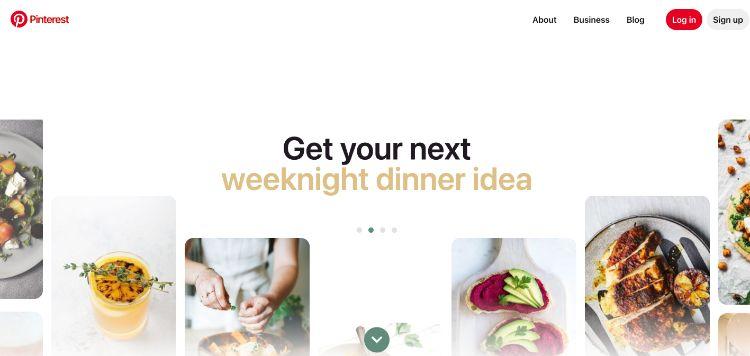 Use Your Blog Name As Your Pinterest Board Name
When implementing practical blogging tips, using your blog name as your Pinterest board name is essential, as it helps make your brand more recognizable and cohesive across all platforms.
Brand image is a crucial aspect of a comprehensive Pinterest marketing strategy to drive your blog traffic.
To achieve this, organize your Pinterest boards to reflect the relevant niche of your blog and create visually appealing boards that reflect your blog's content.
Go to your Pinterest account and click "Create a Board."
Name your board after your blog, and include relevant keywords in the board description.
Adding keywords will help Pinterest understand your board and show it to users interested in your content.
Doing so can attract more followers and increase your engagement on Pinterest, ultimately translating into more blog traffic.
Group Similar Posts Together
Consider organizing your blog posts into relevant categories and creating corresponding Pinterest boards for each type.
When optimizing your boards, use targeted keywords in your board titles and descriptions to make them searchable through Pinterest search.
Think about how, in a blog post, you could create blog titles that cause readers to click, and apply the same concept to your pin titles.
Utilize Pinterest's suggested search terms feature to determine popular keywords in your niche and incorporate them into your boards for increased discoverability.
For example, if you have a lifestyle blog, you might want to create boards for "Fashion," "Food," "Travel," and "Home Decor."
Labeling boards will help your readers quickly find the most exciting content.
It also makes your Pinterest board look more organized and professional.
This has a net effect on your Pinterest profile and can lead to increased engagement.
One great way to attract more Pinterest users to your blog is by creating "roundup" pins.
These are pins that showcase multiple blog posts on a single topic.
For example, if you have a fashion blog, you might create a pin that showcases "10 Fashion Trends for Spring."
This type of pin is excellent for attracting users who are interested in a particular topic.
It also helps to drive traffic to multiple blog posts at once.
Include A Description, Featured Image, And Link Back To Your Website On Every Pin
By including a description, a featured image, and an affiliate link to your website on every pin, you can encourage users to visit your site and increase engagement.
Pinterest SEO relies heavily on the quality and relevance of your pins, so implementing a solid call to action can drive traffic and improve your performance on the platform.
Additionally, having an engaging blog post title, descriptions and visually appealing images can make your pins stand out and increase the likelihood of clicks and saves.
A call to action is also critical to leverage Pinterest traffic and boost your Pinterest SEO.
Ensure to include a link to your website or blog post in the description of every pin you create and other relevant information such as prices, discounts, and offers.
Use Pinterest Analytics To Track Your Performance
For beginners, using Pinterest Analytics is essential to understanding and improving your Pinterest marketing strategy.
The platform provides a range of metrics, including impressions, saves, and click-through rates, which can help you gauge the performance of your pins and boards.
Furthermore, by integrating with Google Analytics, you can track traffic and user behavior on your website that originated from Pinterest.
Utilizing both Pinterest and Google Analytics can lead to a more data-driven and practical Pinterest marketing approach, increasing blog traffic and engagement.
You can use this data to optimize your Pinterest strategy and attract even more readers to your blog.
Taking Your Blog To The Next Level
After you've done the above, you can take your Pinterest social media strategy to the next level.
Here are more advanced tips to help you get the most out of Pinterest.
Create Or Convert Your Personal Pinterest Account
To start your journey with Pinterest for blogging, you'll need to create a business account or convert your personal account to a Pinterest business account.
Converting your account is easy and free, and it will provide you with significant advantages such as access to business features and analytics.
Verify Your Website And Gain Access To Analytics
Verifying your website is an essential step to tracking your performance on Pinterest.
By verifying your website, you can access crucial data such as the number of clicks and saves your Pins receive.
This information can help you identify which of your Pins are popular and drive traffic to your blog.
To complete this step, go to your Pinterest settings and select the "Claim" website to verify your blog.
Secondly, once the website is verified, you can access analytics to track your pins and measure their engagement.
Finally, utilize these metrics to refine your pinning strategy and drive more traffic to your blog.
Apply For Rich Pins
For bloggers, applying for Rich Pins is a must-do.
Rich Pins can add additional information to your Pins, such as product prices, author information, and article summaries.
Article Pins are valuable for bloggers because they display your blog post's title, author, and meta description.
If you're using Yoast SEO, installing Article Pins is simple.
After applying for Rich Pins, it is crucial to remember your marketing strategy to increase engagement and drive traffic to your blog, which happens by regularly sharing new blog posts on Pinterest.
Each new blog post shared should include a new pin optimized with keywords, hashtags, and an eye-catching image.
In addition to sharing new pins, it is also important to regularly promote them by repinning and engaging with your audience.
Validate Your Website With Pinterest
Validating your website will help Pinterest understand and rank your content.
Ensuring Open Graph on your blog and all meta tags are in place is crucial.
Afterward, you can validate your website with Pinterest, which will improve the performance of your own pins and enhance your website's visibility.
Explore More Features And Tools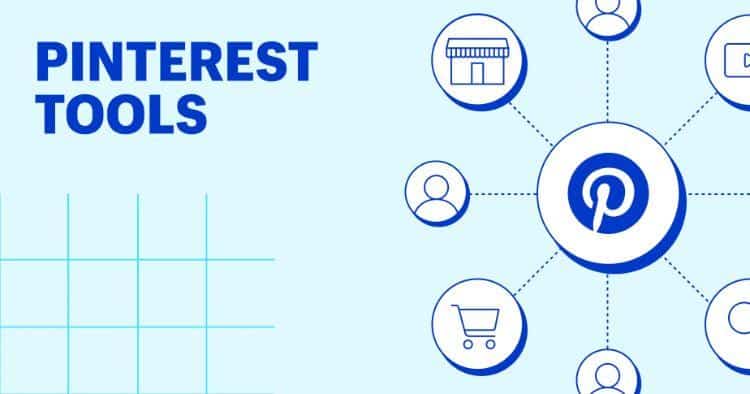 Image credit: https://www.shopify.com/
After applying all the above steps, remember to explore other features and tools available on Pinterest.
Business accounts can create their boards and use them to attract followers interested in specific topics.
Pinterest Guides and Marketing Blog provide valuable insights and best practices to help you create your Pins and attract visitors.
The Video Library allows you to add videos to your Pins, creating more engagement and interest.
Promoted Pins and Pin It Button are other two tools that can be beneficial.
Using Pinterest For Blogging: Key Benefits
Let's explore the benefits of using Pinterest for blogging and share some tips to use it effectively.
Drive Traffic To Your Blog
Pinterest is a visual discovery platform that allows users to create and share collections of images and videos called "boards" and "pins."
By posting your blog content on Pinterest, you can reach a wider audience and drive more traffic to your site.
Pinterest pins have a longer lifespan and are shared more than tweets, which means your content could reach potential readers long after your initial post.
By creating visually appealing pop-ups on your blog, you can entice readers to pin your content and increase your blog's exposure on Pinterest.
Increase Your Reach And Engagement
Pinterest's algorithm prioritizes high-quality content that's relevant and engaging to users.
By creating visually appealing pins and boards that resonate with your target audience, you could reach more people and increase your engagement rate.
You could also leverage Pinterest's community features and join group boards related to your blog niche to connect with other bloggers and readers.
Repinning other pinners' content and engaging with your followers increases your chances of boosting your reach and engagement.
Monetize Your Blog With Pinterest
Pinterest offers several features that help monetize your blog.
You could earn a commission through affiliate marketing by promoting products or services related to your blog niche.
You could create posts that showcase these products and link them to your affiliate program link.
Pinterest's shopping feature also allows businesses to sell their products directly on the platform, making monetizing your blog easier by partnering with brands that align with your niche.
These tactics can increase your blog's traffic and potentially monetize your content through sponsored posts or affiliate marketing opportunities.
Use Pinterest Analytics To Optimize Your Strategy
To improve your blog's performance on Pinterest, consistently create and publish fresh content that resonates with your audience, increasing your chances of getting more page views.
Additionally, you can use the analytics feature to track and measure your content's performance on Pinterest.
Analyzing click-through rates, repins, and website visits will help you understand what types of posts are performing well and which ones need improvement.
You can also compare your performance against other brands in similar niches and adjust your strategy accordingly.
Crafting Effective Pin Descriptions
Using sensory-related words and positive sentiments is a great way to make your pin description enjoyable.
Using descriptive words about the product or service being promoted, such as "rich," "smooth," or "luxurious," is excellent for letting people know what the pin is about.
In addition, incorporating positive sentiments like "must-have" or "delicious" can entice readers to click through to your blog.
Research shows that adding positive sentiment words to pin descriptions increases engagement.
Remember that while being descriptive, keep your pin description concise to make it optimal for scrolling.
Optimizing your pin descriptions with SEO-friendly keywords is another crucial component to maximize visibility.
Keyword research that's relevant to your niche is key.
Keywords help increase the likelihood of your pins appearing in search results and increase the chances for more pinnable content.
Adding too many keywords can lead to poor user experience and spammy content against Pinterest's guidelines.
The optimal character length for pin descriptions is between 200-300 characters.
This length allows you to provide enough information about the pin while still having enough space for CTAs and hashtags.
In addition, keeping descriptions concise ensures that mobile users can easily read the entire wording without having to click "read more."
You can use character counters or incorporate brief descriptions to avoid long-windedness, but remember that being informative is key in crafting narratives that drive engagement.
Making Content That Stands Out On Pinterest
The key is to create eye-catching pins that capture the interest of your audience, and there are several things you can do to achieve this.
Use Vertical Images With An Aspect Ratio Of 2:3 Or 4:5
Pinterest's layout focuses on vertical pins, which occupy more space in the feed than horizontal ones.
A vertical pin image is more likely to be seen and clicked on.
Regarding aspect ratio, aim for 2:3 or 4:5, as these are the most common and will look great on mobile and desktop.
If you need help creating vertical images, tools like Canva and Adobe Spark have Pinterest templates that make it easy.
Focus On Fresh Content
To improve your blog's performance on Pinterest, consistently create and publish fresh content that resonates with your audience, increasing your chances of getting more page views.
Use the Pinterest search bar to gather insights on your niche's most popular topics and trends and integrate them into your content strategy to stay relevant and valuable.
Regularly track your page views and other metrics on Pinterest Analytics to measure your progress and adjust your strategy accordingly.
Using The Power Of Text Over Images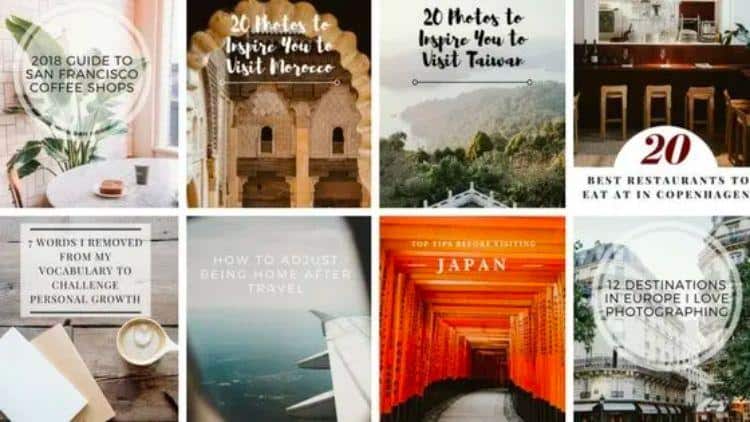 Image credit: https://www.bontraveler.com/
Adding text to your images can be a game-changer.
Not only does it help convey your message quickly and easily, but it also makes your pins look more professional and dynamic.
Here are the benefits of adding text to your images:
Grabs Attention: A picture is worth a thousand words, but adding text can elevate your message. It grabs attention and allows a viewer to understand what your pin is about within seconds.
Increases Engagement: Text-over images can increase engagement rates, which could lead to more clicks to your website. Adding a call-to-action (e.g., "Click here to read more") can increase the likelihood of someone clicking through to your site.
Highlights Key Points: Text-over images can help highlight essential information about your blog post or product. It's a great way to show a feature or benefit uniquely and visually pleasingly.
But how do you ensure the best use of text over image?
Here are some suggestions:
Keep it Simple: Use a font that is easy to read. For maximum impact, use a bold font over a light background or a light font over a dark background. You want your text to be legible and stand out.
Use Branding Elements: Incorporate your brand elements, such as your brand colors and logos, into your pins to reinforce the message. It also adds a professional touch to your graphics.
Keep it Relevant: Ensure that your text is relevant to your pins. For instance, if your pin is about a DIY home decor project, add text highlighting the essential materials or steps.
Don't Overdo it: Avoid using too much text on your pins. Words that get to the point are usually enough. You want to make sure your audience is aware of the information.
Use a Graphic Design Tool: You don't need to be an expert in graphic design. Free tools like Canva and Adobe Photoshop can help you create professional-looking pins. Canva specifically offers a vast array of templates, graphics, and fonts, making the process easy and quick.
Using Pinterest Group Boards
Pinterest group boards are a great way to increase the reach of your pins and gain more exposure for your blog.
Group boards are shared relevant boards with multiple contributors, allowing you to collaborate with other content creators in your niche.
So, how do you find group boards to join?
The easiest way is to use PinGroupie, which lets you search and filter through thousands of Pinterest group boards by category, keywords, and number of contributors.
Look for boards in your niche or related to your blog topics.
Get to know the owners once you've found some promising ones.
Follow their boards, engage with their content, and leave meaningful comments.
After you've built a relationship with them, you can invite them to their group board or check for instructions on their website on how to join.
Another way to join group boards is to be invited by an existing member.
Watch for group board collaboration threads on Facebook or other blogging forums.
Respond to requests or post your own; you might get an invite.
When you join a group board, read and follow the rules. Otherwise, you risk getting kicked out.
Some standard rules include only pinning high-quality, vertical images, limiting the number of pins per day, and not self-promoting too much.
Using The Pin It Button Effectively
The Pin It button is a plugin you can add to your blog, allowing your readers to share your blog posts on Pinterest easily.
When readers click the Pin It button on your blog post, they can choose an image to accompany the pin and a description that will appear with it.
With the Pin It button, you are giving your readers the tools they need to share your content with others on Pinterest, which can help increase your blog traffic.
Setting up the Pin It button is simple and takes a few minutes!
Firstly, you must create a Pinterest account if you still need one.
Then, visit the Pinterest business site and click the "Download the Pin It button."
Select your website type, copy the code into your blog's HTML, and your readers can start sharing your content on Pinterest.
Creative Pinterest-friendly images and a well-written pin description are essential to get the most out of the Pin It button.
When choosing an image, try to use high-quality photos or graphics that are visually appealing and relevant to your content.
It would help if you also wrote a descriptive pin description that accurately describes what the post is about.
Finally, ensure the Pin It button is visible on your blog post, so readers can easily find it.
Other Tips To Stand Out From The Crowd
Here are some other ideas to make your content stand out on Pinterest and reach more people.
Enable "Public Search"
To increase your online visibility, make sure to enable "public search" in your search privacy settings.
Enabling that option will allow people not following you on Pinterest to discover your content through search engines like Google.
To enable "public search," go to your settings and click on "privacy and data," then scroll down to "search privacy" and toggle the switch to "on" for public search.
Consistency Is Key
Maintaining consistency in your content titles for pins, boards, and blog posts is essential for creating a solid brand identity.
This consistency also helps your followers recognize your content and build trust with your brand.
Use the same font, colors, and style across your pins, boards, and website to create a cohesive look and feel.
Alt Text For Featured Images
You can also enhance accessibility and improve your search ranking by providing alt text for your featured images in pins.
Alt text briefly describes the image that appears when someone hovers their mouse over it.
Use keywords to describe the image and make it easier for people with visual impairments to understand what's in the picture.
Wrap Up.
Pinterest can be an excellent social media platform for growing your blog and monetizing it.
From creating engaging content to leveraging Pinterest's community features, there are many ways you can use the platform to reach more people and build an audience.
Additionally, use Pinterest analytics to track your performance and optimize your strategy.
With these tips, you can make your content stand out and reach your blogging goals.
Further reading on AdamEnfroy.com: Using Pinterest along the right ecommerce platforms to drive sales can result in short and long-term success.
Whether you want to start an ecommerce business that sells physical goods or just need to promote your products and services, Pinterest can be a powerful tool.
Disclosure: I may receive affiliate compensation for some of the links below at no cost to you if you decide to purchase a paid plan. You can read our affiliate disclosure in our privacy policy. This site is not intending to provide financial advice. This is for entertainment only.