The Top Affiliate Marketing Books To Boost Your Earnings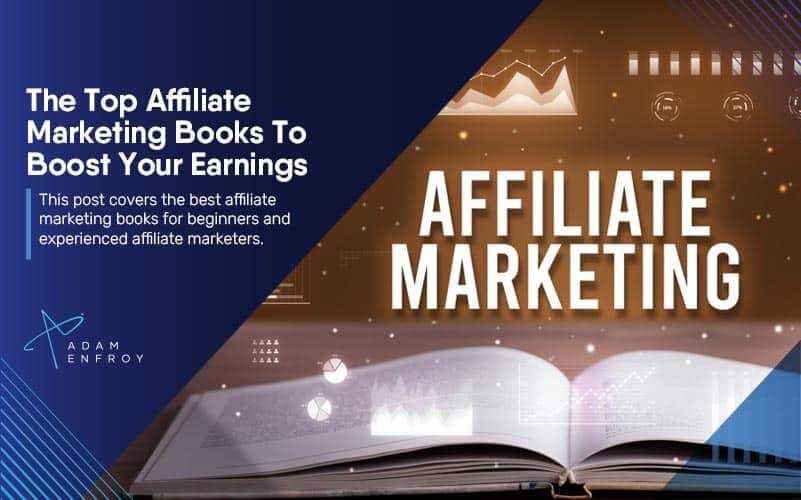 Are you struggling to get your affiliate marketing business off the ground?
Reading a good affiliate marketing book could be the key to your success.
From comprehensive guides to marketing strategy and tactics, there's a wealth of information about becoming a successful affiliate marketer.
With such information, you can use some of the best affiliate programs to make money online.
This post covers the best affiliate marketing books for newbies and experienced affiliate marketers alike.
Whether you're just starting or want to sharpen your skills, these books will help you become a successful affiliate marketer and make money online.
The Best Affiliate Marketing Books To Consider
Here are some of the top affiliate marketing books you should consider reading.
The Secrets Trilogy By Russell Brunson

Image credit: https://secretstrilogy.com/
The Secrets Trilogy of books by Russell Brunson is a must-read to become an effective affiliate marketer.
The books cover email list building, traffic generation, conversion optimization, and more.
It is a "megabook" that includes three of his most popular titles – DotCom Secrets, Expert Secrets, and Traffic Secrets- all of which have helped thousands of entrepreneurs build successful online businesses.
The Secrets Trilogy is a step-by-step guide to building a successful online business from nothing, which applies to affiliate marketing.
Each book focuses on a different aspect of online business building, allowing readers to understand the digital marketplace better.
DotCom Secrets teaches readers how to create a sales funnel to turn website visitors into paying customers.
Expert Secrets discusses becoming an industry expert and creating a loyal audience.
Finally, Traffic Secrets explores how to attract traffic to your website and ultimately convert it into sales.
Countless reviews recommend the Secrets Trilogy to anyone looking to build a tribe and sell products online.
Entrepreneurs from all backgrounds have shared how these books have transformed their businesses and unearthed secrets to drive traffic to their sites and convert sales.
$100 Million Offers By Alex Hormozi

Image credit: https://www.amazon.com/
In today's world, having a solid online presence is crucial for businesses.
However, with so much competition, you require more than simply having a website or social media account.
You need an offer that sells itself.
Alex Hormozi's book is the ultimate guide on crafting offers that sell.
One of the first things Hormozi emphasizes in his guide is the importance of aligning your offer with what your market wants to buy.
That is, writing in a way that speaks directly to your target audience's pain points and desires.
Hormozi breaks down the various stages of the offer creation process using various frameworks he has developed to help maximize the effectiveness of your offer.
The critical takeaway from Hormozi's work is that offers are not just about giving away free stuff but creating an irresistible deal that only you can provide.
Purple Cow By Seth Godin

Image credit: https://www.amazon.com/
In today's fast-paced world, businesses continually look for ways to stand out.
However, many businesses fall into the trap of copycat marketing – imitating what their competitors do or following traditional marketing principles businesses have used for years.
But what if there was a better way?
What if businesses started creating unique and remarkable products or services that set them apart?
Seth Godin discusses this in his best-selling book Purple Cow.
Published in 2003, Purple Cow is a business book that has become a sensation.
It has helped businesses around the world to think differently about marketing and has inspired them to create products or services that are truly remarkable.
Godin explains that a brown cow is bland and forgettable, but a purple cow catches people's attention and is hard to forget.
The book encourages businesses to be daring and create something truly remarkable to stand out from the crowd.
Godin supports his argument with real-life examples and case studies illustrating how businesses successfully implement this strategy.
For example, he talks about Apple's strategy of creating functional and beautiful products – which has set them apart from their competitors.
He also talks about Krispy Kreme's innovative donut-making approach and how it helped them to become a household name.
One of the key takeaways from Purple Cow is that businesses should always look for ways to create something remarkable, unique, and valuable.
However, this doesn't just apply to physical products – it also applies to services, customer experiences, and even marketing campaigns.
Godin argues that if a business can create something that people want to talk about and share with others, then they have the potential to achieve amazing things.
The 1-Page Marketing Plan By Allan Dib

Image credit: https://www.amazon.com/
Allan Dib's The 1-Page Marketing Plan has nine chapters. Each chapter focuses on a specific marketing element.
The first chapter, "The Marketing Mindset," will help you understand marketing and why it matters.
Dib argues that marketing is not just about selling products or services; it's about understanding your customer and providing them with value.
He stresses the importance of having a customer-centric approach to marketing rather than a product-centric one.
In Chapter 2, Dib talks about the importance of specialization.
He stresses the need to focus on a specific niche rather than trying to sell to everyone.
By specializing, you can tailor your marketing message to your target audience and stand out.
This approach also allows you to position yourself as an expert in your field, which can help you attract more customers.
In Chapter 3, Dib discusses the different marketing channels available to businesses.
He compares email marketing to social media marketing and helps you decide which channel is right for your business.
He also talks about the importance of creating a marketing funnel to guide customers through the buying process.
Chapter 4 is all about copywriting.
Dib explains the creation of a compelling marketing message that resonates with your target audience.
He talks about the importance of headlines, benefits over features, and creating a sense of urgency.
Following his tips, you can create marketing copy that engages and converts.
In Chapters 5-9, Dib covers lead magnets, direct response marketing, and analyzing your marketing results.
Each chapter provides actionable advice and easy-to-follow steps.
By the end of the book, you'll have a complete marketing plan to implement.
Breakthrough Advertising By Eugene Schwartz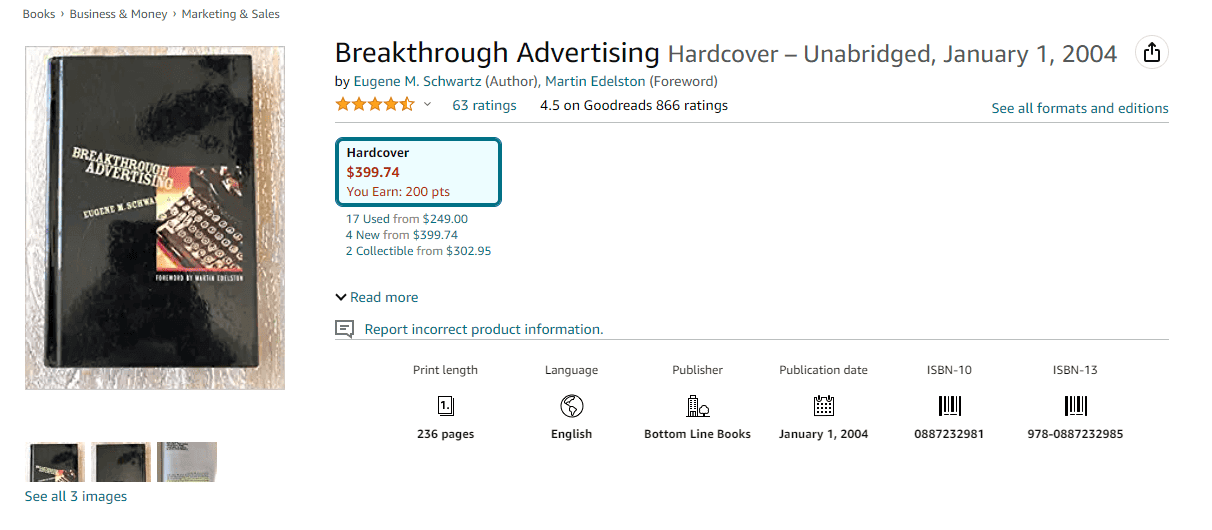 Image credit: https://www.amazon.com/
In today's world, where people see advertisements everywhere, it's become increasingly difficult for advertisers to grab people's attention.
In such a scenario, it's crucial to thoroughly understand what makes an ad stand out and create an impact.
Eugene Schwartz's "Breakthrough Advertising," originally written in the 1960s, is still considered one of the most essential books on advertising in today's world.
The book provides valuable insights on creating compelling ad copy to help businesses generate leads and boost sales.
Schwartz emphasizes the importance of customer awareness, which refers to a person's state of mind while reading an advertisement.
He argues that there are five stages of customer awareness, each requiring a different type of ad copy.
The five stages are Unawareness, Awareness, Understanding, Conviction, and Action.
For example, if the targeted customer is unaware of the product or service, the ad copy should focus on creating awareness.
In contrast, if the customer is already convinced, the ad copy should focus on the action that the potential customer needs to take.
This approach to customer awareness can help advertisers understand how to craft ad copy that caters to different stages of the customer buying journey.
Schwartz states that the headline is the most crucial part of an ad.
According to him, the headline must be attention-grabbing and promise a benefit.
Moreover, it should provide a solution to the customer is problem and must be specific and relevant.
For example, instead of writing a vague headline like "Lose Weight," a more specific and benefit-driven headline could be "Lose 10 pounds in 10 days without any crash diets.
Creating a compelling headline that addresses the customer's needs is essential to grab their attention and get them to read the rest of the ad.
Web Copy That Sells By Maria Veloso

Image credit: https://www.amazon.com/
As a content advertiser, do you need help to create powerful sales copy that converts?
If so, there's one book that you must read.
Web Copy That Sells, by Maria Veloso, helps you learn cutting-edge techniques for creating sales-driven copy that captures your audience's attention and persuades them to take action.
One of the most significant benefits of Web Copy That Sells is that it focuses on creating compelling sales copy rather than just writing product reviews.
The book offers strategies for crafting compelling headlines that entice readers to click through and other techniques for improving your sales copy.
Whether you're writing copy for your website or clients, the strategies in this book can help you create copy that resonates with your audience and motivates them to take action.
Readers of Web Copy That Sells have praised the book's wealth of information about affiliate marketing.
The author clearly understands the industry and offers insights that are both timeless and cutting-edge.
For example, the book includes tips on creating landing pages that convert, driving traffic from search engines, and building email lists to reach a wider audience.
One of the most impressive aspects of this book is the author's ability to make the techniques and concepts accessible to readers.
The book is clear and engaging, making it easy to follow and apply the advice to your projects.
Whether a seasoned professional or a beginner, the book helps you improve your sales copy.
One potential downside to Web Copy That Sells is that it only covers some aspects of affiliate marketing.
However, this is a minor quibble, as the book's focus on sales copywriting is precious in and of itself.
By honing your copywriting skills, you can craft compelling sales pages, email newsletters, and social media posts that grab your audience's attention and drive conversions.
Affiliate Marketing For Dummies

Image credit: https://www.amazon.com/
Affiliate Marketing for Dummies is one of the most highly recommended books to help you start.
Whether you're a complete beginner or have some experience with affiliate marketing, "Affiliate Marketing for Dummies" is a comprehensive guide that covers all the fundamental elements of affiliate marketing in easy-to-understand language.
You'll learn how to choose the best affiliate programs, create high-converting content, and promote it to your target audience.
To succeed in affiliate marketing, you must have a proper strategy.
"Affiliate Marketing for Dummies" also includes proven strategies that can help you optimize your earnings.
You'll learn how to create a website that ranks high on search engines, use social media and email marketing campaigns, and leverage other traffic sources.
The book is available in multiple formats, making it easy to access.
With the option of Kindle, Paperback, Audio CD, and Audible audiobooks, you don't have to worry about limiting your access.
Other top affiliate marketing books you might want to consider are
Affiliate Marketing: Proven Step By Step Guide To Make Passive Income With Affiliate Marketing by Mark Smith
Affiliate Marketing: Launch a Six Figure Business with Clickbank Products, Affiliate Links, Amazon Affiliate Program, and Internet Marketing by Noah Gray
Affiliate Program Management: An Hour a Day 1st Edition by Evgenii Prussakov
Affiliate Marketing: Secrets – How to Start a Profitable Affiliate Marketing Business and Generate Passive Income Online, Even as a Complete Beginner Paperback by Chandler Wright
The Complete Guide to Affiliate Marketing on the Web How to Use and Profit from Affiliate Marketing Programs: How to Use It and Profit from Affiliate Marketing Programs by Bruce C. Brown
Affiliate Marketing Traffic Sources
Getting people to your affiliate marketing site is the lifeblood of any online business.
To ensure that you can tap into various traffic sources and maximize your chances of success, understand the different affiliate marketing traffic sources.
The following are some of the most popular traffic sources.
SEO
To ensure success with affiliate marketing campaigns, conducting thorough keyword research on your profitable niche is crucial in the competitive marketing world.
Partnering with reputable affiliate networks can further boost your reach and profits.
Paid Traffic
Paid traffic refers to any advertising you do to get visitors to your site.
It can include pay-per-click (PPC) campaigns, cost-per-mille (CPM) campaigns, and even traditional forms of advertising like direct mail or radio ads.
Generally speaking, paid traffic is more expensive than organic traffic but provides qualified leads in much shorter time frames.
Networking
Networking is an essential aspect of affiliate marketing as it helps promote and sell affiliate products effectively.
Therefore, affiliate program management also plays a crucial role in ensuring successful networking and achieving higher sales.
However, to excel in affiliate program management, one must clearly understand the basics of affiliate marketing and the techniques involved.
Unfortunately, despite the lucrative nature of this industry, there are many scams out there that can ruin one's reputation and drain their resources.
Affiliate Marketing Networks
Promoting affiliate products is easier than ever with the emergence of various digital marketing networks and platforms.
These networks offer merchants access to a wide range of publishers, enabling them to reach out to potential customers efficiently.
The following affiliate marketing networks are some of the most popular:
Clickbank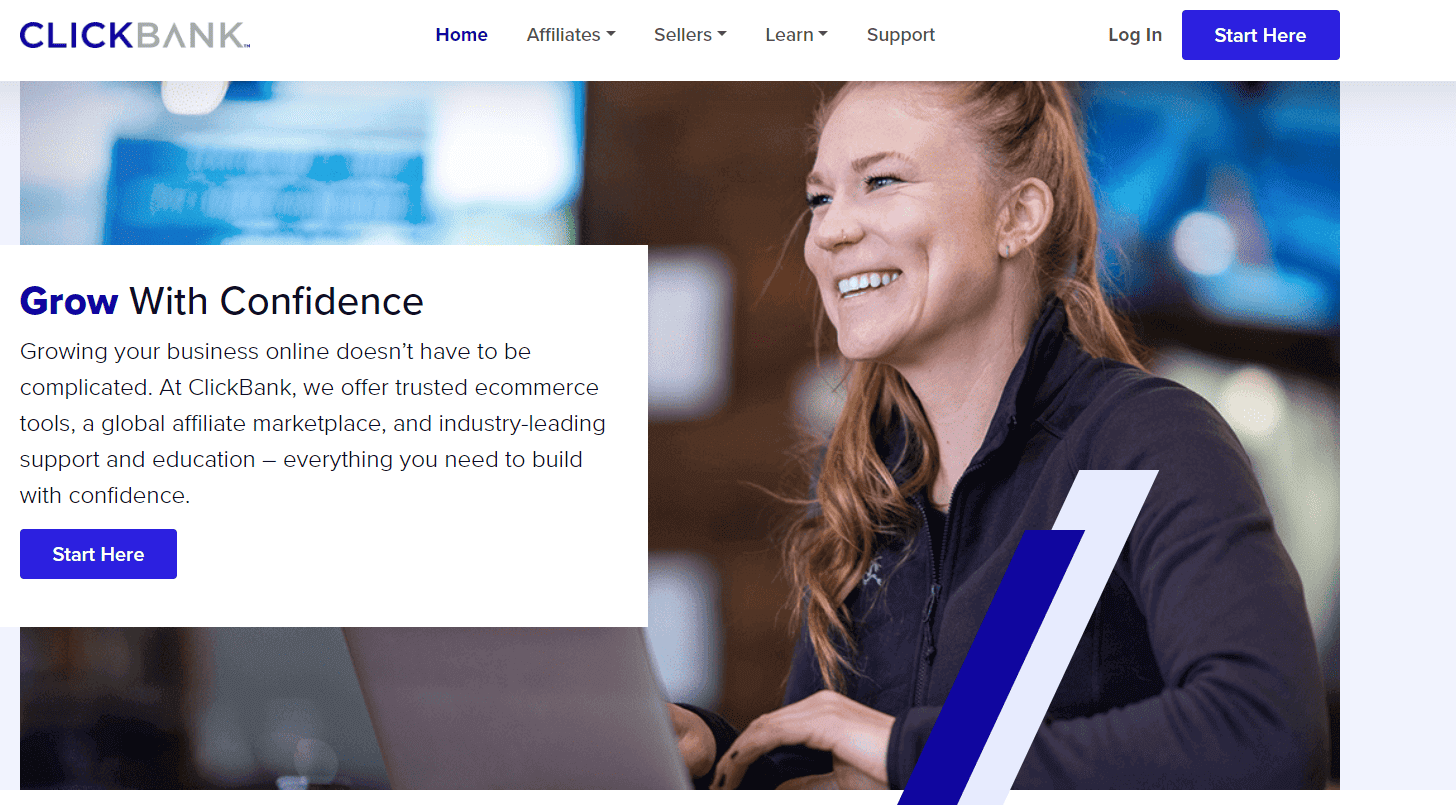 Clickbank products allow affiliates to promote products for companies (merchants) and earn a commission on sales.
Affiliate marketing programs within this network provide affiliates with unique referral links called hop links that track their sales and commission earnings.
Bloggers often use affiliate marketing to monetize their personal websites and niche audiences.
Clickbank offers various digital products that affiliates can promote, from ebooks to courses and software.
Knowing the network's affiliate marketing terms (such as gravity, Avg $/conversion, CPA, and more) is critical to a six-figure business.
ShareASale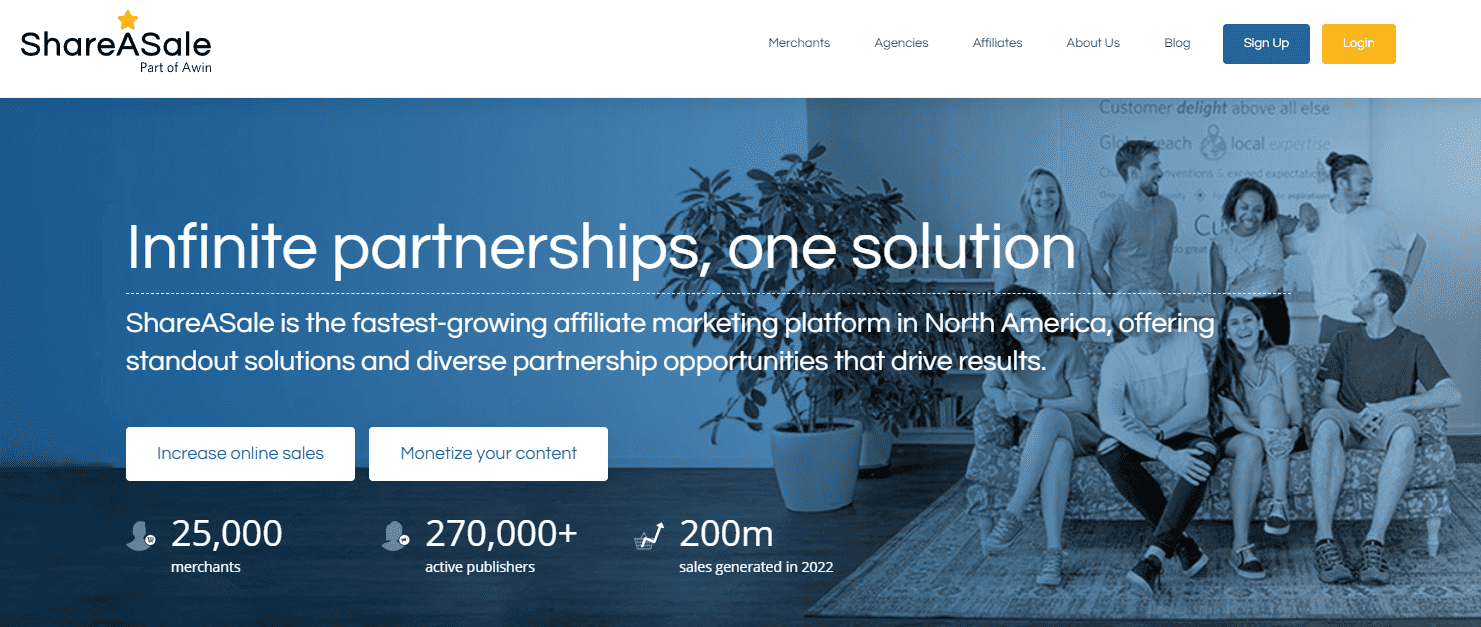 ShareASale is another affiliate network that can help generate passive income online.
It has been operating since 2000 and offers various affiliate programs.
As an affiliate marketer, you can choose from over 4,500 merchant programs on ShareASale, including big brands like Reebok and Wayfair.
From fashion affiliate programs to fitness ones, you can find various products and services to promote on your website.
With its user-friendly interface, ShareASale makes it easy to track and manage your affiliate links, commissions, and payments.
Amazon Associates Program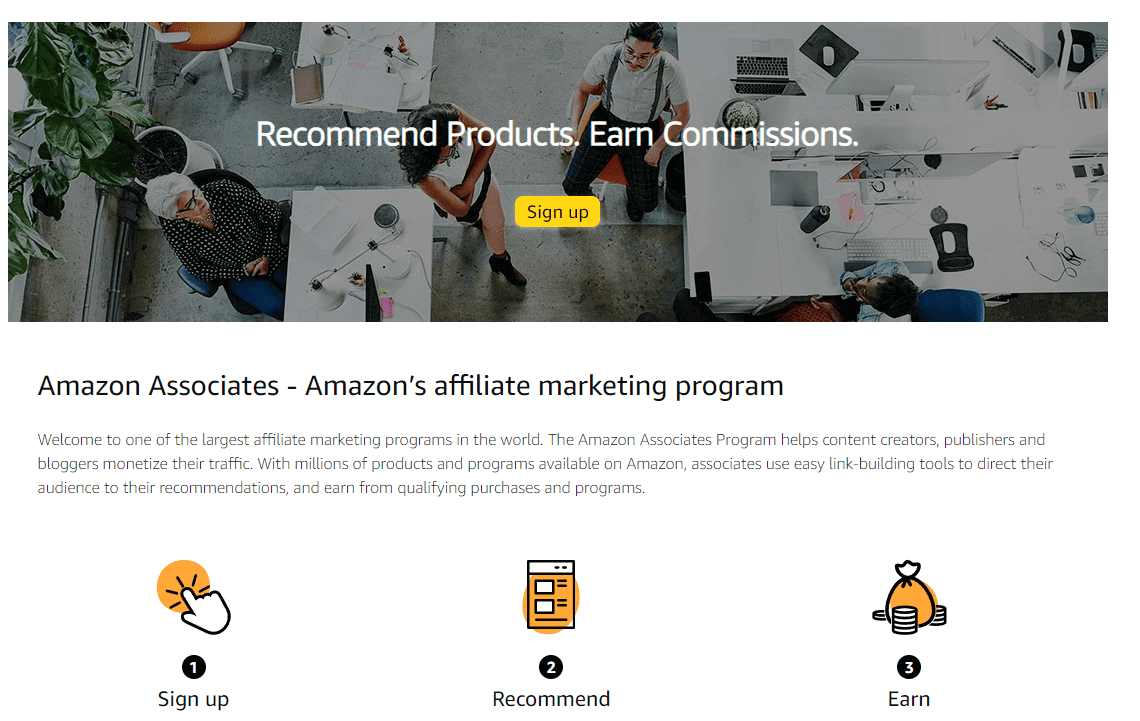 The Amazon Affiliate Program is one of the largest and most popular programs for affiliate marketers.
By joining this program, you can earn commissions on products purchased through your unique referral links.
Amazon offers various products affiliates can easily promote to their audiences and make money online.
With its comprehensive tracking system and automated payments, Amazon makes it easy to manage your earnings and ensure reliable commission payments.
CJ Affiliate (Formerly Commission Junction)

CJ Affiliate is an affiliate network that connects publishers and advertisers.
The platform allows you to earn commissions on sales generated through your referral links by promoting products from hundreds of well-known companies, such as Best Buy and Sephora.
By joining CJ Affiliate, you can also take advantage of its sophisticated tracking system and access exclusive tools and resources to help you maximize your earnings.
Affiliate Marketing Courses vs. Books
Affiliate marketing can be an excellent way to generate passive income, but it can be challenging to figure out how to do it correctly.
Even if you have read all the affiliate marketing books, the industry is constantly changing, so you must stay up-to-date with the latest trends and strategies to succeed.
That's why investing in an affiliate marketing course is a smart move.
So why should you invest in a course instead of relying on books?
Updated Material
As the landscape of affiliate marketing is constantly evolving, staying up to date on the latest material is essential for developing and improving affiliate marketing skills.
With more and more business owners looking to expand their online presence, partnering with an influencer can be a powerful tool to drive traffic and sales.
Building a profitable affiliate business can provide a steady stream of passive income when done correctly.
However, it takes dedication, persistence, and the implementation of successful affiliate marketing strategies to see actual results.
Lifetime Access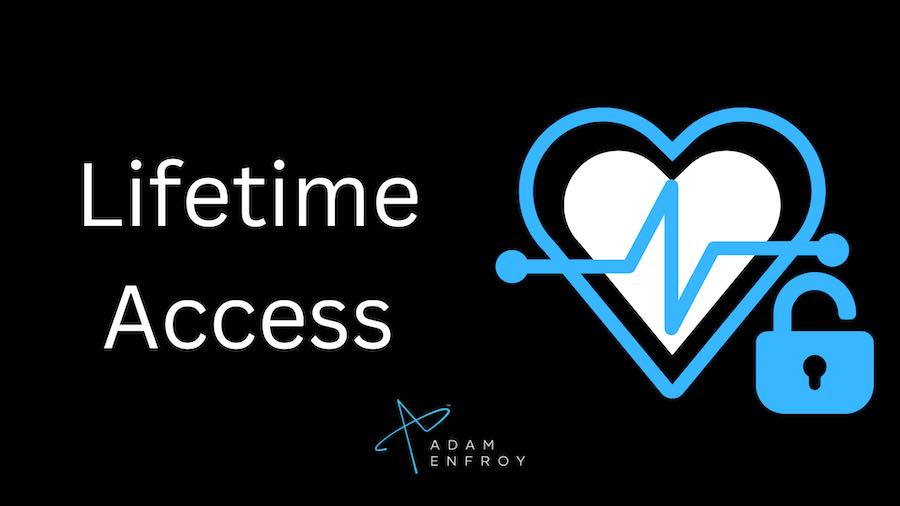 Affiliate marketing works by promoting other people's products and earning a commission from sales, and beginners need to understand the fundamentals of this business to succeed.
Learning how to monetize affiliate marketing requires a combination of strategies that successful affiliate marketers have mastered over time.
These marketing strategies include building a trusted brand, identifying your target audience, creating quality content, and utilizing various marketing channels to maximize your reach and revenue.
Focused And Actionable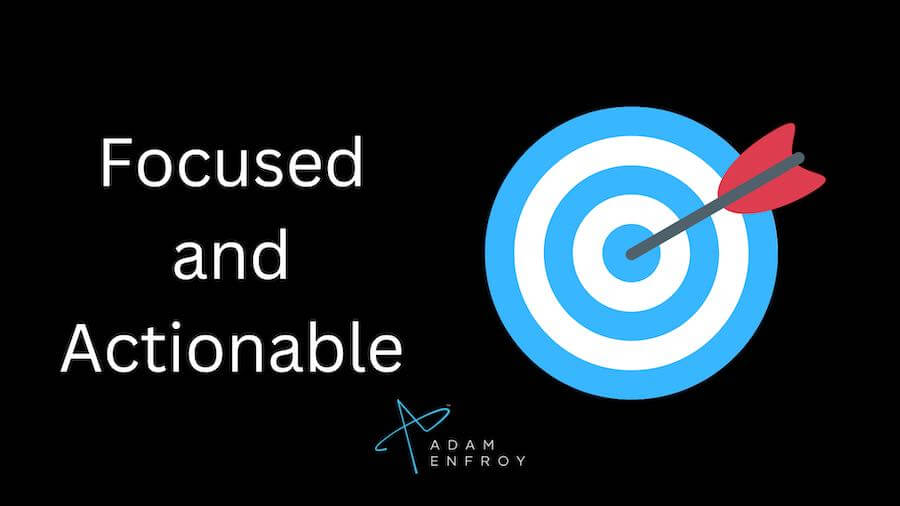 Another advantage of affiliate marketing courses is that they have a focus and are actionable.
In other words, they provide step-by-step guidance on how to execute specific strategies.
You get to follow along and implement your learning in real time.
On the other hand, many affiliate marketing books are more theoretical and provide general advice rather than specific action steps.
Over-The-Shoulder Tutorials And Desktop Screen Shares
As an affiliate marketer, it is pivotal to understand the intricacies of the affiliate marketing business to succeed in affiliate sales.
One of the best ways to learn affiliate marketing is through Internet marketing, which provides valuable insights on maximizing your earning potential.
You can grasp performance partnerships' technical aspects and nuances through over-the-shoulder tutorials and desktop screen shares.
By immersing yourself in such tutorials, you get hands-on experience with the best practices for effective affiliate sales and gain insights on how to excel in the field.
Certifications
After gaining knowledge through affiliate marketing books, earning a certification in digital marketing can enhance your skills and credibility, leading to more lucrative opportunities to make money online.
Additionally, understanding online marketing is crucial to running a successful affiliate marketing business, as it allows for effective promotion and targeting of audiences.
Wrap Up.
If you want to understand how to make money with affiliate marketing, reading affiliate marketing books can be a great place to start.
By delving into the strategies and techniques, you'll be able to create successful campaigns and foster relationships between merchants and affiliates.
Additionally, these books can provide valuable insights into monetizing the goodwill you build with potential customers, taking your affiliate relationship to the next level.
Investing time in reading these resources can increase your earnings and help you cultivate meaningful connections within the affiliate marketing industry.
Further reading on AdamEnfroy.com: Blogging books are a great addition to affiliate marketing ones when extending your current knowledge.
Then, high ticket affiliate marketing can apply the knowledge from these books to more lucrative opportunities.
By understanding the fundamentals, you can build a business with long-term success and capitalize on large commissions for each sale.
You can also check out my course Blog Growth Engine if you'd like a complete guide to growing your blog traffic and income.
Editorial Process:
Our reviews are made by a team of experts before being written and come from real-world experience. Read our editorial process here.
Some of the links in this article may be affiliate links, which can provide compensation to us at no cost to you if you decide to purchase a paid plan. These are products we've personally used and stand behind. This site is not intended to provide financial advice. You can read our affiliate disclosure in our privacy policy.